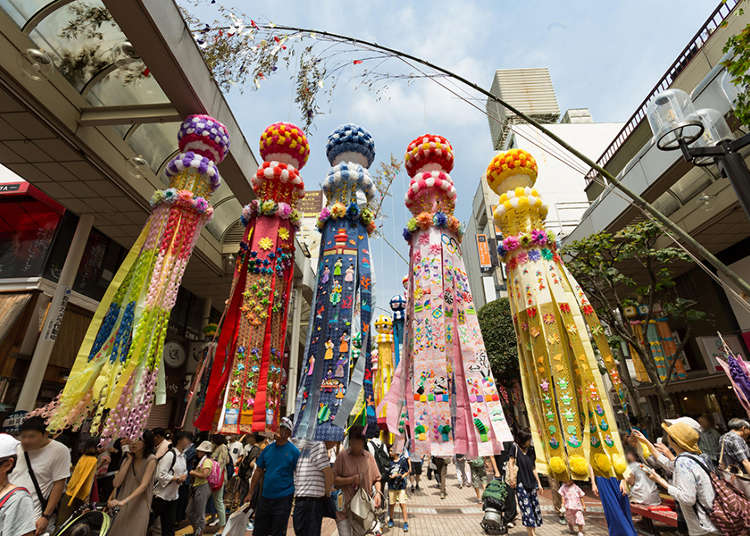 Sendai Tanabata Festival is a beautiful summer tradition held every year between August 6 to 8 in Sendai, a central city in Japan's Tohoku region. The Tanabata Festival is known as one of the Tohoku region's three major festivals, alongside Aomori's Nebuta Festival and Akita's Kanto Festival.

Every year, local and international visitors from everywhere flock to Sendai for Tanabata and the impressive fireworks display.

What is the history behind Tanabata, and what are some things you can look forward to? We'll be giving you a closer look at Sendai's Tanabata Festival in this article so that you can maximize your fun during your visit!

*Due to the spread of Covid-19, the Sendai Tanabata Festival will not be held in 2020, but is intended to be held again in 2021.

Main image courtesy of Sendai Tanabata Festival Support Association
What is the Sendai Tanabata Festival?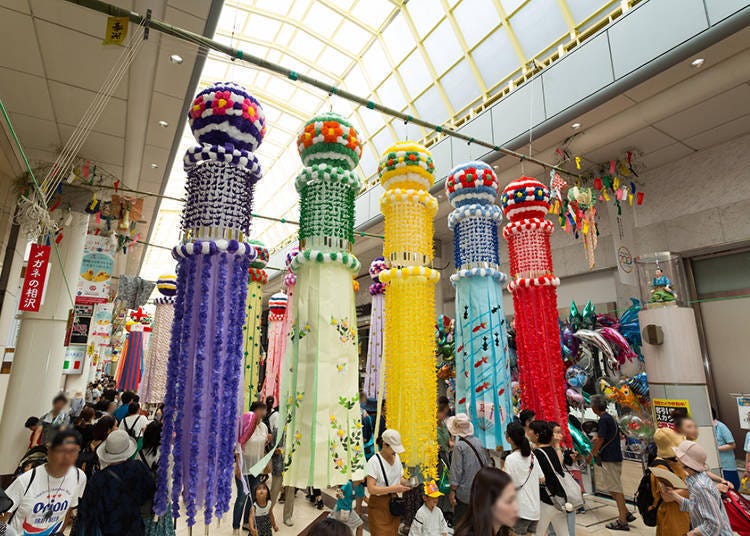 Sendai Tanabata Festival Support Association
Tanabata is a fabulous traditional event that was brought over to Japan from ancient China, and it is a mix of a few cultural points.

Currently, however, the festival is most popularly known in Japan as a summer festival where wishes are written on a strip of paper known as tanzaku, which are then hung up on trees.

The first feudal lord of Sendai, Masamune Date (1567 to 1636 C.E.), promoted the event as a festival to wish for craftwork proficiency and an abundant harvest, resulting in the event being held every year between August 6 to 8 regardless of the day of the week. This charming traditional summer event of Sendai sees about 2 million visitors every year.

One of the most memorable scenes unique to Sendai's Tanabata Festival is the impressive sight of sasakazari - flamboyant paper bamboo leaves decorations that are suspended from tall places by the sides of the arcade leading out from the West Exit of Sendai Station on the JR Lines.

The drooping leaves, made of colorful Japanese paper, are arranged fukinagashi, or windswept-style, and walking in between long rows of them will put anyone in a festive mood.

They represent the earnest wishes for the health and prosperity of the local residents who carefully crafted them.
Getting to the Sendai Tanabata Festival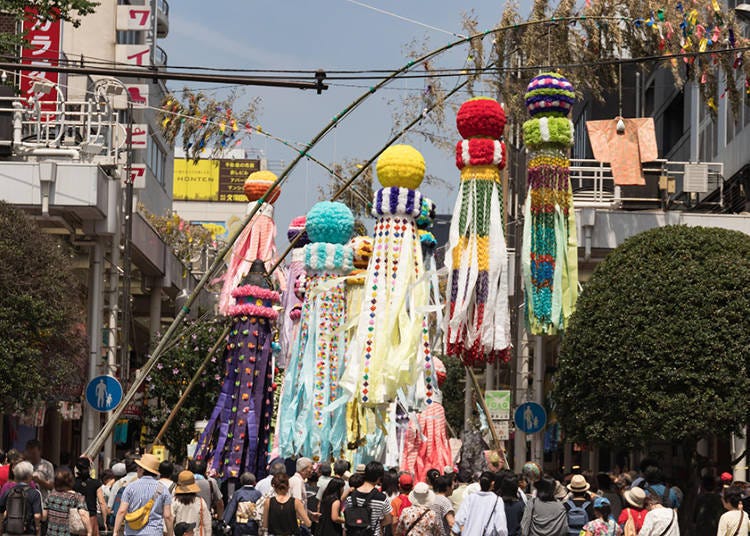 Sendai Tanabata Festival Support Association
The most efficient way to ensure you can take in all the sights of the festival is to start from Sendai Station and slowly walk through the paper bamboo leaves-decorated arcade street while making your way towards Kotodai Park.

There are also other areas in the city that will be holding festive events or have sasakazari up during this period, so it may be fun to visit all of them too!

The official website for the festival (https://www.sendaitanabata.com/map) contains a helpful guide map that supports English, Traditional Chinese, and Thai for interested visitors to find out more.
Highlight 1: Festival venue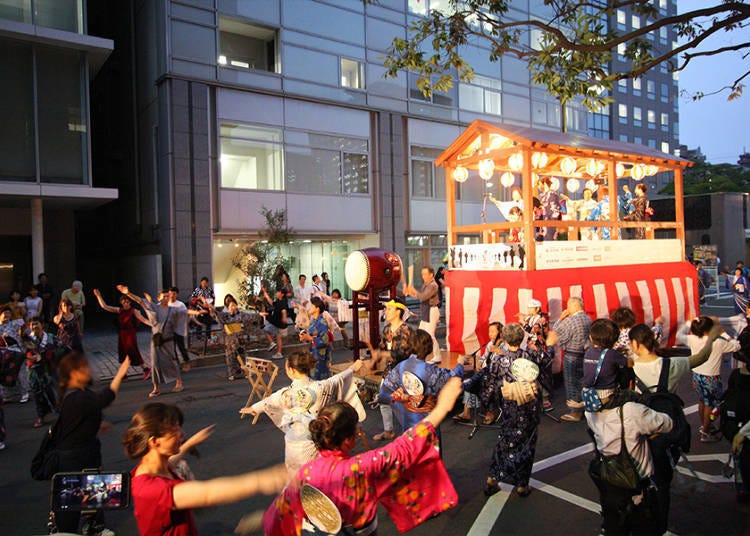 Sendai Tanabata Festival Support Association
The main venue takes just three minutes to reach via the subway's Nanboku Line from Sendai Station. Disembark at Kotodaikoen Station and take the Park Exit 2. This will bring you to Kotodai Park, which is located near Omatsuri Hiroba, the main venue of the festival.

Major attractions of the venue include stage shows with live singing and dancing, as well as festival-related sections such as the Wish Writing Corner, where slips of tanzaku paper are available for visitors to write their wishes on, then hang them up on branches. Festival booths selling an assortment of Sendai delicacies like grilled ox tongue (Sendai gyutan) and Miyagi oysters will be set up around the area throughout the festival as well.

Around sunset, the Bon Odori, an energetic dance that is a feature of almost all Japanese festivals, will start being performed, and all are invited to join in. Dance lectures for beginners are held so that everyone can have fun even if they've never danced before. There's no need to be shy if you're interested in taking part - jump right in!
Address

Sendai-shi, Miyagi center and neighboring malls, 980-0000
View Map

Nearest Station

Sendai Station (Namboku Line)


Phone Number

022-265-8185
Highlight 2: Zuihōden Tanabata Night
Image: Zuihōden
Hop onto the Loople Sendai, a sightseeing bus that departs from Sendai Station and in about 15 minutes, disembark at the bus stop called Zuihōdenmae, which is right in front of the mausoleum Zuihōden, the final resting place of Masamune Date.

During the period where the Zuihōden Tanabata Night is being hosted here, the building is decorated with beautiful Tanabata decorations for all to admire.

Right after disembarking from the bus, you'll find yourself in front of the stone steps approach leading to Zuihōden. The path is lit up by gentle candlelight coming from within the bamboo lanterns placed alongside, and there are bamboo flute performances as well.

All of these come together to create a fantastical atmosphere for visitors to bask in. The entrance to Zuihōden's premises will also be decorated using traditional Tanabata ornaments passed down from ancient times.

A mini-concert by artists with connections to Miyagi will be held as well. All are welcome to take a seat in front of the stage at any time to enjoy the show at leisure.
瑞鳳殿七夕ナイト

Address

23-2, Otamayashita, Sendai Shi Aoba Ku, Miyagi Ken, 980-0814, Japan

Hours: August 6 to 8, 6:00 p.m. – 9:00 p.m.
Entry fee: 570 yen (450 yen for visitors who take the Loople Sendai Tanabata Night bus)
Highlight 3: Sendai Castle Ruins Night Event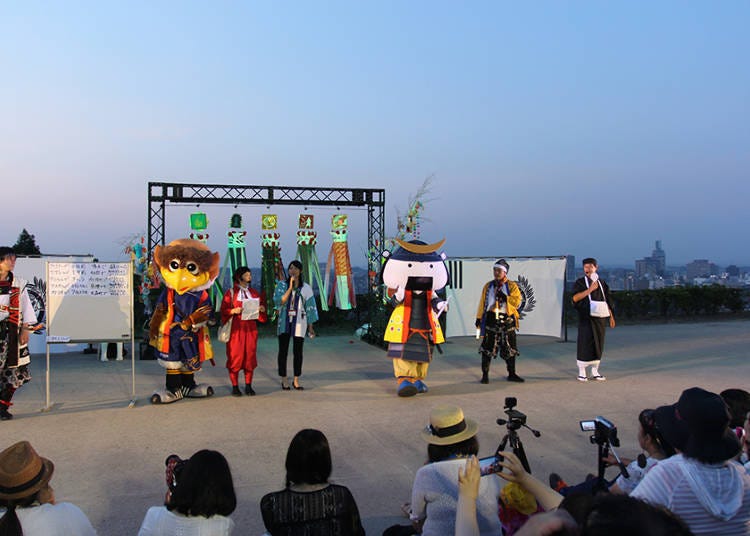 Credit: Sendai Tanabata Festival Support Association
One more must-see night event during the festival period is the Sendai Castle Ruins Night Event. As its name suggests, this event will be held on the Sendai Castle Ruins, a regular Sendai tourist hotspot. To get there, hop on the Loople Sendai tour bus from Sendai Station. The journey should take about 20 minutes. The Sendai Castle Ruins are what remains of the castle that the Date clan used to live in. Located high on a hill, the view of Sendai city from this vantage point is a sight to behold as well.

From 5:00 p.m. to 8:00 p.m. throughout the duration of the festival, a performing arts group known as Oshu Sendai Omotenashi Shudan Date Bushotai will put on an impressive performance of martial arts with performers dressed up as Masamune Date or other feudal lords. There will also be stage shows featuring Sendai mascot characters from time to time.

Thinking of grabbing a commemorative photograph? Head over to the popular Equestrian Statue of Masamune Date while it's being illuminated by gorgeous lighting during this period for the best possible shot of the year!
Enjoying Sendai Tanabata Festival Local-Style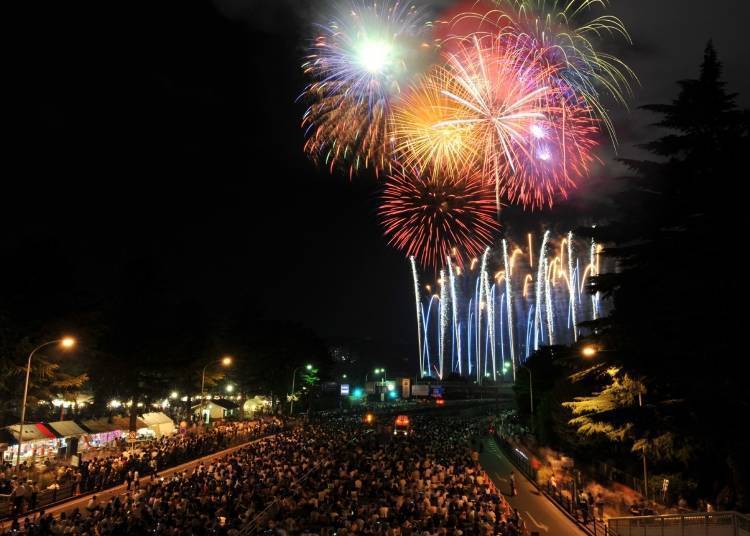 Sendai Tanabata Festival Support Association
Local residents of Sendai start their festivities from August 5 with the Sendai Tanabata Fireworks Festival, so definitely look into taking part in that if you want to enjoy the festival the way the locals do it! The venue is the vicinity of Sendai's West Park, which is within walking distance from Omachi Nishikoen Station, two stations away from Sendai Station via the subway's Tozai Line.

On that night, about 16,000 fireworks will be blasted into the night sky for a dazzling display of pyrotechnics. There will also be stage events, so the site will be filled with many excited concert-goers as well, amping up the mood even further. Since the park is offers a marvelous view of the fireworks in action, come early if you want to get a good spot!

On August 6, the sasakazari decorations will be up from around 10 a.m., making the morning hours of this day the perfect time to take a stroll through the city's major streets. From noon time to evening, the roads are often jam-packed with visitors and festival participants, so if you're not a fan of crowds or just want to take photos of the sasakazari without being rushed, then definitely go during morning hours.
Sendai Tanabata Fireworks Festival

仙台七夕花火祭

Address

Near Sendai West Park

Phone: 022-222-9788 (Sendai Youth Association)
Hours: August 5, 7:30 p.m. – 8:30 p.m. (Planned)
Text by: SHOE PRESs. English translation by: Huimin Pan.

*Due to the outbreak of COVID-19, the Sendai Tanabata Festival was canceled for 2020. More information can be seen on the official website, https://www.sendaitanabata.com

*The above article is based on information from May 2020
*This information is from the time of this article's publication.
*Prices and options mentioned are subject to change.
*Unless stated otherwise, all prices include tax.