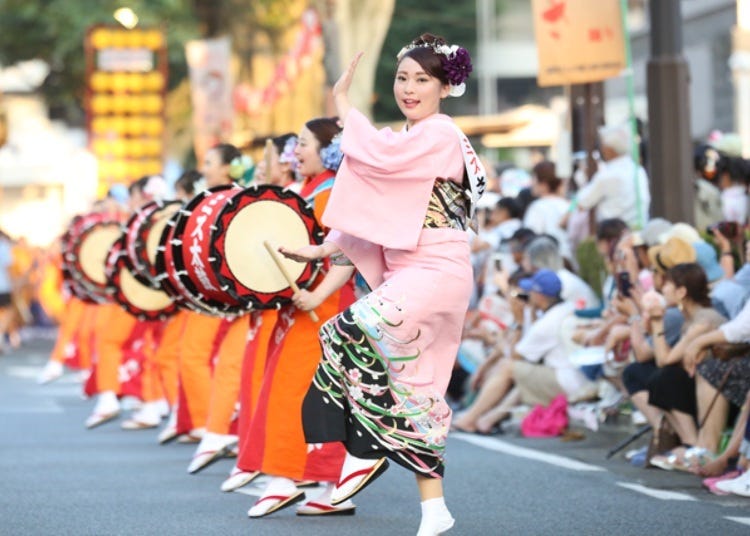 Iwate Prefecture is located in the northern part of the Tohoku region. Its size is second only to Hokkaido, which boasts the largest area in Japan.

Each municipality has unique characteristics, giving you various ways to enjoy various things, all in one prefecture. Historical cityscapes like Morioka City and Hiraizumi Town, as well as beautiful, mountainous, nature-rich areas like the Kitakami Mountains, can be found inland.

The coastal areas facing the Pacific Ocean are dotted with eateries serving up local seafood dishes.

As you can see, there are many attention-grabbing tourist destinations - and we'll walk you through them here!
What Kind of Place is Iwate Prefecture?
Iwate Prefecture is a place full of beautiful landscapes such as Mount Iwate, Genbikei, and Jodogahama, and inspirational historical areas such as Hiraizumi and Chusonji Temple.

There are many hot spring villages where you are sure to find a place to soothe the fatigue of your trip. It is also abundant in fresh seafood and vegetable ingredients.

You can enjoy delicious local gourmet dishes born from the rivers and seas, mountains, and other rich natural areas.
It takes about 2 hours and 15 minutes by JR Tohoku Shinkansen from Tokyo Station to Morioka City.

Hanamaki Airport is also in the vicinity, so you can visit from anywhere in the country by plane. Transportation within the prefecture is possible by train or bus including the JR Tohoku Main Line.
1. Head to Hirazumi and Check Out Chusonji Konjikido Temple
Hiraizumi Town served as a political base in the Tohoku Region for about 100 years during the 11th and 12th centuries.

Chusonji and Motsuji Temples were registered as World Heritage Sites in 2011 as "Hiraizumi Cultural Heritage Structural Properties." Chusonji was built by Fujiwara no Kiyohira, the founder of the Northern Fujiwara Dynasty, and is home to over 3,000 Cultural Properties, including the Konjikido.
Chusonji Konjikido Temple

中尊寺金色堂

Address

Koromonoseki-202 Hiraizumi-machi, Nishiiwai-gun, Iwate-ken

Phone Number

0191-46-2211

Business Hours: 3/1~11/3: 8:30AM~5:00PM; 11/4~Last day of Feb: 8:30AM~4:30PM
Fee: Adults 800 yen, High school 500 yen, Middle school 300 yen, Elementary 200 yen (group discounts available)
Regular Holidays: None
2. Enjoy a Stroll Around Koiwai Farm
About 30 minutes by car from JR Morioka Station, Koiwai Farm is located in Shizukuishi-cho, adjacent to Morioka City. Koiwai is most famous for its brand-name milk, juice, and dairy products, but it is also a popular spot for sightseeing. You can see animals, enjoy various attractions, and take nature walks.
Address

36-1 Maruyachi, Shizukuishi Town, Iwate District, Iwate Prefecture, 020-0507
View Map

Nearest Station

Morioka Station (Tazawako Line / Tohoku Main Line / Yamada Line)
30 minutes by bus


Phone Number

019-692-4321
3. Head to Hanamaki Onsen Town
Hanamaki Onsenkyo is known for its high-quality and calming atmosphere, created by rows of cherry blossom trees, a red pine forest, and a rose garden with a sundial flowerbed designed by Kenji Miyazawa.

There are a variety of hot springs such as outdoor stone baths, outdoor cedar baths, and ladies-only rose baths. Take a walk around the town and find your favorite hot spring.
花巻温泉郷

Address

1-125 Yumoto, Hanamaki, Iwate-ken

Business Hours: *Varies by bath. See official website for details.
Fee: *Varies by bath. See official website for details.
Regular Holidays: None
Food to Try in Iwate

Each municipality in Iwate Prefecture has its own unique food culture. Morioka City is known for wankosoba, jajamen, and Morioka reimen, also called the "three major noodle dishes." In the coastal areas, the specialty is seafood. The north and south areas are known for their brand-name beef and fresh vegetables. Not sure where to visit first? Why not let your stomach decide?
4. Take the Wanko-soba Food Challenge!
Wanko-soba is a local Iwate meal that is made up of many small, bite-sized noodle bowls served one after another by the waiter. How many bowls can you eat back-to-back!? It is a delicious meal with a strong entertainment factor. You can even enjoy conversation with the waiter.
Jaja-men is a mixture of warm, flat noodles and miso-seasoned meat, topped with garlic, vinegar, chili oil, and other seasonings. When you finish eating the noodles, crack a raw egg in the bowl and ask for "Chitantan!" The shop staff will add more soup to the bowl for a new soup dish.
6. Ramen Fans - Slurp up the Morioka Reimen
Morioka reimen, or "cold noodles," are characterized by their firmness and smooth texture. The clear, thin soup is made with a beef-bone base. There is also kimchi inside, which you can adjust to your preferred level of spiciness.
7. Iwate Tankaku Wagyu: Don't Miss the Local Beef!
Iwate Tankaku Beef is served at yakiniku restaurants throughout the prefecture. It is characterized by rich, red meat with a flavor that spreads throughout your mouth with each bite. Iwate brand cattle is known for its low-fat content and original meaty flavor.
Things to Buy in Iwate: Souvenirs

There are a wide variety of souvenirs in Iwate, from Sanriku seafood, Maezawa and Tankaku Beef products, and other local specialties such as sake, confectioneries, and popular sweets.
8. Snack on Some Nanbu Senbei
Nanbu Senbei is a local rice-cracker snack from Iwate Prefecture. In addition to the classic sesame seed and peanut flavors, there are various other flavors such as squid, apples, and even natto.
9. Get Some Kamome no Tamago Sweets!
"Kamome no Tamago" (literally "seagull egg") is a snack made with white-chocolate-coated red-bean filling wrapped in a thin, golden, castella dough. It is popular for its simple taste and cute shape.
10. Sample some Sanriku Kaihozuke
"Sanriku Kaihozuke" is a soy sauce-based soup made with Sanriku abalone, fish roe, and a thick wakame seaweed called "mekabu." Savor the different textures brought together in this luxurious Sanriku seafood dish, including the tenderness of the boiled abalone, the bubbly texture of the roe, and the sticky seaweed.
Recommended Iwate Tour: Visit Spots Related to Kenji Miyazawa

Kenji Miyazawa was a poet and author of fairy tales, famous for his works such as "Ginga Tetsudo no Yoru" (Night on the Galactic Railroad) and "Ame ni mo Makezu" (Be Not Defeated by the Rain).

Kenji was born and raised in Hanamaki and Morioka City, which are dotted with relevant places, and places used as motifs in his stories.
11. Visit the Fairytale Village - Miyazawa Kenji Dowa Mura
The Miyazawa Kenji Fairy Tale Village is where the fairy tale worlds of Kenji Miyazawa come to life. "Kenji no Gakko" is an area of the facility that is divided into five zones: "Fantastic Hall," "Space," "Sky," "Earth," and "Water."

Here you can experience the imaginary world of Ihatov as envisioned by Kenji. In the log house exhibit, "Kenji no Kyoshitsu," you can also see displays of the plants, animals, stars, birds, and stones that appear in his stories.
Miyazawa Kenji Dowa Mura (Fairytale Village)

宮沢賢治童話村

Address

26-19 Takamatsu, Hanamaki-shi, Iwate-ken

Phone Number

0198-31-2211

Business Hours: 8:30AM~4:30PM
Fee: Adult 350 yen, High school 250 yen, Middle/Elementary school 150 yen
Regular Holidays: 12/28~1/1
12. Check Out Miyazawa Kenji Memorial Hall
Here you can learn about various areas of Kenji's life, including his beliefs and environment, as well as the science and art activities he pursued. Also on display are his favorite cello and handwritten documents. This is a great place to learn more about the career and achievements of Kenji Miyazawa.
Miyazawa Kenji Memorial Hall

宮沢賢治記念館

Address

36-1 Maruyachi, Shizukuishi, Iwate-gun, Iwate

Phone Number

0198-31-2319

Business Hours: 8:30AM~5:00PM
Fee: Adult 350 yen, High school 250 yen, Middle/Elementary school 150 yen (group discounts available)
Regular Holidays: 12/28~1/1
13. Drop By Kogensha Publishers
Kogensha is the company that published "Chumon no Ooi Ryouriten" (The Restaurant That Has Many Orders), a collection of fairy tales written by Kenji Miyazawa.

There are also additional facilities including as folk store that sells traditional crafts, coffee shops such as "Kahi-kan" (also called Kogensya Coffee-Kan), where you can enjoy some delicious specialty walnut cookies, and food-related souvenir shops like Mo-rio, which sell all kinds of souvenir snacks, with a feature on specialty walnut cookies.
光原社

Address

2-18 Zaimokucho, Morioka-shi, Iwate-ken

Phone Number

019-622-2894

Business Hours: 10:00AM~6:00PM (1/5~3/15 until 5:30PM)
Fee: Free
Regular Holidays: 15th of very month (in case of weekend/public holiday, closed the following week)
14. Don't Forget to Tour Baeren Brewery!
Established in 2001, Baeren Brewery crafts its beer with vintage equipment imported from Germany. The beer, made using a traditional European method, delivers an authentic taste that's popular with beer lovers.

After reserving a spot on the tour, you can walk around the brewery and peer through the glass at rare equipment such as the century-old malt mill and copper fermentation tanks. And then try a free glass of freshly made beer. Highly recommended!
Address

1-3-31 Kitayama, Morioka City, Iwate Prefecture, 020-0061
View Map

Nearest Station

Morioka Station (Tazawako Line / Tohoku Main Line / Yamada Line)
10 minutes by car


Phone Number

019-606-0766
Text by: Takumi Miyamoto
Related Articles on Sightseeing in Tohoku
*This information is from the time of this article's publication.
*Prices and options mentioned are subject to change.
*Unless stated otherwise, all prices include tax.