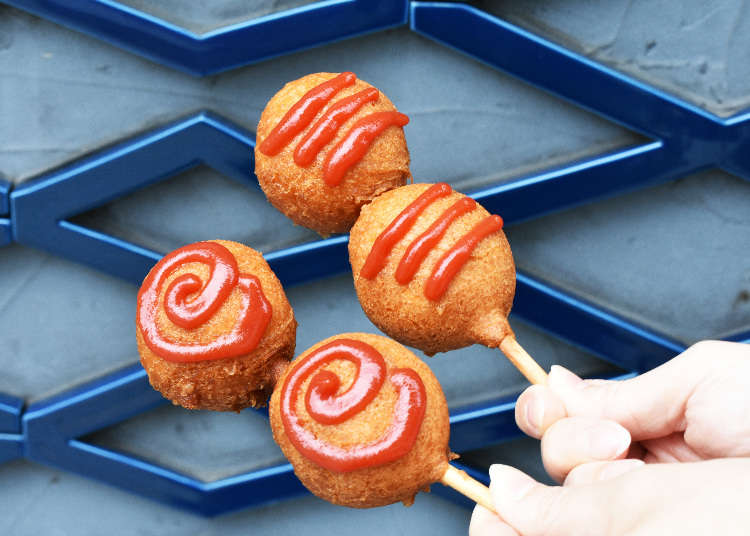 Sendai City, in Miyagi Prefecture, is one of northeastern Japan's top tourist destinations! We've put together this Sendai food guide to help you quickly sample a variety of local favorites.

When visiting Sendai, make sure to try out some Japanese "tabearuki gourmet" (food eaten while walking) to get a taste of some local favorites like zundamochi and kamaboko. Or take it a step further and try out a zunda shake!

If you're wondering what on Earth these Japanese snacks are, read on to find out!
Sendai Station is a surprising snack source!
Sendai is making a name for itself as the tourist gateway to the Tohoku region, and right outside Sendai Station has seriously easy access to some of Miyagi's most popular local Sendai foods. With a lot of them costing less than 100 yen(!) there are certainly a lot of options to fill you up while sticking to your budget.

These are our top five recommendations for tasty Sendai foods in department stores and smaller specialty shops.
1. Zunda Saryo's Zunda Shake: Can Crushed Soybeans be Tasty?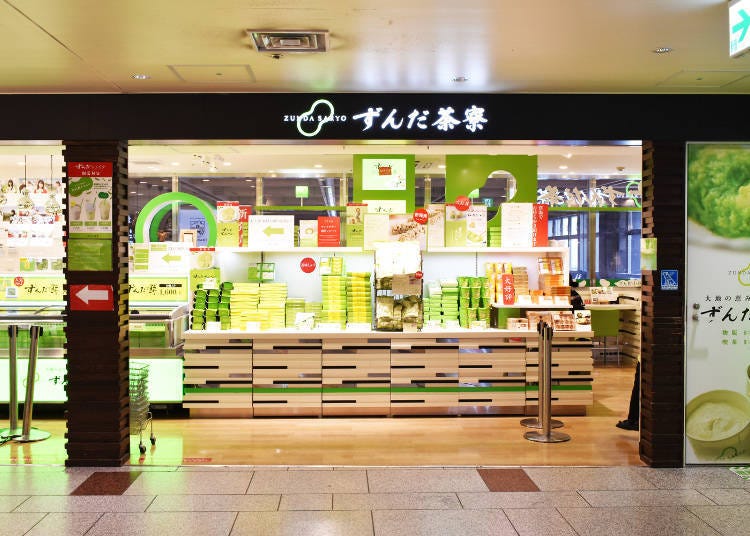 Zunda Saryo Sendai Station Zunda Komichi is located on the 3rd floor of Sendai Station, right next to the Central Shinkansen Gate. The shop specializes in Miyagi's traditional "zunda" sweets, which are made from crushed, sweetened green soybeans. Zunda Saryo offers more than ten desserts like zundamochi and "Zunda Shake Crunch."
The popular Zunda Shake can be ordered to eat-in or for take-out from the shop's convenient take out counter. On weekends, there's usually a line of customers in the morning, and especially in the evening, when tourists want a refreshing treat at the end of their trip.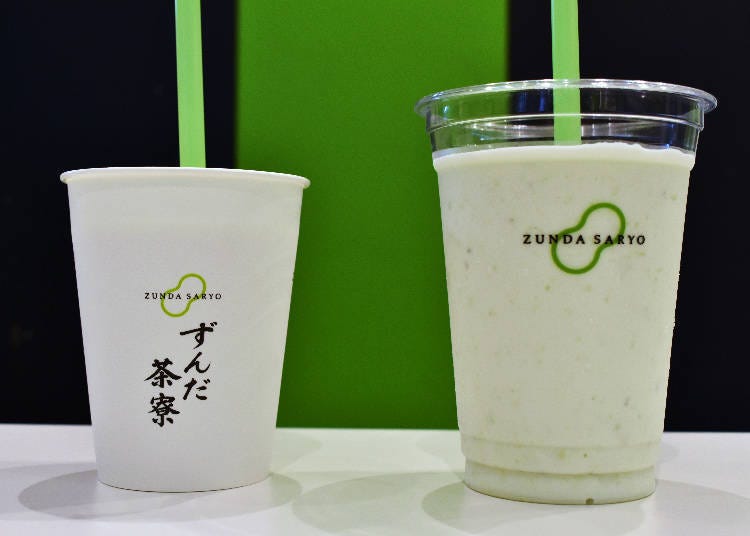 With each sip you'll experience the texture of the crushed soy beans and the smooth vanilla shake. You might not expect it, but the fresh edamame fragrance and flavor go seriously well with the sweet vanilla. Green soybeans, whose taste can change depending the climate and the time year they're harvested, are specially blended by Zunda Saryo so you can enjoy the same taste no matter when you visit.

Shakes are available in regular size (take-out 290 yen/eat-in 295 yen) and large (take-out 430 yen/eat-in 438 yen). Large shakes can be upgraded to include extra whipped cream for an additional charge (take-out 60 yen/eat-in 61 yen) (All prices include tax).
ずんだ茶寮 仙台駅ずんだ小径店

Address

Sendai Station 3F, 1-1-1 Chuo, Aoba-ku, Sendai City, Miyagi 980-0021

Phone Number

022-715-1081

Hours: 8:00 - 21:30 (Cafe 9:00 - 21:00)
2. Saitou Sozaiten's Jagajaga Croquette: Potato at its best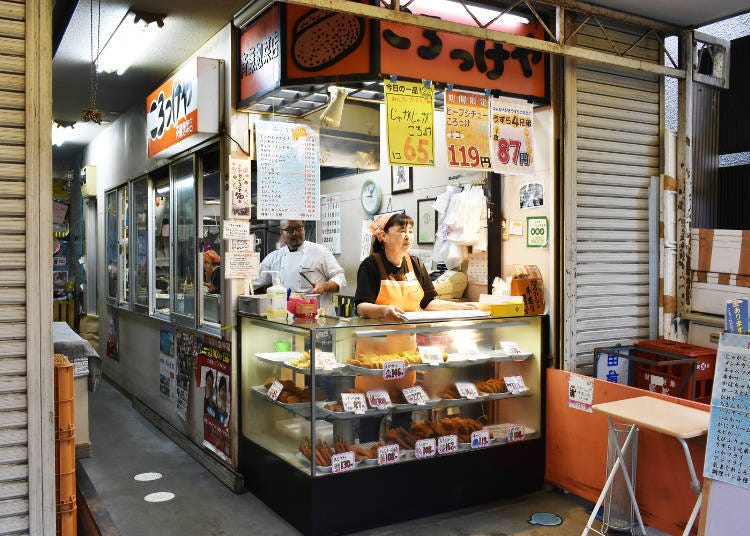 About a 5-minute walk from Sendai Station, you'll find the Sendai Asaichi Morning Market where fresh vegetables and seafood are readily available. In the midst of the greengrocers and fresh fish shops you'll also find Saitou Sozaiten. Currently managed by its 3rd generation owner, this takeout specialty store has been a much-loved member of the morning market for about 60 years.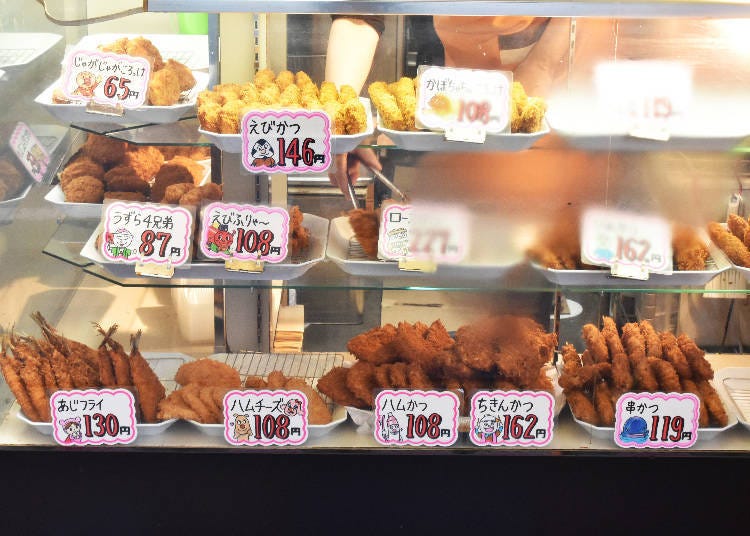 In the showcase, there are about fifteen options such as croquettes and menchi katsu (fried and breaded mince).

As the shop owner says, "Our motto is cheap and tasty," the croquettes start at 65 yen apiece (including tax). On many days, morning market sightseers and regular customers quickly purchase Saitou Sozaiten's wares and the shop sells out well before its scheduled closing time.
The most popular item is the "Jagajaga Croquette" (65 yen, including tax), which has a crispy fried outer layer surrounding a smooth filling of Hokkaido potatoes. With a slightly sweetened seasoning, they make an excellent walking snack.
Since the shop is close to Sendai Station and many nearby hotels, overseas tourists often stop by. With their convenience in mind, the menu is printed in English and Chinese, and while the illustrations are easy to understand, you can still ask the staff for further help if needed.
Saitou Sozaiten Croquette Shop

齋藤惣菜店 ころっけや

Address

4-3-27 Chuo, Aoba-ku, Sendai, Miyagi 980-0021

Phone Number

022-267-1569

Hours: 9:00 - 18:00 (or as soon food is sold out), closed Sundays and national holidays
3. Usukawa Taiyaki Taikichi: It looks like a fish but…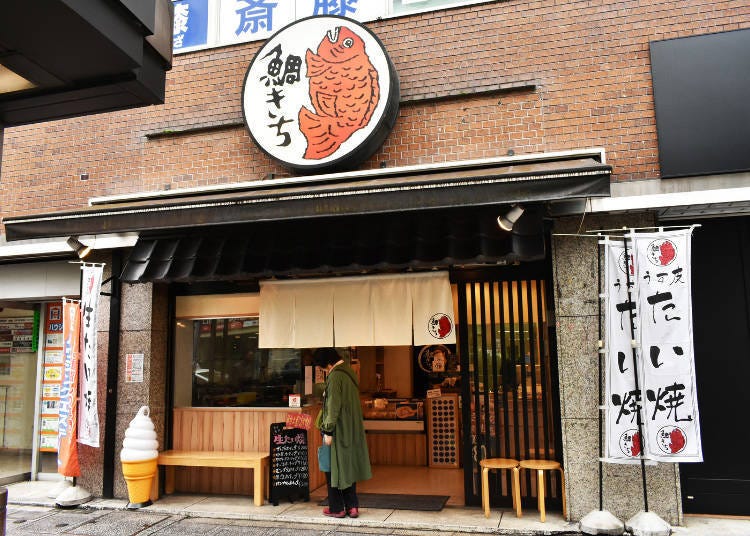 Walk along the arcade leading from the front of Sendai Station for about five minutes and you'll see Usukawa Taiyaki Taikichi near the entrance to a second arcade, "Clis Road Shopping Street."

A nearby sign featuring a big frog is an easily recognizable landmark. What looks like a huge brown fish is actually a depiction of a taiyaki, a sweet fish-shaped waffle with a choice of fillings.

If the sight of delicious taiyaki on display doesn't draw you in, the sweet fragrance flowing out from the store certainly will!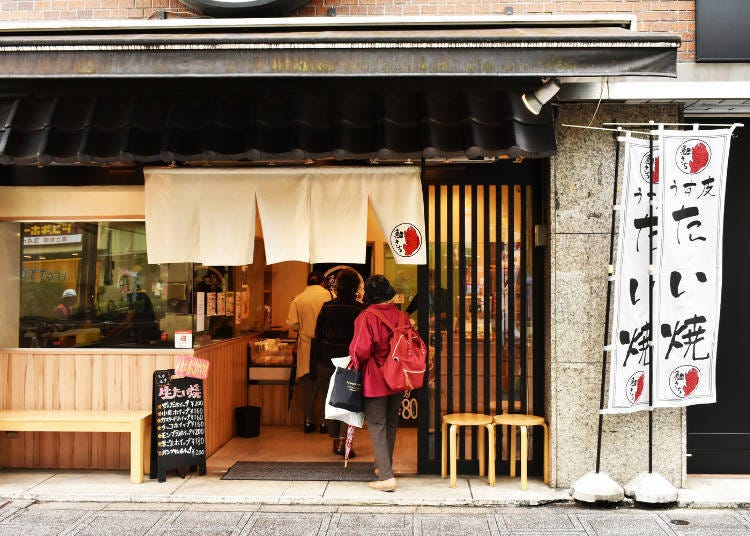 It doesn't take long from the time you order until you get your freshly baked food. Because the shop is committed to presenting customers with the amazing taste of fresh taiyaki, you'll always receive a hot fresh order right there and then.

Classic varieties include "ogura" (150 yen, tax included) with mashed red bean flavor and moist, sweet "custard cream" (150 yen, tax included), and there are also many seasonal items available.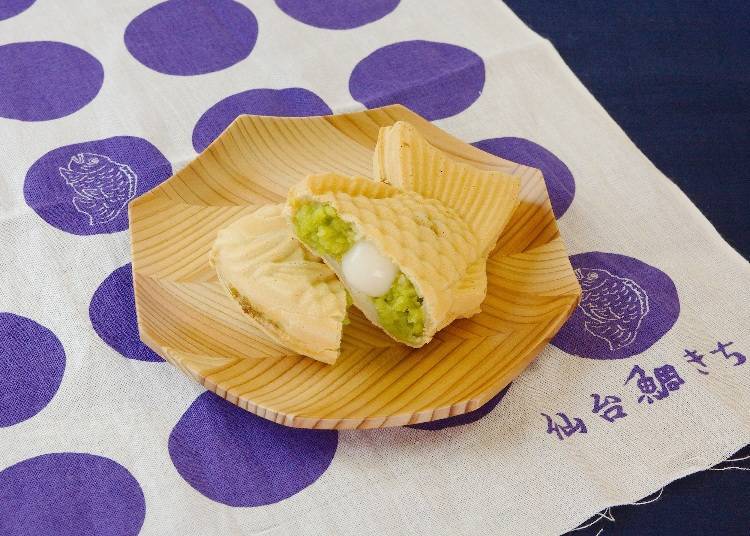 You should definitely try the zundamochi (180 yen, tax included) variety, which is only available on weekends and holidays. You can enjoy the three textures of crushed soy beans, chewy rice filling, and crispy pastry and their combined gentle sweetness.
うす皮たい焼き 鯛きち 名掛丁店

Address

2-1-30 Chuo, Aoba-ku, Sendai City, Miyagi 980-0021

Phone Number

022-224-7233

Hours: 10:30 - 19:30 (or as soon food is sold out)
4. Abekamabokoten's Hyotanage: Gotta get something fried!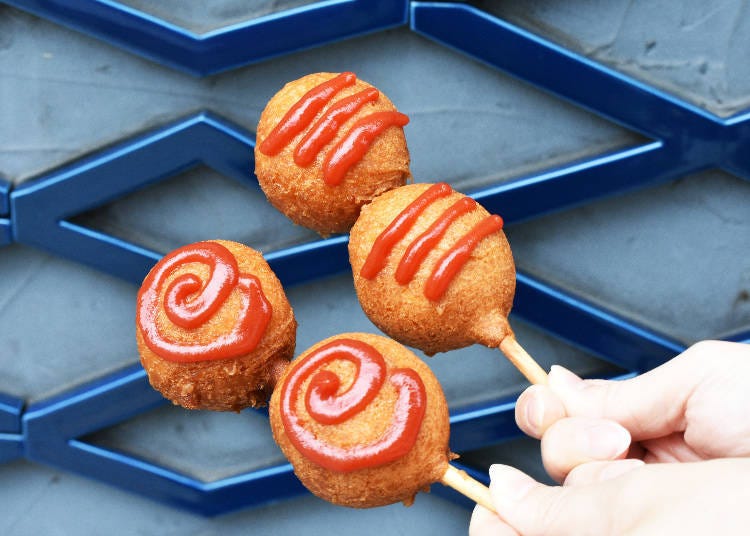 About a 10-minute walk from Sendai station, you can purchase "hyotanage" (250 yen, tax included) - very representative of Sendai --at the Abekamabokoten headquarters on the Clis Road arcade.

First offered at the 1985 Sendai Aoba Festival (held in May every year), hyotanage has been loved by Sendai citizens for over 30 years.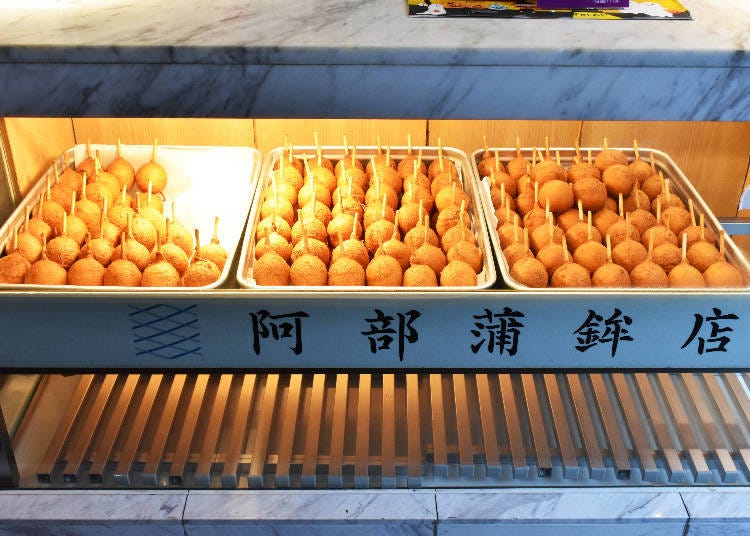 Hyotanage is made by skewering two large, round pieces of kamaboko (baked fish paste) and then frying them. Chefs must skillfully fry all the skewers to the same "fox color" while maintaining the gourd-like shape. Few have mastered the art the perfectly fried and shaped hyotanage, and there's often a line of customers eagerly waiting to try these unique Sendai foods.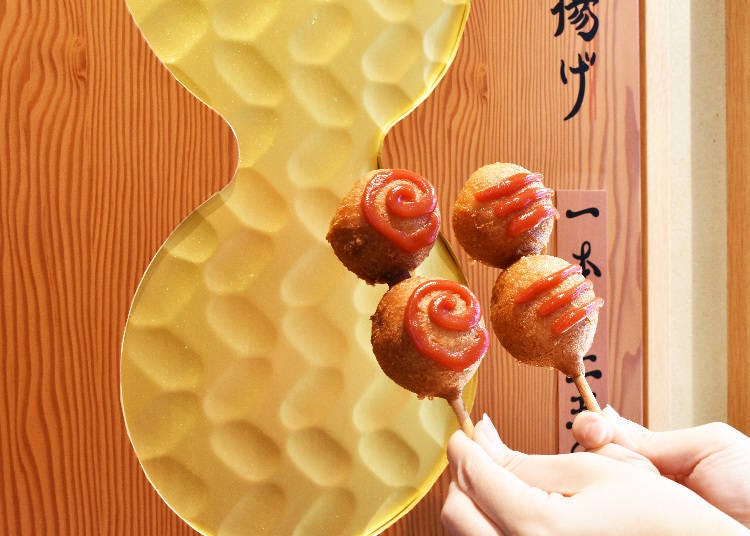 The crunchy fried batter and rich kamaboko are excellent and are typically topped with ketchup. Hyotanage is also available at Sendai Station and Matsushima Teramachi, but here you can choose between sweet or dry varieties, which the staff will prepare to order.

The sweet hyotanage are decorated with a swirl of ketchup, while the dry ones get a wavy pattern. Since the fried outer layer is a bit sweet, the dry, spicy variety is recommended.
阿部蒲鉾店 本店

Address

2-3-18 Chuo, Aoba-ku, Sendai City, Miyagi 980-0021

Phone Number

022-221-7121

Hours: 10:00 - 19:00 (or as soon food is sold out)
5. Ocha no Igata: Incredible Matcha Ice Cream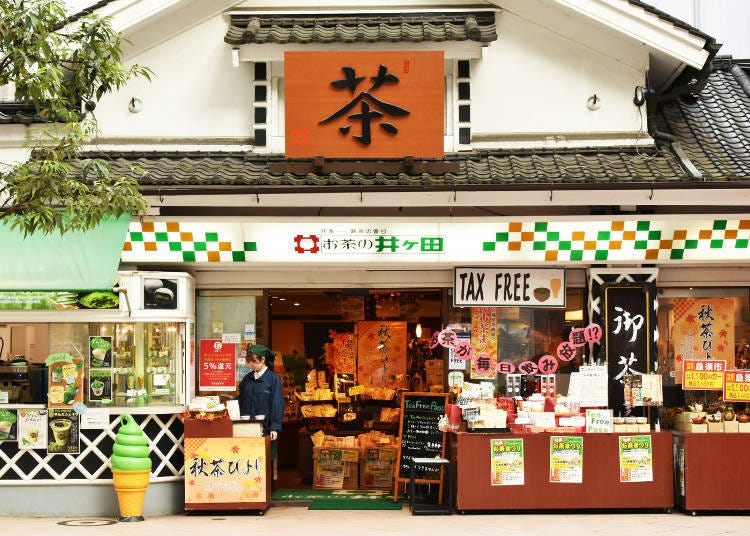 Ocha no Igata Ichibancho Honten is a long-established tea shop that has been in business for nearly 100 years.

The store offers a wide variety of teas, from green tea, hojicha, sencha, and matcha tea to kelp tea and kukicha. Here you can sip free tea while shopping, or sit and relax in the restaurant that still retains the feel of a traditional Japanese tea shop.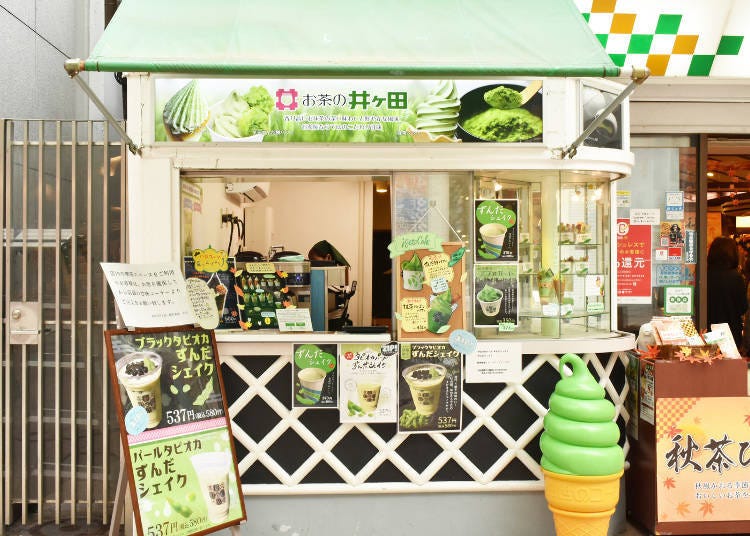 The store also has a take-out counter outside and the best choice there is "Matcha Soft Cream" (take-out 300 yen/eat-in 306 yen, tax included). Opened in 1993, the counter was devised to serve sweets that can be easily eaten while walking.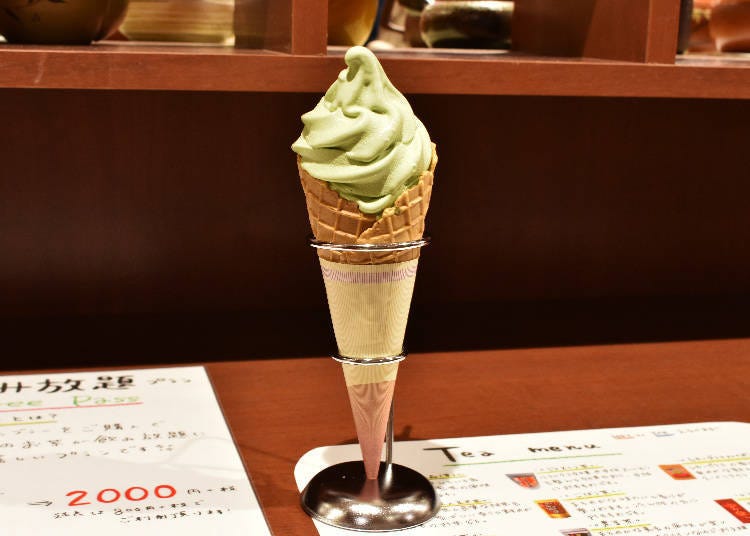 Soft serve ice cream with a rich matcha fragrance is refreshingly sweet, and the portion size is generous. If you eat-in, you can enjoy it with free hot tea in the store.
Ocha no Igata Ichibancho Main Store

お茶の井ヶ田 一番町本店

Address

3-8-11, Ichibancho, Sendai Shi Aoba Ku, Miyagi Ken, 980-0811, Japan

Phone Number

022-261-1351

Hours: 10:00 - 19:30 (soft serve corner closes at 19:00)
In addition to these five treats, there are many other easy-to-eat Sendai foods that are popular with locals. Why not visit Sendai to enjoy shopping, sightseeing, and finding your favorite delicacy?

Text by: SHOE PRESs
*This information is from the time of this article's publication.
*Prices and options mentioned are subject to change.
*Unless stated otherwise, all prices include tax.