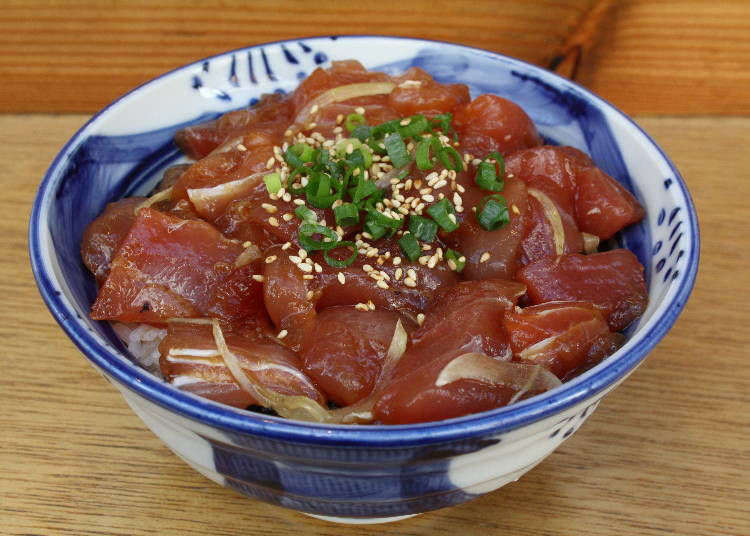 The Sanriku area near Miyagi Prefecture is a rich fishing area, and you can experience quality seafood dishes and sushi in Sendai, in the bustling center of Miyagi.

This time we will cover the most popular seafood dish, tuna, served at famous Sendai restaurants. You must try out these dishes from tuna cuisine specialty shops run by tuna brokers to rice shops in markets that were carefully selected by our local writer!
1. Maguroya Yamato: Run by a Tuna Broker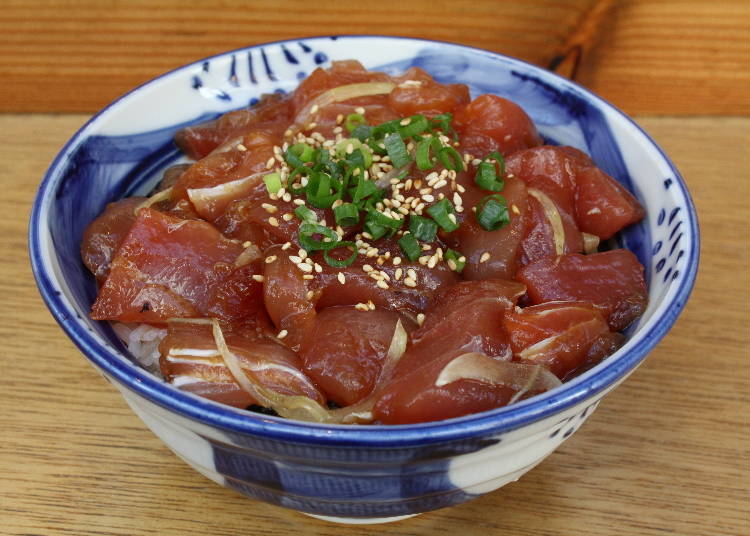 When you're looking for Sendai sushi, this is the spot for you! Maguroya Yamamoto is a tuna specialty shop located in the corner of Toichi Ichiba in the middle of Sendai City. It is a specialty shop that only uses tuna from Shigoama City, Miyagi Prefecture, which has one of the largest landings of mebachi maguro (bigeye tuna) in Japan.

The most recommended item is the "Yamamoto Tokusei Tsuketare-don" (rice bowl), which uses 170 grams of tuna (750 yen, 858 yen at night). The tuna is cut in blocks, and it is incredibly filling! The tokusei tsuke-tare (special sauce) is made from a sesame oil base and is mixed with tuna once the order is made. The amount of sauce used for the day changes depending on the part and amount of tuna used that day.

Taking a bite, the umami of the tuna and mellow sauce mix together - and it's pure bliss. Other than the tsuketare-don, they have the "koku-mayo," "wasabi," and "Korean style."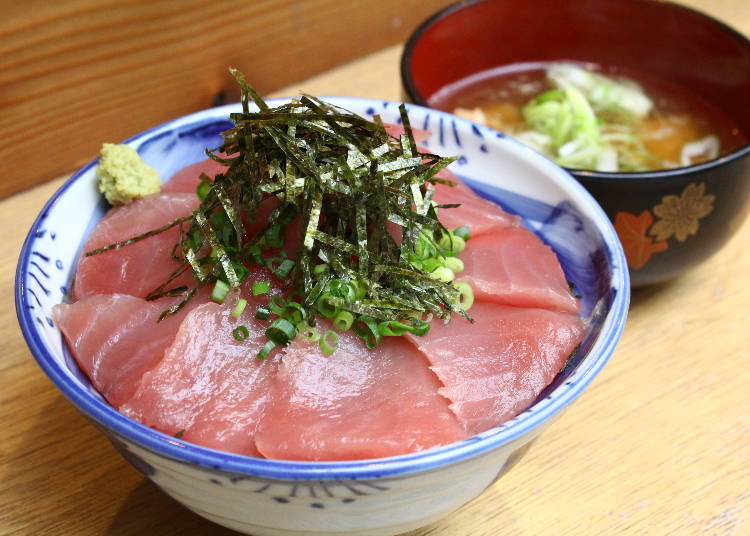 If you want to enjoy the tuna as it is, try the "Shiogamasan Maguro Akami-don" (980 yen, 1,078 yen at night). You can taste the rich flavor of the akami (lean tuna).

The reason why you can enjoy tuna from Shigoma at a reasonable price is that the owner is a tuna broker! Seeing you can enjoy fresh tuna selected by a connoisseur, it's not surprising that the shop is bustling with customers every day.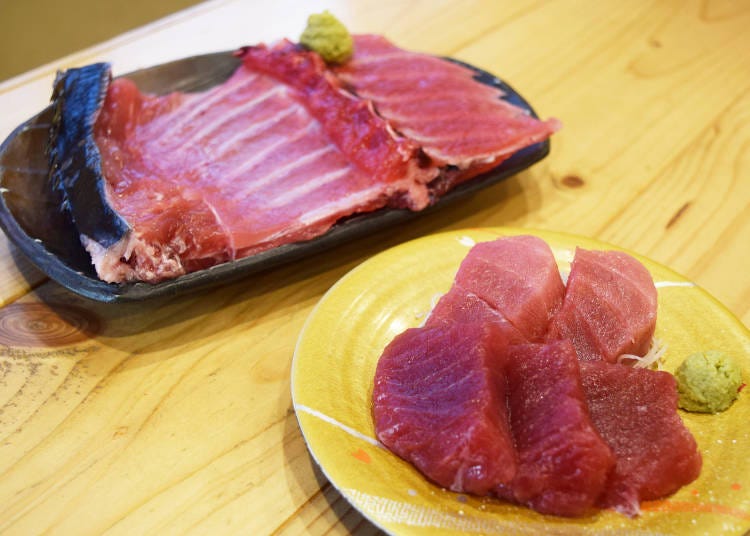 They only serve rice bowls during lunch, but at night they offer a la carte dishes such as sashimi and robatayaki (Japanese style barbeque). They have very attractive menu options such as the "Self-Nakaochi" (480 yen) where the customer scoops tuna with their spoon, or the "Mebachi-Sashi" (starting from 480 yen) with thickly sliced sashimi.

Every year from late September to the end of December, among the bigeye tuna that are caught at the Sanriku east offshore fishing ground and landed in Shiogama, there is "the Sanriko Shigoma Higashimono," which has excellent freshness, color and fat. You must try this delicious tuna during the season.

*Dishes prepared with "Sanriku Shigoma Higashimono" are only available from late September to the end of December.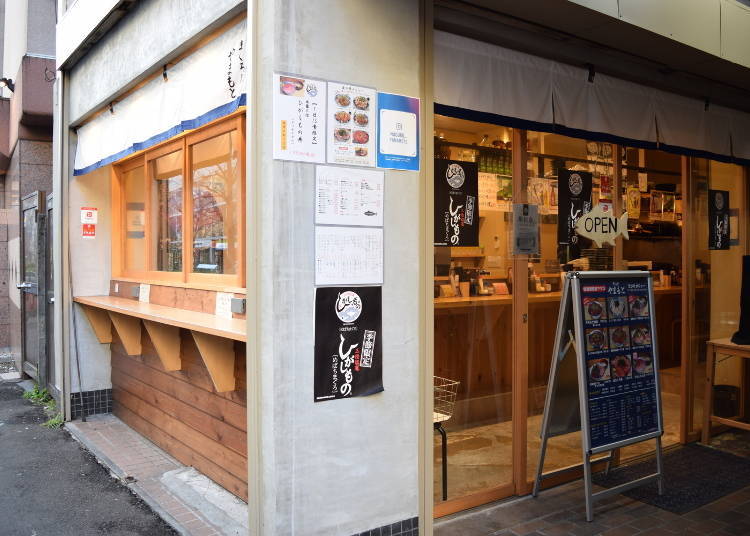 The cozy store only has a counter, and no tables. They have a standing and sitting space at the counter; at night, you can enjoy tuna dishes and alcoholic beverages. Alcoholic drinks start from 299 yen. They offer drinks such as sake, beer, and sours, also you can always ask the staff what drinks matches your tuna dish.
まぐろ屋 やまもと

Address

Touichisizyou, 4-5-16, Ichibancho, Sendai Shi Aoba Ku, Miyagi Ken, 980-0811, Japan

Phone Number

022-796-3727

Touichisizyou, 4-5-16, Ichibancho, Sendai Shi Aoba Ku, Miyagi Ken, 980-0811, Japan
2. Hanazushi: The Tuna Tower Rice Bowl Draws Customers From All Over (Closed)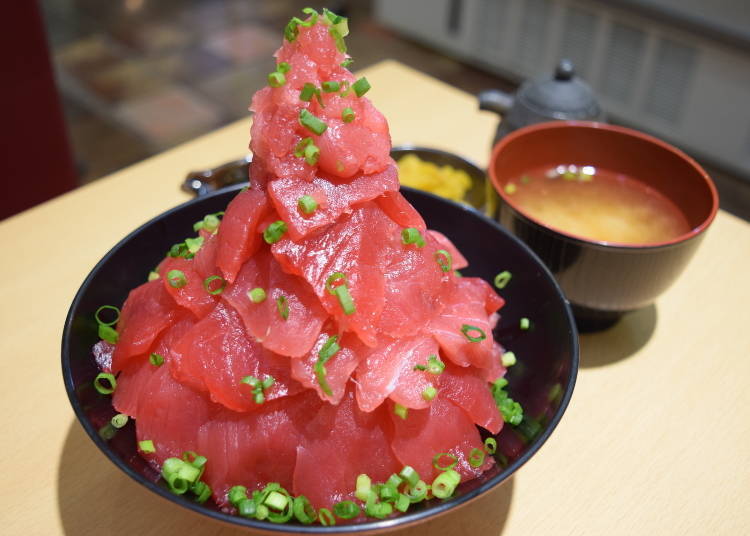 At "Morino Ichiba Sendai," there are over 31 shops such as fresh fish shops, butcher shops, and product shops. Inside the market filled with lively voices, you will find the famous kaisendon (seafood rice bowl) restaurant "Hanazushi." It's sure to satisfy your Sendai sushi hunger.

To reach the restaurant from central Sendai City, take the Subway from Sendai Subway Tozai Line Sendai Station for about 9 minutes. Get off at Oroshimachi Station and it's about a 15-minute walk.

Hanazushi is known for its kaisendon made with fresh seafood from the market, but what draws the crowd is the "Maguro Tower Don" (1,680 yen) with a heaping mound of tuna.

The colorful red akami (lean tuna) is full of umami and the more you chew the more it spreads in your mouth. The smooth toro (fatty tuna), has a delightful rich sweet flavor that envelops the mouth.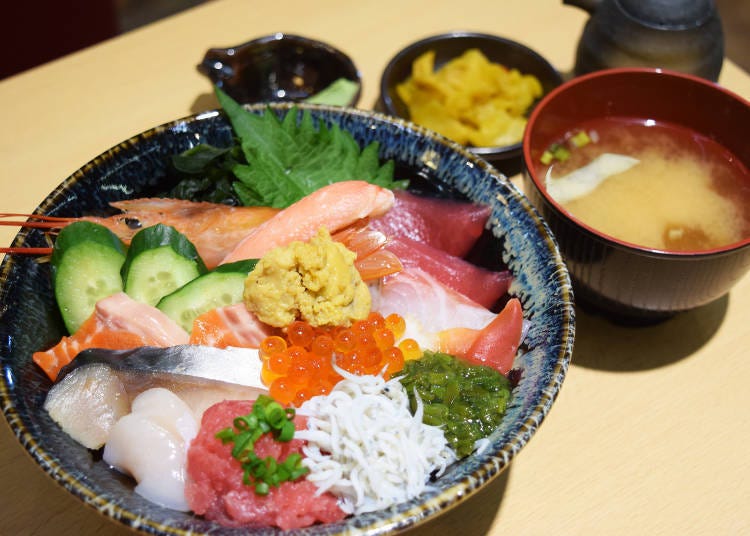 If you would like to try different seafood, we recommend the signature dish "Mori no Ichiba Don" (1,680 yen). Other than tuna the extravagant rice bowl has 13 different seafood such as sea urchin, snow crab, and Miyagi Prefecture Ishimaki City Brand saba (pacific Mackerel) Kinka Saba.

You can enjoy the unique flavor of each ingredient, such as the melt-in-the-mouth texture of the akaebi (whisked velvet shrimp) and the rich umami of the Kinka Saba.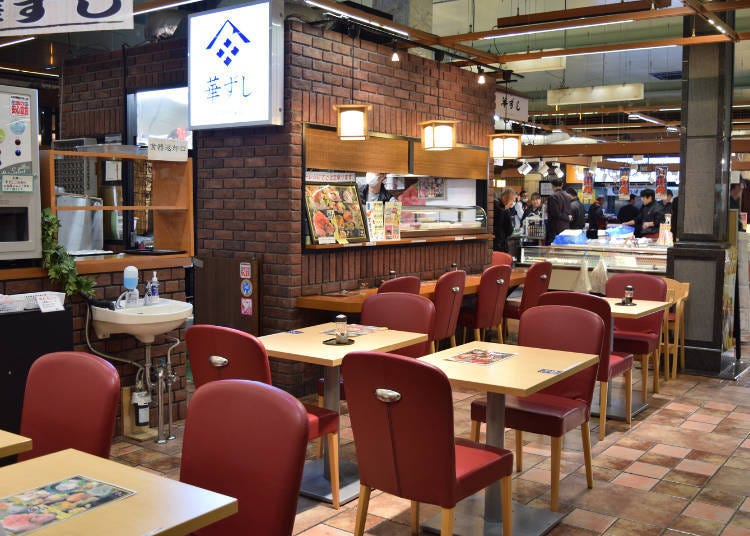 The Sendai restaurant has table and counter seats. They are also family-friendly with booster seats.

For the tuna bowls, they also have the "Doka Mori Maguro Don" (1,200 yen) and "Nama Maguro Zukushi Don" (900 yen). Depending on your mood, if you want a large portion of tuna order the "Maguro Tower Don," if you wish to try different rice bowls with your friend of family order the "Doka Mori Maguro Don" or "Nama Maguro Zukushi Don."
華ずし

Address

1F, Jyougai Mori no Shijo, 5-2-6, Oroshimachi, Sendai Shi Wakabayashi Ku, Miyagi Ken, 984-0015, Japan

Phone Number

022-231-8376

Hours: 11:00 a.m. - 6:30 p.m.
Closed: None
(Ed. Note: Hanazushi closed permanently in 2021)
3. Kanzenkoshitu Minatoichiya: Delicious Sake and Tuna at an Izakaya Near Sendai Station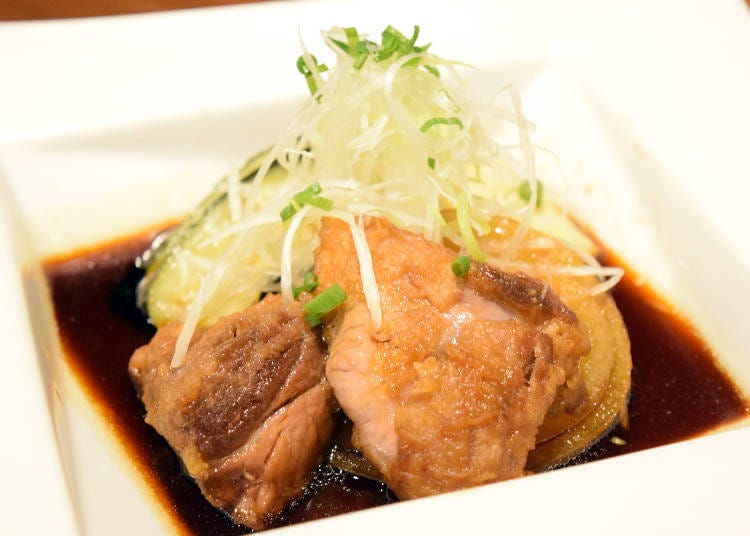 A glass of delicious sake is always nice at night during your travels. If you want to enjoy tuna dishes with sake brands, "Kanzemkoshitsu Minatoichiya Sendai Aobadori Shop" is there to grant you your wish.

One great thing about the Sendai sushi shop is definitely the location, as you can reach the shop from JR Senseki Line Aoba-dori Station Exit 2 in about a minute on foot, and it also takes about 4 minutes on foot from JR Sendai Station West Exit, the main gateway for Sendai sightseeing.

The store prides itself on its seafood dishes. You can enjoy Japanese seafood dishes such as sashimi, simmered fish, and tempura made from ingredients directly delivered from the fishing port.

Their tuna dishes are particularly popular. The most popular dish is the "Maguro Hoho Niku no Nitsuke" (simmered tuna cheek) (790 yen), which goes perfectly with sake or shochu. The carefully simmered tuna is so soft that it will melt in your mouth. The umami from the tuna and the sweet and salty sauce makes a perfect match.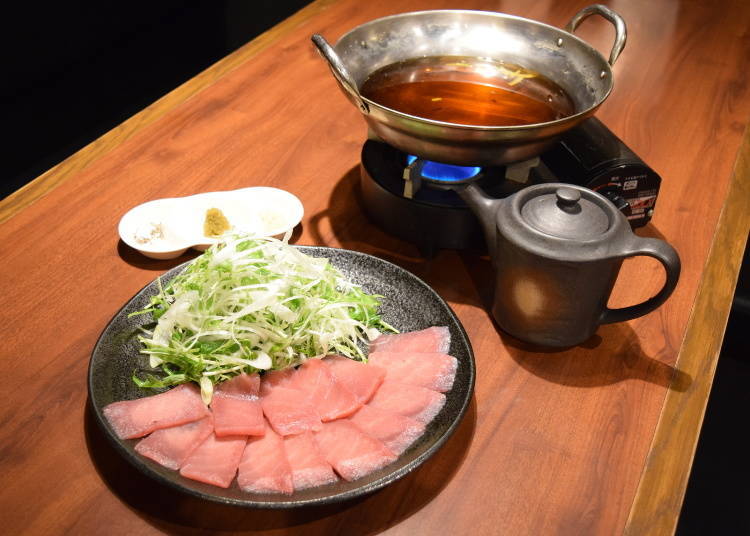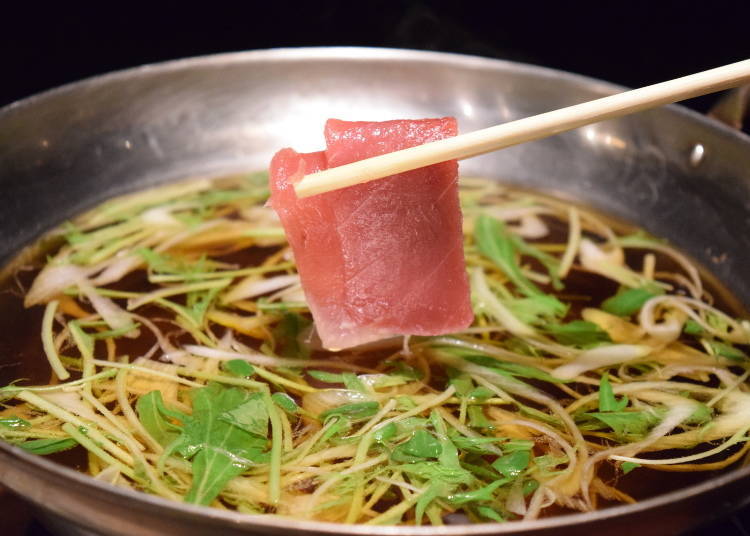 "Chutoro Maguro no Dashi Shabu" (1,390 yen per person) is another popular dish. Dip the chutoro (medium fatty tuna) into the hot katsuo dashi (bonito soup stock) like shabu-shabu. The chutoro dipped in the dashi has an elegant taste and aroma.

It is good as it is, but you can always change it up with provided condiments such as goma ponzu (sesame citrus-based sauce) sauce, yuzu kosho (yuzu citrus pepper), and sesame.

"Chutoro Maguro no Dashi Shabu" requires a minimum order for two people. This Sendai restaurant recommends adding the "Shime no Sanuki Udon" [Sanuki style udon noodles] (250 yen) to the hot pot once you are done with the tuna.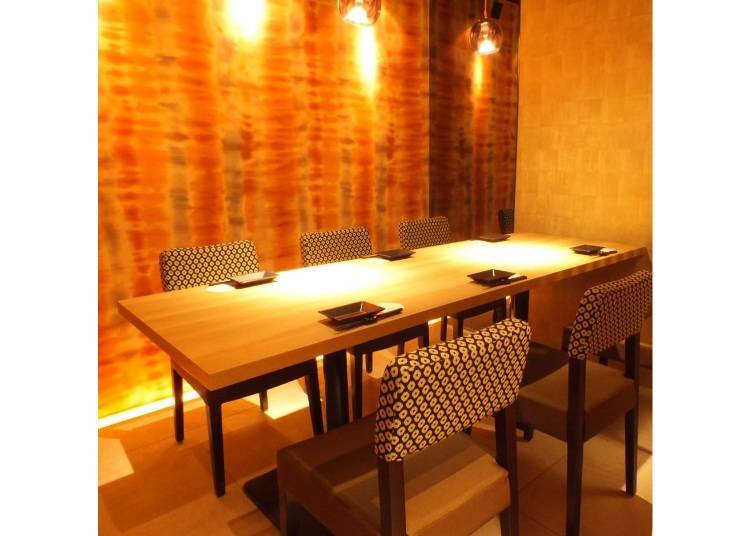 Another great point of the restaurant is that all the seats are private rooms. They have private rooms for 2- 4 people to 16 - 30 people, so all size of groups can enjoy their meal.

They focus on sake, but also have a great line up of drinks up such as shochu, beer, wine, and whiskey. How about a night out with great sake and tuna?
Kanzenkoshitu Minatoichiya Sendaiaobadoriten

完全個室 湊一や 仙台青葉通り店

Address

5F, HTT Ssendaiekimae Bld., 3-1-20, Chuo , Sendai Shi Aoba Ku, Miyagi Ken, 980-0021, Japan

Phone Number

050-7534-6035

Hours: 5:00 p.m. - 11:30 p.m.
Closed: Sunday and Holidays
There you have it, some amazing Sendai sushi spots to try out fresh, Japanese tuna. The three stores don't have English menus, but are popular shops with many foreign visitors – challenge yourself!

Text by: SHOE PRESs
*This information is from the time of this article's publication.
*Prices and options mentioned are subject to change.
*Unless stated otherwise, all prices include tax.