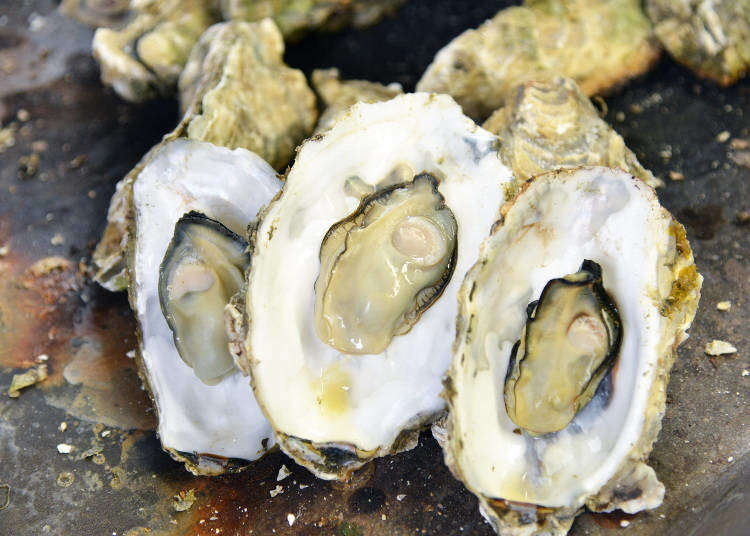 Miyagi oysters are famous for being some of the best-tasting around.

In Miyagi Prefecture, the Sanriku Coast meets the sea along one of the three largest fishing areas in the world. There, the mix of warm and cold currents provides a nurturing environment for the oysters, where they slowly feed and grow.

Because of how fresh they are, most of the Miyagi oysters harvested here are eaten raw. During the oyster season from autumn to winter, you can try these oysters at many restaurants in Matsushima.

Among these oyster restaurants is Kaki-Goya, which exploded in popularity recently, with their all-you-can-eat buffet that lets you enjoy the best of Miyagi's seafood.
Why are Miyagi oysters so prized for their flavor?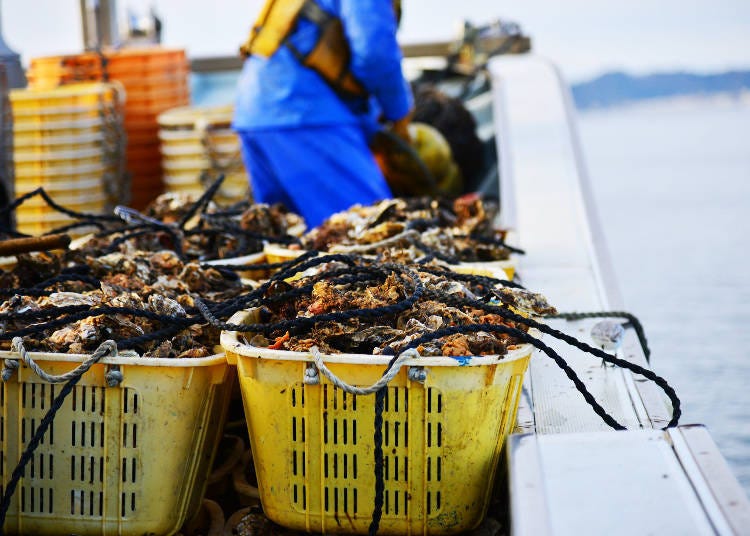 Miyagi Prefecture is the second largest producer of oysters in Japan, after Hiroshima, based on the 2015 Annual Statistics of Fishery and Fish Culture Report.

However, while the ones from Hiroshima are usually eaten cooked, Miyagi oysters are usually eaten raw. The seas which the oysters grow up in ultimately decide on how they're eaten.

Eleven fishing areas in Miyagi Prefecture, including Matsushima, Kesennuma, and Ishinomaki, are designated as areas where oysters produced may be eaten raw. As such, almost all the oysters produced in Miyagi are designated as fit for raw consumption.

On top of this, there are variations in how long it takes the oysters to mature to a size suitable for harvesting, depending on the region.

In seas rich in nutrients, it takes about a year for the oysters to grow to a suitable size, though it can take longer in seas with less nutrition.

Besides the qualities of the sea and environment, oyster farmers have various farming techniques, which can boost the growth and harvest of the oysters as well. As such, you're pretty much guaranteed top-class oysters from Miyagi Prefecture.
Matsushima, where Miyagi oyster farming began in the 1600s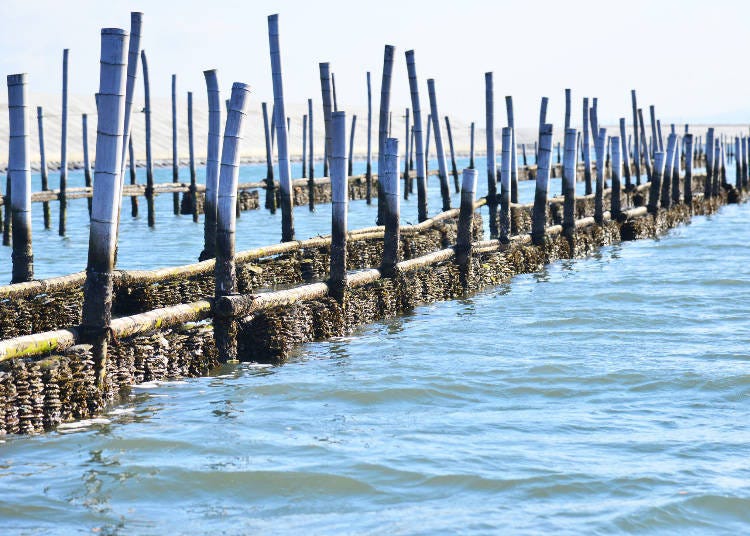 Oyster farming in Miyagi began in the 1600s when a large number of oysters was discovered along the cove of Nonojima Island, located in Matsushima Bay. The oysters were immediately harvested, immature oysters were collected, and thus began the farming of oysters in the sea. From then until the 1800s, wild oysters could be harvested from the area.

However, as time went by, the number of wild oysters began to decline. In a bid to salvage the situation and switch to more sustainable oyster farming methods, oyster farmers from Hiroshima were brought to teach their techniques, but to no avail.

However, the drooping chain method of oyster farming, which was developed in Kanagawa prefecture in 1923 with outstanding results, was found to be a match for the seas of Miyagi. In the 1930s, the Ikada farming method, suitable for farming oysters in deep waters, was also developed, and the use of both led to the sudden boom in Miyagi's oyster production.
Kaki-Goya: The most popular way of eating oysters!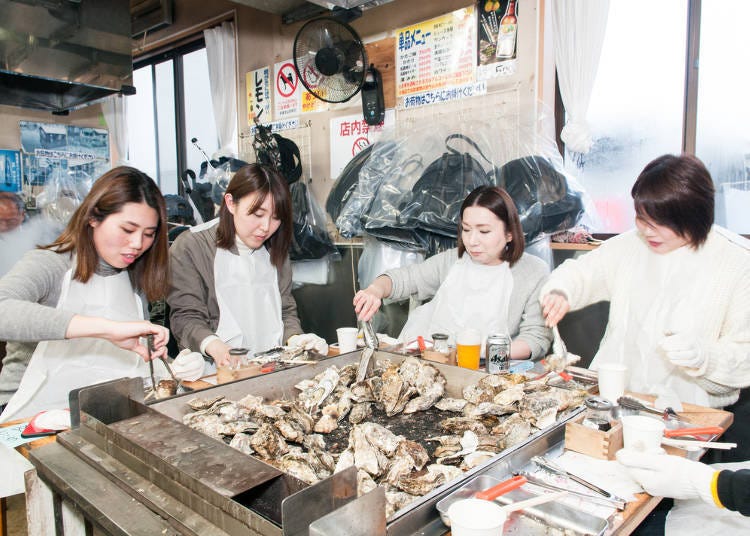 From eating it raw to grilling, steaming, frying, and in a hotpot, there are many ways to eat oysters. As one of the three great views of Japan, Matsushima in Miyagi prefecture is a popular tourist attraction, and from October to March, you can savor a wide variety of oyster dishes at the many restaurants and shops there.

Among these restaurants is a relatively newer buffet-style restaurant, Kaki-Goya. You can scoop oysters onto a large heated steel plate, and cover the oysters to grill or steam the oysters to perfection in 15 minutes.

As Kaki-Goya also serves oysters under a timed buffet system, many customers come to the restaurant to have their fill of oysters, before leaving satisfied with the volume of tasty seafood they enjoyed. All-you-can-eat Miyagi oysters! Incredible.
Yakigaki House: Enjoy seafood all year round in Matsushima Fish Market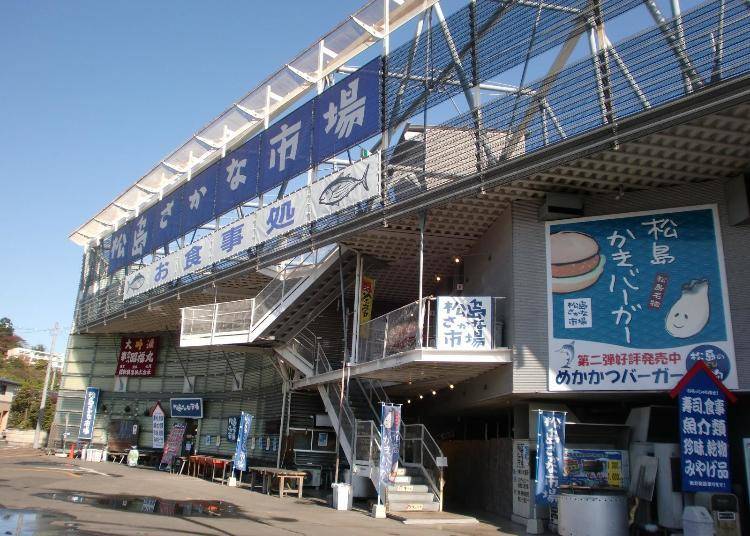 Located just 10 minutes from JR Matsushima-Kaigan station is Matsushima Fish Market, a large market run by the owner of six bluefin tuna catching ships in Kesennuma.

Seasonal fish and fish products are sold there, and the second floor has a food court where you can enjoy affordable and fresh sushi and seafood rice bowls.

In a side building on the market grounds is where Yakigaki House stands.

Matsushima oysters are only in season in autumn and winter, but this shop imports oysters from not just Matsushima, but from other oyster farmers throughout the prefecture as well, allowing it to serve oysters all year round.

As it's a place where you are guaranteed oysters no matter the time of the year, it's popular not just amongst the Japanese, but amongst foreign tourists too. Though the shop only provides services in Japanese, the menu layout is simple, making it easy for foreign visitors to place their orders too.
A 45-minute grilled oyster buffet: what kind of system is it?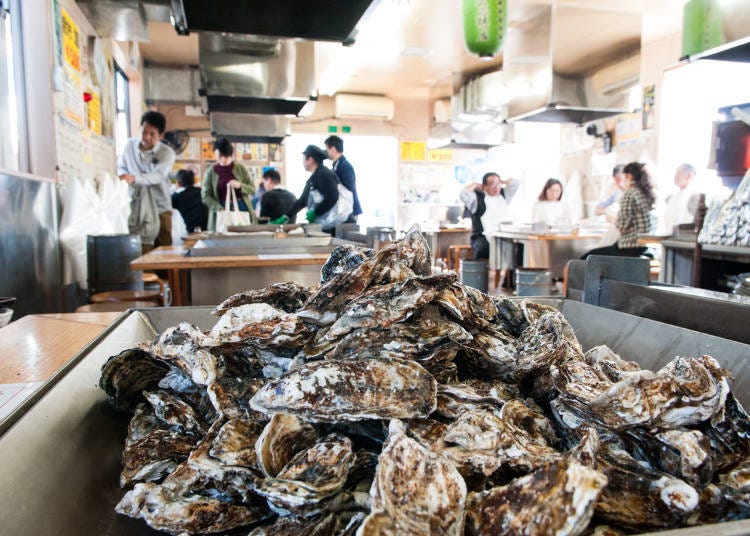 Upon entering the restaurant, you first choose your course. The A course is a 45-minute grilled oyster buffet with rice and oyster soup for 2800 yen (with tax). Meanwhile, the B course is a 45-minute buffet with only grilled oysters, for 2300 yen (with tax).

The interior of Yakigaki House is simple, and perfectly reflects its specialty in grilled oysters. Each table is set with a large, hot steel plate, with a ventilator right above each one to clear out the smoke from grilling. Once seated, the staff will give a short lesson about how to grill the oysters, and once you've finished listening to their explanation, your buffet time begins. You can bring large scoops of oysters to your table to enjoy!
The tastiest way to eat Miyagi oysters: How to get the oysters out of their shell as fast as possible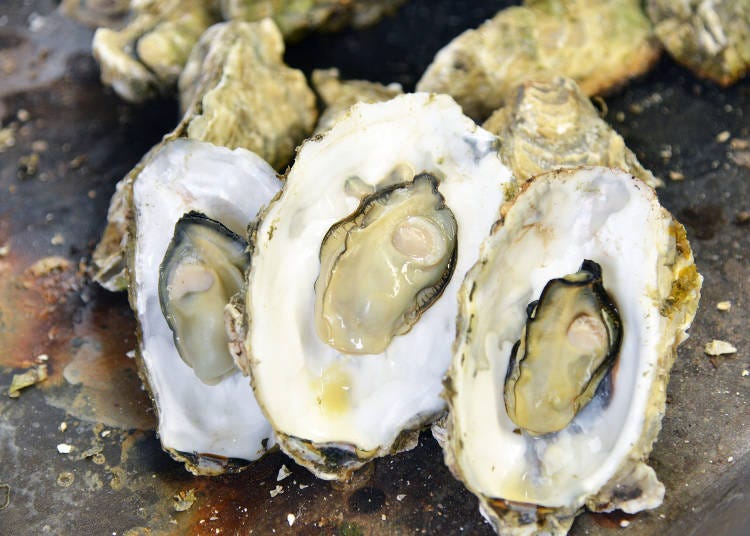 After scooping a mountain of oysters on the hot plate, they're covered with a lid, and they're left to cook for 15 minutes. The wait to eat your first oyster can be a real test of patience, and once the oysters are ready, the staff will bustle over to open the lid. The fragrance of the oysters carries in the steam billowing out of the hot plate, leaving a feast of oysters waiting for you to tuck right in!

Enveloped in the rich smell of oysters, it's only natural to give in to your basal instincts and speed through the pile of oysters one by one. Harvested the on the morning that they're sold, the natural saltiness of the oysters is just right, and you start off by eating the oysters without any other condiments. The juicy oysters have a rich umami taste, with wafts of the sea, and they're delicious on their own.
The oyster gratin and oyster soup are must-try's too!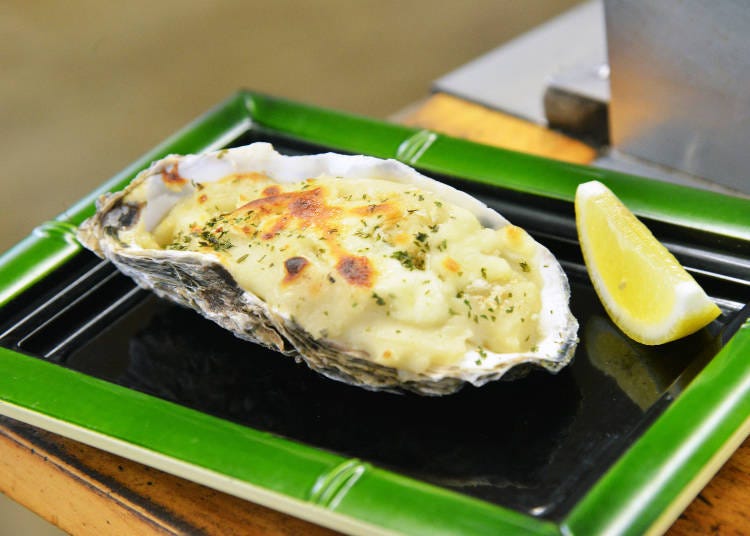 On average, each person eats around 30 to 40 oysters during their visit. Though it may seem like a lot, there are many people who go beyond that number too. If you can get full eating just oysters, we recommend that you try them with soy sauce as well.

The empty oyster shells can be dumped in a can near your seat. The sight of the can filling up with shells leaves you with a real sense of satisfaction from your meal! Besides side menu items featuring oysters such as oyster gratin, oyster soup, and oyster rice, other foods such as abalone, squid, prawns, scallops, and other fresh seafood items are available as well. Yakigaki House's selling point is in its large variety of delicious seafood!
After having your fill, go shopping at Matsushima Fish Market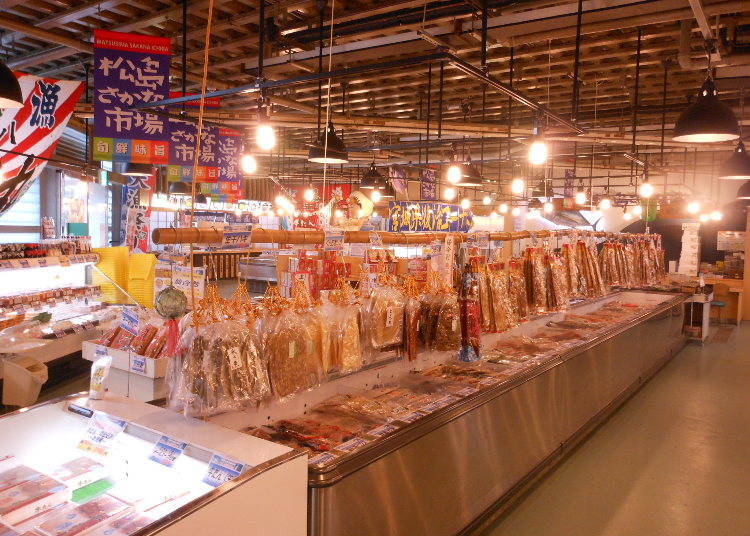 At Yakigaki House, there aren't just buffet courses, but value set menus as well. For a set of grilled oysters, oyster rice, and oyster soup, you can try the "Godaidō Set A" for 1400 yen (with tax). For a taste of both oysters and abalone, you can try the "Deluxe set" for 1800 yen (with tax). With so many choices available, you can have a relaxing time while enjoying your meal.

After enjoying your feast of oysters, why not head down for some shopping at Matsushima Fish Market? The market features over 1500 varieties of live fish and raw seafood from all over Japan. A wide variety of canned delicacies and other marine products such as sasakamaboko fish cake are available as well, making this a great place for souvenir shopping. Catches from the Sanriku coastal area, such as Kinka mackerel, Sanriku wakame seaweed, and steamed soft oysters, are popular products as well.
The milk of the ocean: Matsushima oysters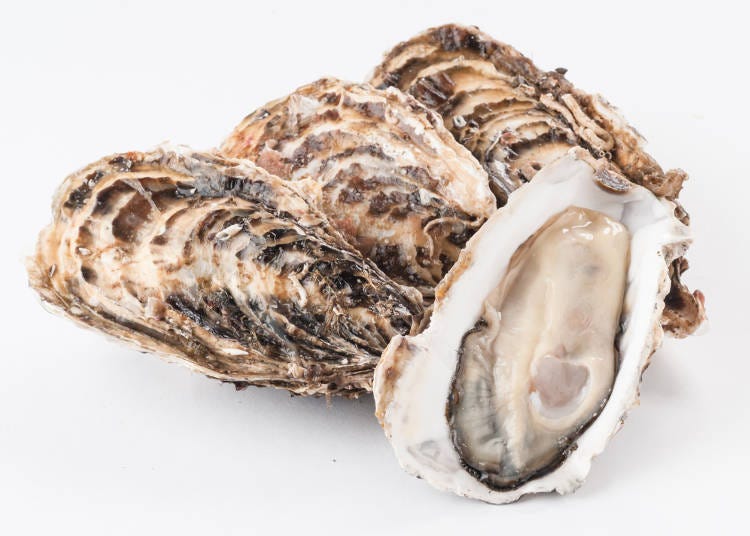 Matsushima oysters, with their long history, reach their peak between October to March, and it is during this period when the area is frequently visited not just by Japanese, but many foreign tourists as well, to savor the taste of fresh oysters. Pretty much all the shops in the town start to serve oyster rice bowls, a limited item only available in autumn and winter, and you can taste them anywhere in Matsushima.

These raw exported oysters from Miyagi, with their thick and enjoyable taste, also earned them the name "the milk of the sea".

When eaten raw, you squeeze just a little lemon on top to hold back the natural bite of the oyster's taste. The rich taste of the oysters, finely controlled by the sourness of the lemon, makes for an indescribably wonderful taste. This winter, do check out Matsushima, one of the three great views of Japan, for a taste of freshly caught oysters!

*Please note hours and services may differ due to the spread of coronavirus.
Matsushima Sakana Ichiba Yakigaki House

松島さかな市場 焼がきハウス

Address

Matsushimafugendou 4-10, Matsushima, Miyagi Gun, Matsushima Machi, Miyagi Ken, 981-0213, Japan

Phone Number

022-353-2318

Hours: 8:30~16:00 (LO15:00)
Closed: Open Daily
Text by: SHOE PRESs
*This information is from the time of this article's publication.
*Prices and options mentioned are subject to change.
*Unless stated otherwise, all prices include tax.