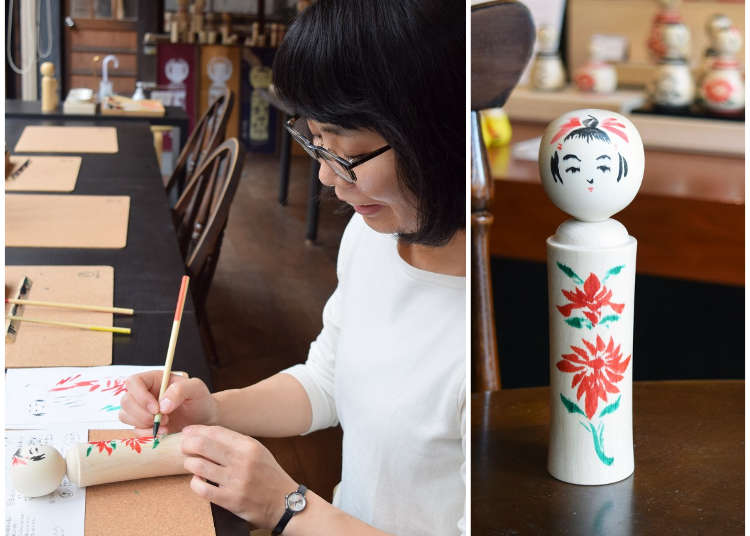 Kokeshi dolls are a traditional Japanese handicraft that are popular amongst foreign visitors too.

Originating from the onsen areas of the Tohoku region, "Kokeshi-no-Sato" in Naruko Onsenkyō in Miyagi Prefecture's Ōsaki city is a major producer too.

The hot springs town has kokeshi making workshops, and there are hands-on experiences that allow you to try drawing your own kokeshi dolls too!

Here, we'll be introducing Sakurai Kokeshi, an old shop with a long history in Naruko Onsen where you can challenge yourself to drawing your own Kokeshi. You may find yourself more drawn to the kokeshi that you designed than you expect!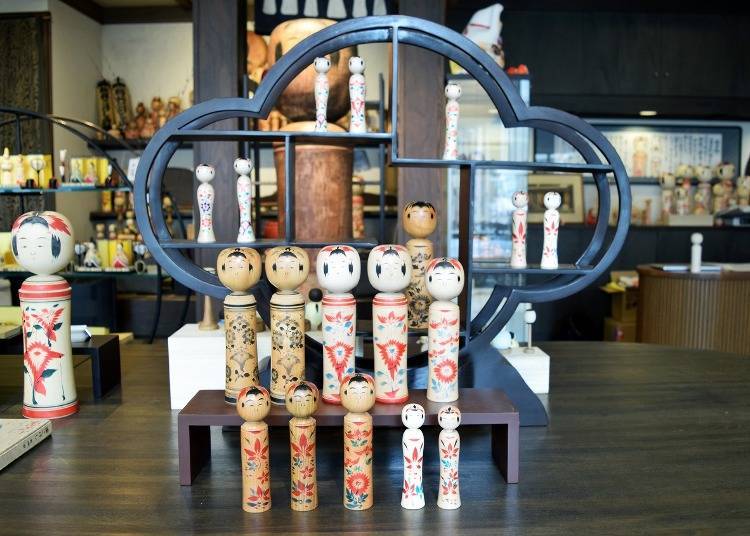 Kokeshi are a traditional handicraft of the Tohoku region. It has a long history as well, originating from the later Edo period from around 1750 to 1850, when wood craftsmen who made bowls and trays started making these Japanese wooden dolls for their children.

The kokeshi dolls of that era were made to be small enough to fit into a child's hand, and the round head on a long cylindrical body was supposed to act as a pacifier for teething babies, or so, as the legends go.

Depending on the area, the face and shape of the body changes as well, and there are eleven different variations in total.

What are Naruko kokeshi?
Naruko Onsen in Miyagi Prefecture's Ōsaki city is one of the places where kokeshi dolls originated from. From Toyko, you can take the bullet train and change onto local trains, to reach the place in about three hours.

The dolls made here are called Naruko Koekshi, and their defining trait is the squeaking sound their heads make when turned. With gentle expressions and chrysanthemum patterns drawn over their bodies, they are exquisitely charming and eye-catching pieces.

The hot springs town has several kokeshi workshops, and there are a few where you can try drawing the kokeshi on your own as well, as expected of an area known as a producer of the dolls.
A visit to Sakurai Kokeshi, an old shop with a long history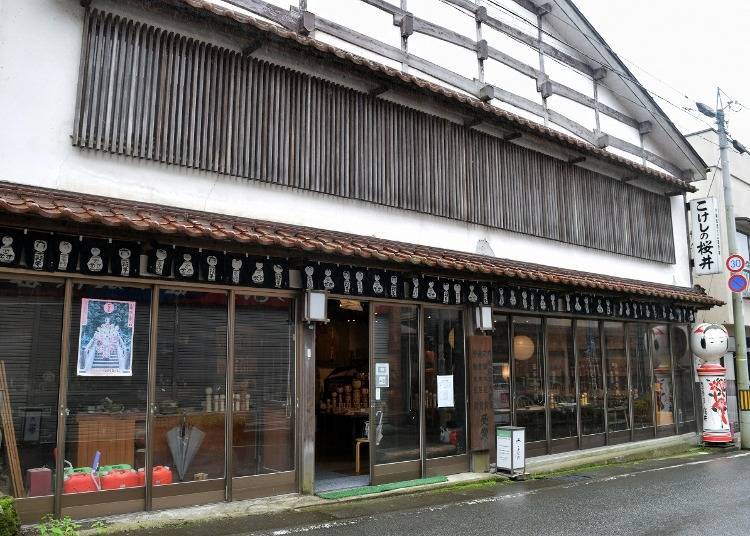 A three-minute walk away from JR Naruko Onsen station is Sakurai Kokeshi, a kokeshi doll maker with a long and illustrious history in Naruko Onsen. Starting from the first maker of the Naruko Kokeshi, Ōnuma Madagorō, the following generations have continued to carry on the tradition of creating these dolls.

At the shop, you can of course buy kokeshi dolls, and there are also workshops where you can try drawing your own dolls too. Though the time needed varies from person to person, it takes around 30 minutes on average.

The experience costs 1,800 yen (without tax), and for groups of five or larger, reservations are needed at least three days in advance. This time, we tried out the kokeshi painting experience, perfect for those looking to make fond memories of their time in Japan!
Challenging ourselves by making our own kokeshi dolls!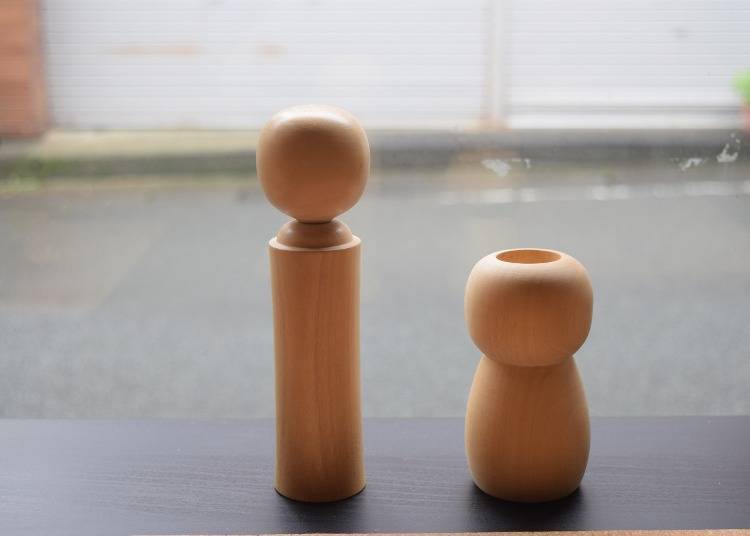 And with that, we started our challenge! First, you start by choosing the wooden base. You can either pick the traditional Naruko Kokeshi shape, or the pen holder kokeshi that you can use daily. We went with the standard Naruko Kokeshi shape.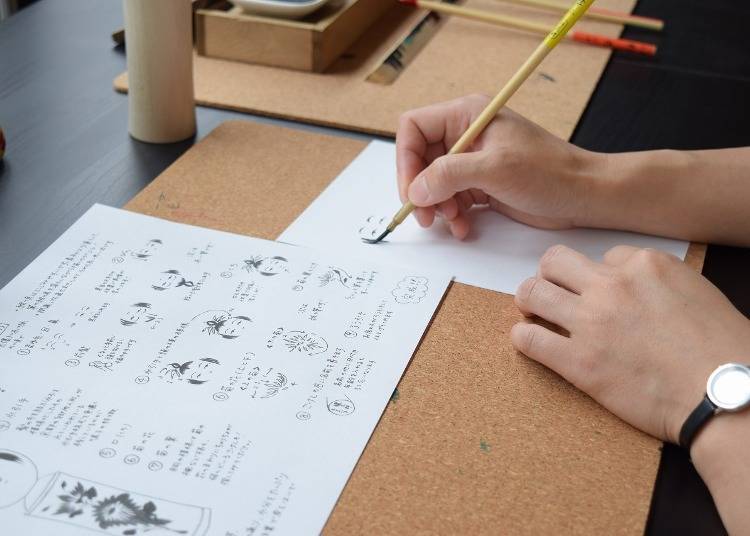 After choosing the base, it's time to start drawing... or so we would like, but patience is key. As drawing lines on the curved surface of the kokeshi requires some skill, we start by practicing on paper.

First the eyes, then the brows. As you think of the expression and form you want your kokeshi to take, let the brush flow. When you're uncertain about how you want to design your Japanese kokeshi doll, have a look around the store. Observe the various kokeshi lined up, and let your imagination run wild.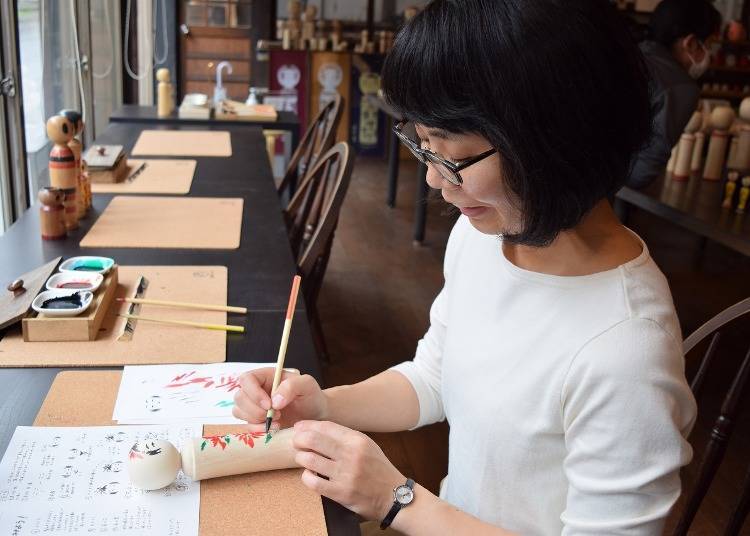 Once you've finished practicing, it's time to do the real thing. The traditional paint colors for Naruko Kokeshi are red, black, and green.

It's heart-pounding, drawing on the wood, with such a different feeling from the paper. Still, following the encouraging advice from the staff, "it's fine to just draw the lines boldly," we found the curved lines to be surprisingly beautiful!

As far as possible, try not to pick up too much paint with the brush. If there's too much paint on the brush, it may bleed along the wood grain. Once you've got the hang of it, it isn't intimidating at all. Be brave and have fun while drawing.
Once you've completed drawing the kokeshi, you can pass it to the staff. Once they've put a coating onto the doll, it's completed! You can bring it home on the day it's done. You can see various samples on display around the shop, and the one that you've made yourself looks rather funny in comparison.

It isn't quite what you were going for, but you can see a reflection of yourself in your own kokeshi doll, and you'll find yourself loving it all the same.
Don't forget to do your shopping!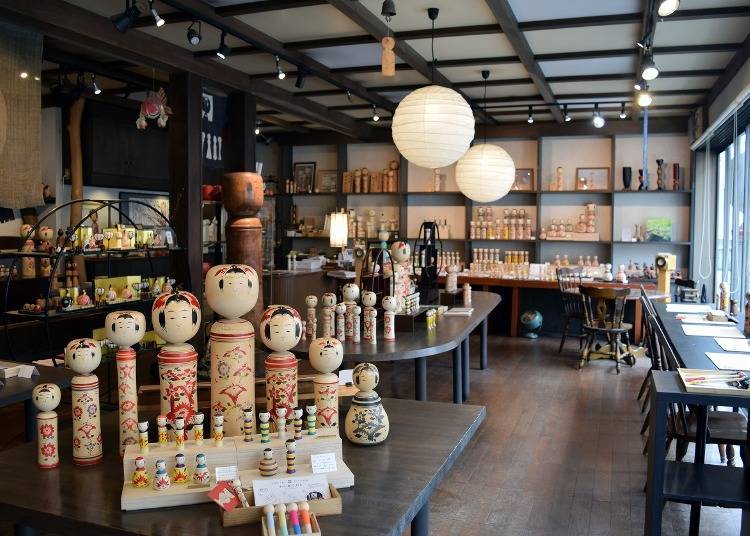 From the traditional Naruko Kokeshi to specially arranged and designed adorable kokeshi dolls, a wide variety of kokeshi items are lined up. It's not just the expressions and design, but the shapes and sizes are widely varied as well, so be sure to look for one that catches your eye.
The stars of the show are the traditional "Naruko Kokeshi." The refined faces have a certain charm to them.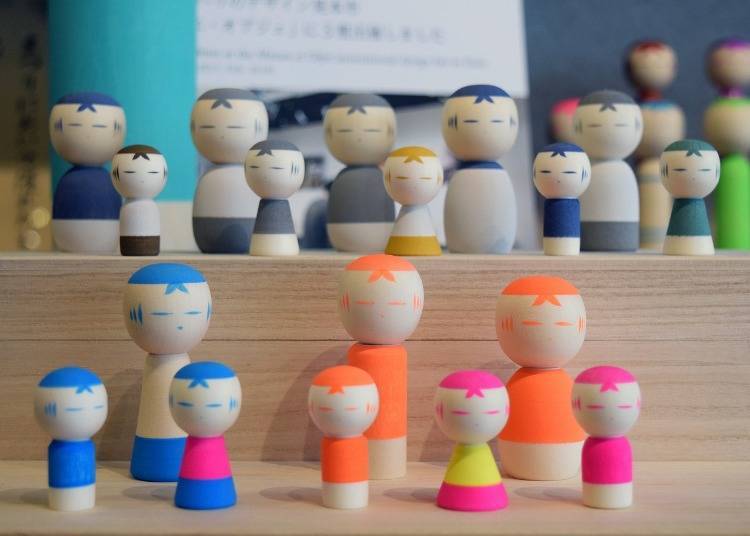 For small items that are easy to incorporate into interior spaces, the "Codama waon" (top-level in the photo) and "Codama Kaguya" (bottom level in the photo) are recommended. These items are popular amongst not just the Japanese, but with overseas visitors as well.
Why not include an "Otegami Kokeshi" around the body, to put a special message in? Using a kokeshi doll as an envelope makes for a unique touch.

If you want to have fun making fond memories of your visit into an original souvenir, do come to Naruko Onsen for a visit and try making your own Japanese wooden dolls!
桜井こけし店

Address

26-6, Naruko Onsen Yūmoto, Ōsaki-shi, Miyagi-ken, 989-6823

Phone Number

0229-87-3575

Business hours: 9:00 a.m. to 5:30 p.m.
Price: 1,800 yen (without tax) for kokeshi drawing workshop
Opens year round
Text by: SHOE PRESs

Information is current as of July 2020.
*This information is from the time of this article's publication.
*Prices and options mentioned are subject to change.
*Unless stated otherwise, all prices include tax.