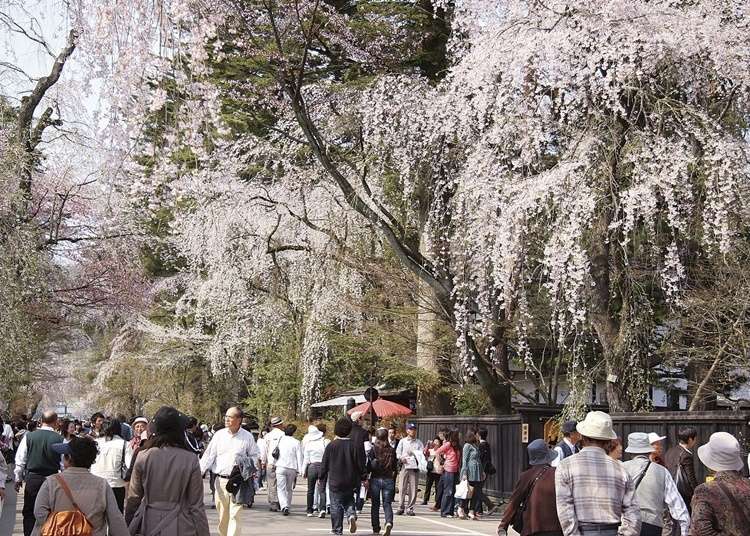 Akita Prefecture, located on the northern tip of Japan's main island, has many natural sightseeing attractions! Among the cool things to do in Akita are soaking in hot springs and seeing the cherry blossom trees in the mountains, which can add an element of serenity to your trip.

Akita is also known as the area with the shortest amount of sunshine hours in the country, as well as the snowiest area in Tohoku. Because of this, during winter, there are many events, attractions, and fun things to do in Akita that involve snow.

The rich food culture is another Akita attraction, and there is an abundance of specialty dishes made with rice, local vegetables, meat, and fresh seafood.
What Kind of Place is Akita Prefecture?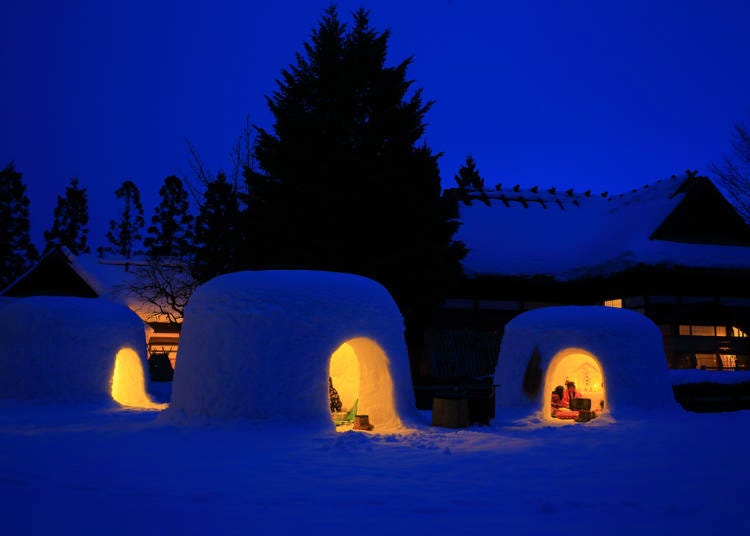 Akita Prefecture is located on the Sea of Japan side of the Tohoku Region. Tourist attractions include Kakunodate, where samurai residences were built during the Edo Period (around 1603-1868), and Nyuto Onsenkyo, where hot spring inns dot in the mountains.

It is also known for cultivating some of the best rice in Japan. There are also a number of restaurants in the center of Akita City that serve local cuisine and sake. Because of the heavy snowfall in the wintertime, it can drop to below-freezing temperatures, even during the day.
The Akita Shinkansen "Komachi" will get you from Tokyo Station to Akita Station in about 4 hours, or to the popular sightseeing spot Kakunodate, in about 3 hours.

Since there are many sightseeing spots throughout the prefecture, it is recommended to use Akita Station as your starting point and get around by train and taxi.

Akita Airport is also located in Akita City, and has several limousine buses that operate between there and Akita Station.
1. Check out Bukeyashiki-dori - The Samurai House Street
Kakunodate, which once flourished as a castle town, is now a historic area where many homes formerly owned by samurai remain. Uchimachi is a street that is especially known for once housing many samurai, and is lined with many former samurai homes and warehouses, giving the entire street the nickname Bukeyashiki-dori, or Samurai House Street.

"Ishiguro Samurai House", located in the northernmost part of Bukeyashiki-dori, allows visitors to visit the house. There is also a free guide that explains the history of the building and is recommended for sightseeing.

You can also experience riding the "jinrikisha," or rickshaw, through the streets, pulled by rickshaw drivers called "shafu." This is another unique experience you may definitely want to try in Japan, so by all means, check it out!
Bukeyashiki-dori (Samurai House Street)

武家屋敷石黒家

Address

1-Kakunodatemachi, Omotemachishimochō, Semboku-shi, Akita-ken

Phone Number

0187-55-1496

Business Hours: 9:00AM~5:00PM
Fee: 400 yen
Regular Holidays: None
2. Experience the Legendary Oga Namahage
Namahage is an Oga folk event in the western part of Akita Prefecture. In 2019, it was registered as a UNESCO Intangible Cultural Heritage.

The Namahage is said to have been a messenger of Yama-no-Kami, mountain gods of disaster, and wears a carved wooden mask, wielding a knife. In Oga, the local residents dress up as Namahage and go around the the town visiting houses on New Year's Eve.

The Oga Shinzan Folklore Museum and Namahage Museum are also located in Oga. The Oga Shinzan Folklore Museum is a 100-year-old private house where Namahage demonstrations are held throughout the year. In the Namahage Museum, you can see displays of actual Namahage masks, and even wear a Namahage costume yourself.
Oga Shinzan Folklore Museum

男鹿真山伝承館

Address

97-Mizukuisawajinai, Kitaurashinzan, Oga-shi, Akita-ken

Phone Number

0185-33-3033

Business Hours: 9:00AM~5:00PM (Dec~Mar 9:30AM~4:00PM)
Fee: 864 yen (Namahagekan, 1080 yen from Dec~Mar)
Regular Holidays: None (Dec~Mar: Weekends & holidays)
なまはげ館

Address

Mizuhamisawazinai, Kitaura Shinzan, Oga Shi, Akita Ken, 010-0685, Japan

Phone Number

0185-22-5050

Business Hours: 8:30AM~5:00PM
Fee: 540 yen
Regular Holidays: None
3. Soak at Nyuto-Onsenkyo
Nyuto Onsenkyo is the collective name of the seven hot springs located at the foot of Mount Nyuto in Towada and Hachimantai National Park. This historical hot springs area is also said to be where the former feudal lords of Akita bathed. The seven hot spring inns each have their own unique and varied hot springs. You can enjoy different kinds of hot waters including the milky white waters of Tsuru no Yu Onsen, and the brown, iron-rich waters of Taenoyu Onsen.

All hot springs have the option to visit just for a soak, or to stay overnight to enjoy the springs more leisurely. Some inns even have a free private open-air bath.
鶴の湯温泉

Address

50 Tazawako Tazawaji Sendatsu Kokuyurin, Semboku-shi, Akita-ken

Phone Number

0187-46-2139

Business Hours: Day Trip - 10:00AM~3:00PM
Fee: 600 yen
Regular Holidays: None (Open-air bath closed Mondays; the following day in case of public holiday)
If you want to enjoy some local Akita gourmet, there are plenty of restaurants near Akita Station that are easily accessibly and highly recommended. The Nakadori and Omachi areas have a particularly wide variety of restaurants, ranging from pubs serving local cuisine to specialty shops that serve local gourmet dishes, such as Akita's Inaniwa Udon.

Additionally, there is a shopping center next to Akita Station called Topico & ALS, which has standing drink bar called Akita Kurasu, where you can taste local Akita sake, as well as other kinds of specialty Japanese alcohols.
4. Snack on Kiritanpo-nabe
Kiritanpo is a local Akita cuisine made with freshly cooked rice that is mashed and then wrapped around a cedar skewer, and served in a hot pot. The soup base is made with Akita's brand chicken, Hinai-niwa, and the main ingredients include kiritanpo, Hinai-niwa chicken, leeks, Japanese parsley, and burdock. The rich taste of the soup soaked in the hot kiritanpo pairs perfectly with the sweetness of the rice. You can try it at shops such as Otafuku or Chawan-ya, both of which serve many other delicious local dishes as well.
5. Slurp Up Some Inaniwa Udon!
Originating in Yuzawa, the southern part of Akita Prefecture, with a history of over 300 years, it is considered one of Japan's top three udon dishes. The udon is made by hand by skilled craftsmen, and have a firm and silky texture. Sato Yosuke is one of the famous shops, with its main branch in Yuzawa, and several other located throughout Akita, Yokote, and Semboku.
Some popular souvenirs are woodwork items made from cedar and bamboo, such as lunch boxes and mugs. In terms of food-related gifts, in addition to kiritanpo and inaniwa udon, "iburigakko," a pickled dish of smoked radishes in salt, and Japanese sake, are other popular choices. In Kakunodate, which is famous for its cherry blossoms, cherry blossom themed souvenirs are also popular.
6. Grab Some Bento Boxes From Shibata Yoshinobu Shoten
"Magewappa" is one of Akita's traditional crafts made from cedar and cypress wood. Lunch boxes are popular and give off a gentle cedar scent as soon as you open the lid. Made of wood, it has high absorbency and an excellent antibacterial effect. It is also light and easy to carry.
7. Pick Up Iburigakko from Ogachino Kimuraya
Iburigakko is made from pickled vegetables and has a pleasantly smoky scent. It is recommended to enjoy together with wine and cheese. You can buy it packaged whole or as individually wrapped cut pieces. Can be stored and carried at room temperature.
A modestly sweet bun wrapped in a soft, white dough. You can buy it freshly baked or vacuum packed, which makes a better souvenir thanks to its long expiration date. You can still enjoy that soft, freshly-baked texture by heating it up after you unwrap it.
Shopping in Akita is most convenient around Akita Station, where large shopping centers abound. In addition to souvenir shopping, you can also purchase food at the department stores and essential items at the drug stores.

There is even a place where you can see Akita Inu, a breed of dog originating in Akita that has even been designated as a national natural monument, only 15-minutes away from Akita Station on foot.
9. Pick Up Souvenirs at Akita Station
Directly connected to Akita Station is the shopping center Topico & Ars, which hosts a variety of restaurants and shops. The building is divided into Ars Pavilion and Topico Pavilion. Souvenir shops are mostly concentrated in the Topico Pavilion, with the Ars Pavilion focusing mainly on fashion and miscellaneous goods.
トピコ&アルス

Address

7-2-1 Nakadori, Akita-shi, Akita-ken

Phone Number

018-834-1911

Business Hours: 8:00AM~8:00PM
Fee:Regular Holidays: None
10. Take Photos with Akita Dogs!
"Akita Inu Station" and "Akita Inu Fureaidokoro in Senshu Park" are two places near Akita Station where you can see Akita Inu from behind a gate. You can even take photos of them! Check the homepage for specific dates and times you can visit.
秋田犬ステーション

Address

Area Nakaichi 1-4-1 Nakadori, Akita-shi, Akita-ken

Phone Number

018-807-2535

Business Hours: Tues, Thurs, Sat, Sun 11:00AM~3:00PM (Thurs, sales only)
Fee: Free
Regular Holidays: Mon, Wed, Fri
Akita Inu Fureaidokoro in Senshu Park

秋田犬ふれあい処in千秋公園

Address

1-1 2nomaru, Senshu Koen, Akita Shi, Akita Ken, 010-0876, Japan

Address: Ninomaru 1-1 Senshu Koen, Akita-shi, Akita-ken
Phone: 018-824-8686 (Akita Kanko Convention Kyokai)
Business Hours: May~Oct, 11:00AM~3:00PM
Fee: Free
Regular Holidays: Open all day
Text by: SHOE PRESs
Explore Japan at Your Pace - Rent an RV!
RV rentals are a great way to see a new side of Japan from the open road! Use LIVE JAPAN's promo code below to get 5% OFF your rental now.
・Promo code: LiveJapan_coupon_04
・On the "Request for a Quote" page, enter the promo code to get your discount.
*This information is from the time of this article's publication.
*Prices and options mentioned are subject to change.
*Unless stated otherwise, all prices include tax.