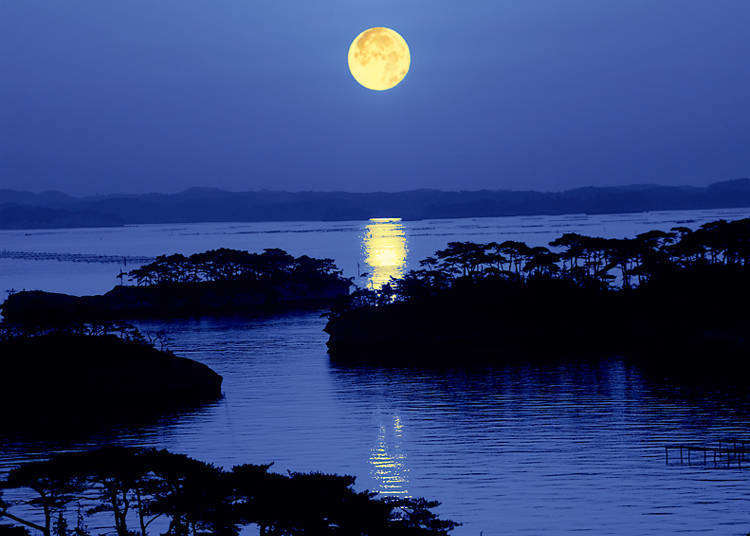 For hundreds of years, Matsushima with its pine-covered islands has been regarded as one of Japan's three most scenic spots. Even today, it is one of the most popular sightseeing locations in the Tohoku Region.

The scenery of Matsushima Bay, with about 260 curiously shaped rocks and islands, is magnificent and worth the 30-minute day trip from Sendai.

Here we will introduce a day trip course where you can fully enjoy the scenery, history, and cuisine of Matsushima. The course includes activities such as a sightseeing cruise through Matsushima Bay and visiting Suiganji Temple which is designated as a national treasure.
What Kind of Place is Matsushima?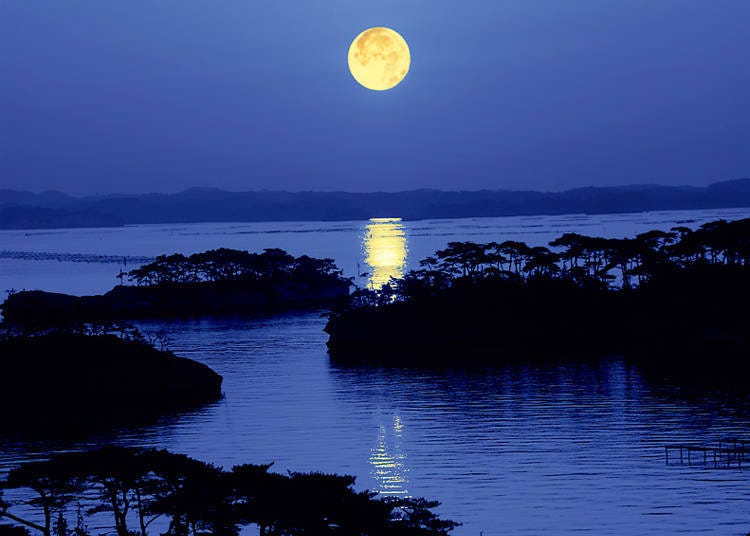 *Photo provided by Miyagi Prefecture Tourism Division
Matsushima is a scenic spot where about 260 small and large islands and rocks create beautiful scenery. The beauty of the scenery has been recognized in songs and travelogues of cultural figures since ancient times.

A worthy mention is Matsuo Basho who is considered the greatest master of haiku. It is described in his own book "Okuno Hosomichi," published in 1702, that he traveled to the Tohoku region because he wanted to see the moon over Matsushima.
In 1714 the scholar Hayashi Shunsai recorded Matsushima as a place with a magnificent view, and since then, it has been recognized as one of Japan's three major view spots.

Nowadays, Matsushima is a popular sightseeing destination, and there are various spots to visit, such as gift shops, restaurants, and historic landmarks located 20 minutes away on foot from the station. Another great feature of Matsushima is the ease of access; you can get here on one train from Sendai City.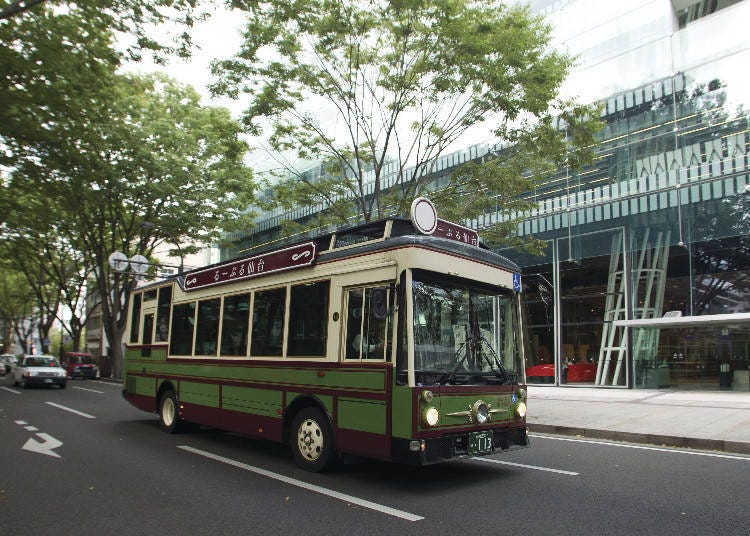 Photo provided by Sendai Tourism, Convention and International Association
Two train lines head to Matsushima from Sendai Station, the JR Tohoku Line and the JR Senseki Line. We recommend the JR Senseki Line (about 40 minutes one way and 420 yen one way). With the JR Senseki Line, you will arrive at Matsushima-Kaigan Station, which is located approximately 10 minutes away from major sightseeing spots on foot.

If you fly in to Miyagi, the bus that goes directly from Sendai Airport to Matsushima-Kaigan Station (about 1 hour, 1,000 yen one way) is convenient since it doesn't require any transfers.
6 Things to do in Matsushima
Plan to go sightseeing in Sendai? Don't forget your day pass! Also, if you purchase the "Sendai Area Pass" 1-day pass available to foreign visitors traveling in the Sendai area, you can ride buses and trains around Sendai, including Matsushima, all day for 1,320 yen.

To purchase the pass, stop by the JR EAST Travel Service Center 2nd floor and present your passport and "temporary visitor" visa.

If you plan to visit Matsushima, Yamadera, Sakunami Onsen, and other outskirts areas of Sendai for more than two days, we recommend the "Sendai Marugoto Pass (2,720 yen)" which is the same as the 1-day pass, but valid for two consecutive days. For the two day pass, presenting your passport is not required, and you can purchase it at JR Midori no Madoguchi located in the free area and "Michinioku Tour Information" in Sendai Airport.

Make sure to check routes that are available as there are some areas and busses you can't access with either pass.
1. Cruise through Matsushima Bay with "Matsushima Pleasure Boat"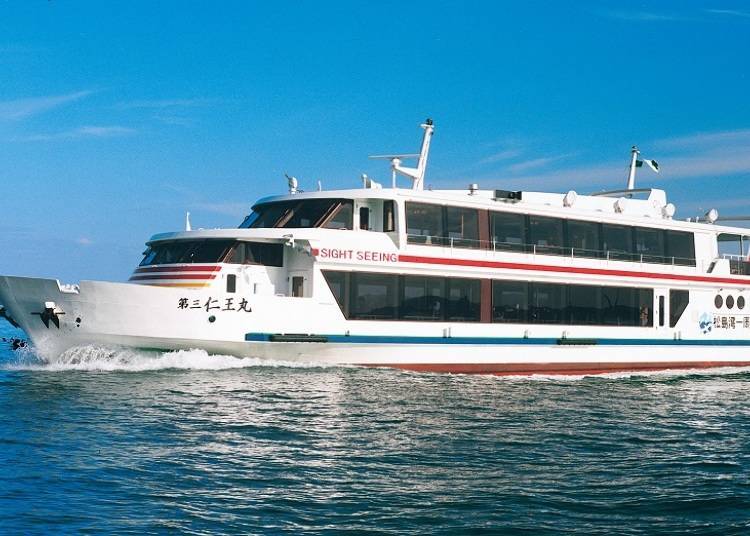 Now, on to things to do in Matsushima! Once you arrive at Matsushima, let's hop on the cool sightseeing boat, "Niohmaru", and cruise through the beautiful Matsushima Bay.

There are various courses, but we recommend the "Matsushima Island Sightseeing Boat Niohmaru Course", which takes about 50 minutes. You can purchase tickets at the four boarding ticket sales offices located in Matsushima Town including Matsushima-Kaigan Station.

For this itinerary, we recommend purchasing the ticket at the sales office at Matsushima-Kaigan Station. If you know which day you will attend the cruise, you can always reserve a ticket online to be safe. Either way, you will have to get your ticket issued at the sales office.
Once you acquire your ticket, head to the pier. You are free to bring drinks, and they also sell the craft beer "Matsushima Beer" at the concession stand on the boat itself. If you want to relax and view the scenery, we recommend the green seats on the second floor.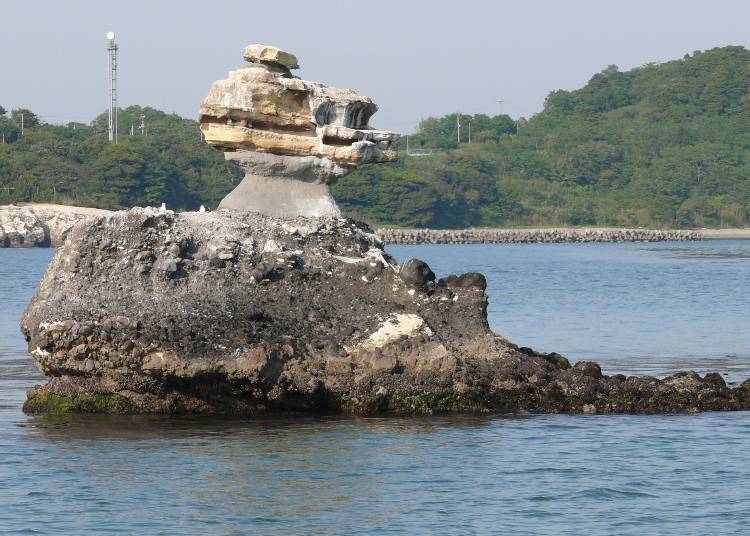 The cruise will go by "Futagojima," two islands next to each other, and "Kanejima," with four holes caused by erosion. "Niohjima," which the boat is named after, is a famous spot with a mysteriously shaped mudstone on agglomerate. The audio guide on the boat is in Japanese and English.
Matsushima Pleasure Boats

松島島巡り観光船

Address

98-1, Matsushima, Miyagi Gun Matsushima Machi, Miyagi Ken, 981-0213, Japan

Phone Number

022-354-2233

Hours: 9:00 a.m. - 4:00 p.m. (November to March ends at 3:00 p.m.)
Price: 1,500 yen, 2f Green Seat 2,100 yen
Closed: None (will close due to bad weather)
2. Visit Zuiganji Temple, a National Treasure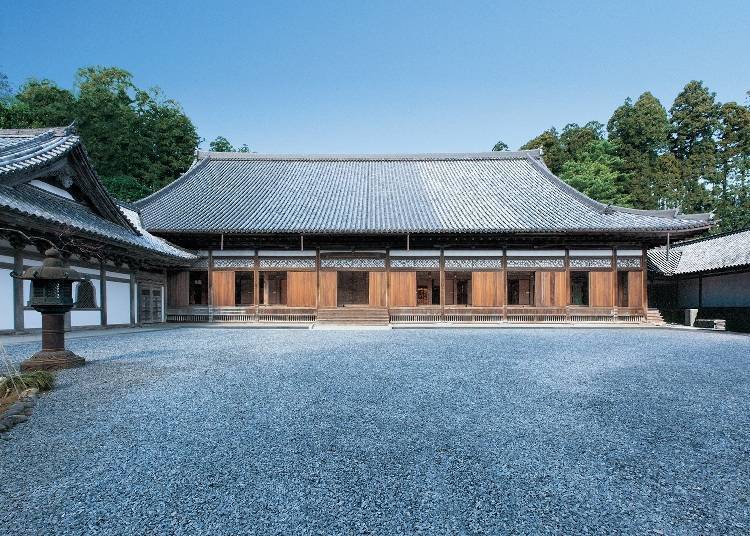 After your cruise through the refreshing sea breeze, next up is the Zuiganji Temple located about three minutes on foot from the boarding area. It is a temple with a solid appearance that is designated as a national treasure. In 1609 the first lord of the Date Clan, Date Masamune, the ruler of Sendai Han (Miyagi Prefecture and the nearby region), was involved in its construction.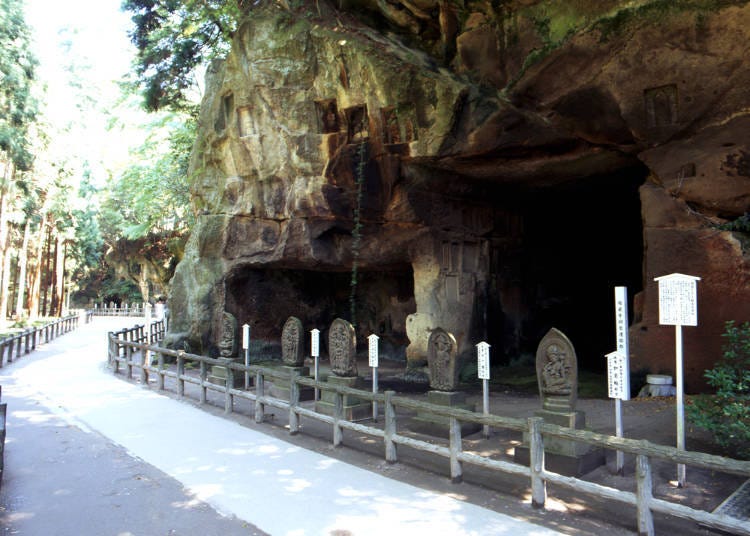 Once you enter from the main gate, head to the alley on the right of the approach to the temple. On the right-hand side is a cave ruin with a stone wall with numerous tombstone carvings. In front of the long stone wall, there are many Kannon and Bodhisattva statues, which gives off a somewhat mystic vibe.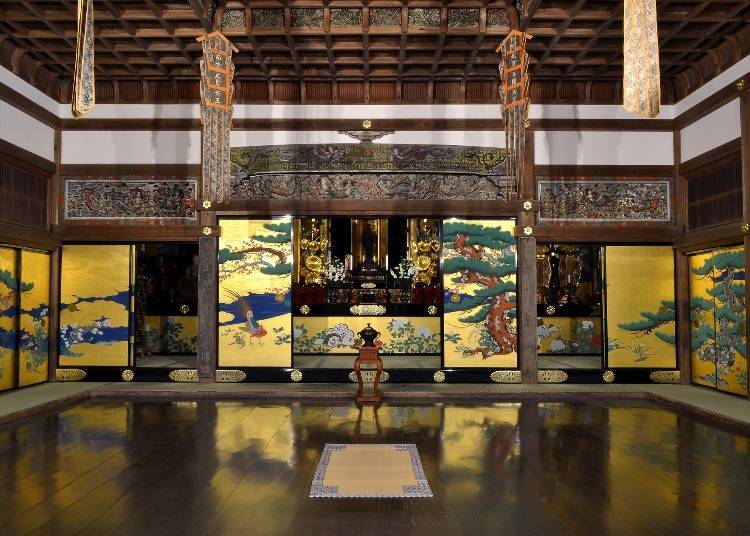 Once you return to the approach to the temple and go past the reception, you will enter the main hall through the temple's kitchen called Kuri. The highlight is the "Kujaku no Ma (Peacock Room)" with the sliding doors with brilliant paintings on a gold background.

In the back of the room, a copper image of Sho Kannon and mortuary tablets of the Date Clan are enshrined. The connecting "Bun-o no Ma" and "Jodan no Ma" are decorated with breathtaking painted sliding doors.
Address

Matsushima, Matsushima-machi, Miyagi-gun, Miyagi character 91 in the town block, 981-0213
View Map

Nearest Station

Matsushimakaigan Station (Senseki Line)
5 minutes on foot


Phone Number

022-354-2023
3. Head to Senshinan and Enjoy Matsushima Cuisine for Lunch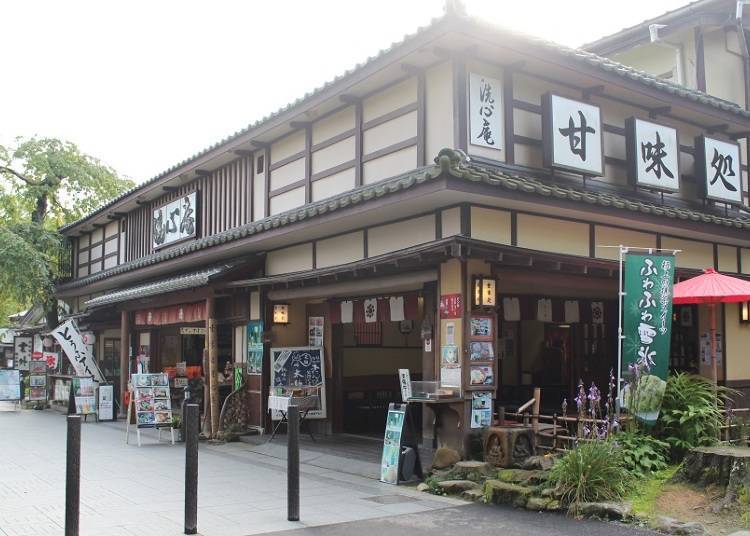 Around lunchtime we recommend heading over to the restaurant "Senshinan," located next to Zuiganji Temple. It is about a minute walk from Zuiganji Temple. The store also sells Miyagi gifts such as sasa-kamaboko, gyutan and kokeshi.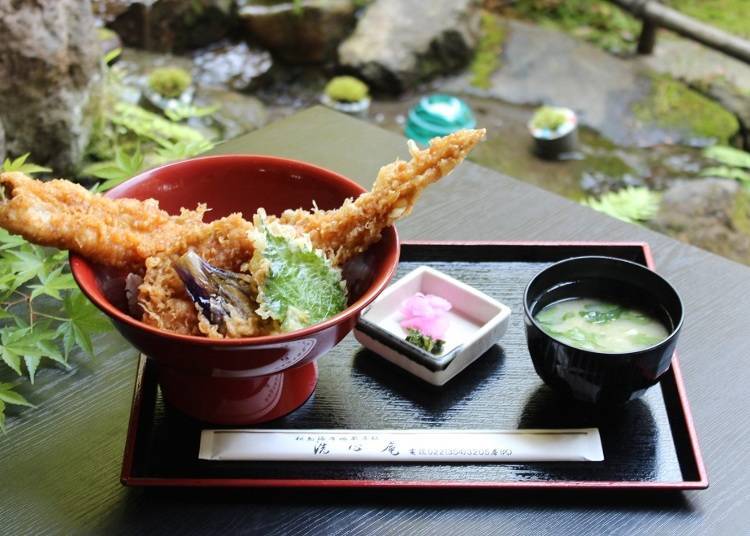 The specially recommended dish is the "Anagao Tendon," a rice bowl with a large anago (conger eel) tempura, and the "Kaki Don," a rice bowl with rich flavored oyster fries covered with eggs. Both are famous Matsushima dishes that you can enjoy throughout the year. The conger eel season is summer and the oyster season is winter.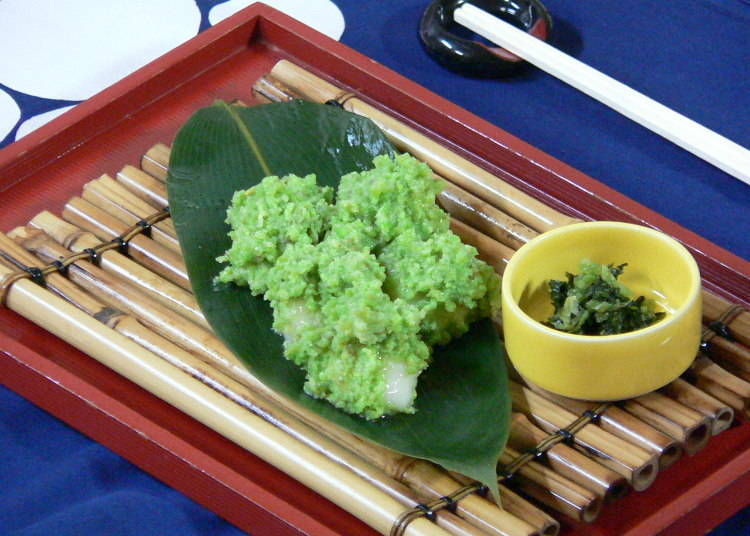 If you still have room for dessert, how about trying some Senshinan specialty kuzukiri (arrowroot starch noodles) or Miyagi specialty zundamochi (mochi with sweetened mashed green soybeans). You can always stop by for drinks and sweets. They offer drinks like coffee and unique Japanese drinks like matcha, matcha beer and amazake (low-alcohol sweet sake).
洗心庵

Address

67, Matsushima, Miyagi Gun Matsushima Machi, Miyagi Ken, 981-0213, Japan

Phone Number

022-354-3205

Hours: 10:00 a.m. - 3:00 p.m.
Closed: None
4. Head to Godaido Temple While Strolling Through the Area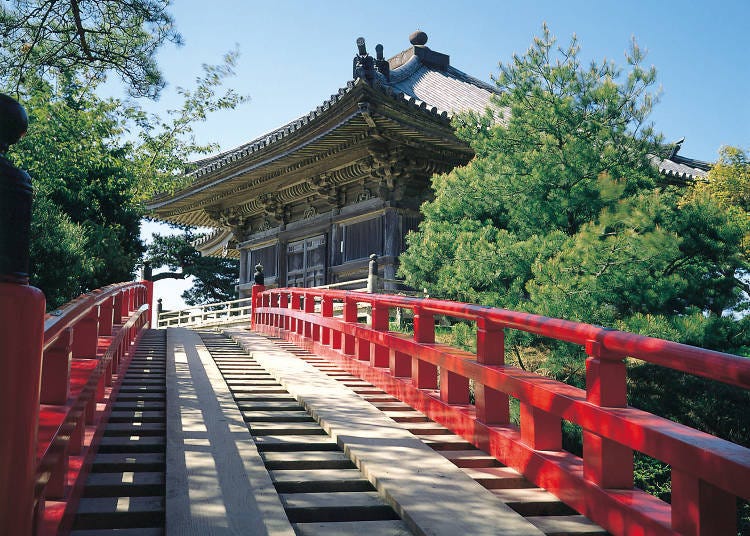 *Photo provided by Miyagi Prefecture Tourism Division
After a satisfying meal, it's time for a stroll through the temple path and exit out the main gate. While walking past the main gate and main street with gift shops, you will reach "Godaido Temple" in about 5 minutes.

It is located in a place like a small peninsula in Matsushima Bay. To reach Godaido, you will have to cross the beautiful red bridge known as Sukashi Bashi. The bridge floor is in a grid and you can see the ocean below.
*Photo provided by Miyagi Prefecture Tourism Division
Godaido Temple, in the center of the island, is a historical structure said to be the oldest Momoyama Period structure in the Tohoku region. The name comes from the enshrined Godai-Myou-o.

If you look carefully under the roof, you can find carvings of snakes and dragons. It is free to visit; however, the gates close at sundown, so make sure you keep track of the time.
五大堂

Address

111, Matsushima, Miyagi Gun Matsushima Machi, Miyagi Ken, 981-0213, Japan

Telephone: 022-354-2023 (Zuiganji Temple)
Hours: 8:00 a.m. - sundown
Prices: Free
Closed: None
5. Look for Souvenirs at Matsushima Yukitakeya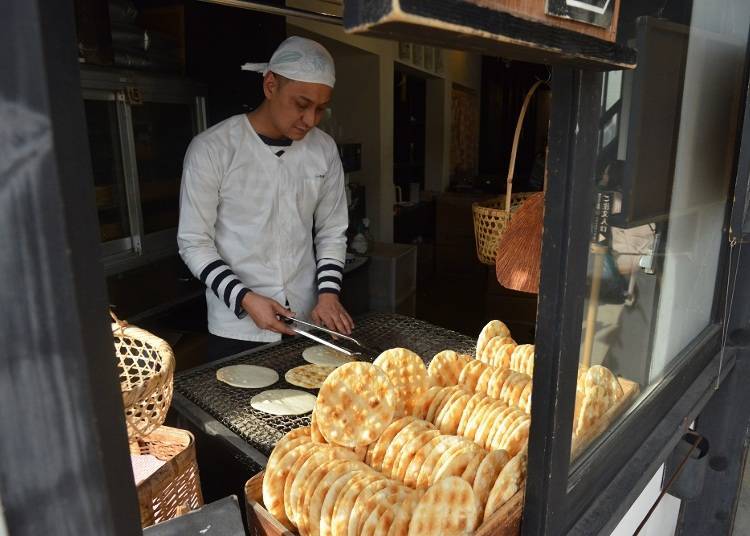 About a two-minute walk from Godaido Temple is "Matsushima Yukitakeya." On the first floor of the building that looks like a black painted tower, they sell sundries, confectionery, and primarily senbei (rice cracker). At the store, you can try freshly baked large soy sauce flavored senbei.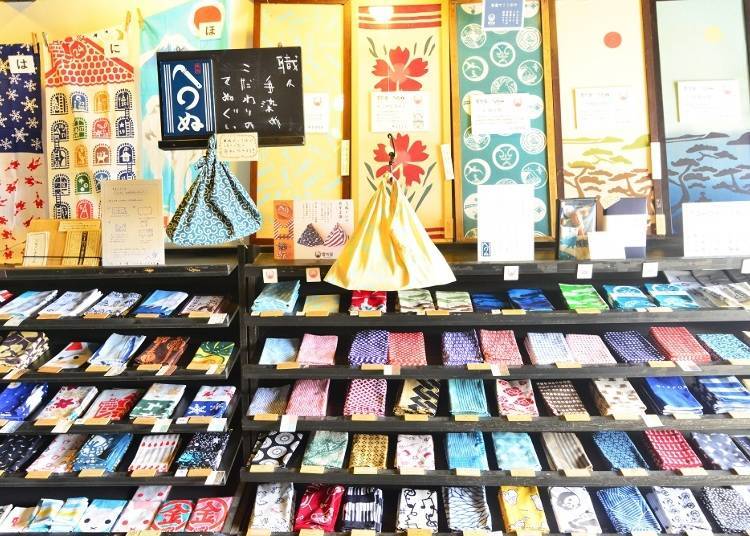 The concept of the store is to "provide gifts to convey Japanese culture." The store is filled with senbei for gifts and small towels with Matsushima design.

Make sure you keep an eye out for the "世界にここだけ" (Nowhere else in the world) sign. The signs are placed by original Japanese sundries only available at Yukitakeya.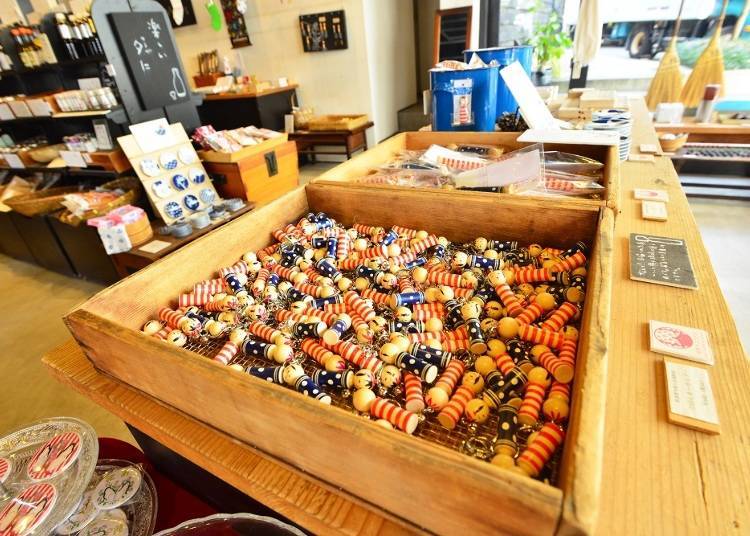 A popular affordable gift is the "kokeshi chopsticks rest (924 yen)." They are handmade, and each item has a slightly different facial expression. You can use them as intended or even place them as decorations.
松島 雪竹屋

Address

109, Matsushima, Miyagi Gun Matsushima Machi, Miyagi Ken, 981-0213, Japan

Phone Number

022-354-2612

Hours: 10:00 a.m. - 6:00 p.m.
Closed: None (December - March Tuesdays)
6. Explore the Outskirts of Matsushima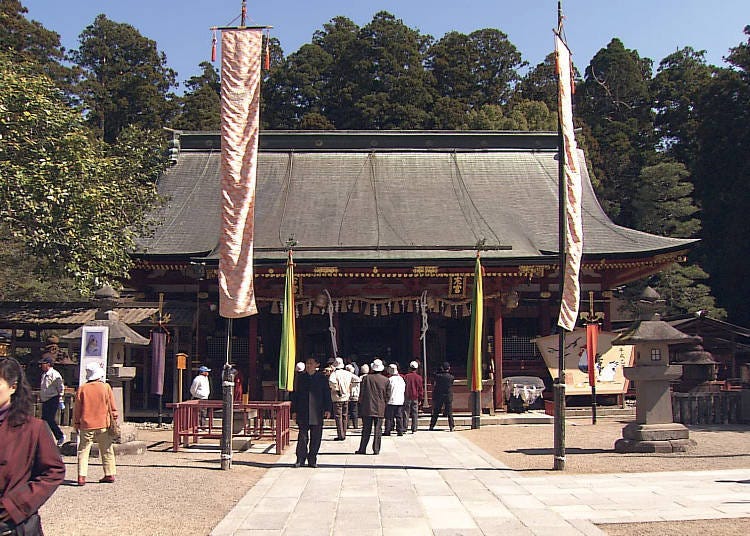 *Photo provided by Miyagi Prefecture Tourism Division
Take the train for about 10 minutes from Matsushima-Kaigan Station. Get off at Hon-Shiogama Station and explore Shiogama City. We strongly recommend visiting Shiogama Shrine, with deep roots to the land, and cherished by locals.

In Shiogama you can experience sushi made with Miyagi Prefecture rice and fresh fish caught offshore of Sanriku, which is considered one of the world's three largest fishing grounds. Make sure to visit long-established brewery where you can sample local sake.
If you have time, we also recommend stopping by the Sendai Umino-Mori Aquarium.

From Matsushima-Kaigan Station, take the train for about 20-minutes to Nakanosakae Station and there is a direct shuttle bus to the aquarium.

In the large aquarium, there are about 50,000 creatures of about 300 species. Make sure to check out the large tank with fishes from the Tohoku region and the exciting dolphin show.


This trip is absolutely filled with scenery and the rich history of Matsushima. In Matsushima, there are other charming attractions such as eating seafood at various places, the rose garden in early summer and even the "Entsu-in Temple" with beautiful autumn leaves. Make sure to visit Matsushima and enjoy these wonderful locations and activities on your trip to Japan!

Text by: SHOE PRESs
Recommended Train Passes and Experiences
Recommended Hotels in Matsushima
Address

4-6, Higashihama, Matsushima, Matsushima-machi, Miyagi-gun, Miyagi, 981-0213
View Map

Nearest Station

Matsushima Station (Tohoku Main Line)
15 minutes on foot


Phone Number

022-354-3851
*This information is from the time of this article's publication.
*Prices and options mentioned are subject to change.
*Unless stated otherwise, all prices include tax.
Limited time offer: 10% discount coupons available now!