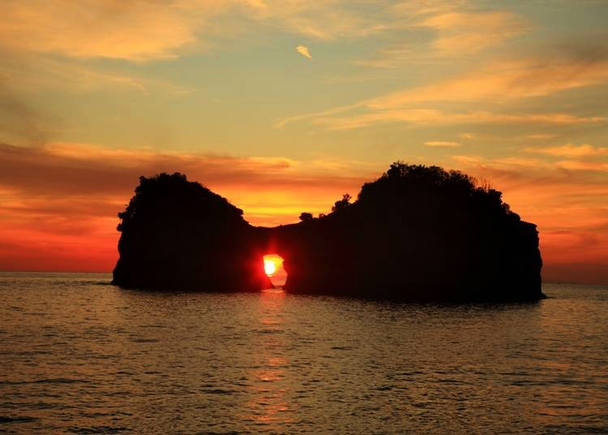 Wakayama is located on the largest peninsula in Japan, the Kii Peninsula. Long known as the Land of Trees, it is blessed by many mountains and forests. There's no shortage of vegetation and clean water, and since it's the southmost area on Japan's main island, its warm temperature makes it perfect for fruit farming.

Wakayama City in the northeast houses the prefecture's symbol, Wakayama Castle. Going east from the city, you'll find Mount Koya (Koyasan), while going south will take you to the Nanki Shirahama Coast. Furthermore, going around the Kii Peninsula will bring you to the Nachi Falls. There's plenty to see!
World heritage site Mount Koya (Koyasan) and the sacred ground atop it
Konpon Daitou
Mount Koya (also known as Koyasan) is a holy site of Japanese Buddhism, home to the temple of the founder of Shingon Buddhism, Kukai. 800 meters high, the peak is a flatland that stretches six kilometers east and west and three kilometers north and south and is surrounded by 1,000-meter-tall mountains, giving it the appearance of a blooming lotus. At the top of the mountain is Kongobu-ji Temple, the center of Shingon Buddhism. For over a thousand years it has received many visitors seeking to pray.

We recommend slowly exploring from the gate to the center of the temple, but if you're low on time, you can use a bus or rental car.
Koyasan Tourist Information Center

高野山(高野山観光情報センター)

Address

357 Koyasan, Koya-cho, Ito-gun, Wakayama-ken

Hours: 8:30AM to 5:15PM
Nachi Falls, one of Japan's three greatest waterfalls
The Nachi Mountains are a sacred ground for the worship of its waterfall. Nachi Falls is the object of worship for Hiryu Shrine, a shrine associated with Kumano Nachi Taisha. Three streams fall from the mouth of the waterfall, earning it an alternative name Sansuji no Taki, the three-streamed waterfall. It is one of Japan's three great waterfalls, alongside the Kegon Falls in Tochigi and Fukuroda Falls in Ibaraki.

It descends down a sheer cliff and has a width of 13 meters, a fall of 133 meters, with a basin depth of 10 meters. The drop makes it the tallest waterfall in Japan. Hiryu Shrine has a platform you can get an amazing view of the falls from. There's also a sacred event every 9th of July and 27th of December in which they replace the sacred knots at the mouth of the waterfall.
那智の滝(お瀧拝所)

Address

1 Nachisan, Nachikatsuura-cho, Higashimuro-gun, Wakayama-ken 〒649-5301

Hours: 7AM to 4:30PM
Entry Fee: 300 yen
Nanki Shirahama: The land of beautiful sea and relaxing hot springs
The Nanki Shirahama area is known for its beautiful coastline and the beautiful white sand at Shirarahama Beach in particular. You can easily take a peek into the clear waters on a glass boat, or through the Shirahama Midsea Observation Tower. Since the coast faces the Pacific Ocean on its west side, the evening scenery on clear days is marvelous. In fact, the sun setting by Engetsu Island has been named one of the best 100 sunsets in Japan.

For the hot spring fan, the Shirahama Hot Spring has been around since the Nara period, joining the Arima and Dogo Hot Springs as Japan's three oldest hot springs. Shirahama Hot Spring can be enjoyed in a variety of ways in town, including regular baths and footbaths. The local Adventure World zoo is a famous attraction, having the most pandas in Japan.

If you want to get around Shirahama Town, you'll want a free-ride bus pass to make things smoothest. There are discounts for tourist spots, too, so put them to good use.
Nanki Shirahama (Shirahama Tourism Bureau)

南紀白浜(白浜観光協会)

Address

1384-57 Shirahama-cho, Nishimuro-gun, Wakayama-ken 649-2211

Phone Number

0739-43-5511

Hours: 8:30AM to 6PM
◆About Wakayama's Cuisine
You can enjoy seasonal fruits all year round
With a warm climate, Wakayama boasts a large fruit production. The most in Japan, in fact – especially tangerines. There are also strawberries, persimmons, peaches, all growing throughout the year. The fruits can be easily obtained in supermarkets and farmer's markets, but you can go to fruit gardens that allow tourists to pick produce themselves, allowing you to have fun while getting some great fruit.
The holy site Mount Koya's temple food: Shojin-ryori
Shojin-ryori, Buddhist cuisine, was developed to adhere to Buddhist tenets against taking lives and exciting the passions. It uses no animal products, nor does it use stimulating vegetables such as garlic. While monks are required to eat this, meals are an important part of one's training.

The Mount Koya cuisine has been passed down from Kukai's founding of the temple to the modern age, made at the basis of Japanese cuisine's five flavors, five colors and five methods. The food itself is beautiful, and the flavor bars any complaint. You'll be provided with it if you spend the night at the temple, but you can reserve it for lunch otherwise.
Wakayama's Katsuura Port nets the highest yield of tuna in Japan with its longline fishing. This means that in the town of Nachi-Katsuura, you can have fresh tuna dishes all year long. Aside from the sashimi and sushi we all know and love, there's katsu, soboro-ni, soup, and more forms tuna can take. They'll taste different by the season, but each restaurant will give you their best. There's a map that points out Kishu-Katsuura's tuna shops and restaurants, so you can have fun visiting and eating in a variety of places.
Wakayama's best: Nanko Plum Umeboshi
Umeboshi is a preserved food made by pickling plums in salt, then drying them in the sun. They see broad use in rice balls, to flavor dishes, and even as health food. A variety of companies make them, but we recommend the Nanko plums grown in Wakayama's Minabe-cho and Tanabe City. They're large and puffy, boasting a deep flavor that goes beyond sour and salty.

Simple salt-pickled plums aren't all there is on offer, however – there are a variety of flavors, but the sweet honey flavored ones are really recommended. They're sold in many ways, from packs of multiples to single plums, making them a perfect snack or souvenir.
Fukubishi's Kagero and Yuzumonaka
The kagero treat consists of a sweet butter cream sandwiched in a fluffy bouchee outside. It's so soft that you need to take special care when opening the package. It's amazing from the first bite and melts in your mouth. The packages range from packs of two, four for 1,080 yen, and 45 for 4,860 yen (all include tax).

The monaka treat is a Japanese sweet that consists of red bean paste in a crisp mochi envelope. Yuzu monaka has been popular around Shirahama Hot Springs since ages long past. The tasty baked mochi combined with the citrus-accented bean paste make for a stunning combination. They come in packs of 6 (a 3-set for 1,000 yen, tax included) all the way up to 36 (1,950 yen, tax included).
The Deluxe Cake is a treat about the size of your palm, made exclusively by Suzuya. They sandwich jam made with white beans between castella and coat it with white chocolate. This Japanese fusion of east and west has a refreshing sweetness to it, making it a perfect companion for tea or coffee. Chilling it before eating will give the castella and white chocolate a tasty crispness.

They come in packs of 3 (702 yen, tax included) to 40 (8,640 yen, tax included). The retro packaging is also very cute and has made a splash on social media.
If you're after Mount Koya Souvenirs: Nakanohashi Kaikan
Phuong D. Nguyen / Shutterstock.com
Across from the Nakahashi parking lot is the Nakanohashi Kaikan, where all sorts of Mount Koya specialties and prayer beads are sold. Especially famous are the Koyasan tofu and sesame tofu. Mount Koya is the birthplace of Koyasan tofu, and sesame tofu takes so long to make that the monks consider it training and an essential part of their temple food. There's also a break area and restaurant, making it a place you want to check out before or after praying at the shrine. You can also try Buddhist cuisine in the restaurant.
中の橋会館

Address

49-3 Koyasan, Koya-cho, Ito-gun, Wakayama-ken

Phone Number

0736-56-4480

Hours: 9AM to 5PM
Closed: Open Daily
The Katsuura Port Market is about a five-minute walk from JR Kiikatsuura Station. Its wholesale corner has both souvenirs and fresh seafood and other products, including tuna. The tuna filleting show that takes place in the back corner draws a crowd every day. There are eight restaurants that serve up tuna dishes, each bringing a different flavor to the table.

The market is also set up to allow you to eat what you buy right away. Rest away the fatigue of your journey with the salty sea breeze blowing your way!
勝浦漁港にぎわい市場

Address

7 Chome-12 Tsukiji, Nachikatsuura-cho, Higashimuro-gun, Wakayama-ken 〒649-5335

Phone Number

0735-29-3500

Hours: 8AM to 3PM (may be open on some nights)
Closed: Some Tuesdays
If you're not sure what to eat or do: Fisherman's Wharf Shirahama
Fisherman's Wharf Shirahama is about a 20-minute bus ride from JR Shirahama Station (Yuzaki bus stop), or a 10-minute walk south of Shirarahama Beach. The first floor has a wholesale seafood market, where freshly caught fish are on display next to local souvenirs and snacks. There's also a dining hall where you can have the fish you bought cooked for your dining pleasure. Other facilities include restaurants, a beer garden, a café, and more. You can also enjoy diving, fishing, or cruising.
Fisherman's Wharf Shirahama

フィッシャーマンズ・ワーフ白浜

Address

1667-22 Shirahama-cho, Nishimuro-gun, Wakayama-ken 649-2211

Phone Number

0739-43-1700

Hours: 10AM to 7PM (restaurant operates from 11AM to 3PM, 5AM to 10PM)
Closed: Irregularly
All the prefecture's souvenirs in one place! Wakayama City Sightseeing Gifts Center
Wakayama City Tourist Souvenir Center boasts a wide variety of Wakayama's specialties and beloved goods. It's found on the first floor of the Wakayama Historical Museum, in a corner of Wakayama Castle. There are Wakayama treats and ninja merchandise, making even just window shopping a blast. The second floor has a historical archive (100 yen entry), allowing you to get a sense of Wakayama Castle's history and culture.
Wakayama City Tourist Souvenir Center

和歌山市観光土産品センター

Address

3 Ichibancho, Wakayama-shi, Wakayama-ken 〒640-8146

Phone Number

073-435-1184

Hours: March to November: 9AM to 6PM, December to February: 9AM to 5PM
Closed: December 29th to January 3rd
Text by:WEST PLAN
*This information is from the time of this article's publication.
*Prices and options mentioned are subject to change.
*Unless stated otherwise, all prices include tax.