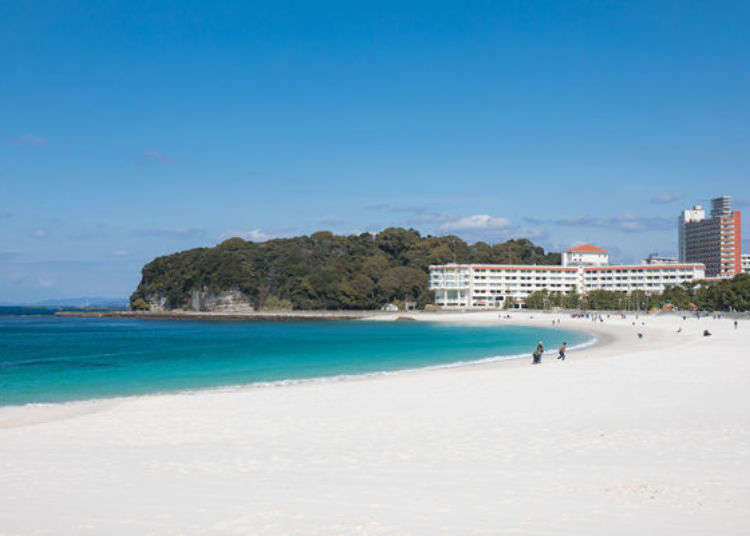 Nanki Shirahama in Wakayama Prefecture is a tourist area noted for its superb scenery. Domestically, Shirahama is dubbed as 'Japan's Waikiki,' as Shirahama beaches are noted for their gorgeous white sand, but there are many other beautiful sightseeing spots in the area.

Here we will introduce some cafés that are perfect spots for taking a break while sightseeing in Shirahama!
Nanki Shirahama is an area with many sightseeing spots such as Shirahama Hot Springs, the Adventure World theme park famous for its pandas, the lovely beach of Shirarahama, and Engetsuto, a place particularly famous for its sunsets.

Probably there will be times when sightseeing and strolling along the Shirahama beach when you will feel like taking a rest. When that happens, then here are some cafés with fine views that we recommend.
1. Petra-no-Sato: Fashionable log house café sitting atop a hill
First let's look at the Petra-no-Sato café. It's about a 15-minute drive from JR Shirahama Station going in the direction of Senjojiki.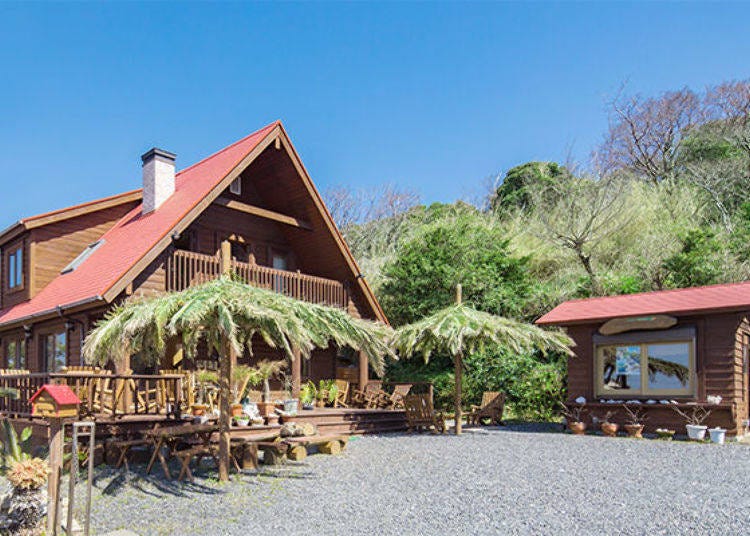 ▲Cafe Petra-no-Sato
It is in a quaint log house on a small hill. The parasols made from palm trees in front of the café are a nice touch. It looks like a villa on a south sea island.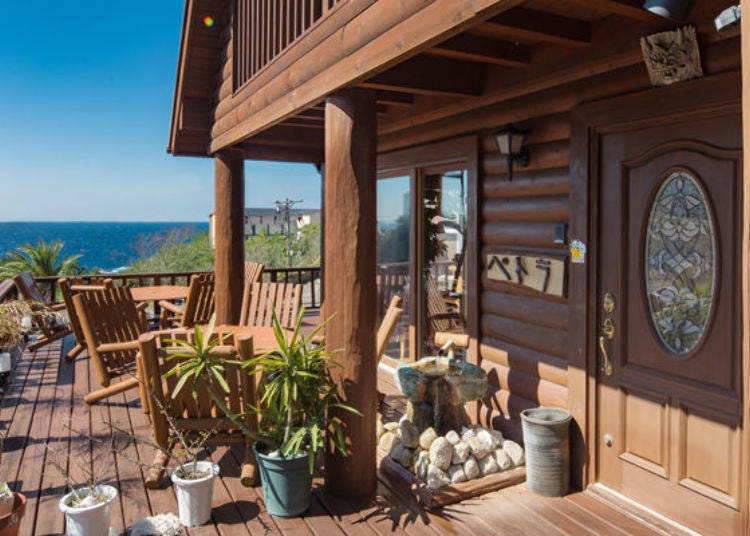 If you look to the left from the entrance you can see the ocean off Shirahama. The bright blue sea and sky stretch far off into the distance.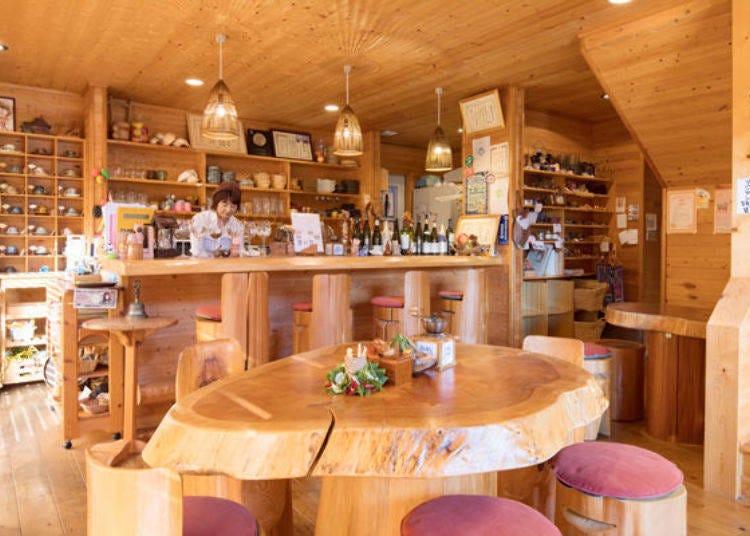 ▲The café has a warm and cozy wood interior. That is the owner, Ms. Fukumi Nishikawa, working behind the counter.
The café has a very relaxed atmosphere. The flooring, walls, ceiling – everything – is made of wood giving the entire space a very cozy and comfortable feeling.

Greeting us, Ms. Nishikawa explained, "I'm not sure from when and can't remember why, but the local people call me 'Madame' so please feel free to do so also." We cheerfully obliged Ms. Nishikawa as we entered the café.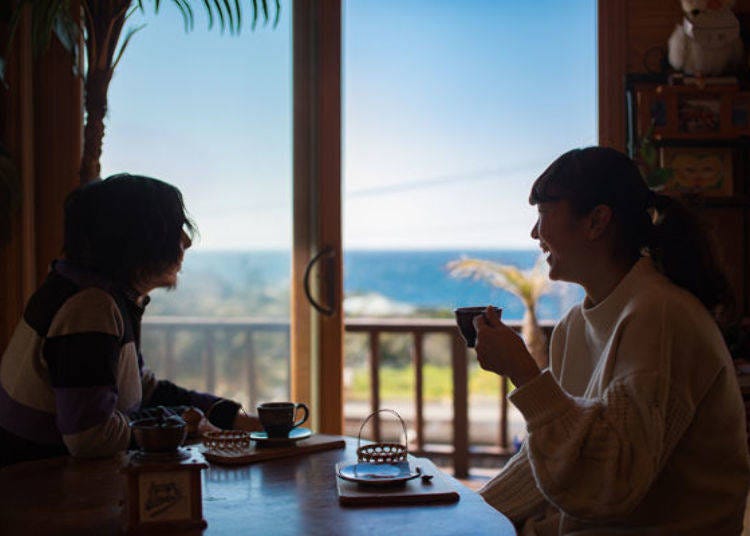 The beautiful view of the ocean we saw before we entered the café was also visible from the large windows inside the café.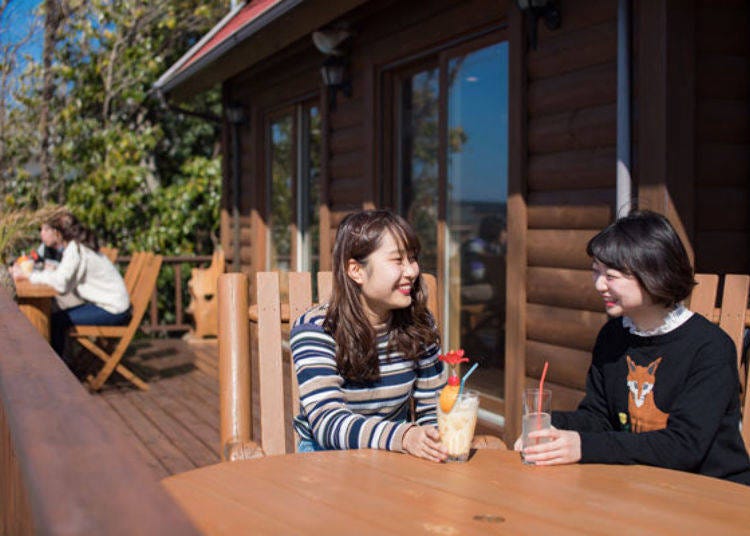 ▲The tables and chairs on the wood deck terrace receive a gentle breeze from the sea.
It is quite comfortable to sit out here in the sun and enjoy the fine weather. The view of the ocean is also very relaxing especially when caressed by a gentle breeze.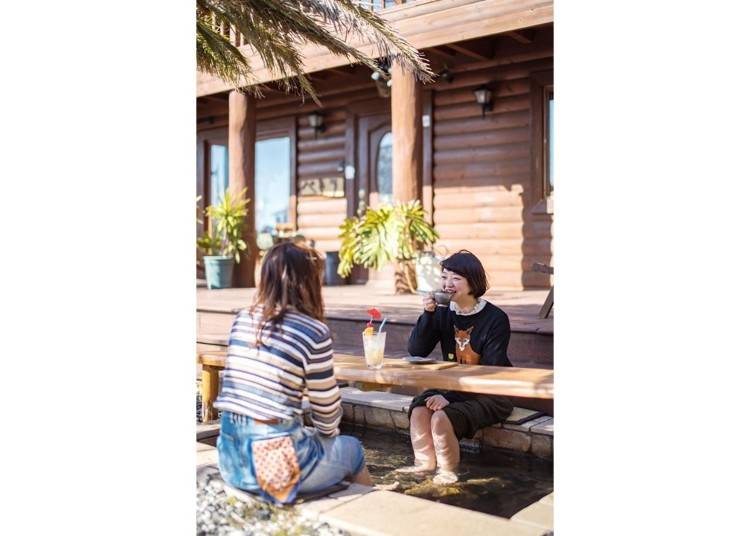 There is even a place you can sit that has a foot bath! At Petra-no-Sato you can enjoy an afternoon coffee break and foot bath at the same time. The Shirahama Hot Spring is one of the three oldest hot springs in Japan.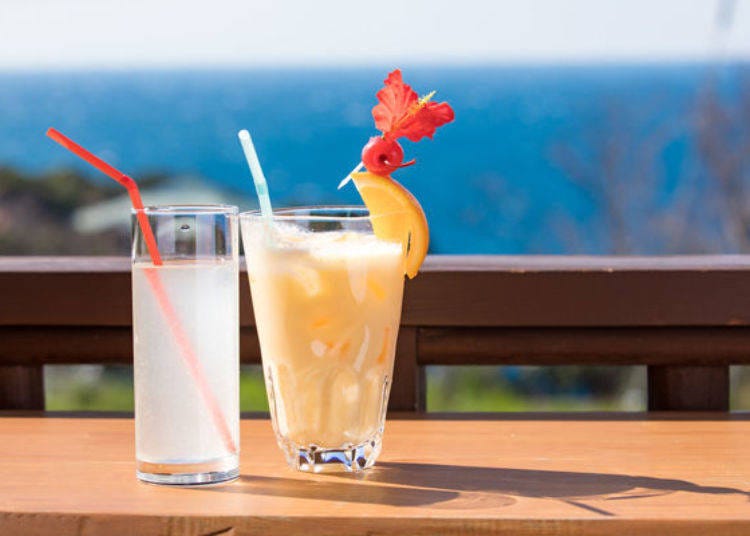 ▲Jabara squash (left: 500 yen, tax included) and Madame's Special Tropical Fruit Juice (right: 700 yen, tax included)
Here are some recommendations. Madame has created a menu of various kinds of dishes utilizing local specialties. For example, the Jabara Squash uses the jabara citrus that is akin to mikan (Mandarin orange) and yuzu citron and which is a special product of Kitayama Village in Wakayama Prefecture. Just the right degree of tartness and touch of sweetness combine to make this a very refreshing thirst-quenching drink.

But you really must try Madame's Special Tropical Fruit Juice. This mixed juice made with lots of seasonal fruit will instantly fill your mouth with an indescribably gentle sweetness the moment you sip it. It is a drink overflowing with tropical island flavor that will enhance the pleasures of your trip.

You are certain to find something you will like among the many items on the menu which includes organic coffee and sweets made with strawberry jam.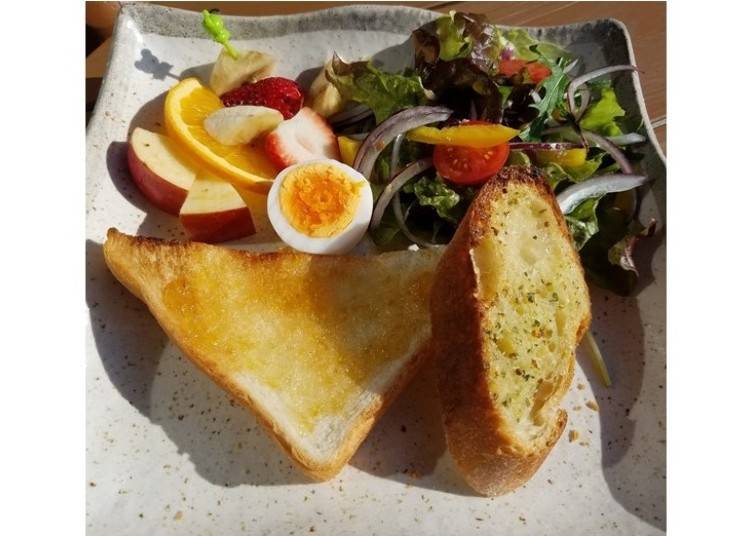 ▲ Light Lunch (600 yen, including tax) is perfect for when you want something light.
The café also has a "light lunch" menu. The inspiration for this menu came from Madame's desire to familiarize as many people as possible with the charms of the local area by utilizing local ingredients in the dishes.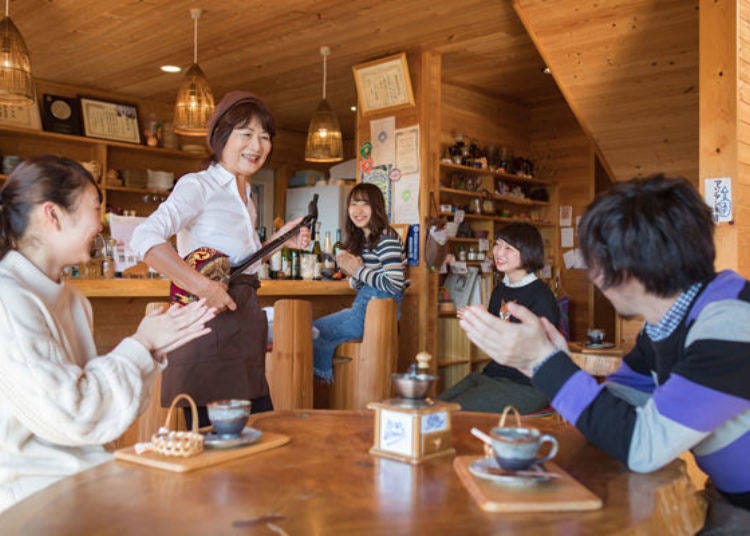 ▲ Madame entertains customers with stories and the sanshin, a three-stringed, snakeskin Okinawan instrument. The warm hospitality created by Madame's cheerful disposition brings back many repeat customers.
A charming atmosphere, beautiful views, and delicious and varied menu items are the many attractions of Petra-no-Sato, but perhaps the most wonderful of all is the at-home atmosphere created by Madame.

"I like to tell guests about all the wonderful things in this area," Madame says.

In addition to operating this café Madame also is a member of the local residents association called Kishu Hiroge-tai which sponsors day tours and local sightseeing events designed to revitalize the community, and as such she is able to tell visitors many things about the area. When she has a free moment, she entertains guests with her sanshin.
It is really a joy to listen to Madame going around the café cheerfully chatting with guests and hearing their laughter.

Petra-no-Sato puts a smile on the faces of its guests. Incidentally, the second floor serves as a pension called the Otome no Yado [Maidens' Lodge] which can accommodate two women only. Be sure to stop by here when you visit Shirahama.
ペトラの里

Address

2927-1790 Shirahama-cho, Nishimuro-gun, Wakayama Prefecture

Phone Number

0739-43-6848

Hours: 12:00 p.m. ~ 5:00 p.m.
Closed: Mondays, Tuesdays, and other unscheduled times (closed during the winter season between December and March)
2. Secluded Cafe Gongendaira: Feel like you are on a private Shirahama beach
Next we will introduce Secluded Cafe Gongendaira. It is located on a small, secluded cove called Goshikigahama, a short distance away from the central Shirahama area.

When you hear "secluded café" you are probably wondering where it is. Actually it's not at all difficult to find. You can easily get to it by car! It's an out-of-the-way spot you can easily get to in about a 15-minute drive from either Shirahama Airport or JR Shirahama Station.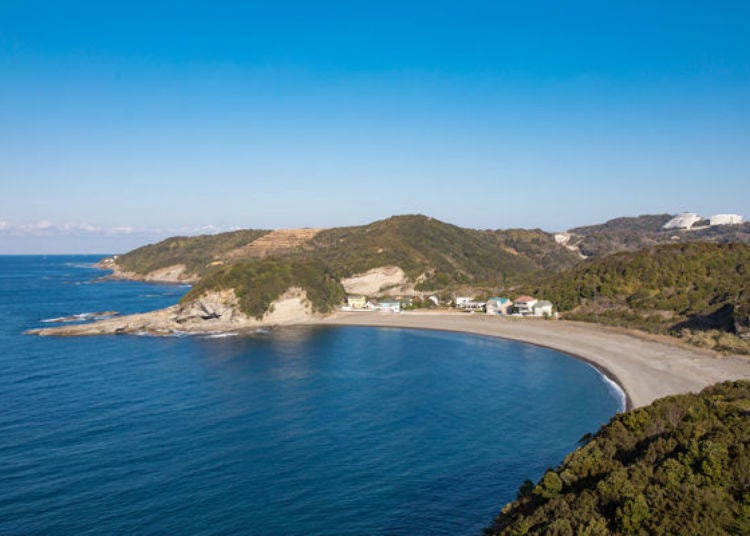 ▲Goshikigahama viewed from the top of a hill
Goshikigahama is a cove located about six kilometers south of the popular tourist spot Shirarahama. Compared to Shirarahama, it is not-so-well-known to tourists but is instead a place off the beaten track where the locals like to go fishing for whiting and Japanese flounder. The gentle curve of the Shirahama beach, blue ocean, and blue sky hold an attraction different from that of Shirarahama.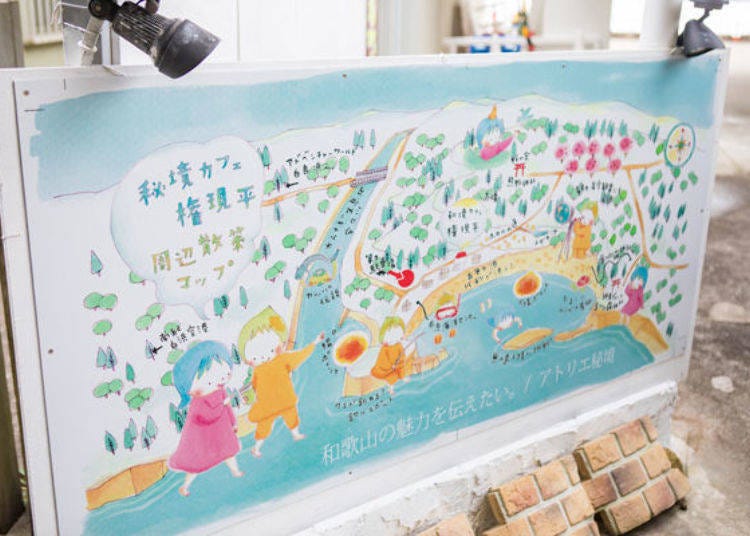 ▲ A cute illustrated map of the local area in front of the shop
Goshikigahama is practically on the doorstep of Secluded Cafe Gongendaira.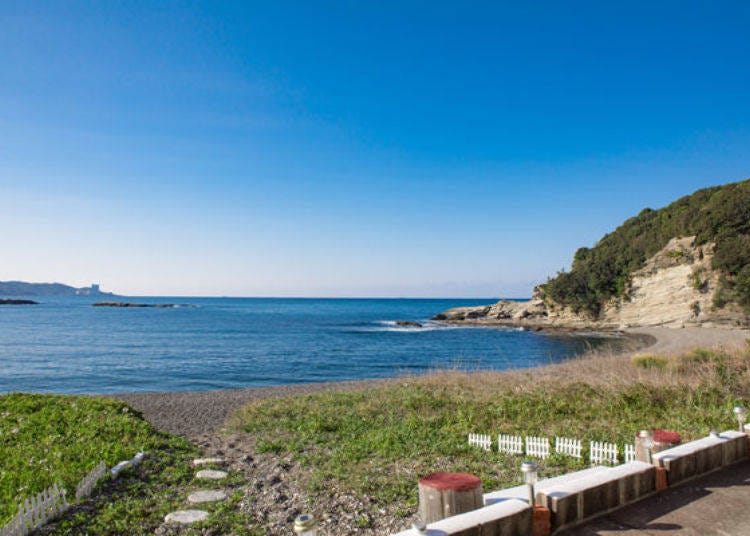 The parking area faces Shirahama beach. It is even closer to the water than the "beach houses" that are set up on the beach during the summer. The water is so close you could almost jump into it from here.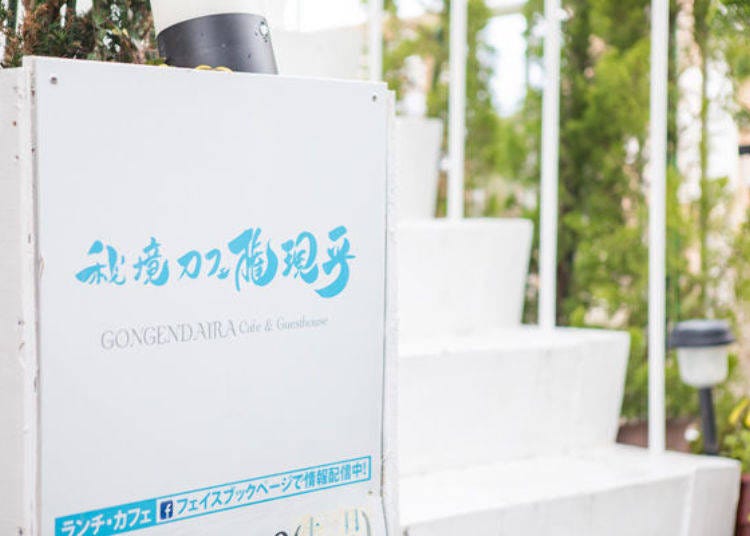 Take the stairs up to the shop.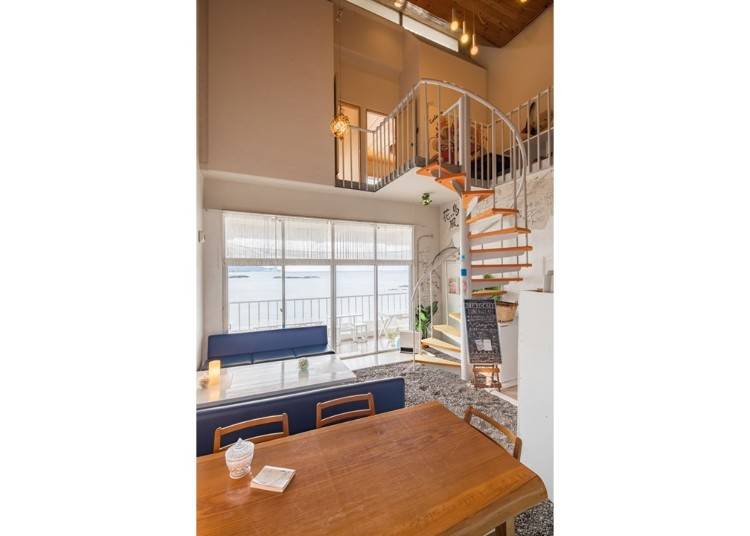 The high ceiling gives the handsome interior an open feeling. The interior is in a simple white color, the walls in places decorated with artistic graffiti adding to its hideaway atmosphere. The floor is carpeted with gravel, further enhancing the atmosphere of a beachside resort.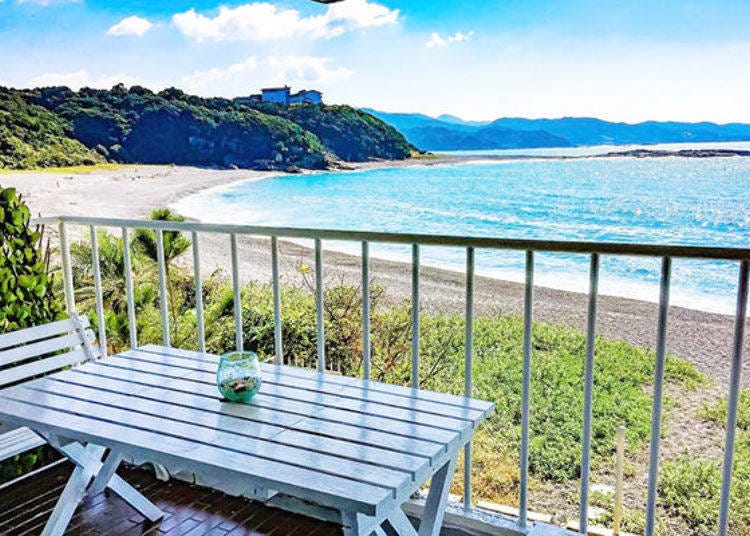 ▲ It's just a couple of steps from the terrace to the beach
Large windows in the café look out on the Shirahama beach. Sitting on the deck you can hear the gentle lapping of the waves on the beach.

The owner said that local people often come by jet ski from neighboring beaches to Goshikigahama to relax a bit at the café. Coming to the café by jet ski is something I would like to do someday.

Secluded Cafe Gongendaira situated right on the beach is a seaside café in every sense of the word. Here you get the luxurious feeling of having the beach all to yourself because compared to other beaches fewer people come to it.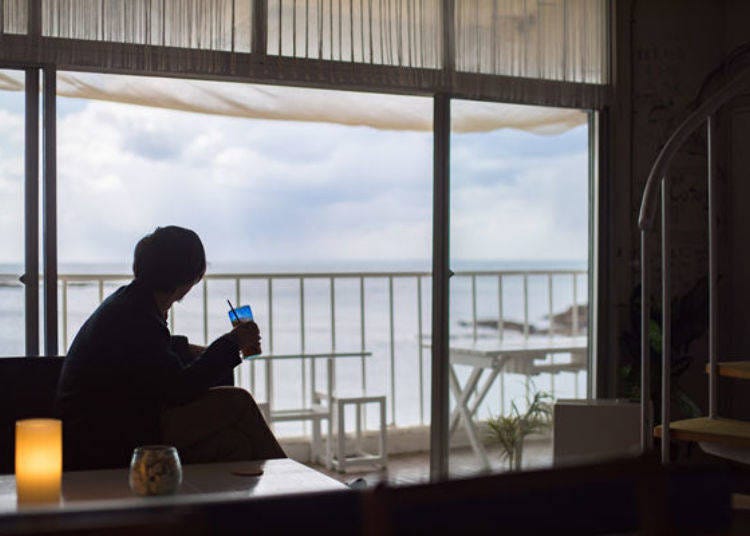 "I was never all that into marine sports, but my family were fishermen so I grew up around the ocean. Sometimes I worry about tsunami and typhoons, but the view here is incomparable. I never tire looking at it."

That is what the owner who was born and raised in Wakayama Prefecture told me. He got the idea of opening the café when he worked as a reporter for a free paper and went around doing stories about the many shops in the area. He thought he would like to do something himself that would convey the attractions of Wakayama. So, he bought a villa that was here and converted it into a café.

Let's take a look at the menu.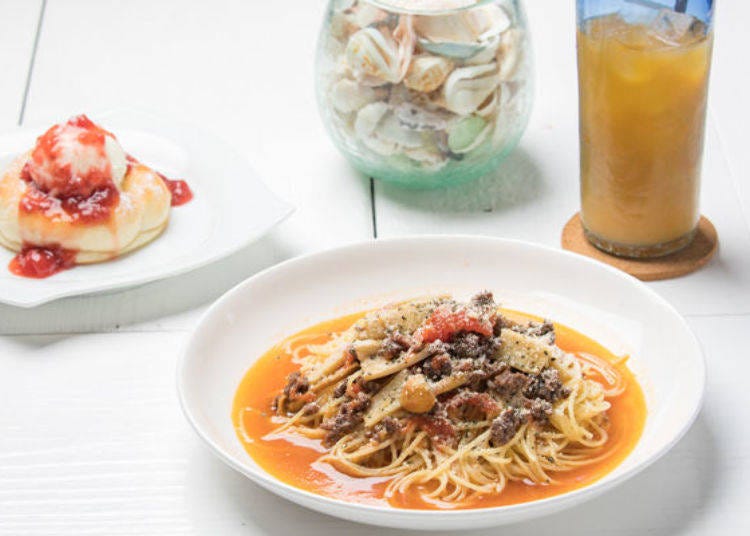 ▲ Minced Kumano beef and seasonal vegetables tomato pasta (in forefront: 1,100 yen, tax included)
The menu of Secluded Cafe Gongendaira is full of Wakayama specialties. For example, the ingredients in the tomato pasta include minced Kumano beef and two types of mushroom, one a nameko mushroom cultivated locally called Shirahama mushroom and the other is king trumpet mushroom. They blend harmoniously with the special tomato sauce bouillon base made with locally produced organic vegetables.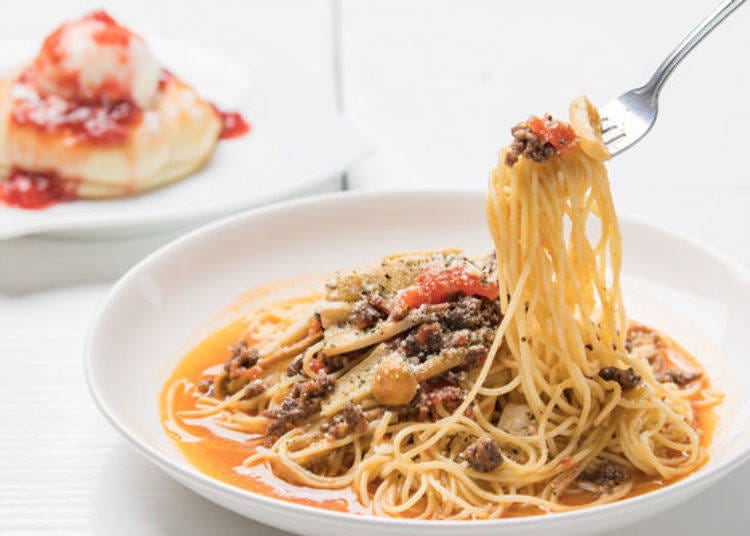 The chewy mushrooms go perfectly with the al dente pasta. The complicated and deep taste of the refreshingly tart tomato and bouillon sauce gradually spreads in a burst of flavor with the Kumano beef. There is a refreshing aftertaste left by the tomato. I think this dish would be especially delicious in summer.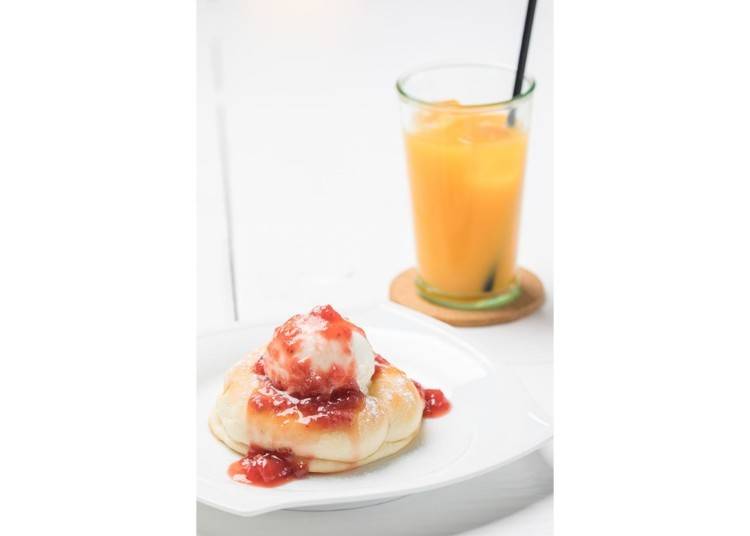 ▲The Shirahama Boule (Mihama strawberries and vanilla ice cream) (600 yen, including tax)
I really recommend the Shirahama Boule. The Shirahama Boule is an original dessert made by the owner that he hoped Shirahama would become famous for. At first glance it looks like a pancake, but actually it is ice cream and seasonal fruit on top of a warmed round roll of French bread.

French bread is used instead of a pancake because when ice cream on a pancake melts, it becomes mushy. Not liking it to be mushy like that, the owner decided to use the firmer French bread instead.

The owner also has created original crêpes and sandwiches for the menu and in the course of doing so he discovered the French boule bread which is shaped like a ball. Through trial and error and with the help of a baker friend, he finally came up with the Shirahama Boule.
In addition to Shirahama Boule there are other desserts using seasonal fruit, such as Arakawa Peach Jam and Vanilla Ice Cream and Arita Temari Mikan and Vanilla Ice Cream, as well as dishes that are not sweet, such as Kishu Umedori [plum chicken] & Mentaiko [walleye pollack roe] Cheese and Tuna-mayo & Grated Ponzu. Various types of sweets are served depending on the season, but I selected the Mihama Strawberries and Vanilla Ice Cream.

The first bite. The bread is indeed firmer than pancake which gives it a good texture. But it is not like the French bread you normally think of as this is chewy on the outside and very simple on the inside. It has a flavor that reminds me of what the original flavor of bread tastes like. The bread also absorbs the ice cream that becomes soft from the warm bread and strawberry sauce.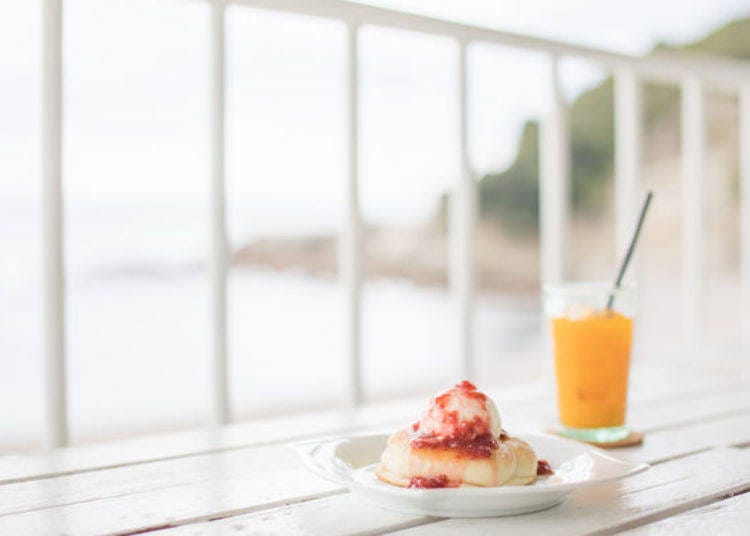 This is a novel dish! Cold ice cream on warm bread. Simple bread, vanilla ice cream, and sweetly tart Mihama strawberries. Each of these flavors is good alone, but in combination, they are another treat altogether. You really must try it.

Admiring the view of Shirahama beach with the sound of the gentle waves in the background and eating delicious dishes while relaxing leisurely is a very pleasant way to spend a carefree day.
Secluded Cafe Gongendaira

秘境カフェ権現平

Address

1758-29 Saino, Shirahama-cho, Nishimuro-gun, Wakayama Prefecture

Phone Number

0739-33-9643

Hours: 11:00 a.m. ~ 4:00 p.m. (Saturdays, Sundays, and holidays)
Closed: Weekdays require reservations the previous day. Please telephone for more details.

Vacancy search, reservation

Please enquire directly about rates.

Check with our partner site as the latest rates, rate details, and guest room requirements may vary.
3. Hotel Kawakyu: Enjoy a fine atmosphere in an opulent setting
Our final recommendation is the Cafe Musee located in the lobby lounge of the Shirahama Hot Spring Hotel Kawakyu

It is located about a 10-minute car ride from JR Shirahama Station.What on earth is that building?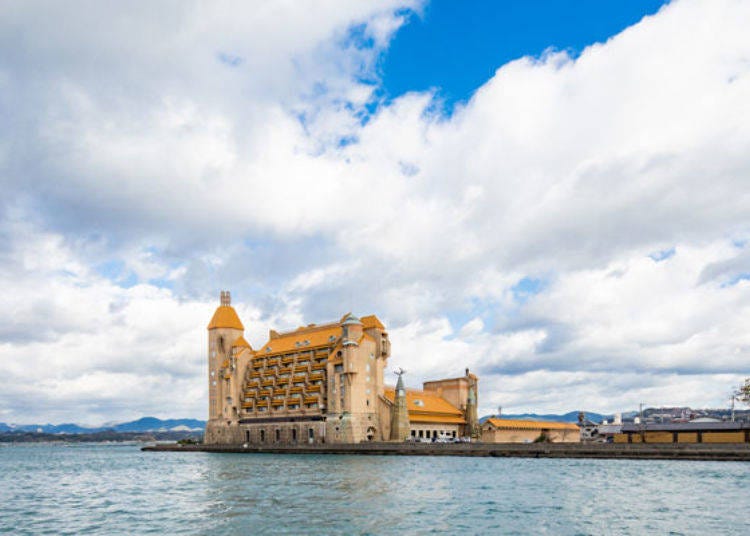 Among the traditional shops and streets of old Japan, there suddenly appears this building that looks like it had been transplanted from Europe onto Shirahama beach.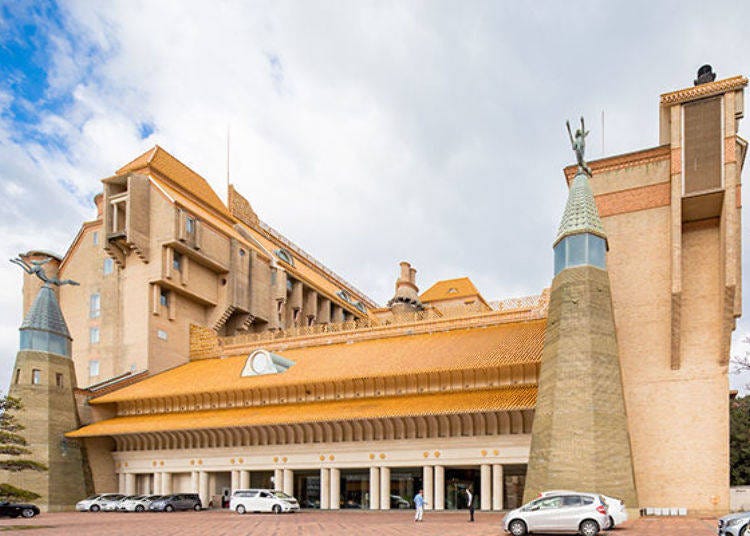 ▲ From the outside the Shirahama Hot Spring Hotel Kawakyu looks like some kind of castle
The Shirahama Hot Spring Hotel Kawakyu is truly of an impressive scale. This hotel looks more like a museum or cultural heritage site in another country than a hotel in Wakayama, Japan.As a hotel you of course can stay here, but it is also possible to use the restaurants and café even if you are not staying at the hotel. Without further ado let's go inside.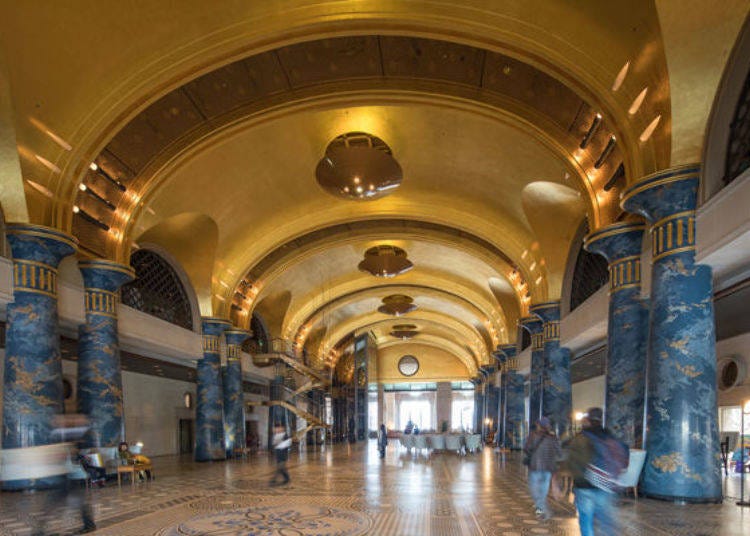 ▲Lobby entrance
The inside is also impressive. "Opulent" and "every luxury imaginable" perfectly describe this gorgeous entrance. Everywhere you look, the walls, floor, ceiling, there is fine detail.

The Hotel Kawakyu originally began as the Inn Kawakyu in 1949 and then in 1991 it was renovated into an ultra-luxurious hotel for celebrities. These days it is a hotel where anyone can easily stay. The building resembles an old European castle rising up out of the ocean and it carefully strives to maintain its authenticity.

"Take the floor for example. The mosaic was made by an Italian craftsman brought specifically to create it. These columns were constructed using a special method with each one costing about 100 million yen."

A member of the staff told us many interesting facts about the hotel. Although not sure of the exact cost, I was told that the total cost of the hotel was about 40 billion yen.
40 billion yen – that's around US$358 million!!! That indeed is opulent!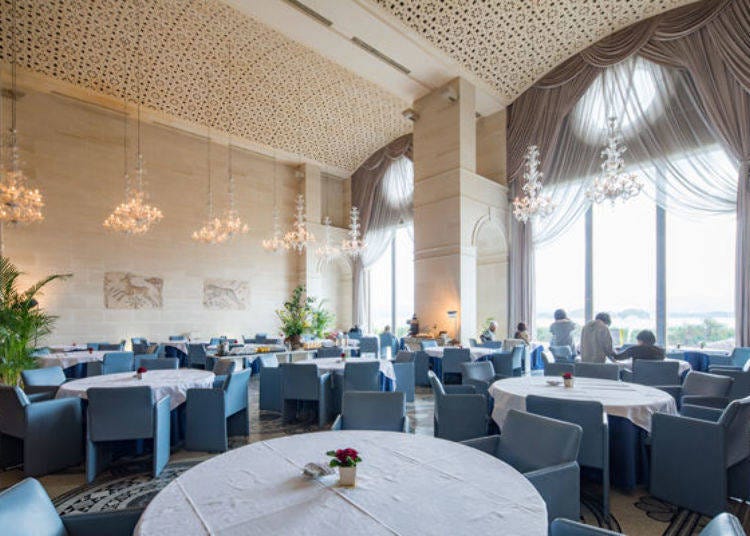 ▲Cafe lounge
The tea lounge is at the end of the gorgeous entrance lobby far in the back. It has a relaxed atmosphere yet retains a sense of luxury. There are many fine details given to the decor from the paintings on the wall to the ceiling.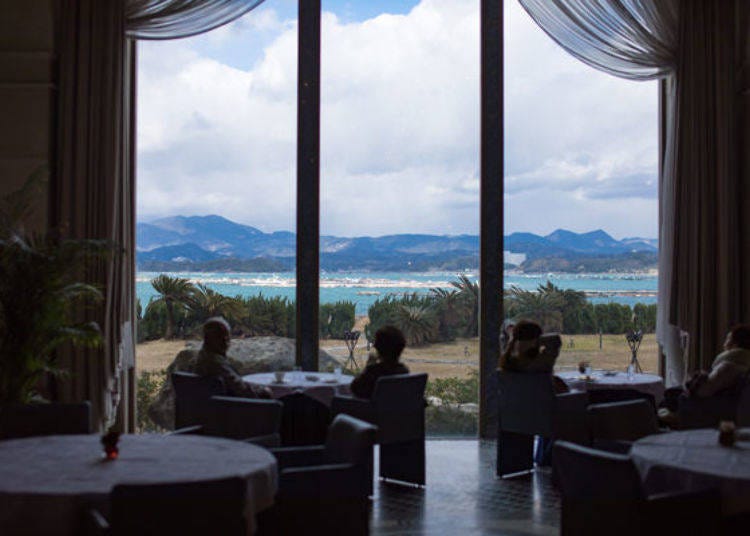 From the windows in the back you can see the Hotel Kawakyu Garden and Tanabe Bay. The view of Shirahama and the ocean from the café is also exquisite.

There is also a restaurant in the hotel. The café is a lovely place to enjoy a sumptuous tea time. It serves a wide selection of pastries especially made by the hotel's patissier. The shortcake is always a favorite as is the chocolate cake. Other pastries use seasonal fruits. All are made with the greatest skill making it difficult to know which ones to choose.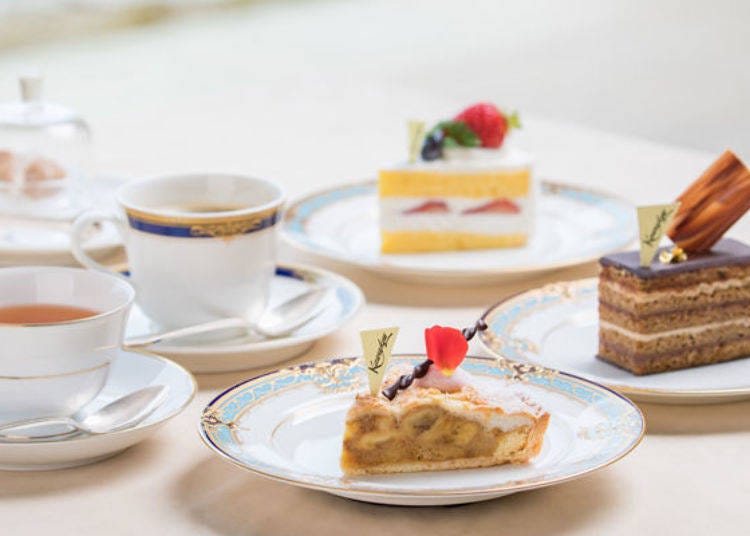 ▲Cake Set (original cake or a selection of your choice, coffee or tea) (1,200 yen, tax and service included)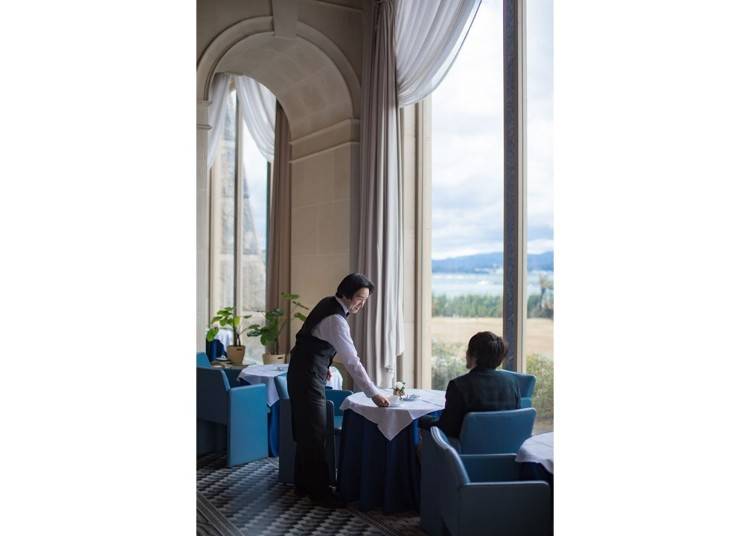 An elegant time can be spent in this gorgeous hotel. Visiting the Hotel Kawakyu will indeed leave you with rich memories of your trip. "Having tea in a luxury hotel that cost 40 billion yen to make (LOL)" is the perfect idea for a story about a memorable trip.
Hotel Kawakyu (lobby lounge Musee)

ホテル川久(ロビーラウンジ「Musee」)

Address

3745 Shirahama-cho, Nishimuro-gun, Wakayama Prefecture

Phone Number

0739-42-3322

Hours: 9:00 a.m. ~ 5:00 p.m.
Closed: only when fully reserved
A café with an at-home atmosphere, another located like a hideaway on a secluded Shirahama beach, and an elegant hotel. Each and every of these places is sure to delight couples and friends traveling in this area and are just waiting to be discovered by you.
Text by:Advision
Bonus: 5 Hotels near Shirahama Beach
Make your time in Shirahama extra special by staying at one of these recommended hotels.
Address

2500-185, Katata, Shirahama-cho, Nishimuro-gun, Wakayama, 649-2201
View Map

Nearest Station

Shirahama Station (JR Kisei Line / JR Kinokuni Line)
10 minutes by bus


Phone Number

0739-82-2391
Address

1011, Shirahama-cho, Nishimuro-gun, Wakayama, 649-2211
View Map

Nearest Station

Shirahama Station (JR Kisei Line / JR Kinokuni Line)
15 minutes by bus


Phone Number

0570-550-378
*This information is from the time of this article's publication.
*Prices and options mentioned are subject to change.
*Unless stated otherwise, all prices include tax.
Limited time offer: 10% discount coupons available now!