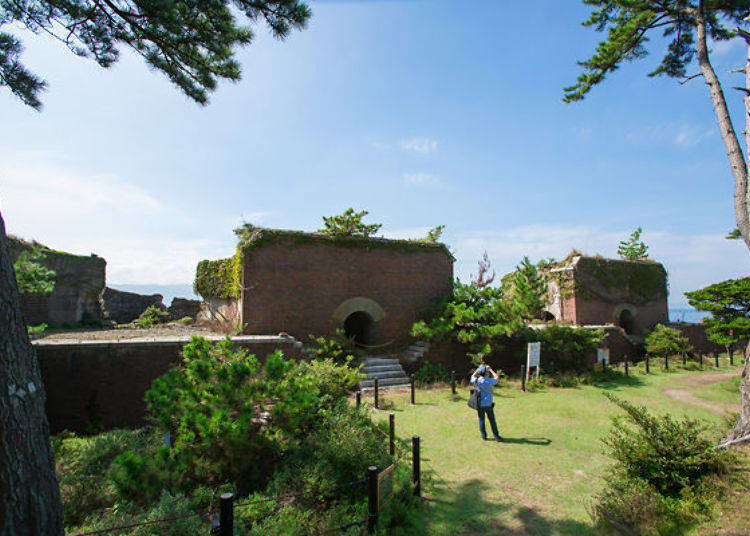 Tomogashima is a group of uninhabited islands in Wakayama Prefecture. It has a mysterious atmosphere, strangely reminiscent of a famous Ghibli animation. Yet, it is a popular attraction not just for anime fans but tourists alike.
Tomogashima is the name of the group of four uninhabited islands located between Wakayama Prefecture and Awaji Island in Hyogo Prefecture: Okinoshima, Jinoshima, Torashima, and Kamijima.

Amongst these, Okonoshima was an old Japanese military base from the Meiji Period until the Second World War. Even today, the remains of old forts and defense storage areas built during those times still stand.

Tomogashima Island is currently designated within the Setonaikai National Park, and is a tourist attraction, super popular for its unique atmosphere, with a camping site, rich surrounding nature, and old fortifications.

And now, allow us to introduce the Tomogashima Islands.
Getting to Tomogashima Island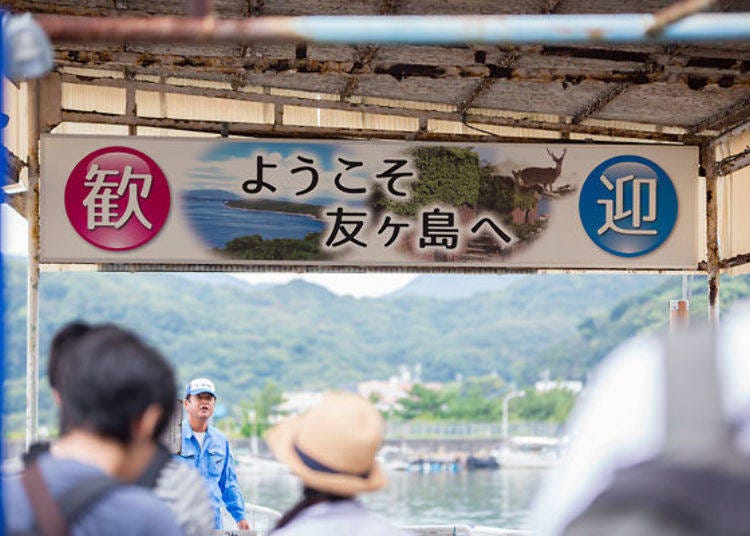 Ferry boarding area at Kada Port
Our first stop is Kada Port, located in Wakayama City, Wakayama Prefecture. From here we board Tomogashima Kisen, the ferry heading towards the Tomogashima Islands.

Once I see the sign on the ferry port, "Welcome to Tomogashima," I can't help but feel a little nervous. I waste no time in boarding the boat.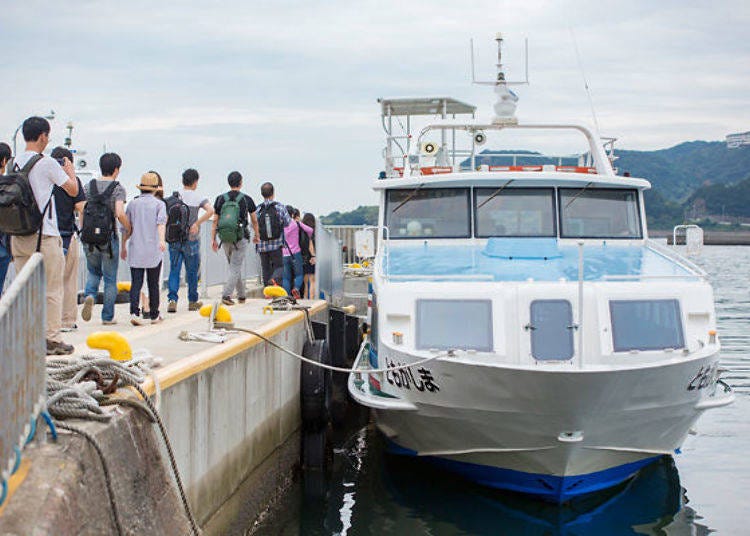 Boarding the Tomogashima Kisen Ferry to the uninhabited Tomogashima Islands
The ferry hours of operation vary depending on season, but at most they run about 6 times daily. The ferry capacity is approximately 100 people, and depending on timing and the size of the crowd, you may have to wait with your ticket until the next departure. We recommend arriving early.

After a mere 20 minutes away from the ferry port, the island comes into view as we enjoyed the view of the sea and the refreshing sea breeze.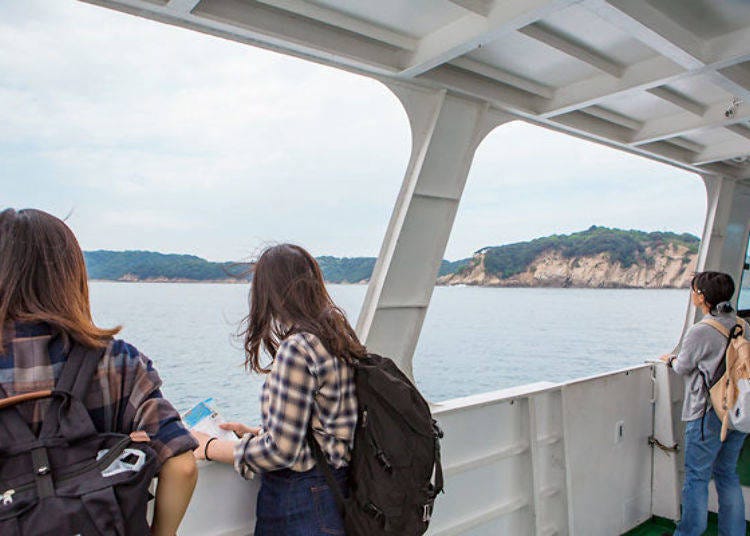 Enjoying the pleasant sea breeze while riding the ferry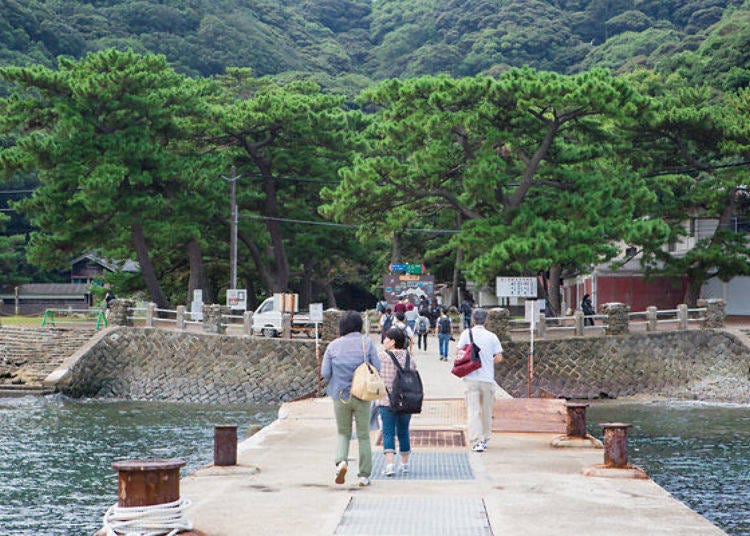 The ferry arrives at a harbor on Okinoshima Island. Though I was a little nervous at first, wondering what to expect from the unexplored areas of an uninhabited island, the idyllic scenery seen from the island's entrance gave a countryside vibes, not unlike those of the mainland. When you cross the pier, you will come to a wide, open lawn, with information offices and even places where you can spend the night.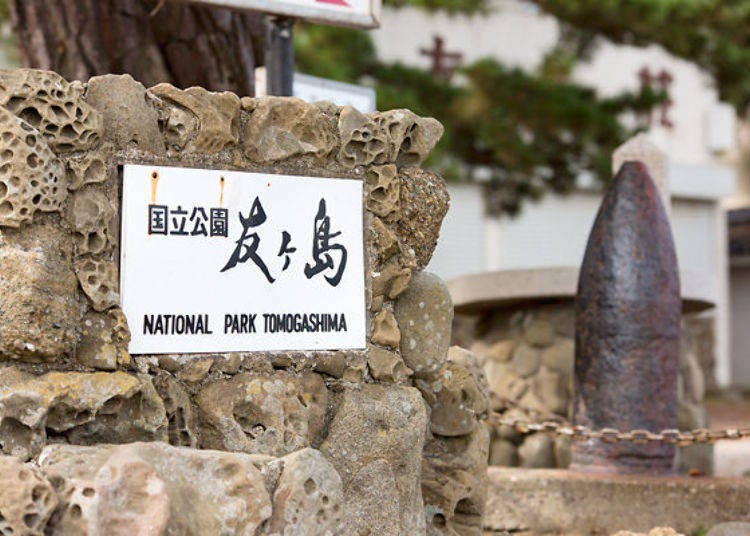 Once you cross the pier, you come to the sign, "National Park Tomogashima"
It is currently 9:30 AM. The last ferry back to the mainland departs at 4:30 PM. Though originally I would have loved to take a stroll while taking in the sights of the sea, as a writer on a mission, there is no time to waste. To show you as many of the island's attractions as possible, let's get started!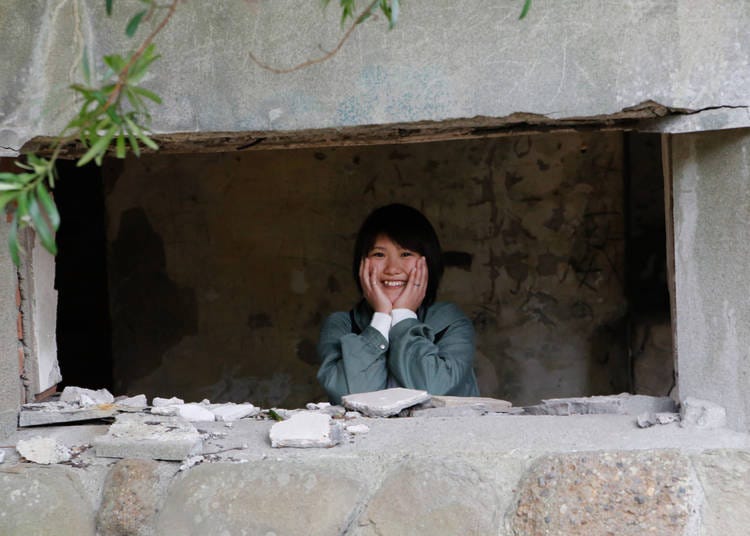 I'm the type of person who likes to save the best for last, especially when eating. However, today, that is not the case. The first place on the list is the main attraction of this island, the Third Battery Ruins. This is where the unique atmosphere of this island becomes most clear.

Okinoshima Island is about 8 km around and is dotted with old facilities from the former Japanese army, including 5 Battery Ruins and the remains of an ammunition depot. Amongst these, the best and most thoroughly preserved of these is the Third Battery Ruins, which remains in almost the same state as it was back in the day.
With a map in one hand, we head off on our hike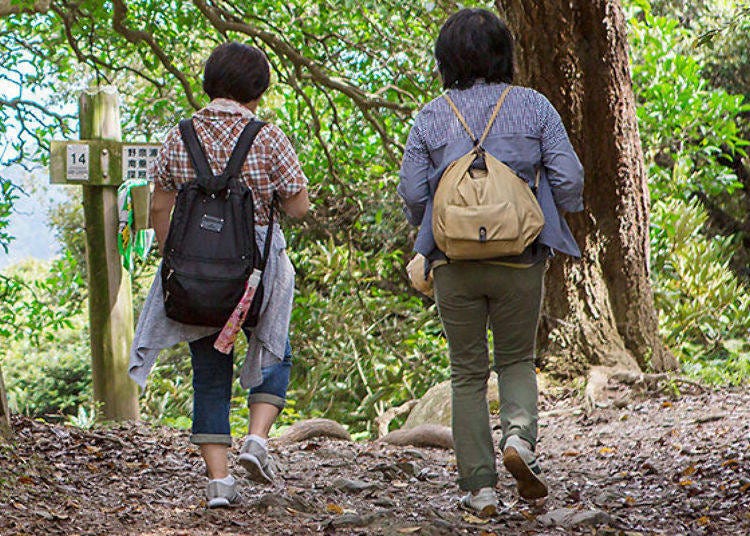 We aim for the battery ruins located in the center of the island, following the mountain path right before our eyes. Towards the back of the mountain path surrounded by trees, you can sometimes catch the sea peaking through. The combination of mountain and sea create a rather fanciful feeling.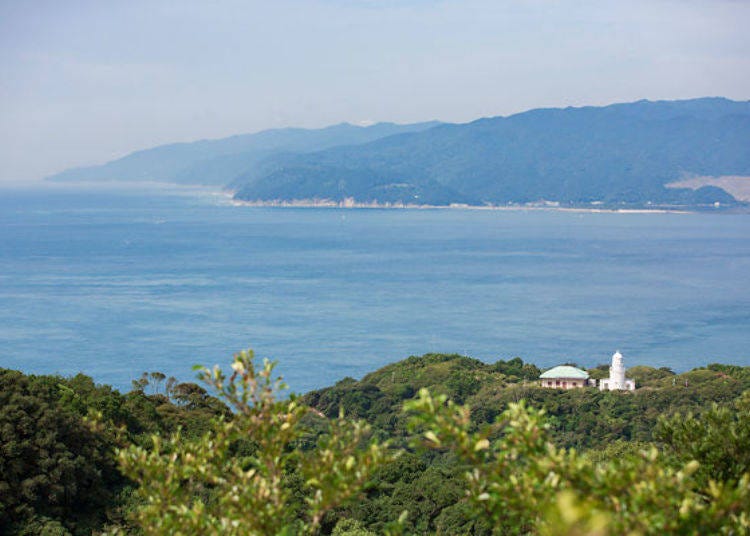 After proceeding through the thick, dense trees of the mountain path, we arrive at the Third Battery Ruins. Following the signboards, we descend a stone staircase, and...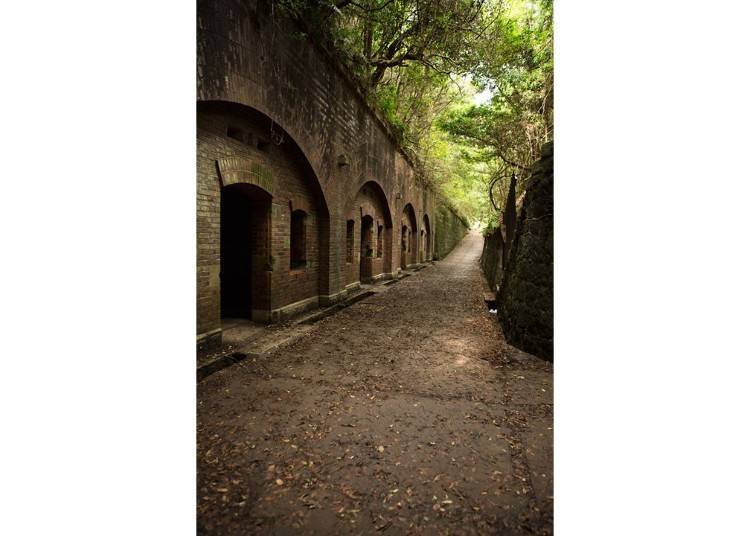 The Third Battery Ruins Ammunition Warehouse
This is the ammunition warehouse of the Third Battery Ruins. The sudden appearance of the red brick building in the middle of the mountains is quite a sight. The appearance of the building covered with green makes you feel the combination of its age and nature, creating an air of mystery.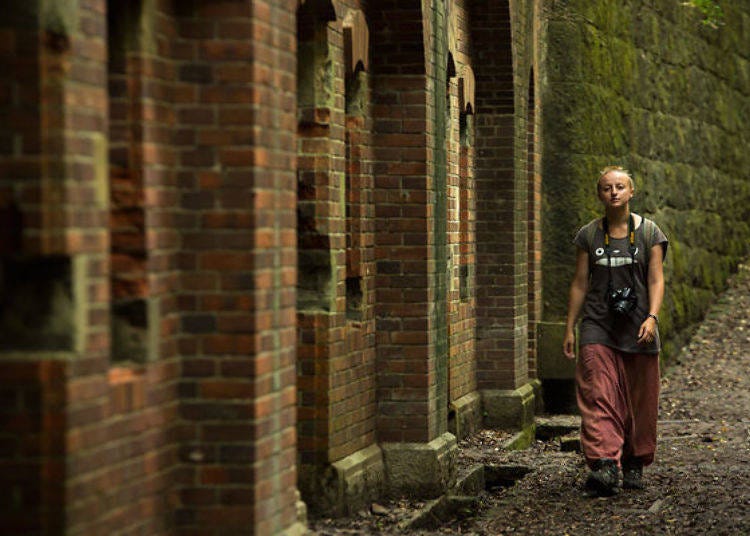 It almost feels as if you have become completely lost in a strange, post-apocalyptic world, with a mysterious landscape that makes you forget you are in Japan, or in a modern world, at all.

The original building was simply an ammunition storage space, so it isn't even necessarily that it is an amazing structure, nor is it a particularly attractive building, yet for some reason, one cannot help but be unable to take their eyes off of it and feel a sense of "beauty."

Further inside the warehouse, you can even see the gun platforms where the cannons used to rest.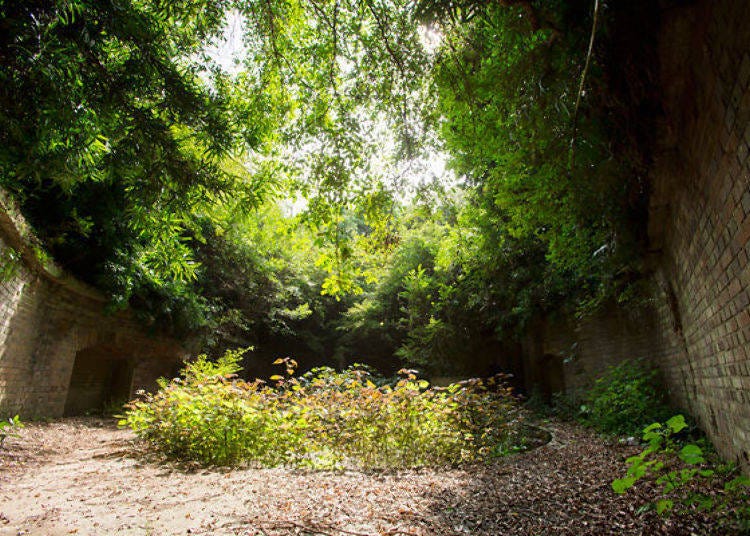 This round cannon platform, surrounded by a red brick wall, was completely overgrown with plants. Such an exquisite harmony between this artifact and the surrounding nature. Such a scene that you would not normally encounter in your daily life spread out here right before your very eyes.

There are 4 other similar cannon platforms around the Third Battery Ruins, all connected via an underground passage. This underground passage is completely dark when you go inside, so you will need a flashlight to explore it.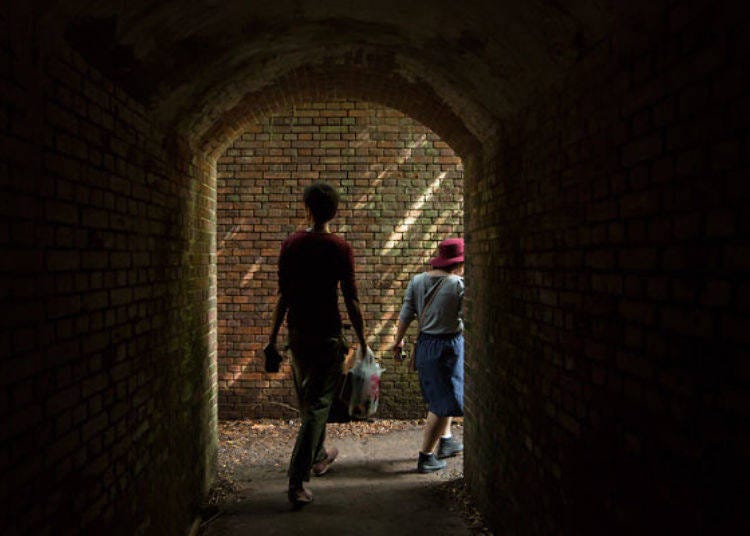 Next, our authors set on the hiking trail once again, this time embarking on a major journey towards the Second Battery Ruins.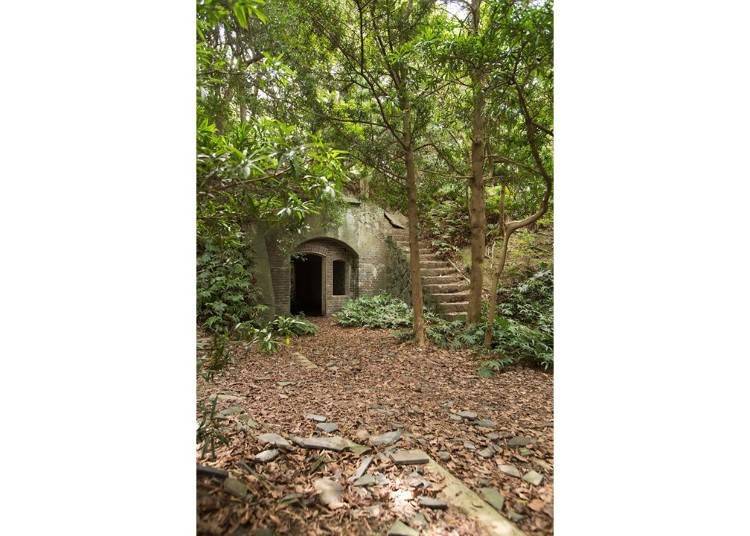 Searchlight remains. This is where the searchlight used to find enemies was stationed.
Along the way, we encounter many ruins of various other facilities as if it were completely natural. There are many places that I could imagine getting lost in as a child, playing as if it were a secret base, if only such a place had been closer to home.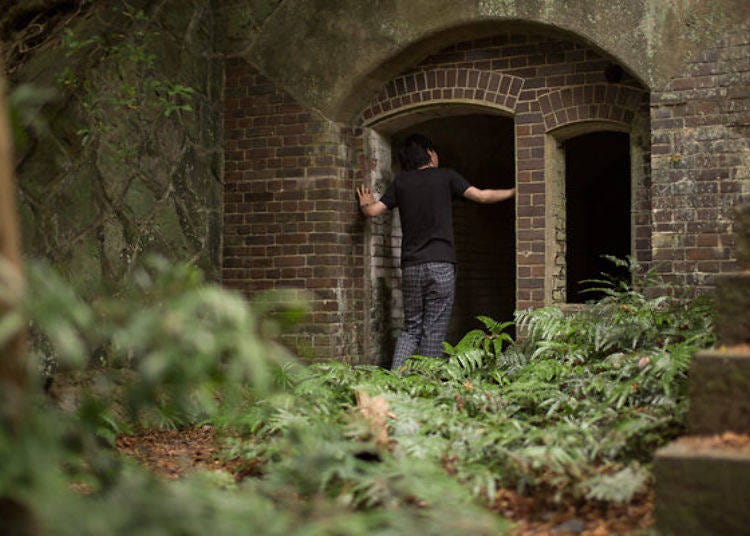 At last we arrive at the Second Battery Ruins.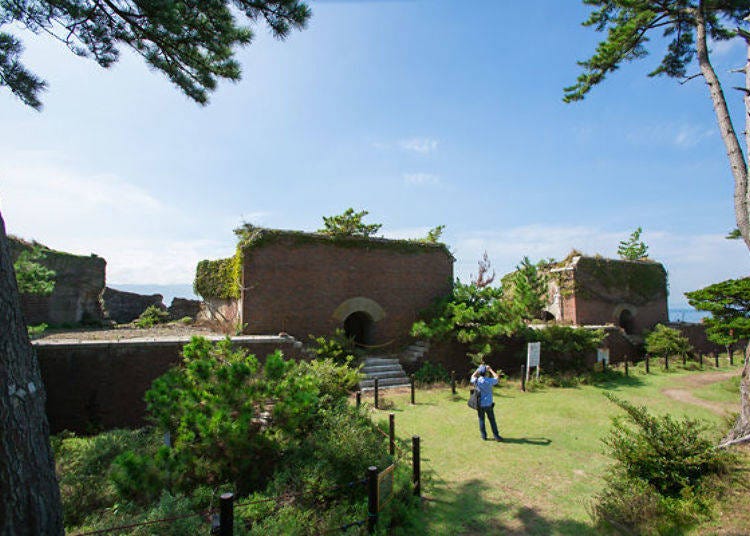 Second Battery Ruins
While the previous Third Battery Ruins were positioned to catch our attention hiding in the mountains, close to the mountain summit, these Second Battery Ruins sit on the high grounds facing out towards the sea.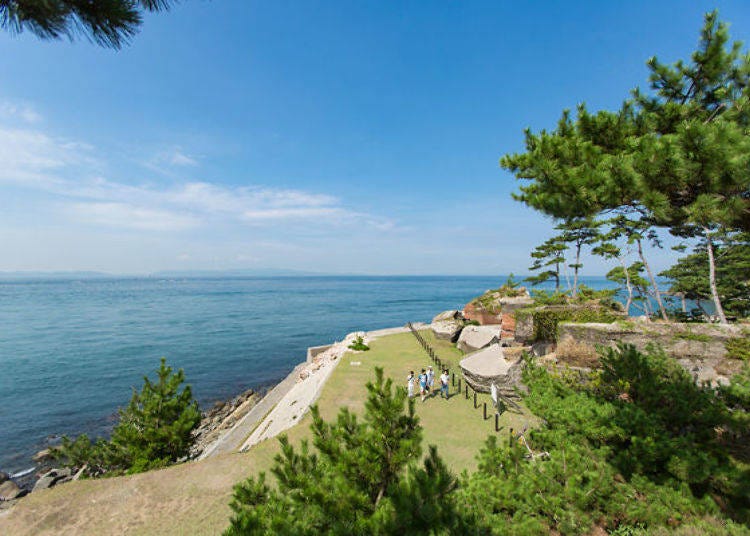 It is the same kind of battery ruins as the last one, so the second and third ruins don't seem that much different from each other. At least, that's what I thought, yet somehow, the scenery from the Third Battery Ruins still sticks out in my mind.

However, the Second Battery Ruins does boast a nice contrasting view between the sea and sky.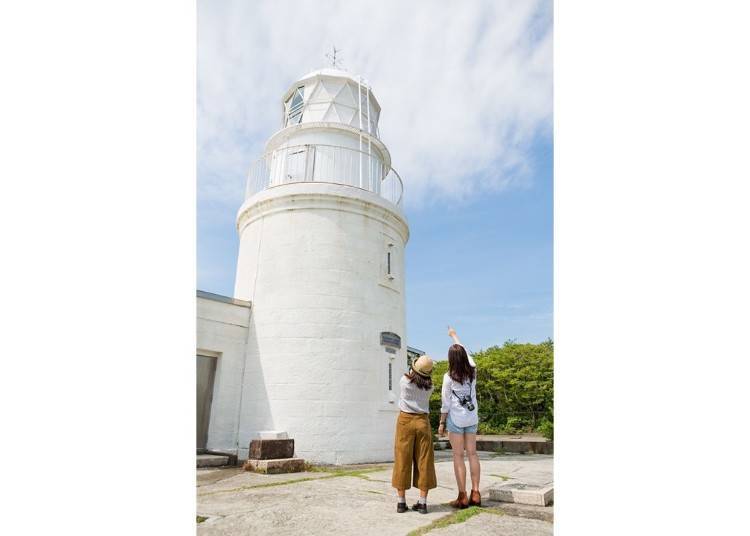 Tomogashima Lighthouse, a Western-style lighthouse built in 1872, and the eighth one built in Japan. It seems that it is still functional to this day.
There are other various facilities of the former Japanese army around the island that you can see, such as the Former Navy Listening Station Ruins (a lookout hut built to detect intruders such as submarines). Because the exact state of preservation may vary, there are some places that forbid entry due to a risk of collapse.

Each spot has its own unique atmosphere, so feel free to walk around and visit each as you please.
An amazing outdoor spot surrounded by rich nature!
The charms of the Tomogashima Islands go beyond nostalgia-inducing scenery. Because it is an uninhabited island, it is rich in surrounding nature.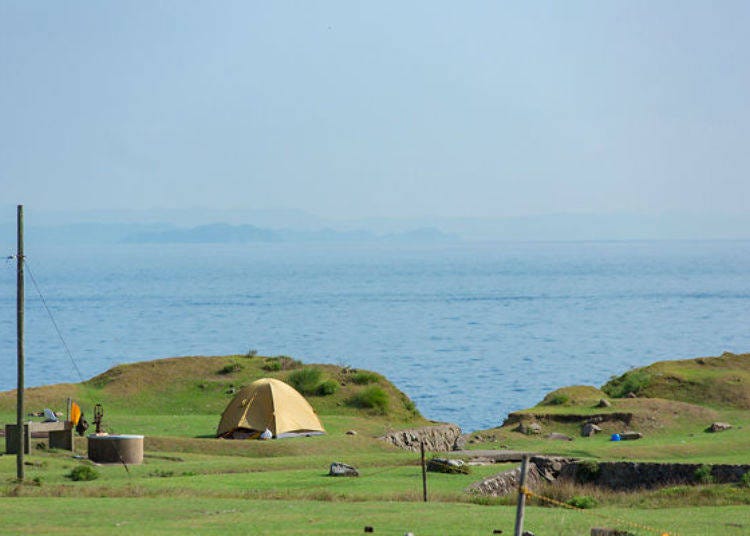 There are two campsites on the island on which you can set up a tent. It is very popular with overnight guests in the summer time. (Reservations not required and site usage is free of charge, however all guests must apply at the management office located at the entrance of the island).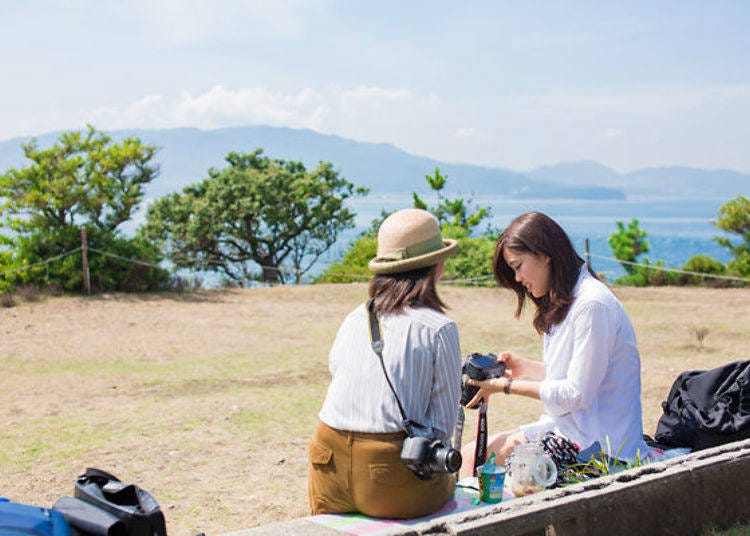 How relaxing it is to enjoy a nice, relaxing picnic on a deserted island while looking out into the sea...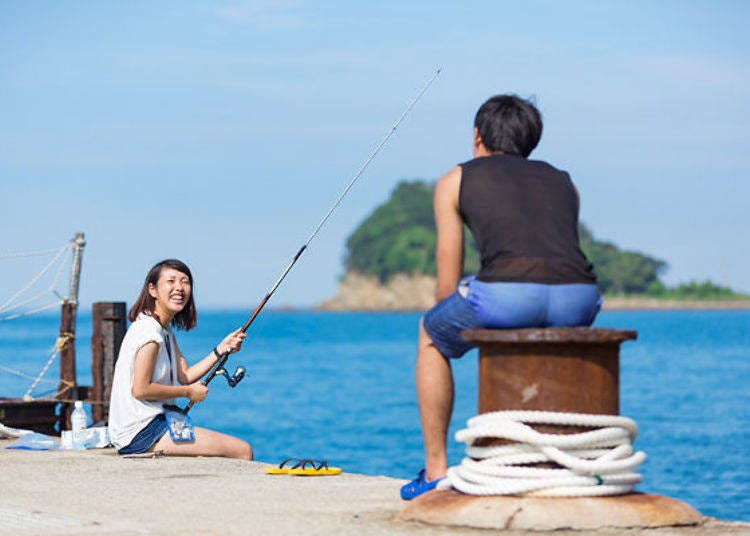 You can even go fishing!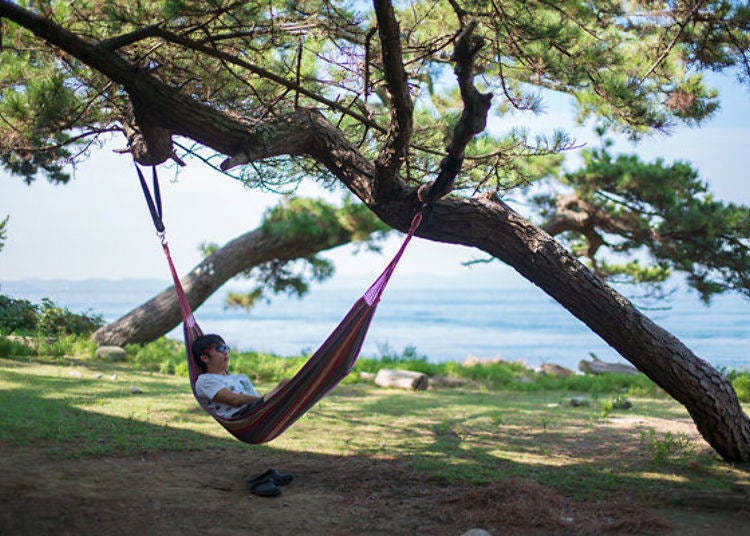 An uninhabited island where you can enjoy a relaxed, leisurely time.
The island has an enchanting atmosphere, created by its mix of old ruins and nature. It is a mysterious feeling, being on an uninhabited island surrounded by the sea. A unique and interesting spot, sure to be loved by anime fans, history enthusiasts, and lovers of the outdoors alike.
友ヶ島汽船

Address

Kada, Wakayama City, Wakayama Prefecture

Phone Number

073-459-1333

Admission Fee: Adults 2,000 yen; Children 1,000 yen (tax included)
Regular Holidays: Tuesdays, Wednesdays (Open on public holidays, 4/28~5/6, 7/21~8/31)
*Service may vary according to weather. Please check website for details, including departure times)
Address

Kada, Wakayama-shi, Wakayama, 640-0103
View Map

Nearest Station

Kada Station (Nankai-kada Line)


Phone Number

073-459-0314
Recommended Hotels Near Tomogashima
Wakayama Kada Onsen Kada Kaigetsu

和歌山加太温泉 加太海月(旧吾妻屋シーサイドホテル)

Address

640-0103 Wakayama, Wakayama, Kada 1905, Japan

Phone Number

050-3163-0015

Vacancy search, reservation

from

11,300JPY

1room, 2adults

Check with our partner site as the latest rates, rate details, and guest room requirements may vary.
Cafe and Guest House Kaede

カフェ & ゲストハウス 楓

Address

640-0114 Wakayama, Wakayama, Isonoura 103, Japan

Phone Number

073-499-8246
Wakayama Daini Fuji Hotel

ワカヤマ第2冨士ホテル

Address

640-8221 Wakayama, Wakayama, Minatokonya 1-20, Japan

Phone Number

073-431-3352

Vacancy search, reservation

from

6,200JPY

1room, 2adults

Check with our partner site as the latest rates, rate details, and guest room requirements may vary.
*This information is from the time of this article's publication.
*Prices and options mentioned are subject to change.
*Unless stated otherwise, all prices include tax.
Limited time offer: 10% discount coupons available now!