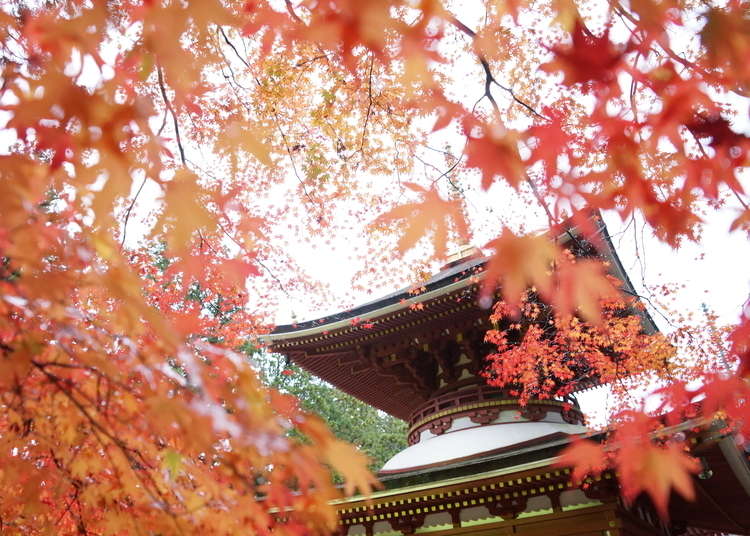 Wakayama in autumn is known for its gorgeous fall colors. Breathtaking foliage can be found around every corner, transforming forests and parks into a stunning fiery spectacle.

In 2022, the best time to see fall foliage in Wakayama is from November 26 to December 10, when the Japanese maples turn red and ginkgo shift to gold.

Since many places in Wakayama are within 90 minutes from Osaka via the JR line, it's an ideal place for a refreshing overnight or day trip from Osaka!

We've carefully selected 10 amazing autumn spots around Wakayama where you can enjoy this colorful spectacle for yourself, complete with handy travel information and peak foliage times!
1. Kongobuji Temple: Step into the mystical Buddhist world of Koyasan in Autumn!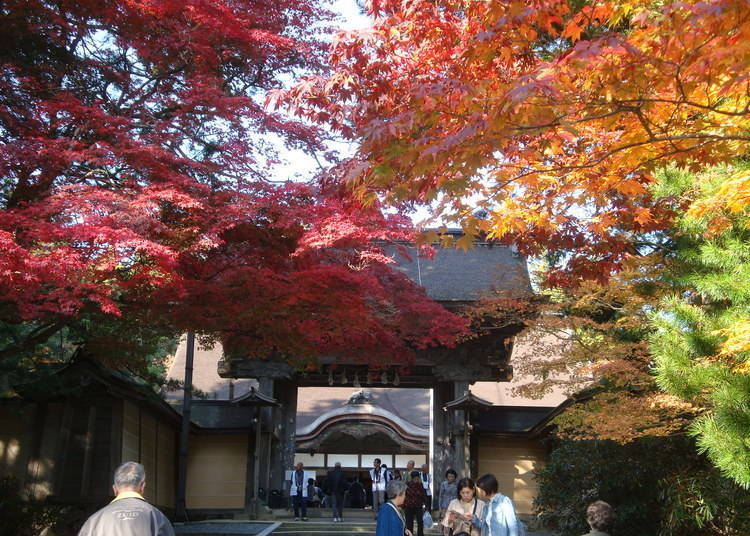 Established by legendary Buddhist monk Kukai, the mountain of Koya-san is Wakayama's most famous region and one of the most sacred places in Japan. The entire mountain is covered by temples practicing Shingon Buddhism, and everywhere you look, you'll find a deep connection to this ancient religion.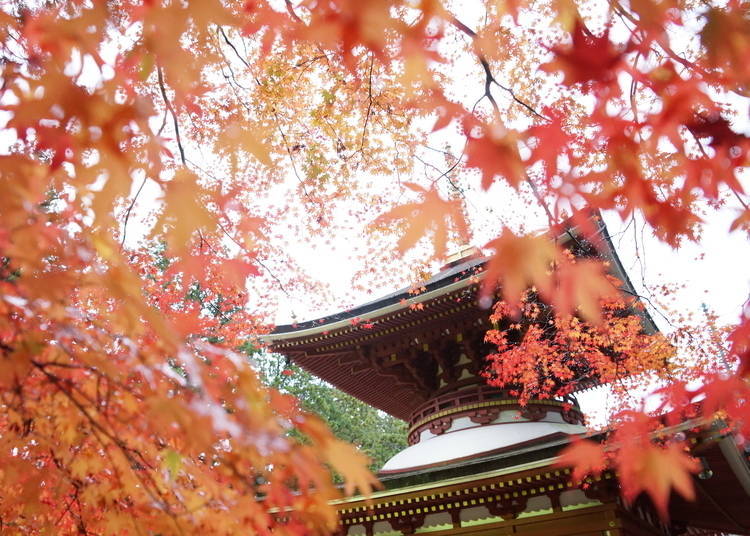 Strolling around the mountainside provides endless charm, with plenty of hidden temples waiting to be found by adventurous travelers!

Koya-san's autumn beauty peaks from the end of October to the beginning of November. The entire mountain is colored by red and yellow leaves, forming a breathtaking harmony with the ancient temple buildings. This is best experienced through a stroll along the Jabara Road from Kongobuji Temple to the Danjo-garan, which is covered by tunnel-like canopies of stunning red leaves!

To get to Koya-san, take the Koya-san Cable Car from Gokurakubashi Station on the Nankai-Koya Line. Get off at Koya-san Station and take a bus to Kongobuji-mae.
Address

132, Kouyasan, Kouya-cho, Ito-gun, Wakayama, 648-0294
View Map

Nearest Station

Koyasan Station (Nankai Koyasan Cable)
12 minutes by bus


Phone Number

0736-56-2011
2. Koya-Ryujin Skyline: A stunning valley drive framed by foliage!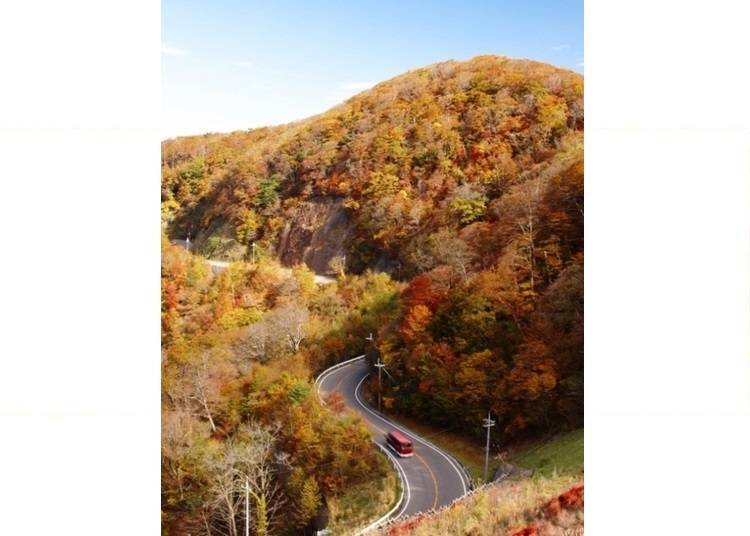 Photo: Wakayama Tourism Public Association
The Koya-Ryujin Skyline is a roughly 42-kilometer road on national highway route 371, connecting Wakayama's Ito district with Tanabe City. As its name suggests, this winding, uninterrupted drive wedged between untouched nature makes one feel like they are floating in the sky!

The valley, which peaks at 1,000 meters above sea level, is filled with Japanese beech and lacquer trees that put on a magnificent autumn display between late October and early November. These sights have made the drive a huge hit in Japan! If you want to take in the scene a little more slowly, near the top of the valley is a platform with vast, open views covering the entire area.

You can get to the Koya Ryujin Skyline via a 1 hour and 40-minute bus ride from Kii-Tanabe Station on the JR Kinokuni Line. If you wish to try the drive for yourself, there are numerous rental car options in nearby cities, so research before you go!
高野龍神スカイライン

Address

Ryujinmura, Tanabe-shi, Wakayama

・Hours: 24 hours (various restrictions apply during winter, such as traffic bans at night and bans on two-wheeled vehicles)
・Admission: Free
3. Kizetsu-kyo Gorge: These bold Wakayama autumn colors are sure to mesmerize you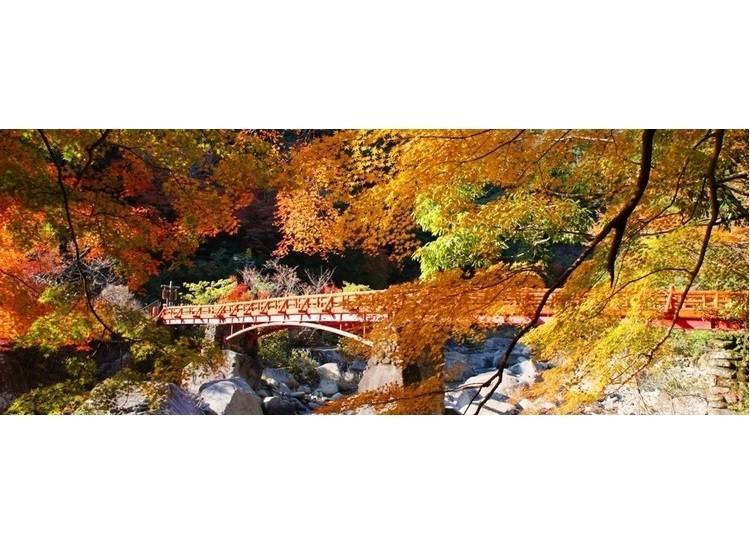 Photo: Wakayama Tourism Public Association
Dotted with fascinating rock formations encircled by boundless nature, Kizetsu-kyo Gorge, a part of the Yoshino Kumano National Park, is an exhilarating tourist attraction in the midst of Japan's untouched wilderness.

While the gorge is worth visiting at any time of year, seeing its beauty framed by colorful maple leaves brings it to a whole new level! The awe-inspiring gorge is a perfect match for the intense array of colors, creating a scene you'll never forget!

To get to Kizetsu-kyo, take the Ryujin bus from JR Kii-Tanabe Station and get off at Kizetsu-kyo. At this Wakayama foliage spot, the peak period is from mid to late November.
奇絶峡

Address

Kamiakizu, Tanabe-shi, Wakayama 646-0001

・Open 24 hours
4. Tamagawa-kyo Gorge: Truly Wakayama in Autumn! Fascinating rocks complemented by amazing foliage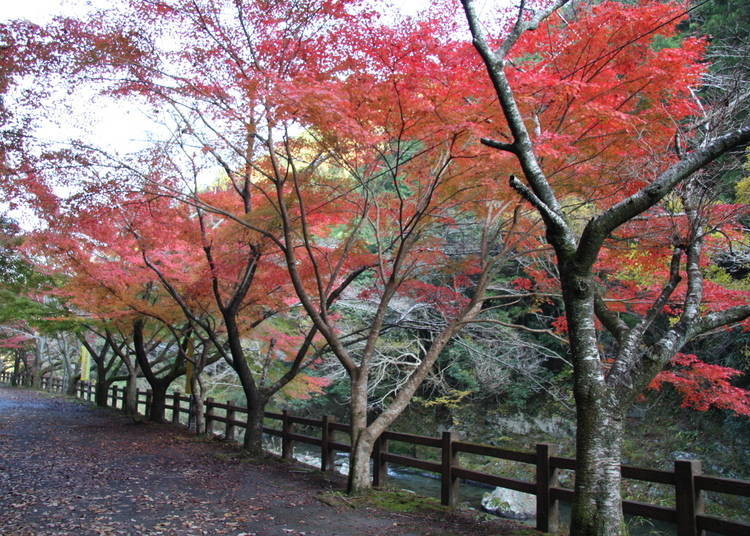 Another of the most popular spots for Wakayama in autumn, Tamagawa-kyo Gorge is extravagantly decorated by dozens of waterfalls and bizarre rock formations, all of which can be enjoyed via a peaceful stroll.

Its highlight, the 'Nyuu no Taki' waterfall, which has a height of 25m and a width of 3m, provides refreshing scenery and a calming soundtrack to your autumn explorations!

From the beginning of November, the gorge's maple, lacquer, and ivy will change color, giving the region a brand-new autumn look. Before it starts getting too cold, take the chance to dip in the river and camp amongst this stunning slice of paradise!

Due to a lack of service, we recommend renting a car to get to Tamagawa-kyo Gorge. It can be reached after a 30-minute drive from Hashimoto Station.
玉川峡

Address

Nyuukawa, Kudoyamacho, Ito-gun, Wakayama 648-0121

・Open 24 hours
・Admission: Free (except camping)
5. Ichimai-iwa: Deep crimson leaves and giant boulders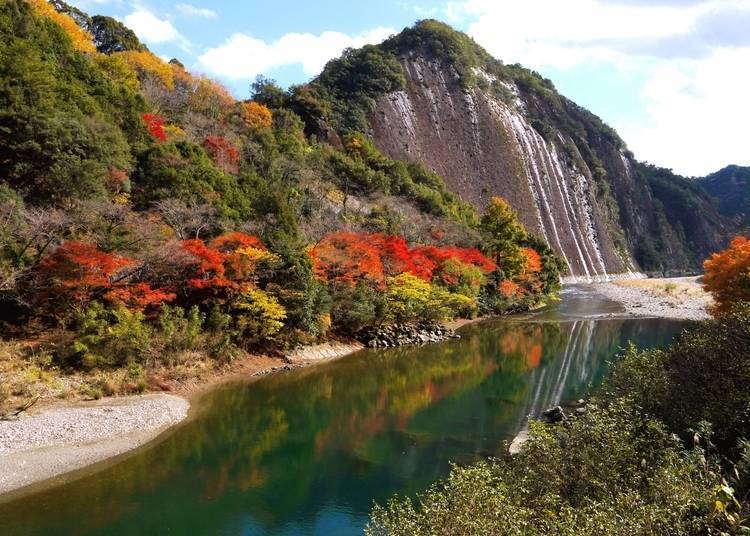 Kozagawa, a town of lush nature and crisp air, is packed with huge boulders and other fascinating rock formations along its Kozagawa River.

One of these is the colossal Ichimai-iwa, a designated natural monument of Japan, which has a whopping height of 100m and a width of 500m! Calling it a boulder doesn't do it justice – it's really a mountain!

Mid-November adds even more beauty, with the image of deep crimson maple leaves surrounding the boulder a smash hit amongst lovers of Wakayama in autumn.
Further along the river is Kosenji Temple and its 400-year-old giant ginkgo tree. The leaves of this 30-meter tree (which has a trunk circumference of 6 meters) turn a rich yellow around the same time.

Once these leaves fall, the tree becomes encircled by a lush golden carpet, making it another one of the area's must-visit attractions!

Ichimai-iwa is a 20-minute drive from JR Koza Station. Kosenji Temple is an additional 10-minute drive west from the boulder.
一枚岩

Address

290 Aise, Kozagawa-cho, Higashimuro-gun, Wakayama 649-4235

・Open 24 hours
光泉寺

Address

302 Kozagawa-cho Mitogawa, Higashimuro-gun, Wakayama 649-4455

・Open 24 hours
・Admission: Free
6. The Fukusada Giant Ginkgo Tree: Spectacular sight right next to the highway!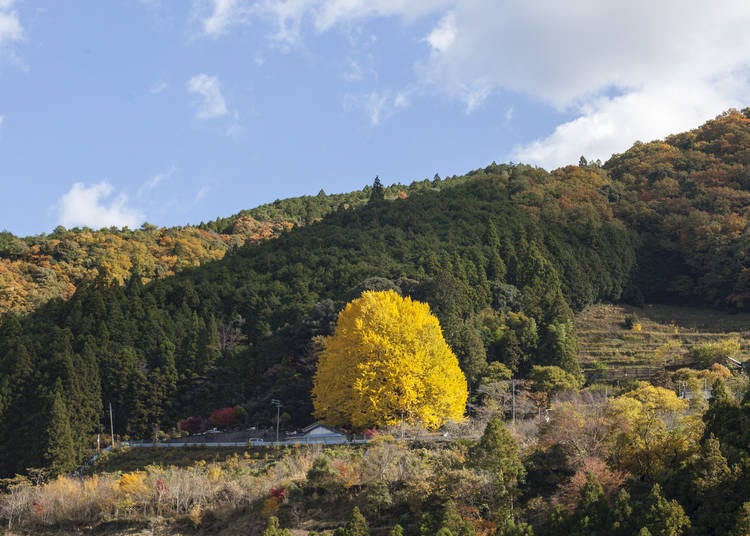 Photo: Wakayama Tourism Public Association
At Hosenji, a temple in the Nakahechicho Fukusada region, lives a legendary giant ginkgo tree believed to be at least 400 years old.

This tree, beloved by locals and known as the 'Fukusada Giant Ginkgo Tree,' has an impressive trunk circumference of 5.3m and a height of 22m. At 4 meters, its trunk breaks off into several branches and is thus called a 'Thousand Branch Ginko Tree.'

The tree is so massive that it can be seen from up to 400 meters away on national highway 311. It towers over the surrounding trees, making it unmissable even whilst driving! This is particularly true from late October to mid-November, whereby its leaves change into an eye-catching yellow that will compel even the busiest drivers to pull over for photos! It's a stunning spot to visit in Wakayama in autumn.

You can visit the Fukusada Giant Ginkgo Tree by taking the Ryujin Bus from JR Kii-Tanabe Station. Get off the bus at Ujiyamabashi. Hosenji Temple is a 5-minute walk from there.
宝泉寺

Address

275 Nakahechicho Fukusada, Tanabe-shi, Wakayama 646-1432

・Open 24 hours
・Admission: Free
7. Kumano Kodo: A rare glimpse into Japan's ancient wilderness while trekking through the autumn foliage
Since the Heian period, royalty, nobility, and the working class alike have crossed the mountains to pray at the three Kumano Sanzan temples.

This path is known as the 'Kumano Kodo' and is now a registered World Heritage Site. Even today, locals and tourists make the journey to enjoy the largely untouched scenery and ancient atmosphere.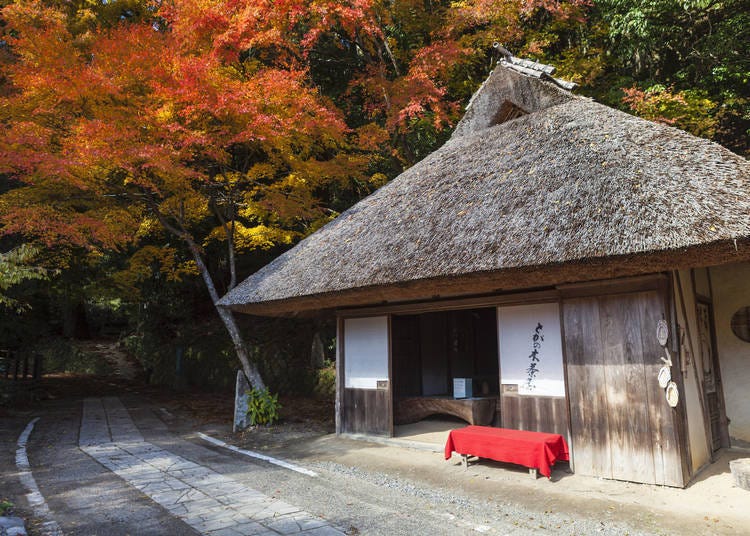 Photo: Wakayama Tourism Association
A favorite among those visiting Wakayama in autumn, the Kumano Kodo bears stunning autumn leaves, making your walk even more enchanting!

One of the areas most famous for these colors is near the Toga no Ki Teahouse, where a thick canopy of leaves resembling an old-style thatched-roof house gives visitors the surreal feeling of slipping back into Japan's history.

Peak autumn colors are from late November to early December. You can get to the Kumano Kodo by taking a bus from JR Kii-Tanabe Station and getting off at Kobiro-toge (Kobiro-oji).
とがの木茶屋

Address

Nakahechicho Nonaka, Tanabe-shi, Wakayama 646-1401

・Open for hikers 24 hours
8. Oishi Kogen: A carpet of dazzling orange pampass grass!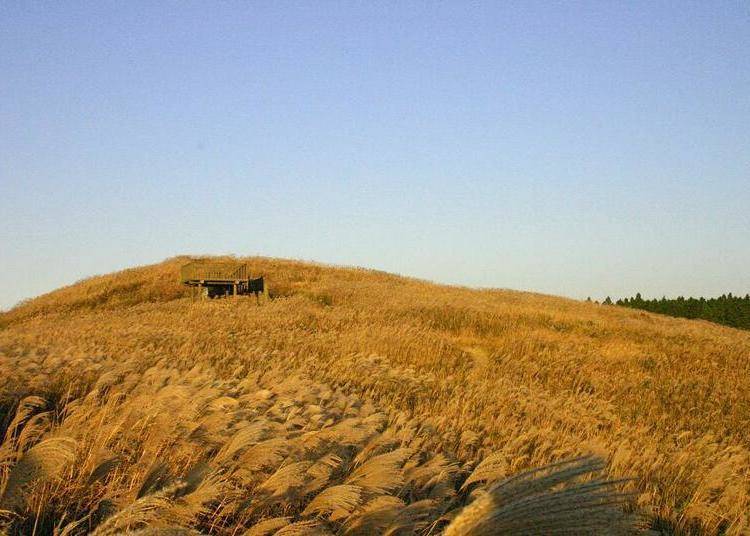 Photo: Wakayama Tourism Association
Oishi Kogen is a large plateau of pure Wakayama nature and fantastic autumn colors. Its tallest peak, which is 870 meters above sea level, is covered by long yellow 'susuki' grass, creating an endless panorama of golden carpet. On clear days, visitors are also treated to fantastic views of Wakayama and neighboring Hyogo and Shikoku prefectures as well!

The best time to see the grass is between the beginning of October to mid-November, when it is tinged with a touch of golden yellow. Standing amongst this softly swaying natural golden carpet will make you feel like you're in a film!

To visit Oishi Kogen, take the transit bus running from JR Kainan Station to Tozanguchi and walk or take a taxi from there. Within the Oishi Kogen area is a visitors center with meals and souvenirs along with a campground.
生石高原

Address

288-29 Nakada, Kimino-cho, Kaisou-gun, Wakayama 640-1114

Open 24 hours
9. Otakigawa Forest Park – Try the Japanese Art of 'Forest Bathing' in a Breathtaking Valley of Foliage!
In the basin of Mt. Mazuma, nicknamed the 'Mt. Fuji of Hidaka' due to its majestic presence, is the all-natural Otakigawa Forest Park. With mountain views and tranquil greenery, its harmonious atmosphere is perfect for casual, relaxing hikes.

A long suspension bridge hovering over a waterfall with spectacular 360° views adds a little extra thrill. A great day out for adults and children alike!

During autumn, the foliage colors are stunning at the valley's clearing, which opens up to reveal a dizzying array of bright red. The maple trees planted at the park's promenade are also worth a look!

The best time for autumn colors in Otakigawa is from early November to early December. The park can be reached after a 15-minute drive from JR Wasa Station. Plenty of parking and toilet facilities are available.
大滝川森林公園

Address

Sanya, Hidakagawa-cho, Hidaka-gun, Wakayama 649-1441

・Open 24 hours
10. Negoroji Temple: Enjoy foliage around Japan's tallest wooden tower!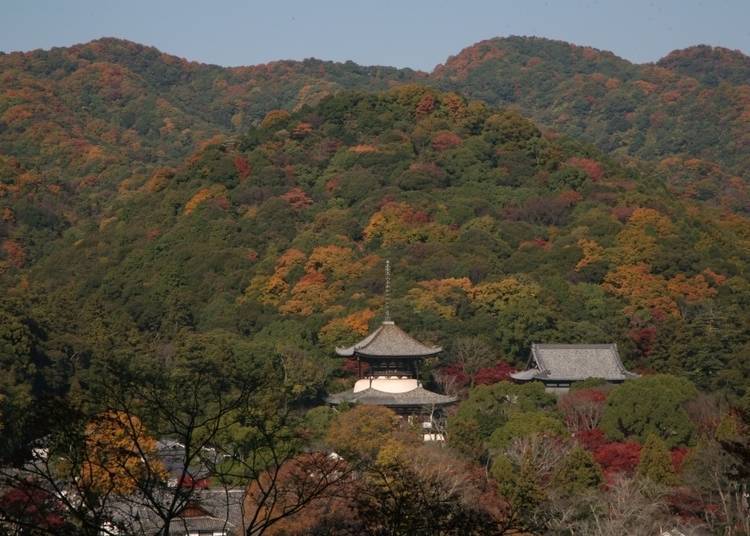 Negoroji Temple, the head temple of Shingi Shingon Buddhism, boasts over 900 years of history and traditions. It is also home to Japan's biggest wooden tower, along with three Buddhist statues designated as important cultural properties. Truly a must-visit for Japanese history buffs!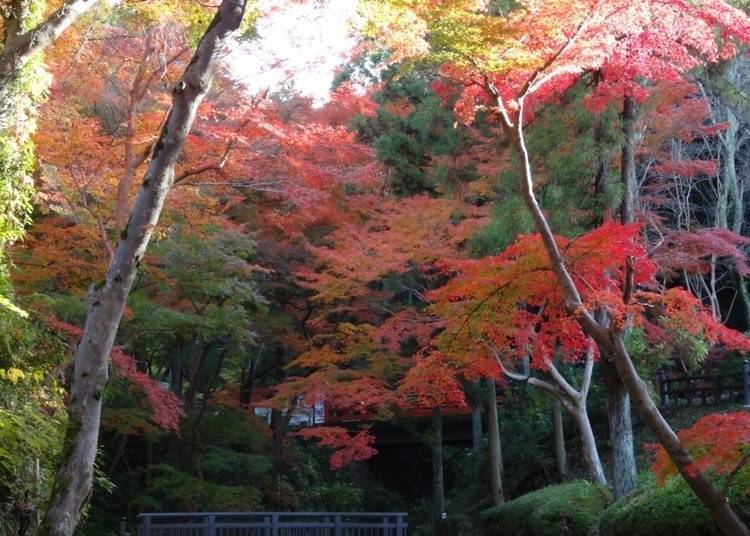 While the temple is beautiful throughout the year, the hundreds of nearby maple trees and their stunning red autumn colors present a dynamic must-see exhibition of fall-time wonder!

This is complemented by the awe-inspiring gradation of color from the surrounding mountains, all of which is further heightened by the image of the soaring wooden tower.

Peak time around Negoroji Temple is from mid-November to late December. You can get to Negoroji Temple via bus from Izumi-Sunagawa Station. The temple is a short walk from the Negoroji bus stop.
根來寺

Address

2286 Negoro, Iwade-shi, Wakayama 649-6202

Phone Number

0736-62-1144

・Hours:
- Nov to March: 9:10am – 4:00pm
- April to October: 9:10am – 4:30pm
・Admission: 500 yen
Even in a region as renowned for natural beauty as Kansai, Wakayama stands out! Visiting Wakayama in autumn will leave you refreshed.

Lacking the sprawling metropolises of nearby prefectures, Wakayama's clear skies and pristine nature weaves together an attractive, charming, and mystical atmosphere that you'll never forget!

This is even more true during autumn, whereby the scenery is dyed by sharp reds, fiery oranges, and soothing yellows, creating otherworldly beauty perfect for passionate photographers!

If Wakayama wasn't on your autumn travel list before, it surely is now!

*The information in this article is current as of June 2020 (updated August 2022).
Written by: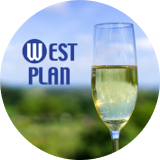 *This information is from the time of this article's publication.
*Prices and options mentioned are subject to change.
*Unless stated otherwise, all prices include tax.
Limited time offer: 10% discount coupons available now!