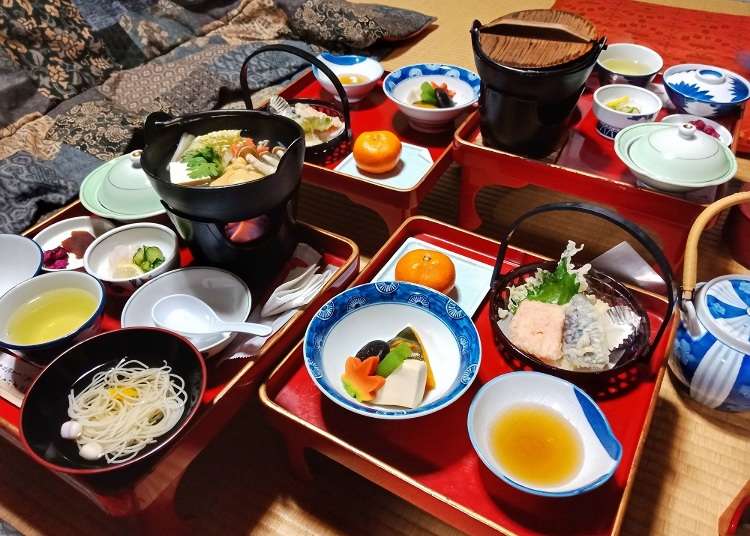 Buddhist cuisine is a type of Japanese traditional food that was created for people who wished to avoid the killing of life or secular irritations as promoted in the precepts of Buddhism. The cuisine is thus made without animal meat or by-products. It also avoids using too many overly stimulating vegetables such as garlic.

Mount Kōya's Buddhist cuisine follows preparation methods that have been passed down by Kōbō-Daishi - founder of the Esoteric Shingon school of Buddhism - since the mountain was opened up. This interesting cooking style focuses on the adherence to "five tastes (sweet, sour, spicy, bitter, savory)", "five colors (white, yellow, red, blue, black)", and "five methods (raw, cooked, roasted, fried, steamed)". Much work also goes into the presentation and seasoning, making it a meal that anyone can heartily enjoy.

We've found some great spots you can visit on or around Mount Kōya for this special kind of cuisine, so let's have a look!
1) Chuoshokudo Sanbo: The taste of tradition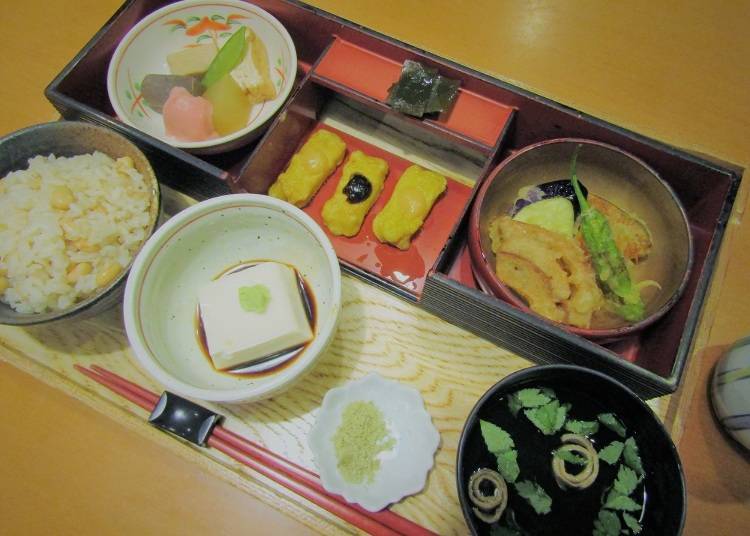 Awabu Dengaku Bento - 2,000 yen, tax included)
Chuoshokudo Sanbo is a restaurant that adheres to Kōbō-Daishi's teachings about living life to the fullest while also cherishing the lives of others. They are involved in the furumai ryōri being served in Kongobu Shrine as well. Furumai ryōri refers to the reception food served after a Buddhist ceremony or event, and the reception is meant to show the participants' gratitude for everything that they have received. You can enjoy the Buddhist cuisine that was birthed from the passing down of that tradition right in this restaurant.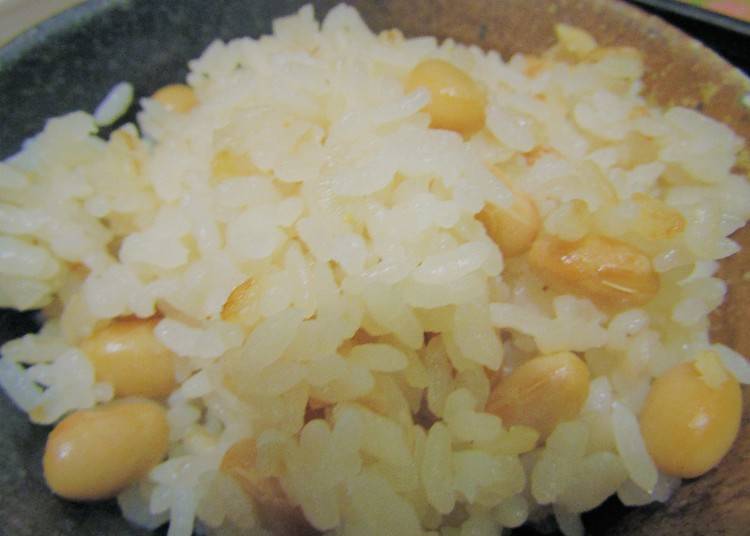 Wheat and soybean rice (eaten by monks during the day)
The soup stock used in this meal was made over a period of 12 to 14 hours using kombu, soybeans, shiitake mushrooms, and dried gourd shavings. Any ingredients left after the making of the soup stock are fully utilized in the other cooked dishes as well, ensuring that nothing goes to waste.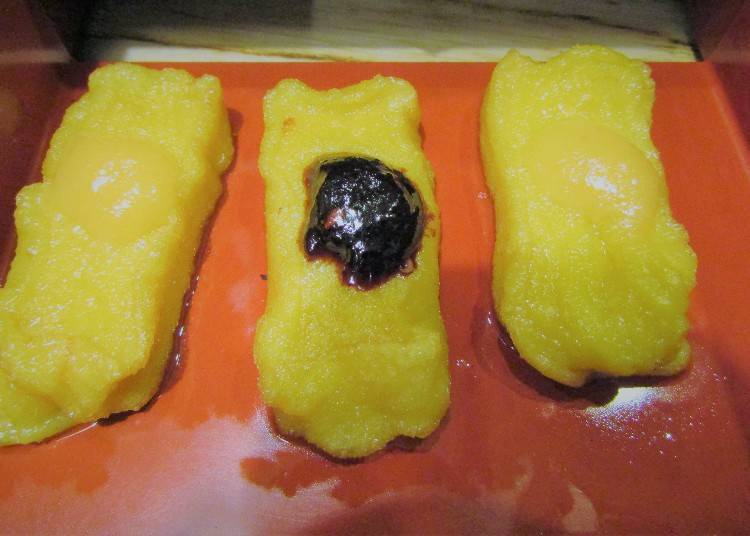 Awabu Dengaku (yuzu miso and red miso)
Awabu (wheat gluten with chestnuts) is a staple ingredient of Mount Kōya's Buddhist cuisine. Whether cooked or fried, the results are always tasty, and because it comes in different colors and shapes, this versatile ingredient is often used by chefs to accentuate the presentation of the meal. "Awabu Dengaku" is a delicious dish featuring springy awabu that's been fried in rice oil and then served alongside a harmonious blend of miso. You may feel like asking for more this tasty treat, but since Buddhist cuisine encourages the practice of eating only enough to last you until the next day, thoroughly relish your fill of the portion served to you and let it satisfy your senses.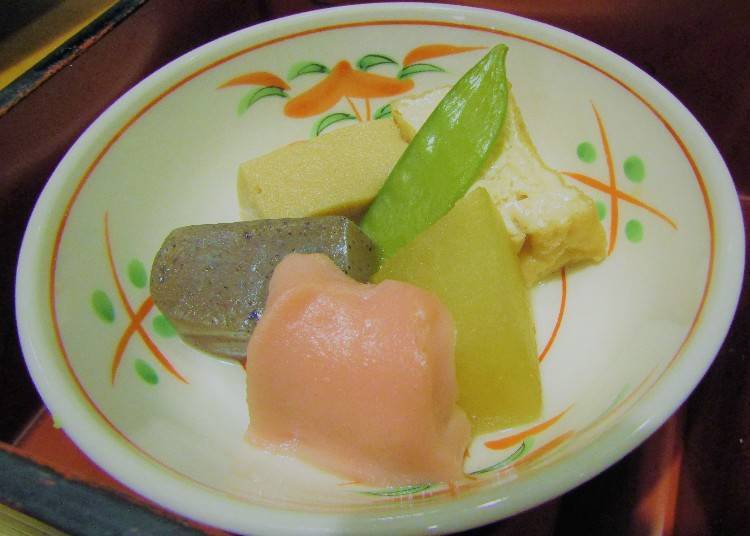 Five-colored cooked food platter with seasonal ingredients
This dish features five-colored food that uses natural ingredients with a good nutritional balance. Chuoshokudo Sanbo's Buddhist cuisine is well-known for their rich soup base that is made with seaweed or vegetables carefully boiled over a long period of time. This great taste has filled the tummies of many to satisfaction and will surely fill yours too!
中央食堂さんぼう

Address

722 Koyasan, Koya-cho, Ito-gun,Wakayama 648-0211

Phone Number

0736-56-2345

Hours: 11:00 a.m. – 4:00 p.m. *Or while stocks last
Closed: Not fixed
Others: English menu available
Transport: 1-minute walk after disembarking at Senjuinbashi 15 via the Nankai Rinkan Bus (in front of Ichijoin)
2) Miyama: Meeting individual dietary needs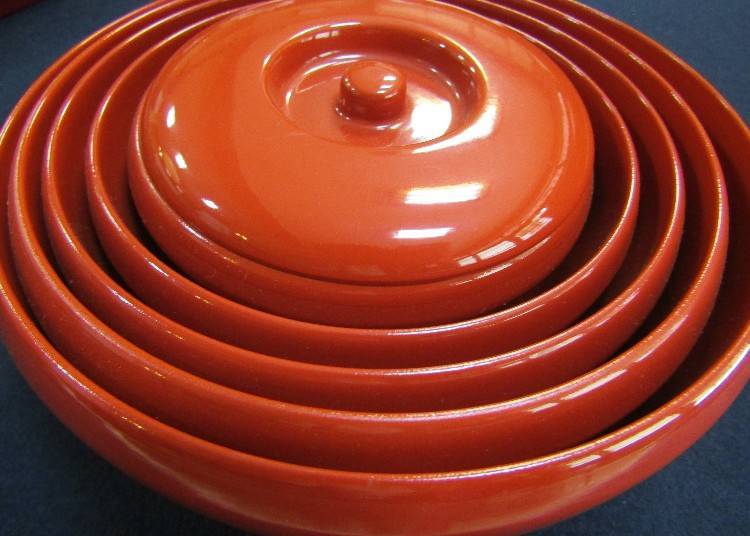 Buddhist cuisine served in bright vermillion vessels known as ōryōki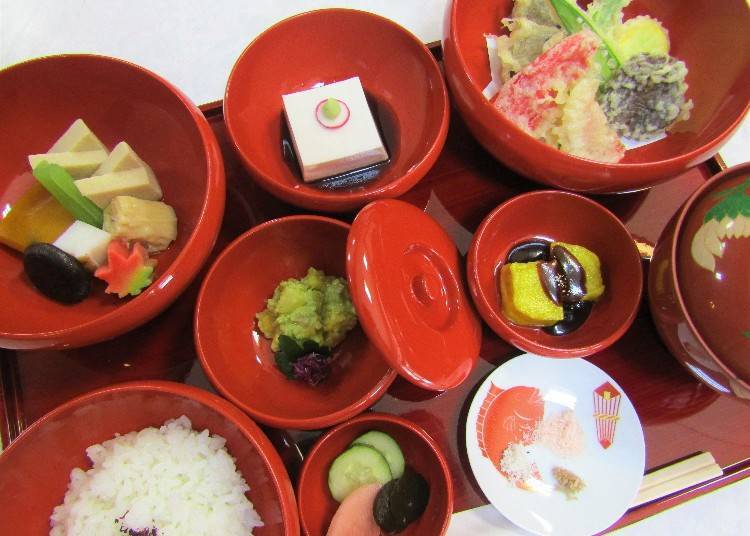 Buddhist cuisine - 2,000 yen (tax included)
Miyama serves its Buddhist cuisine made with seasonal vegetables in ōryōki, or vessels designed to contain just enough food for an individual. Ōryōki are mainly used by practicing monks of Zen Buddhism as personal utensils, as these functional vessels are lightweight and easy to handle. Generally painted over with black lacquer, the vermillion versions are usually for ceremonial use. As such, although ceremonial food served in ōryōki have to adhere to strict preparation methods, if they're being used in restaurants or at home, the food is free to be prepared in any style you prefer.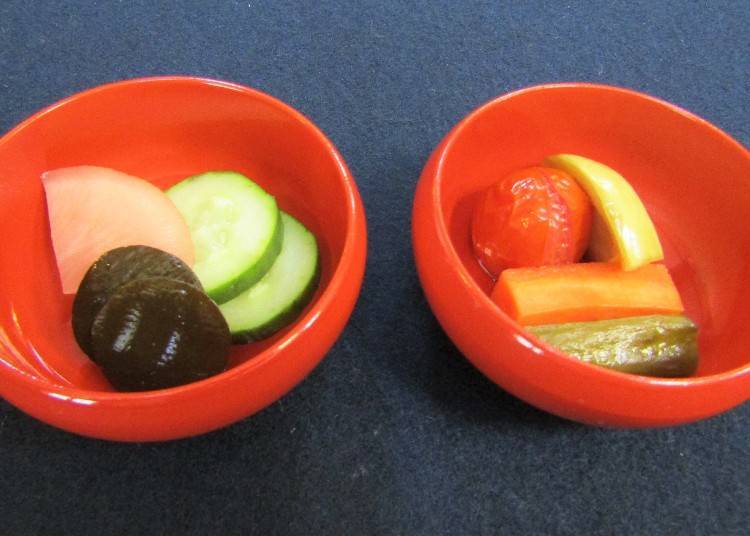 (Left) Nukazuke, or Japanese-style pickles (Right) Pickles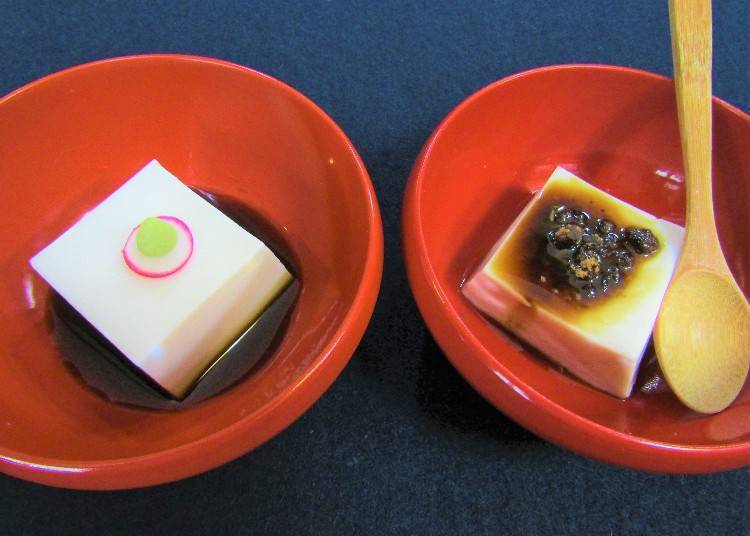 Sesame tofu in (left) wasabi soybean and (right) wasanbon sugar
In order to encourage all customers to eat everything without wastage, the restaurant offers a choice of plain pickles or sweet sesame tofu instead of nukazuke Japanese-style pickles or wasabi tofu, especially for international visitors who may not be used to Japanese flavors. This service is only provided while stocks last, but they may be able to whip up something if you ask very nicely when ordering! Also, if cooked rice isn't exactly your cup of tea, so to speak, you may ask for it to be changed into rice flour bread instead by making a reservation at least two days before your visit.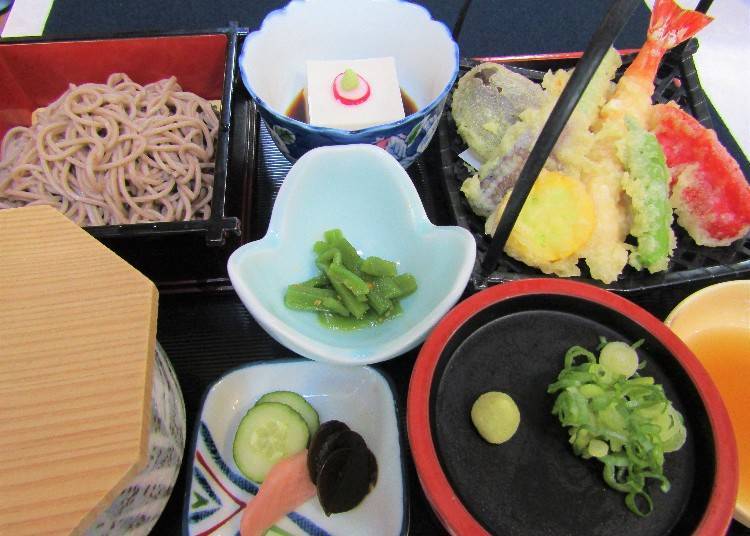 Tempura soba set meal - 1,500 yen, tax included
Afraid that the portions in the Buddhist cuisine may not be enough food fuel for you? Fret not! You can always add on to your order a "Tempura Soba Set Meal" that comes with crispy and filling shrimp tempura. The soba is served either warm or cold, according to what you feel like having that day, perhaps due to the weather or your health condition at the time of your visit.
み山

Address

529 Koyasan, Koya-cho, Ito-gun,Wakayama 648-0211

Phone: 0736-56-2917 (Only in Japanese) *To make a reservation using other languages, visit the store in person. Reservations for the day itself are also accepted
Hours: 11:00 a.m. – 3:30 p.m.
Closed: Not fixed
Others: English menu available
Transport: 1-minute walk from Tamagawa-Dori 13 Bus Stop via Nankai Rinkai Bus from Koyasan-ekimae
(Walk towards the direction of bus travel and turn back slightly at the connecting path on the right); Immediately from Tamagawa-Dori 12 Bus Stop via Nankai Rinkai Bus from Okunoinmae (walk towards the opposite direction of bus travel); 1-minute walk from Tamagawa-Dori 12 Bus Stop (head left from the three-way intersection and it's on your right-hand side)
3) Shojin Dining Kirihoju: Enhancing tradition with modern elements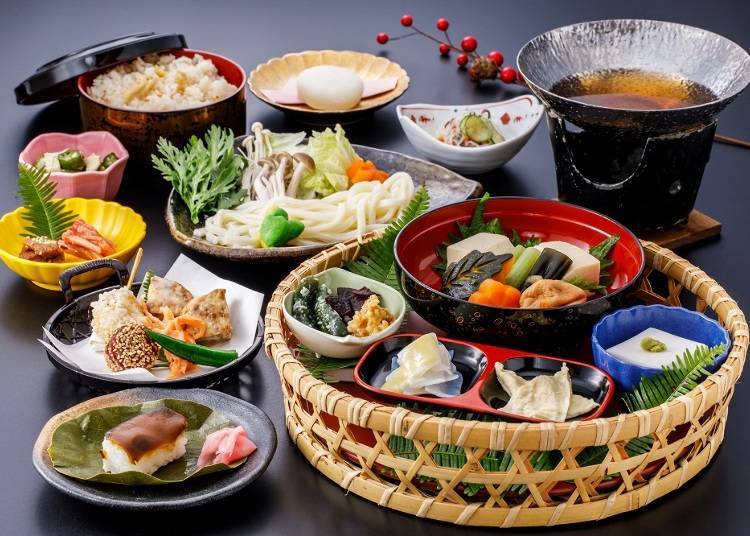 Shojin Hanazukushi - 2,000 yen (tax excluded)
The "Shojin Hanazukushi" meal, presented in a flower basket, is a popular menu item that features traditional Buddhist cuisine alongside fresh new takes such as mackerel-shaped shiitake mushrooms, sushi wrapped in persimmon leaves, Kōya vegetarian meatloaf, and more. For dessert, you'll be served "Kōya Mu", an original Buddhist-friendly rice flour confectionery made from dough carefully kneaded with fresh cream of plant origin and Kōya tofu powder. The round, pure white daifuku (sticky rice dumpling) will soothe your soul as you bite into it.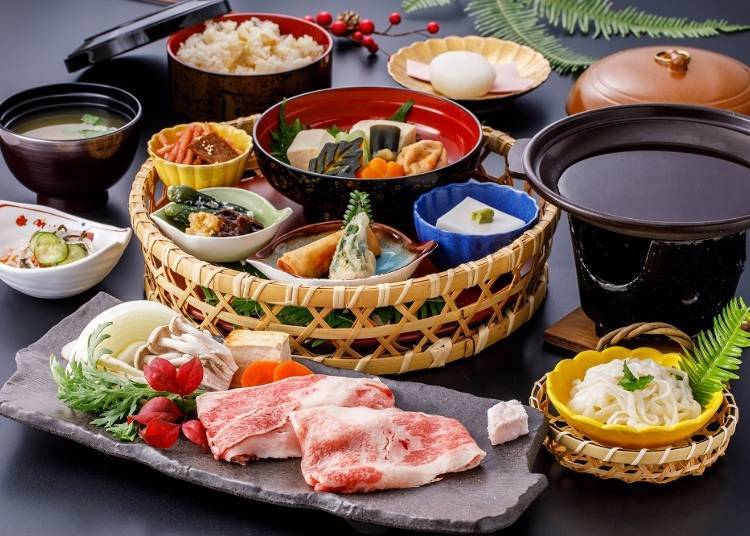 Kumano Beef Sukiyaki Set Meal - 2,500 yen (tax excluded)
For those of you looking for something more elaborate than Buddhist cuisine, there's always the "Kumano Beef Sukiyaki Set Meal (only available during spring, autumn, and winter)". This is also a great chance for you to relish both Buddhist cuisine and sukiyaki hotpot with Wakayama Prefecture's branded Kumano beef all at once. "Kōya Mu" will be served in this set meal as well.

Both meals featured above require a reservation to be made at least two days in advance (if reservation is made on the day of visit, some ingredients may be changed). International visitors who make a reservation more than two days in advance will be given an English card that explains the cuisine in detail, making the meal even more special than it already is!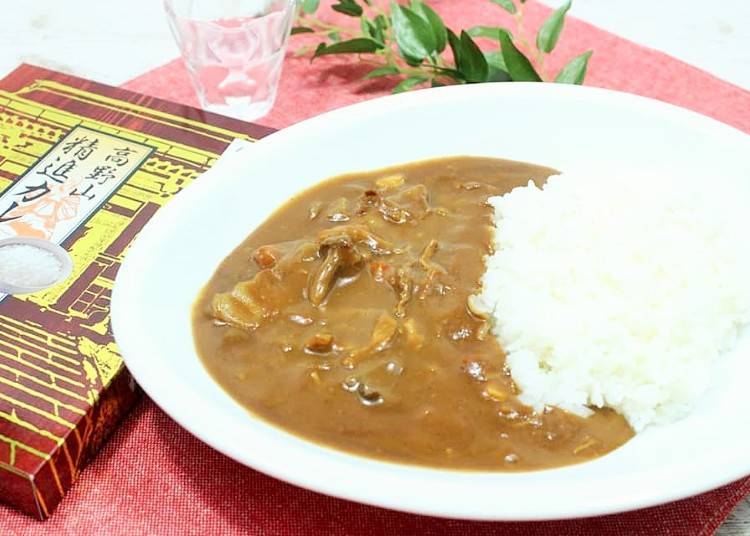 Kōya Buddhist Curry Set - 1,050 yen (sesame tofu and Kōya Mu set, tax included)
This Western-style Buddhist curry produced by Kōya Sightseeing Association is medium-spicy and gluten-free. The ala carte menu of the restaurant is packed with interesting food like this, so even if you come without a reservation, you'll still be able to try out all kinds of cuisine. The shop can seat 400 and welcomes large groups as long as a reservation is made in advance.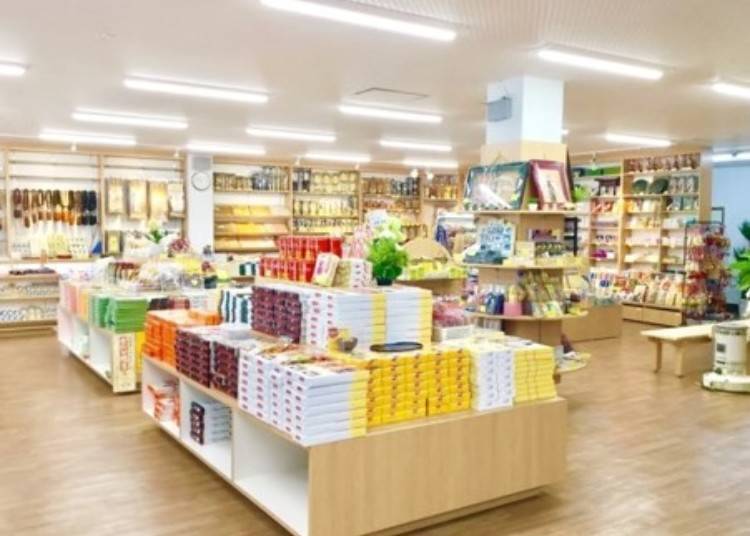 Koya Souvenir TEMPU
On the first floor of the building is Koya Souvenir TEMPU, a shop where you can buy a selection of ingredients being used in the restaurant's cuisine as souvenirs.
SHOJIN Dining KIRIHOJU Produced by ICHINOHASHI KANKO CENTER

SHOJIN Dining 桐宝珠 Produced by 一の橋観光センター

Address

2・3F ICHINOHASHI KANKO CENTER 737 Koyasan, Koya-cho, Ito-gun,Wakayama 648-0211

Phone: 0736-56-2631 *English enquiries should be emailed to web@ichinohashi.co.jp instead
Hours: 10:00 a.m. – 4:00 p.m. *The restaurant will be undergoing renovation from the 9th of December, 2019 to the 29th of December, 2020 and will be operating from a Tamagawa branch (53 Koya-san, Koya-cho, Ito-gun, Wakayama) which is about a 3-minute walk from the main branch during this time
Closed: Not fixed
Others: English menu available
Transport: 1-minute walk from Okunoinguchi 11 Bus Stop via Nankai Rinkai Bus from Koyasan-ekimae (walk in the opposite direction from bus travel); 3-minute walk from Ichinohashiguchi 10 Bus Stop (walk in the opposite direction from bus travel), turn right at the meeting point, on the right-hand side
You may think that Buddhist cuisine would taste the same wherever you go, but depending on the place serving it, there's actually room for a large variety of flavors! Many are under the impression that Mount Kōya's Buddhist cuisine can only be eaten if they stayed at a temple or a hotel in the region, but as you can see from the shops we've introduced, they're available even in regular restaurants. Trying out our recommendations along with any shop that catches your eye along the way is one of the best ways to fully enjoy your Buddhist cuisine experience!

Text by:WESTPLAN
English translation by: Huimin Pan
*This information is from the time of this article's publication.
*Prices and options mentioned are subject to change.
*Unless stated otherwise, all prices include tax.
Search for International flights