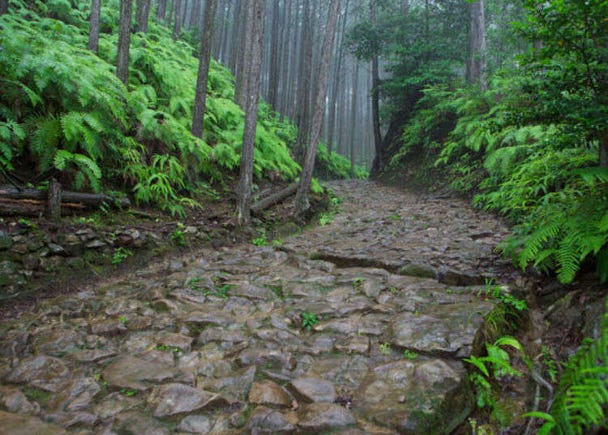 Kumano Kodo [Old Road] is one of the Sacred Sites and Pilgrimage Routes in the Kii Mountain Range and is also registered as a World Heritage Site. Popular as a power spot, I walked this road so rich in history and natural beauty with a storyteller guide.
The Kii Mountains is a mountainous region with peaks rising to elevations of 1,000 to 2,000 meters on the Kii Peninsula spanning Wakayama, Mie, and Nara prefectures. This has long been thought to be a special, tranquil area of the gods since mythical times.

Furthermore, after the arrival and spread of Buddhism in Japan, the heavily forested mountains of the Kii mountain range came to be regarded as the "Pure Land" of the Amidabha Buddha and Kannon Bodhisattva, and became a place where monks went to undergo training.

This resulted in the creation of the pilgrimage roads in the Kii Mountains as they led to the three sacred sites of Kumano Sanzan, Koyasan, and Yoshino Omine, each having its own origin and content, and it had a major influence on the development and spread of religion and culture in Japan.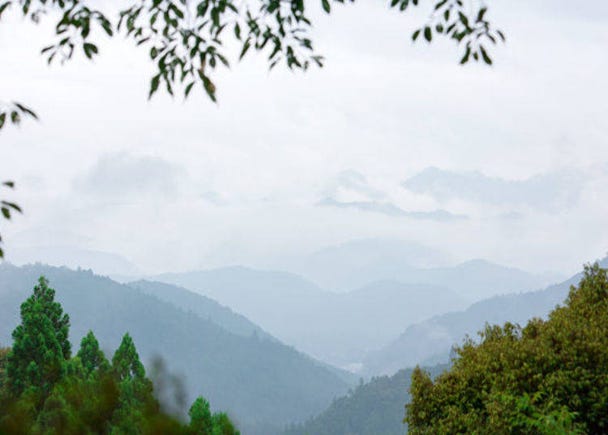 ▲The mystical atmosphere created by the mountains of Kumano
Against this background, in 2004, the above three sacred places and several pilgrimage roads were registered as a UNESCO World Heritage site as the Sacred Sites and Pilgrimage Routes in the Kii Mountains.

Kumano Kodo is a general term for the pilgrimage roads leading to Kumano Sanzan (Kumano Hongu Taisha, Kumano Hayatama Grand Shrine, and Kumano Nachi Grand Shrine).

From the Heian Period up through the Edo Period many pilgrims walked the Kumano Kodo and because of its beautiful natural scenery, it is popular today among trekking and walking enthusiasts. Several model courses have been created, such as one for beginners, another for more experienced hikers, and one for crossing over the mountains.

Tours have also been prepared in which you are accompanied by a storyteller guide who will give you explanations along the way. Lots of people from all over the world come to visit this place.
First take a bus to the starting point
▲ This is Ms. Emiyo Kato, a member of the Kumano Hongu Storytellers Association
I opted to walk the Hosshinmon'oji to Kumano Hongu Grand Shrine Course (7 km) which is the most popular with tourists on what is called the 5-hour Storyteller Course created by the Tanabe City Kumano Tourism Bureau.

Ms. Emiyo Kato of the Kumano Hongu Storytellers Association met me in front of the Kumano Hongu Grand Shrine, the meeting place.

"Thank you for guiding me today. I'm new at this so, please go easy on me,"I told Ms. Kato. "This course is designed for beginners so you need not worry. Shall we get started?She replied with a charming smile.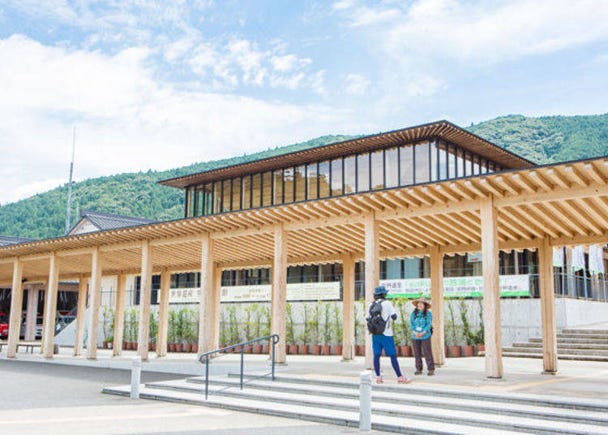 ▲ The building visible in the background is the Kumano Hongu Heritage Center that sits in front of the Kumano Hongu Grand Shrine. In addition to displaying exhibits related to Kumano Kodo, it is also used for exchanges of various types.
We began by taking a bus to Hosshinmon'oji which we boarded at the Hongu Grand Shrine bus stop.

The bus ride takes about 20 minutes. After getting off the bus and walking a short distance, I came to a stone monument on which was inscribed "World Heritage Kumano Pilgrimage Road Nakahechi".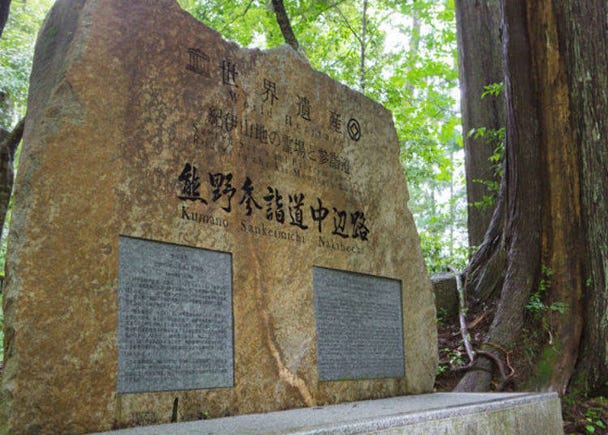 ▲ Before setting out, Ms. Kato unfurled a large map of the area she had made in front of the stone monument and began explaining the course we would take from Hosshinmon'oji.
"We will take the Kumano Kodo Nakahechi route. During the Heian Period it was called Kumano Mode [pilgrimage] and retired emperors and former emperors with Buddhist names came from Kyoto and walked this Kii Road,"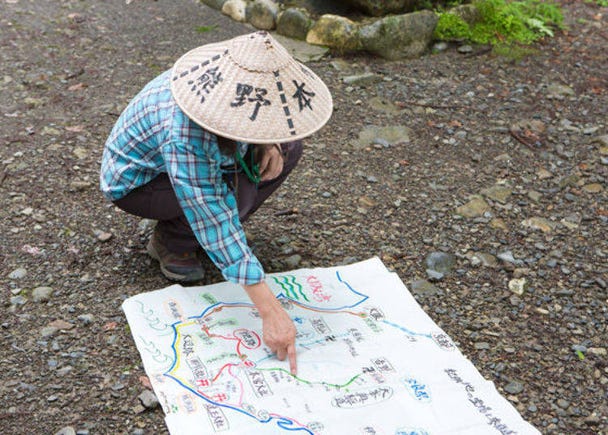 Ms. Kato explained, providing me with interesting detail. The Kumano Hongu Storytellers Association, to which Ms. Kato belongs, is comprised of local volunteers interested in introducing and explaining the attractions of the Kumano Kodo. All of the storytellers of this group are Kumano Kodo experts. Only those who have attended monthly study sessions and have passed an examination after going through rigorous training are able to become "storytellers" and actually guide tourists.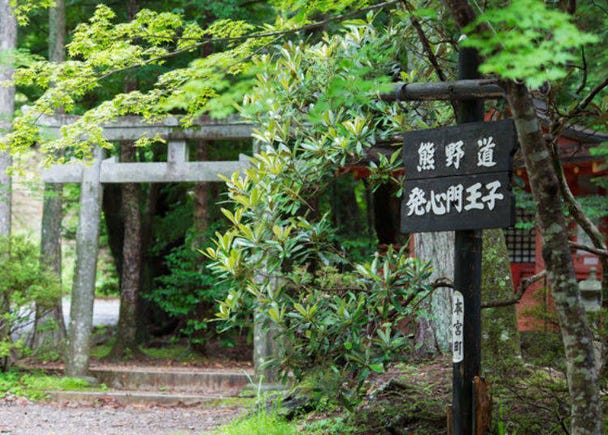 ▲The front of Hosshinmon'oji
After giving a general explanation of Kumano Kodo, Ms. Kato next told me about Hosshinmon'oji, our starting point. In the past pilgrims would worship at the many small shrines, called "oji" in Japanese, constructed along the Kumano Kodo as they continued along their long, mountainous journey. These shrines served as rest areas for the pilgrims as well as being places where they worshiped the gods of Kumano called Mikogami.

There are many of these shrines of which many are highly prestigious, Gotaioji being one of them, and the path leading to the holy precincts of the Kumano Hongu Grand Shrine which begins here at Hosshinmon'oji is called the entrance to Kumano Sanzan.

Essentially this means that the walking course we will take today is the last stretch of the long Kumano Mode path at its end.

And off we went,Ms. Kato guiding me along the way.
Enjoying the natural beauty of Japan's mountain villages during the walk
Once you leave Hosshinmon'oji the path will take you past mountain villages for a while. Though not very wide, the narrow road is paved and easy to walk. "Of course in the olden days when pilgrims walked it, it was not paved, but as people began living in small clusters along the road, they had sections of it paved."

I was relieved to hear that as I had imagined it would be very precipitous and steep. Instead, it seemed to be more of a stroll than trekking or walking. I enjoyed the peaceful landscape as we leisurely walked on.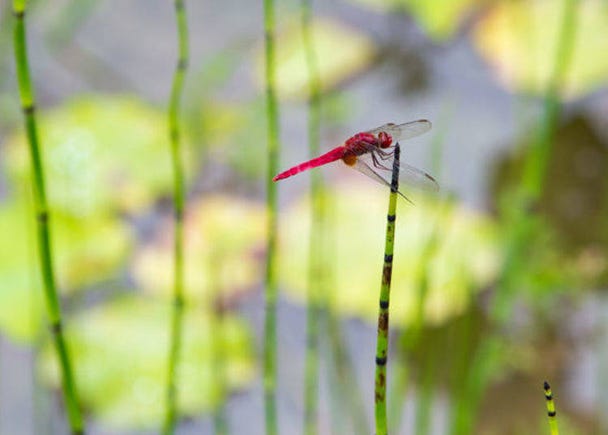 In addition to talking about Kumano Kodo, Ms. Kato also told me other interesting things, such as the type of wild flowers growing, locations used for television dramas, and other anecdotes geared to please the listener.

Everywhere I looked I saw beautiful landscapes. Chatting while walking along this quiet path surrounded by trees in the cool, crisp, clean air was refreshingly delightful.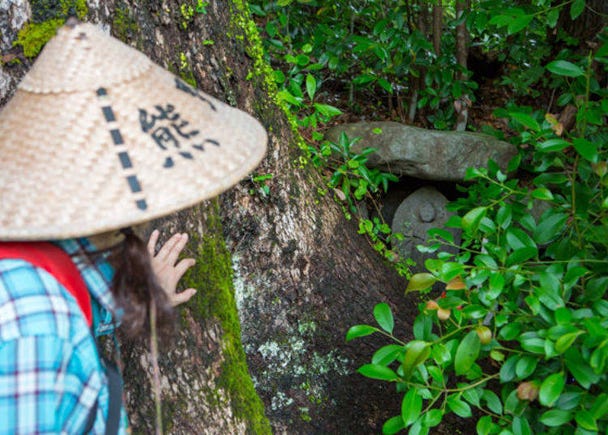 "Look! There's a Jizo [guardian deity of children and travelers]. When it was made, they probably never imagined the tree would become this large."

This is, after all, the Kumano Kodo. The Jizo were made as memorials for the repose of souls of those who died while on the pilgrimage before they completed it, so the road is enshrined with many Jizo.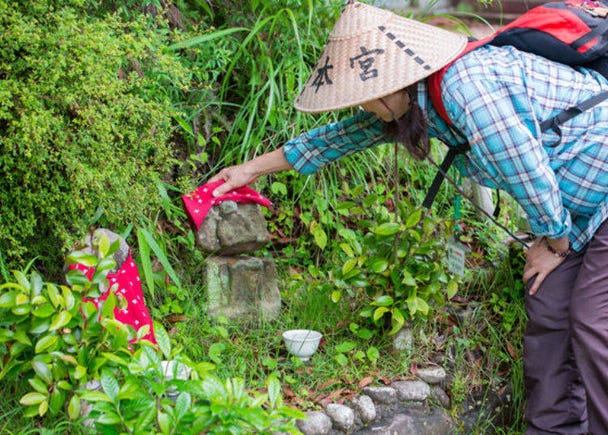 ▲"This is the Lumbago Jizo at the Mizunomi Shrine." It is supposedly good to place a monetary offering between the two parts.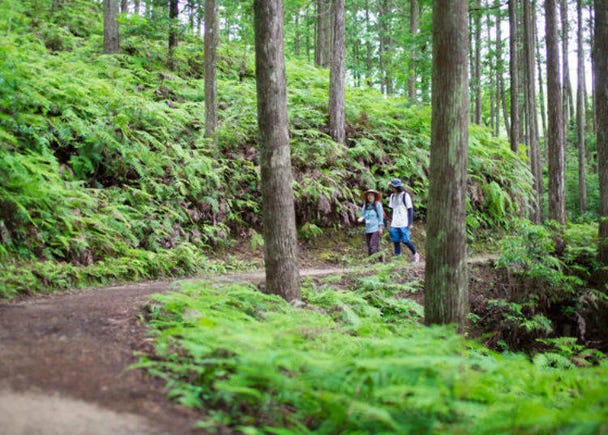 As we walked and I enjoyed listening to Ms. Kato's explanations, the path began to feel like an old road. The hills were not that steep, but the course did begin to seem more like a mountain path.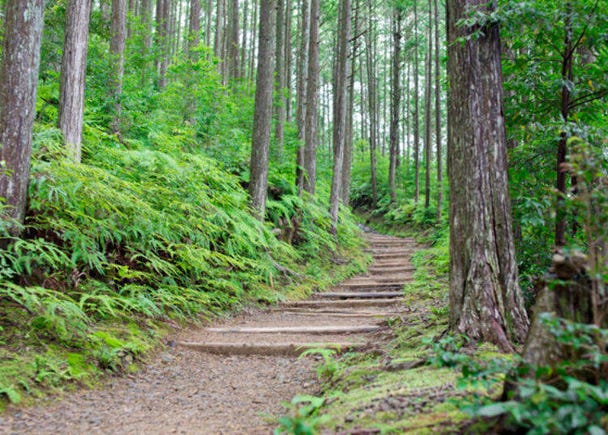 "Along the path, trunks of trees that have been cut down have been made into benches where you can take a rest. A little further on is the favorite spot of a member of a nationally popular male idol group."

According to Ms. Kato, it seems that since then the place has been called "bed in the forest". That has a nice ring to it. Eager to see that spot, I picked up my pace.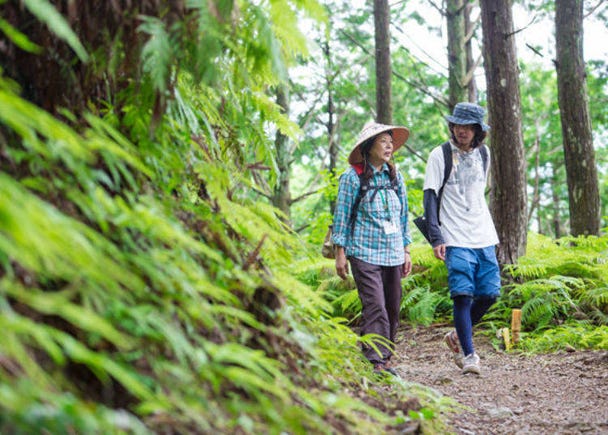 "This is it. Go ahead and lie down on it."Ms. Kato pointed to a spot off to the side of the path. Two logs, about the length of a person, were placed side by side amongst the tall trees.

Following her suggestion I laid down on them.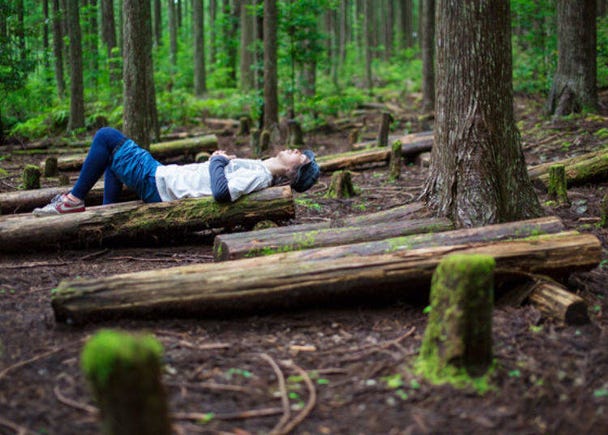 When I looked up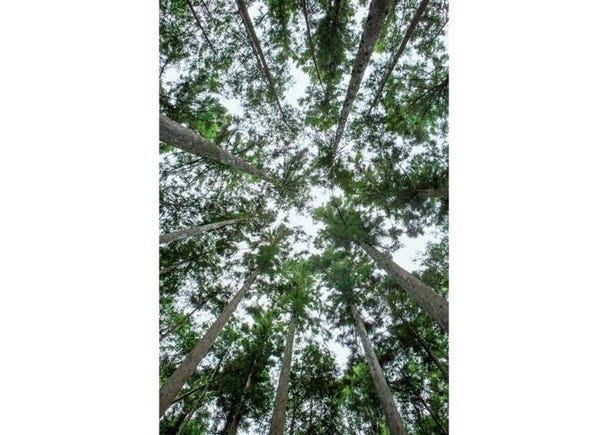 "It looks like a kaleidoscope"is what I imagined that the idol when lying here and looking up at this fantastic view of the trees reaching toward the sky probably muttered to himself. And even though the sky was a bit overcast, it was still an impressive sight.

Once again we resumed our pleasant walk. Bathed in negative ions and enjoying the natural beauty of Kumano as we walked through the woods, the course once again took us to a road skirting a small village.

"We will soon be at the Fushiogami Shrine. Let's take lunch there."
Eating lunch in this natural setting was also wonderful!
We took a lunch break at the Fushiogami Tea House that is at the side of the Fushiogami Shrine. This is about four kilometers from where we set out. It seemed farther, perhaps because we walked so leisurely, but in any case I was looking forward to having lunch.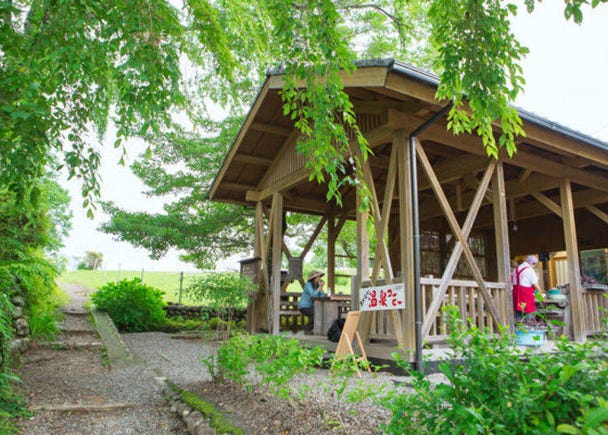 ▲ Fushiogami Tea House
The Fushiogami Tea House is a free rest area built in the style of a mountain hut along the old pathway. When we arrived some ladies were in the back doing some sort of work.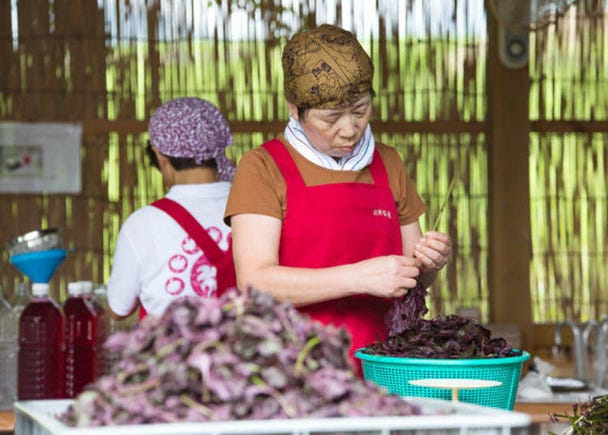 Ms. Kato explained, "Volunteers of the local Ladies Association sell tea, umeboshi, Japanese basil juice, and hot spring coffee."

I was greeted with, "Say, young man. Won't you have something to drink?"The friendly conversation of these ladies rivaled that of Ms. Kato.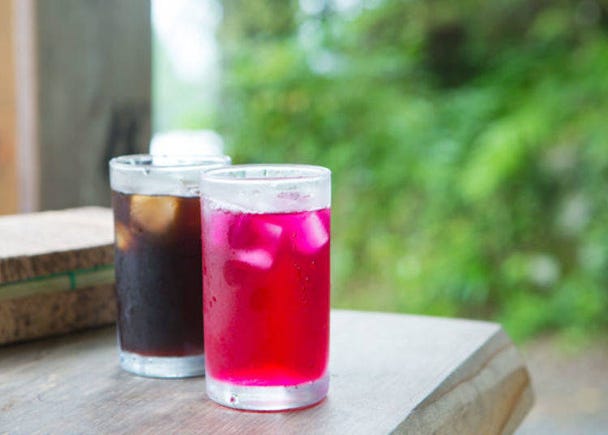 ▲Hot spring coffee and Japanese basil juice (200 yen each, including tax) at the Fushiogami Tea House
I had the Japanese basil juice.

One must not forget that Kishu is famous for its umeboshi. Making umeboshi is very popular in this area and red Japanese basil that is an essential ingredient is also widely produced here.

One of the ladies laughingly said that "more grows than we can use" so red Japanese basil is used lavishly in the drink which had just the right tartness that refreshingly quenched my thirst. A bit tired from the walk, the drink was a good pick-me-up.

The other lady also recommended the hot spring coffee. Hot spring coffee?

The Yunomine Hot Spring in Kumano is said to be the oldest hot spring in Japan having been in use for 1,800 years. Since ancient times Kumano pilgrims have performed hot-water ablutions here to purify themselves. "Hot spring coffee is coffee that is made from that hot spring," Ms. Kato explained. The coffee, too, was delicious.
伏拝茶屋

Address

157 Fushiogami Chaya-zoku, Hongu-cho, Tanabe City, Wakayama Prefecture

Phone Number

0735-42-0735

Hours: 10:00 a.m. ~ 4:00 p.m. Saturdays, Sundays, holidays in March ~ November; some unscheduled holidays
Closed: no set times
0735-42-0735 (Kumano Hongu Tourism Association)
Having quenched my thirst I now gave thought to lunch. Actually I ordered a lunch box on the Tanabe City Kumano Tourism Bureau website when I signed up for the walking tour. So the lunch box was waiting for me at the meeting place when I got there.

The name of the lunch box is...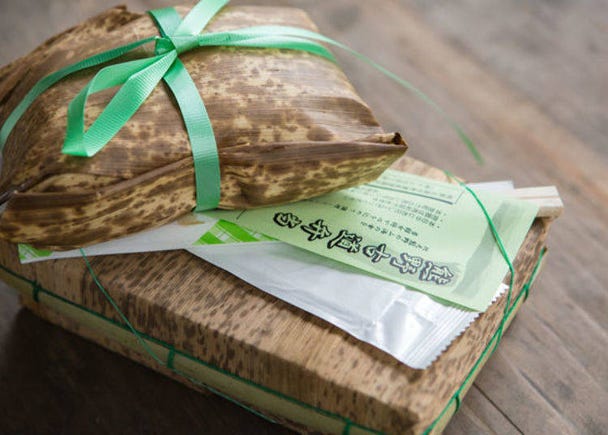 ▲ The Kumano Kodo Lunch Box of the Omuraya B&B (1,100 yen including tax / 1,200 yen including tax with tea) The Kumano Kodo Lunch Box!
The Kumano Kodo Lunch Box is made for storytellers and walking guided tours by Omuraya, a bed and breakfast located at a river hot spring near here.

It comes in a very stylish box made from bamboo.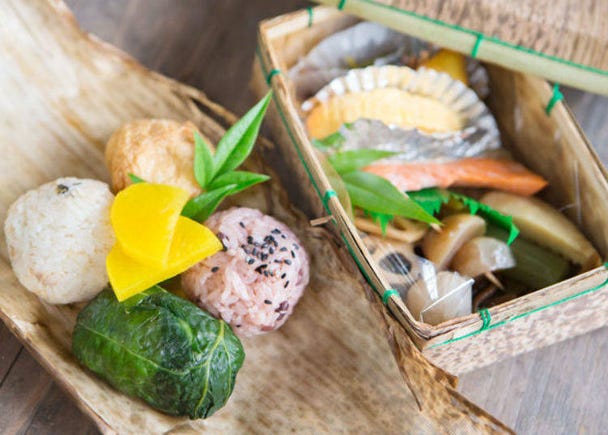 Voila!!

It contains four types of small rice balls and Meharizushi for which Kumano is famous. It is filled with stewed mountain vegetables and other seasonal ingredients. All are deliciously flavored and the perfect lunch for a walk in the mountains.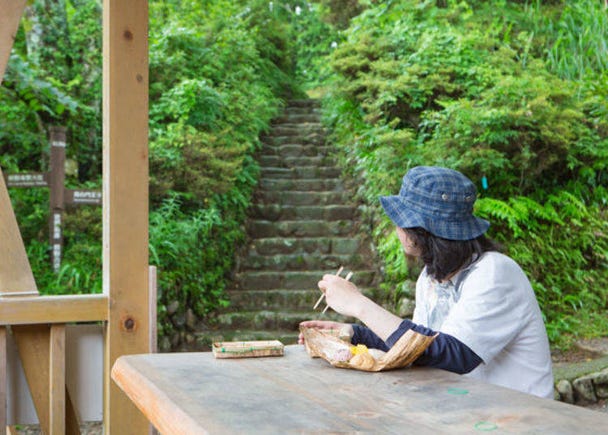 This is indeed the perfect lunch to enjoy surrounded by the mountains of Kumano in this beautiful natural setting. It will satisfy both your stomach and heart.
Unfazed by rain or wind, one feels the power of nature on the Kumano Kodo
Feeling refreshed after the juice and boxed lunch we resumed our walk. The first thing we did was climb stairs leading up to the top of a hill at the side of the Fushiogami Tea House.

"This is the Fushiogami Shrine. It is called that because pilgrims who walked all the way along the Nakahechi could see their destination, the Kumano Hongu Grand Shrine, in the distance from here."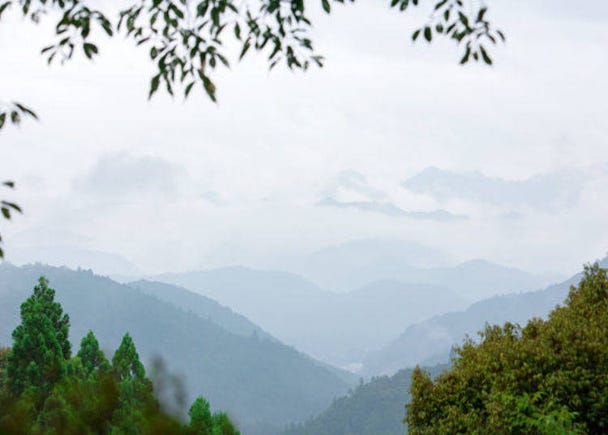 This is the view from the top of the hill. Seeing the mountains enveloped in white clouds gave them a mystical aura that clearly conveyed the sensation of having a spiritual experience.

"Although you can't see it because of the clouds, the Kumano Hongu Grand Shrine, our goal, is located right in the center there. We should arrive there in about an hour."

Now we were on the final leg of the tour. "It has been an easy walk until now. If the rest of the way is like this it should be easy."That is what I was thinking to myself when it began to rain.

They say that the weather in the mountains is changeable, but according to Ms. Kato this area especially gets a lot of rain, so it is not at all unusual for it to suddenly rain even if the weather was fine a moment ago. When you come here be sure to remember to bring rain gear with you.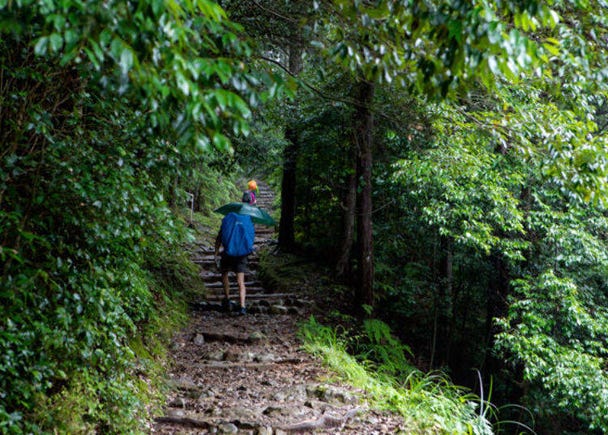 Putting Fushiogami Shrine behind us, we resumed our course through the mountains passing through quiet villages along the way while admiring the carefully manicured tea fields here and there.

The rain began to come down even harder. I had to admit that it often rains wherever I go. At that, the normally quiet cameraman accompanying me began complaining that I "always bringing such bad luck."

"How nice that we are able to enjoy a 'purification ceremony' with this rain. Once this 'purification ceremony' ends something good is bound to happen," Ms. Kato said.

I was quite impressed with her positive attitude – so different from that of my cameraman. Continuing along our course through the mountains I felt encouraged by Ms. Kato's words and did not let the rain bother me.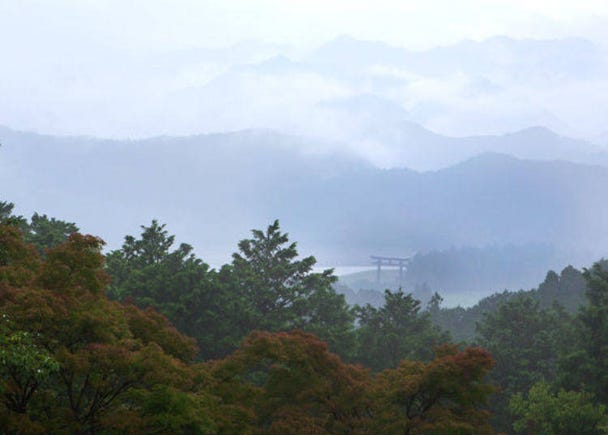 Finally we came to a spot recommended by Ms. Kato. "We are very close now. Can you see the Torii gate of the Kumano Hongu Grand Shrine?" And there it was, standing out in the hazy distance. Seeing it I felt like praying to it.

The goal is near. As we got closer, the Kumano Kodo mountain path stonework increasingly replaced the dirt path. And the path became wider, too.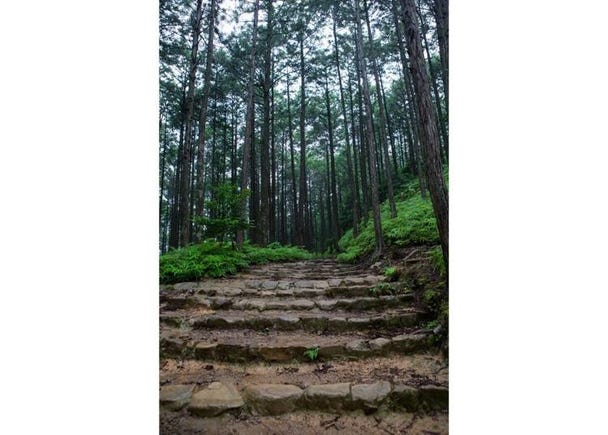 Most people seem to think that the Kumano Kodo is paved with stones. According to Ms. Kato, since ancient times the path has been maintained with stones in various places because the inclines are steep and placed as a countermeasure against heavy rains. The stone pavement is continuously maintained even now, but to this day we still do not know when it was actually first built.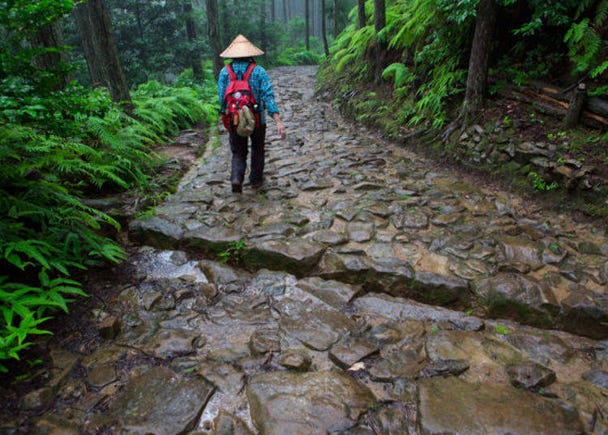 Finally we arrived at the Kumano Hongu Grand Shrine. I offered a final prayer.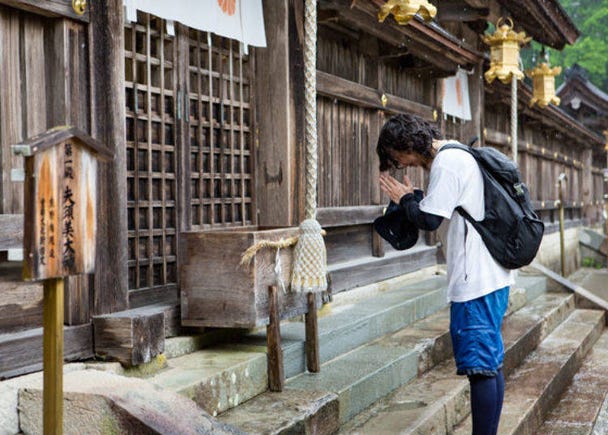 "Please bring me happiness from the purification ceremony," I whispered, drenched to the skin from the rain and hoped that the gods of Kumano would answer my prayers.

In any case, I succeeded in accomplishing my mission.Despite being drenched by rain, my spirits felt lifted. Though I should have felt tired from the ordeal, I actually felt quite refreshed and rejuvenated.

I don't think anyone would intentionally choose to walk along the Kumano Kodo on a rainy day, but even in the rain I found the walk to be enjoyable. If you come, be certain to ask a storyteller to accompany you.
熊野古道ウォーキング

Address

Meeting place: Hongu Grand Shrine bus top (in front of the Kumano Hongu Heritage Center) 100-1 Hongu, Hongu-cho, Tanabe City, Wakayama Prefecture (In front of the Kumano Hongu Grand Shrine Torii)

・Hosshinmon'oji ~ Kumano Hongu Grand Shrine 5-hour Storyteller Course (Kumano Hongu Storytellers Association)
Meeting place: Hongu Grand Shrine bus top (in front of the Kumano Hongu Heritage Center) 100-1 Hongu, Hongu-cho, Tanabe City, Wakayama Prefecture
(In front of the Kumano Hongu Grand Shrine Torii)
Meeting time: confirm when making a reservation
Cost: In the case of 2 people, 5,900 yen each (tax included)
* Cost varies according to the number of participants.
* The bus from the Hongu Grand Shrine bus top in front of the meeting place to the Hosshinmon'oji bus stop costs 460 yen (tax included).
* You can either bring your own food or reserve a meal in advance.
* For more information about the course please check out the website.
0739-26-9025 (Tanabe City Kumano Tourism Bureau)
Text by:Advision
*This information is from the time of this article's publication.
*Prices and options mentioned are subject to change.
*Unless stated otherwise, all prices include tax.