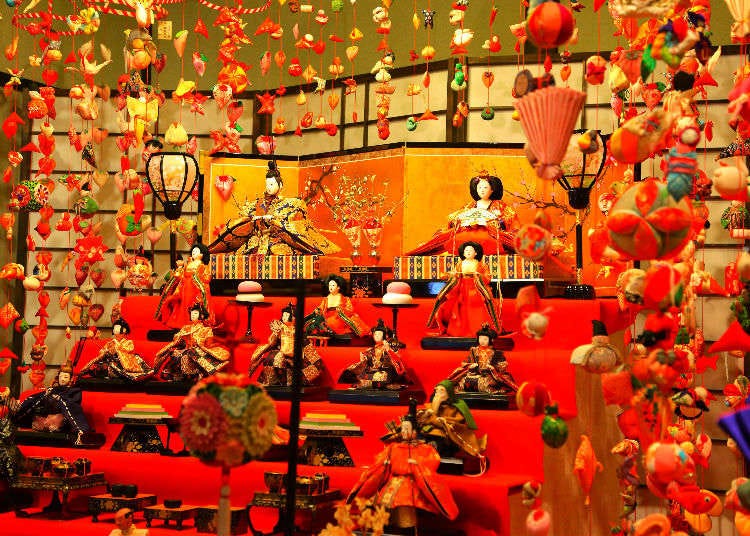 As the weather warms, and Japan says farewell to winter, another Japanese holiday is right around the corner: It's time for Hina Matsuri! Occurring every March 3rd, Hina Matsuri literally translates as 'Dolls Festival.' However, it is also known as 'Girls' Day' because it is a special day for families to celebrate their young daughters, praying for their success and happiness. The most iconic image of this event is the displaying of beautiful hina dolls, 'hina ningyou', dressed in Heian Era imperial court clothing. You can often see these dolls on a red carpet-covered, tiered platform. Traditionally, the emperor and empress dolls are placed at the top tier, with other court members placed on the lower tiers.
History of the Hina Matsuri
Traditionally known as the 'Momo no Sekku' (or Peach Festival - so named for the season in which peach blossoms flower), the Hina Matsuri is said to have begun in the Heian Period, a time when people believed that dolls had the power to control evil spirits. People would set the dolls afloat down a river flowing into the sea, during an event called 'nagashi bina' believing that the dolls would bring bad spirits away with them. This tradition still exists in some areas, however, they are sent out to sea and then later retrieved, and then returned to a temple and ritually burned.

It is during the Edo Period that Japanese began the tradition of displaying the dolls in their homes. The dolls are usually put out around mid-February, and returned immediately after Hina Matsuri finishes. According to an old Japanese superstition, families that put away the dolls too late would have trouble marrying off their daughters.
Significance Behind and Placement of the Hina Stage
Although the order of the dolls on the red carpet can change depending on region and family tradition, the dolls represent a Heian period wedding, around which the couple are surrounded by their court. Since dolls can be fairly expensive - costing around $700 for a two-tier set and $2,600+ for a 5-tier set - these collections tend to become family heirlooms.

・Top Platform: This is occupied by only two dolls, the dairi-bina. They are known as the imperial dolls though they do not represent the Imperial family.

・Second Platform: This holds the san-nin kanjo, three court ladies who serve drinks to the male and female dolls.

・Third Platform: This holds the go-nin bayashi, musicians of the court, each of who hold an instrument except for the singer, who holds a fan.

・Fourth Platform: Here are two ministers, daijin, who are alternatively known as the couple's bodyguards. Displayed here as well are tables with gifts for the couple.

・Fifth Platform: Three helpers (/protectors) - the shicho - of the couple are displayed here: one is a crying drinker; one an angry drinker; and one a laughing drinker. Also displayed here are a mandarin orange tree and a sakura tree.

・Sixth and Seventh (Bottom) Platforms: Displayed here are a variety of items used within the couple's household, including furniture, storage chests, mirrors, sewing kits, utensils and more. Ox-drawn carts may also be displayed on the seventh platform.
To this day, Japanese families have continued the tradition of displaying these dolls. Grandparents will often give a set of the hina dolls to a girl as soon as she is born. White rice wine called 'shirozake' and peach blossoms are also placed beside the doll display, along with 'hishi mochi,' a kind of three-layered rice cake.
Hishi mochi has three symbolic colors: White represents the pure and cleansing snow; the pinkish-red color to symbolize peach blossoms (nodding back to the festival's Momo no sekku tradition); and green representing the coming springtime. The rice cake's rhomboid shape is traditional symbol of fertility.
Some other traditional foods enjoyed during Hina Matsuri are: Chirashizushi, a slightly sweetened 'scattered sushi' that is served with a clam soup. For Hina Matsuri snacking, the tiny sugary pastel-colored rice crackers known as hina arare are the most popular choice, and only available during Hina Matsuri season!
Hina dolls along a street in Katsuura
Katsuura Big Hina Matsuri
This is considered the most famous Girls' Day event in Japan, held in late February/early March. (In 2018 was held from February 23 until March 4.)

The seaside fishing village of Katsuura, in Chiba Prefecture, may seem like an unlikely location for such a famous festival, but visitors are thrilled yearly by the town's magnificent hina doll displays - in total, around 30,000 are displayed!

Although the festival focuses around five primary locations around the town, it seems the whole community gets into the hinamatsuri spirit, with businesses, schools and families displaying a variety of hina dolls around town. Stalls selling sweets and local street foods also line select avenues. It's a very fun experience indeed!
Crowds gather at Tomisaki Shrine (Photo: Instagram @thetimsullivan)
The two must-see doll displays are at the Katsuura City Art and Cultural Exchange Center, which exhibits over 6,000 dolls, and at the Tomisaki Shrine, which has a stone staircase displaying a variety of dolls. Some of the dolls displayed at the Cultural Center date back well over 150 years to the Edo period and are quite impressive to see!
1800 dolls line Tomisaki Shrine's steps (Photo: Instagram @thetimsullivan)
With a heritage tracing back over 300 years, Tomisaki Shrine has been an important part of Katsuura's community. The shrine's display features some 1800 dolls adorning the shrine's 60 stone steps! It's a very popular spot for photos and people from all over come to see the impressive scene.
Goshuin stamp marking the occasion (Photo: Instagram @thetimsullivan)
遠見岬神社

Address

1 Hamakatsuura, Katsuura-shi, Chiba-ken 299-5233

Nearest Station

Katsuura


Phone Number

0470-73-0034

Website: tomisaki.or.jp
Hyakudan Hinamatsuri

In Tokyo, the famous Hundred-Steps Staircase at Meguro Gajoen, a designated a tangible cultural property of Tokyo, is the venue for the Hyakudan Hinamatsuri ("hyakudan" actually means one-hundred steps). At this event, an array of vintage Hinamatsuri dolls from Kyushu are displayed.

Particularly Kyushu has a very rich Hinamatsuri culture - all of which can be discovered in around 1,000 different exhibits from all of Kyushu's seven prefectures, such as hina dolls from noble weddings of the Edo period, ancient dolls called shin-hime, ritual dolls used to pray to the deities of mountains, and many more.
Hyakudankaidan, Meguro Gajoen

目黒雅叙園 百段階段

Address

1-8-1 Shimomeguro, Meguro-ku, Tokyo 1530064 Japan

Nearest Station

Meguro


Website: www.hotelgajoen-tokyo.com/hinamatsuri
The Edo Nagashi Bina Festival

The Nagashi Bina Festival translates to the festival of floating dolls and is basically just that. Ancient Japanese put little dolls in baskets and set those afloat on rivers and streams, as a prayer to shield the children from disaster and for a safe and healthy growth. This old tradition has made its way to modern-day Japan, especially to Tokyo, revived in the year of 1985 for the first time in decades. At the end of February every year, around 3,000 people, young and old, participate in the Edo Nagashi Bina Festival in Asakusa, letting paper dolls float on the Sumida River to both pray for children and encourage them to shape their future with gentleness and kindness.

February 25th (Sun), 2018
Entry fee: Free
Hours: 11:00 - 13:30
Address

Sumida-ku, Tokyo, 131-0033
View Map

Nearest Station

Asakusa Station (Tokyo Metro Ginza Line / Toei Asakusa Line / Tobu Isesaki Line (Tobu Sky Tree Line) / Tsukuba Express)
5 minutes on foot

*This information is from the time of this article's publication.
*Prices and options mentioned are subject to change.
*Unless stated otherwise, all prices include tax.