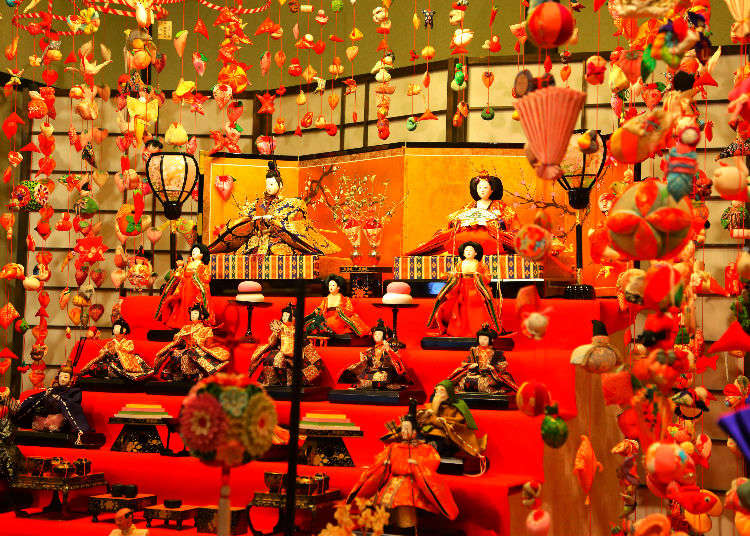 As the weather warms, and Japan says farewell to winter, another Japanese holiday is right around the corner: It's time for Hina Matsuri! Occurring every March 3rd, Hina Matsuri literally translates as 'Dolls Festival.' However, it is also known as 'Girls' Day' because it is a special day for families to celebrate their young daughters, praying for their success and happiness. The most iconic image of this event is the displaying of beautiful hina dolls, 'hina ningyou', dressed in Heian Era imperial court clothing. You can often see these dolls on a red carpet-covered, tiered platform. Traditionally, the emperor and empress dolls are placed at the top tier, with other court members placed on the lower tiers.
History of the Hina Matsuri
Hina Matsuri is said to have begun in the Heian Period, a time when people believed that dolls had the power to control evil spirits. People would set the dolls afloat down a river flowing into the sea, during an event called 'nagashi bina' believing that the dolls would bring bad spirits away with them. This tradition still exists in some areas, however, they are sent out to sea and then later retrieved, and then returned to a temple and ritually burned.

It is during the Edo Period that Japanese began the tradition of displaying the dolls in their homes. The dolls are usually put out around mid-February, and returned immediately after Hina Matsuri finishes. According to an old Japanese superstition, families that put away the dolls too late would have trouble marrying off their daughters.
To this day, Japanese families have continued the tradition of displaying these dolls. Grandparents will often give a set of the hina dolls to a girl as soon as she is born. White rice wine called 'shirozake' and peach blossoms are also placed beside the doll display, along with 'hishi mochi,' a kind of three-layered rice cake.
Hishi mochi has three symbolic colors: White represents the pure and cleansing snow, the pinkish-red color to symbolize peach blossoms, and green representing the coming springtime. The rice cake's rhomboid shape is traditional symbol of fertility.
Some other traditional foods enjoyed during Hina Matsuri are: Chirashizushi, a slightly sweetened 'scattered sushi' that is served with a clam soup. For Hina Matsuri snacking, the tiny sugary pastel-colored rice crackers known as hina arare are the most popular choice, and only available during Hina Matsuri season!
The "Katsuura Big Hina Matsuri" is considered the most famous Girls' Day event in Japan. The tiny fishing village of Katsuura, in Chiba Prefecture, may seem like an unlikely location for such a famous festival, but visitors are thrilled yearly by the town's magnificent hina doll display. The display features some 1200 dolls lining the 60 stone steps at Tomisaki Shrine!
If you are in the Chiba or Tokyo area, this spring event is a must-see! The 2017 Katsuura Big Hina Matsuri will take place from February 24th - March 5th, so be sure not to miss it!
*This information is from the time of this article's publication.