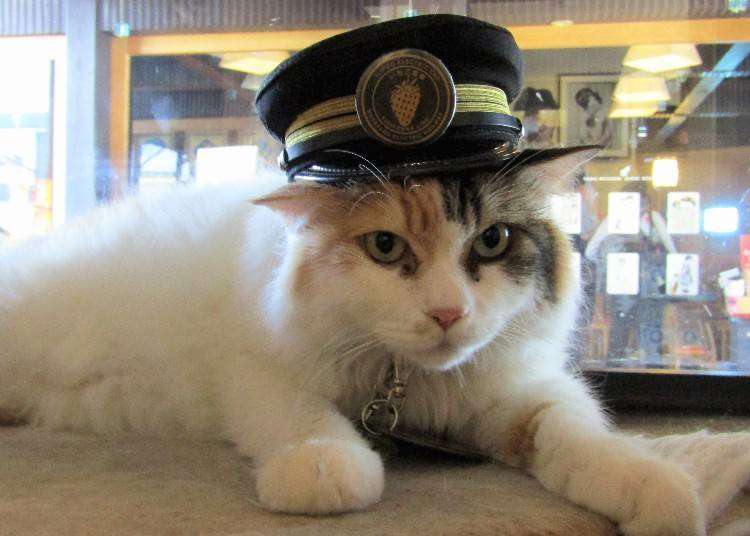 Wakayama Electric Railway, home to the first feline stationmaster of a private Japanese railroad, is a local Wakayama Prefecture railroad that runs from Wakayama Station in Wakayama City to Kishi Station in Kinokawa City, in an approximately 30-minute-long trip. It all starts from Wakayama Station's platform nine. After passing through the ticket gate, let the guidance board, complete with illustrations of stationmaster Tama, lead you onward. On the walls as you head toward the platform, you can almost hear the pictures of calico cats in various poses telling you "Right this way!" Once you climb the stairs, marked with cat pawprints, your journey to meet the cat stationmaster begins.
Wakayama Electric Railway has stations with cats for stationmasters!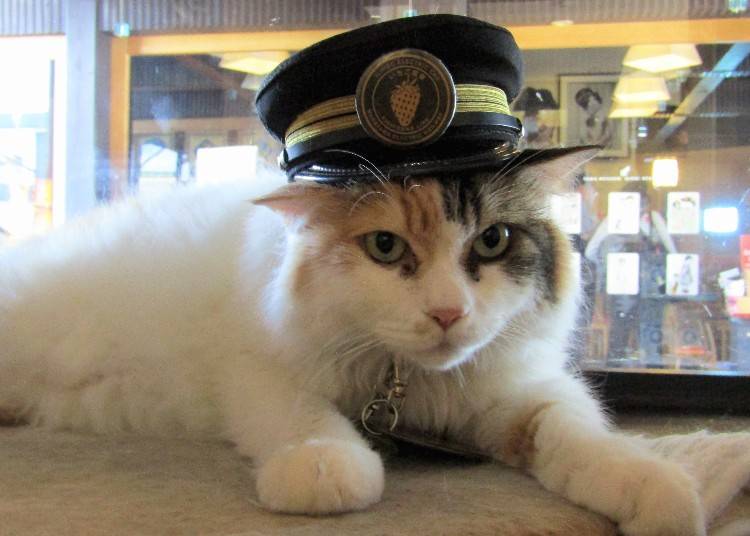 Manager-stationmaster Nitama (Kishi Station stationmaster)
Nitama, who assumed the position of manager-stationmaster at Kishi Station on August 11, 2015, was born in 2010 in Okayama City, Okayama Prefecture. The first stationmaster feline being named Tama, Nitama's name comes from the fact that it sounds like "looks like 'Tama'" in Japanese, as well as the fact that she is Tama's second-in-command, "ni" meaning two, or second, in Japanese. Her long fur is irresistibly soft from painstaking daily brushings, and the stationmaster's unashamedly laid-back aura is a perfect summation of her personality.
The Kishi Station building has cat eyes and ears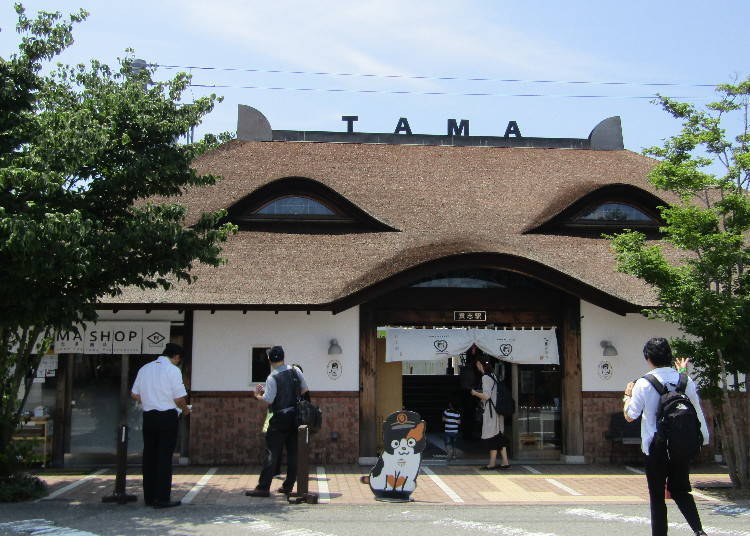 Front view of Kishi Station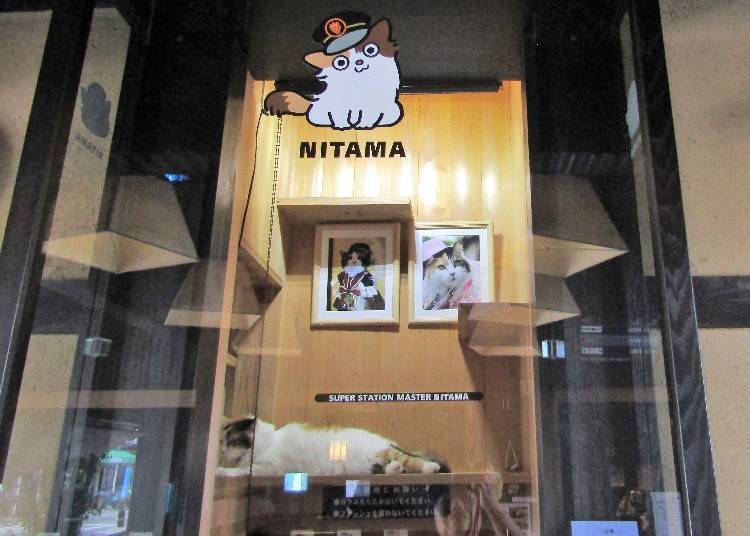 Nitama roams the stationmaster's office, climbing or descending depending on her mood
The wooden Kishi Station is unforgettable for its roof, made from Wakayama-grown cypress bark thatching. Standing in front of the station, you might feel like Tama is staring down at you. Inside Kishi Station are plenty of interesting spots, including a cafe, museum, shop, and even a shrine.

Immediately on your right after descending the stairs from the platform, you'll find the glass-walled stationmaster's office. Stationmaster Nitama is on the job from ten in the morning to four in the afternoon, Friday through Tuesday. However, she sometimes takes the day off due to illness or extreme temperatures, and her schedule is subject to sudden changes. So, if you're worried about missing her, call in and ask ahead of time.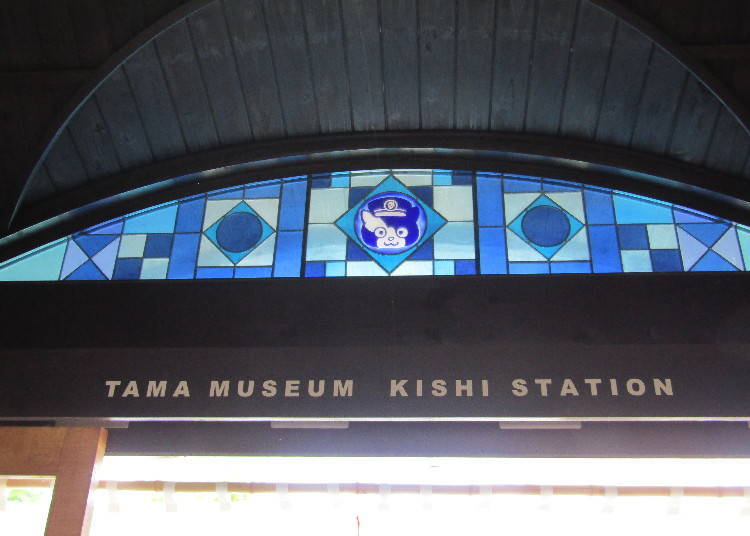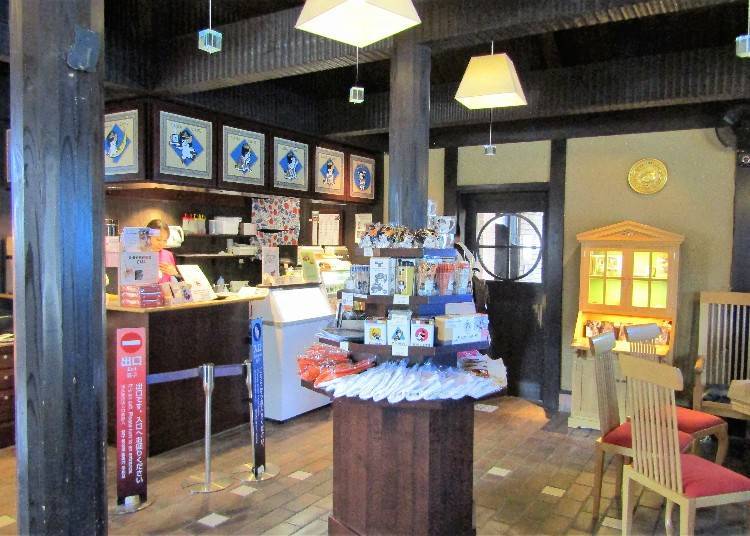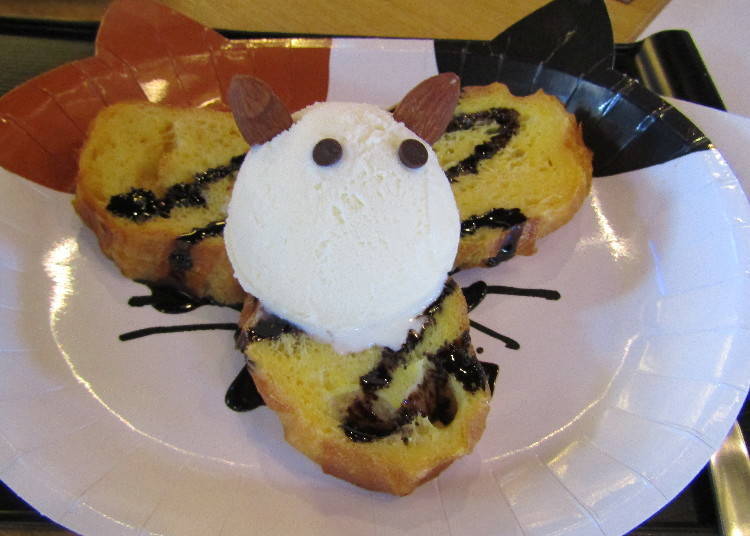 Tama French toast, served on a cute cat plate (630 yen, tax included)
At the Tama Cafe, decorated with adornments from the TAMA museum, there is plenty to please Tama fans, including lots of pictures of the stationmaster! It feels wrong to eat the cute ice cream cat sitting atop the Tama French toast, but the French toast is arranged so that once you finish eating, yet another face appears! The gelato and drinks made with Wakayama's mandarin oranges and Japanese apricots also come highly recommended.
There's even a Tama-themed "Tama Train" you can ride!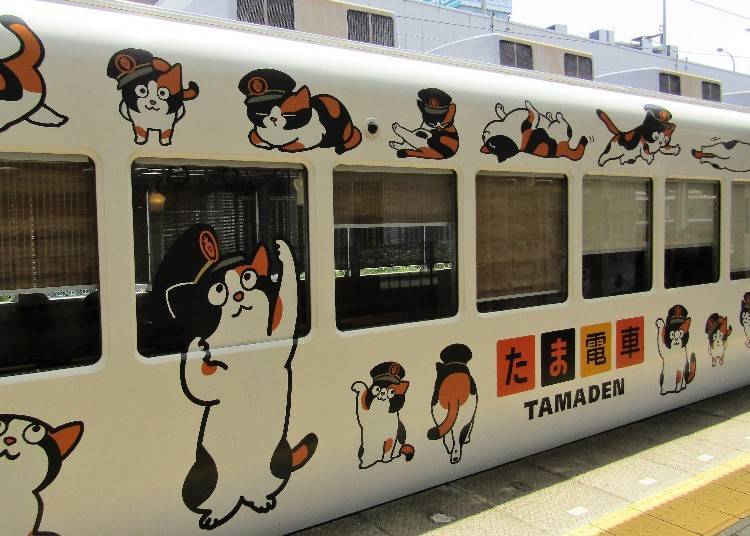 DESIGNED BY EIJI MITOOKA + DON DESIGN ASSOCIATES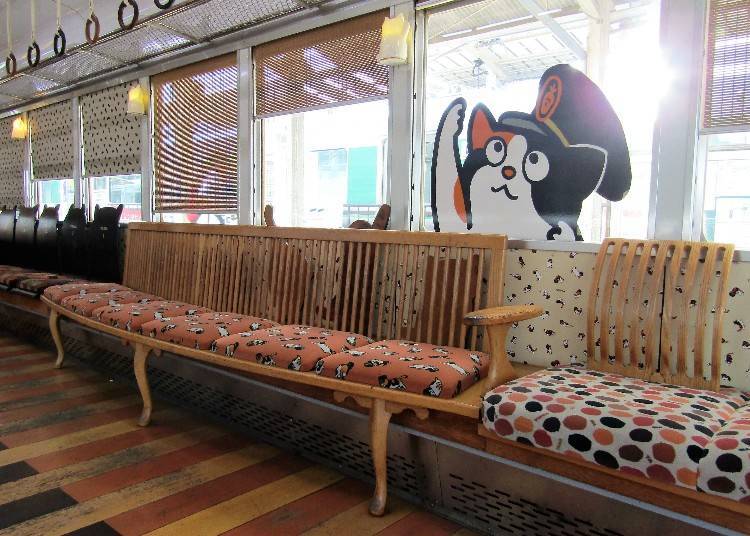 Tama Train, the work of famed Japanese industrial designer Eiji Mitooka, is so full of Tamas both inside and out, you won't be able to help grinning at the sight. There are so many different Tama seats in the train, you might not be able to sit from indecision.

There are some days when the train is not in operation, so either call in advance or refer to individual trains' schedules online.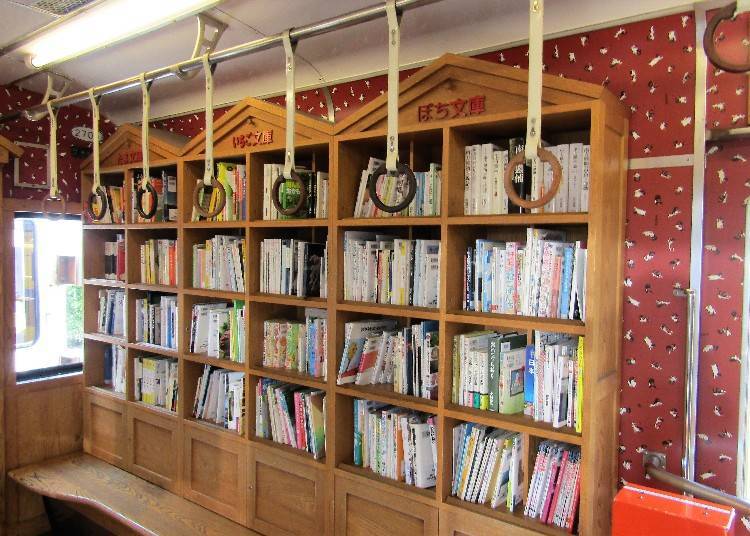 The train is equipped with a library that passengers can freely borrow books to read from and even a children's area, so even those traveling with children can relax and enjoy the ride.

In addition to the Tama Train, there are even more trains that everyone will want to ride—a Strawberry Train, a Toys Train, and an Umeboshi (Plum Star) Train. Try them all and discover your favorite.
One-way train fare from Wakayama Station to Kishi Station is 400 yen for adults and 200 yen for children. For those who want to enjoy Wakayama Electric Railway, the convenient one-day pass (adults 780 yen, children 390 yen) is a great bargain. Simply show the dated side to the attendant, and you can get on and off at whatever stations you like, all day long. Passes can be purchased on platform 9 of Wakayama Station, at Idakiso Station, or at Kishi Station's Tama Shop or Tama Cafe.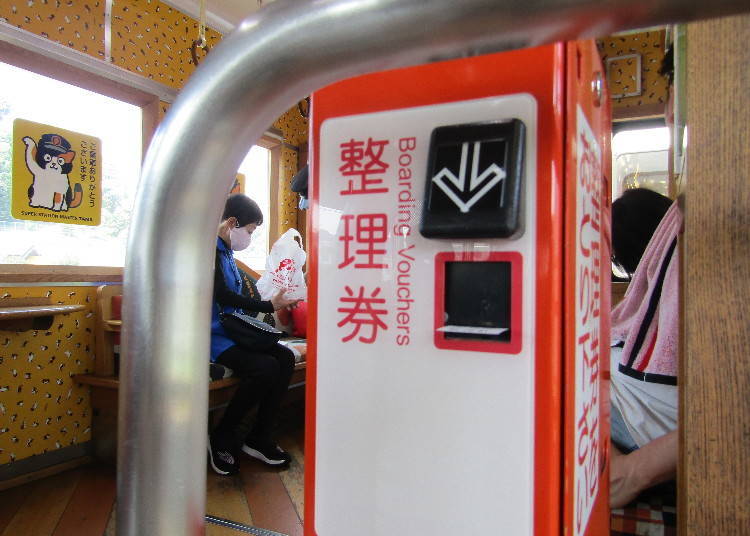 If you don't use a one-day pass, take a boarding voucher when you board the train (located near the rear door of the front car; not available at Wakayama Station or Kishi Station). The station name and number at which you boarded is printed on the ticket, and you can check the fare to the next station on the board at the front of the train (adult fares listed, children's fares are half the price of adults'). Once you've arrived at your destination, put your train fare and your voucher together into the fare box (in front of the foremost door of the first train car).
For souvenirs, the obvious choice is Tama-themed goods!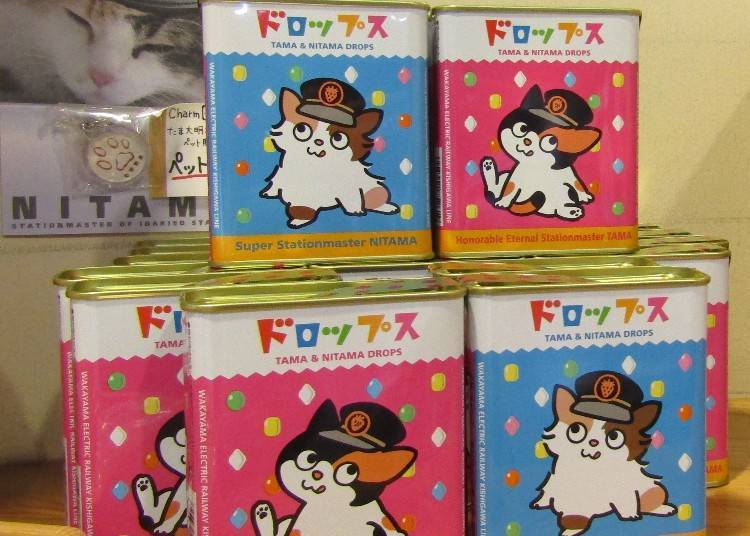 Tama & Nitama Drops (270 yen, tax included)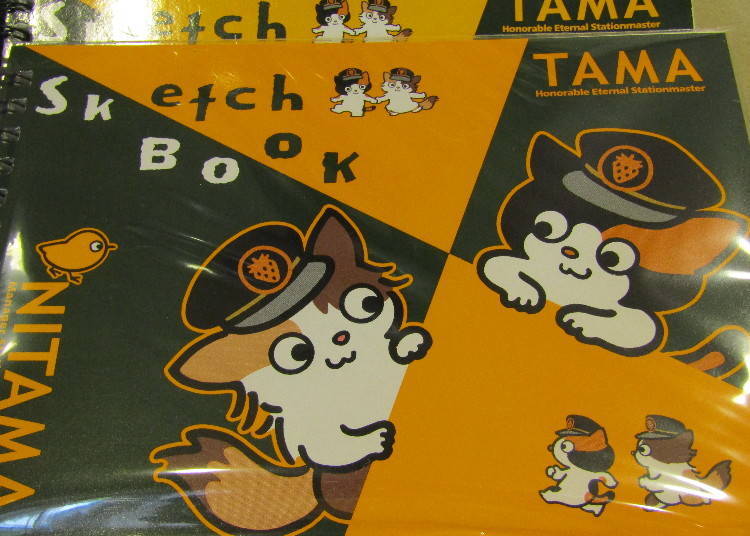 Tama Nitama Sketchbook (650 yen, tax included)
At Kishi Station's Tama Cafe and Tama Shop, and at Idakiso Station, nearly 100 kinds of original items are always available for purchase, ranging from accessories to sweets. Currently popular are the Tama & Nitama Drops candy. The backs of the containers are designed with images of Tama and Nitama, respectively. The Tama Nitama sketchbooks, containing three original coloring pages inside, are also currently rising in popularity. You won't be able to decide which Tama to bring home with you!
You can also meet feline stationmaster Yontama at Idakiso Station, five stops before Kishi Station!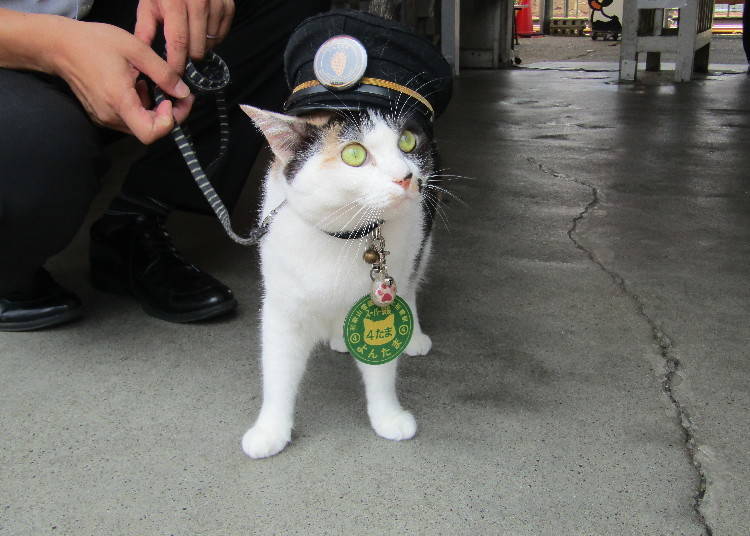 Super-stationmaster Yontama (acting stationmaster of Idakiso and Kishi Stations)
After a year of apprenticeship, on January 5, 2019, Stationmaster Yontama assumed the position of acting stationmaster of Idakiso and Kishi Stations. She was born in Wakayama City in 2016. She was given the name "Yontama" because she is the fourth Tama, "yon" being the Japanese word for "four". She is adored for the new and adorable presence she brings to the stations. She works at Idakiso Station on Sundays, Tuesdays, and Saturdays. On Wednesdays and Thursdays, she takes over for manager stationmaster Nitama at Kishi Station. Each day she is on duty from ten in the morning to four in the afternoon, but like manager-stationmaster Nitama, she takes days off for illness or weather issues, so her schedule is also subject to sudden changes.

When this small local railroad was on the verge of bankruptcy, it was Tama the calico cat who was the star behind its restoration. Tama was appointed as stationmaster by Wakayama Electric Railway on January 5, 2007 and became famous around the world. After she passed away in 2015, she was succeeded by current manager-stationmaster Nitama and super-stationmaster Yontama. Come meet these charismatic cats, spend a day of fun on the trains, and enjoy traveling as freely as a cat.
貴志駅

Address

Kishigawacho Kode, Kinokawa-shi, Wakayama 〒640-0413

* There is no parking lot near Kishi Station. Please park at Idakiso Station and take the Kishigawa Line.
Tama Cafe (within Kishi Station)

たまカフェ(貴志駅構内)

Address

Kishigawacho Kode, Kinokawa-shi, Wakayama 〒640-0413

Operating hours: 9:15 a.m. - 5:15 p.m.
Closed: the 3rd Wednesday of every month
Tama Shop (within Kishi Station)

たまショップ(貴志駅構内)

Address

Kishigawacho Kode, Kinokawa-shi, Wakayama 〒640-0413

Operating hours: 10:00 a.m. - 4:15 p.m.
Closed: Open daily
伊太祈曽駅

Address

73 Idakiso, Wakayama-shi, Wakayama 〒640-0361

* Idakiso Station Park & Ride Parking (parking lots with temporary parking) 200 yen/day (pre-paid, tax included)
Text by:WESTPLAN
*This information is from the time of this article's publication.
*Prices and options mentioned are subject to change.
*Unless stated otherwise, all prices include tax.
Limited time offer: 10% discount coupons available now!