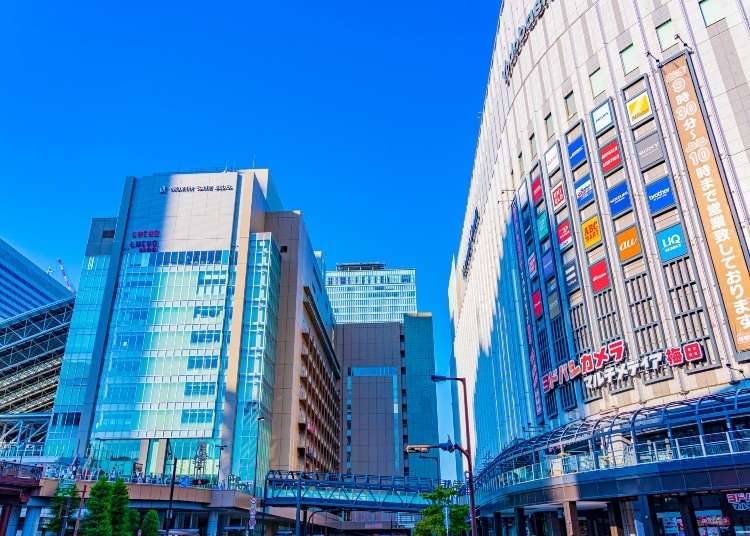 Whether video games, manga, fashion or food, you can find it all in Japan's second-largest metropolitan area, Osaka.

Osaka has a long history of trade and shopkeeping, the spirit of which is alive in large districts like Umeda and Tennoji as much as in smaller ones like Nakazakicho and Honmachi. Rest assured that you're getting the inside scoop on what Osaka has to offer, as our author resides in the Osaka area.

We've rounded up the 8 Best Areas for Shopping in Osaka: Where to Shop & What to Buy for your consuming enjoyment!
1. Umeda - For all-in-one shopping & entertainment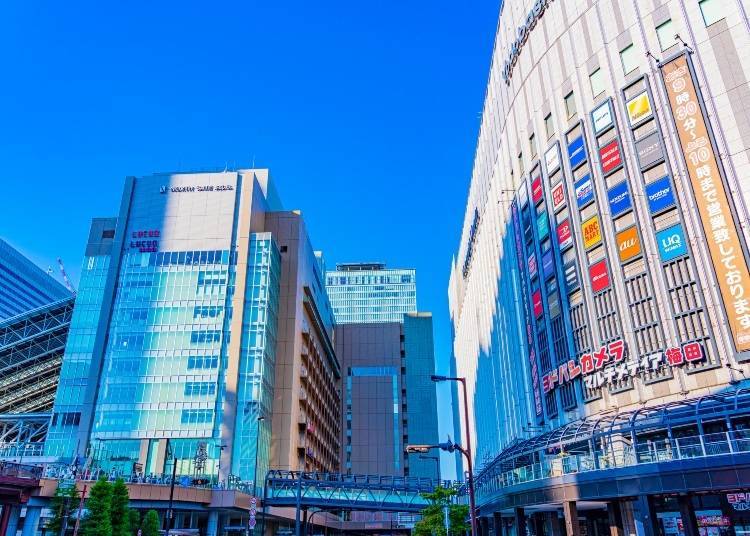 Umeda area. Photo: PIXTA
Welcome to Umeda! Enter all things glitz and glamor. From skyscraper-tall shopping malls to luxuriously clad vixens and hot shots, you're sure to find it all here.

Located in Osaka's northern Kita Ward, Grand Front Osaka, LUCUA Osaka and Yodobashi Camera are the three shopping centers that make Umeda famous.

While Grand Front houses high-end fashion stores like Armani Exchange and United Arrows, there are also lifestyle shops and plenty of eateries too. Stop by Japan's flagship fashion-meets-home-café store, MUJI for home goods and their delicious in-shop cafe. In the North Building, there's rock climbing at Gravity Research Umeda or unique displays in science and technology at The Lab.

LUCUA Osaka is more for fashionistas, the first floor housing several apparel, jewelry and cosmetics stores unique to Japan. Spick & Span apparel, Juicy Rock bling, or Etvos make-up are all great places to start your shopping journey at LUCUA Osaka.

Yodobashi Camera is a technology paradise, complete with surround sound speaker testing rooms, kids' toys and electrical appliances.

You can find a variety of restaurants at all three of the above-mentioned shopping centers, not to mention things like karaoke and darts bars nearby.
2. Shinsaibashi - For streetwear & music instruments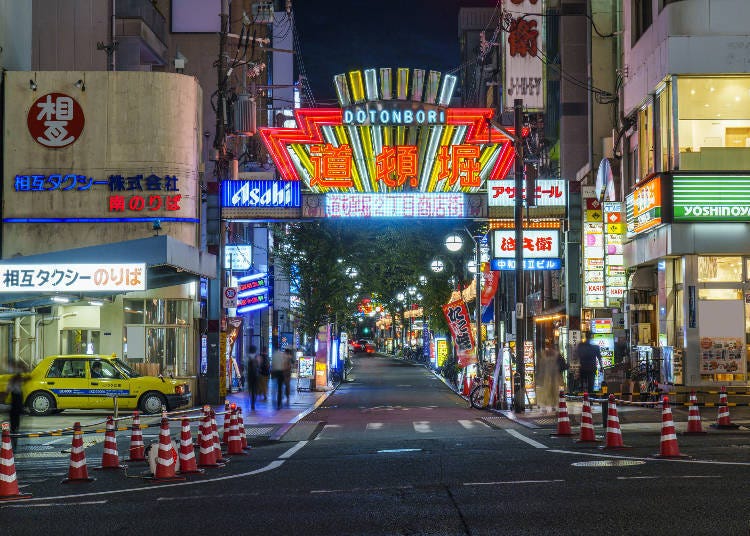 Dotonbori. Photo: PIXTA
There's probably nowhere cooler to be than in Shinsaibashi. Those in love with music, street fashion and urban designs will have an awesome time perusing Shinsaibashi's streets. There's plenty to see and do here, so take your time exploring all the shops and sights.

Shinsaibashi is a one-stop shopping district with everything from Osaka's Apple Store to Puma and Nike shoe companies. From crowded shop signs to pop-up boba spots, Shinsaibashi is an adventure for the senses.

Located off of the Midosuji subway line (stop M19), you'll know you're in the right place based on all the tall buildings around.

Check out Dotonbori at night, a top tourist destination complete with neon lights and larger-than-life advertisements. You'll find familiar fast food chains like Taco Bell and Burger King in this area, along with local favorites Bikkuri Donki and all kinds of ramen shops.

This wouldn't be a legitimate article without mentioning Shinsaibashi's American Village. Stylized as "Amemura" by locals, this is a hang-out spot for 20-somethings, complete with a slew of streetwear apparel stores. Try Volcan & Aphrodite or 2nd Street, a popular secondhand store chain. Buy the latest kicks at Face to Face and then walk across the street to Fresh Caps for a cool hat.

If you're a musician, Shinsaibashi is the right place for you too. Singers, sing your heart out at Jankara, a karaoke chain that has decorative lighting and full speaker systems in its personalized booths.

Check out Mikki Gakki, a 19th century-old instrument shop selling some of the coolest guitars, basses and virtually every other instrument you can get your hands on.

At the center of this hub is Triangle Park, or "Sankaku Koen", a small amphitheater-esque location popular amongst skaters and Japan's subculture scene.

Just as cool as Amemura located a few streets over is Orange Street. A 13-minute walk West of Triangle Park, Orange Street is found on the border of Shinsaibashi in Horie. Here, you'll find an array of fashion stores, barber shops and restaurants catering to a more hipster audience.

The vibe is something akin to New York's Lower East Side art community. Stop by Bistro New Orleans for authentic Louisiana French creole food while you're in the area.
3. Namba - For electronics, anime and manga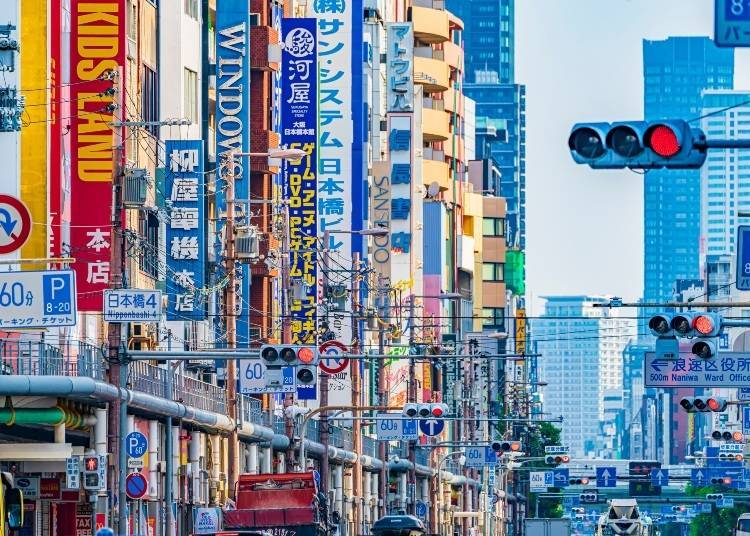 Photo: PIXTA
Namba is a youthful urban location with tons of entertainment and hole-in-the-wall areas that make Osaka come alive.

Namba is an extremely popular and accessible location. The following are ways to get to Namba: Nankai (Namba Station), Kintetsu & Hanshin Train Lines (Osaka Namba Station), Midosuji (Namba Station), Yotsubashi (Namba Station) and Sennichimae (Namba Station) subway lines and the JR Osaka Loop Line (Namba Station). There's a little bit of everything here, making it a go-to destination for tourists and locals alike.

You'll find one of Japan's major department stores, Takashimaya, here in Namba, housing topline fashion brands like Balenciaga, Fendi and Chanel.

Right next door is Namba Marui, a multipurpose mall with products ranging from accessories (The Little Brooklyn Daikanyama) to everyday miscellaneous goods (Seria). You can even catch a movie at TOHO Cinemas. Before you head out for more exploring, cool off with a fresh banana juice on the first floor's The Funky Monkey on your way out.

"Den-Den Town" is one of Namba's claims to fame. The name of this area itself, a play on the Japanese word for "electricity", is a haven for all things otaku, or geek related, like electronics, manga and anime. It's safe to call it an equivalent to Tokyo's Akihabara district.

Shops specializing in everything from used gaming gear to anime figurines and household electronics make up this 1.6 km-long stretch. Fish through the collection of retro games at Super Potato or gawk over the extensive collectibles at Jungle Osaka Nipponbashi.

It wouldn't be a proper trip to Namba without visiting Kuromon Market. Kuromon Market, or Kuromon Ichiba, is Osaka's largest open-air market, known for fresh seafood at reasonable prices.

There are seasonal delights like Fugu (blowfish) in the winter and Conger Pike in the summer. Located just up the block from Den-Den Town, you can reach the market on foot in just 7 minutes.

Not to worry if seafood is not your thing, as there is a wide variety of seasonal fruits and grilled chicken skewers called yakitori as well.

If you can't tell, Namba is jam-packed with exciting adventures waiting to happen. Make sure to stop by on your next trip to Osaka!
4. Tenjinbashi-suji - For kitchenware and kimonos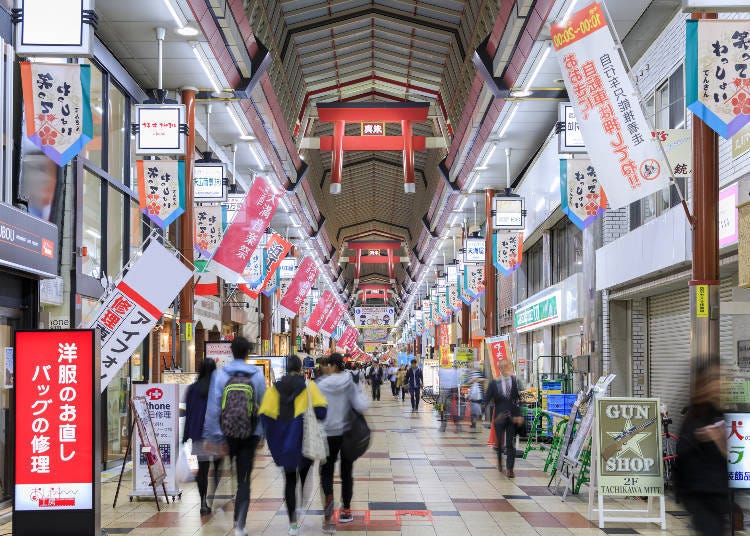 Photo: PIXTA
Japan is home to some of the most unique outdoor shopping bazaars, including Tenjinbashi-suji. In fact, Tenjinbashi-suji is Japan's longest shopping stretch. Known as "shoutengai" in Japanese, you can find virtually anything in these outdoor shopping centers.

Tenjinbashi-suji covers three stations on the Osaka Metro's Sakaisuji Line: Tenjimbashisuji 6-chome, Ogimachi and Minamimorimachi. In other words it's accessible and easy to get to other places wherever you are on this long stretch.

The shoutengai is split into 7 districts, or "chome" in Japanese.

Step back into the past at the Osaka Museum of Housing and Living (Osaka Kurashi No Konjaku Kan) located at the shopping street entrance in 6-chome. You can rent a kimono and experience a life-sized version of Edo Period Osaka inside.

Check out some cool souvenirs at an omiyage shop like Tenma Tenjin MAIDO Ya or grab a bite of fresh sushi at local favorite Harukoma. What makes shoutengai so special is the variety of shops that you encounter in a relatively close distance. Each shoutengai, no matter how small or large, usually has a number of stores that stand out above the rest.

Tenjinbashisuji offers an array of traditional fabrics, kitchenware and steelwork that you definitely want to get your hands on. In the summer, try out a lightweight yukata or jinbei at Tenma Kimono, a traditional Japanese kimono shop.

Tenjinbashisuji is also the place you want to be for all things steel. Check out knife stores Kunishige and Tsubaya for cutting-edge cutlery and utensils.

Don't forget to enjoy local Osaka snack foods like Takoyaki, a savory ball-shaped cake with chopped octopus inside, or Taiyaki, a bean paste-filled dessert usually in the shape of a fish.
Address

Tenjinbashi, Kita-ku, Osaka-shi, Osaka, 532-0011
View Map

Nearest Station

Tenjimbashisujirokuchome Station (Tanimachi Line / Sakaisuji Line / Hankyu-senri Line)
3 minutes on foot


Phone Number

06-6358-0459
5. Nakazaki-cho - For cafes and clothing boutiques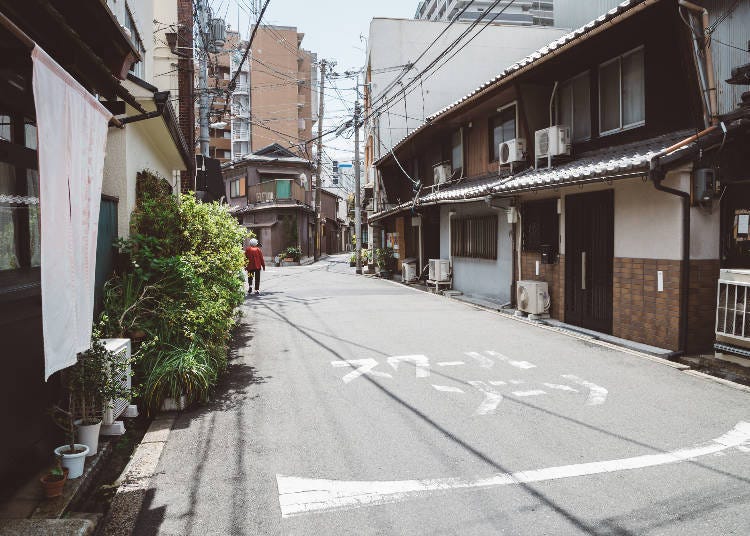 Photo: PIXTA
Nakazakicho is a tucked-away hipster's paradise. To get there take the Nakazaki-cho exit (T-19) off the Tanimachi line. Vintage wooden storefronts house the assortment of cafes and vintage clothing boutiques that line the maze-like alleyways here. You're sure to find all of your sartorial and gastronomy delights in the neighborhoods of Nakazki-cho.
Only Planet is a quirky funhouse filled with handicrafts and accessories. Here you can pick up one-of-a-kind wooden handmade craft works in the style of Bali, Chinese and Nigerian art. Travel back in time at Pipinerakitchen, a wonderland filled with collectibles from generations past. This two-floor story location has a cafe on the second floor.
Looking for some fly threads? The following boutiques are perfect for adding flair to your style or helping you find a new one altogether. You're sure to pick up a brand new ensemble at Olfie Vintage, specializing in European-styled vintage. Or stop by Shopband, an all-in-one fashion boutique carrying everything from Coach bags to Ralph Lauren sweaters and Emporio Armani outerwear. Drop in at Rin Nakazaki and pick up a combination of The North Face, Nike or Pendleton goods.
Nothing quite captures the essence of Nakazakicho more than its myriad cafes. Why Knot's front patio is wide and inviting, dishing out freshly ground coffee along with eco-friendly containers, cups and bags. Nakazaki Cafe is a tasty sweets cafe with a variety of french toast and parfait items that is sure to treat your sweet tooth. It's also the perfect spot for your social media photograph memories. Catch an afternoon cup of joe at Haiku Coffee Roasters or cool off at the sleek Warara Coffee. Whether thirst-quenching drinks or pieces for your fashion ensembles, Nakazakicho's cool vibe is sure to satisfy your needs.
6. Honmachi - For cheap food and wholesale shopping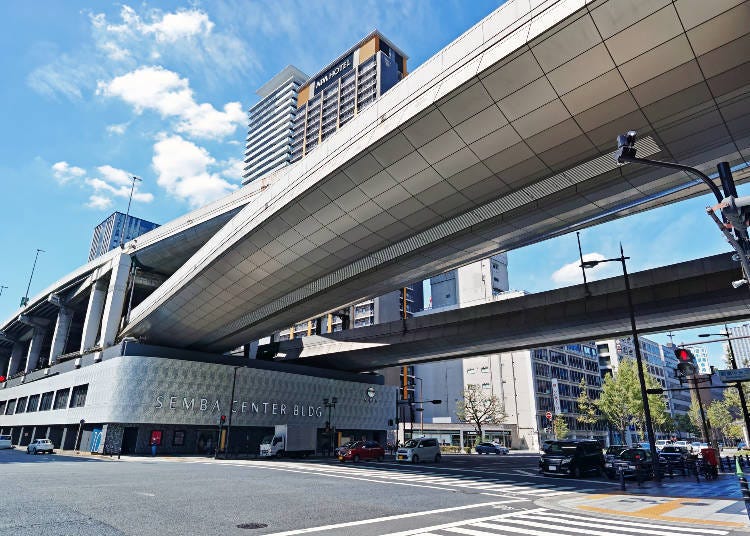 Photo: PIXTA
Honmachi is a historically upscale area located South of Umeda and North of Shinsaibashi on the Midosuji Line.

Split into lower and upper Honmachi, the latter is accessible via the Tanimachi line. For a unique Japanese shopping experience, stop by Hi Hi Town, a shopping landmark known for tasty food at cheap prices and myriad shopping stores.

For a variety of savory chicken dishes, check out Torikizoku, a favorite amongst 20- to 30-year-olds for its lively atmosphere and delicious eats. Stop by Oden Onsen for traditional Japanese oden, which are small foods like boiled eggs, fish cakes and seaweed wraps served in soup broth. Fried foods on a stick like asparagus, shrimp, meats and other vegetables are called kushikatsu, which you can have plenty of at Daigomi.

No other place speaks Honmachi's history as well as Semba. Established back in the 16th century Edo Period, Semba was home to several Japanese merchants made to relocate after Osaka Castle's construction.

Semba Center Building stands as a 1,000m long stretch of indoor shopping integrated into a highway. Inside you'll find several textile wholesale stores with unbelievably cheap sales and unique finds.

On Saturdays, though, stores are mostly closed and even on weekdays, everything dies down around 5 to 6pm. Nonetheless, if you're looking for an Osaka-specific historically rich experience and wholesale fabrics, Semba Center Building is a must-visit location.
7. Fukushima - For bustling eateries and sprawling nightlife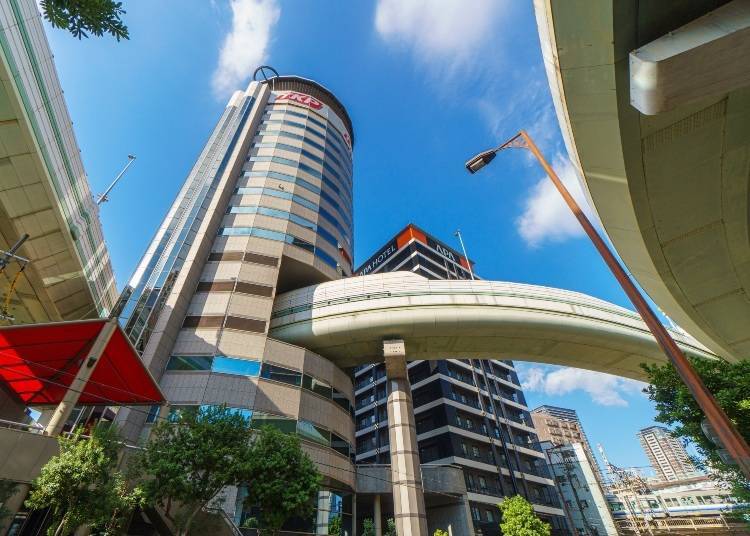 Photo: PIXTA
Not to be mistaken with the prefecture of the same name, Osaka's Fukushima district is the spot for local eateries and sprawling nightlife.

Located just slightly Southwest of Umeda, you can get to this area in about 10 mins on foot or off either the Hanshin Line or Osaka Loop Line. There's a cool shoutengai here in Fukushima as well where you can shop for tasty food or have you fortune told at one of the many "uranai" fortune teller stores.

Fukushima has a cool collection of local street art too. Stepping off the JR Osaka Loop Line, you'll notice the landmark paintings of the Seven Lucky Gods found in Japanese mythology. The vibrant colors of storefronts will be sure to send you on a whirlwind of adventure. Step inside a retro-stylized donut shop in Mister Donut before heading to the British-style Blackstock Pub restaurant with a cozy atmosphere and staff with exceptional English skills. Speakeasy is yet another quaint bar and restaurant combination with a relaxed environment perfect for an intimate setting.

Stop by Pit master Vamos for a wide variety of Spanish-inspired dishes. The inside is homey and decorative, the wooden tables reminiscent of a camp lodge in the best way.

Fukushima's claim to fame however is its popular Izakayas, or Japanese-style bars. Try Izakaya Ebessan for tasty seafood dishes, Oita-karaage Katsuo chain restaurant for Kyushu's famous fried chicken or Kirakusakaba Okkyagari for a combination of several foods.

Most convenient is that these restaurants are all located within walking distance from Fukushima's JR Station exit. There are even restaurants specializing in Japan's eat-and-stand, tachigui, style.

One of the most recommended being Tachigui Yakiniku Ichibo, a restaurant specializing in Japanese BBQ meats and vegetables. Whether it's Italian at Taverna Porcini or ramen at Moeyo Mensuke, Fukushima is sure to have something that suits your fancy and makes your time exploring Osaka lively and memory filled.
8. Minoh - For modern malls in suburbia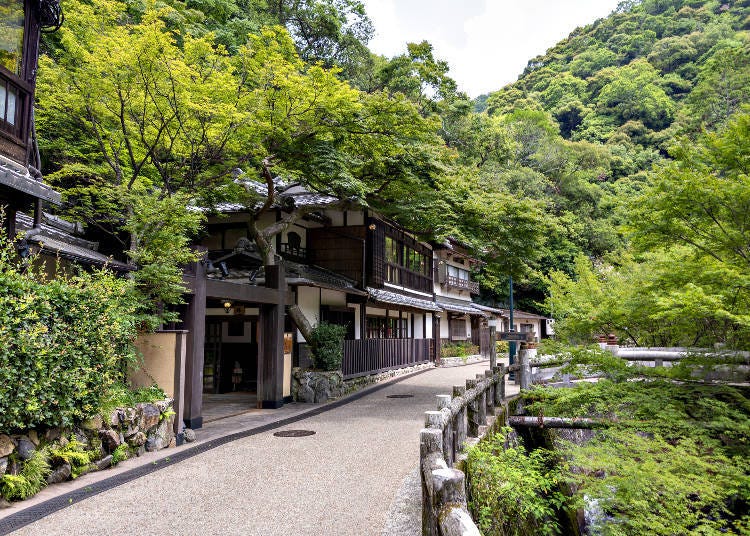 Photo: PIXTA
Located in Osaka's northern outskirts, Minoh is a great option for travelers looking to enjoy Osaka's quieter side.

This suburb is located about 30 minutes away from Umeda via the Hankyu Takarazuka Line and Hankyu Minoh Line. You can also get there via the Midosuji Subway Line, taking the last stop, Senri Chuo, and busting into the heart of the area in under 15 minutes.

Stop by Q's Mall, a local favorite shopping outlet housing popular retail, fashion and collectibles stores. There's tax-free shopping at the electronic store Joshin, the watch shop, Time's Gear, and fashion stores UNIQLO and GU.

Just a ten-minute taxi ride away is the maze-like Senri Chuo shopping complex. Here, you'll find everything from apparel to stationery with stores like Beauty Face and Sankyodo. Minoh is also home to breathtaking nature and cultural landscapes, including Minoh Waterfall and the Daruma doll-dedicated Katuso-ji Temple.

On your way to the gift shop, you might just run into wildlife outside. Minoh is known for its monkeys and wild boar that inhabit the mountains. On your way back to the train station, make sure to buy a bag of Fried Maple Leaves. The maple leaves are deep fried in a batter not too sweet and with just enough crunch to make this snack a Minoh staple.
Enjoy your shopping adventure in Osaka!
Osaka is a historically and culturally rich location that easily rivals Tokyo. In fact, you're likely to find almost everything you need here in Osaka for better prices than in Tokyo too.

From subways to trains and even the monorails, it's quite easy making moves all over this prefecture. Cheap buys in places like Honmachi and Nakazaki-cho are reasons why Osaka is known as a great shopping spot.

Whether it's musical instruments in Shinsaibashi or entertainment in flashy districts like Namba or Umeda, there's a little bit of everything here in Osaka.

If you're worried about navigating it all, buying passes for the JR, Hankyu train lines and subway lines like Midosuji make travel worries less troublesome. It always helps to learn a few phrases before embarking on a journey, which is especially true in Osaka.

"Maido" and "Ookini" for thank you in the Kansai dialect is sure to score you some likability points from the local shopkeepers.
*This information is from the time of this article's publication.
*Prices and options mentioned are subject to change.
*Unless stated otherwise, all prices include tax.