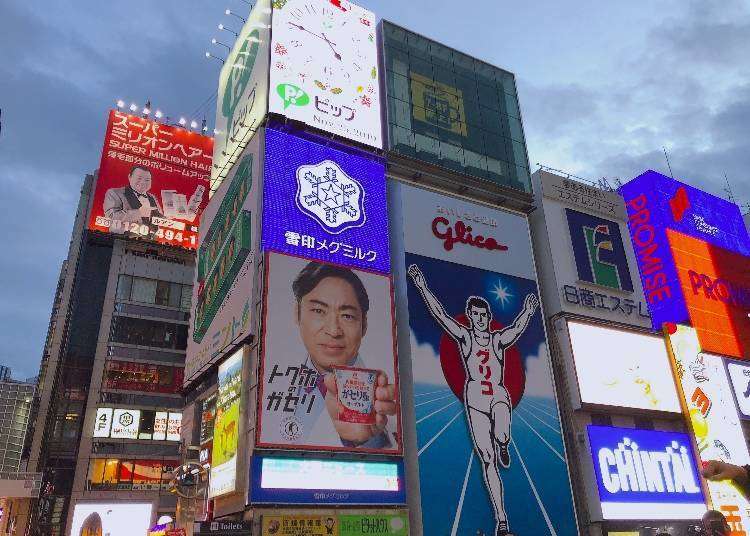 Amerikamura, or America Village is a popular gathering place for the trendy youths of Osaka. At the center of this trendsetting town is the Sankaku Park, which is surrounded by various shops selling fashion items, food, and general goods.

The motley mix of interesting things available here is somewhat charming and, dare we say, uniquely Osaka in a sense. Looking around at little shops crammed in rows along narrow alleys definitely has an appeal of its own. What things are there to see and do in Amerikamura? Here's a comprehensive guide that will help you get in touch with the latest fashion, food, and fabulous night spots of this vibrant Osaka district.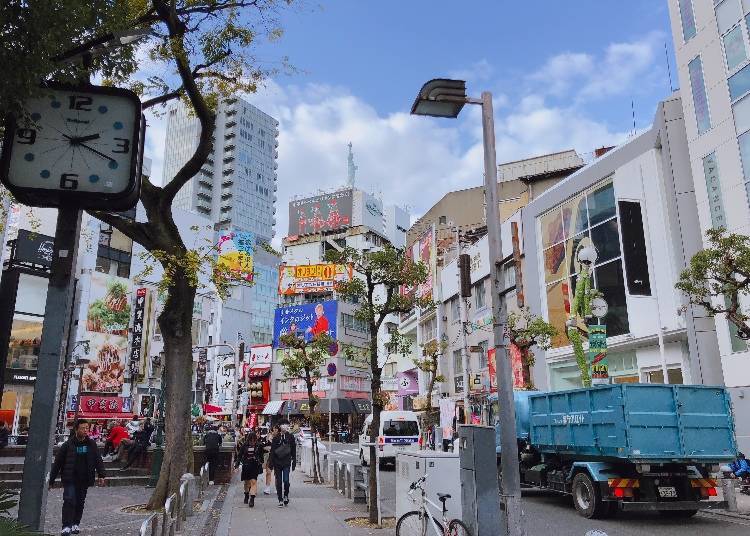 Osaka City's tourist hotspots are generally divided into two major areas: Kita Area, which includes the major transport hub Umeda, and Minami Area, with Namba at its center. Amerikamura is a place of interest that lies within the Minami Area. It's located southwest of Shinsaibashi Station on the Osaka Metro and rather bereft of signboards of any sort, making it hard to pinpoint an exact spot. The area around Mitsu Park (AKA Sankaku Park) is generally considered to be what people refer to when they speak about Amerikamura.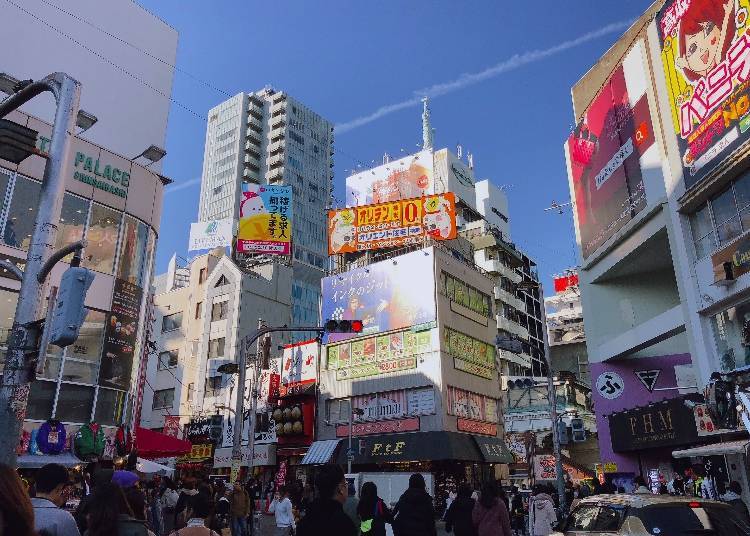 Known to Osaka residents as the birthplace of many latest trends, you can expect to find plenty of shops and clubs here with bold and new concepts. Youngsters make up the bulk of the visitors, and during major events such as New Year's Eve countdown, international sports competitions, or Halloween, the usually crowded place will be bursting at the seams with even more fun-seekers!
Amerikamura is Located near Dōtonbori, Shinsaibashisuji Shopping Street, and other popular sightseeing spots
Because there are plenty of well-known tourist hotspots within the vicinity of Amerikamura, planning to hit them all in one day may be a good way to maximize your time in Japan!

■Dōtonbori Bridge
The highly-recognizable Glico signboard of Dōtonbori is about a 10-minutes walk from Mitsu Park. Head east from Mitsu Park and exit to Midosuji, then head south to arrive at Dōtonbori.
Shop after shop of fabulous food with showy signboards decorate the streets around Dōtonbori Bridge, and these brightly-lit displays exemplify the international image of Osaka's night life. Having this many shops also means you won't ever have to be afraid of running out of things to try as you walk along!

■Shinsaibashisuji Shopping Street
The first street you come across after heading east from Mitsu Park and passing Midosuji is known as the Shinsaibashisuji Shopping Street. This large-scale arcade street features about 180 shops selling fashion items, food, general goods, and many other things, making it an excellent place to visit both casual and hardcore shopping!

■Horie / Minamisenba
If stylish cafes or sophisticated fashion is your thing, then don't skip out on Horie or Minamisenba.
Horie is the area west of Mitsu Park, known for its many secondhand clothing shops dealing with branded goods.
Minamisenba, on the other hand, is north of Mitsu Park just after Nagahori Street. Here is where you'll find stylish multi-brand shops and streetside stores of brands like COMME des GARÇONS and ISSEY MIYAKE.
Top 3 popular picks for fans of fancy fashion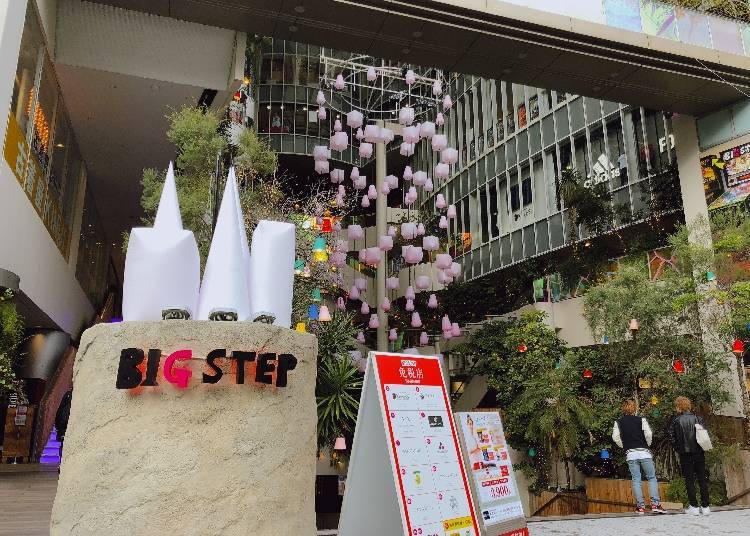 1) Shinsaibashi BIG STEP: An Amerikamura icon
The shopping complex known as Shinsaibashi BIG STEP can be said to be one of Amerikamura's most recognizable landmarks. Besides the regular shopping mall fare of men's and ladies' fashion, you'll also find vintage stores peddling unique secondhand items at reasonable prices, sportswear shops with a variety of related merchandise, and even the curry restaurants and the ubiquitous Saizeriya, a home-grown Italian restaurant chain.

On the fourth floor of this building is Cinemart Shinsaibashi, a movie theater where you can catch a movie and relax from your day of activities if you have some time to spare.

Speaking of rest and relaxation, benches can be found everywhere in front of BIG STEP as well, so feel free to sit down and take a breather here if your Amerikamura exploration is tiring you out. Also, taking a toilet break here may be prudent, as the public toilets in this building are kept very clean!
心斎橋 BIGSTEP

Address

1 Chome-6-14 Nishishinsaibashi, Chuo-ku, Osaka, 542-0086

Hours: 11:00 a.m. – 11:00 p.m. (differs depending on shop)
Closed: Open daily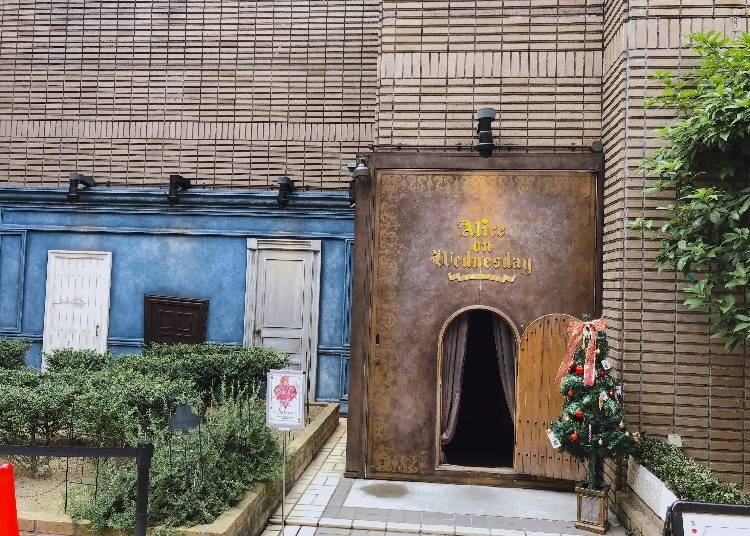 2) Alice on Wednesday: Candy and general goods
This candy and general goods store's design was based on the world of Alice in Wonderland. The shop exterior was deliberate designed to make visitors feel like they've stumbled upon this fantastic place as they were chasing after the busy rabbit, and passers-by won't be able to see what's going on inside the store from outside as a result.

As you stoop down and slowly go through the door, an array of classic and lovely goods will greet you on your way in. Fans of items with maidenly appeal won't be able to resist the items they have on sale here!

The reasonable price of about 1,000 to 2,000 yen for each piece of accessory is another one of the shop's draws.
Alice on Wednesday, OSAKA

水曜日のアリス 大阪

Address

1F Asahi plaza Shinsaibashi 2 Chome-12-25 Nishishinsaibashi, Chuo-ku, Osaka, 542-0086

Hours: 11:00 a.m. – 7:30 p.m. *Weekends and public holidays from 10:00 a.m. onwards
Closed: End of year and start of year holidays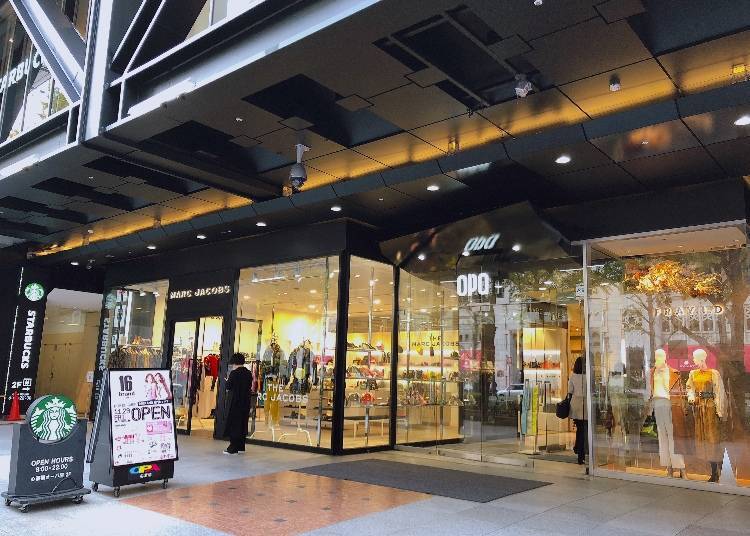 3) Shinsaibashi OPA: Fashion for the young
This fashion center is directly connected to Exit 7 of Shinsaibashi Station on the Osaka Metro. From the two basement floors all the way to the 10th floor, you'll find plenty of shops like Gelato Pique and FRAY I.D selling domestic labels that cater to a younger crowd. The building also features a wide variety of multi-brand stores for those looking for a surprise find!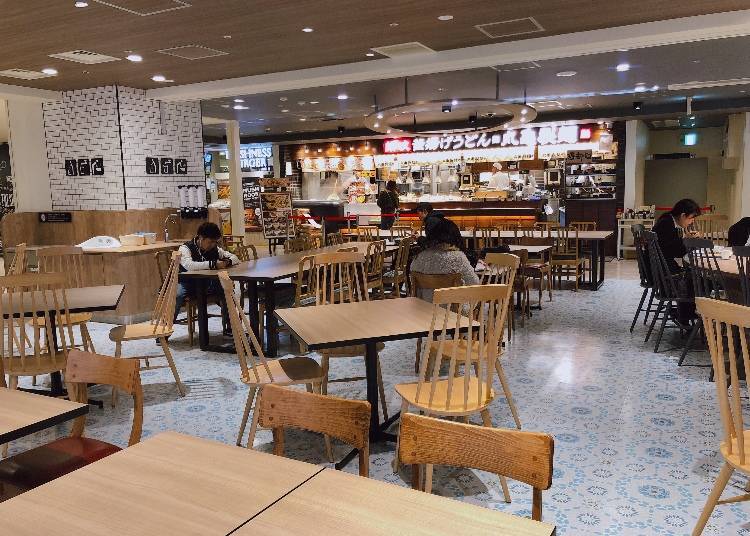 Food court on basement level 2
Eateries and restaurants can be found on basement level 2 as well as the 9th and 10th floors. Food being served on these floors include ramen, fast food, cafe food, hotpot cuisine, and more. You'll never have to worry about running out of shops to browse and food to eat here, that's for sure!
心斎橋オーパ

Address

1 Chome-4-3 Nishishinsaibashi, Chuo-ku, Osaka, 542-0086

Hours: 11:00 a.m. – 9:00 p.m. (differs depending on shop)
Closed: Open daily
How about an eating tour? Here are four delicious stores to start you off with!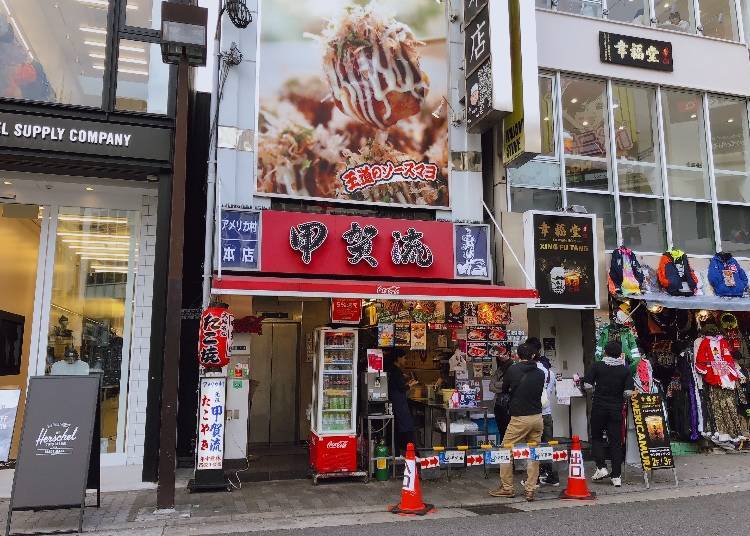 1) Kogaryu Honten: Bib Gourmand-certified takoyaki
Kogaryu is a takoyaki (octopus balls) store located right in front of Mitsu Park, and it's so popular, queues are the norm rather than the exception here. It's been featured by all sorts of media and won the Michelin Guide's Bib Gourmand award for three years in a row from 2016 to 2018, a testament to its tastiness!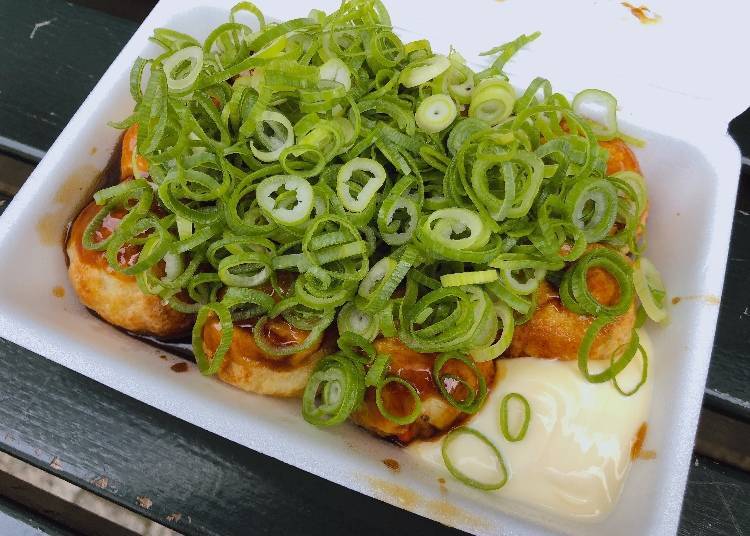 Spring Onion Sauce - 550 yen (tax included)
The takoyaki dough used by the store is based on seven types of stock flavors, including kombu and dried sardines. The airy taste it produces mixes well with plenty of secret ingredients waiting to be discovered, such as yam, and this gives it an irresistible umami taste that melts in your mouth. The mayonnaise they use is an original recipe made from egg yolks only that's less sour than regular mayonnaise. This seasoning goes perfectly with the takoyaki and you'll find yourself having to hold back from gobbling up the tasty treat just to ensure every last juicy bit it has to offer is fully relished!

"Sauce Mayo" is the shop's regular takoyaki flavor that hasn't changed since it was introduced more than 40 years ago, and that's our recommendation alongside the "Spring Onion Sauce" that features a generous heap of refreshing and healthy spring onions - a surprisingly good match with takoyaki!
甲賀流 アメリカ村本店

Address

2 Chome-18-4 Nishishinsaibashi, Chuo-ku, Osaka, 542-0086

Phone Number

06-6211-0519

Hours: Open daily 10:30 a.m. – 8:30 p.m.
Roasted Oolong Milk Tea With Pearls (M) - 510 yen, tax excluded
2) NONARA PEARL Shinsaibashi: One of Amerikamura's best bubble tea stores
You've likely noticed the huge amount of bubble tea stores in Amerikamura as you were touring the place, and if you're in the mood to try out this novelty drink yourself, consider Nonara Pearl Shinsaibashi, one of the best bubble tea stores in the area. The shop's pink decor and cute cat mascot character makes it very photogenic, and many tourists stop to take pictures of the store even if they may not be interested in the drink.

A hallmark of the shop's pearls is that it uses fresh tapioca pearls carefully boiled on demand and served while still hot. To enjoy the sensation of chewing on warm pearls, suck them up from the straw without stirring the drink first, and let the springy yet soft feel delight your senses.

After that special experience, stir the drink with the straw to make the pearls firm up, which increases its tastiness by leaps and bounds! The M-size cup is about 500 milliliters (about 17 ounces) in volume, and it'll be well worth every yen spent!
NONARA PEARL Shinsaibashi

ノナラパール 心斎橋店

Address

2 Chome-1-16 Nishishinsaibashi, Chuo-ku, Osaka, 542-0086

Hours: 10:30 a.m. – 10:00 p.m.
Closed: End of year and start of year holidays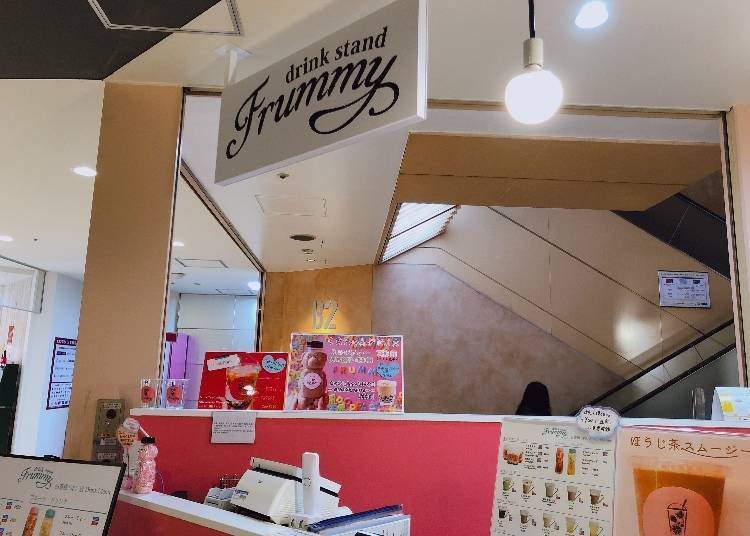 4) Drink Stand Frummy Shinsaibashi OPA: Healthy and tasty drinks for all
Located in basement level 2 of Shinsaibashi OPA is a drink stand named after a portmanteau of "fruits" and "yummy" - ergo, Frummy! The concept of the store is, of course, yummy fruit drinks. Besides fruity soda beverages, you'll also get to pick from a huge variety of healthy smoothies and such that your body, tired from all that touring, will thank you for.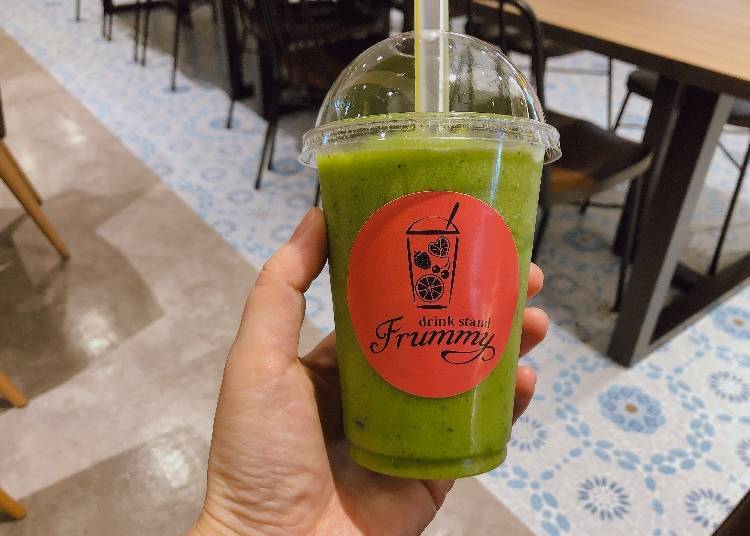 Green Smoothie - 550 yen (tax included)
The store's standard "Fruit Tea" is exactly what its name implies - a tea drink with plenty of fruits added to it for a slightly sweet finish. Other things to look out for here are the "Fresh Bubble Tea" that features delicious tapioca pearls made fresh on the spot, as well as "Coffee", "Chocolate", and other items you would expect to see being sold in a drink stand. Take a break and let one of these drinks help you recover enough strength for your next round of activities!
drink stand FRUMMY Shinsaibashi OPA

drink stand FRUMMY 心斎橋オーパ店

Address

B2F Shinsaibashi OPA 1 Chome-4-3 Nishishinsaibashi, Chuo-ku, Osaka, 542-0086

Phone Number

06-6282-9000

Hours: 11:000 a.m. – 9:00 p.m.
Closed: Open daily
Best nightlife in Osaka to party the night away!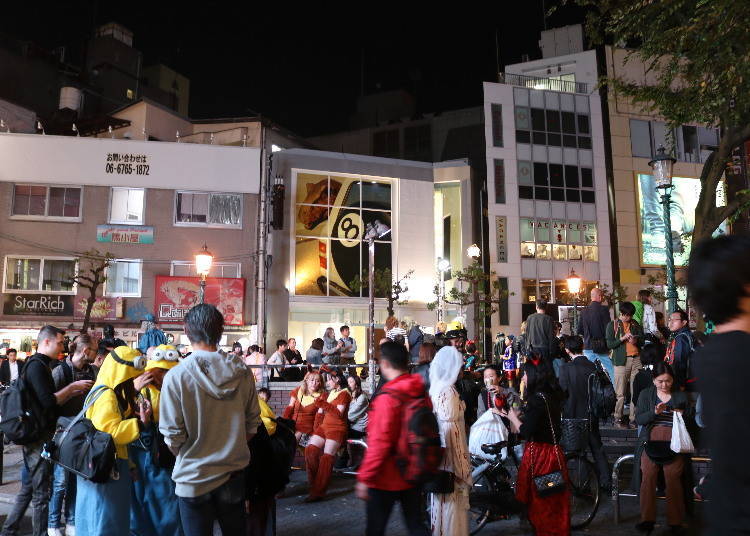 During Halloween
1) Mitsu Park area
The area around Mitsu Park, the center of Amerikamura is full of life even long after sundown. This is especially so during events like New Year's Even countdown and Halloween. Many youngsters will fill the area to capacity and amp up the mood to a fever pitch.

Even pedestrians tend to dress in a way that reflects their awareness of the area's reputation as a fashion trendsetter, so sitting down at the park and watching well-dressed passers-by go about their business can be quite a fun activity as well. In any case, Mitsu Park and its surrounding area are great places to swing by whenever you feel like doing something exciting outdoors!
3) Mittera Kaikan
This is a multi-tenant building that's best known as Osaka foremost alternate culture gathering place, with a full deck of bars with deeply individualistic designs. The building also contains salons, rock bars, secondhand shops, and others. If you've had your fill of a normal night out, then come here for some alternate entertainment that you've likely never experienced before! On the second floor and basement first level, shop doors are tightly shut and you can't tell what the insides are like from walking along the corridor like you would a normal shopping mall. Nevertheless, once you set foot into a shop - any shop! - you'll be warmly welcomed by the shop owner with a charming smile for sure!

The shops facing the road on the first floor, however, are openly viewable even from the outside, which lowers the mental barriers to entry by a lot! Try those shops first if you need to build up some courage and momentum for the others!
三ッ寺会館

Address

NIPPO Mittera Kaikan 2 Chome-9-5 Nishishinnsaibashi, Chuo-ku, Osaka, 542-0086

Hours: Depends on shop
Closed: Depends on shop
Spend a day in Amerikamura and see for yourself how enjoyable it is!
Amerikamura is very near Shinsaibashi Station on the Osaka Metro and within walking distance from Dōtonbori Bridge and Shinsaibashisuji Shopping Street. This bustling area is full of youngsters and tourists, making it a busy hive of activities every single day. Besides the places we've listed in this guide, your own exploration of the area may yield cafes, general stores, vintage stores, and other small shops that have much to offer as well. It's very easy to spend a productive day in Amerikamura, whether you're simply doing some window shopping or looking for the most unique Japanese souvenirs to bring home.

What's more, just walking around the area puts you into close contact with the latest trends and fashion of Osaka, and that's a unique experience you won't likely be getting anywhere else!

Text by WestPlan. English translation by: Huimin Pan.
*This information is from the time of this article's publication.
*Prices and options mentioned are subject to change.
*Unless stated otherwise, all prices include tax.