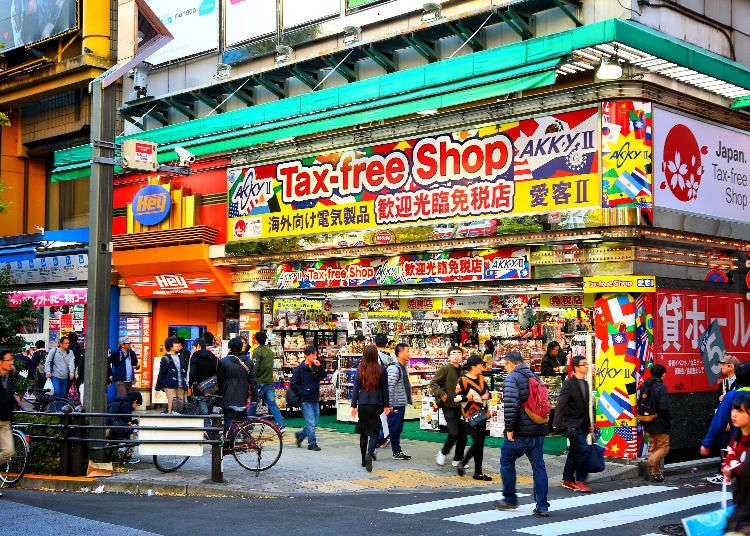 A sign or sticker saying "Tax-Free" is a fairly common sight when sightseeing in Tokyo and other cities in Japan. As Japan is experiencing an influx of tourists and visitors from abroad, more and more shops and malls offering tax-free shopping are appearing all over the country and especially in Tokyo.

Let's look at what "tax-free" means, how Tax-Free shopping in Japan works, and what you need to know for your Japan shopping spree!
How much is consumption tax in Japan?
The consumption tax in Japan has been 10% since October 1, 2019.
Certain products are taxed at a reduced rate of 8%, including takeout meals and drinks, drinks from a hotel refrigerator/minibar, and fruit picked and taken home.

Generally, drinks and meals consumed at a restaurant or food court, as well as hotel room service, are subject to the 10% consumption tax.
Can I buy tax-free at any store in Japan? What is a duty-free store?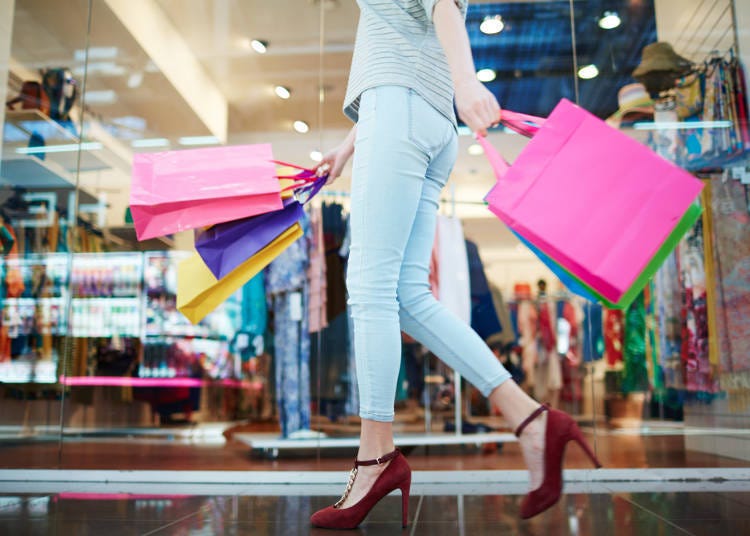 Only shops that have the necessary permission offer a tax-free shopping experience. These include shops in and around airports, large retailers, and department stores.

Recently, many shopping streets and malls have set up tax-free counters, and many smaller shops have started offering the service. To know whether a shop is tax-free, look for this symbol: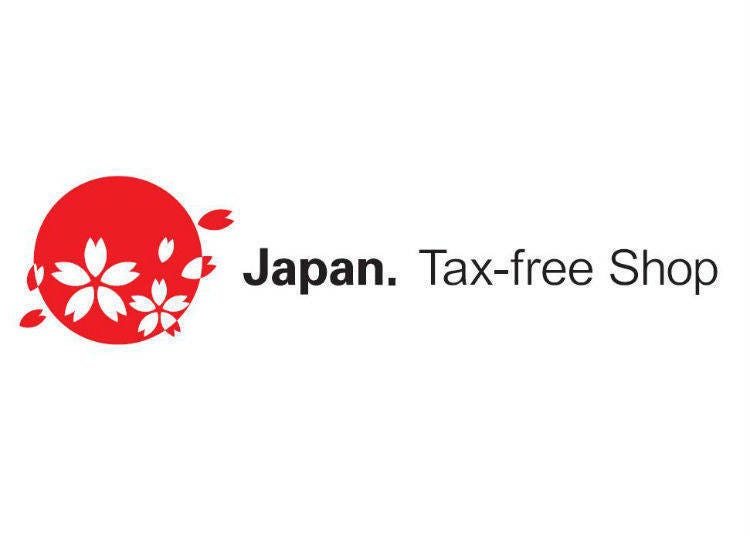 Tax-Free shopping in Japan rules: Who can NOT shop tax-free?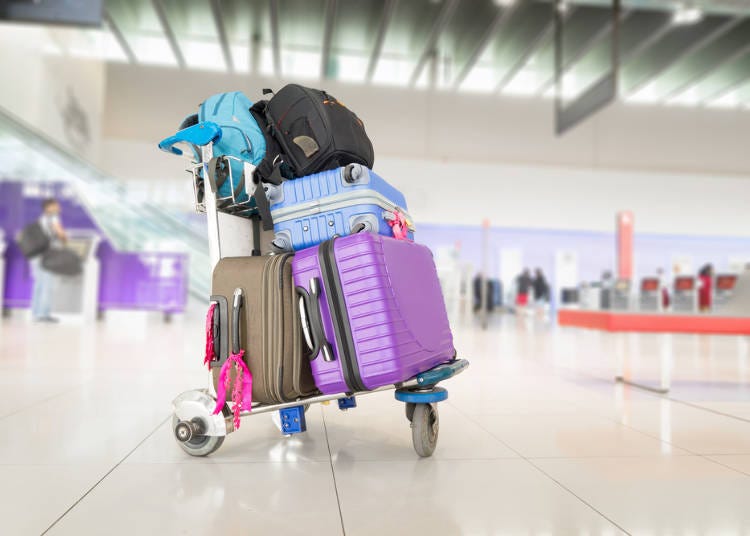 1. When the date of entering Japan is not stamped into the passport (e.g. when using an automated gate at the airport)
2. People who stay in Japan longer than 6 months
3. People who work in Japan
4. When certain conditions, such as maximum purchase price, are not fulfilled

The tax exemption system mainly targets international tourists to Japan and applies to everyone who comes to Japan as a non-resident and stays less than 6 months. Even Japanese people who live abroad and visit Japan for less than 6 months can enjoy tax-free shopping!
How how does Tax-Free work in Japan? What is the minimum purchase amount to shop Tax-Free?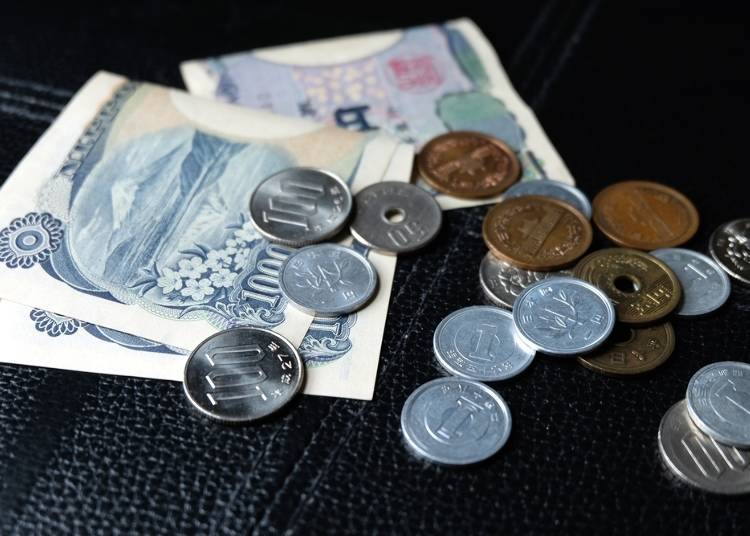 In general, the total amount of wares bought in the same shop on the same day must be 5,000 yen or more, tax excluded. At shopping malls and department stores that have a tax-free desk, the sum spent at all shops of the location is added up for tax exemption.

However, certain things (introduced later on) cannot be bought tax-free, even if all the conditions are met.
What products can be bought Tax-Free in Japan?
The tax exemption applies when the purchased goods are brought out of Japan and are meant for use or consumption by individuals, not to be sold or used for business purposes. Furthermore, they are divided into general goods and consumable goods.
Things to note about consumable goods
Consumable goods are wrapped in special disposable bags or boxes that are sealed upon purchase. They should not be opened before leaving Japan.

However, keep in mind that you cannot combine general goods and consumables when shopping tax-free – the sum of each category much reach at least 5,000 yen in total.

However, if items are packaged so that they will not be consumed in Japan in the same way as consumable goods, they can be combined with consumables under the same requirements.
The procedure: How Tax-Free shopping in Japan works (and how to get a Japan sales tax refund)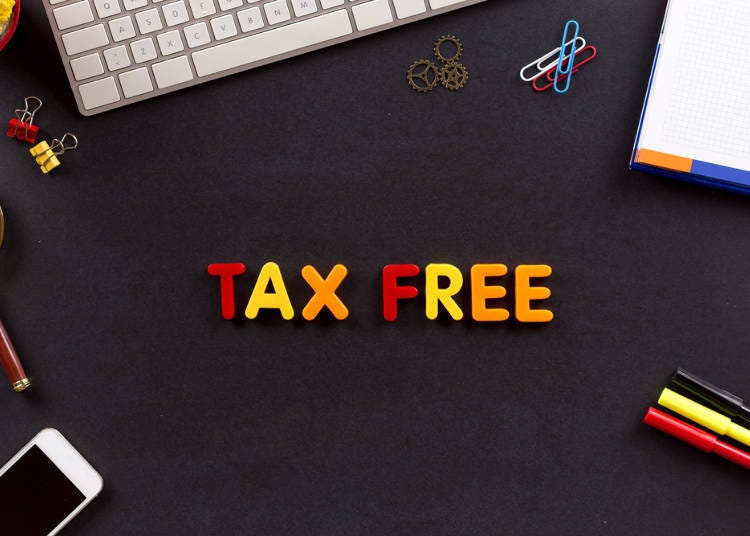 Depending on the store, there are two different types of tax exemption procedures.

(A) Present your passport at the time of your purchase and pay for your wares with the tax already being deducted.

(B) Pay the full price, including the consumption tax, and head to the tax-free counter on the same day of your purchase. There, present your passport, your purchase, and the receipt to get a Japan sales tax refund.
At the Store:
1) Show your passport.
Copies are not accepted. Confirm your photo, name, nationality, birth date, status of residence, date of entering Japan, and passport number.

2) Explanation of necessary items from the store of purchase
From October 2021, the procedure using the "Duty-Free Record of Purchase" describing the purchased item information has been abolished. The purchasing store creates the purchase record information data and sends it to the National Tax Agency (NTA). Also, the purchaser's pledge no longer needs signing. Instead, get an explanation of the necessary items from the store where you made your tax-free purchases.

3) Payment
In the case of (A), you will pay the sum with the consumption tax already taken out.
In the case of (B), you will pay the full sum, including the consumption tax.
If the sum should fall below the minimum amount for a Japan sales tax refund because of returns etc., the tax exemption is canceled for all items, and you will be required to pay the full amount.
At the Airport:
4) Present your passport
Show your passport to the customs officer, as the purchase record information will be sent electronically. Generally, duty-free products must be carried by the person who purchased them when leaving Japan.

5) Departure
After the customs procedure, the tax exemption process is completed.
Tax-Free shopping in Japan: List of major Tax-Free shops
The number of shops offering tax-free shopping to international visitors has increased dramatically over the last few years.

From malls to convenience stores, all sorts of locations offer tax-free shopping and various other deals and services for international visitors.

Some of the most prominent brands and shops are as follows:
Uniqlo (Clothing)

Over 760 stores throughout Japan offer tax-free shopping.
Yamada Denki (Electronics)

While tax-free shoppers cannot use store points, various discounts are available via coupons and credit cards.
Don Quijote (Lifestyle)

Tax-free shopping is possible at over 310 stores all over Japan. A member's card with special bonuses called the "Welcome! Discount Passport" is given to international tourists.
Matsumoto Kiyoshi (Japanese Pharmacy)

Over 220 shops throughout Japan offer tax-free shopping.
Aeon (Retail)

Over 630 shops throughout Japan offer tax-free shopping. Aeon Mall specialty shops are not part of the program (varies by store). Coupons and other deals can be found on the official home page, etc.
Outlet Malls in Japan

Shisui Premium Outlets
Okinawa Outlet Mall Ashibinaa
Department Stores & Others

Odakyu Department Store
Keio Department Store
Tobu Ikebukuro
Tokyu Plaza Ginza
Matsuya Ginza
Lumine Shinjuku (and more)
Others
Convenience Stores
*limited to certain stores
*present your passport to the cashier

7-Eleven
FamilyMart
Lawson
Q1
What is the difference between "duty-free" and "tax-free" in Japan? (And what does duty-free mean?)

A
There are two different kinds of tax exemption. "Tax-free" means that the Japanese consumption tax will not apply to your purchase, while "duty-free" refers to an exemption from the government tax. "Duty-Free" shops are most commonly found at airports, and T Galleria in Naha, Okinawa, is famous for this service as well.

Q2
What do you need to do or know at the time of purchase and the customs procedure?

A
When buying goods, it is important to present your own passport – this cannot be a copy. The passport, the purchased goods, and the receipt are all necessary when seeing customs before leaving Japan.

Q3
I left my passport at the hotel! Can I do the tax-free procedure on the next day?

A
Sadly, no. The law requires the tax-free procedure to take place on the day the goods are purchased. Also, you have to do it at the same store you shopped at. (Also, be aware that, under Japanese law, all non-residents of Japan must carry their passports with them.)

Q4
Can I ask someone else to do the tax-free process for me?

A
Only the person who purchases the wares can complete the procedure.

Q5
When I entered Japan, I used an automatic gate, so I had no stamp on my passport. Can I still do tax-free shopping?

A
Sadly, it is not possible to shop tax-free without an entry stamp. What you can do, however, is to ask an attendant for a stamp after using the automated gate at the airport!

Q6
Can I use my purchases while still in Japan after going through the tax exemption process?

A
You can, as long as it is general goods. On the other hand, consumables will lose their tax-free status once the special seal is opened.

Q7
Do I have to carry my tax-free wares as hand luggage, or can they go in a regular suitcase? 

A
The customs counter is located behind the security check and baggage inspection at the airport. Therefore, your tax-free purchases should generally be stored in your hand luggage so that you can present them at the customs counter.

Q8
Cosmetics, alcohol, and so on aren't allowed as hand luggage, so what do I do with those goods?

A
Indeed, there is a 100 ml limit for all liquids in hand luggage. Everything that exceeds 100 ml can be put in your suitcase; simply notify the officials at the customs counter.

Q9
Can I give the tax-free goods that I bought to others so that they take them back home?

A
Tax-free goods may not be transferred to third parties, so only you yourself are allowed to take the goods out of Japan.

* Information in this article is as of April 2022.
Related Shopping Articles
*This information is from the time of this article's publication.
*Prices and options mentioned are subject to change.
*Unless stated otherwise, all prices include tax.