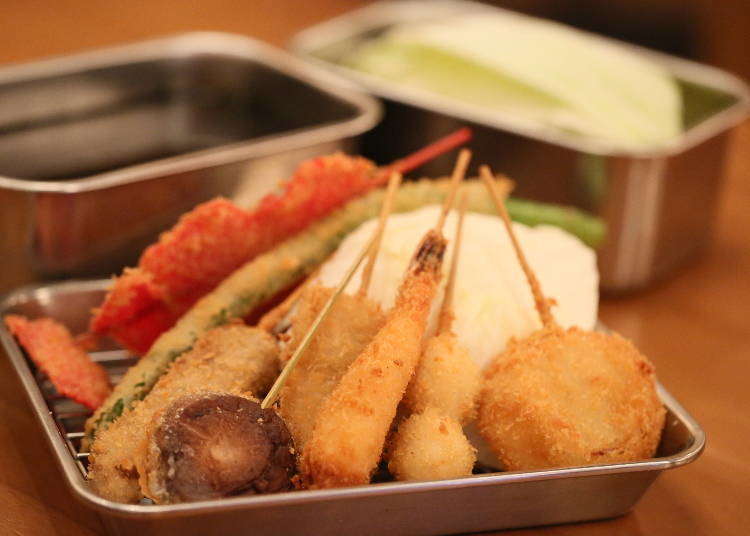 Osaka has prospered commercially as a hub for rice and other specialty products from way back. In particular, high-quality kelp and dried bonito were brought in, leading to the creation of cuisine centered around broth made from those ingredients. The ability to obtain so many delicious and unusual foods led to the spread of a rich food culture, and Osaka came to be known as a town for foodies and indulgence. In Osaka, dishes made using wheat are commonly called "Konamon". These dishes, okonomiyaki, takoyaki, and udon, in particular, are a taste of home for Osaka dwellers and are popular around Japan and with foreigners as well.
"Okonomiyaki", the Soul Food of the Osakan People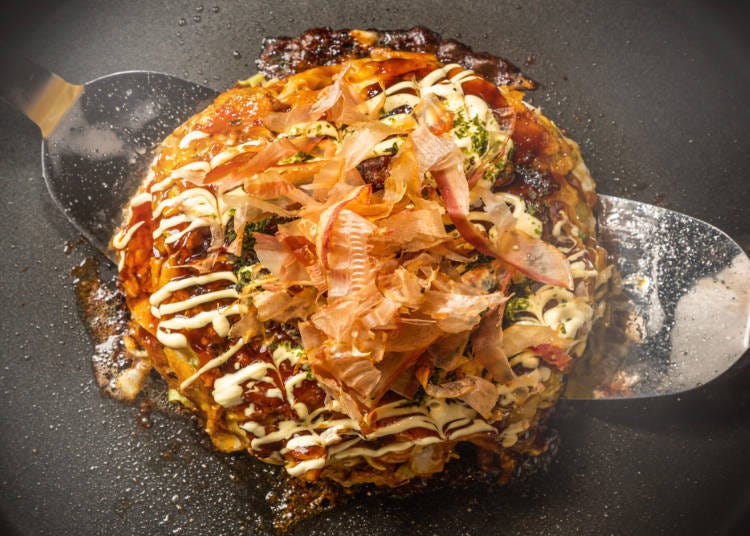 Okonomiyaki is a common home-cooked dish in Osaka. However, citizens of Osaka also acknowledge the deliciousness of restaurant-cooked okonomiyaki and often eat it when dining out. Okonomiyaki is made by adding eggs and wheat flour to broth, then adding in thinly sliced cabbage, onions, and small of tempura (tenkasu) to which additional ingredients are added and then grilled on an iron hot plate. Though pork is a traditional ingredient, one of the selling points of okonomiyaki is the freedom to create original combinations and variations with other ingredients such as adding seafood or topping it off with cheese. Once it's cooked, you top it with sweet sauce, bonito flakes, dried seaweed flakes, and if you like, mayonnaise. Eating okonomiyaki as a side dish alongside rice is unique to Osaka. There are okonomiyaki restaurants in every area of Osaka, from the big downtown districts to local shopping quarters, so you'll want to try out many different shops' takes on Osaka's soul food.
Taste Various Types of "Takoyaki" at Stalls and Shops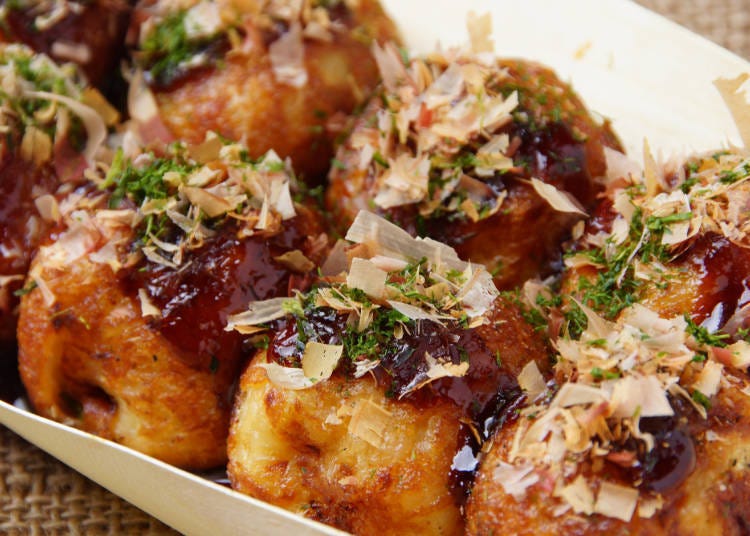 Takoyaki rivals okonomiyaki as the food most representative of Osaka's "Konamon" flour-based dishes. There are many privately owned stalls and chain restaurants around the city, and with its reasonably cheap price, it's eaten as a snack or light meal. When you use the toothpick to grab a bite of takoyaki, covered with sauce, seaweed flakes, and bonito flakes, you'll taste the crisp outside and melty inside, along with the unique chewiness and rich flavor of octopus. It's said that almost every household in Osaka has a takoyaki maker, and even children learn how flip the balls of takoyaki while they cook. Takoyaki can be both a snack and a main dish. It wouldn't be an exaggeration to say that, along with okonomiyaki, it's what makes up the bodies of the Osakans.
Exquisite Freshly Fried "Kushi-katsu"!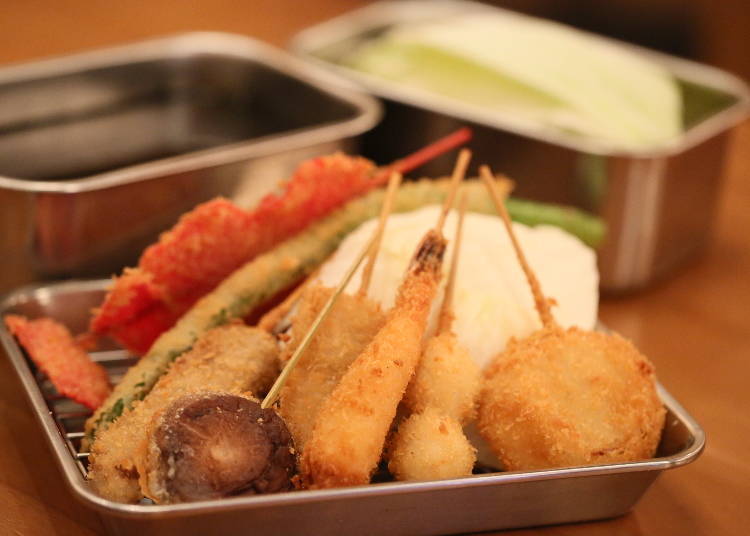 Kushi-katsu, bite-sized meat and vegetables skewered and deep-fried, was popularized in the Shinsekai neighborhood, a downtown hub for laborers in the past. It was the "fast food" of the time—cheap, quick, and tasty. Frying ingredients in a fine layer of breadcrumbs until crisp is the Osakan style of cooking this dish, and it's an exquisite experience to have the kushi-katsu fried piping hot right before your very eyes. Most restaurants are casual, with only standing or seated counters, and the sauce inside the stainless steel platters set out are for communal use. You eat kushi-katsu by dipping it firmly into this sauce, but double-dipping once you've already taken a bite is a no-go, so make sure you get a lot of sauce on your first dip. Many restaurants also provide sliced cabbage to snack on free of charge, to help prevent stomachaches from too much greasy food. When you want extra sauce on a kushi-katsu you've already taken a bite of, you can also use this cabbage to scoop the sauce up.
Sweet, Fried Tofu and Broth are the Key Ingredients of "Kitsune Udon"
In Osaka, udon without any added ingredients is called "su-udon", or plain udon. When a sheet of fried tofu stewed in sweet sauce is added, it is then called "kitsune udon". The dish was invented at an Osakan udon shop in the Meiji era and instantly spread in popularity. Broth is the key to Osaka's cuisine and Kitsune udon uses plenty of it, made from bonito fish and kelp. Osaka's udon is also characterized by its soft noodles, which are so ubiquitously eaten they're even given to babies as baby food. As a fun fact, people over the age of 60 who grew up in Osaka sometimes called kitsune udon "ketsune udon" instead.
"Buta-man" - Pork Buns Filled with Juicy Meat
In Osaka, Chinese-style buns filled with pork are called "buta-man". Compared to buns in other regions, Osaka's buta-man are on the large side, and have juicy pork meat and onions inside a fluffy bread bun. It's most common to break the buns in half and dip the fillings in spicy mustard, but they are also delicious when drizzled with Worcestershire sauce and soy sauce. They are sold not only at specialty shops, but freshly steamed at supermarkets and convenience stores. They're also available refrigerated, frozen, and other various ways. Employees visiting Osaka on business trips can be often sighted buying buta-man inside train stations as gifts and souvenirs.
Colorful Ingredients Brighten Up a Box of "Hako-zushi"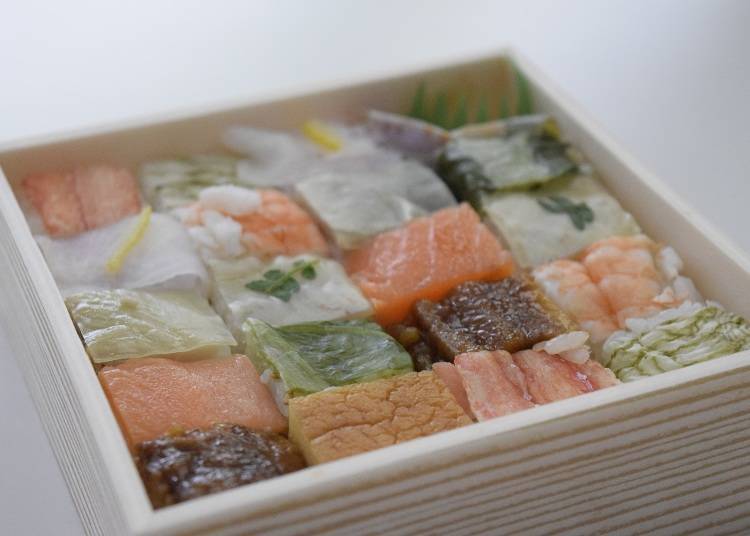 Hako-zushi, or box-sushi, is made with vinegared rice and varying ingredients like flavored conger eel, shrimp, small sea bream, and thick egg omelettes. It is then pressed into a wooden frame, giving it its alternate name "oshi-zushi", pressed-sushi. Unlike the traditional Edo nigiri sushi made with fresh fish and consumed immediately, hako-zushi retains its delicious flavor even when eaten at a later time. This sushi has been used as a food for guests or during celebrations since the Meiji era, its bright and colorful appearance representative of Osaka. You can even buy it at department stores, making it convenient to eat back at your hotel or on excursions and picnics.
The Addictingly Delicious Sour Taste of "Red Pickled Ginger Tempura"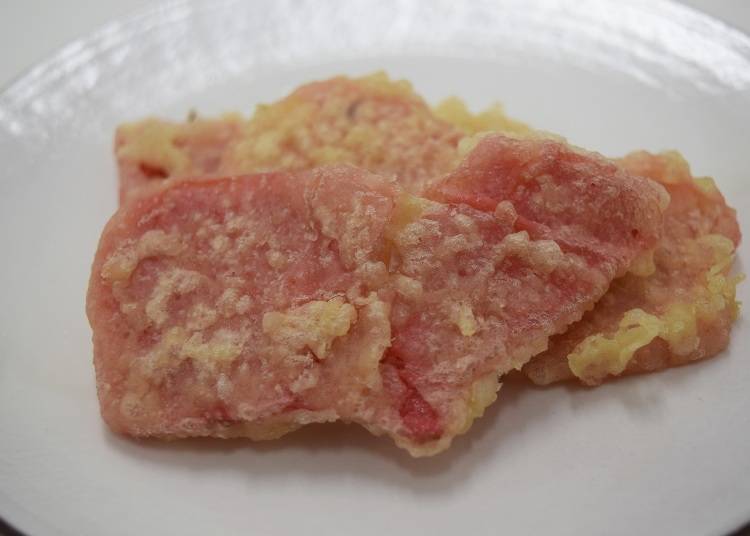 From okonomiyaki to takoyaki to yakisoba, in Osaka's food culture of flour-based dishes, red pickled ginger also plays a large role. Red pickled ginger is made from fresh, young ginger marinated in plum vinegar. On top of using it as a topping, part of Osaka's culture is deep-frying it in whole pieces as tempura. Loved by children and adults alike, this sour yet delicious snack can be eaten as-is, paired with alcohol, or topped with sauce and eaten along with rice. You can find red pickled ginger tempura in the deli section of supermarkets and at tempura shops, so be sure to give it a try.

Text by:WESTPLAN
*This information is from the time of this article's publication.
*Prices and options mentioned are subject to change.
*Unless stated otherwise, all prices include tax.