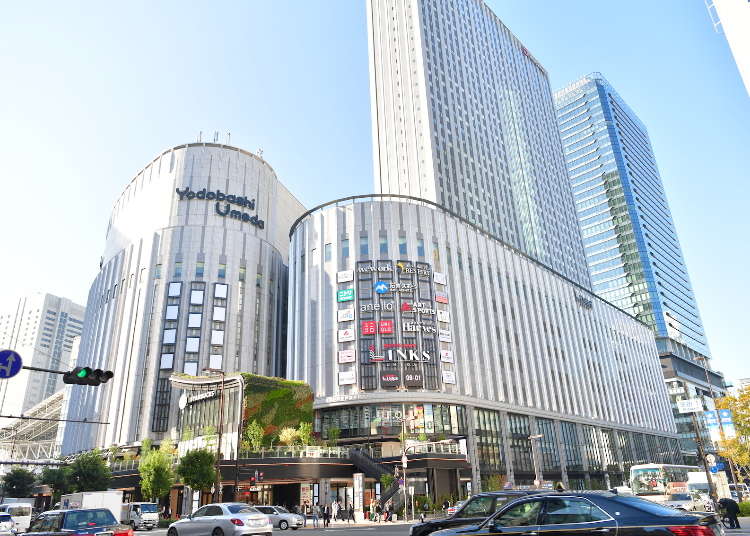 Be it computers, smartphones, cameras, or home electronics, Yodobashi Camera Multimedia Umeda in Umeda, Osaka, has it all. In November 2019, it was linked to the newly opened LINKS UMEDA, the largest shopping complex in the district.

From the basement to the eighth floor, over 200 shops offer everything from fashion and lifestyle to restaurants and other services. Be it office workers or families, locals or foreign tourists, this place has been a huge hit since it opened!

Let's explore in-depth the things that LINKS UMEDA has to offer! What shops are there? What kinds of restaurants and food are there? We'll be answering these questions and more!
What and where is LINKS UMEDA?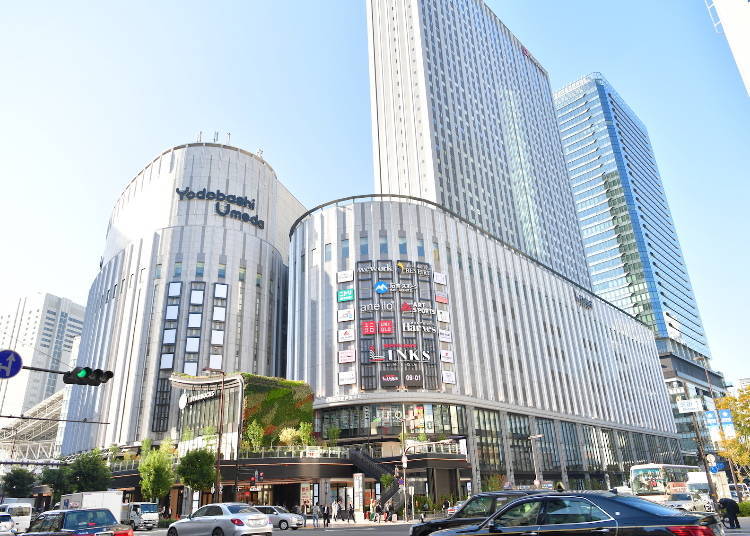 One perk of LINKS UMEDA is its ease of access; as it can be easily accessed from Osaka and Umeda stations, you can shop without worrying about buying more than you can carry.

A supermarket is available for your daily necessities, along with drug stores, dollar shops, and affordable high-quality boutiques, providing amusement for the whole family in just one building. There are also souvenir and other trinket shops, allowing you to have fun with small purchases too!

In the basement floor are over 20 food and drink shops gathered in the food street "Oishimono Yokocho", and grocers and snack shops lining "LINKS MARCHE Eat&Walk". It's an entire entertainment floor dedicated to food!

It is here that some of the best restaurants, fashion, and lifestyle shops of Umeda are gathered.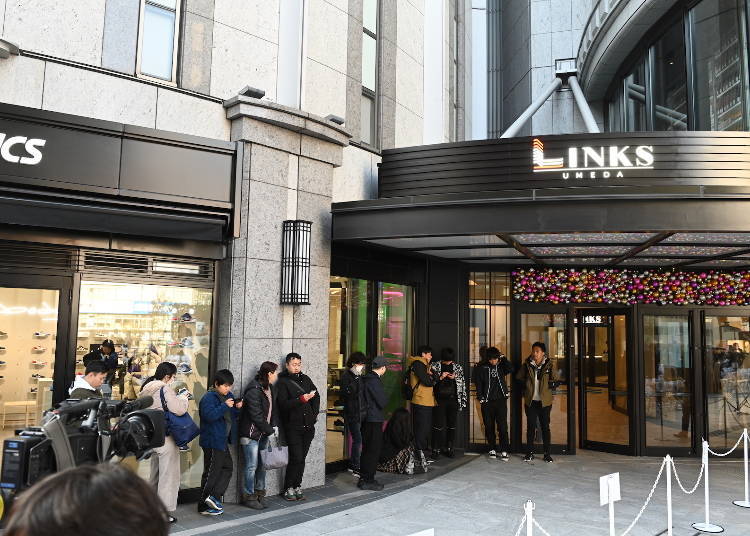 People lining up before grand opening
Floor plan
・Basement: Food entertainment floor (supermarket, food hall: "Oishimono Yokocho" and "LINKS MARCHE Eat&Walk")

・First floor: Grand floor, a bustling intersection and gathering point (Uniqlo, bus terminal, etc.)

・Second floor: Fashion, sports, and beauty products

・Third and fourth floors: BRAND NEW LIFE! Daily goods shopping floor (trinket and miscellaneous goods stores, sneaker store, etc.)

・Fifth floor: Kids-conscious and family floor (kids' fashion and amusement facilities)

・Sixth floor: General sporting and outdoors goods (sports, camping, outdoor apparel etc.)

・Seventh floor: Interior and home appliances, including interior design and home services (home appliances, interior design, etc.)

・Eighth floor: Innovation and restaurant floor, for both food and business options (restaurants, WeWork etc.)
Is LINKS UMEDA accessible from the airport or Shin-Osaka station?
As LINKS UMEDA is close to JR Osaka station, Hankyu-Hanshin Osaka-Umeda station, and Osaka Metro Umeda station, it is easily accessible from anywhere. If you were to exit from the north exit of Osaka Metro Umeda station and turn left, you'll immediately be greeted with the entrance to LINKS UMEDA!

As the closest stations to it, Osaka station and Umeda station, are terminal stations, access to and from Kansai International Airport and Itami Airport via Shin-Osaka is a breeze.

From Kansai International Airport to LINKS UMEDA
A direct limousine bus to LINKS UMEDA is available.

From Itami Airport to LINKS UMEDA
Take the limousine bus to Shin-Hankyu Hotel (approximately 30 to 40 minutes, 650 yen for adults, 330 yen for children). Upon alighting, cross the intersection at "Shibata 1", and LINKS UMEDA is right in front.

From Shin-Osaka station to LINKS UMEDA
- Take the Osaka Metro from Shin-Osaka station to Umeda station (approximately 12 minutes, 230 yen). Exit from the north exit and turn left, walk straight to the entrance on the basement floor.
- Take the JR line from Shin-Osaka station to Osaka station (approximately 9 minutes, 160 yen). Exit from the Midosuji north exit, and turn left, and take the escalator to the B1 floor. Walk all the way to the end and turn left, and take exit 5 to reach the entrance on the basement floor.
With easy access to a bus terminal, it's convenient to go to Tokyo, Yokohama, and Sendai too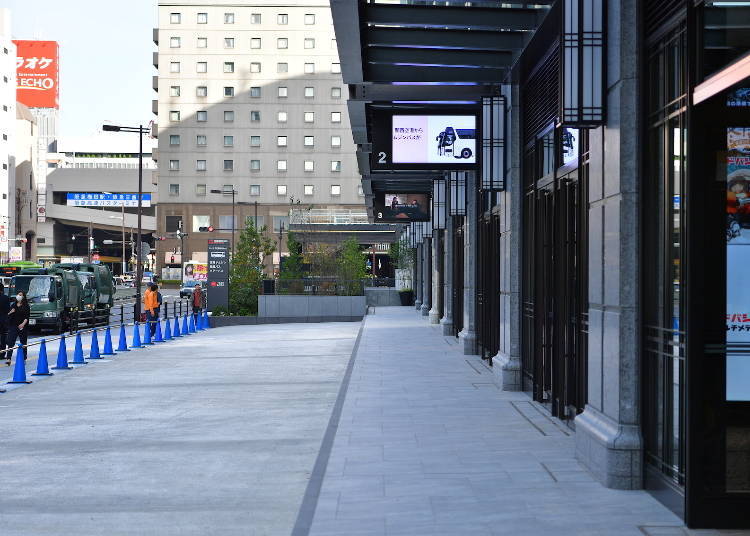 Right outside the first floor of LINKS UMEDA is the Yodobashi Umeda Tower bus terminal, where the limousine buses from Kansai International Airport arrive in. The terminal also serves highway buses coming to and from Tokyo, Shinjuku, Yokohama and Sendai. There are three boarding berths in total, and with all of them built side-by-side, it's easy to find your way round the terminal too!

Some highway buses that leave from the terminal
- Towards Yokohama and Shinjuku: Departs at 11:30 p.m., arrives at 7:05 a.m. in Yokohama, and 7:55 a.m. in Shinjuku (starting from 1,700 yen)
- Towards Yokohama and Shinjuku (ladies only bus): Departs at 11:15 p.m., arrives at 6:40 a.m. in Yokohama, and 7:50 a.m. in Shinjuku (starting from 1,780 yen)
- Towards Shinjuku (comes with attached toilet): Departs at 11:00 a.m., arrives in Shinjuku at 7:55 p.m. (starting from 4,400 yen)
- Towards Koriyama and Sendai (triple seating and attached toilet): Departs at 8:00 p.m., arrives at 7:20 a.m. in Koriyama, and 9:50 a.m. in Sendai (starting from 8,800 yen)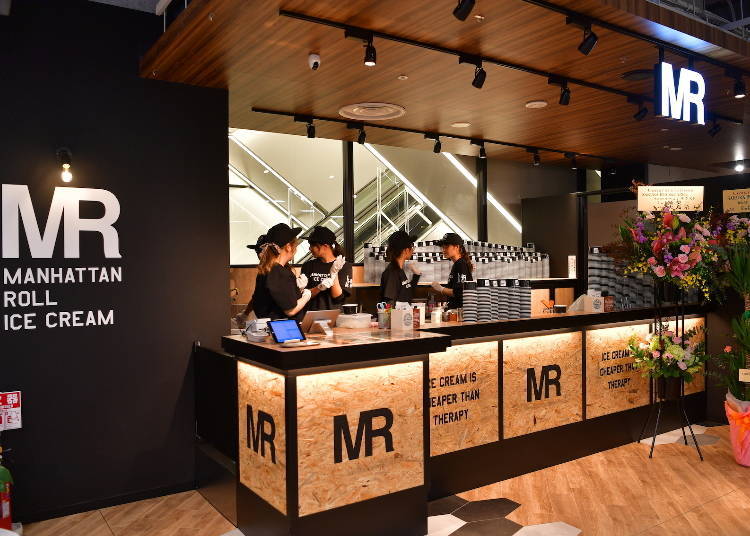 Near the bus terminal is the bus information counter, "Sakura Bus Square", where you can check bus timings and schedules. You can make same day reservations for buses there too.

In front of the counter is a 24-hour waiting area, so you can be rest-assured even if you have a bus trip late at night. There are 12 counter seats with charging points, and you can charge your mobile devices with ease too.

Next to the waiting area is also Manhattan Roll Ice Cream (opens from 10:00 a.m. to 9:00 p.m.), the first one to open in Osaka, so enjoy some ice cream while waiting for your next bus!
Have a great time shopping at LINKS UMEDA
There are about 200 shops in LINKS Umeda, and with many shops opening in Osaka for the first time there, or shops with extra-large floor spaces, it's a gathering of the finest in retail.
Uniqlo: Shopping at a branch with expanded floor space (first floor)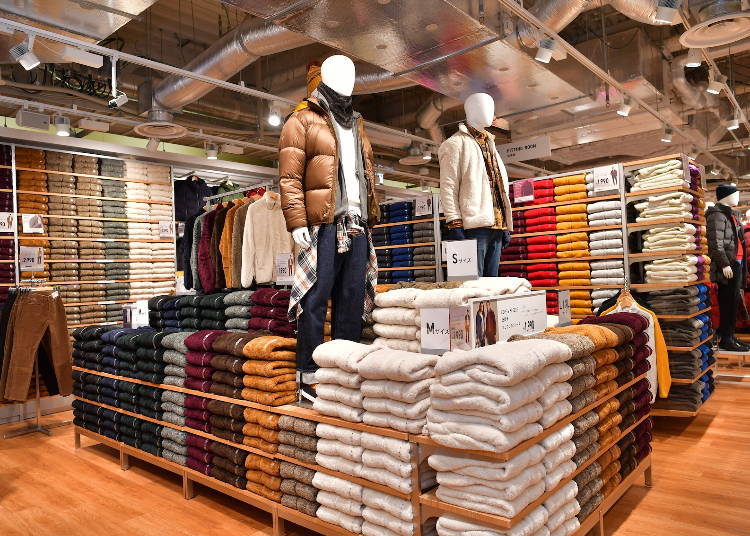 On the first floor is a Uniqlo with approximately 2,300 square meters of floor space, allowing you to pick your favorite clothes at leisure from this extra-huge store. Carrying everything from men's to women's and children's collections, there are pieces that are available in only the largest of branches. You can likely even find items that can't be found in other branches too!
AINZ & TULPE: A marriage of cosmetics and drug store goods (second floor)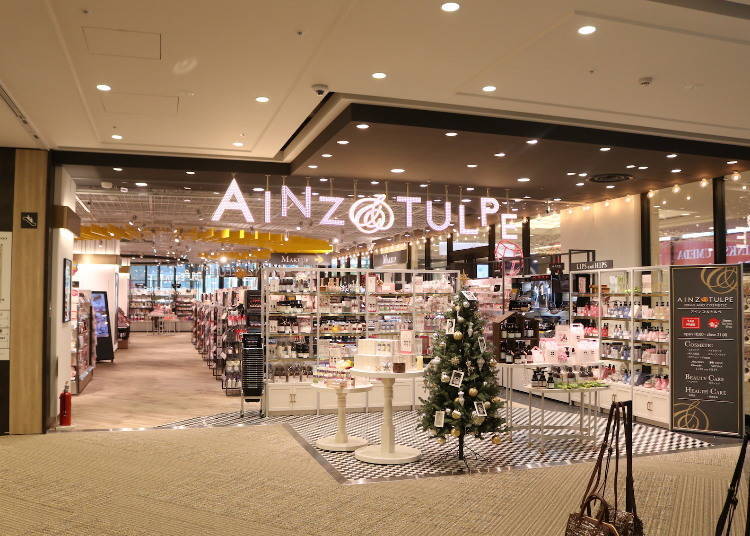 Boasting Osaka's flagship store, the complete beauty and cosmetics shop AINZ & TULPE can be found on the second floor. With the concept of "Enjoy 1 hour with up" at its heart, aiming to let ladies enjoy the shop in an hour, the shop carries everything from health goods and supplements to made-in-Japan cosmetics, allowing you to care for and beautify yourself from both the inside and outside. There are many brand-new products available too, following only the latest in Japan's beauty trends. With its wide floorspace and clean concept, the store's interior is pleasant to browse as well.
U.F.O by Francfranc: A miscellaneous goods and trinket store with a space station theme (third floor)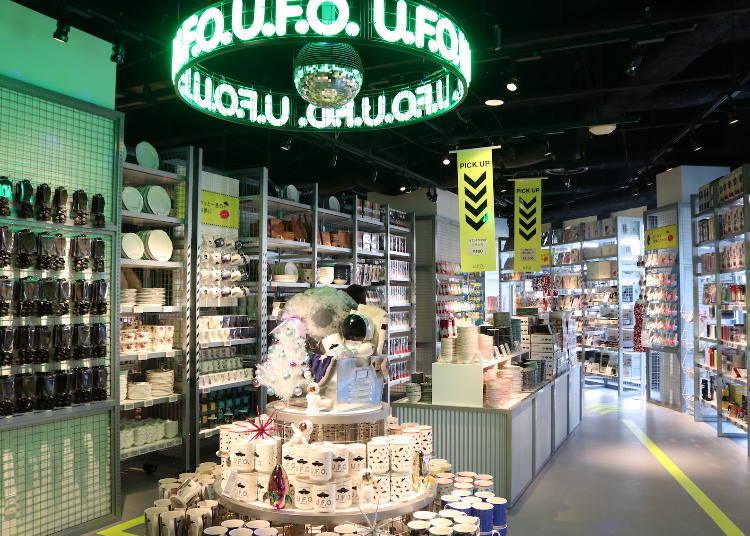 Opening for the first time in the Kansai area is U.F.O by Francfranc on the third floor, a miscellaneous goods and trinket store. The shop is designed like a space station, with neon signs and cyber-themed spaces to add to your shopping experience. With lifestyle goods and souvenirs as its main offering, the shop also sells baby and children's goods, along with other pet products.
HOT BISCUITS: The first baby and kids wear shop by Miki House in Japan! (fifth floor)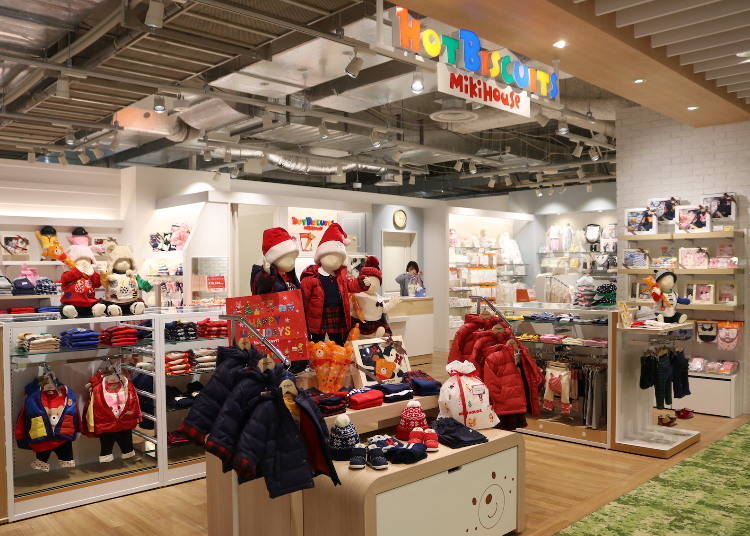 On the fifth floor is HOT BISCUITS, a popular baby and kids' apparel store by Miki House. The first one to open in Japan, the brand focuses on making good quality products with great design, so that children and parents can both enjoy their products with peace of mind.
The largest collection of sports and outdoor goods: A gathering of only the most popular brands! (sixth floor)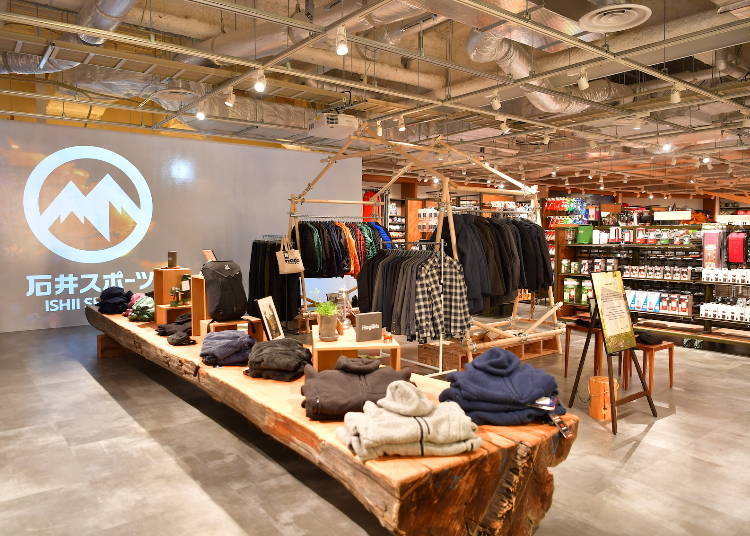 On the sixth floor is the largest collection of outdoor, camping and sports goods in the area, fronted by Ishii Sports, and brands featured include The North Face, Mammut, A&F, Burton, Millet, and Arc'teryx, in a shop-in-shop concept.
Check out Japanese gourmet in the basement!
In the basement floor is the food entertainment floor, which has quickly become a new landmark in Umeda. From the supermarket and souvenir shops and sushi restaurants of "LINKS MARCHE Eat&Walk" to the eateries with a bustling nightlife in "Oishimono Yokocho", the floor is split into two main areas.
3 popular shops in "Oishimono Yokocho"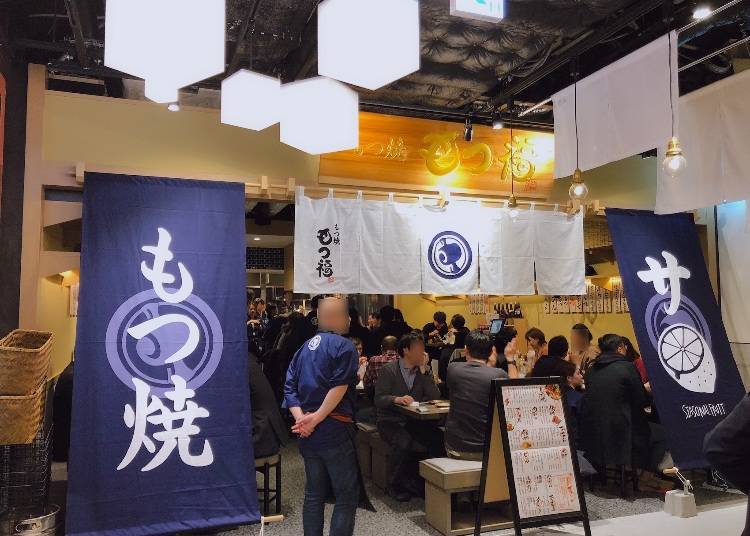 Motsu-yaki Motsu-Fuku
Amidst the traditional Japanese eateries and izakayas of "Oishimono Yokocho", here are three of the most popular.

The first to open in the Kansai region, "Motsu-yaki Motsu-Fuku" is a shop specializing in motsu-yaki, or grilled large intestines. From freshly-made dishes of pig intestine to other side dishes, enjoy your alcohol with a variety of foods and snacks!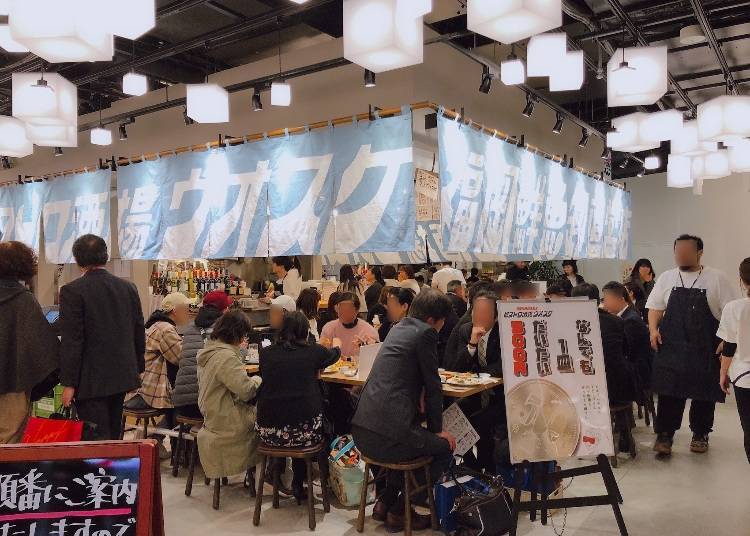 BISTORO UOSUKE
Hailing from Fukuoka, BISTORO UOSUKE is a popular shop serving fresh fish and seafood dishes. With all dishes costing around 500 yen, you can delight in anything from carpaccio to ajillo for reasonable prices.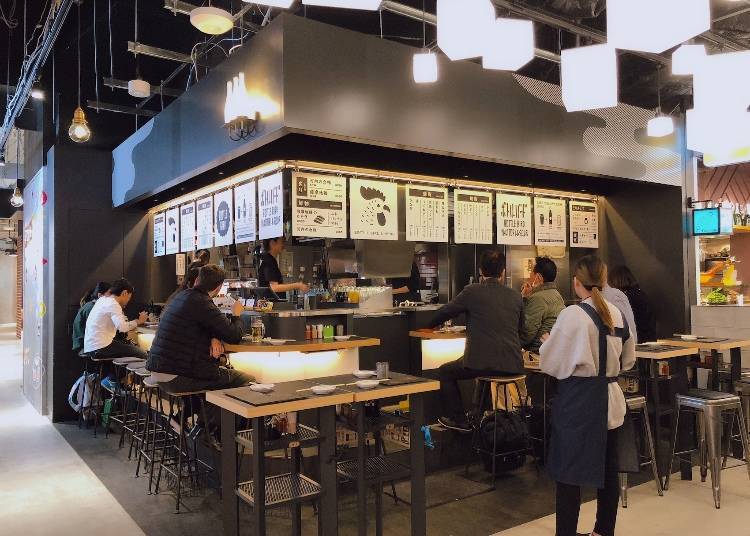 Bottlebird
Bottlebird is a store that specializes in charcoal grilled chicken. Be sure to try out their famous sour cocktails, with a helping of their specially-made grilled chicken!
2 shops in LINKS MARCHE Eat&Walk with the best souvenirs
From LINKS MARCHE Eat&Walk, we'll be introducing two stores with the best souvenirs on sale.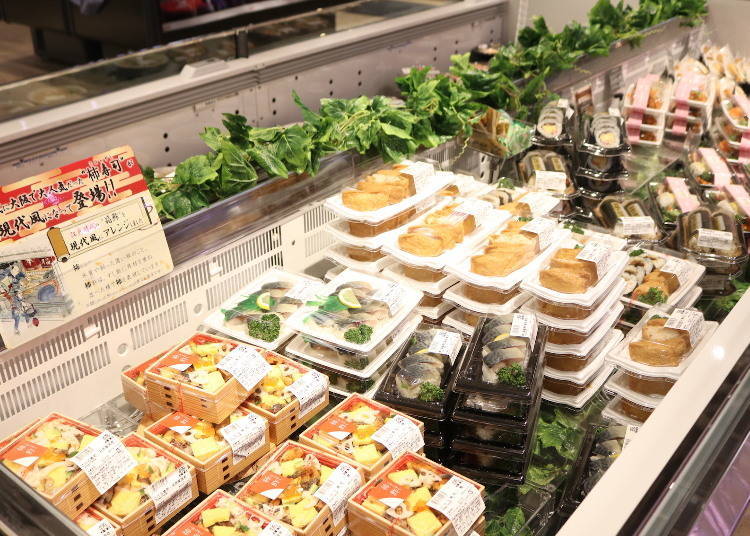 The cooked food section of the supermarket Harves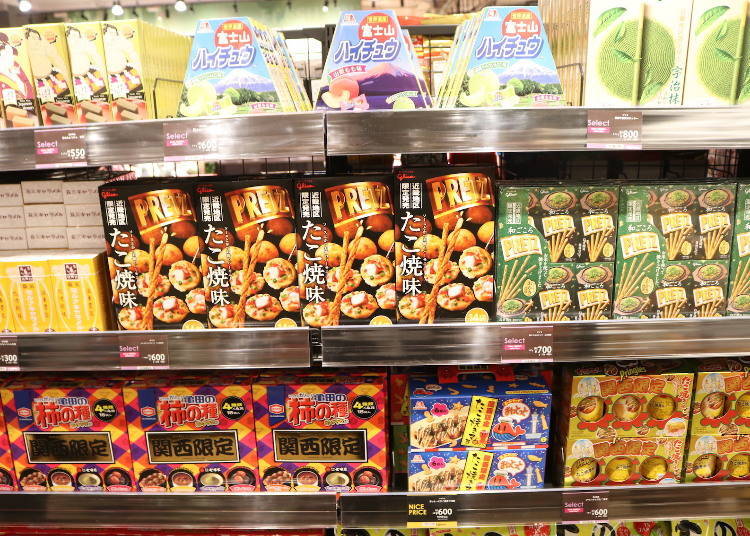 Souvenirs from Harves
The supermarket Harves features the largest selection of bentos and cooked foods for sale in the area, and sells everything from light snacks and lunches to heavy and filling dinners. There are snacks and sweets limited to Osaka for sale too, making it the perfect place to buy souvenirs.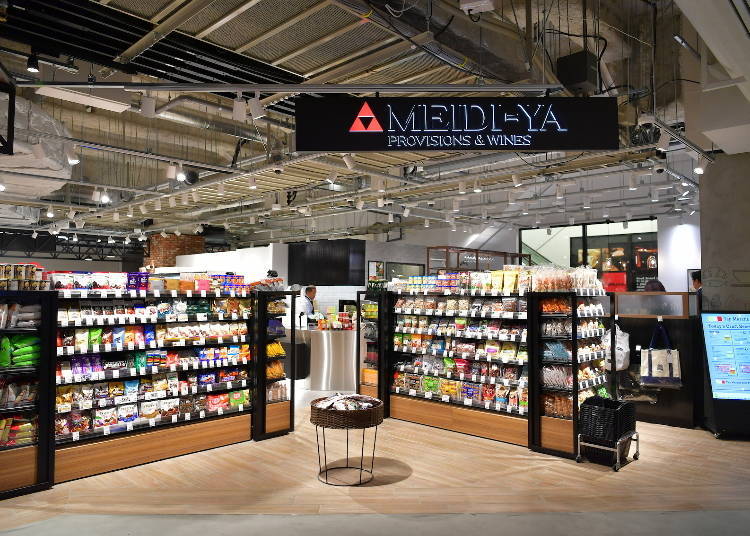 Meidi-ya
From jams and canned foods to wines and cheeses, Meidi-ya sells foods and other items made in both Japan and abroad. Featuring an eat-in corner, you can try out your snacks and wines within the store too.
Satisfy yourself with shopping and dining at LINKS UMEDA!
And that is our recommended lineup of shops. Tax-free services for foreign visitors and Japanese visitors living overseas are available too, for purchases above 5,000 yen before tax.

Of course, the entire mall is outfitted with free Wi-Fi as well. With convenient public transport access and convenient and all-rounded shopping and dining options, do experience LINKS UMEDA for yourself!
LINKS UMEDA

Address

1-1 Ofukacho, Kita-ku, Osaka, 530-0011

Hours:
B2F-5F: Yodobashi Camera (9:30 a.m. to 10:00 p.m.)
B1F: LINKS MARCHE Eat&Walk (9:30 a.m. to 8:00p.m.), Oishimono Yokocho (11:00 a.m. to 12:00 a.m., last order at 11:30 p.m.)
1F-7F: 10:00 a.m. to 9:00 p.m.
8F: 11:00 a.m. to 11:00 p.m., last order at 10:30 p.m.
2F Starbucks (in front of the Lausanne Terrace): 7:00 a.m. to 11:00 p.m.
*Some shops may differ from the above opening hours
Open year round
Text by: Westplan
*This information is from the time of this article's publication.
*Prices and options mentioned are subject to change.
*Unless stated otherwise, all prices include tax.
Limited time offer: 10% discount coupons available now!