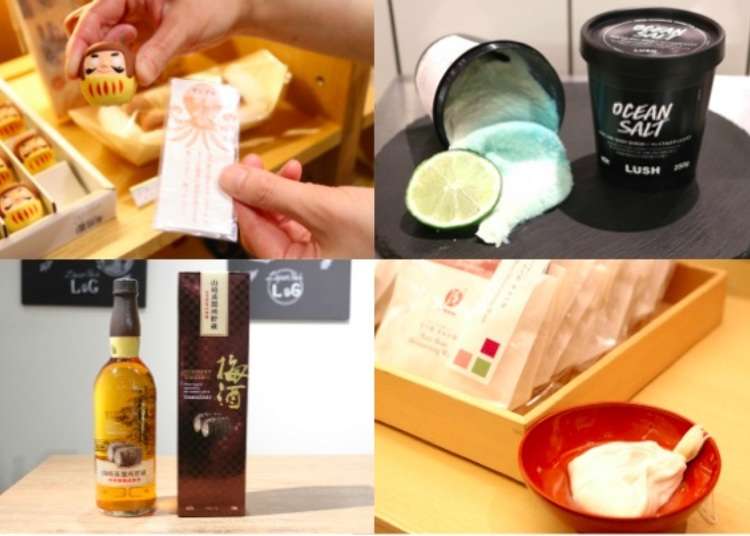 Namba Parks is a shopping complex in Namba, Osaka that offers a huge variety of products, from fashion goods and cosmetics to food and general merchandise.

Conveniently located near Nankai Electric Railway Namba Station and the Osaka Metro station of the same name, it's easy to drop in at the beginning or end of your trip to buy souvenirs.

Here are 12 carefully selected items available at Namba Parks.
What kind of facility is Namba Parks?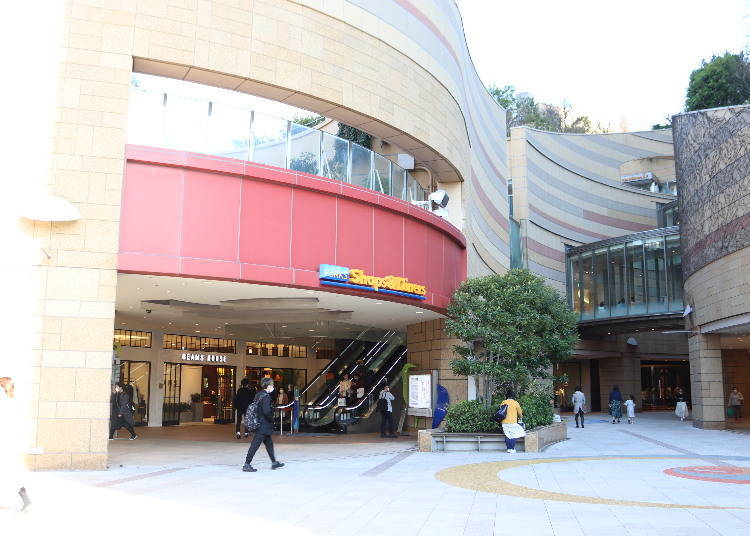 When looking for places to shop in Namba, the Namba Parks should be at the top of your list. Housing some 250 fashionable shops dedicated to clothing, interior décor, cosmetics, food, and other miscellaneous goods and directly connected to Namba Station (Nankai Railway), it also has direct access to Kansai International Airport.

It attracts many international customers with tax-free shopping and e-pay support (Alipay, WeChat Pay, etc.). In addition to shopping and dining, the rooftop Parks Garden on the 2nd through 9th floors is an enjoyable place for a stroll.
Top 12 souvenirs you can buy at Namba Parks
Here are twelve great souvenirs available at four of Namba Parks' tenant stores, sure to make your Osaka visit even more memorable. They're all attractive, so even if you're planning to shop for friends and family, you might want to pick up something for yourself, too!
■A hearty product line at Lush Osaka (3F)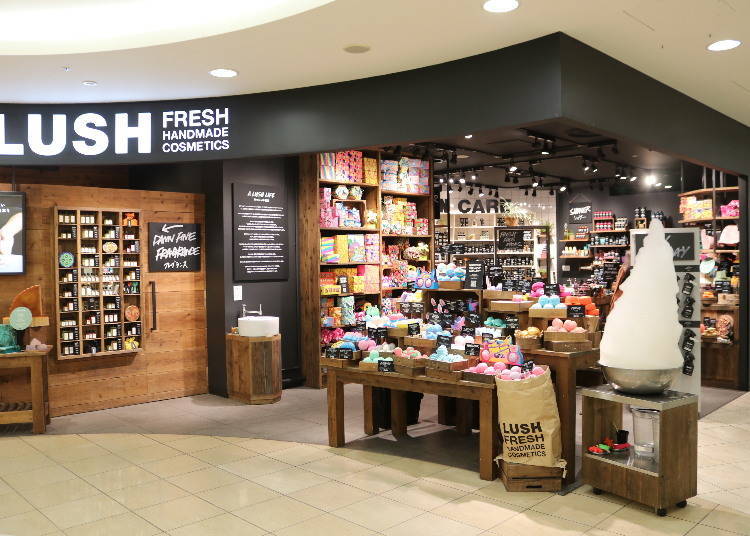 The Lush cosmetics brand focuses on fresh handmade skin and hair care products and bath items made using natural ingredients like honey, herbs, and fruits.
1. " Birth of Venus Ocean Salt" face & body scrub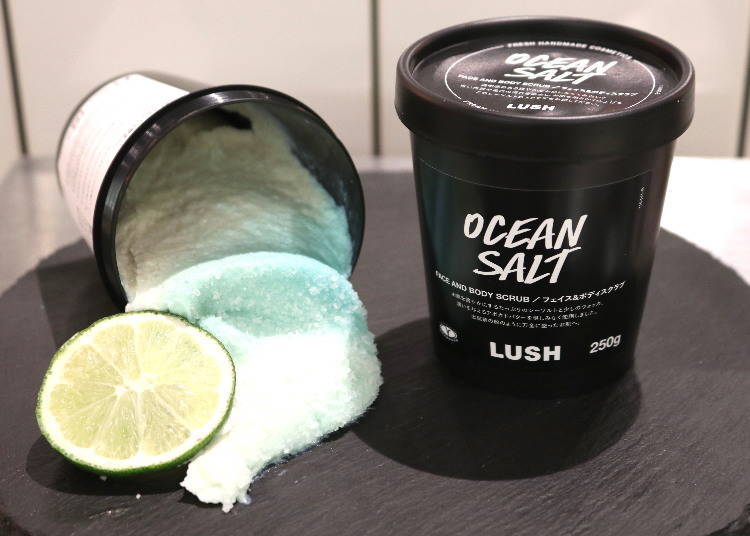 This scrub can be used on the face and body. After washing, massage your skin with a generous amount, rinse, and wash again to feel refreshed by this lime, grapefruit and vodka-soaked sea salt! During use, you'll be engulfed in the healing scent of the sea. (120g 1,790 yen; 250g 3,310 yen, including tax)
2. "The Birth of Venus" jelly mask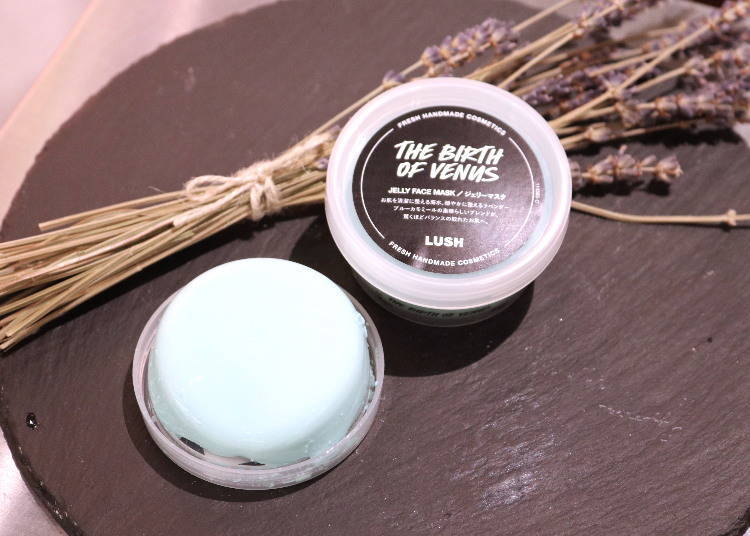 Seawater, seaweed, lavender oil, and rose extract are blended in this soft, moist face mask. Knead it to make a paste, apply to your face for 5-10 minutes, and rinse. The gorgeous lavender fragrance makes it an ideal gift. (1,350 yen, tax included)
3. "Guruguru Blanket" bubble bar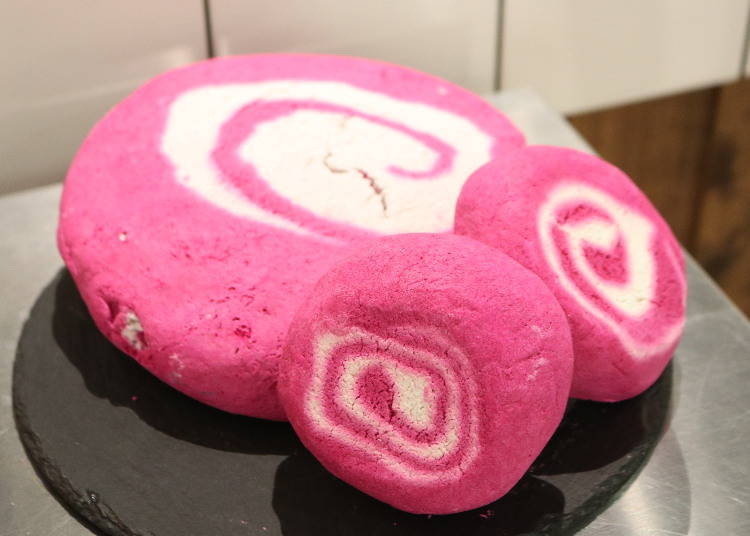 This bubble bar pairs the rich, sweet scent of black currant with the cheerful scent of bergamot. The sweet, fruit-scented foam spreads throughout the bathtub and is long-lasting so you can fully enjoy a relaxing bath. It's recommended not only for home use and for souvenir gift-giving, but also for recharging at your hotel. (200g 1,050 yen, 1,000g 3,520 yen, tax included)
4. "Dirty" body spray gift set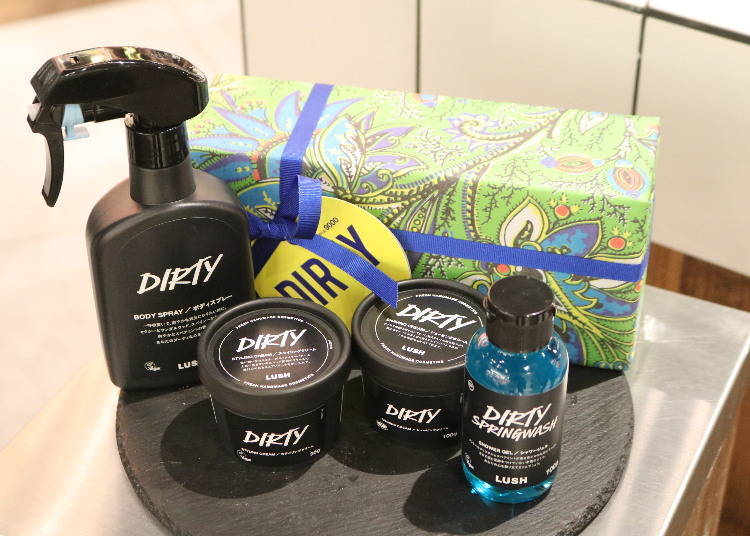 This unisex set of spring wash, shaving cream, hair cream, and body spray has an invigorating mint scent that makes a perfect addition to your daily routine. (4,780 yen, tax included)
■High-quality, sophisticated Japanese products at Nakagawa Masashichi Shoten (5F)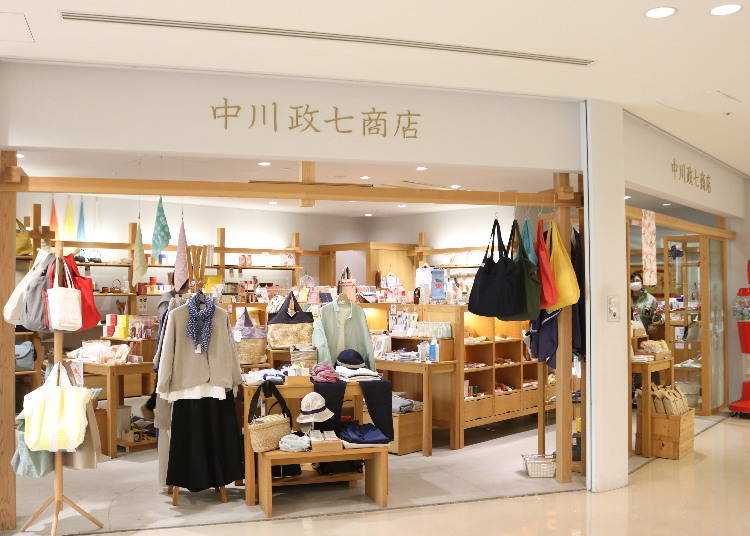 Nakagawa Masashichi Shoten offers top-quality items such as hemp and cotton clothes, and household goods. Many of the original products are designed and created by skilled craftsmen from all over Japan and satisfy tourists' exacting tastes.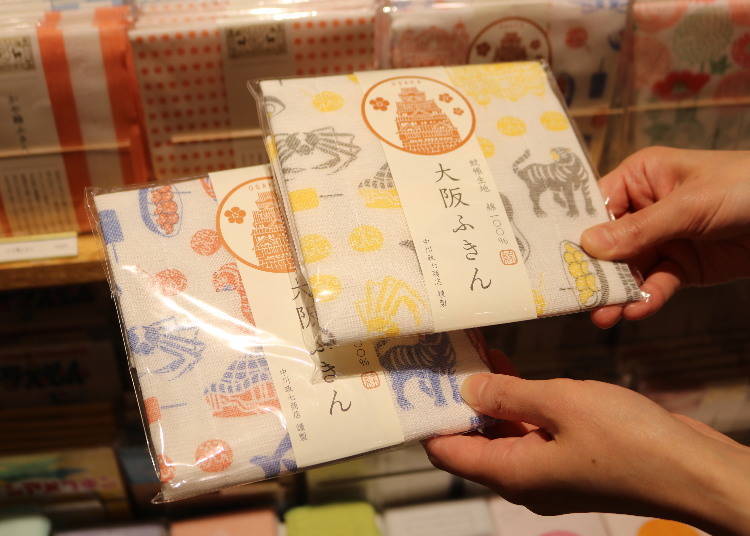 These course, thin, woven cloths are a staple of Nakagawa Masashichi Shoten's product line. Useful for wiping tables and dinnerware, they soften with each wash. The "Osaka Fukin" (440 yen, tax included) is decorated with prints of takoyaki (the famous octopus balls), Osaka Castle, and other famous Osaka products, making it a very popular souvenir.
6. Tsukigase tea (canned)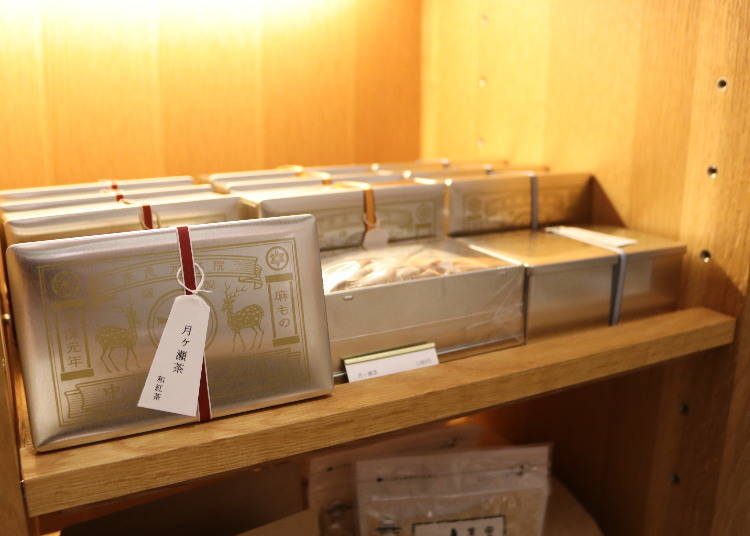 This collection of three types of tea – Japanese black tea, brown rice tea, and green tea – is produced by Nara's Tsukigase. Packaged as bagged tea, not loose, makes it easy to brew Japanese tea. The tin makes a great storage container even after the tea is gone! (1,080 yen, tax included)
7. Takoyaki Daruma Mikuji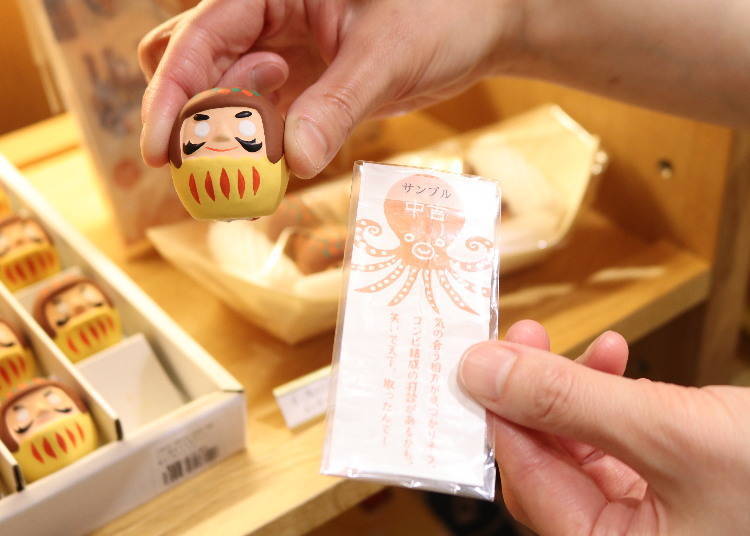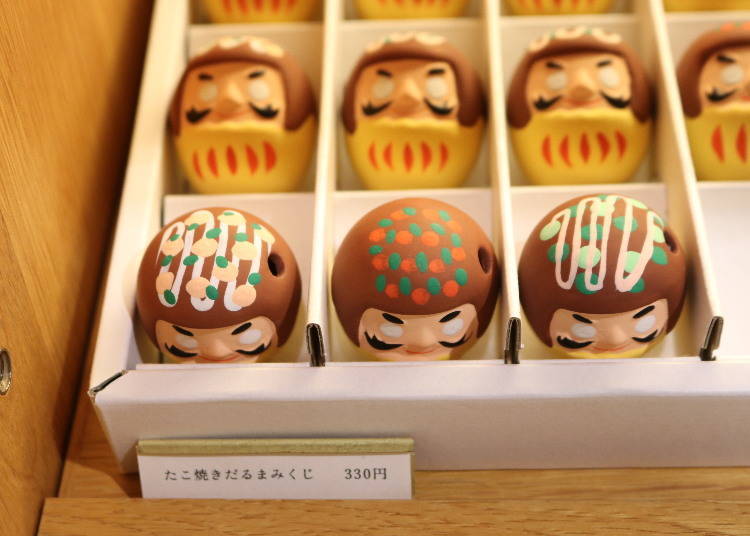 The Takoyaki Daruma Mikuji is a figurine sculpted in the shape of Japan's popular daruma lucky charm with a head that looks like Osaka's trademark takoyaki (fried octopus balls). Each contains a good luck message that promises either "excellent luck" or "slightly good luck" and the hole in the head can double as a takoyaki toothpick holder. Small and light, it's an easy to carry souvenir. (330 yen, tax included)
■Alcohol from around the globe at Liquor Park L&G (5F)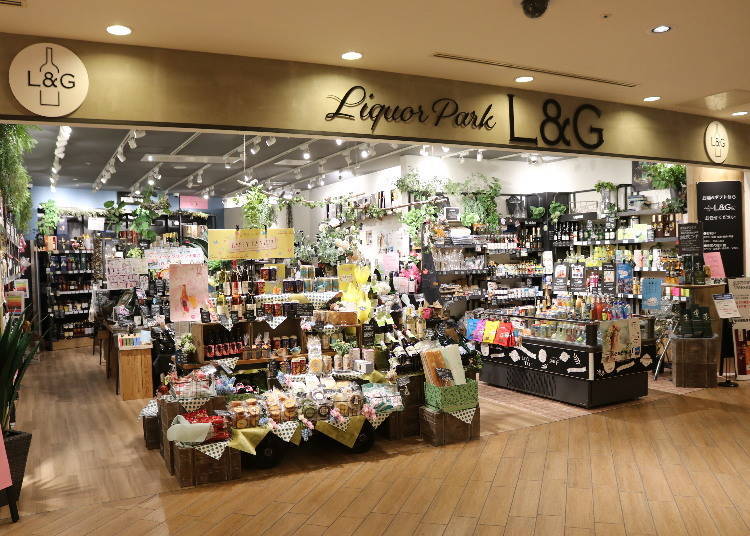 Liquor Park L&G offers select drinks from all over the world, suitable for any occasion, and their large selection of sake has recently been drawing attention.
8. Shinsei ice-chilled Yamada Nishiki Junmai Daiginjo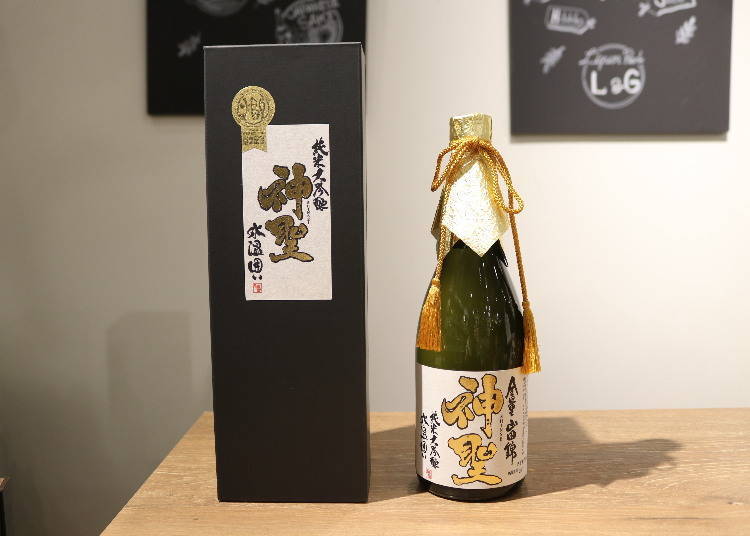 This sake made in Fushimi, Kyoto has a rich aroma and plenty of umami. Stored on ice, it has a deep flavor and goes well with light dishes like sashimi, marinated foods, and carpaccio. Easy to drink, it's great for those trying sake for the first time. Not just as a souvenir, it's also a nice way to relax at your hotel. (720mL 3,300 yen, tax included)
9. Yamazaki Distillery barrel aged umeshu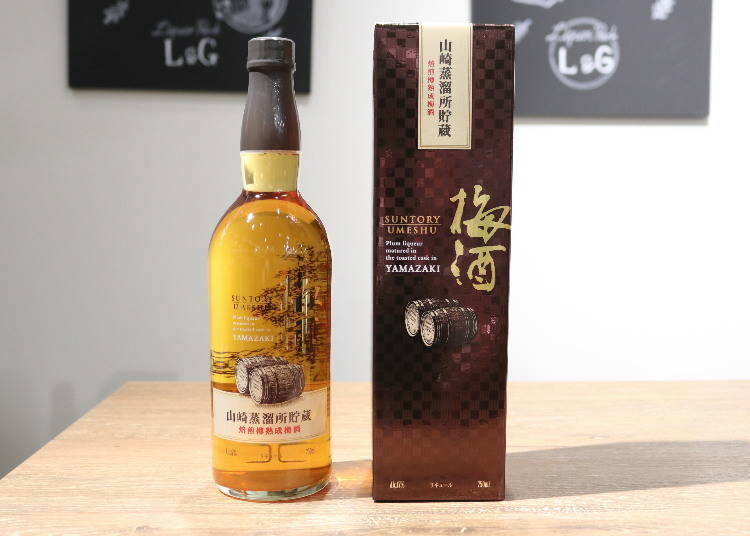 The Yamazaki brand is extremely popular with non-Japanese. This umeshu plum liquor is made in the same distillery as Yamazaki whiskey, and is full-bodied with rich sweetness. Matured in roasted barrels that give it a vanilla aroma, it's wonderful either straight or on the rocks. (750mL 3,300 yen, tax included)
Japanese pickles from Idsumi Pickle (5F)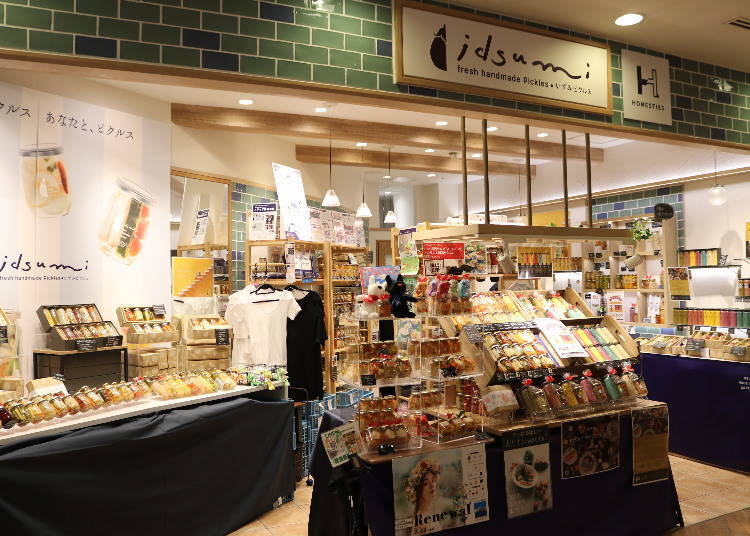 This specialty pickle store is packed with fresh picked fruits and vegetables, including Senshu mizunasu, a type of eggplant found in southern Osaka's Senshu region. Well-matched with rice, they have a more mellow flavor than typical pickles, and will change your perception of what makes a pickle.
10. Japanese style mizunasu pickle mix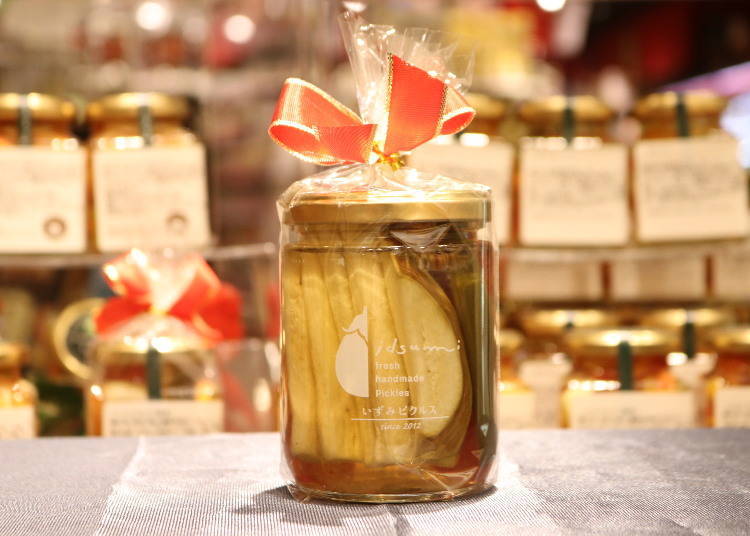 The shop's most popular pickles are mizunasu, cucumbers, and tomatoes. Kombudashi, mirin, and rice vinegar, give them their distinct Japanese taste, and large cuts are great on top of chirashizushi. Western-style pickles are also available, some with lemon flavor. (120g 702 yen, tax included)
11. Pickled citrus fruit mix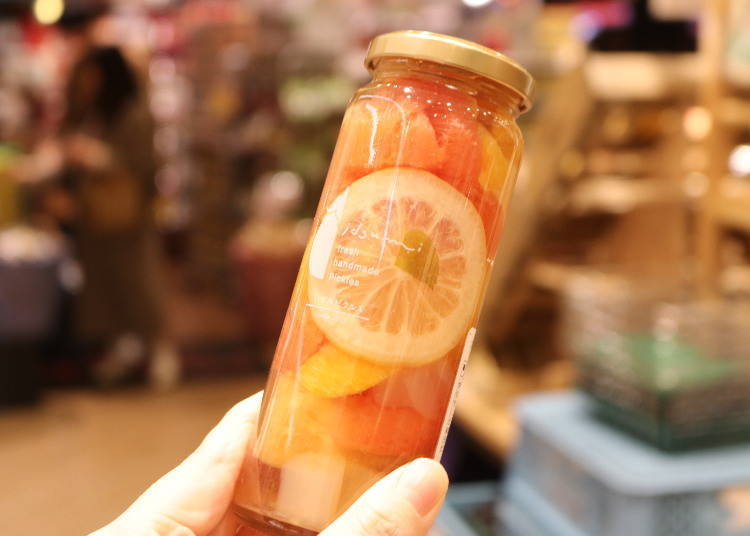 Idsumi's pickled fruits include grapefruit, pineapple, orange and lemon in combination with apple cider vinegar, cane sugar, honey and balsamic vinegar. Whether mixed with yogurt, or in soda as a drink, the taste is truly refreshing. (130g 918 yen, tax included)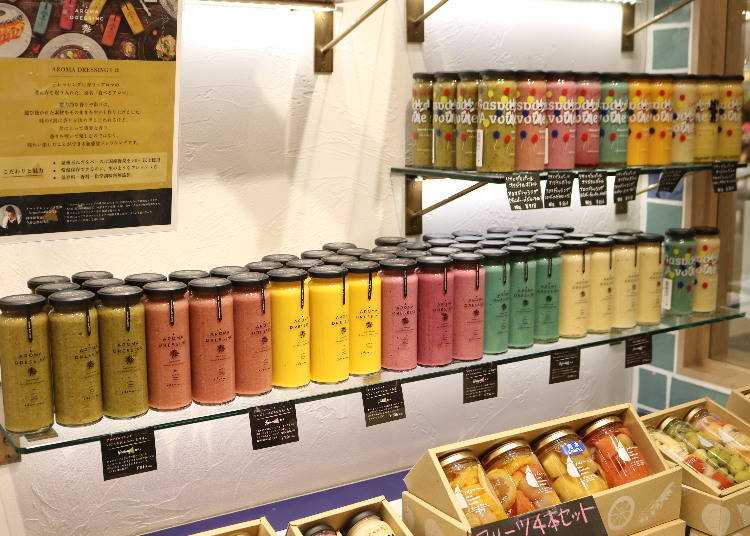 Full of natural flavor and notable scent, this vividly colored dressing is made from onions (more than 50% produced in Senshu) with added fragrances and seasonings. It's great for meat and fish dishes and on salads. Enjoy the taste of a high-class restaurant in your own home! (200mL 756 yen, tax included)
Find the best souvenirs at Namba Parks!
In addition to these souvenir ideas, Namba Parks has plenty of other choices. But act quickly; what's there today maybe gone tomorrow!
Wonderful souvenirs from Namba Parks will enhance the memory of your trip, and help you share the experience with loved ones back home.
Address

Namba parks, 2-10-70, Nanbanaka, Naniwa-ku, Osaka-shi, Osaka, 556-0011
View Map

Nearest Station

Namba Station (Nankai Airport Line / Nankai-koya Line / Nankai Line)

*This information is from the time of this article's publication.
*Prices and options mentioned are subject to change.
*Unless stated otherwise, all prices include tax.
Limited time offer: 10% discount coupons available now!