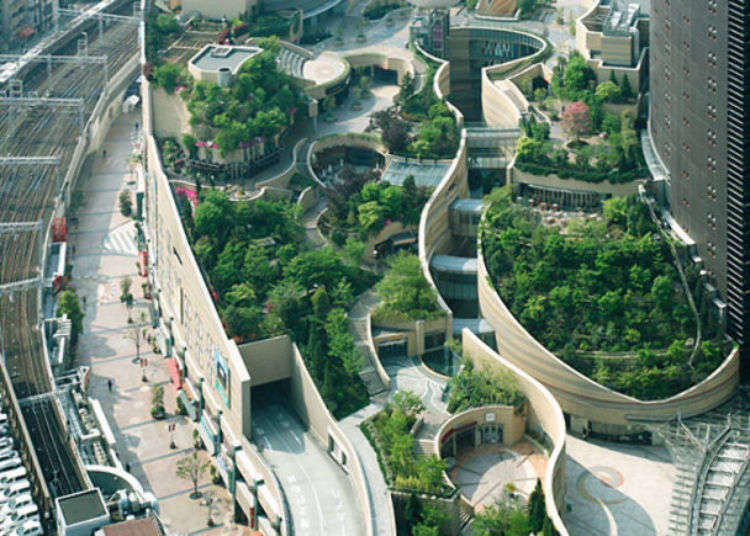 Namba Parks Osaka is a shopping complex that's part of Nankai Electric Railway's Namba Station. With direct access to Kansai International Airport, it's a convenient shopping area for tourists, where they can purchase the latest Japanese fashion, home decor, gourmet food, souvenirs, and more.

Here we'll take a look at the overwhelming selection on offer in the eight floors of Namba Parks Osaka!
What is Namba Parks Osaka?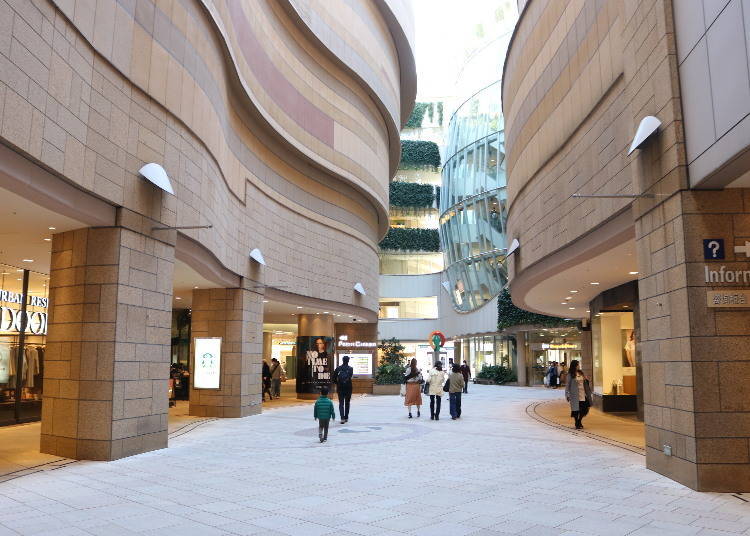 The Namba Parks complex houses about 250 attractive shops and restaurants. It caters to multiple price ranges and interests to meet all your needs, including reasonably-priced select shops, fascinating import brand shops, cafés where you can take a short break, and a whole array of perfect restaurants dinner.

With a tax-free counter, free Wi-Fi, and credit card and e-pay services, it's also a popular shopping spot for international tourists.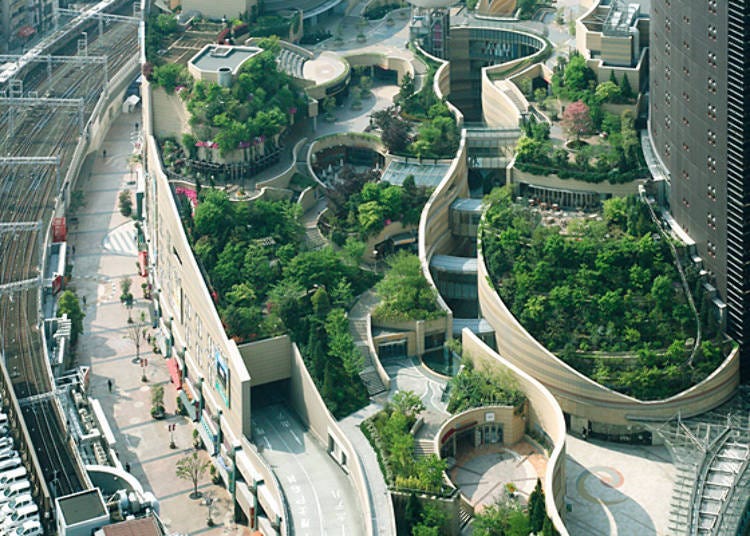 One of the main attractions is Parks Garden, a rooftop garden that extends from the 2nd floor to the 9th floor. Well known internationally, it has been selected as one of the top ten most beautiful floating gardens in the world.

A wide variety of plants grow in Parks Garden, and you can also observe seasonal birds and insects. It's perfect for a stroll between sightseeing and shopping.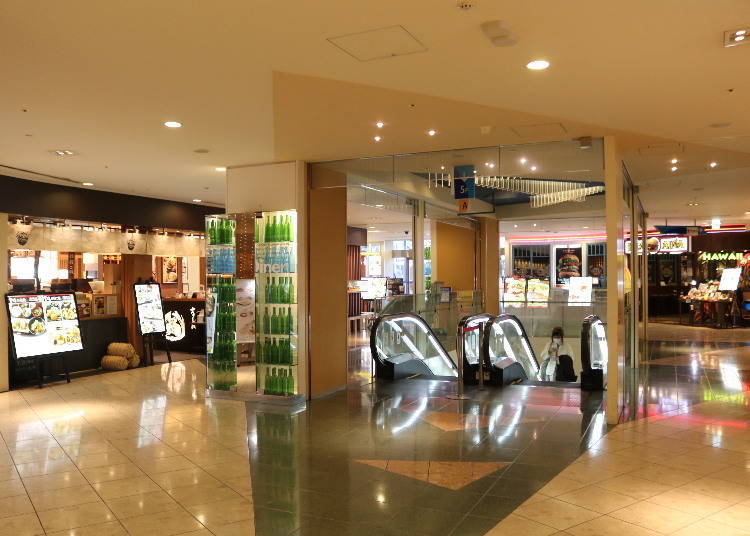 The first five floors comprise the main shopping area, while restaurants are located on the 6th through 8th floors, and the 9th floor is part of the garden. Each level has a rest area, so you can relax while waiting for friends and family to finish shopping.
How to get to Namba Parks Osaka
From Kansai International Airport, take the Nankai Line Airport Express Nankai or Limited Express Train/Rapi:t on the Nankai Electric Railway directly to Nankai Station. From there you can enter Namba Parks by way of the Central and South exits.

Other options:
● About a 7-minute walk from the South-South ticket gate (exit only) of Namba Station on the Osaka Metro Midosuji Line
● About an 8-minute walk from the East ticket gate of Namba Station on the Osaka Metro Sennichimae Line
● About a 9-minute walk from the South ticket gate of Namba Station on the Osaka Metro Yotsubashi Line
● About a 9-minute walk from the East ticket gate of Osaka Namba Station on the Hanshin Namba Line
●About a 9-minute walk from the East ticket gate of Osaka Namba Station on the Kintetsu Namba Line
● About an 11-minute walk from the North exit of JR Namba Station (OCAT) on the JR Kansai Main Line (Yamatoji Line)
Great value for international travelers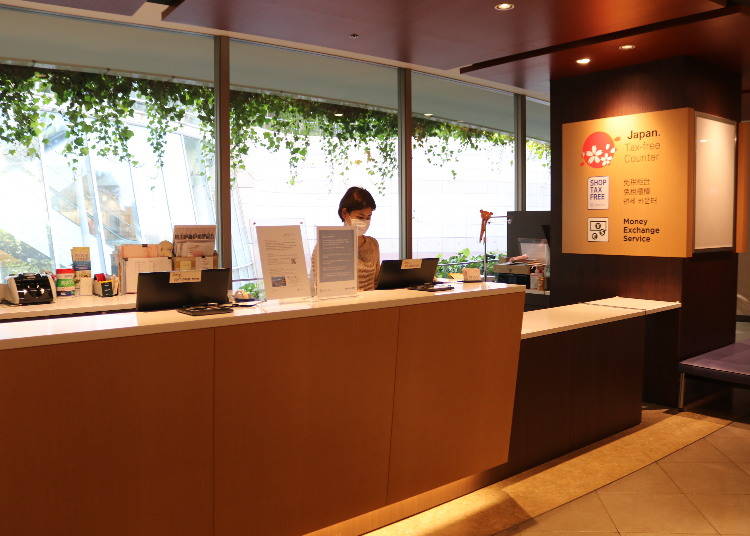 Due to the high volume of tourist traffic, Namba Parks has substantial services for international shoppers, including two tax exemption procedures: in-store, or from the tax exemption counter.

■ In-store tax exemption
For a single store duty-free purchase of 5,000 yen or more (up to 500,000 yen for consumable goods) excluding tax, please show your passport at the cash register at the time of purchase.

■ Refunds at the tax exemption counter
For duty-free items purchased for personal use (watches, bags, clothing, etc.), present your passport, receipts, and credit card (if used) at the 7F tax exemption counter.
*1.55% tax exemption fee will be charged.
ATMs are available on each floor and can exchange twelve kinds of foreign currency, including U.S. dollars, Chinese yuan, Korean won, Euro, Thai baht, and Japanese yen.
In addition to credit cards, electronic payments such as Alipay and WeChat Pay are also accepted.
Top 4 Shops at Namba Parks Osaka
From Namba Parks' 250 stores, we've picked four stores that are particularly popular with overseas tourists. You'll definitely want to stop by to enjoy shopping for high-quality products and eating enchanting Japanese food.
1. Nakagawa Masashichi Shoten (5F)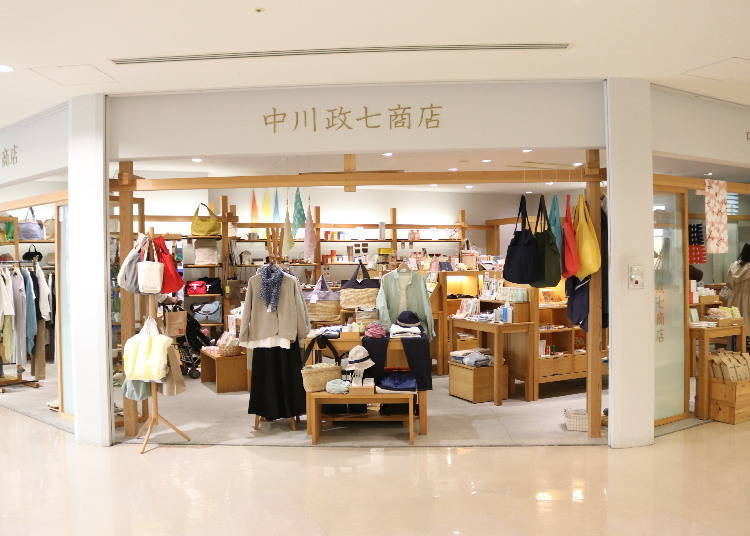 With a history spanning 300 years, this Nara-based household goods and crafts retailer is committed to offering beautiful products high in value and quality, making it a frequent destination for tourists looking for souvenir memories of their trip to Japan.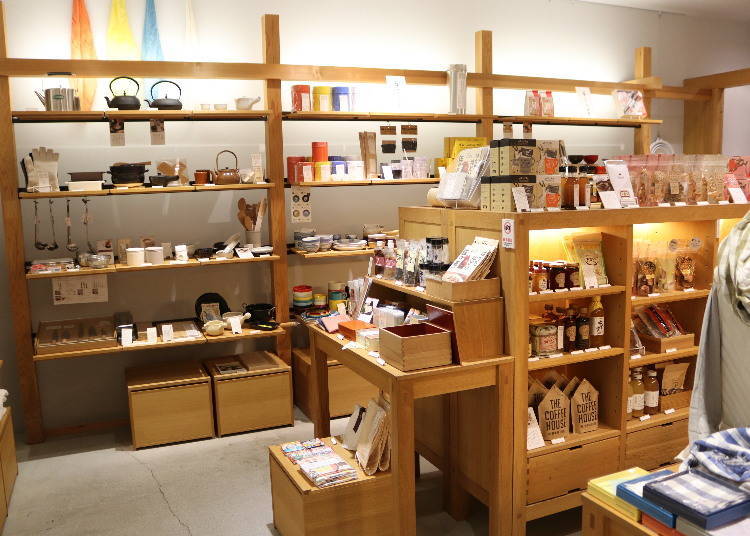 Many Nakagawa Masashichi items are made from natural materials such as hemp, cotton, and wood, while linen clothing provides light and comfortable attire in spring and summer.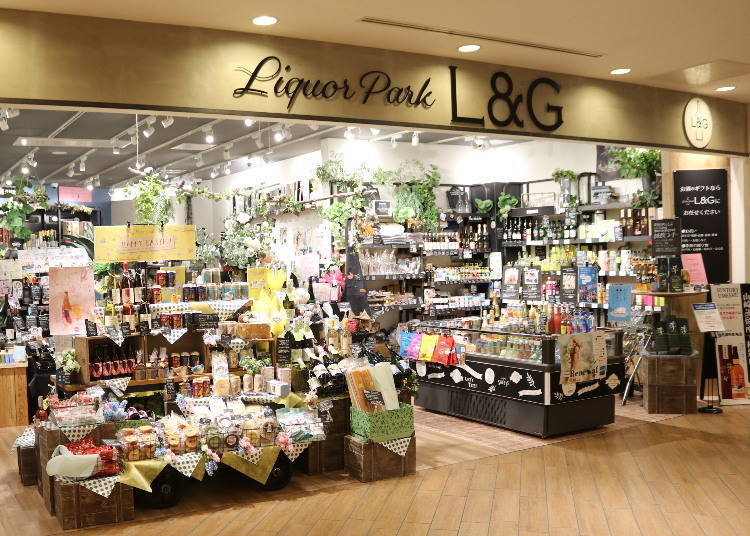 Designed as a "stylish liquor store for adults," this is the place for carefully selected wine, whiskey, craft beer, sake, and other specialty drinks from all over the world.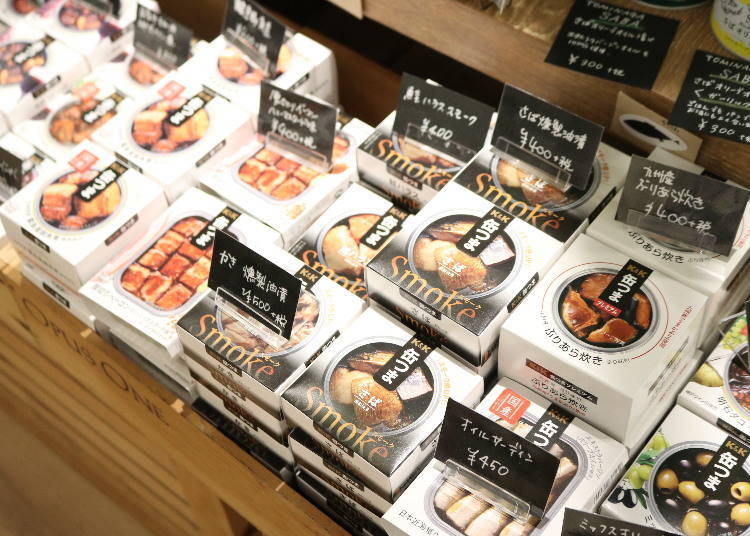 Here you can buy rare sake to enjoy in your hotel or to take home as a souvenir. Liquor Park L&G also sells snacks and sweets, so you can find the perfect accompaniment to your drink of choice!
3. Kagura Shokudo Kushiya Monogatari (6F)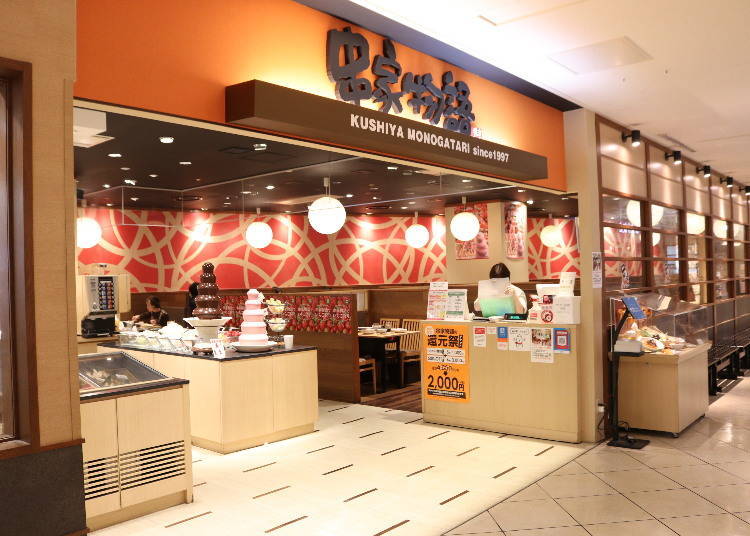 This buffet-style restaurant specializes in skewered dishes, and guests make their selections and fry them themselves. Freshly fried skewered cutlets are crispy, juicy, and sure to put a smile on your face!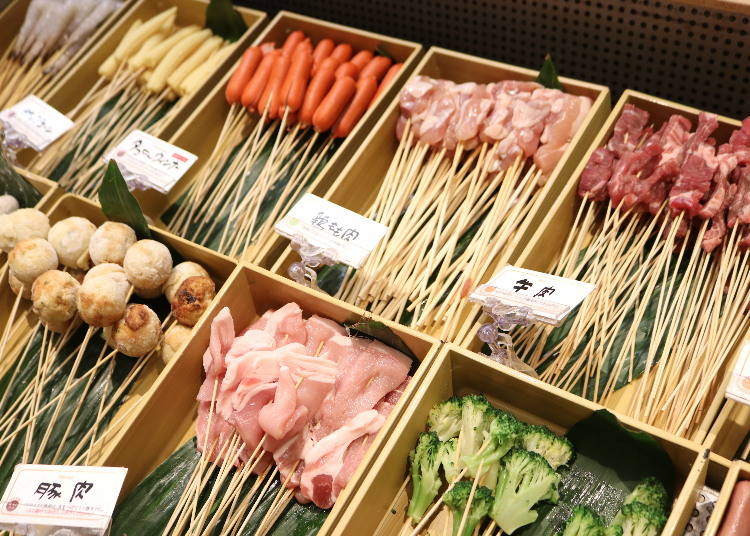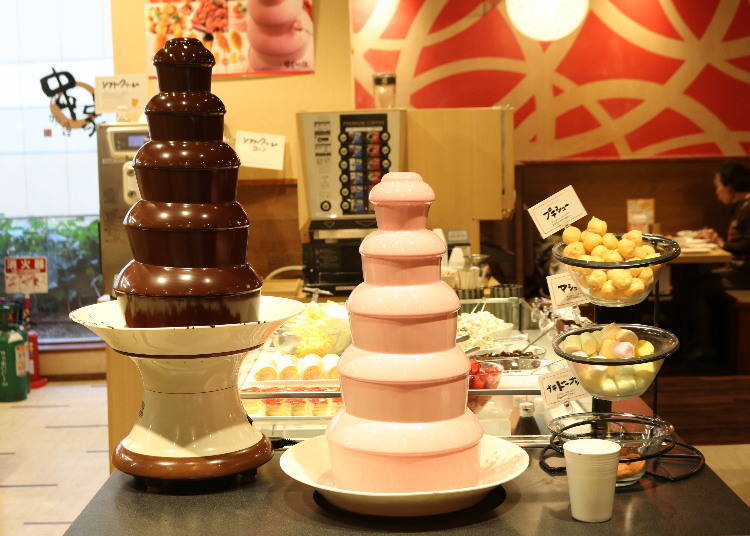 Lunch: Weekdays from 1,648 yen, Holidays from 1,868 yen (tax included) Dinner: Weekdays from 2,198 yen, Holidays from 2,638 yen (tax included)
There are 30 types of all-you-can-eat meat, seafood, and vegetable skewers as well as sweet, dry, and cheese sauces to create your favorite combination. The side menu includes salads, pasta, desserts, and soft-serve ice cream. Kushiya Monogatari is especially recommended for families and will satisfy diners of all ages.
4. Kiwami Tonkatsu Katsuki (6F)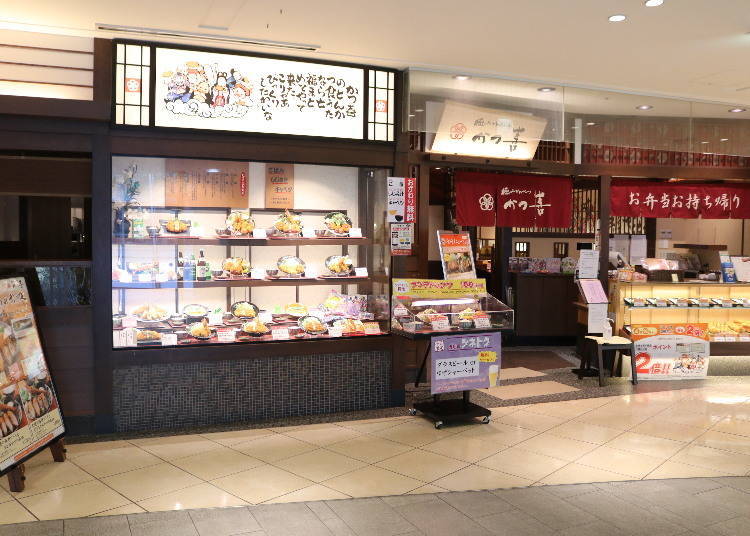 Tonkatsu (pork cutlets) is a Japanese food high on tourists' lists of "things I want to eat in Japan," and Katsuki specializes in delicious domestic pork.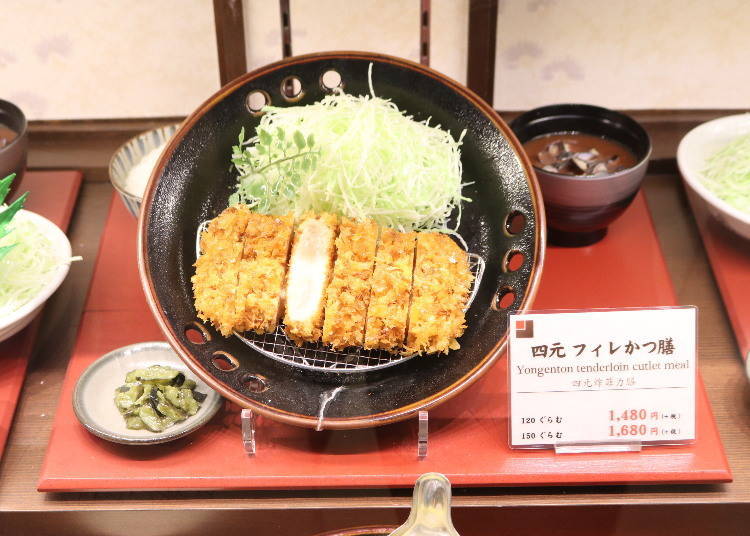 The "Yotsumoto Fillet Katsuzen" set (120g 1,480 yen, excluding tax) is made with luxury brand pork, and the "Shrimp Cream Croquette & Yotsumoto Loin Katsuzen" set (1,380 yen, excluding tax) is another satisfying entrée. The juicy meat and crispy breading make each bite an unforgettable combination of taste and texture. If you want to eat memorable Japanese food, definitely try Katsuki.
Enjoy shopping and restaurants at Namba Parks!
Namba Parks also sells Japanese cosmetics and all the latest fashion trends. Excellent access from Kansai International Airport and being within walking distance of tourist attractions like Dotonbori and Hozenji Yokocho make it a perfect place to start your Osaka trip or for some last-minute shopping before departing. Enjoy shopping and eating at Namba Parks and take advantage of its convenience and variety!

*The above article is based on information from June 2020
Address

Namba parks, 2-10-70, Nanbanaka, Naniwa-ku, Osaka-shi, Osaka, 556-0011
View Map

Nearest Station

Namba Station (Nankai Airport Line / Nankai-koya Line / Nankai Line)

*This information is from the time of this article's publication.
*Prices and options mentioned are subject to change.
*Unless stated otherwise, all prices include tax.
Limited time offer: 10% discount coupons available now!