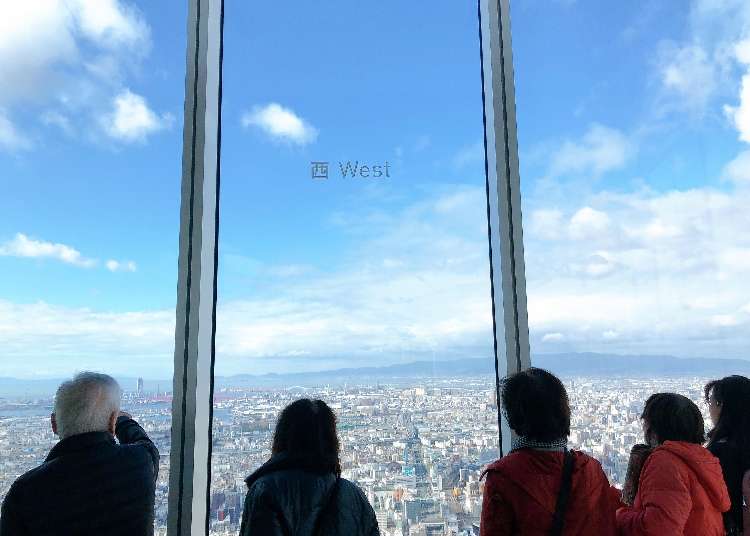 Abeno Harukas is the tallest building in Japan. Towering at 300 meters above ground, it has cafes, souvenir shops, and even an observatory that overlooks the entire Kansai Region. It is also a super popular spot for tourists.

With luxury hotels and crazy open-air spaces, the perfect place to Osaka from above is right here. So let's dive in!
What Kind of Place is Abeno Harukas?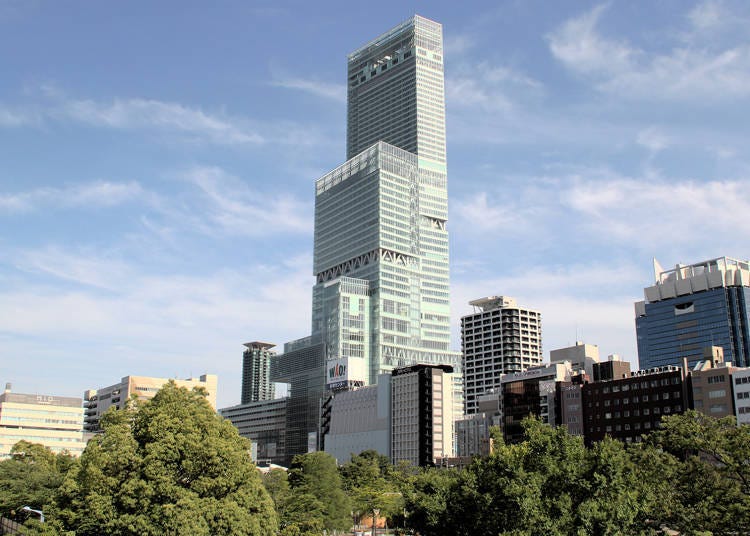 Abeno Harukas is a building complex that opened in the spring of 2014. Currently the tallest building in Japan, it stands at 300 meters tall, and is home to department stores and offices, museum and observations decks, and even a hotel.

It is directly connected to the Kintetsu Line's Osaka Abenobashi Station and is easily accessible from Tennoji Station via both the JR and Osaka Metro Lines. The number of visitors from abroad has also increased since its opening, reaching numbers as high as over 10 million to the observation deck in October 2019.

Main Facilities
■ B2F-14F: Abeno Harukas Kintetsu Main Store
■ 12F-14F: Abeno Harukas Dining
■ 16F: Abeno Harukas Museum
■ 19F-20F, 38F-55F, 57F: Osaka Marriott Miyako Hotel
■ 58F-60F: Harukas 300 (observation deck)
First, let's head to Harukas 300, the observation deck sitting 300 meters above ground.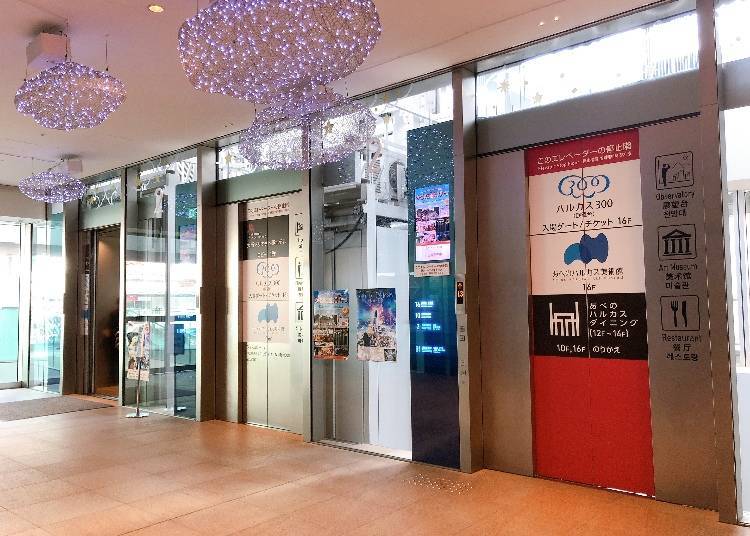 To reach the observatory, take the elevator to the 16th floor entrance gate. Right before your eyes you will see the sign for the "16F Garden."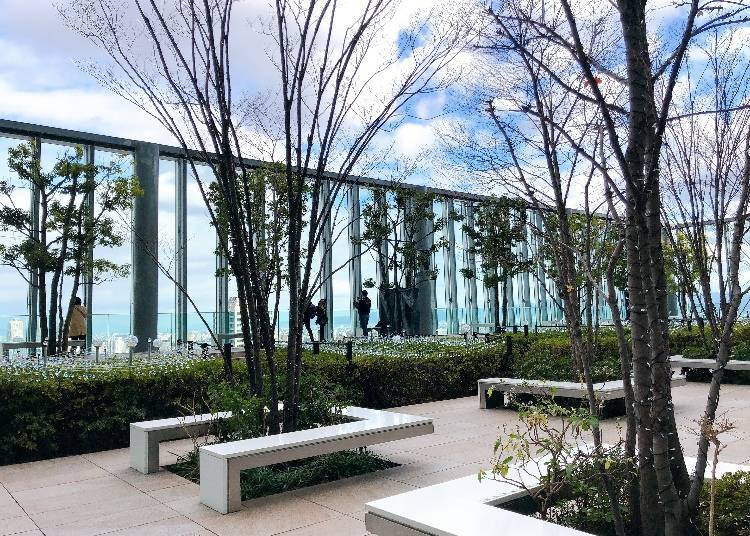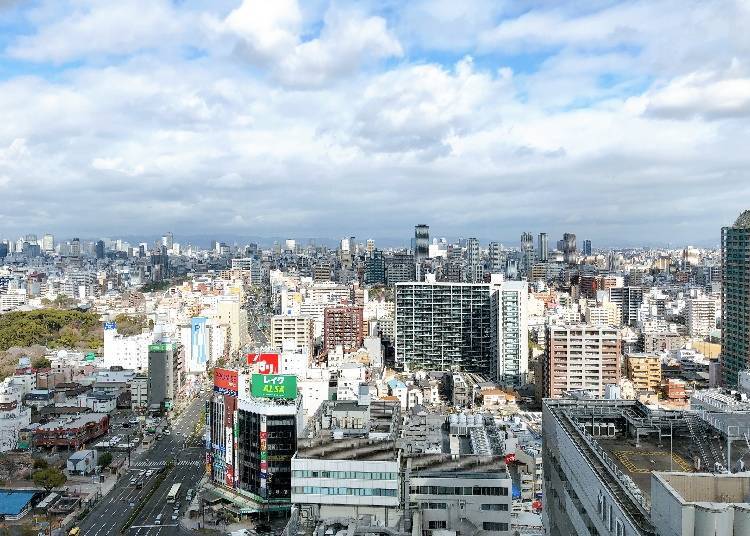 A view from the 16F Garden
Grab some snacks from the convenience store, and enjoy them while relaxing on the benches of the open-air garden while taking in the views of the garden itself, and that of Osaka below.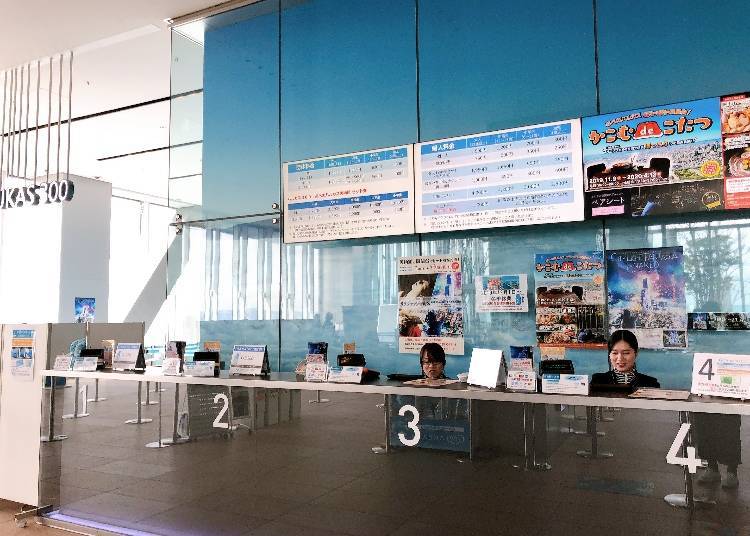 Ticket prices are as follows: 1,500 yen for 18 and over; 1,200 yen for teens ages 12 to 17; 700 yen for children 6 to 11; 500 yen for children 4 to 10. Buy your tickets at the ticket counter, which also provides services and pamphlets in English, Chinese, and Korean. Please note that tickets are not valid for re-entry, even if purchased on the same day.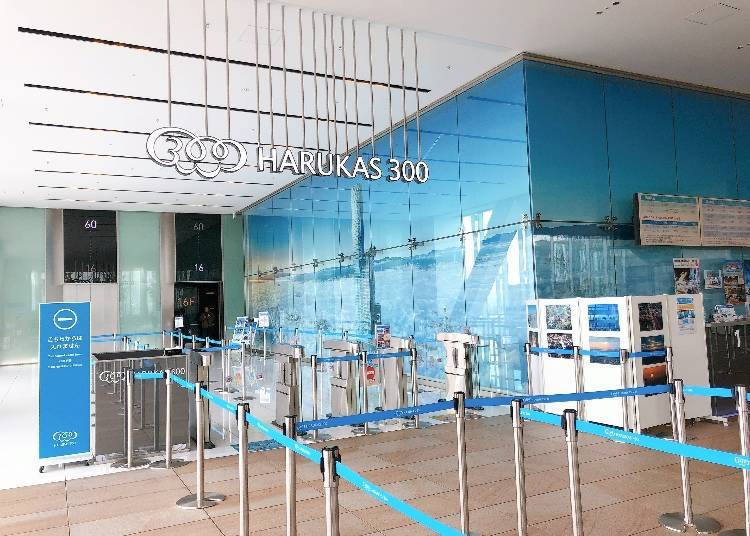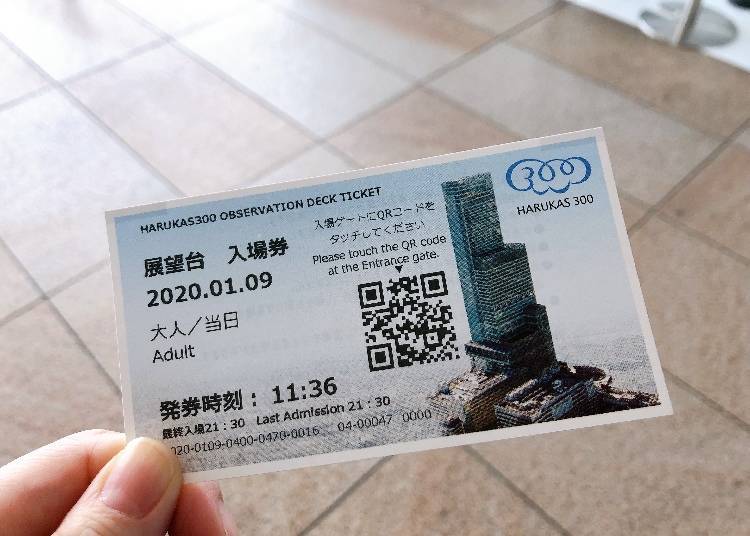 Enter by holding the QR code over the gate. Take the elevator directly to the 60th floor, and at last, you are at the observatory!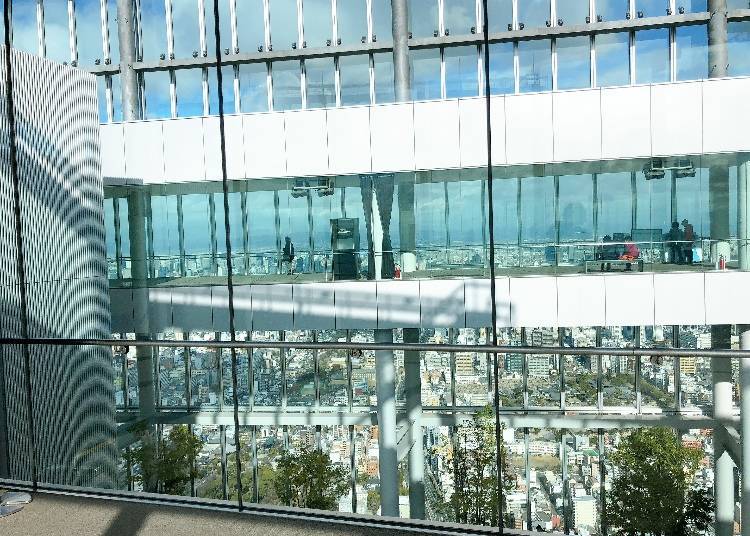 Once the elevator door opens, find yourself stepping out into another world. The indoor corridors are made of glass from floor to the ceiling, surrounding you in an overwhelmingly beautiful scenery as if walking through the sky.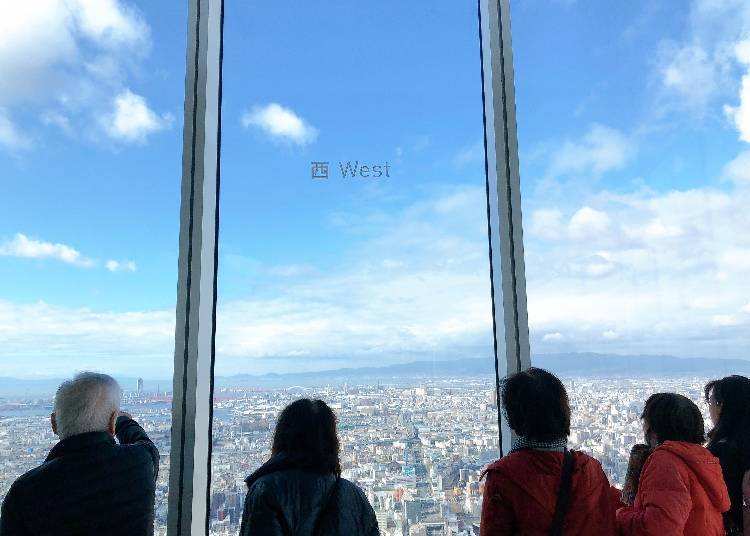 The amazing expanse of blue sky over the Osaka cityscape creates a magnificent, diorama-like scene right before your eyes. The clouds are so close, one just might feel tempted to knock on heaven's door...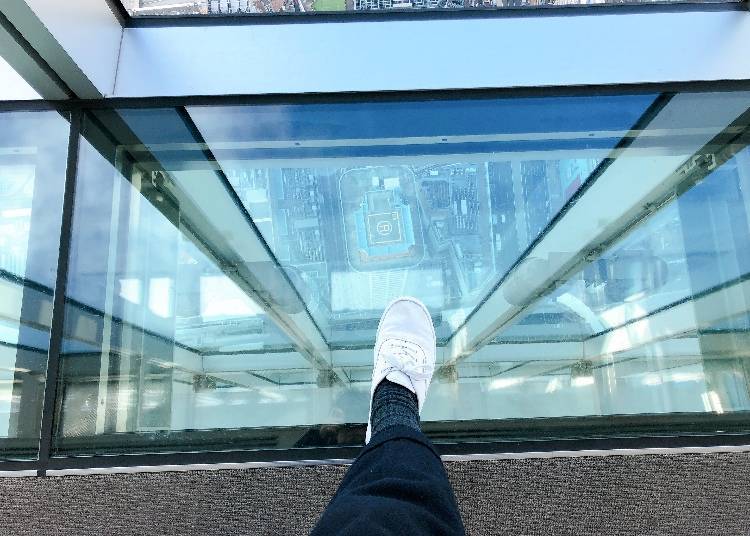 In some spots, the floors themselves are made of glass, where you can step forward and get the thrill of walking right on air.
The Many Attractions of the Observatory!
Harukas 300 is not only about the scenery. There are many other things to enjoy here, as well! You can buy souvenirs, enjoy tea at a cafe, and see other attractions. Here are some other points to note.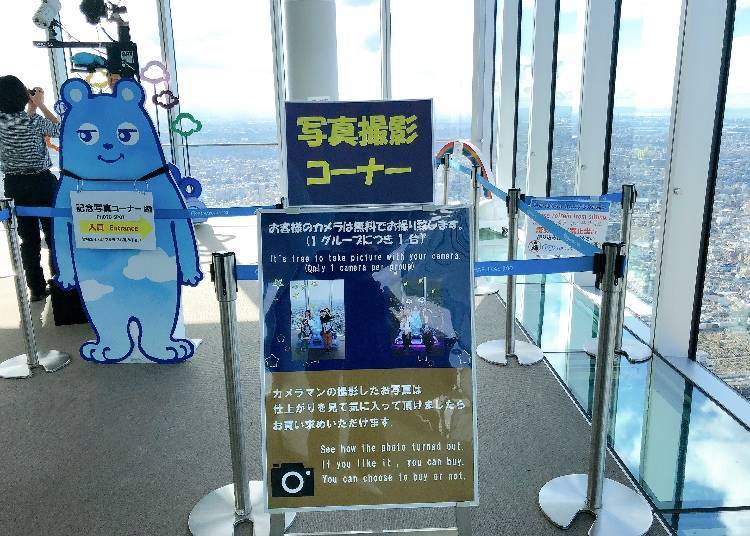 Here you can take picture-perfect photos, together with the mascot character of Harukas 300 Observatory, Abeno Bear. There is a photography staff member on site as well who will happily take one free photo per group using your smartphone or digital camera.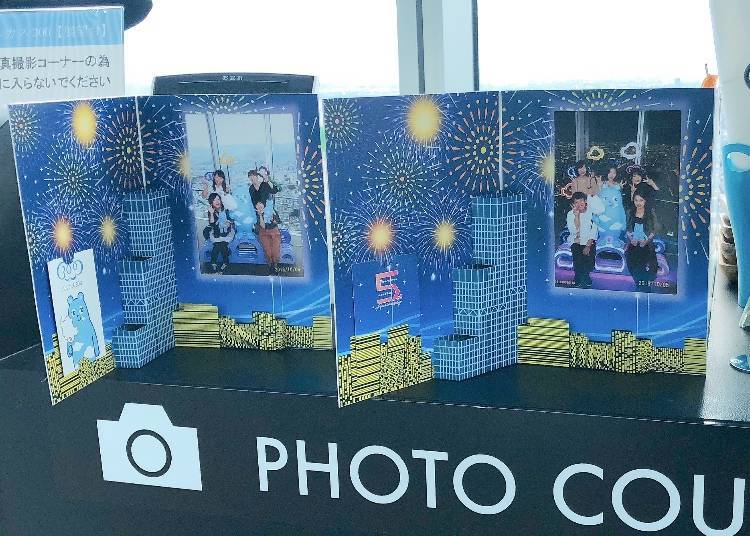 You can also take and purchase a professional photograph taken by the resident photographer!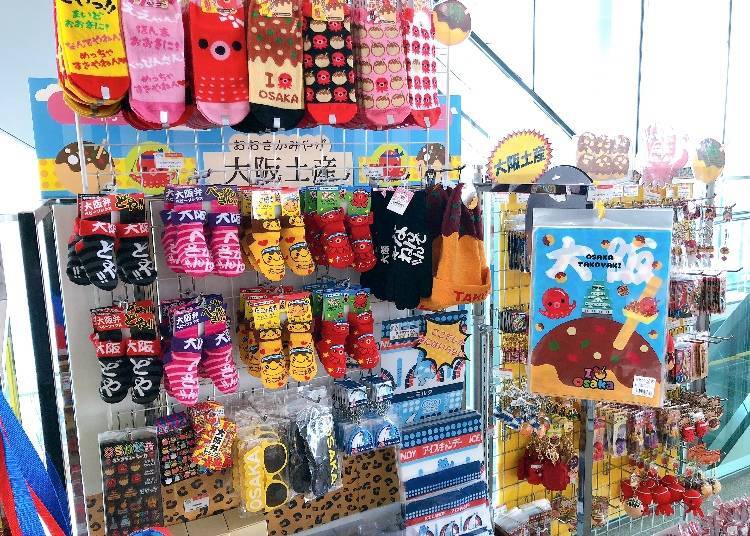 One floor down from the sky corridor is the 59th floor souvenir shop, Shop Harukas 300. Here you can purchase all kinds of souvenirs, including original goods unique to Abeno Harukas. If you're looking for fun, one-of-a-kind gifts, this is the place to shop!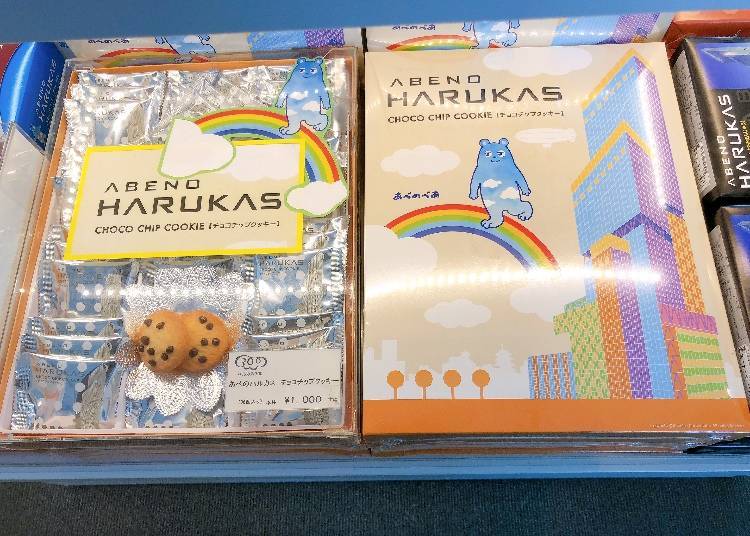 The most popular item at this shop is the Abeno Harukas Chocolate Chip Cookie Box (1,000 yen, plus tax). There are 36 individually-wrapped crisp, chocolate chip cookies in a box, making these a great souvenir option.
Must-Use Restrooms on the 59th Floor!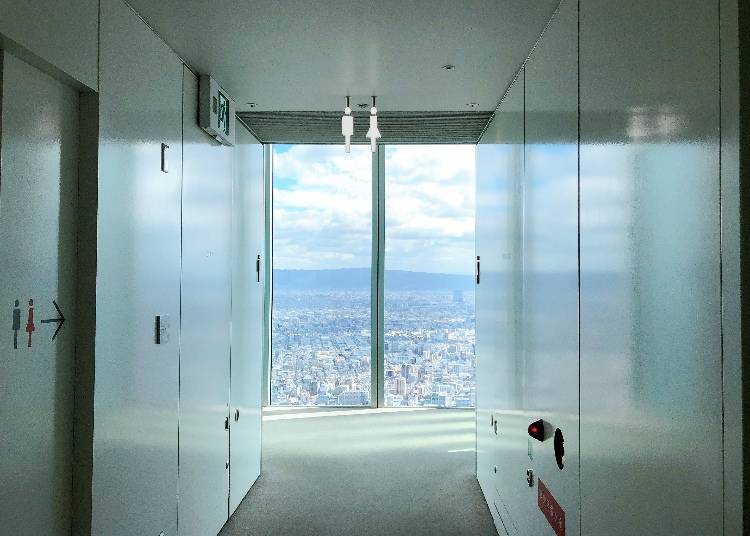 The 59th floor restrooms are located in a space right behind Shop Harukas 300. Turn the narrow path...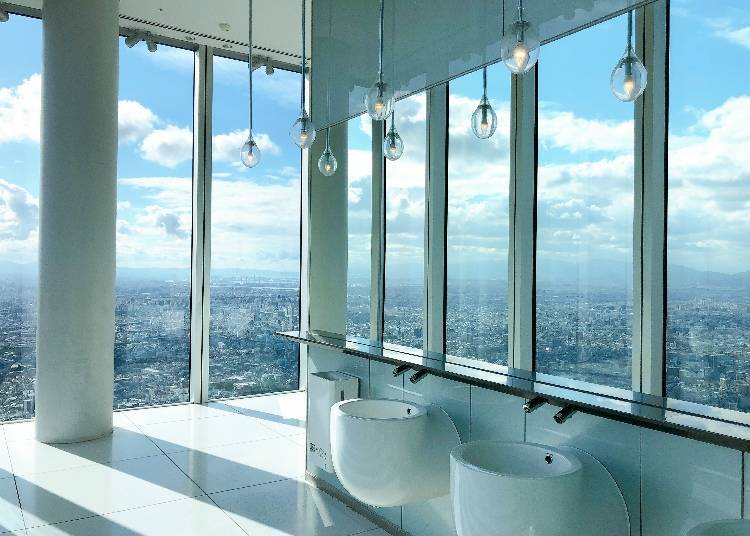 And find yourself at the gorgeous sink space in the sky! The sun pours through the gigantic windows. Now you can even do your business in luxury, with a magnificent view of the scenery below.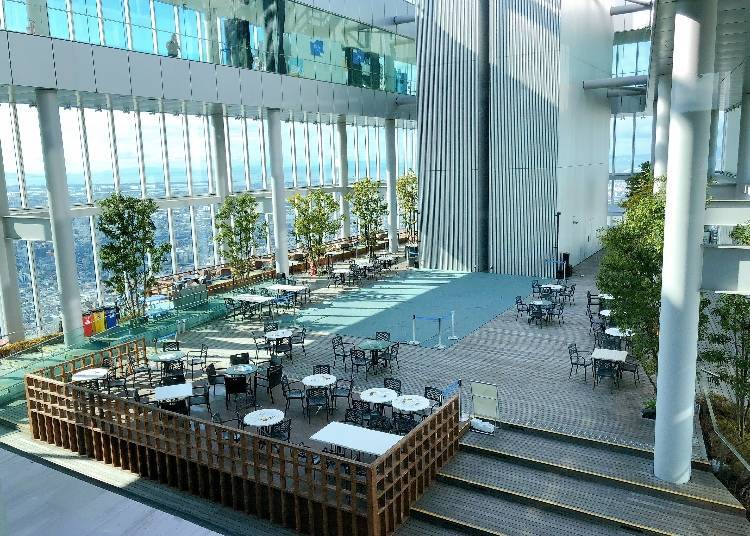 Head down one more floor to check out the open-air plaza, Tenku Garden. This is another great place to relax, where you can buy not just snacks such as sandwiches, fries, and chicken, but drinks from coffee to alcohol.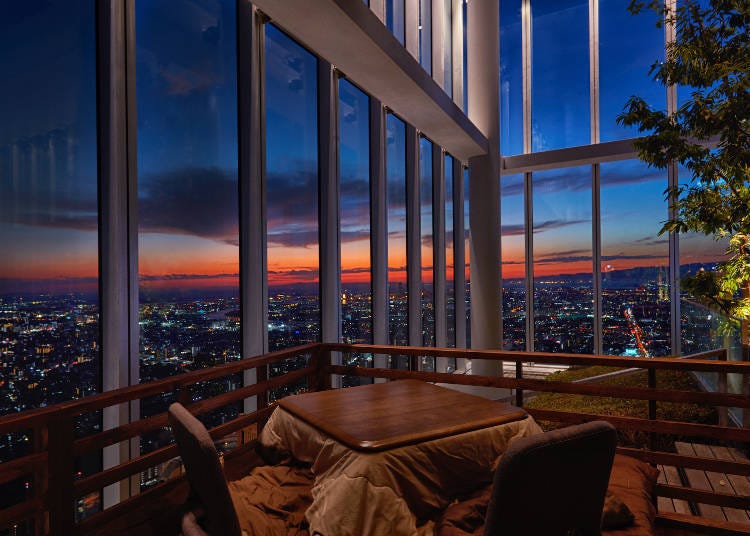 There will also be a special Japanese winter tradition held here until Sunday, April 12, 2020. It is called "Kakomu de Kotatsu," where you can enjoy the view from underneath kotatsu, or electric heater tables.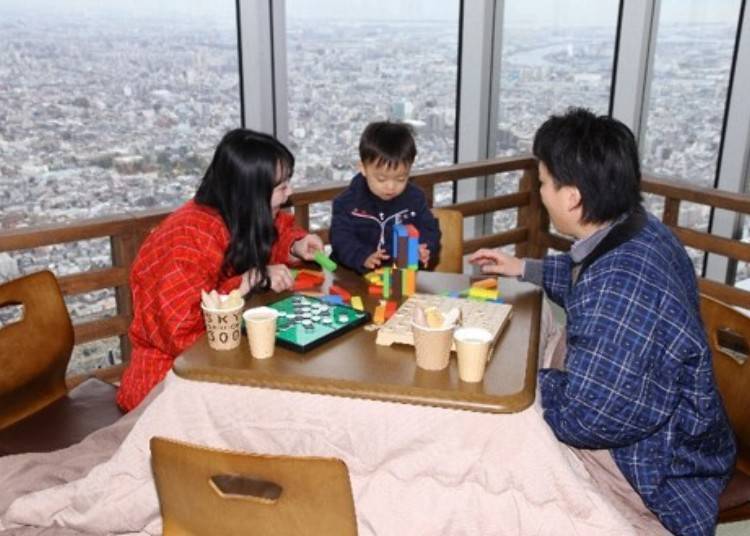 Additionally, you can join them for board games and card games during "Kotatsu de Ouchi Jikan," or Kotatsu Family Time, from 1:00PM to 5:00PM on weekdays until Friday, April 10.

Admission for Kakomu de Kotatsu is 4,000 yen (tax included) per person and includes an all-you-can-eat Oden course for 60 minutes. An additional fee of 1,000 yen (tax included) can be added for a 30-minute extension. Admission for Kotatsu de Ouchi Jikan is 1,000 yen (tax included) and includes one drink, three oden dishes, and a 30-minute kotatsu usage period. An additional 500 yen (including tax) will be charged per 30 minutes extension.

There are plenty of other attractions and tours to explore that resume in the spring (currently closed for winter), including the Harukas 300 Heliport Tour on the rooftop of Abeno Harukas, and the thrilling "Edge of Harukas" experience, where you can cross the top of the deck, supported by a single rope!
Address

1-1-43, Abenosuji, Abeno-ku, Osaka-shi, Osaka, 545-6016
View Map

Nearest Station

Osakaabenobashi Station (Kintetsu-minamiosaka Line)


Phone Number

06-6621-0300
Services for Foreign Guests! Shopping at Department Store Abeno Harukas Kintetsu Honten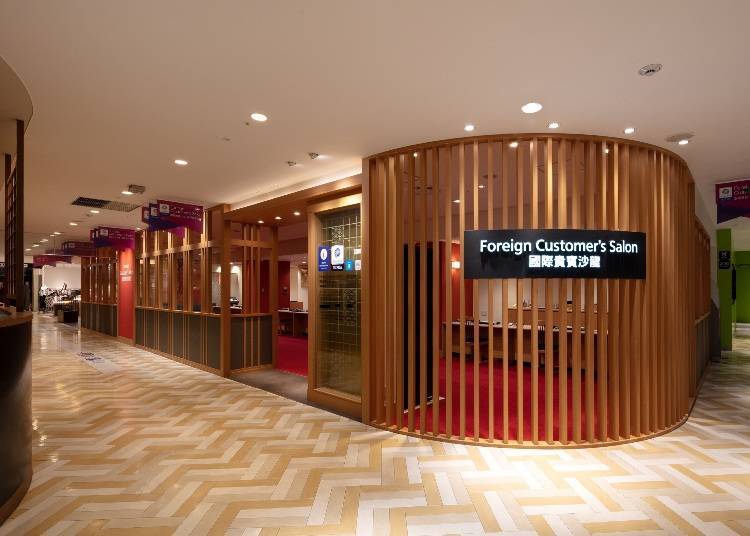 After enjoying the sights of the observatory, make your way to the Abeno Harukas Kintetsu Main Store from floors B2F to 14F for some shopping. In response to the increasing number of foreign visitors, they have even established a Foreign Customer's Salon in the 3.5F of the Wing Building to further support their customers' shopping experiences.

Available Services:
•Duty-free shopping
•Guest coupons (5% discount coupons with valid passport)
•Luggage storage
•Hotel delivery for goods purchased here (to Osaka Marriott Miyako Hotel, Tennoji Miyako Hotel, and Sheraton Miyako Hotel Osaka)
•Overseas delivery services
•Tourist information and guides (Guide to Kintetsu Line and nearby sightseeing spots)
•ATMs and currency exchange machines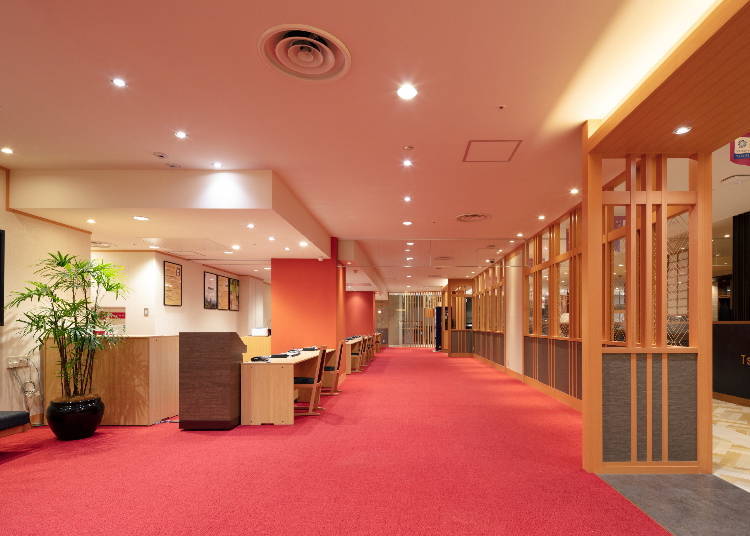 Thanks to their plentiful and useful services, you will always find customers lining up, even on regular weekdays. In addition to the above mentioned services, Abeno Harukas Kintetsu Head Office is implementing various other initiatives to help their foreign guests.

■ 5% UnionPay Cardholder's Discount
Pay with a UnionPay card, and receive 5% off without coupon. (Cannot be combined with other coupons)

■ Introduction of QR Translator
For the first time ever at a department store, users can now easily obtain automatically-translated information in their own language using QR codes via the new QR Translator service.

■ In-store signs, floor guides, and pamphlets, now available in multiple languages including English, Chinese, and Korean.

■ Complete Free Wi-Fi Access
Introduction of free, no-password Wifi services throughout the building.
Popular Shops for Tourists!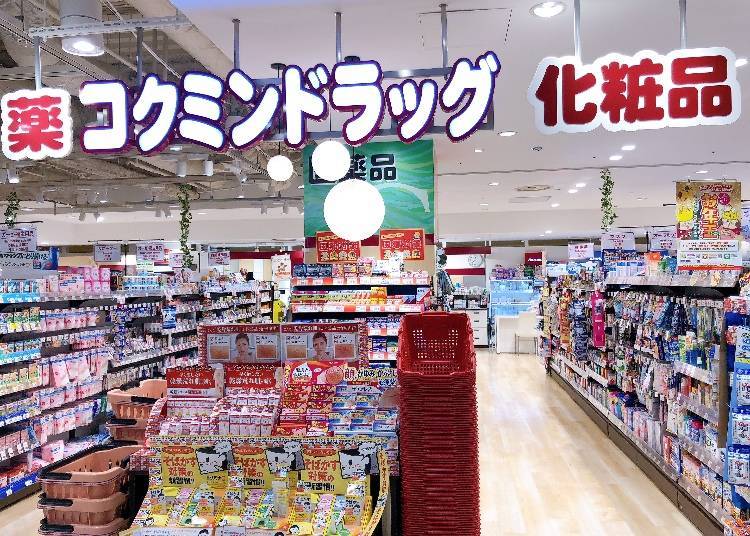 ■ Kokumin
Next to the Foreign Customer's Salon is Kokumin, a popular drugstore. They offer a wide variety of products, from medicine to cosmetics, with a spacious interior that makes it easy to navigate. Top-selling products include cotton and single-use face wash!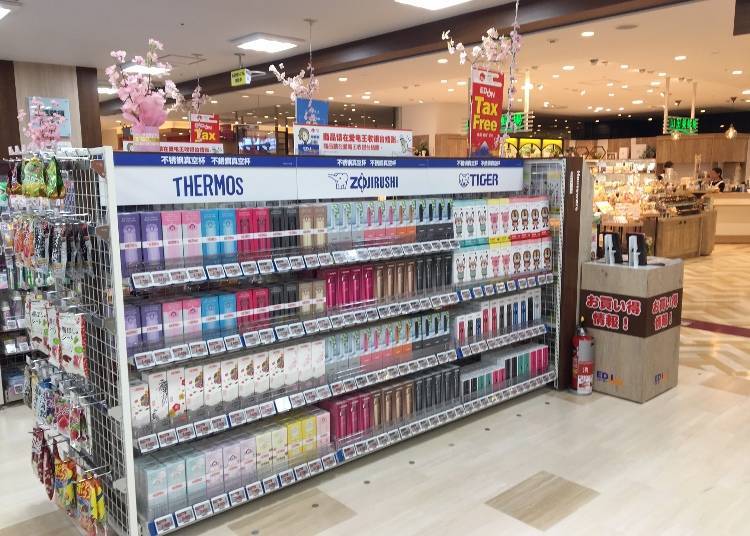 ■ EDION
EDION is a major consumer electronics retailer on the same floor as Foreign Customer's Salon. Here you can find the latest home appliances, including popular facial tools, hair dryers, razors, and rice cookers on display, as well as a variety of other products such as stainless steel water bottles and plastic Gundam models.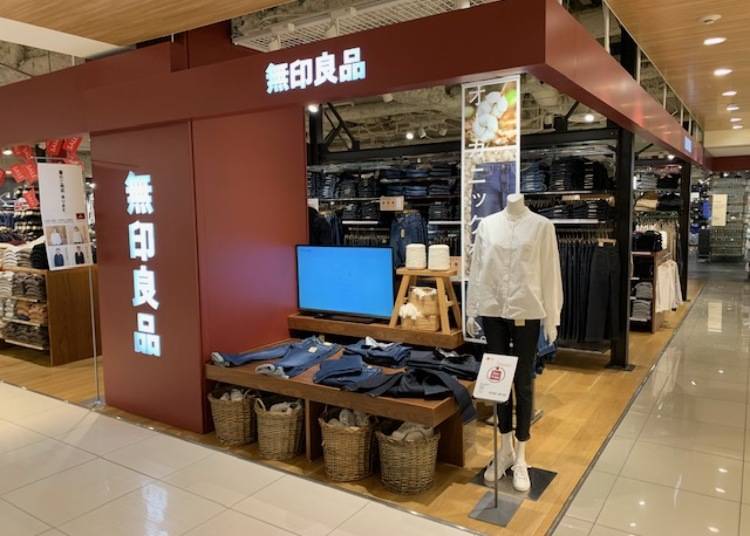 ■ MUJI
The MUJI on the 2nd floor of the Wing Building is a rather large shop of over 1,500 square meters of space. This MUJI's largest department is their food section, with select products such as rice that you can purchase by keyword or by weight. Of course, regular MUJI fans will be pleased with their wide selection of other MUJI items such as clothing, furniture, and travel goods.

There's also a cafe, Cafe & Meal MUJI, where you can stop for a treat in between shopping.
Abeno Harukas Dining: Delicious Meals All Around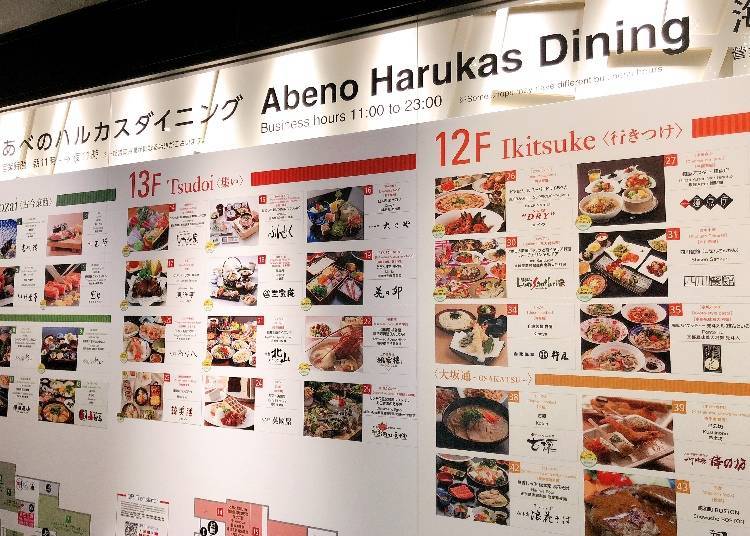 Abeno Harukas Dining is one of the largest restaurant food courts in Japan, spanning the 12th to 14th floors of the Tower Building, and including about 44 different shops with over 2,800 seats. You will find all kinds of foods available, from Japanese and Western, to Chinese, Korean, and Italian, and even hamburger joints! If you find yourself hungry after a day of shopping, this is definitely a place to stop by!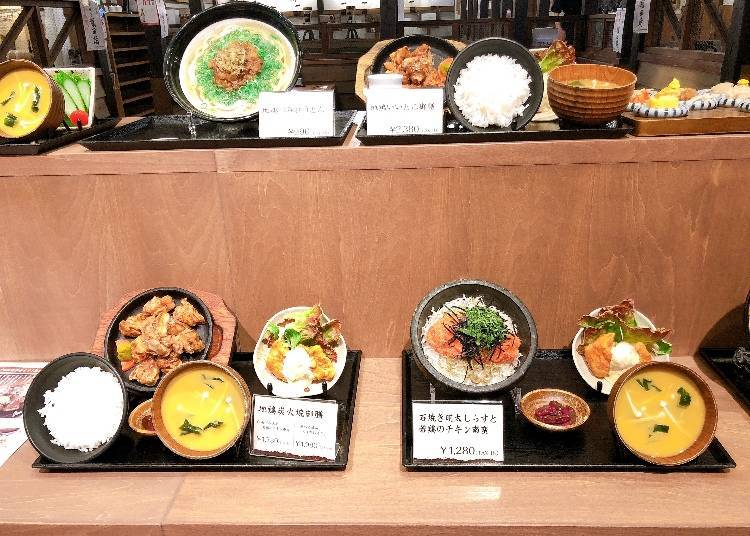 The majority of the shops have food sample displays with prices as seen above, so you can quickly understand what's on the menu and decide where to eat. Prices vary by shop, but on average, lunches will probably cost you about 1,500 yen.

Of the many shops available, here are two that were particularly busy.
■ Senri Shabuchin (12F)
This is the Harukas branch of Senri Shabuchin, an individual-portion shabu-shabu specialty shop originally located in the northern part of Senri-Chuo, Osaka. Founded in 1972, this restaurant is known for their aged meats and secret sauce that has remained consistently delicious through the ages.

Estimated Budget:
Lunch: From 1,050 yen (tax included)
Dinner: From 2,580 yen (tax included)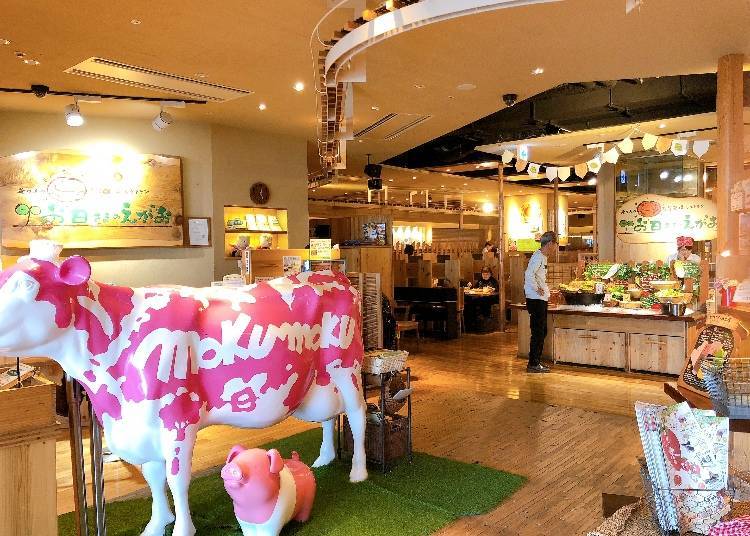 ■ Moku Moku Ohisama no Egao Farm Restaurant (13F)
Enjoy all-you-can-eat meals at this directly-managed, farm-to-table buffet style restaurant. With plenty of vegetable side dishes, you can fill up without compromising your health!
Estimated Budget:
Lunch: 2,002 yen (tax included)
Dinner: 2,640 yen (tax included)
Abeno Harukas Kintetsu Honten

あべのハルカス 近鉄本店

Address

1-1-43 Abenosuji, Abeno-ku, Osaka City, Osaka 545-6016

Phone Number

06-6624-1111

Hours: B2F-3.5F: 10:00AM-8:30PM
4F-11F: 10:00AM-8:00PM
12F-14F: 11:00AM-11:00PM
B2F Abeno Market Cafeteria: 10:00AM-10:00PM
For Art Lovers: Abeno Harukas Museum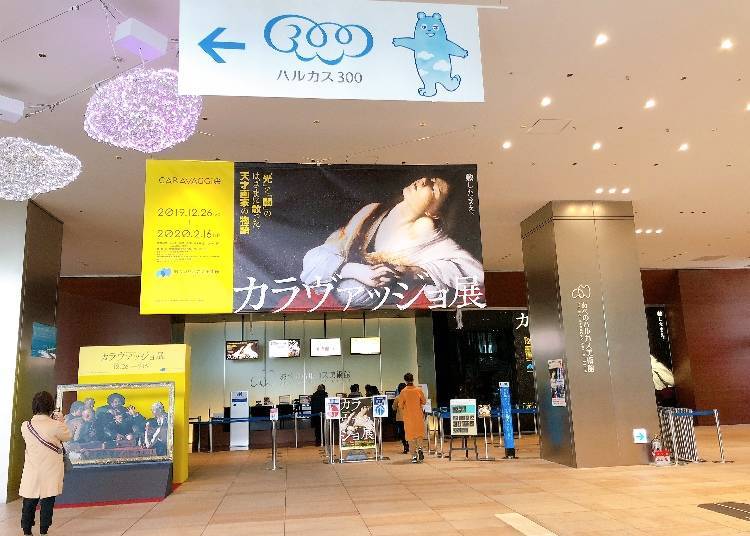 On the 16th floor near the observatory entrance gate is where art lovers gather: the Abeno Harukas Museum. Various exhibitions are held where people and art interact. There is a wide range of displays, from national treasures and important cultural properties, to Japanese, Western, and contemporary art. The museum itself is all in Japanese, however you can view the website in English: (https://www.aham.jp/ )

Exhibitions may vary by season. On the day of our visit was a Caravaggio Exhibition, which displayed the works of gifted Italian painter Michelangelo Merisi da Caravaggio, as well as works of other painters who were influenced by him.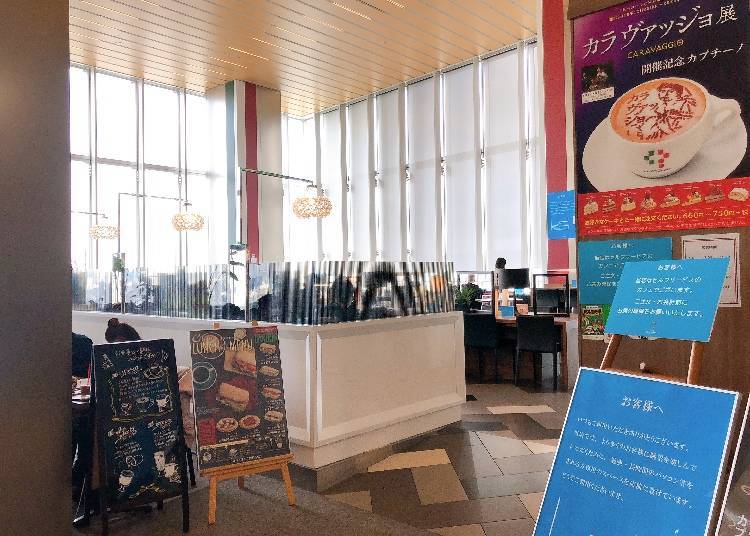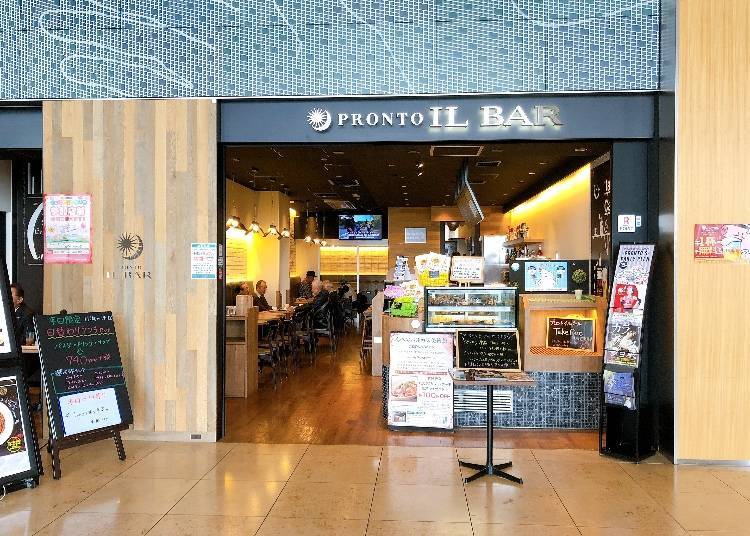 Up one floor by escalator are two cafes, CAFFE CIAO PRESSO and PRONTO IL BAR. Both are recommended to stop by after perusing the art.
Address

Abeno Harukas 16F, 1-1-43, Abenosuji, Abeno-ku, Osaka-shi, Osaka, 545-0052
View Map

Nearest Station

Osakaabenobashi Station (Kintetsu-minamiosaka Line)
0 minute on foot


Phone Number

06-4399-9050
A Luxury Stay at Osaka Marriott Miyako Hotel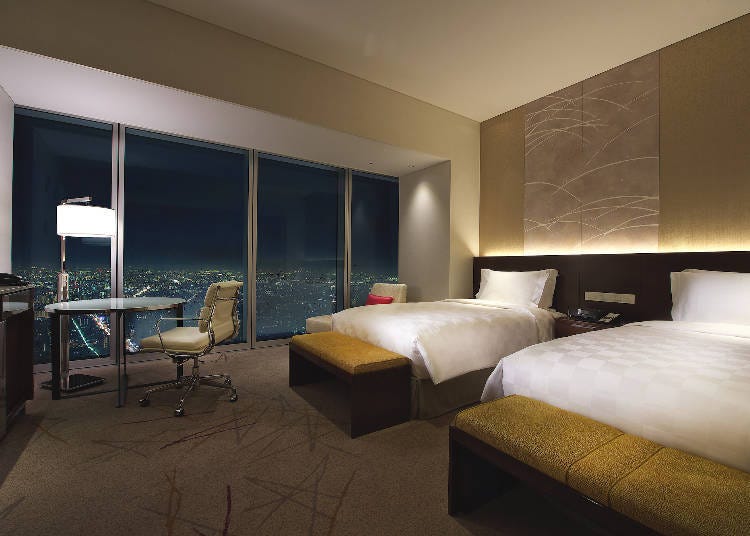 Beautiful night view from the deluxe twin room
On the higher floors of Abeno Harukas is the luxury Osaka Marriott Miyako Hotel, with their outstanding views. Hotel guests can visit the observatory for free, and the business center and fitness gym are also available 24 hours, free of charge. Each room is over 38 square meters in size, and the perfect place to relax after a long day of sightseeing.
Address

Abeno-ku Abenosuji 1-1-43, Osaka, Osaka Prefecture, 545-0052
View Map

Nearest Station

Osakaabenobashi Station (Kintetsu-minamiosaka Line)
1 minute on foot


Vacancy search, reservation

from

48,930JPY

1room, 2adults

Check with our partner site as the latest rates, rate details, and guest room requirements may vary.
Abeno Harukas: For A Fulfilling Osaka Trip
Abeno Harukas: where you can enjoy beautiful views, savor delicious cuisine, cultivate your mind with art, and immerse yourself in a luxurious stay at a gorgeous room. With a department store known for their meticulous efforts to accommodate foreign tourists, if you add Abeno Harukas to your list of sightseeing to-dos while in Osaka, you will find yourself enjoying a rich and fulfilling trip to remember!

Text by:WESTPLAN
*This information is from the time of this article's publication.
*Prices and options mentioned are subject to change.
*Unless stated otherwise, all prices include tax.
Limited time offer: 10% discount coupons available now!