Date Masamune was a warrior in Japan's Tohoku region. Known as the "One-Eyed Dragon," he came to power during Japan's Sengoku period, which lasted from about 1493 to 1590. This was an era of civil unrest in Japan during which various feudal lords vied for power.

With his black armor and helmet that bore the shape of a crescent moon, Date Masamune is a famous historical figure who has been depicted in dramas, animations, and even games.

Thanks to a recent decision to produce a foreign drama about him, he is becoming more well-known worldwide. In this article, we will introduce some of the Samurai armor used by warriors from the Sendai domain, in particular, Date Masamune's armor.
Date Masamune: Who was the One-Eyed Dragon?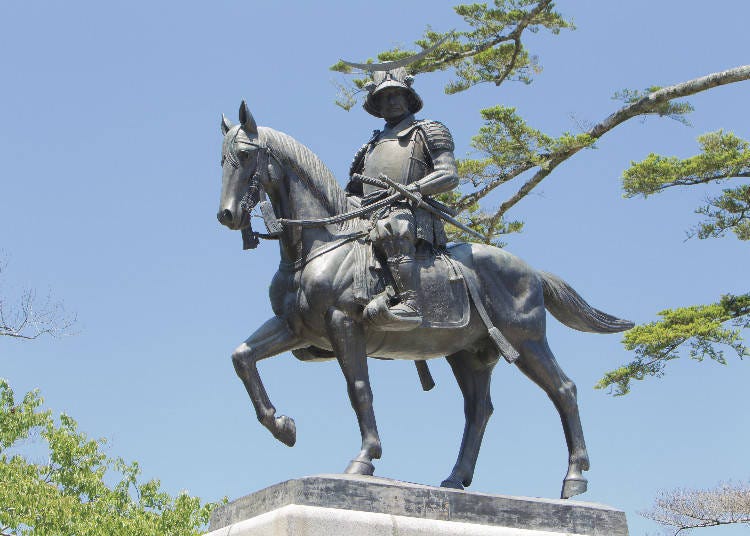 Photo credits to Sendai Tourism, Convention and International Association
Dokuganryū in Japanese means "One-Eyed Dragon" and was the nickname for Date Masamune. In 2019, Netflix decided to create a drama featuring Date Masamune as the protagonist, and as a result, he has garnered interest worldwide.

The show will include several fictionalized accounts of his eccentric displays, including Masamune joining the war in a burial outfit, carrying a gold cross, having responded to Toyotomi Hideyoshi's call to battle late.

Another account narrates that Masamune's mother had favored his younger brother to succeed as head of the family and had poisoned Masamune. In response, Masamune killed his younger brother to put an end to the succession dispute.

To find out more about what kind of person he was, we spoke to Mr. Sasaki, the curator of Sendai City Museum, where much about the Date family is exhibited. But first, let's begin with a brief history of Date Masamune.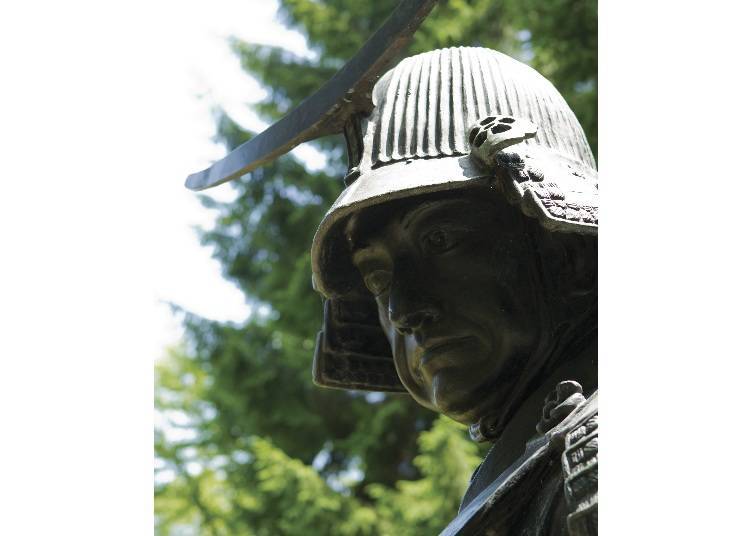 Sendai Tourism, Convention and International Association
Date Masamune was born in 1567 in Yonezawa City of Yamagata Prefecture. He won his first battle at the age of 15 in 1581 and, at 18, became the seventeenth head of the Date family. By the time he turned 23 in 1589, the territory under him had expanded far more than any other leader in the history of the Date family.

However, Japan was headed for unification under the influence of Toyotomi Hideyoshi. Masamune, who had chosen to submit to Hideyoshi, forfeited his territory in Yonezawa in 1591 and moved to where Iwadeyama, Miyagi Prefecture, is today.

After Hideyoshi's death, Masamune served Tokugawa Ieyasu. In the present Sendai City of Miyagi Prefecture, Masamune built Sendai Castle and rebuilt Zuiganji Temple as his family temple on Matsushima Island. He also established the Sendai domain, becoming the first feudal lord of the area. Masamune lived through the passing on of many warriors; he fought alongside and lived till the age of 70 himself.
A Good Writer and Strict Father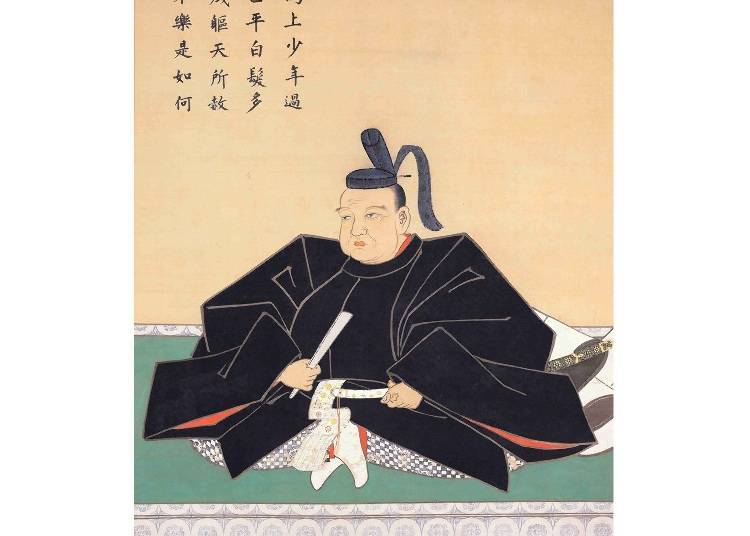 Portrait of Date Masamune, painted by Kanō Yasunobu (Property of Sendai City Museum)
There are various anecdotes about Masamune. However, the two scenarios described earlier have somewhat low credibility due to the lack of records.

According to the curator Mr. Sasaki, Masamune, who had studied under the Zen priest Kosai Souitsu, was extremely diligent. Also, because Masamune had skilled penmanship from a young age, letters from him were considered by some to be prized possessions.

While it was the norm during the Sengoku period to have letters be written on behalf of oneself, out of the 4,500 letters current found to be sent by Masamune, the man himself penned 1,300 of them. As for the unifiers of Japan, it is said that Nobunaga personally wrote 10 out of his 1,500 letters, Hideyoshi 100 out of 5,000, and Ieyasu 30 out of 2,500. From this, it is clear that Masamune had personally penned an overwhelmingly large proportion of his letters.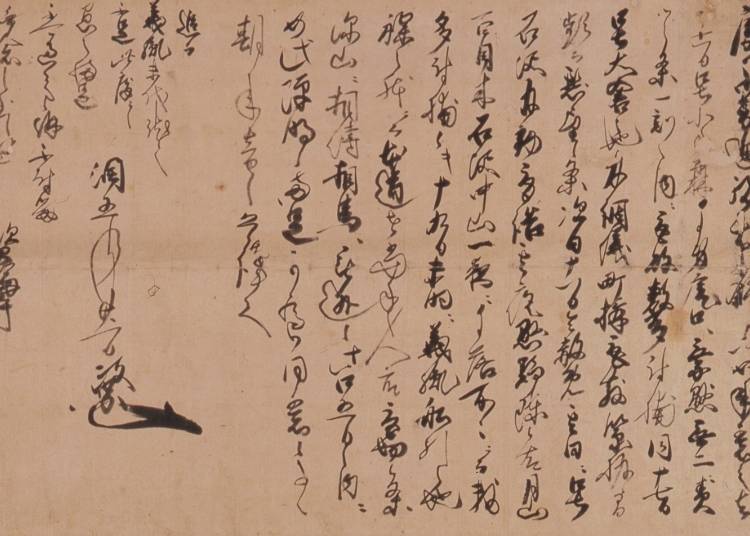 Letter from Date Masamune, addressed to Kosai Soitsu of Shifukuji. July 14, 1588. (Property of Sendai City Museum)
It is unclear why many of Masamune's letters had been personally penned, but he had been the type of person to do everything himself, regardless of what the task was. Masamune had ten sons and four daughters.

While he was lenient towards his daughters, he nagged at his sons, especially his eldest son Hidemune and his second son Tadamune, who eventually became the second feudal lord of the Sendai domain. He also left several letters of advice for his sons, including one that reminded them not to recite waka, which is a type of Japanese poetry, in a particular manner.
Even Date Masamune's Armor is Cool! A Visit to Sendai City Museum to Check Out the Various Gear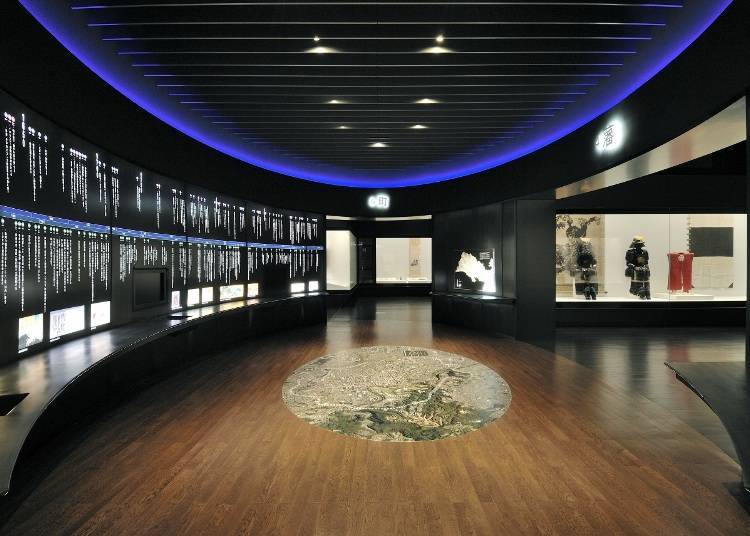 Sendai City Museum is a 7-minute walk away from Kokusai Center subway station. Located at the base of Sendai Castle remains, the museum is home to about 97,000 artifacts, including cultural assets contributed by the Date family. Besides Date Masamune's armor, the armor and weapons that belonged to the Date family's Sendai domain feudal lords and retainers can also be found there.

Armor and helmets have long since been used in Japan as protective gear in battles and have been altered to adapt with the times, such as the changes from the usage of horses in campaigns to using matchlock guns and spears in infantry warfare. Furthermore, during the Sengoku period, the armor also became a way of displaying one's power. Because of that, a diverse range of designs for armor and helmets were made for military generals.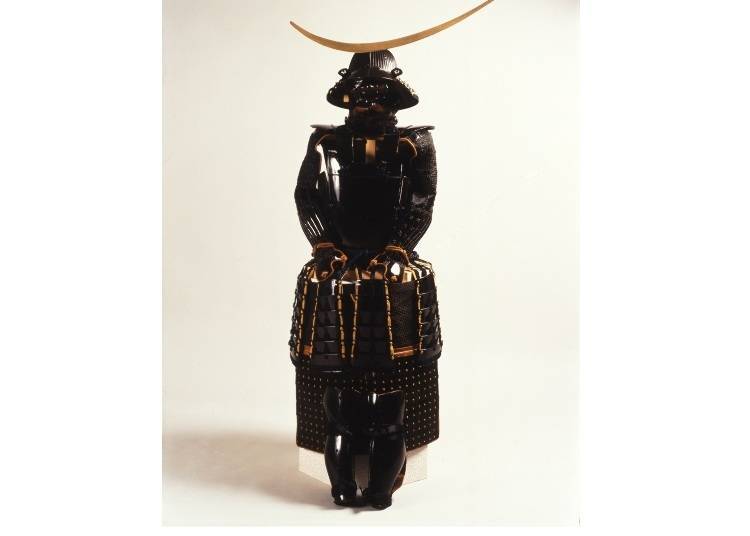 Important Cultural Property: "Kuro Urushi Gomaidō Gusoku", used by Date Masamune (Property of Sendai City Museum)
Date Masamune's "Kuro Urushi Gomaidō Gusoku"
For most Japanese residents, when it comes to Date Masamune, the iconic armor "Kuro Urushi Gomaidō Gusoku" immediately comes to mind. Designated as an important cultural asset, the armor is only on display during limited periods within the year. It is entirely black, save for the impressive gold-colored shining crescent moon on the helmet.

It is unclear why black was chosen as the base color, but it might have had something to do with Masamune losing his right eye during his childhood. Researchers think this was an attempt by Masamune, who was well-versed in Chinese classics, to emulate Li Keyong, otherwise known as Ri Kokuyō in Japan. Just like Masamune, Li Keyong had one eye. A brave general involved in the northeastern part of 10th century China, he had consolidated administrative power and helmed a military troop, whose military garb had been standardized to be black.

And Li Keyong had been nicknamed the "One-Eyed Dragon." It is likely that Masamune had hoped to be formidable like Li Keyong and eventually aim to rule the whole of Japan.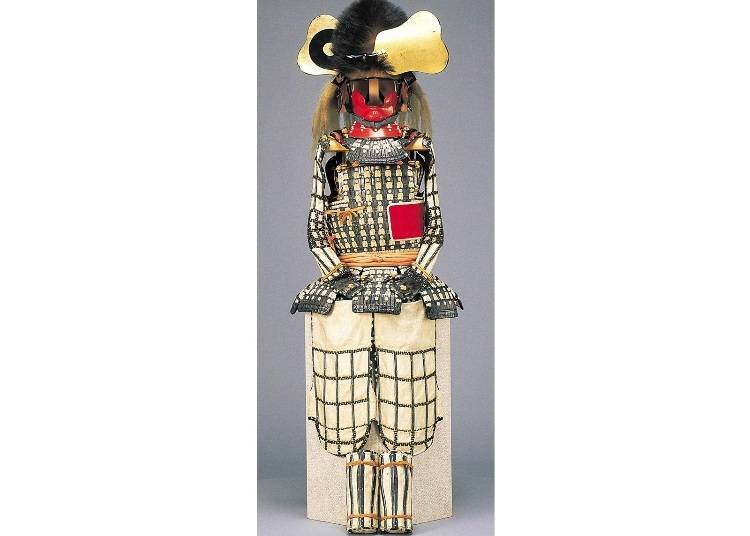 Important Cultural Property: "Gin Iyozane Shiroito Odoshi Dōmarusoku", used by Toyotomi Hideyoshi, bestowed on Date Masamune (Property of Sendai City Museum)
The Spectacular Armor He Received from Toyotomi Hideyoshi
Bestowed upon Masamune by Hideyoshi, the flamboyance of "Gin Iyozane Shiroito Odoshi Dōmarusoku" is much unlike that of "Kuro Urushi Gomaidō Gusoku." An important cultural property, this armor has been weathered as a result of oxidization. However, it is believed to have been extremely flashy at that time because of the silver foil used.

Such armors were not uncommon during the Sengoku period as they served as a display of one's own authority to other generals.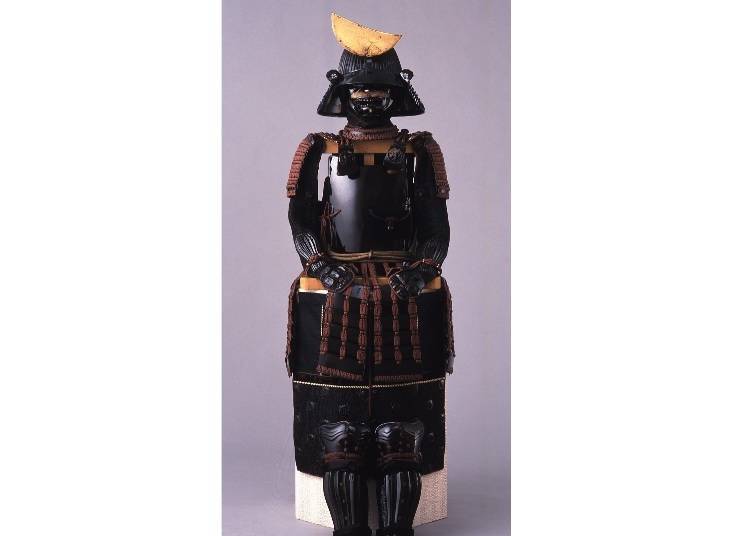 "Kuro Urushi Gomaidō Gusoku", used by Date Tadamune (Property of Sendai City Museum)
Made of Iron, the "Sendai-dō" Weighed More Than 20 Kilograms
The armor in this third picture belonged to Tadamune, who was Masamune's heir and second-generation feudal lord of the Sendai domain. "Gomaidō," as they were known, were armor painted over with black lacquer frequently used in the Sendai domain and had torsos that comprised five pieces of iron plates, following the style of Masamune's armor.

This particular style of armor also came to be known as "Sendai-dō" due to its prevalence in the Sendai domain. Although leather and cloth were typically used, the helmets and shin-guards in Sendai domain were made from iron instead. As such, they were heavy – Masamune's armor weighed more than 20 kilograms. Nonetheless, the five-piece structure of the torso still made the armor a practical option for its ease of transport to the battlefield.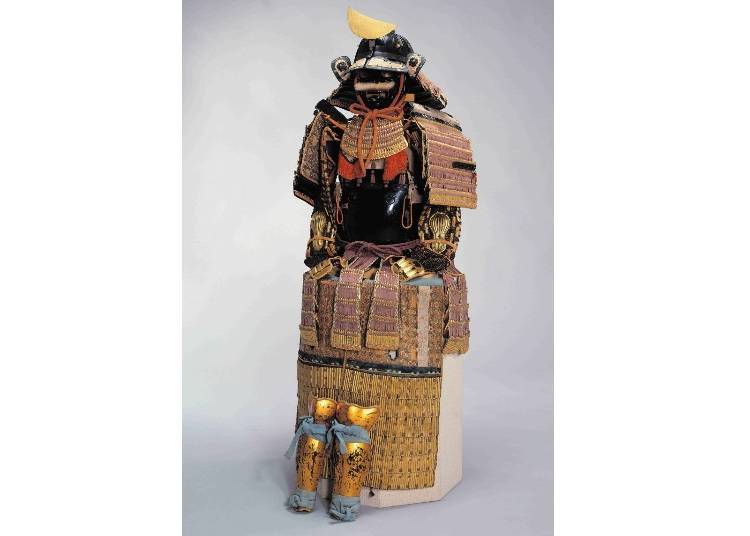 "Kin Kozane Gomaidō Gusoku", used by Date Yoshimura (Property of Sendai City Museum)
The Flamboyant "Gomaidō Gusoku" That Was Used in a Period of Peace
This armor belonged to the fifth feudal lord of the Sendai domain, Yoshimura, who was born in a period of peace. During this time, armors were only used for ceremonial purposes and thus extremely flashy.

However, the five-piece torsos and iron shin guards remained. Even though many of the helmets are adorned with first-quarter moons like in Tadamune and Yoshimura's armor, portraits show that the thin crescent moon too was used to decorate the helmets worn by feudal lords.

To prevent degradation, these artifacts can only be exhibited for limited periods. The content of the permanent exhibition changes with the season, too, so be sure to check the website for the latest information before heading to the museum.
仙台市博物館

Address

26, Kawauchi, Sendai Shi Aoba Ku, Miyagi Ken, 980-0862, Japan

Phone Number

022-225-3074

・Hours: 9:00 a.m. – 4:45 p.m. (last admission at 4:15 p.m.)
・Closed: Monday (Closed the next day if Monday is a public holiday)
・General Admission Fee: 460 yen
* The Sendai City Museum will close from October 1, 2021, due to renovations. It is scheduled to reopen in April 2024.
More Armor Further Out at Meiji Village Museum of Miyagi Toyoma Town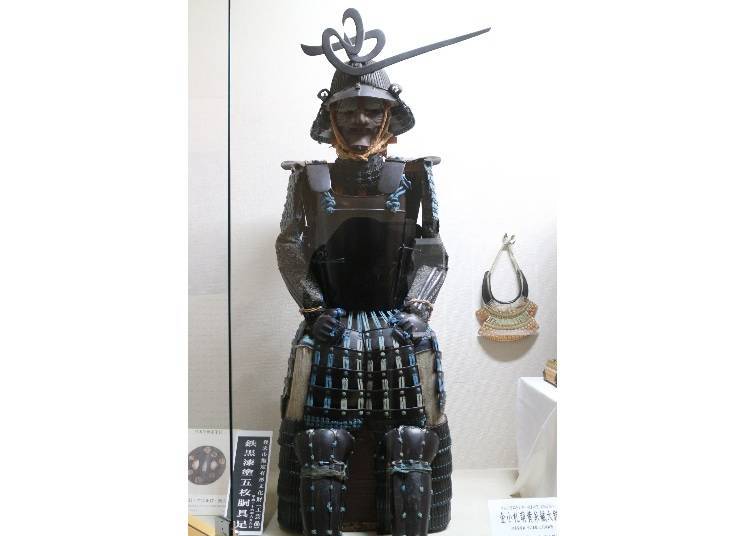 Tetsu Kuro Urushi Nuri Gomaidō Gusoku
Meiji Village Museum of Miyagi Toyoma Town is a historical museum where you can check out the armor that had belonged to the Toyoma-Date family, which had a close relationship with the Date family of the Sendai domain. Toyoma town, in the north of Miyagi Prefecture, where Toyomakaikokan is located, is accessible by express bus from Sendai station. A one-way trip costs 1,250 yen and takes about an hour and thirty-five minutes.

The characteristics of the "Sendai-dō" are apparent in the "Tetsu Kuro Urushi Nuri Gomaidō Gusoku." Some say that this armor was used by Shiroishi Munezane, a retainer who served Date Masamune and his father, Terumune. In contrast, others speculate that it was used by Munezane's heir Shiroishi Munenao. The helmet is adorned with the cursive style of the Chinese character "nari," but the significance of it remains a mystery.

Shiroishi Munenao took on the role of the first head of the Toyoma-Date family, gained the trust of the Sendai Date family, and consequently was bestowed the last name of "Date".

Besides the "Tetsu Kuro Urushi Nuri Gomaidō Gusoku," many other artifacts related to the Date family, including swords and documents, are on display. How about extending your journey to visit the Meiji Village Museum of Miyagi Toyoma Town?
Meiji Village Museum of Miyagi Toyoma Town

登米懐古館

Address

Sakurakouzi 72-6, Toyomamachi Teraike, Tome Shi, Miyagi Ken, 987-0702, Japan

Phone Number

0220-52-3578

・Hours: 9:00 a.m. – 4:30 p.m.
・Closed: December 28 – April 1
・General Admission Fee: 400 yen (1000 yen for admission ticket with access to six facilities within Toyomamachi)
Let's Explore Places Linked to Date Masamune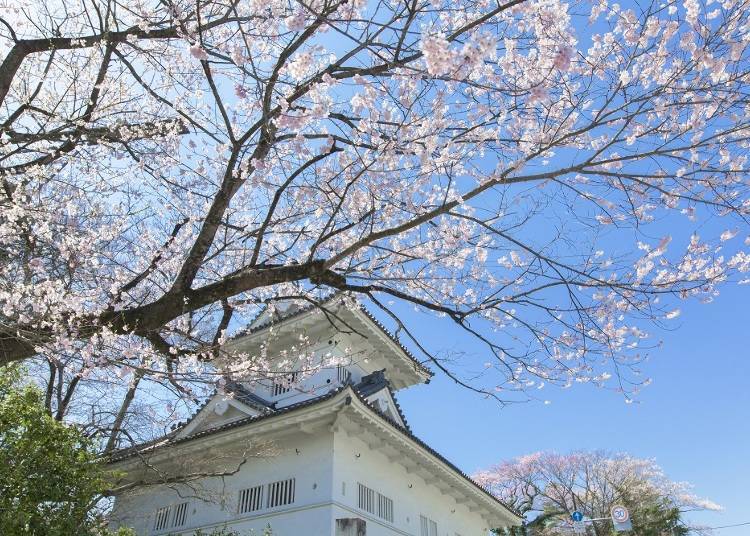 Sendai Tourism, Convention and International Association
Sendai Castle Ruins (Aoba Castle Ruins)
A place closely connected with Masamune is the Sendai Castle Ruins (Aoba Castle Ruins), which is a 20-minute walk away from Sendai City Museum. Even though the castle walls have been destroyed by fire, the stone walls and reconstructed Wakiyagura castle tower, as well as the equestrian statue of Masamune, are still sights to behold. A recommendation would be the Aoba Castle Museum, located within the site, where visitors can visualize reconstructed images of the castle walls through the use of CG and VR.
Zuihōden
The next stop is Zuihōden, the mausoleum of the successive heads of the Sendai Date family. A 20-minute walk away from Sendai City Museum, the richly colored, magnificent mausoleum, is definitely worth a visit. Within the museum are restored statues of three Date feudal lords, including Masamune.


We have introduced Date Masamune and his armor in this article, but there are lots of other places in Tohoku where we can learn more about other charismatic warriors as well as their weapons and battle gear.

If you get the chance to, be sure to visit these places and re-live the experiences of the warriors who lived in the age of Sengoku!

Text by: SHOE PRESs
*This information is from the time of this article's publication.
*Prices and options mentioned are subject to change.
*Unless stated otherwise, all prices include tax.