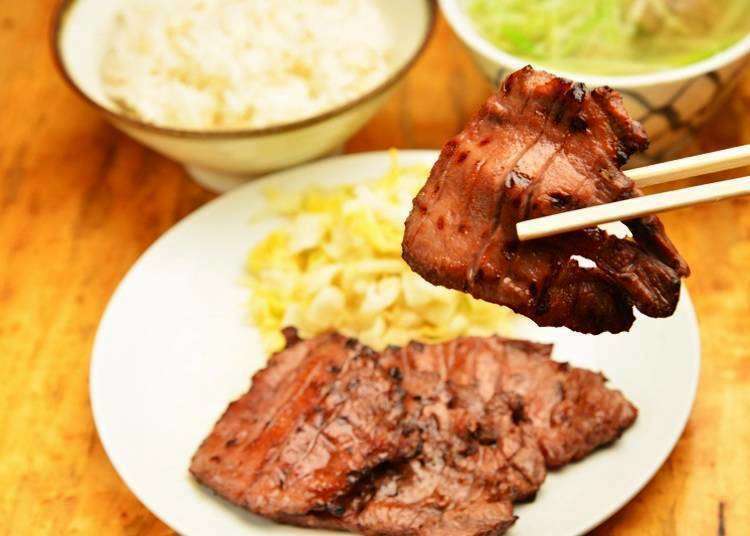 Sendai, the largest city in the Tohoku Region, is known for its variety of delicious foods. Among these, there is one particular dish that has earned the city fame: Sendai gyutan, or beef tongue, known for its savory and juicy flavor.

In Sendai, you can find Japanese beef tongue specialty shops just about anywhere you go, in front of the stations, and in the downtown area.

The standard menu item is the charcoal-grilled beef tongue set meal, seasoned with salt. There are also various other dishes made using beef tongue, including stews, sashimi, and ham dishes.

Here are five popular specialty beef tongue shops in Sendai, where you can enjoy tasty gyutan.
Delicious dishes of Sendai and Miyagi Prefecture
Being the largest city in the Tohoku Region, there are many shops in Sendai that specialize in local gourmet dishes, including "kamaboko," a grilled fish surimi dish, and "zunda," made with crushed soybeans.

Amongst these, "gyutan-yaki," or grilled beef tongue, is cooked in a unique way that draws out the delicious flavor of beef with only a simple seasoning.
What kind of dish is Gyutan - Grilled Beef Tongue?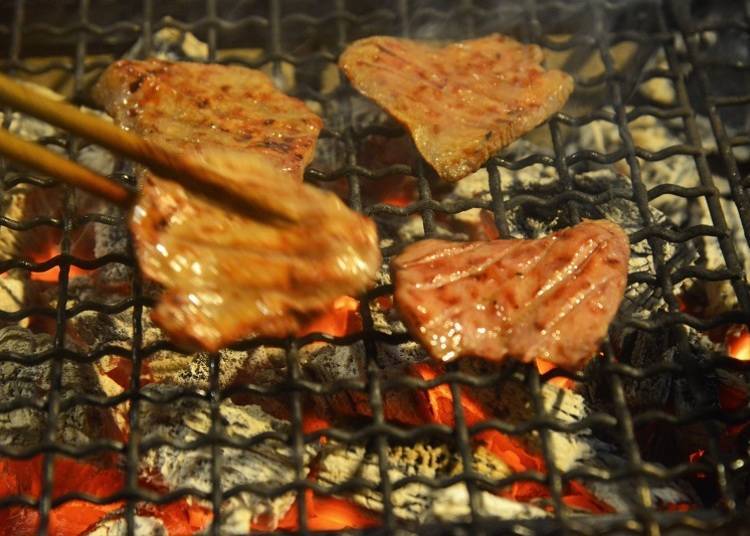 Gyutan-yaki was born in 1948 after World War II. At that time, many yakitori restaurants popped up around the city, as they were the most straightforward kinds of shops to manage. They served various types of meats, including pork, beef, and chicken.

It was then that Keishiro Sano, owner of a yakitori restaurant "Tasuke," came up with this Japanese beef tongue dish, based on the Western dish, beef stew. He wanted to create a menu item that could not be imitated by other shops so easily.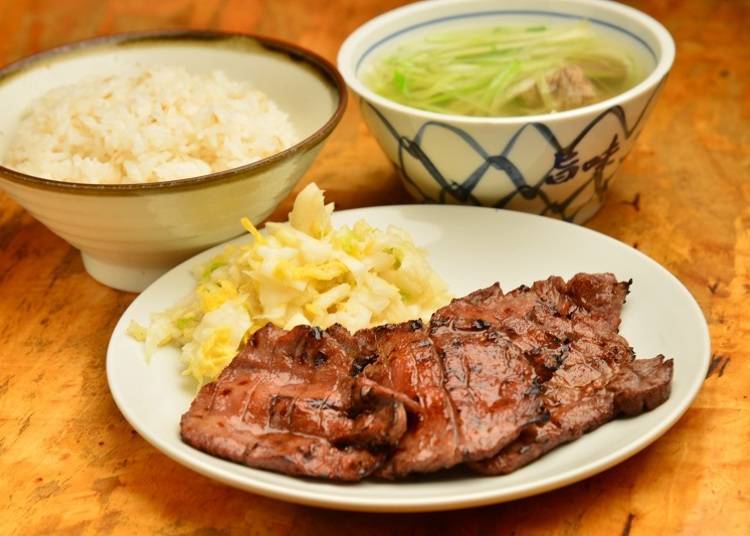 Though gyutan-yaki was grilled in the same way as most Japanese yakiniku restaurants, people were still surprised when trying it for the first time because of how soft and easy-to-chew the thick beef tongue was. Tan (tongue) is considered unique as it is a meat that can only be taken from one part of the cow.

There are also very few places that can cook such a soft beef tongue. Each shop's skilled artisans cut and prepare the beef tongue carefully, seasoning it with just a bit of salt for a moderately crunchy texture.

The best way to enjoy beef tongue is by enjoying a set meal, which generally includes "mugi-meshi," a dish combining beef tongue, barley, and rice, oxtail soup, made with broth from the cooked tail, and salt-and-miso pickled vegetables. Some shops also offer unique arrangement meals you can try, such as stew and ham dishes.
5 Recommended Sendai Gyutan Restaurants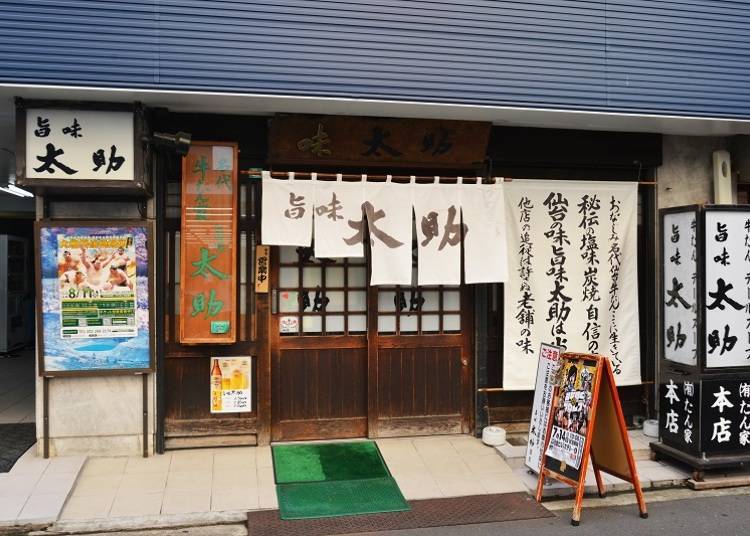 Umami Tasuke has continued to pass down the legacy and flavor of founder Keishiro Sano's gyutan-yaki for about 80 years. It is located in Kokubuncho, the center of Sendai, and the largest downtown area in Tohoku.

This is a famous shop that has received media coverage not only in Japan, but overseas as well, and is known to generate exceptionally long lines of customers, sometimes serving as many as 800-1000 people in a single day.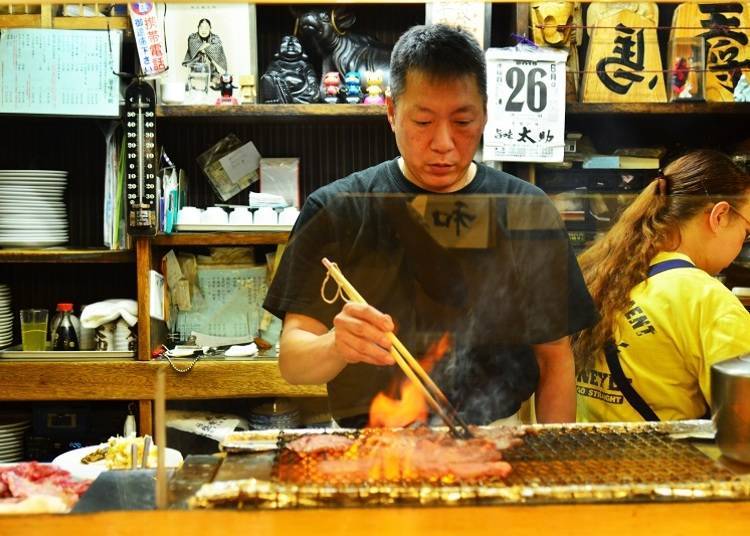 When visiting Umami Tasuke, we recommend grabbing a counter seat to watch the artisans cut and season the meat by hand. Watch them line up the slices of the beef tongue on the grill, cooking them over the charcoal fire and flipping them over one by one right before your eyes. The delicious smell and sound of the sizzling meat are sure to awaken your appetite.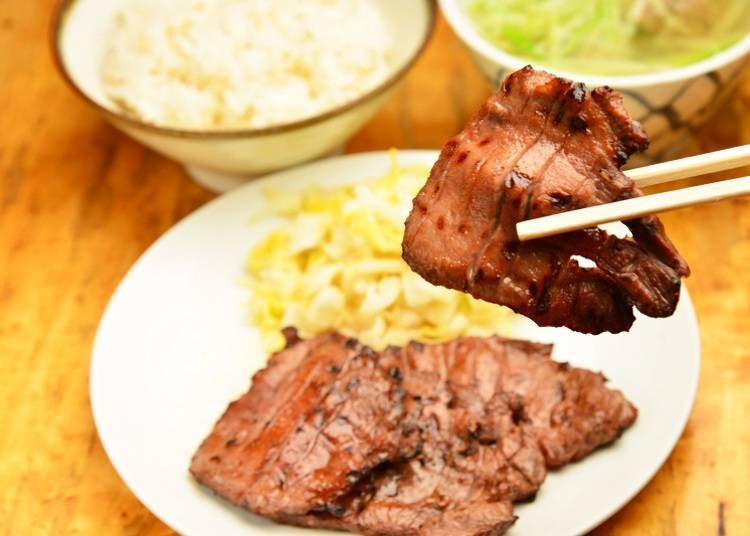 The most important thing when buying beef tongue is the softness. The production area is scrutinized for only the best and softest tongues, which are then crafted and baked by skilled shopkeepers, using their best techniques to cook them as soft as possible, and tender to chew.

Each bite maintains its salty taste and fresh-off-the-grill charcoal aroma. The oxtail soup is left to simmer for 7 to 8 hours and has a pure, moderately salty flavor.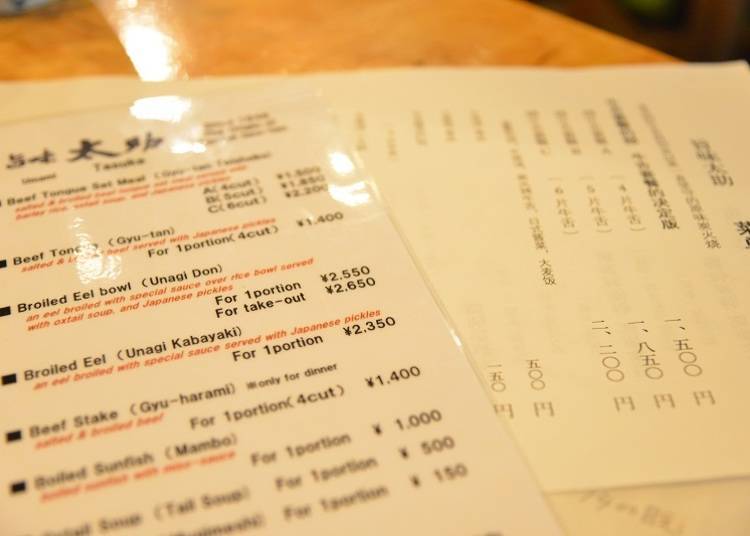 The shop also serves at least one group of tourists from overseas every day, so there are menus available in English and Chinese. There are also handwritten menus that have been around since when the shop first opened. Foreign language menus can be requested by speaking to the staff.

Umami Tasuke is an excellent specialty shop where you can savor the traditional flavor of delicious beef tongue.
旨味 太助

Address

Chimatsuishima Bldg. 1F, 11-11 Kokubuncho, Aoba-ku, Sendai-shi, Miyagi-ken

Phone Number

022-262-2539

Business Hours: 11:30AM~10:00PM (L.O.9:30PM) until sold out
Regular Holidays: Mondays (off the following day in the case of national holidays)
2. Gyutan-yaki Senmon-ten Tsukasa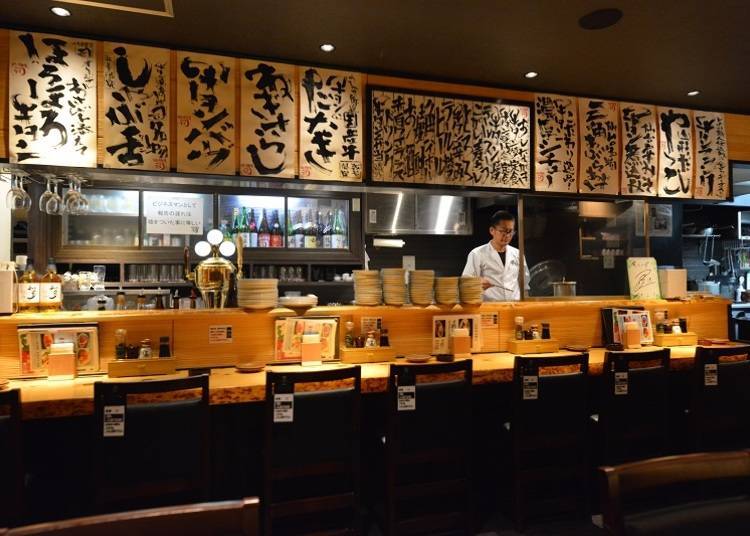 Gyutan-yaki Senmon-ten Tsukasa is an international beef tongue restaurant with shops overseas, with the main branch located in the arcade town of Hapina Nakakecho near Sendai Station. It is run by a shopkeeper whose great passion is to share the deliciousness of grilled beef tongue with the entire world. The lunch set menu is also available in English.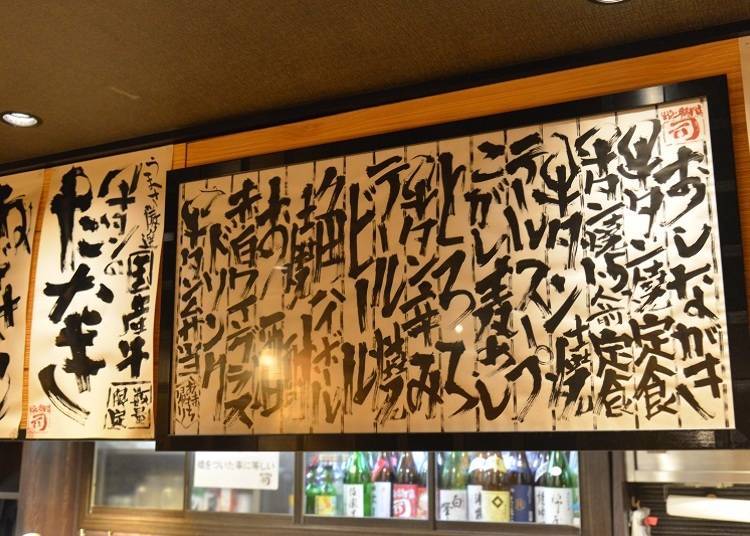 As soon as you enter the store, the handwritten calligraphy menus hanging around the shop are sure to catch your eye. They are so beautiful and artistic, before you realize it, you may find yourself snapping menu photos.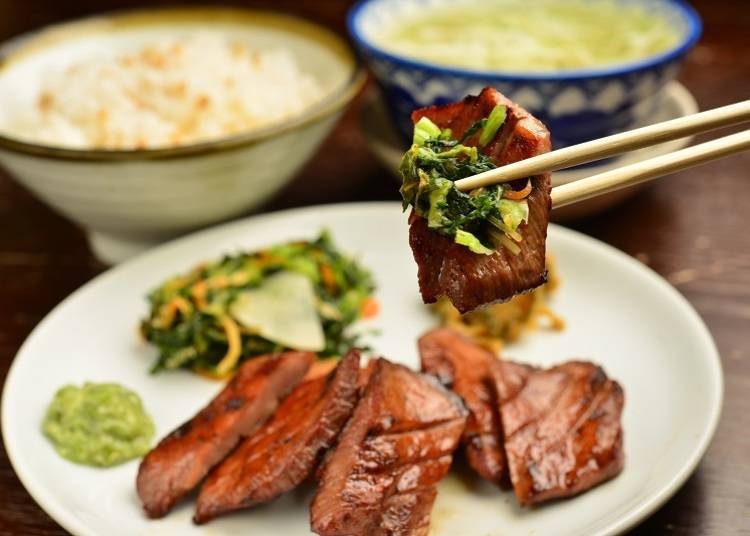 The "Ox Tail Set Meal" is a popular menu item, and served about 200-300 times a day. The high-quality tongues are carefully selected and purchased fresh from an Australian farm daily. The most important thing when cooking beef tongue, says the shopkeeper, is how it is grilled, so the outside is crisp, but the inside is juicy.

The secret? Using oak charcoal from Iwate Prefecture and grilling over high heat, which maintains the flavor and deliciousness of the meat. It is best enjoyed together with special "Omizuke," a vegetable dish pickled in the sauce. For a more Japanese taste, try using the wasabi that is also included. But be careful - wasabi is pretty spicy, so make sure only to use a small amount.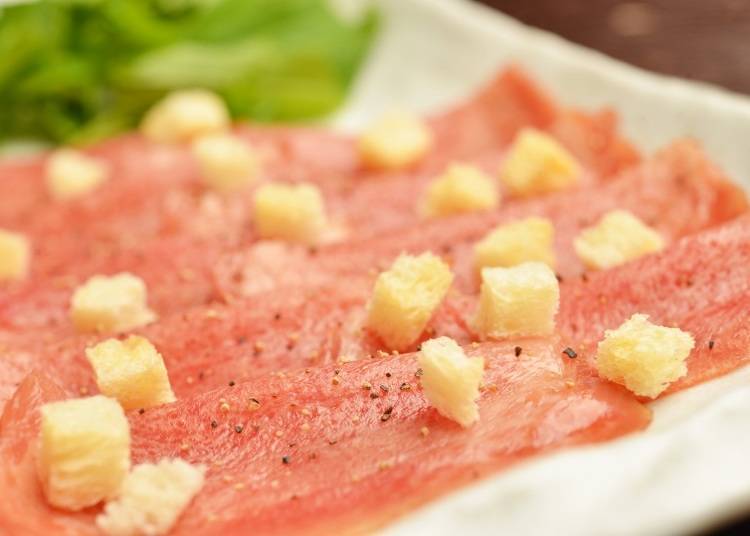 "Gyutan ham," or beef tongue ham, is our choice on the arrangement menu. Though they are thinly sliced, they have a firm yet smooth texture. They have a delicious, refreshing taste when eaten together with mizuna (Japanese water greens) and topped with a slightly sour Italian dressing.
Gyutan-yaki Senmon-ten Tsukasa

牛タン焼専門店 司

Address

Majesty Bldg. 2F, 1-8-2 Chuo, Aoba-ku, Sendai-shi, Miyagi-ken

Phone Number

022-797-0265

Business Hours: 11:00AM~2:00PM, 5:00PM~11:00PM (L.O.10:30PM)
Regular Holidays: None
3. Gyutan Ryori Kaku, Denryoku Bldg. Shop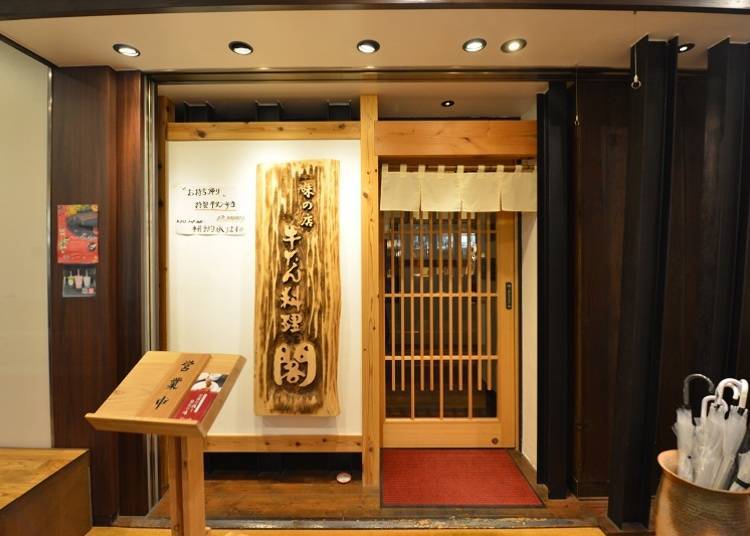 Gyutan Ryori Kaku is a restaurant that opened in 1988. At that time, most beef tongue specialty shops only served grilled gyutan-yaki. Still, this shop took an innovative approach with their arrangement menu items such as beef tongue sashimi and "gyutan-tataki," or beef tongue cooked and served rare.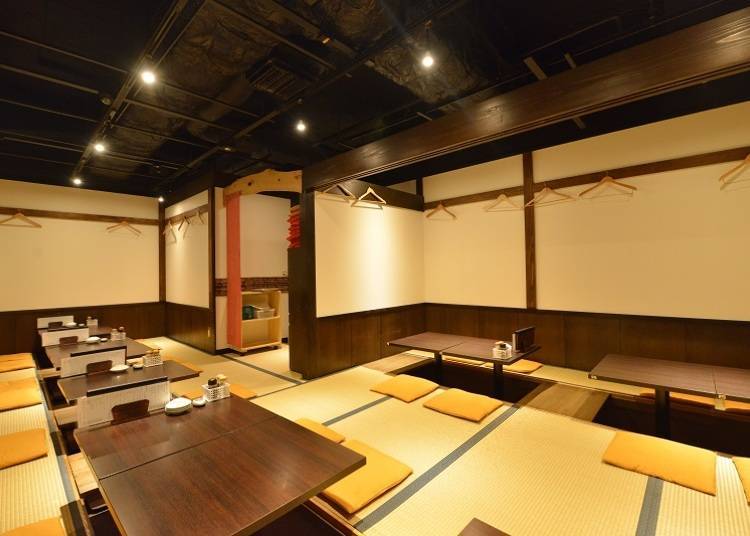 There are two branches, but today we will introduce the Denryoku Building located on the main street of Sendai. The shop has counter seats, table seats, as well as sunken kotatsu areas, perfect for large groups of people to relax and enjoy. The shop is so known for its wide variety of alcohols, which are sampled and selected by the shop owner and staff and switched up every month. You can enjoy not just Miyagi local sake, but also Sendai's specialty Akiyu Wine, together with a delicious dish of oxtail.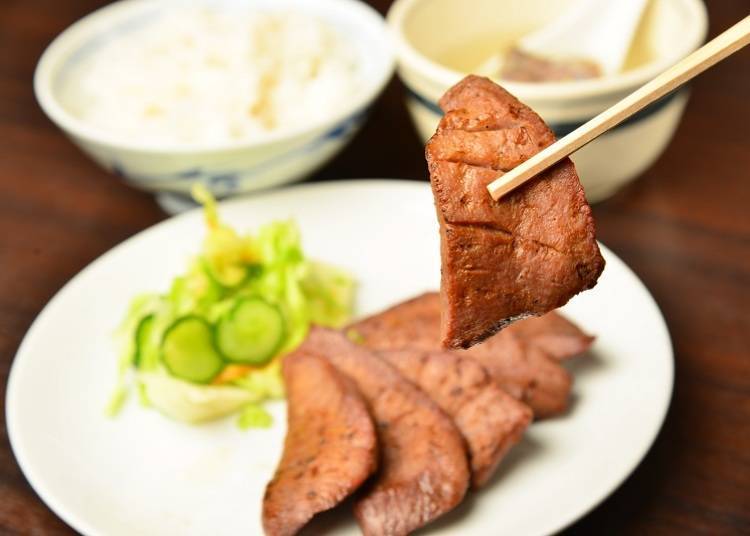 At Gyutan Ryori Kaku, you can order not only gyutan not only as a set meal but also in individual items to enjoy with your alcohol. A special cut is used when cooking the meat, which keeps it from solidifying when cooked so that it remains soft, even after cooling. A dash of soy sauce while still warm will enhance the taste and aroma even more and will be sure to stimulate your appetite as well.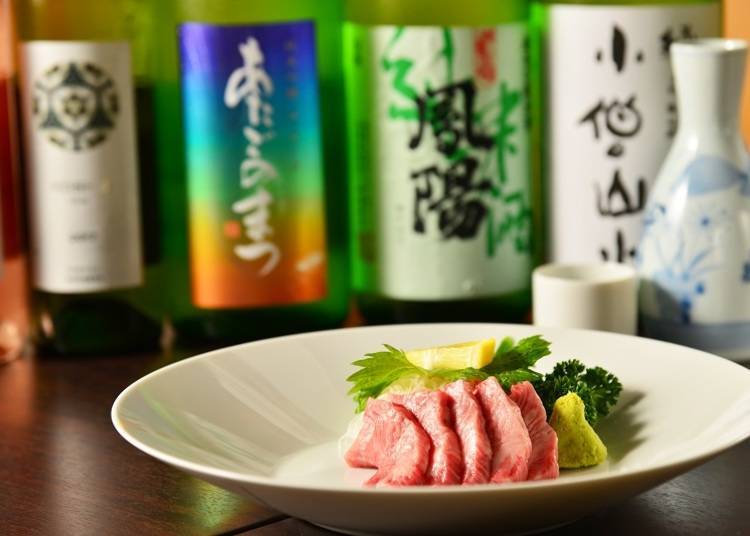 If you want to get fancy, try the gyutan sashimi made from fresh local or Wagyu beef. This is a limited-edition dish of perfectly balanced fatty, red meat. It has a crunchy texture when eaten immediately after being served, with the fat melting slowly as you eat it. To fully enjoy this masterpiece, you will want to savor it slowly while enjoying some sake.
牛たん料理 閣

Address

Denryoku Bld.honkanB1F, 3-7-1, Ichibancho, Sendai Shi Aoba Ku, Miyagi Ken, 980-0811, Japan

Phone Number

022-209-3014

Business Hours: 5:00PM~10:30PM (L.O. 9:30PM)
Regular Holidays: None
4. Aji no Gyutan Kisuke Ichibancho Shop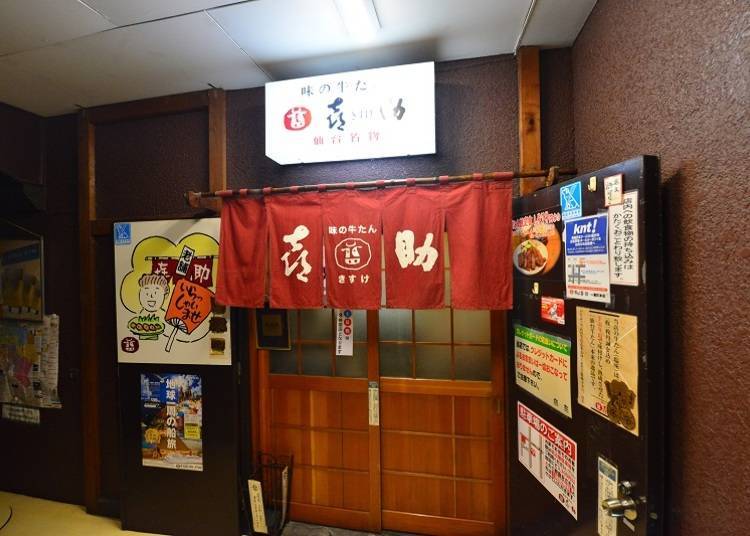 Aji no Gyutan Kisuke Ichibancho is located near Minamimachi Street, a short distance from Sendai Station. It is a specialty beef tongue shop popular with the locals of Sendai.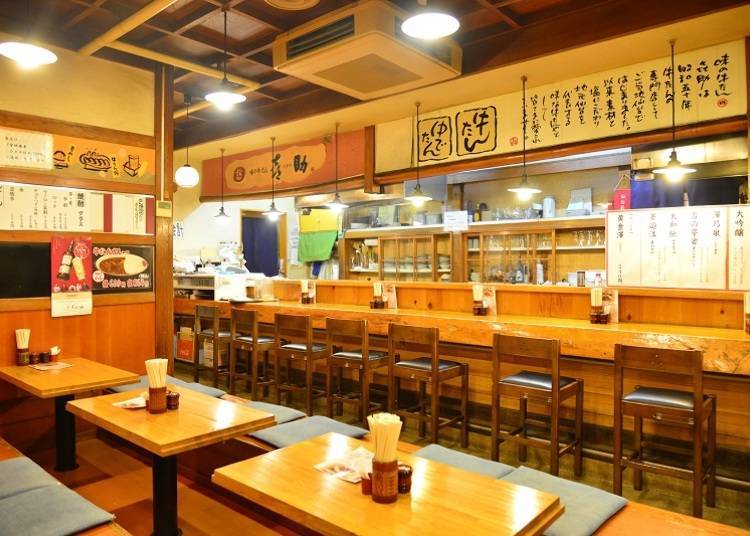 Once you enter through the curtain, the shop staff welcomes you from the counter. The owner is a gyutan veteran who has been grilling gyutan-yaki at this restaurant for almost 40 years without so much as a break.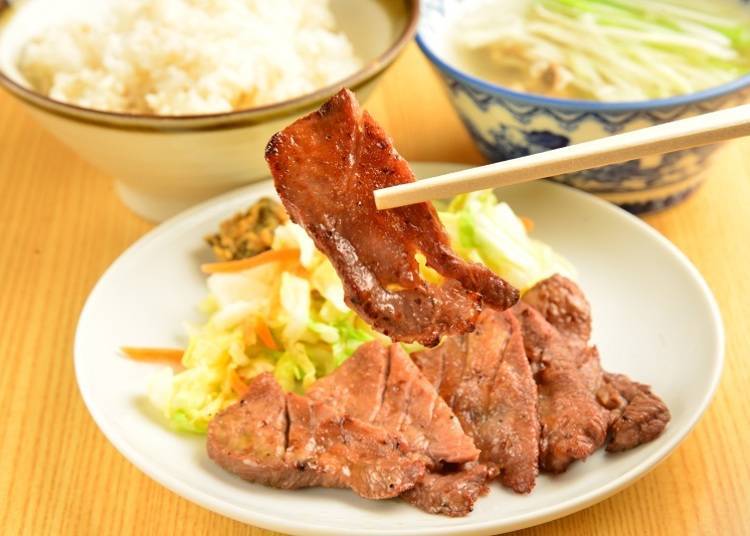 The best thing about their gyutan-yaki is that everything, from the preparation to the grilling, is all done by hand. To reduce the odor of the meat when eaten, the blood is carefully drained from the tongue during prep. It has a strong, salty taste and is best balanced when eaten with rice. It also has a delicious, freshly grilled charcoal scent.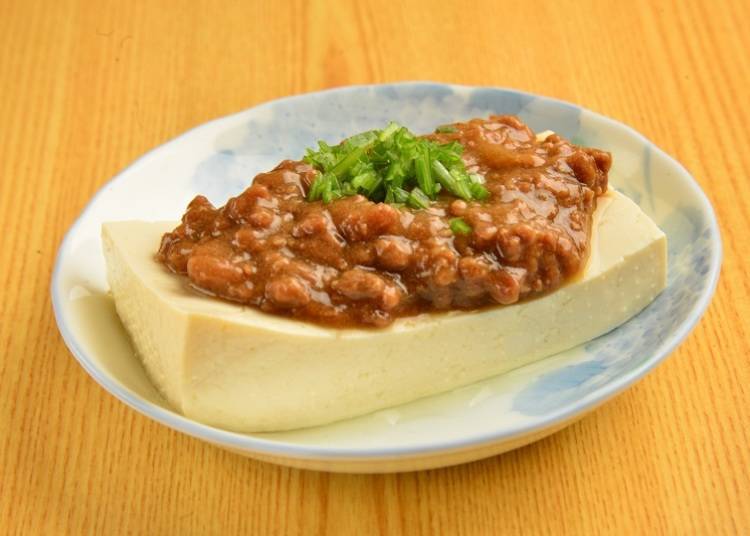 If you want to try a set meal, we recommend "Tantoufu," a traditional menu item that has been passed down in the shop. This menu was established to help bring a greater variety of new beef tongue dishes that were not so popular at the time to new shops.

This dish is made from minced meat from the tip of the tongue (which is also. the hardest part of the tongue), mixed in a soy-sauce-based sauce and boiled tofu. The minced meat has a chewy texture and juiciness that will soak into the sauce, doubling the flavor. This delicious dish is also available at a reasonable price of 270 yen.
喜助発祥の店 一番町店

Address

Ichiban-kan Bldg. 1F, 1-6-19 Ichibancho, Aoba-ku, Sendai-shi, Miyagi-ken

Phone Number

022-262-2561

Business Hours: 11:30AM~2:00PM, 5:00PM~9:30PM (Weekends & Holidays 11:30AM~9:00PM)
Regular Holidays: None (Closed first Sunday of July)
5. Gyutan Sumibiyaku Rikyu Nishiguchi Main Shop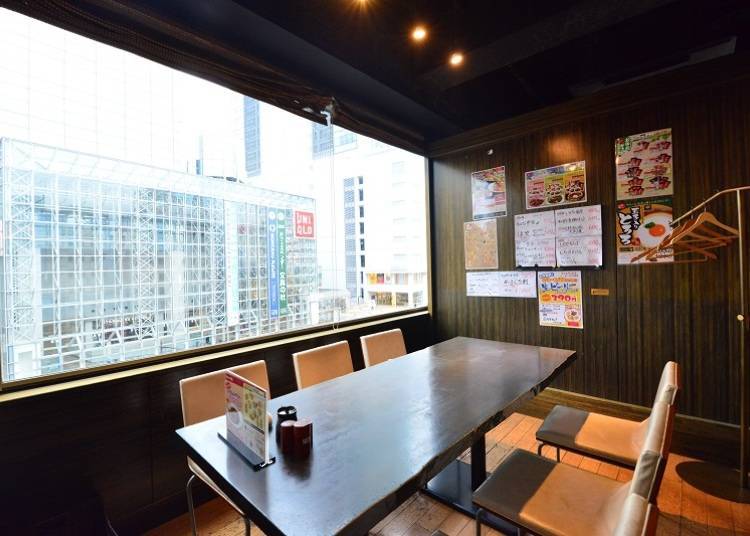 Gyutan Sumibiyaku is a famous shop with about 20 locations in Miyagi Prefecture, known for generating long lines, especially on holidays.

The Nishiguchi Main Shop is close to Sendai Station. It offers both set meals and classic menus items, with menus available in English, Chinese, and Korean, as well as several English-speaking staff members. It provides a nice, hidden view spot of the Sendai Station area from the window seats.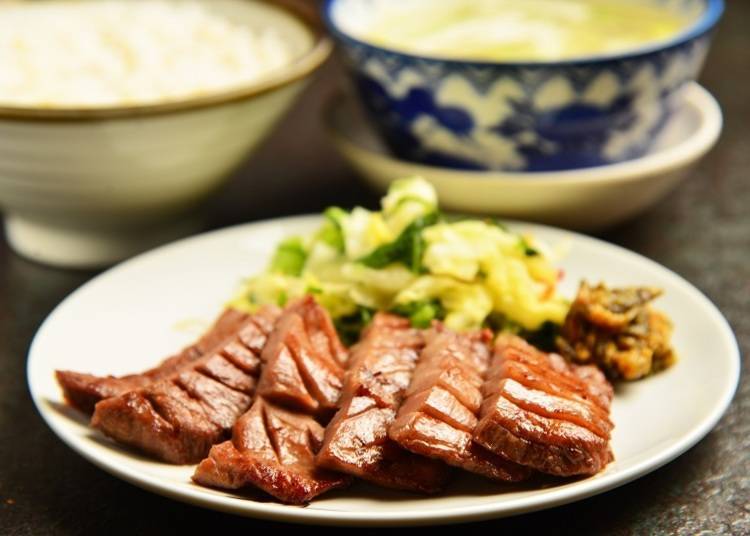 A feature of Gyutan Sumibiyaku Rikyu's beef tongue is the deep cuts in the meat, intentionally done by the shop to make it easy to eat in spite of its thickness. It is recommended to enjoy the carefully seasoned, salty beef either on its own or with a dash of the spicy togarashi pepper placed on each table. It is also recommended to add a bit of soy sauce to the pickled vegetables that come with the dish.

You can also request the staff to cut the meat into smaller pieces, which is convenient for older customers as well as those with small children.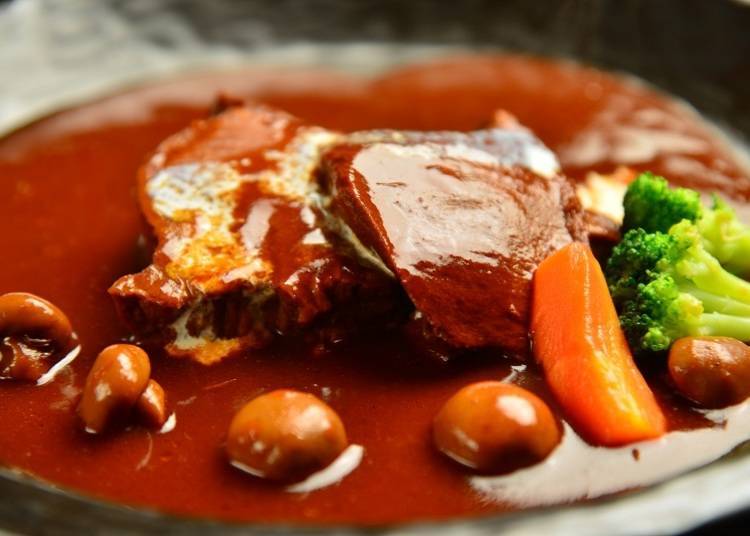 They also serve a variety of seafood dishes and sake bottles a la carte. The staff recommendation is the "Gyutan Chotto Zeitakuna Stew," an indulgent beef tongue stew. It is made with the soft part of the grilled beef tongue, for a delicious, flavor-soaked tongue that melts in your mouth.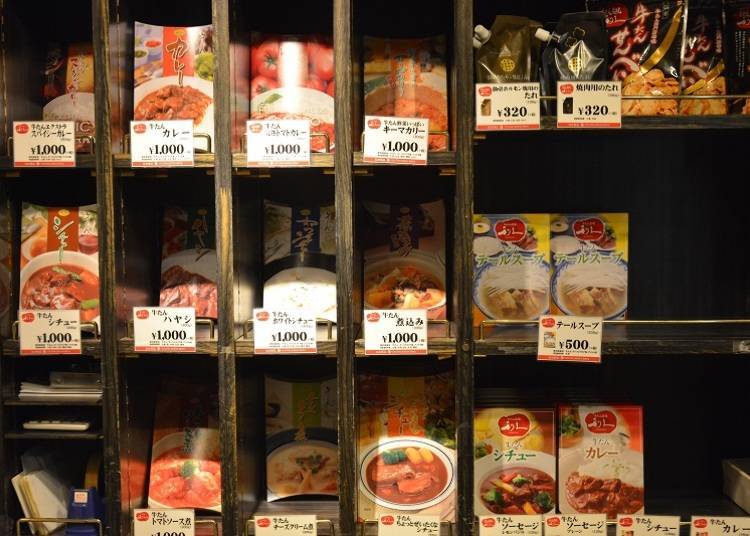 There are also a wide variety of souvenirs for sale near the entrance of the shop. There are tons of options including seasoned beef tongue, beef tongue curry, and simple, convenient snacks. You can even buy the "indulgent beef tongue stew" in pouches, a favorite gift item to share this delicious taste with your family and friends.
牛たん炭焼 利久

Address

HerbSENDAI Bldg. 5F, 1-6-1 Chuo, Aoba-ku, Sendai-shi, Miyagi-ken

Phone Number

022-266-5077

Business Hours: 11:30AM~2:30PM, 5:00PM~11:00PM (L.O.10:30PM)
Regular Holidays: None
Text by: SHOE PRESs
*This information is from the time of this article's publication.
*Prices and options mentioned are subject to change.
*Unless stated otherwise, all prices include tax.
Limited time offer: 10% discount coupons available now!