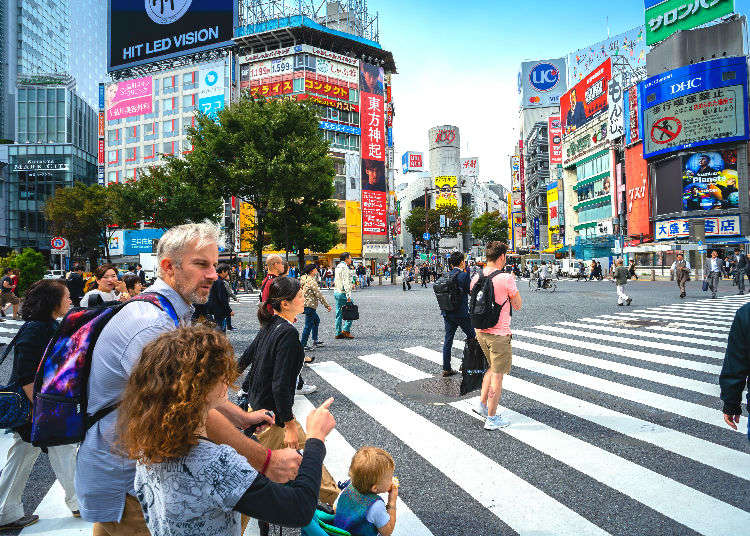 Tokyo is an exciting city that boasts a different taste and atmosphere from area to area. From historic neighborhoods to stylish hot spots of trends and fashion, knowing what kind of place you're exploring right now helps to make the most out of your sightseeing experience! We'll look at 21 of Tokyo's most famous areas around classic sightseeing spots and find out what their style is! Trains take you from one neighborhood to the next conveniently and for little money, and with only a few minutes of public transport, you'll find yourself standing in an entirely different kind of place. Cherry-pick those spots that fit you and your style the most, along with their unique sights and experiences!
Shibuya: "From Energetic Youth Culture to Fashion Hot Spot"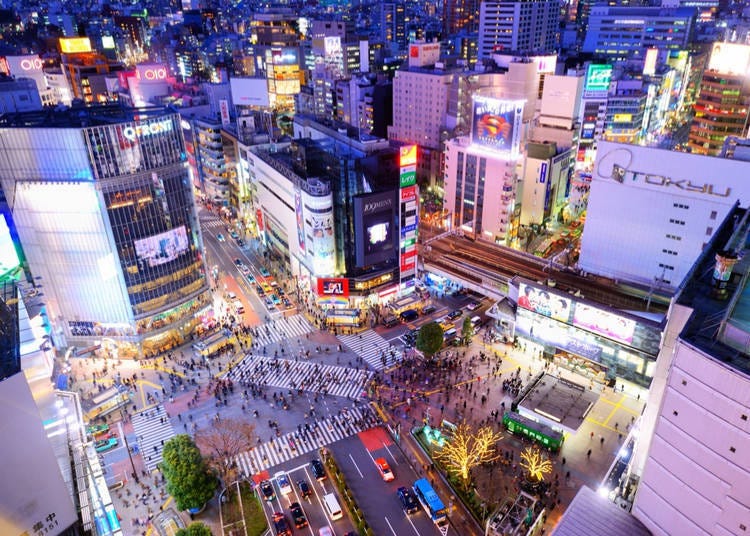 Shibuya is the city of teenagers and young people in their 20s, birthplace of trends and styles. The famous intersection, busiest in the world, is the symbol of the town and the sight of countless people crossing is one to behold. The "Center-Gai" shopping street is filled with restaurants, shops, and entertainment spots. Shibuya is indeed the perfect place for everyone looking to experience Japan's youth culture first-hand. Also, the famous Hachikō Memorial Statue is right in front of Shibuya Station, so do pay the loyal pup a visit!
Harajuku: Cutting-Edge Fashion, Subcultures, and Plenty of "Kawaii"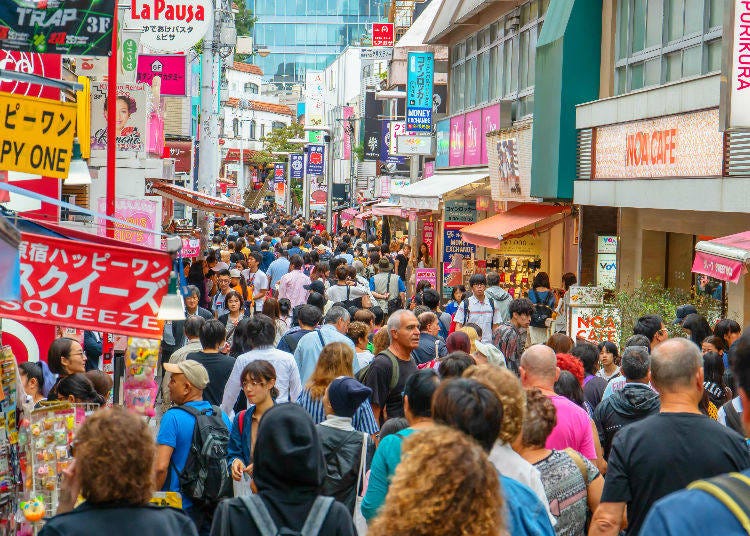 Just like Shibuya, Harajuku is the place to be for all things youth culture and fashion. The neighborhood is defined by hordes of young people expressing themselves through their style and especially the central Takeshita-dori Street is where you'll find all things subculture, from girly to Lolita and punk. A must-eat when in Harajuku is the famous crepes, sold at pretty much every corner! Crowded with fashionistas even during weekdays, "Ura-Harajuku" and "Cat Street" are Harajuku's backside, harboring even more fashion-forward shops and spots.
Ginza: "a Sophisticated City for Adults"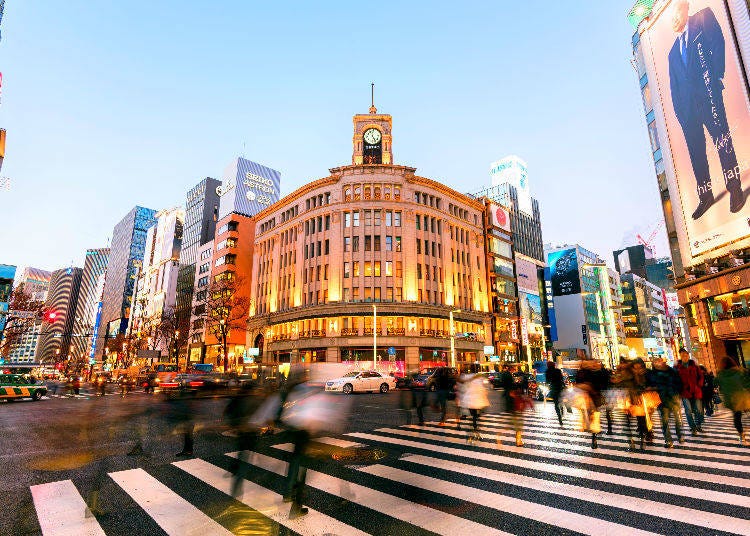 Elegant department stores and high-end fashion brands define glitzy Ginza, a sophisticated neighborhood for adults. In recent years, fast fashion has joined the many high-end stores and the newly opened Ginza Six has opened the once high-class area for a broader range of people. Especially the area around Ginza 4-Chome Intersection is interesting for tourists, as it becomes a "pedestrian paradise" on Sundays and is closed to vehicles entirely, allowing you to leisurely stroll through the famous area. For a dash of traditional culture, visit the Kabuki-za Theater and explore the old art of kabuki theater.
Asakusa: "the Taste and Feel of Old Edo"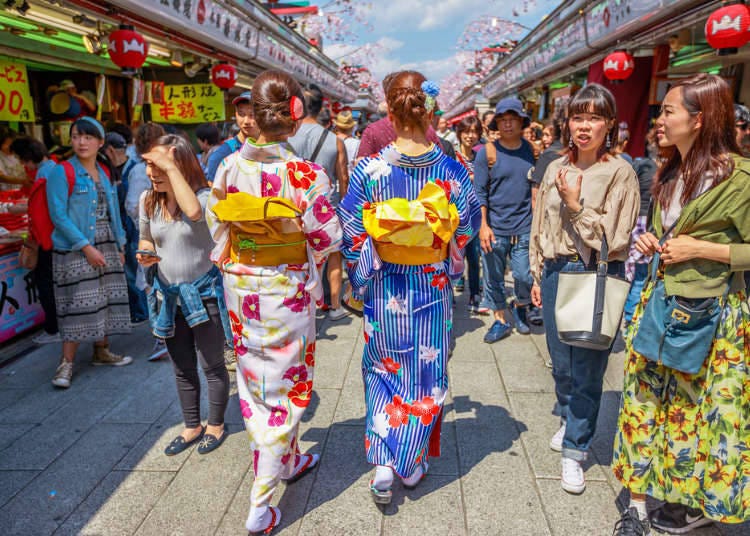 Asakusa might be THE sightseeing spot in Tokyo. It's a nostalgic neighborhood that authentically conveys the taste and atmosphere of Old Edo (Tokyo's former name) up until this very day. The famous Senso-ji Temple and Kaminarimon Gate are at the center of it, visited by more than 30 million people each year. The approach to the stunning temple is called Nakamise-dori Street, lined with all sorts of shops and stalls offering both souvenirs and traditional snacks. Recharge your energies with a bit of eel, tempura, sushi, or a variety of sweets and rice crackers! For a tryst with traditional culture, head to the Asakusa Engei Hall and experience the Japanese storytelling art called rakugo. A particularly unique way of exploring the city is taking a boat down the nearby Sumida River, all the way to Tokyo Bay!
Shinjuku: "the Beautiful Chaos of Japan's Largest Amusement Quarter"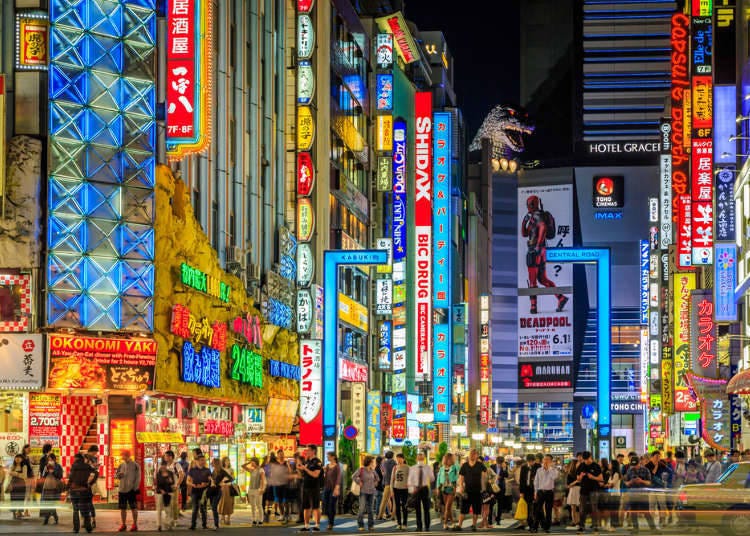 Cinemas, karaoke, bowling alleys – that are just a few of the examples of the many entertainment opportunities that Shinjuku has to offer! The colorful urban jungle is Tokyo's largest amusement quarter, home to clubs, bars, shops, eateries, and more. Golden Gai and its treasure trove of tiny bars is especially famous, right alongside Omoide Yokocho and its atmospheric yakitori stalls. Shinjuku is a city that never sleeps, illuminated by countless neon signs at night. We highly recommend savoring this urban scenery from the free observation deck on the 45th floor of the Tokyo Metropolitan Government Building! The beating heart of the area is the massive Shinjuku Station – it holds the Guinness World record as the busiest station with more than 3.42 million passengers per day. Its over 200 exits make the station seem like a maze even to the locals. Do you dare to get lost in wild, wonderful Shinjuku?
Ikebukuro: "Shopping, Entertainment, and Ramen Galore!"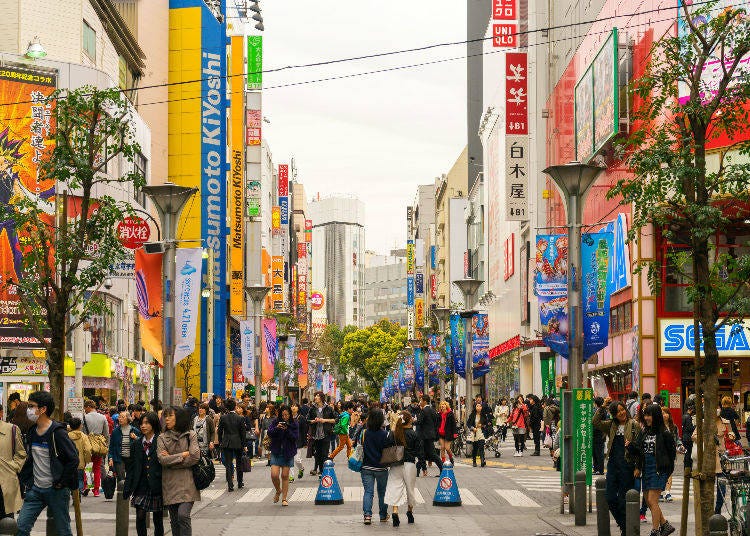 The first things you'll notice about Ikebukuro are large department stores and electronic shops, but this northwestern neighborhood also offers a plethora of entertainment spots. The Sunshine Aquarium on top of the giant Sunshine City is fun for the entire family, while the indoor theme park J-World Tokyo takes you to the world of Shonen Jump, the famous manga magazine that is the home of countless manga success stories. Otome Road ("Maiden Road") right behind Sunshine City is the Akihabara for ladies, filled with comics and merchandise, and P'Parco is a department store that unites fashion with anime goodies. For all gourmets out there, you'll want to get to know Ikebukuro as one of Tokyo's fiercest ramen battlegrounds!
Akihabara: "the Headquarters of Otaku Culture"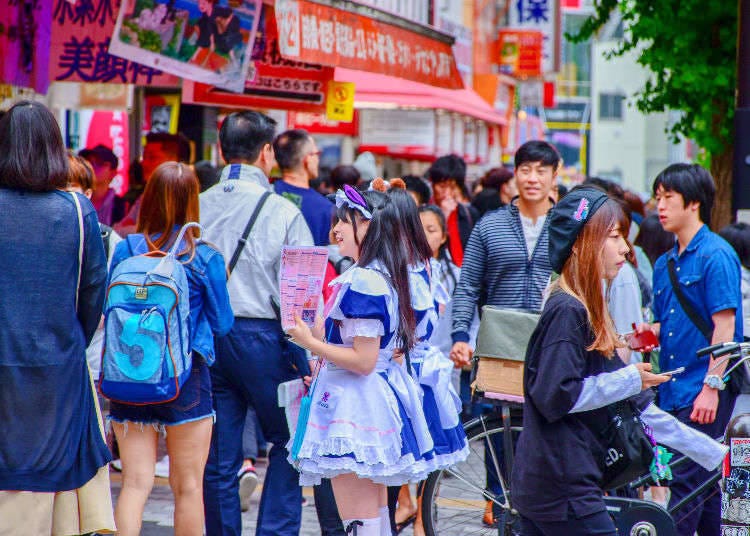 Since the 1950s, Akihabara got its reputation as "Electric Town," the place to go for all things electronics and parts. In the 90s, however, the neighborhood's image changed to what it is today: the global headquarters of otaku culture, centered around anime, manga, and games! Both the main street and its back alleys are filled with merchandise shops and for every otaku, touring this area will feel like a treasure hunt! If you've ever been curious about Japan's theme cafés, look no further, as maid cafés and other curious eateries dot Akihabara plentifully!
Ueno: "the City of Culture and its Alley of Bargain Shopping"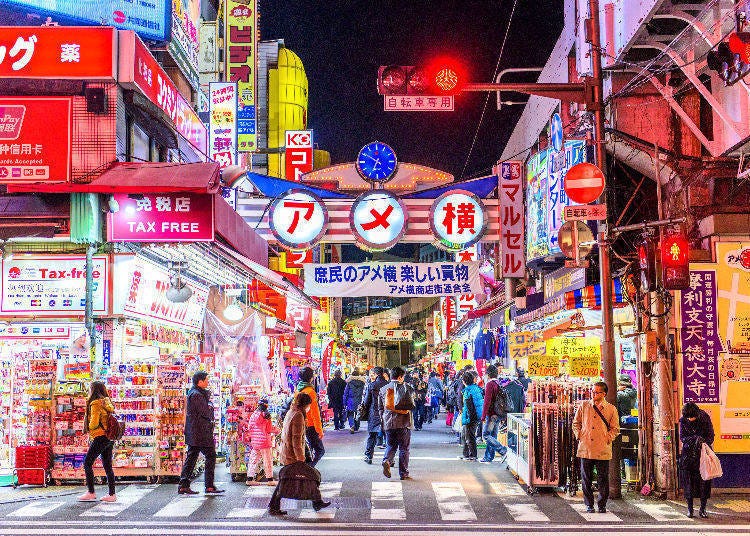 Ueno Zoo and its giant pandas are known far and wide, but Ueno Park also features a wonderful selection of museums and art galleries. That abundance is what earns the area the reputation of a city of art and culture. During spring, people flock to Ueno Park to enjoy its stunning cherry blossoms, while the shopping street Ameya Yokocho (or simply "Ameyoko") entices with its local atmosphere, fresh food stalls, and bargain prices. Over 500 shops line the bustling street that is especially busy just before New Year's when families come to shop for traditional year-end cooking. Grab a snack at one of the stalls and do some bargain hunting!
Shin-Okubo: "Food and Goods at Tokyo's Own Koreatown!"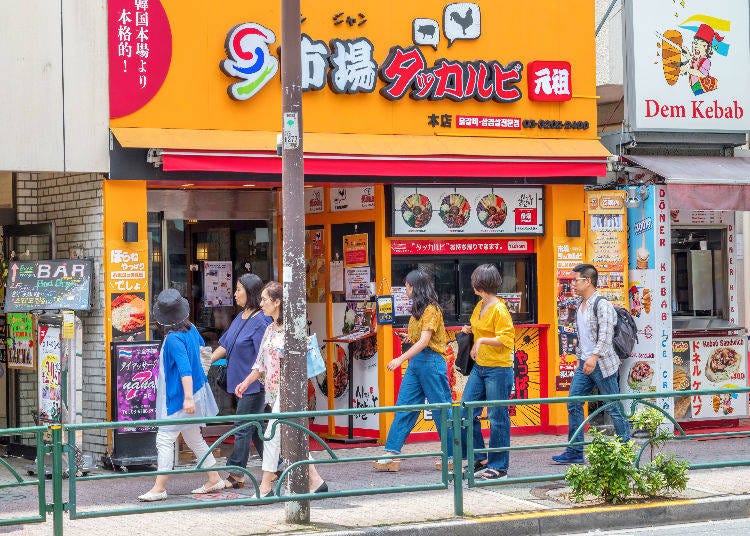 Shin-Okubo is Tokyo's Koreatown, boasting a plethora of authentic eateries and pubs that serve you the real taste of Korea! Nestled in between are shops chock-full with Korean idol goods and it is often said that spending a day in Shin-Okubo feels like taking a trip to Korea itself. Next to the numerous gourmet experiences, the neighborhood is also extremely stylish, and you'll find countless young people snapping "Insta-worthy" shots of food, goods, shops, and themselves! Shin-Okubo also features Islamic alleys that treat you to Halal food and ingredients, as well as Indonesian and Nepalese cuisine. More and more Asian supermarkets open in the area, causing it to be nicknamed "Asian Town" recently.
Jimbocho: "a Treasure Trove of Old Books and Curry Delights"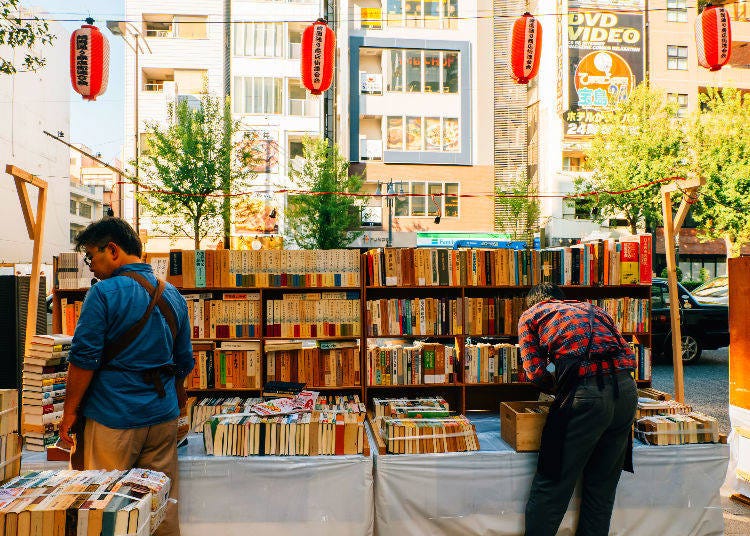 Bookworms will have the time of their life in Jimbocho, a neighborhood known for its plethora of bookstores! There's about 180 of them dealing in specifically old books and there's many a treasure to be found. This legacy can be attributed to the many colleges that are in or near Jimbocho and the area has been the go-to spot for Japanese students to find whatever reading material their studies require. Nowadays, academics is only one of the genres, alongside specialized hobby publications and genres such as religion, literature, history, and even subcultures. Finding a rare and valuable book is a fairly common occurrence in Jimbocho, so prepare yourself for some stunning discoveries!
However, Jimbocho is also known as a hot spot for all things curry, from Japanese to authentically Indian! Plop down in one of the specialty restaurants and savor a spicy curry creation while burying yourself in that new book you just picked up.
Ochanomizu: "the City of Instruments, Brimming with Lively Students"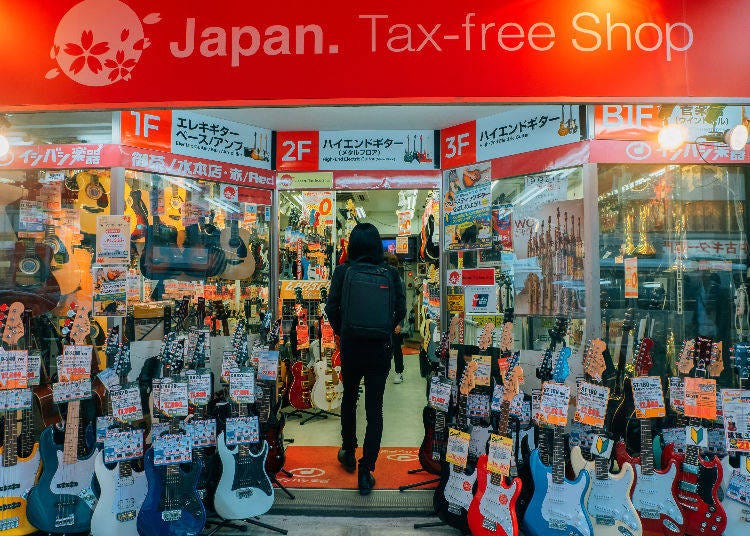 Ochanomizu is a student city since long ago. Walking its streets during the daytime, among the many students going about their day, will make you feel the liveliness of the area. Its other characteristic is the large number of shops specializing in musical instruments between Ochanomizu Station's Sudibashi Exit and Surugadai. There's about 40 of them, handling both new instruments as well as second-hand treasures and even rarities that can only be found in Japan. From professional to beginner, the selection is rich and diverse! In fact, a lot of music lovers come to Japan for the sole purpose of buying a new instrument here. Many of the shops are regularly frequented by professional musicians because these stores offer things that aren't handled at regular instrument-focused shops.
Kappabashi: Professional Cooking Ware at Japan's "Kitchen Town!"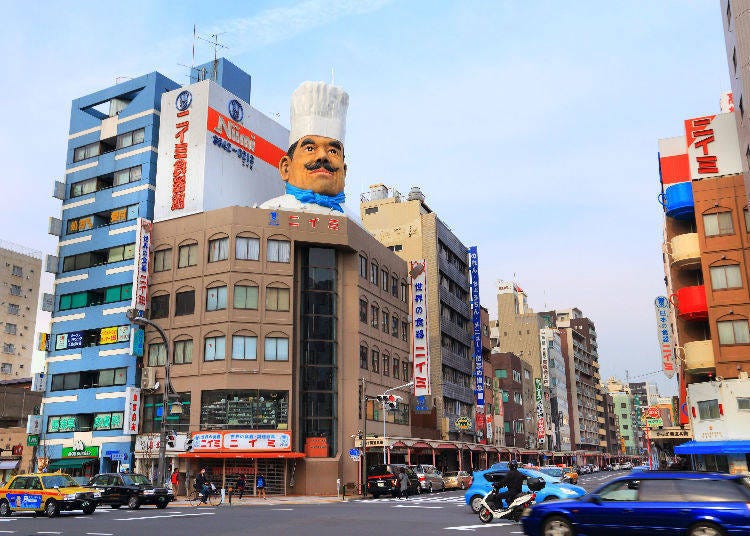 Kappabashi is known around Japan as "Kitchen Town" and enjoys a reputation for handling the best cooking ware in the country. About 190 shops and wholesalers line the street of about 800 meters and you'll find a massive selection of equipment fit for restaurants such as dishes, fixtures, and kitchen utensils. On top of that, Kappabashi is the home of food samples, a quirky Japanese tradition that has made waves around the world! The fake food is so realistic, it is near indistinguishable from the real deal, from spaghetti to a cold glass of frothy beer! These are perfect souvenirs if you're looking for something that is quirky and unique while representing a part of Japanese culture.
Shimokitazawa: "the Hidden Trend Spot, Uniting Cafés, Shops, and Indie Culture"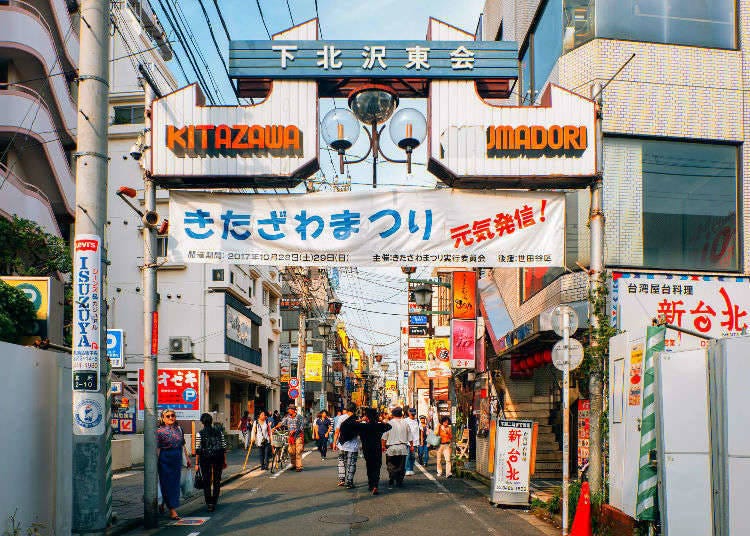 Shimokitazawa isn't too far away from famous areas such as Shinjuku, Shibuya, and Kichijoji and is particularly popular among younger Tokyoites. Roughly speaking, it can be described as a town of music, theaters, and vintage clothes, boasting a wonderful Indie feel. There's a lively but laid-back buzz to the area that matches the relaxed townscape perfectly, a melting pot of various subcultures coexisting in harmony.
From small miscellaneous goods shops to atmospheric cafés, Shimokitazawa is home to many unique spots, ranging from cutting-edge fashion to vintage clothes, live venues, and small theaters. It's the Indie version of massive Shibuya and Shinjuku where new trends are born just as often – do stop by if you get the chance.
Sugamo: "the Harajuku of Grandmas"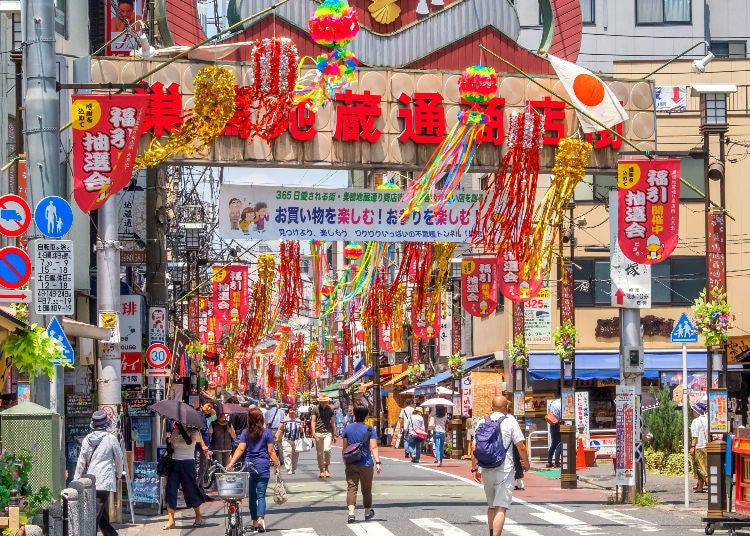 Sugamo is a district that is incredibly popular with Tokyo's elderly population, not only because the nearby Kogan-ji Temple is home to the "Togenuki Jizo," a Buddhist statue said to cure ailments. Try the custom: wash the statue gently with a cloth exactly where your pain or ailment sits. Seniors also flock to Sugamo for its many shopping opportunities at the Sugamo Jizo-dori Street. There are about 200 stores and restaurants selling clothes for seniors and offering delectable cuisine. The specialty of the area is "red panties," bright red underwear said to shield excellently against cold weather – it has fans far and wide!
Odaiba: "Ferris Wheel, Breathtaking View, and Rainbow Bridge Define Tokyo's Prime Date Spot"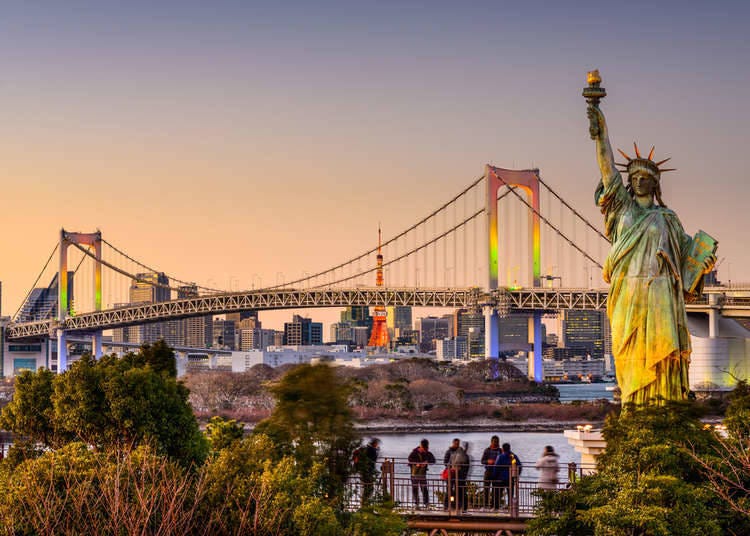 The silver sphere of Fuji TV headquarters, the giant Ferris wheel, and Rainbow Bridge – these are the famous symbols of Odaiba, the man-made island that sits right in Tokyo Bay. It isn't only home to large shopping malls such as DiverCity, Venus Fort, and Decks Tokyo, exciting shopping spots that also offer a multitude of entertainment opportunities. Odaiba also has numerous sights, such as the aforementioned Rainbow Bridge that connects it to the city and is beautifully lit up at night. The view from Odaiba's promenade on Tokyo's shimmering lights over the water is stunningly romantic, and Odeo Onsen Monogatari is an amazing hot spring spa built in the fashion of Old Edo. Even anime fans will have an amazing time with the life-sized Unicorn Gundam Statue that lights up and moves at certain times!
Kagurazaka: "Walk in the Footsteps of Geisha – and Maybe Even See One!"
Kagurazaka is a unique neighborhood that blends modern and traditional Japan like no other place. The many slopes and alleys all have enticing names such as Michikusa Yokocho ("Loiter Alley") or Kakurenbo Yokocho ("Hide and Seek Alley") – time flows solely here, inviting you to a leisurely stroll. During the Meiji era, Kagurazaka was populated by about 700 geisha and the district was known as a hanamachi, a geisha town. Even today, about 20 geisha are still active in the area and if you're lucky, you might spot one of them walking down one of Kagurazaka's stone-paved alleys. Long-established restaurants and eateries dot the area just as much as modern bars and miscellaneous stores, offering a curious taste of tradition meeting modern life.
Roppongi: "Tokyo's Tourist Town, Sophisticated and Glitzy"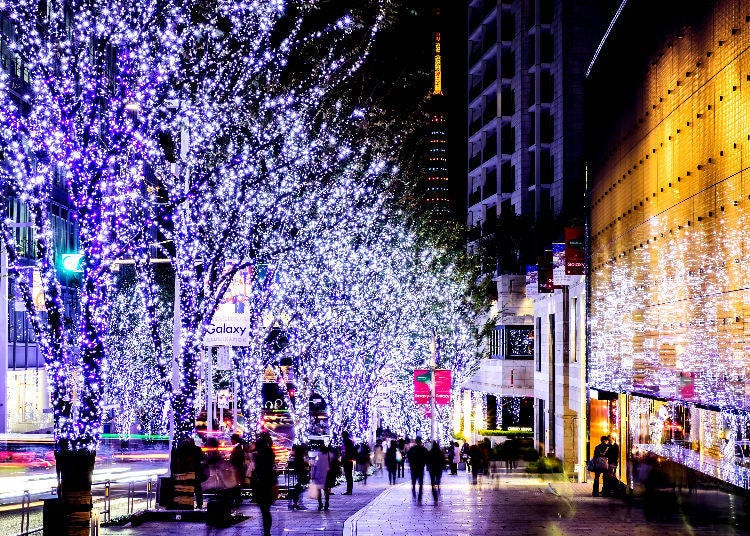 As Roppongi was a settlement of the US military after World War II, the area is still populated by a large number of shops targeting Non-Japanese customers. A lot of embassies are also spread around the neighborhood, fitting in perfectly with Roppongi's atmosphere of luxury and glitz. It is also famous for its rich nightlife scene with various clubs and bar but compared to Shibuya and Shinjuku, the crowd is a lot more international. Large commercial facilities such as Roppongi Hills and Tokyo Midtown add an extra layer of luxurious feel to the area, while art spots including the National Art Center will satisfy any culture cravings.
Kichijoji: "a Modern Yet Calm Oasis with a Lush Park"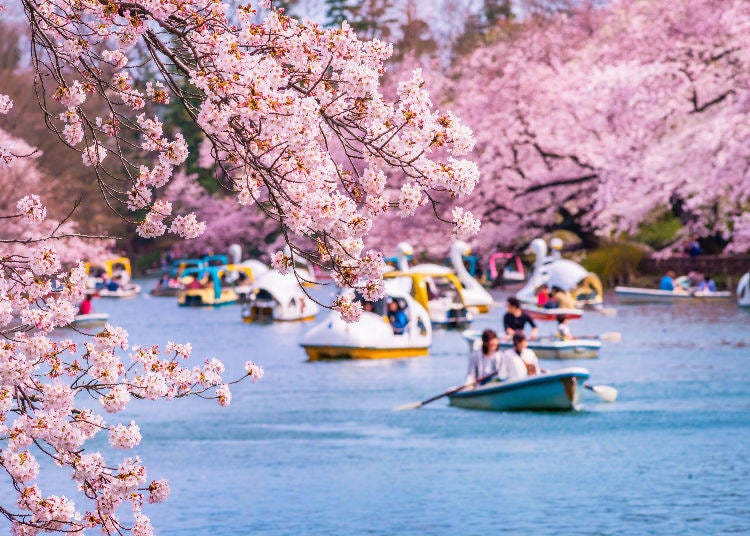 Fancy cafés and miscellaneous shops line the street of Kichijoji, an urban district that still lets you forget the hustle and bustle of the big city with its lush green park and zoos. It regularly ranks high as a neighborhood that Tokyoites want to live in.
Kichijoji also boasts excellent access from both Shibuya and Shinjuku and the choice of shops is diverse, with a great selection of apparel, souvenirs, and miscellaneous goods. Even large-scale malls can be found in this diverse mix. Another big attraction is Harmonica Yokocho, an area that is a bustling local market during the day and transforms in a nightlife parade with little pubs and bars at night, full of charm and personality. Kichijoji is also where you will go if you visit the Ghibli Museum, THE spot to go to explore the world-famous animation studio.
Jiyugaoka: "a Blend of Sweets, Calm, and the High Society"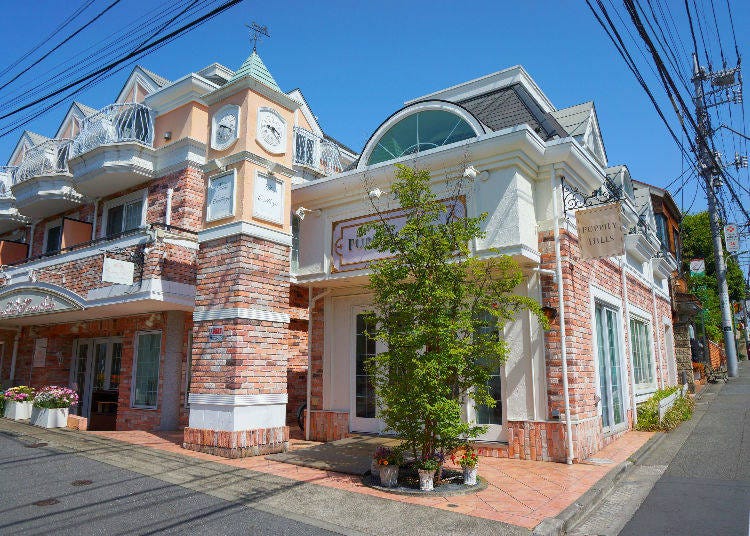 Shoppers flock to Jiyugaoka for its abundance of shops that specifically target the interest of female Tokyoites and its beautiful, calm cityscape of stone pavement and tree-lined streets. Fashionable apparel and accessories dominate most shops, but Jiyugaoka also is known for the many sweets stores and their delectable creations. Some come for the shopping, others come to savor the desserts! There's even a "theme park" that's all about these desserts called Sweets Forest," featuring delicacies made by skilled pâtissiers. Stroll under the blue sky and enjoy the stunning scenery before treating yourself to a sweet delight!
Daikanyama and Nakameguro: "High-End Brand Shops and Luxurious Cafés"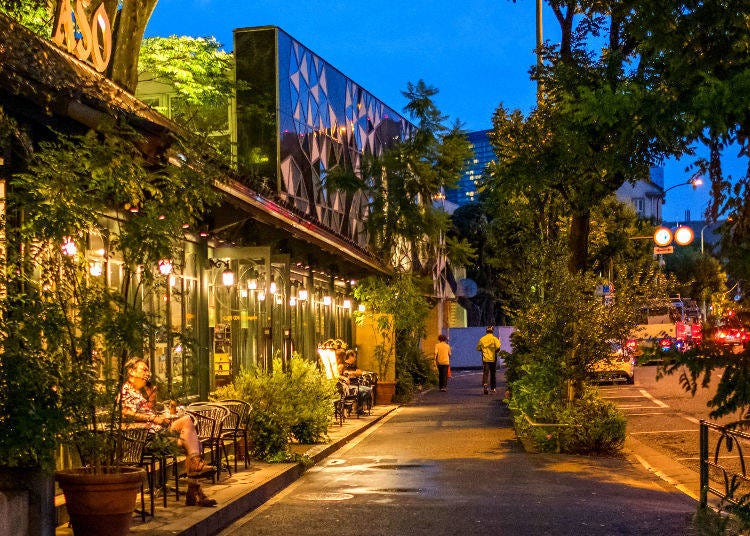 The area between Daikanyama and Nakameguro is full of high-end shops, cafés, and restaurants. It's the perfect spot for people with a refined fashion sense who seek to enjoy a sophisticated atmosphere. Stroll down the scenic alleys until you find a place that piques your fancy – we highly recommend taking your time and soaking in the charm of the area without any pressure, checking out the shops and cafés that you pass by. However, the many slopes might tire you out, so don't hesitate to recharge your energies with a hot cup of coffee and a snack, preferably on the terrace of an open café. The area is especially beautiful in spring when the cherry blossoms hang over the nearby Meguro River.
Tsukishima: "Savor Monjayaki, Tokyo's Local Specialty!"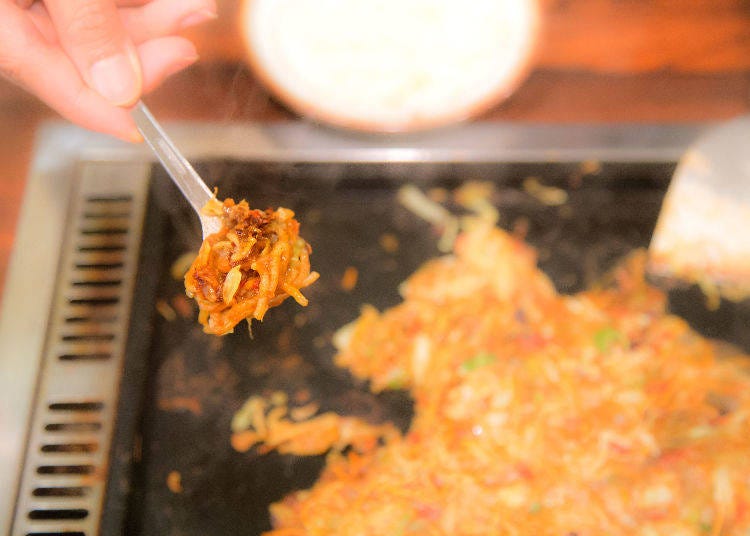 Tsukishima is known as Tokyo's "Monja Street." Monjayaki is a local dish that features finely chopped ingredients such as cabbage or squid in a batter, which is then fried in a pan or a teppan. The dish is surprisingly liquid but tastes amazing and hearty, offering a unique Tokyo food experience. Tsukishima is home to more than 70 such Monjayaki shops, creating a wonderfully rustic and local atmosphere. Take in the scenery of retro wooden houses, surrounded by the waters of Tokyo Bay and Sumida River.
Ryogoku: "The Capital of Sumo Since the Edo Period"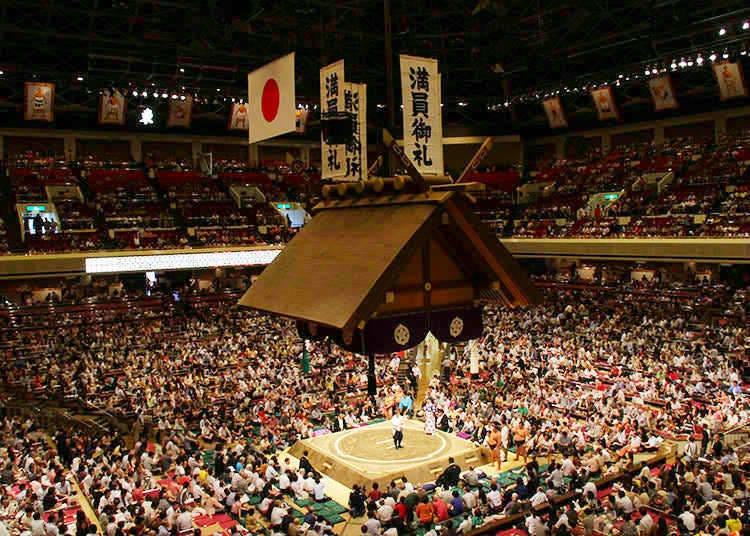 Sumo is one of Japan's national sport and grand tournaments are held at the Ryogoku Kokugikan six times a year: three times in January, May, and September. Around that time, colorful flags surround the famous sumo hall, exciting sumo fans and tourists alike. The mornings and evenings are filled with the sound of the drums, making it absolutely clear that you have stepped into the realm of sumo. Even outside of the tournament season, you might find a wrestler just walking down the street as Ryogoku is dotted with sumo stables. A lot of former wrestlers have stayed in the area, now running restaurants that serve the iconic "Chanko Hot Pot," a voluminous dish that is an integral part of every wrestler's diet. Try the dish to get a first-hand experience of the sport even if you're not able to see a match! For a thorough look at Tokyo's past, we warmly recommend the Edo Tokyo Museum, authentically reproducing Old Edo and its transformation to the Tokyo we know today. Models and dioramas will take you back centuries!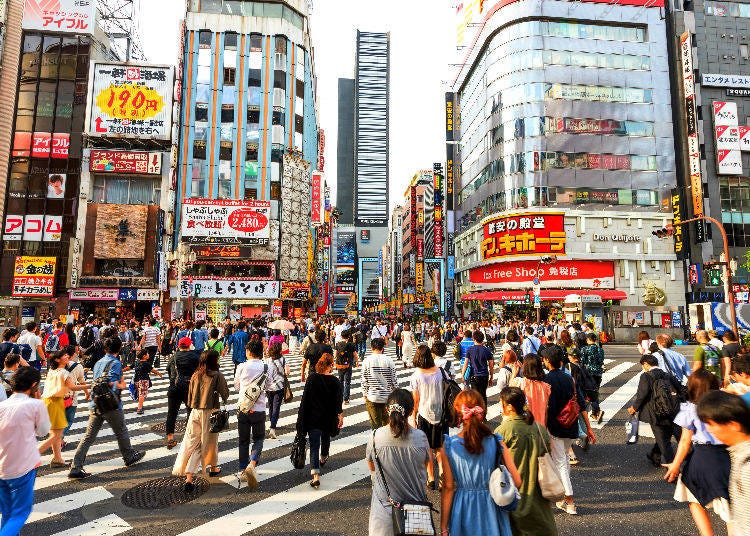 Tokyo is a city with many faces, each neighborhood boasting a unique atmosphere and feeling. That's why the city fascinates so many – no matter who you are, you are sure to find a place that you'll absolutely fall in love with! From food, sightseeing, and the scenery that changes with the season, there is much to explore and even more if you experience Tokyo in its colorful variety!

written by yoko
Top image credit: UKRID / Shutterstock.com
*This information is from the time of this article's publication.
*Prices and options mentioned are subject to change.
*Unless stated otherwise, all prices include tax.
Limited time offer: 10% discount coupons available now!