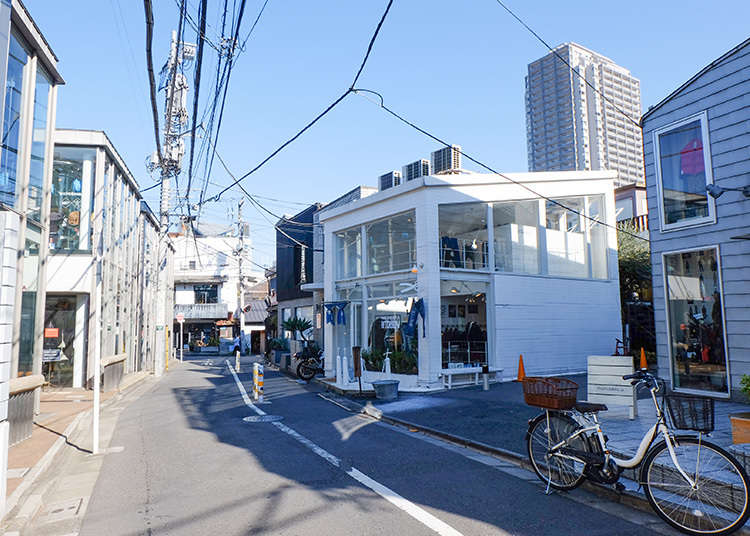 Located near Nakameguro and Ebisu, Shibuya's neighborhood of Daikanyama has a high concentration of foreign embassies and international companies. It's an attractive area for the many non-Japanese who live and work there.

High-end residential areas, wide streets, major brand fashion stores, popular accessories stores, trendy cafes and dessert shops, and exotic restaurants only add to the charm of the area. While the atmosphere of Daikanyama is quiet and leisurely, it's a popular filming location for Japanese TV dramas due to the unique architecture found there, and it's not uncommon to see celebrities and other well-dressed internationals during a day of shopping.

After visiting Daikanyama, you'll surely want to come back time and again. What are some the unique charms of Daikanyama? Read on for a few of the highlights!
Visiting Daikanyama: Quick overview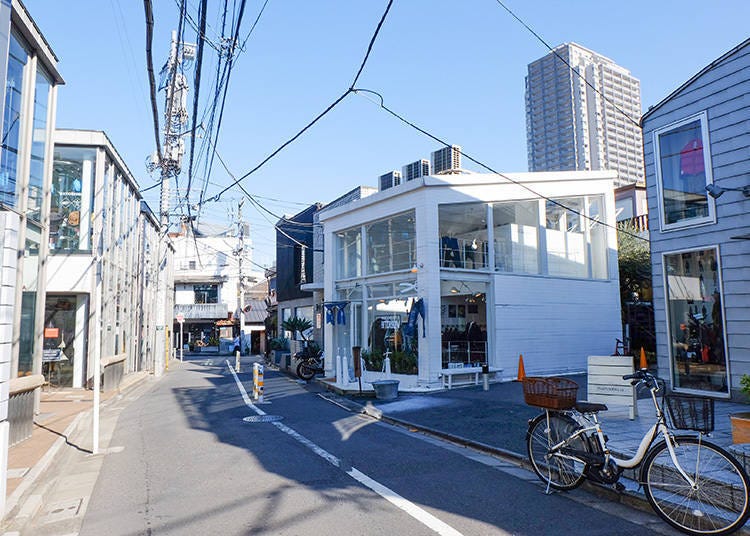 How to get to Daikanyama
1. Take the Tokyu Toyoko Line to Daikanyama Station.
2. A 10 min. walk from Ebisu Station on the Tokyo METRO Hibiya Line or JR Yamanote Line
3. An 8 min. walk from Nakameguro Station on the Tokyu Toyoko Line or Tokyo METRO Hibiya Line

What are the main blocks of Daikanyama?
What are the main blocks of Daikanyama?
The main blocks extend from the Central and North exits of Daikanyama Station on the Tokyu Toyoko Line.
From the Central Exit walk along Kyuyamate-dori and you'll find many famous shops such as Daikanyama Tsutaya Books and Caffè Michelangelo.
From the North Exit follow the main road towards Shibuya.

Can't-miss sights and stores in Daikanyama
Anyone visiting Daikanyama, shouldn't miss these shops and gourmet restaurants:

Must visit stores:
・Daikanyama Address Dixsept – Daikanyama's Stylish Landmark
・Daikanyama Tsutaya Books – In the name of the book, the new life aesthetic proposal in the city
・MAISON DE REEFUR – Japanese fashion goddess' grocery store

Must try restaurants:
・Caffè Michelangelo – The most beautiful and elegant cafe in Daikanyama
・TENOHA DAIKANYAMA – A complex commercial facility surrounded by beautiful green plants
・Daikanyama Pancake Cafe Clover's – Eat delicious and eat healthy Daikanyama popular queuing muffin shop
・GLOUGLOU REEFUR – MAISON DE REEFUR'S in-store cafe

Now, LIVE JAPAN's top recommendations a fun shopping trip!
A Landmark with Style: Daikanyama Address Dixsept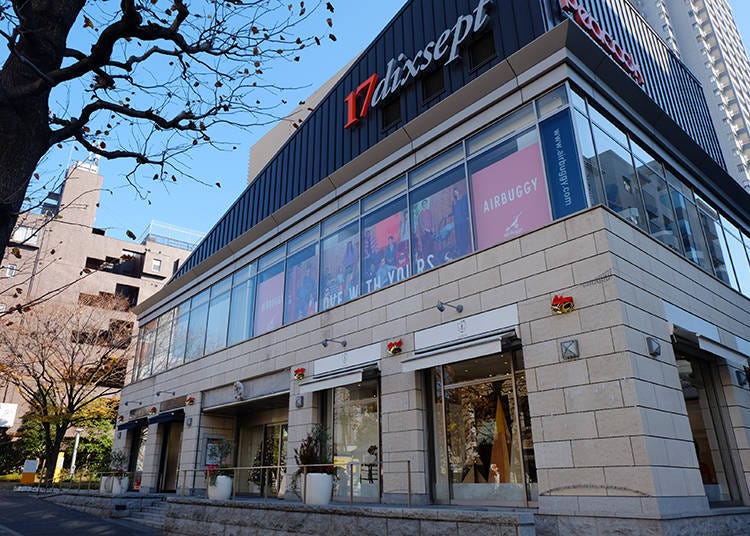 Winter Illumination
If it's your first trip to Daikanyama, you have to make Daikanyama Address Dixsept your starting point. Only a one-minute walk from the station, it's built on the former site of one of Tokyo's first apartment buildings, erected after the Great Kanto Earthquake of 1924. In August of 2000, the site was given new life as Daikanyama Address Dixsept. Combining the 36-storey residential Tower, and the 17 Dixsept and Address Promenade shopping areas, this complex conveniently brings together many top brand stores and chain stores for local residents and tourists alike. A large sunflower sculpture nearby is a common spot for tourist photos.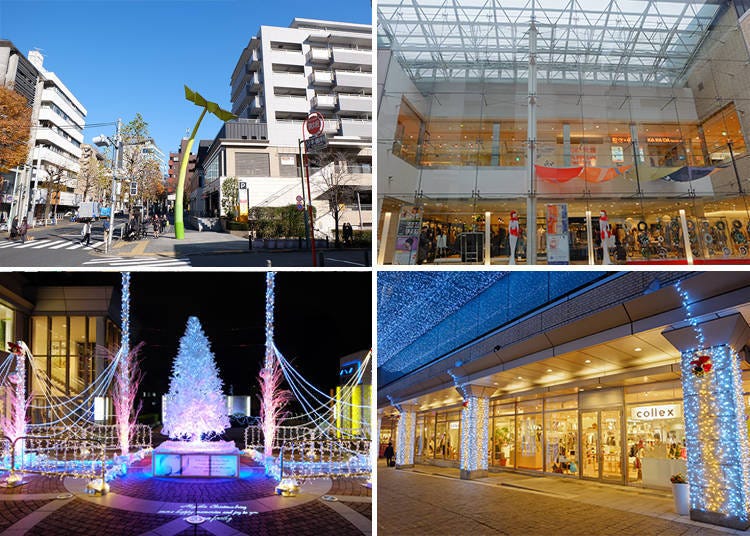 In winter, 150,000 beautiful LEDs romantic illuminate Daikanyama Address Dixsept's walkways and paths. A Christmas tree also decorates the central square, while a light and music show provide a fascinating atmosphere that completely transforms the area.
Daikanyama Address Dixsept

代官山アドレス.ディセ

Address

17-6, Daikanyamacho, Shibuya-ku, Tokyo, 150-0034, Japan

Hours: 1F 10:00 - 22:00 (except some stores); 2 F & 3F 11:00 - 20:00
Closed Jan. 1st & 2nd
Daikanyama must-visit spot! "TENOHA DAIKANYAMA" surrounded by luscious greenery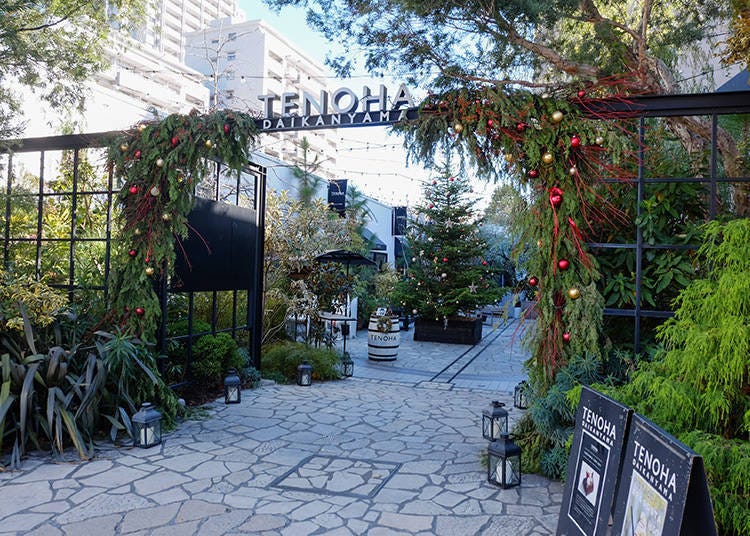 Take a stroll out the main exit of Daikanyama Station and, you'll immediately spot a beautiful garden filled with greenery and elegance. In that garden, you'll find many shops and gardens. If the weather is right, you'll even be free to enjoy the breeze gently blowing through the garden as you sit in the atrium's outdoor seating. This is TENOHA DAIKANYAMA. It opened in November 2014 with the proposal to "create a new lifestyle" as the original complex was rebuilt into one surrounded by an urban oasis. The facilities include the & STYLE STORE, & STYLE RESTAURANT, Bondolfi Boncaffe, and & STYLE LAB.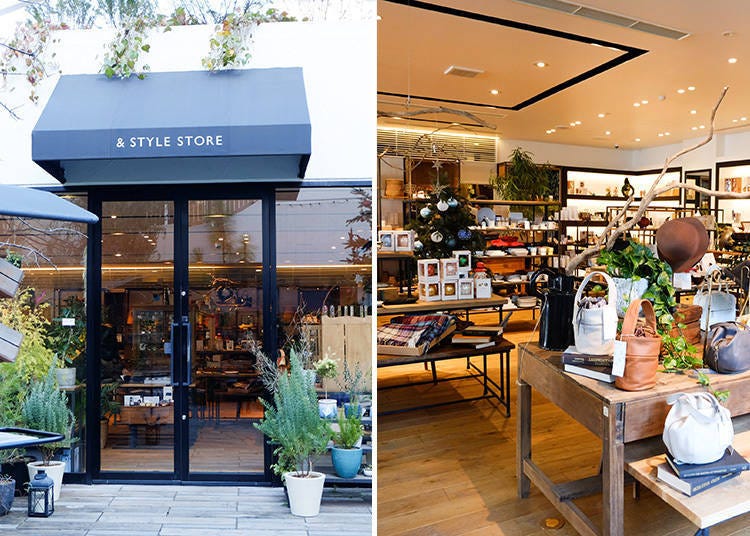 & STYLE STORE is an interior and lifestyle goods store. Many of the items sold are hand-made both in Japan and abroad, and include furniture, home decorations, food, clothing and textiles, and potted plants. All are designed to enrich customers' daily lives.
Bondolfi Boncaffe is a well-known café in Rome from Italy that has been in business for over 150 years. The Tokyo branch imports the coffee beans for its signature Espresso from the parent café. The store, with its quiet, comfortable atmosphere, also offers free Wi-Fi for customers to use while sipping their coffee.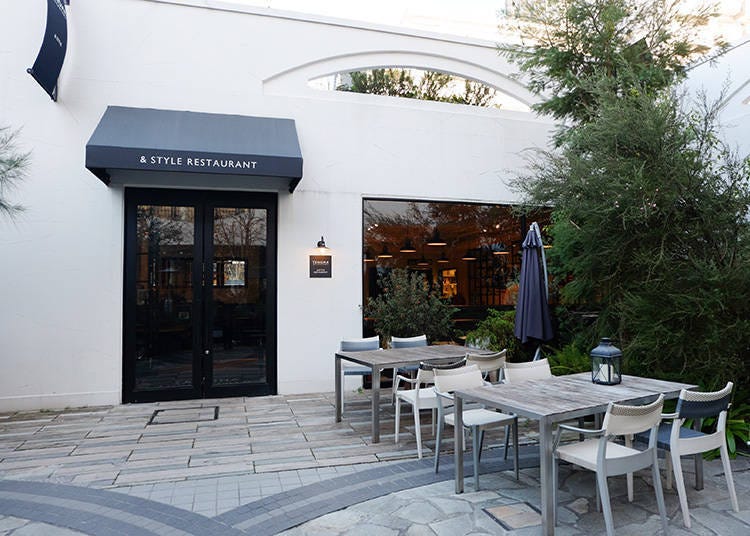 Located on the left side of TENOHA, & STYLE RESTAURANT is an Italian restaurant defined by elegance. The ingredients used in their meals and courses are carefully selected fresh seasonal ingredients, and their delicious handmade pizza is baked fresh in a stone kiln. The 150-seat restaurant is perfect for personal dining, or as a wedding or party venue. Exudes style during the day, & STYLE RESTAURANT is also the place for a peaceful evening meal. If you want to avoid noisier nightlife for a more relaxed, exotic dining experience, then & STYLE RESTAURANT is what you're looking for!
テノハ代官山

Address

20-23, Daikanyamacho, Shibuya-ku, Tokyo, 150-0034, Japan

Address: 20-23, Daikanyamacho, Shibuya-ku, Tokyo, 150-0034, Japan
Hours:
& STYLE STORE – 11:00 - 20:00
&STYLE RESTAURANT – 11:30 - 23:00
Bondolfi boncaffē – Weekdays, 9:00 - 23:00; Weekends & holidays, 11:00 – 23:00
Daikanyama's Most Elegant Café: Caffè Michelangelo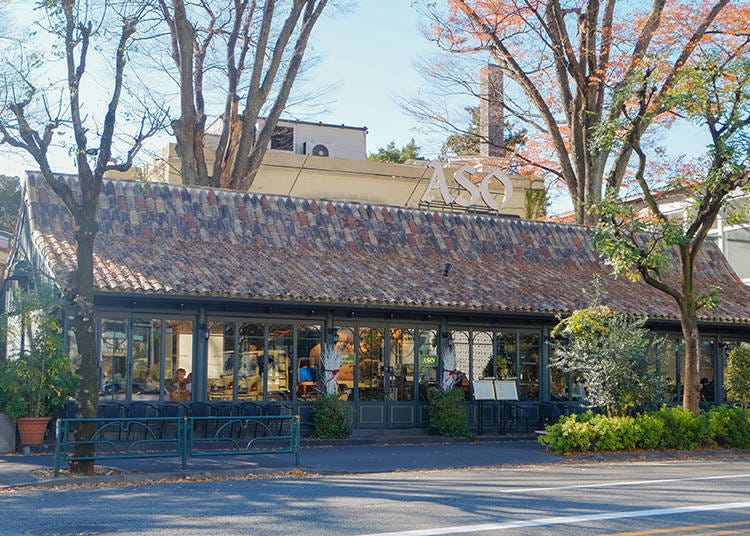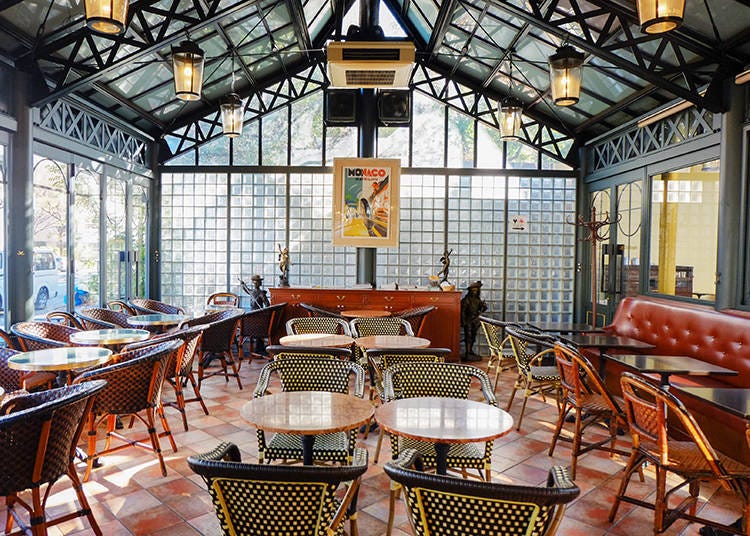 Daikanyama is not only synonymous with Tokyo fashion, but also a collection of unique style coffee shops. At the forefront is Caffè Michelangelo. From the station's central exit, take a 5-minute stroll up Kyu-yamate-dori and you'll come to this beautiful, dark green building with a tiled roof and bearing the calm elegance of an 18th-century Renaissance café. Outside, there are tables and chairs facing the street, allowing guests to enjoy their coffee and the view. The fashionable café often features in travel magazines, fashion shoots, and television dramas, and is a popular dining site for Japanese stars and models.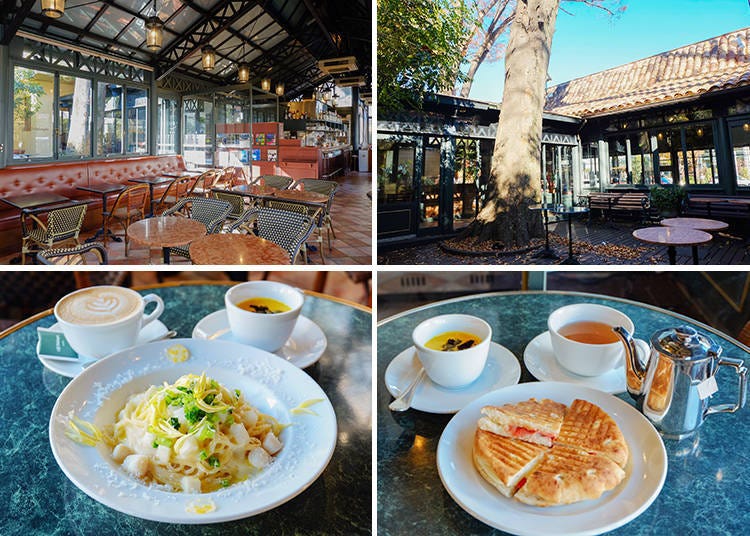 Bottom Left: Pasta set - Spaghetti di salsa crema con Kobasira e rapa, ¥1,944 (available lunch only, 11:30 – 17:00); Bottom right: Panino set - Focaccia al prosciutto ¥1,512 (available all day); Both sets include soup and drink, (tax included)
Since opening in 1997, Caffè Michelangelo has been one of the main dining attractions in Daikanyama. Influenced by French cafe culture, it has the romance of a laid-back Paris street café, and set the precedent for Japan's open-air cafes. Originally built the Showa Era, the café itself is surrounded by trees and features a dining patio, and large windows and sliding doors that fill the indoor dining area with natural light. Whether it's a weekday or a holiday, the cafe always busy with customers, and it's a popular wedding venue too. Caffè Michelangelo's seasonal menu offers delicious meals that are also and affordable. The Spaghetti di salsa crema con Kobasira e rapa is refreshing, and Focaccia al prosciutto is amazing. Their pumpkin soup is creatively sprinkled with a little coffee powder, adding an unexpected aroma. They also offer a variety of wines, coffee, and specially blended herbal teas. Be sure to drop in for fragrant cup coffee or delicious meal and enjoy the relaxed and leisurely pace of Paris in Daikanyama.
カフェ・ミケランジェロ

Address

29-3, Sarugakucho, Shibuya-ku, Tokyo, 150-0033, Japan

Address: 29-3, Sarugakucho, Shibuya-ku, Tokyo, 150-0033, Japan
Hours: 11:00 - 22:30 (L.O)
Aesthetic Modern Bookstore: Daikanyama T-Site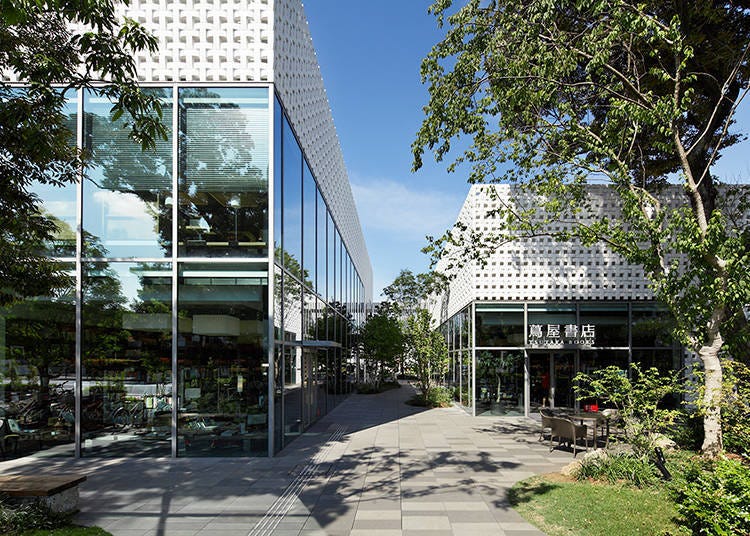 Another of the area's most loved tourist destinations is the Daikanyama Tsutaya Book Store. Comprised of three minimalist buildings featuring large floor-to-ceiling windows and numerous T-shaped white tiles, it has a great sense of design. The interior layout is transparent, straightforward, and calm, embodying the unique architectural aesthetics and temperament of the city. Known as Daikanyama T-Site, it was selected by the American culture magazine Flavorwire's website as one of the 20 most beautiful bookstores in the world in 2013.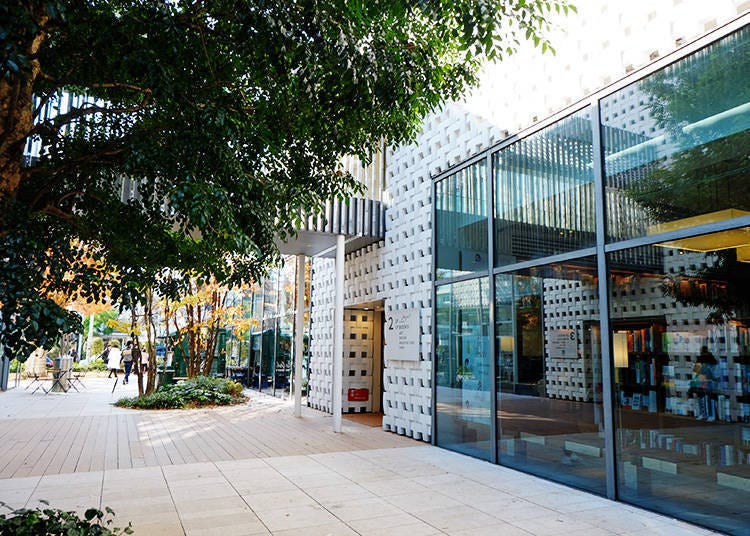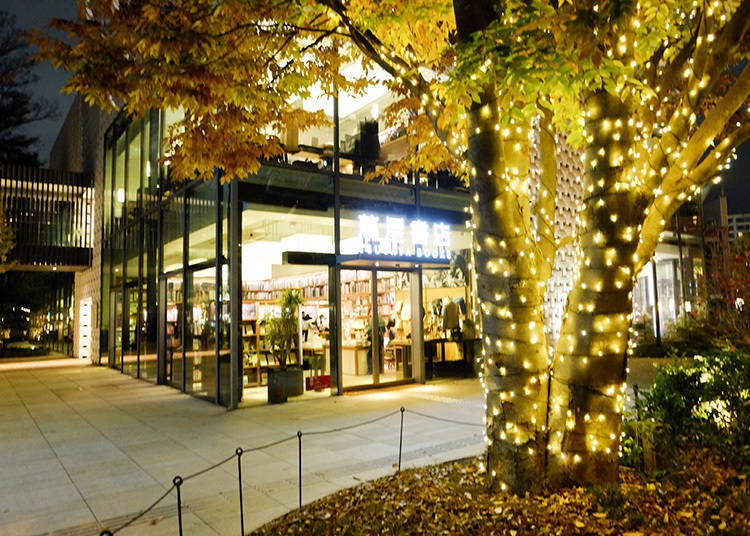 Daikanyama T-Site opened in 2011 as brand new concept comprehensive bookstore created by the Japanese chain bookstore TSUTAYA. The store differs from the parent company in terms of literature offered by focussing largely on domestic and foreign professional books on architecture, art design, photography, literature, and the humanities. They also offer movies, music, and stationary. T-site also includes a Family Mart convenience store on the first floor, and a Starbucks and the Anjin restaurant on the second floor, to cater customers of all tastes. Throughout the bookstore, there are numerous seats where customers can relax while perusing books before purchase. At night, the bookstore gives off a soft glow, warming the hearts of every literary urbanite.
代官山 蔦屋書店

Address

17-5, Sarugakucho, Shibuya-ku, Tokyo, 150-0033, Japan

Hours: 1st floor 07:00 - 02:00, 2nd floor 09:00 - 02:00; Anjin 11:00 - 02:00
Healthy, Delicious Pancakes: Pancake Cafe Clover's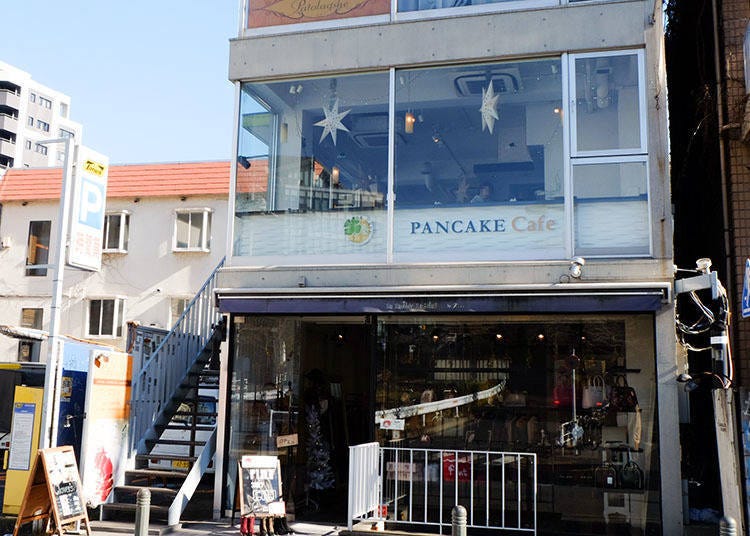 Just a 3-minute walk from the north exit of Daikanyama Station you'll find Pancake Cafe Clover's. The storefront on the second floor is designed with a simple concrete façade, large windows, and a playful four-leaf clover sign. The muffins here are quite famous, and draw an endless stream of customers. After being blown away by a pancake in a Hawaiian shop, the Clover's owner was determined to recreate its moving flavor. He has over 25 years of experience in French cuisine, and decided that Daikanyama's elegance was the perfect setting for the shop. Using only natural ingredients paired with a constant pursuit of quality, customers have been enjoying Clover's healthy, delicious pancakes for over a decade.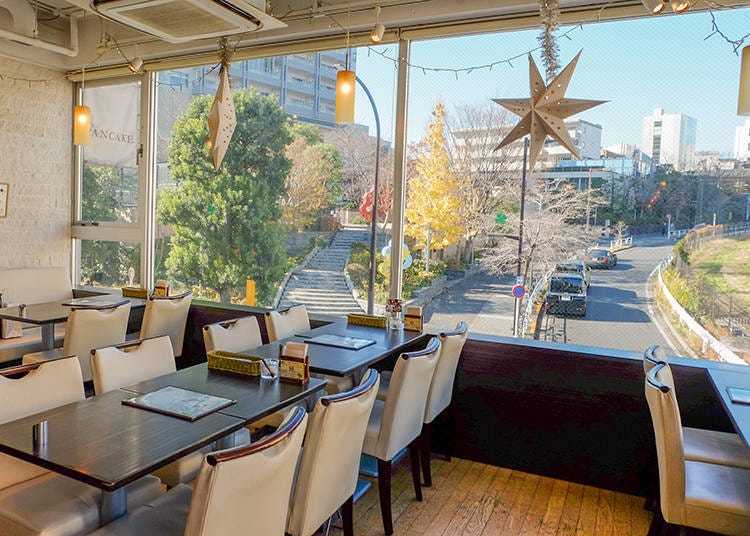 The large glass windows, fill with warmth and the weather is good, the blue sky is the perfect backdrop for the beautiful scenery of the street below. The shop has also featured in the TV Drama Yamato Nadeshiko, starring Nanako Matsushima. From the bar seats facing the open kitchen you can watch the chef prepare your meal. Pancake Café Clover's also has a convenient diaper changing area, making it a family-friendly stop during your tour of Daikanyama.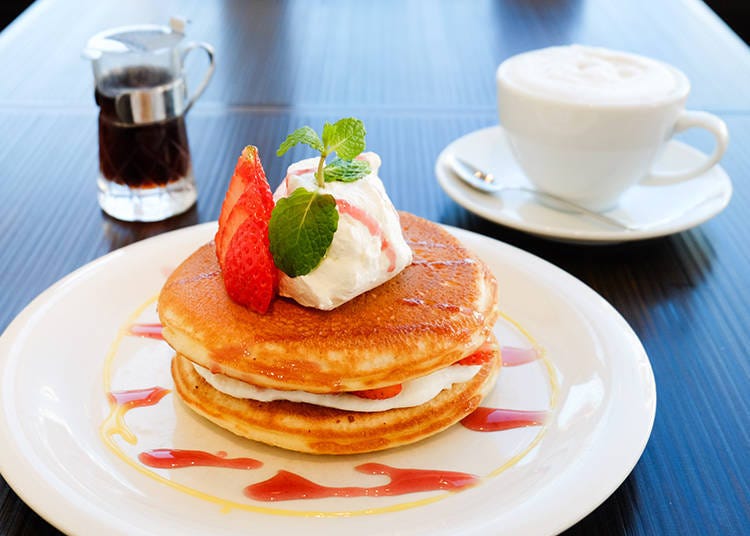 Strawberry Pancake (ストロベリーデコレ), 995 yen; Coffee latte (カフェラテ) 650 yen (tax included)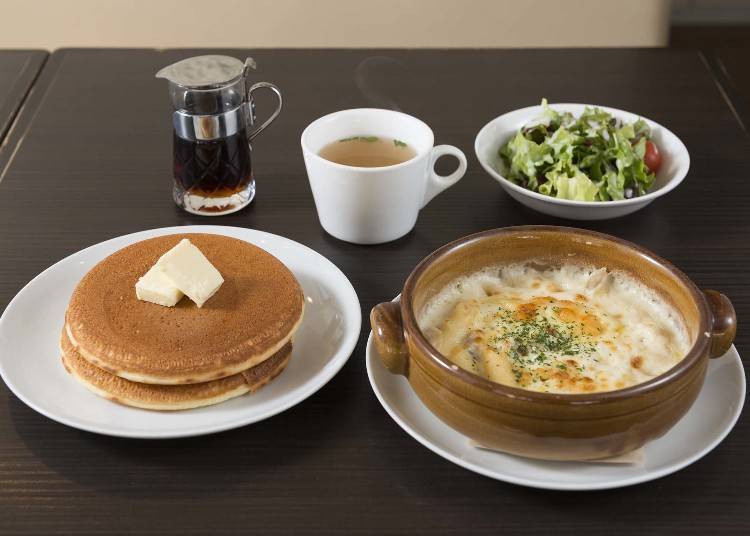 Gratin Set (グラタンセット) 1,180 yen Includes pancakes, salad, and soup
The strawberry pancakes are the signature served at Pancake Café Clover's. With medium thickness, a tempting golden color, and light, creamy taste, the pancakes are topped with strawberries and cream. Maple syrup only adds to the amazing flavor. The recipe is no secret – the chef combines Japanese wheat and rice flour to make the pancakes, and the whipped cream is 40% yoghurt. Pancake Cafe Clover's also offers dinner and affordable set meals like the sizzling chicken gratin set. The rich white sauce really awakens the taste buds! The aroma of coffee and pancakes fill the whole store, and it's the perfect place to spend an afternoon.
Daikanyama PANCAKE Cafe Clover's

代官山パンケーキカフェ クローバーズ

Address

18−8, Daikanyama-cho, Shibuya-ku, Tokyo 150-0034

Hours: 11:00 - 20:00
A Fashion Goddess' Offering to Her Followers: MAISON DE REEFUR & GLOUGLOU REEFUR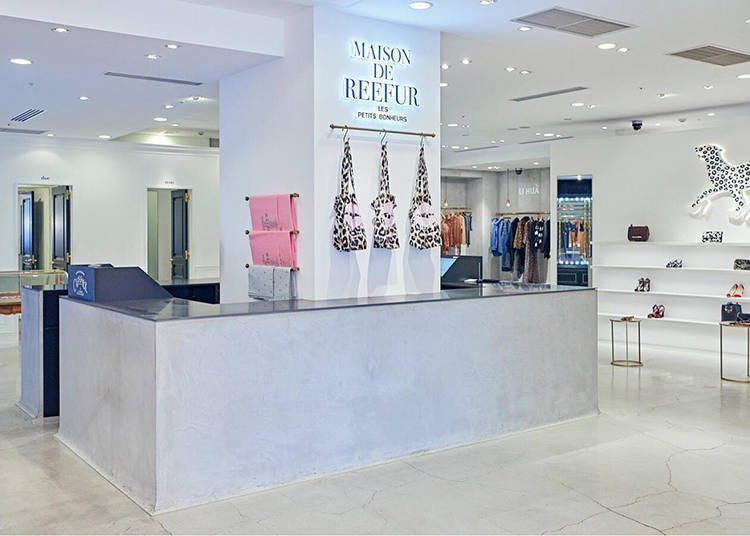 Rinka, a Japanese-French model representing Japan, is one of the most recognizable figures in modeling, and has been the driving force behind the fashion tastes of many Japanese women. Often sharing her outlook on social networking platforms, Rinka maintained her fashion icon status even after becoming a mother, further solidifying her influence on an even broader fashion demographic. In the spring of 2012, she also opened her first personal brand and lifestyle store "MAISON DE REEFUR" in Daikanyama. The name is derived from the French "home of pear flower" – a reference to the kanji used in Rinka's own name. Since then, it has expanded to four stores, but a true fashion pilgrimage requires a trip to the original temple of this fashion goddess!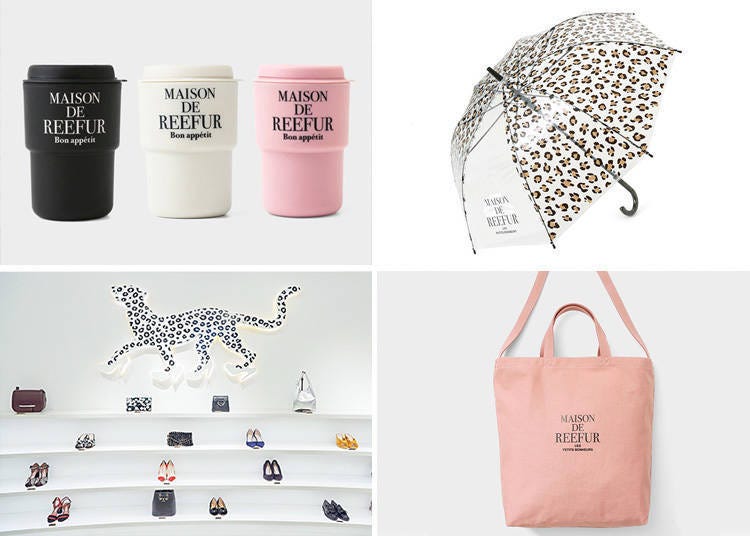 Top Left: REEFUR Logo Tumbler, 1,620 yen; Top Right: REEFUR Leopard Umbrella 2,700 yen, Bottom Right: MAISON DE REEFUR 2WAY Tote Bag 3,996 yen, (tax included)
MAISON DE REEFUR Daikanyama is a one-stop shop for style, shopping and dining. The first floor of MAISON DE REEFUR sells a wide range of practical and fashionable products, from home decoration, stationery, tableware, to shopping bags, clothing, and jewelry. One of the most popular items in the store is the brand name emblazoned tumbler with its simple and stylish look. The MAISON DE REEFUR 2Way Tote Bag offers the practicality of light and easy storage – perfect for as a carry-on bag or an eco-friendly shopping bag. The leopard-print transparent umbrella will make any user playfully fashionable on rainy days.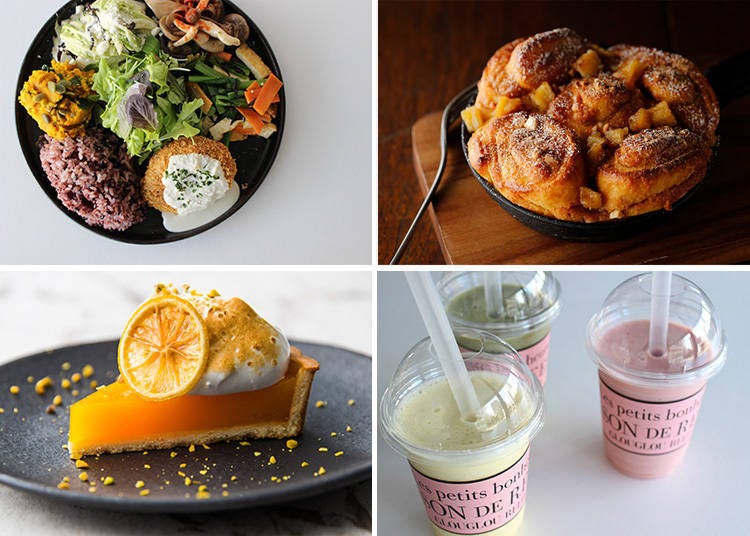 Top Left: GLOUGLOU PLATE, 1,400 yen; Top Right: GLOUGLOU Cinnamon Roll (グルグルシナモンロール), 750 yen; Bottom Left: Organic Lemon Tower (オーガニックレモンタルト), 650 yen; Bottom Right, Fresh Fruit Smoothie (スムージー), 700 yen takeout / 750 yen dine in, (tax excluded)
On the second floor is the GLOUGLOU REEFUR coffee shop, designed to create a comfortable dining space for women. All the menu entries are delicious and healthy, the most popular of which is the GLOUGLOU PLATE, which includes a variety of fresh vegetables. The GLOUGLOU Cinnamon Roll is has a fluffy soft texture and a strong cinnamon aroma. It goes perfectly with coffee or tea! Organic Lemon Tower has a fruity fragrance and a slightly sweet taste. Fruit cups and vegetable juice are also very popular. Whether it's a relaxing afternoon tea for on your own, with friends, or other mothers, GLOUGLOU REEFUR is Daikanyama's the first choice for ladies!
メゾン ド リーファー

Address

24-4-1, Saka-cho, Shibuya-ku, Tokyo 150-0033

Hours: 1F MAISON DE REEFUR Daikanyama Main Store, 11:00 - 20:00; 2F GLOUGLOU REEFUR DAIKANYAMA Our shop, 11:00 - 21:00
Ebisu, Nakameguro, and Shibuya are nearby to complete your circuit of the most fashionable districts Tokyo has to offer, but if you're hoping to get off the very beaten tourist path, you must visit Daikanyama. It's the perfect alternative, and you can certainly enjoy a full day there!

Written by: Yu. English text by: Gabriel Wilkinson.
*This information is from the time of this article's publication.
*Prices and options mentioned are subject to change.
*Unless stated otherwise, all prices include tax.