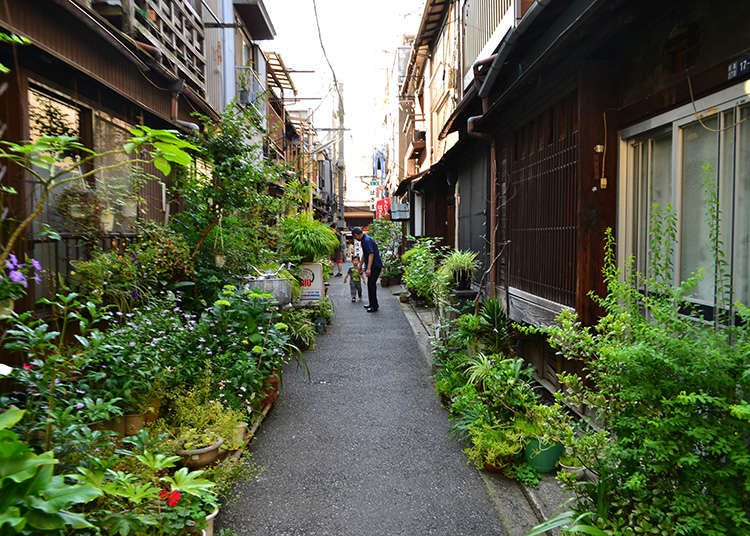 Many people are associate the Tsukuda and Tsukishima area with tsukudani (seafood, meat or seaweed that has been simmered in soy sauce and mirin) and monjayaki (pan-fried batter with various ingredients). It is a unique area that has new buildings that were reconstructed with the flavor of the old town.

Photo provided by: Chuo City Tourism Association
The Contrast of New and Old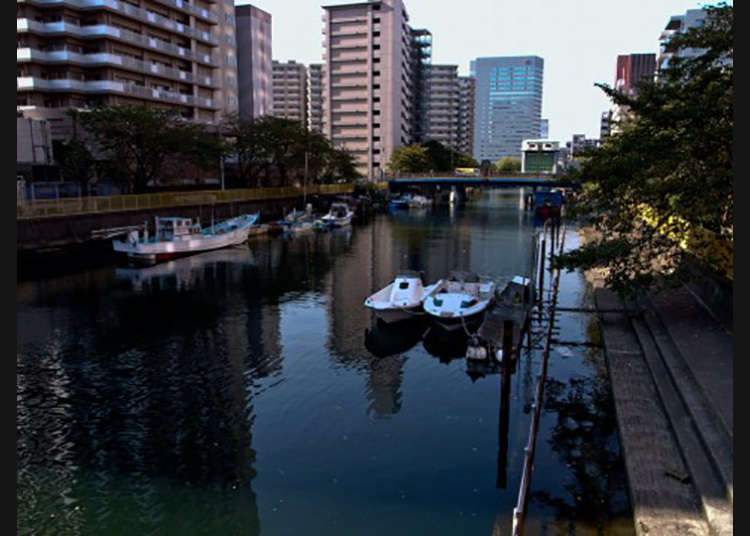 Spreading along the Sumida River the Tsukuda and Tsukishima area has the remains of the flavor of the old town. However, because of the Tokyo Olympics in 2020, reconstruction work is being carried out. While high-rise apartments and buildings have been built everywhere, there are many housings with a full flavor of the old town. Please walk around while enjoying the comparison of the new and old things.
A row of houses in the old town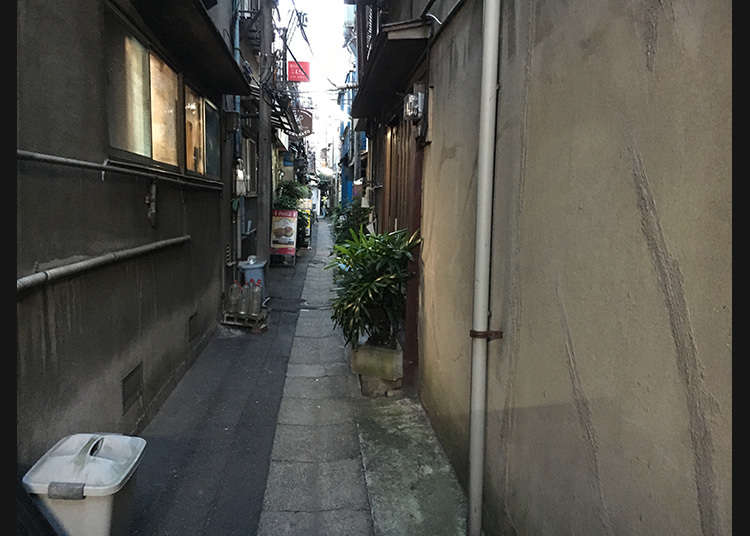 If you walk around Tsukishima, you can have a look at how people have lived here since the old days. It could be the many flowerpots lined up on the narrow eaves or a washing machine placed outside. You might see a pub displaying a lantern outside. It is filled with a nostalgic atmosphere. If you find an elderly person sitting on a round chair and relaxing, then talk to him or her. Elderly people in the old town are very friendly so you might be able to communicate with only gestures without speaking Japanese.
The atmosphere of the riverbank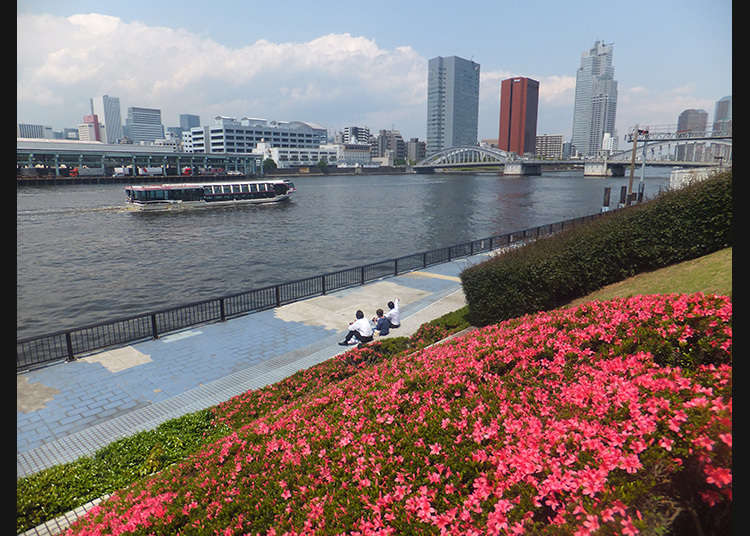 There are several places on the riverbank of Tokyo's old town for people to enjoy the flavor of the old town. Tsukuda Koen (Tsukuda Park) is one of them. It is located on the west side of Chuo-ohashi Bridge and this long and narrow park along the Sumida River has a restored lighthouse that was used several hundred years ago. Speaking of the Sumida River, it is a tasteful river symbolizing the old town of Tokyo. In the summer yakatabune (a roofed entertainment boat) float along on the water and the biggest firework festival in Japan is held. Along the Sumida River, shinsui (hydrophilic) terraces called Sumida-gawa Terrace are built on both banks. When you walk on riverbank, you can see a different side of Tokyo.

Photo provided by: Chuo City Tourism Association
Address

1-11-4, Tsukuda, Chuo-ku, Tokyo, 104-0051
View Map

Nearest Station

Tsukishima Station (Tokyo Metro Yurakucho Line / Toei Oedo Line)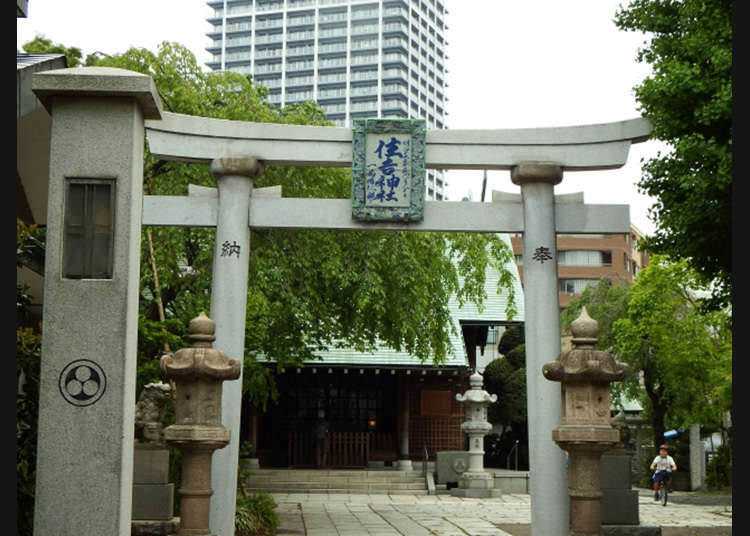 The torii of Sumiyoshi Jinja (shrine) is located just over Sumiyoshiko-bashi from Tsukuda Koen. You can see high-rise apartments standing over the shrine, it is a scenery something that is Tsukuda and Tsukishima area-ish and very special for this shrine. Sumiyoshi Jinja was founded in 1646, and it has been believed by local people as a guardian for ships since the shrine is located on the waterfront.
Address

1-1-14, Tsukuda, Chuo-ku, Tokyo, 104-0051
View Map

Nearest Station

Tsukishima Station (Tokyo Metro Yurakucho Line / Toei Oedo Line)
5 minutes on foot


Phone Number

03-3531-3500
"Kachidokibashi" of Cultural Property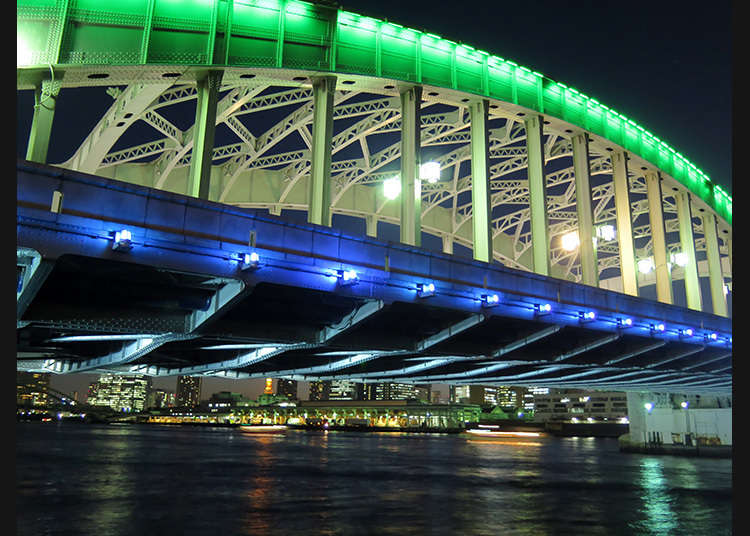 At the lower reaches of the Sumida River, there is Kachidoki-bashi, famous for being the largest drawbridge in Japan. It is a historic bridge registered as Important Cultural Property. If you want to look at Kachidoki-bashi, then go to Sumida-gawa Terrace. You can have a nice view of all of Kachidoki-bashi, the Sumida River and some skyscrapers. It is best to look during dusk to night when the place is lit up. Because it caused heavy traffic, the bridge no longer is raised and lowered, but at the Museum of Kachidoki-bashi, located near the bridge, you can see the large operating machine that was used to raise the bridge.
Address

6, Tsukiji, Chuo-ku, Tokyo, 104-0045
View Map

Nearest Station

Tsukijishijo Station (Toei Oedo Line)
8 minutes on foot

*This information is from the time of this article's publication.
*Prices and options mentioned are subject to change.
*Unless stated otherwise, all prices include tax.
Search for International flights