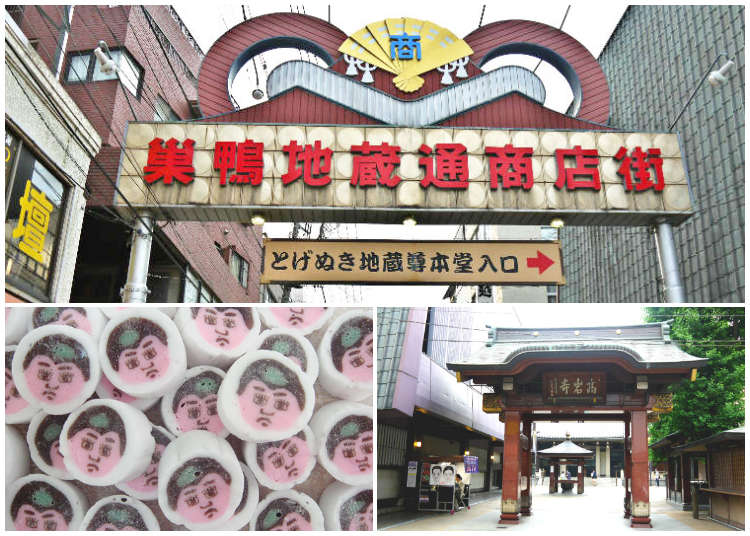 Sugamo Jizo-dori Shopping Street is about 780 meters long, starting from JR Sugamo Station, and is packed with about 200 different retail stores. People say this place is the seniors' Harajuku and many people from all over Japan come to visit. But why do Sugamo's streets attract so many seniors? Let's take a look around to find the answer!
How did Sugamo come to be?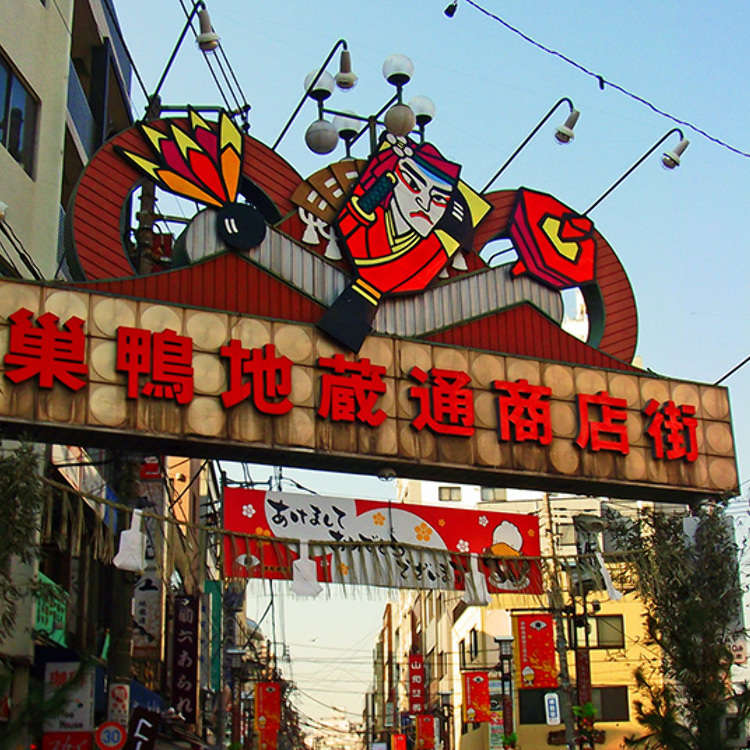 Sugamo Jizo-dori Street is located along the Old Nakasendo Road. During the Edo period, the first rest stations of Nakasendo starting from Nihombashi were built in this area until they gradually developed into a town. Originally, Sugamo Koshinzuka, a stone pagoda, and a temple called the Edo Rokujizo Shinshoji were found in the area to offer travelers a place to worship. When the famous Togenuki Jizo Kogan-ji temple was moved from Ueno to Sugamo in 1891, however, even more people came to Sugamo which lead to a thriving development of businesses. This was the beginning of this shopping street.
Shopping isn't the Only Fun Thing to do!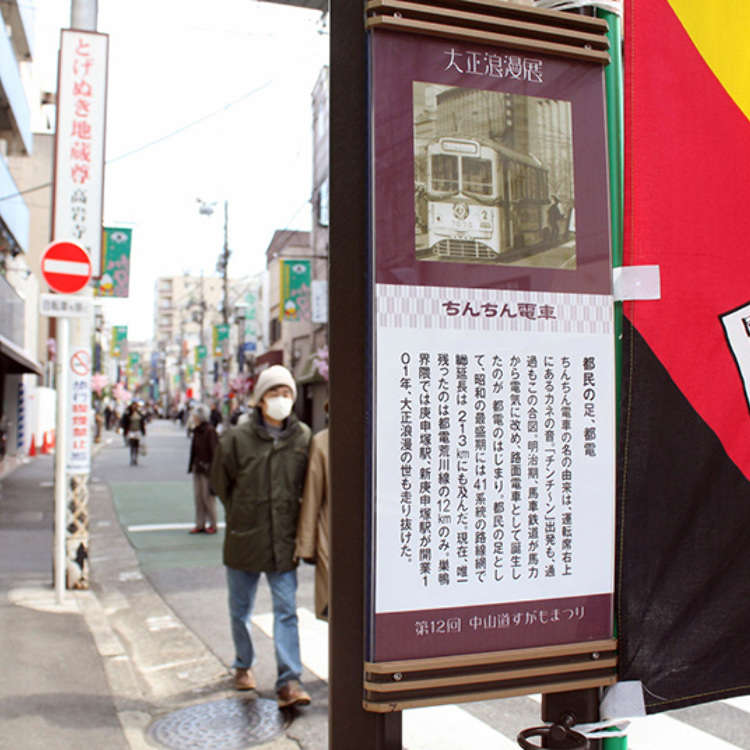 Both sides of the street are lined with traditional stores that have a nostalgic feel to them. Clothing stores, Japanese kimono stores, Japanese sweets stores, and noodle restaurants successfuly retain a Showa era atmosphere, drawing in crowds. When strolling down the street, you'll notice how happily the shopkeepers chat with their customers - the friendly and cheerful atmosphere of the place really is palpable. During the weekend and holidays, tables and chairs are put up along streets for shoppers and visitors to rest on, a manifestation of famed Japanese hospitality.
Address

3, Sugamo, Toshima-ku, Tokyo, 170-0002
View Map

Nearest Station

Sugamo Station (JR Yamanote Line / Toei Mita Line)
2 minutes on foot


Phone Number

03-3918-2101
Feel Relieved at Togenuki Jizo Kogan-ji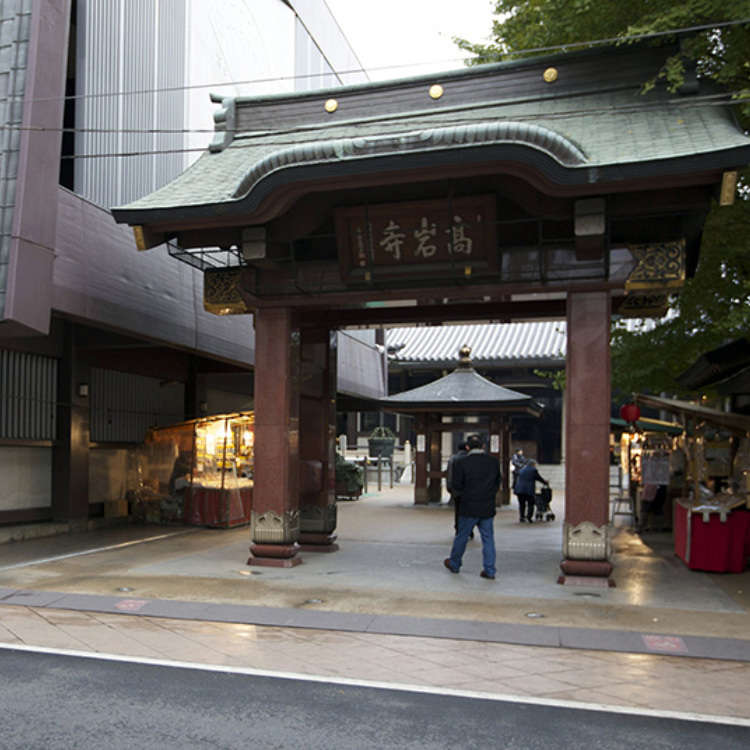 Togenuki Jizo is enshrined in the Manchozan Kogan-ji, a temple in the middle of the street that is affiliated to the Buddhist Soto school. During the Edo period, a jizo (Buddha) appeared in the dream of a man who's wife was suffering from an incurable disease. The man drew the figure of the jizo on a piece of paper, let it float on the Sumida River and prayed - and his wife was cured miraculously. Another time, a woman accidentally swallowed a needle and ate an image of the jizo. The needle came out without harming her, along with the picture of the Buddha, and ever since then the statue was called Togenuki Jizo, which literally means "splinter-removing Buddha". A piece of paper with the Jizo's image which is considered to remove the thorns lodged into your mind and body is sold in the main hall in front of the temple. Temple festivals are held on the 4th, 14th and 24th of each month and many stalls are open serving thousands of worshipers. The Kogan-ji temple offers free consultations for daily life, advocates smoking ban, and promotes AED. It also displays Kokeshi dolls and showcases on-site Kokeshi doll making to support the reconstruction of areas damaged by earthquakes, among other activities contributing to society.
Address

3-35-2, Sugamo, Toshima-ku, Tokyo, 170-0002
View Map

Nearest Station

Sugamo Station (JR Yamanote Line / Toei Mita Line)
7 minutes on foot


Phone Number

03-3917-8221
Taste your way through Traditional Candy!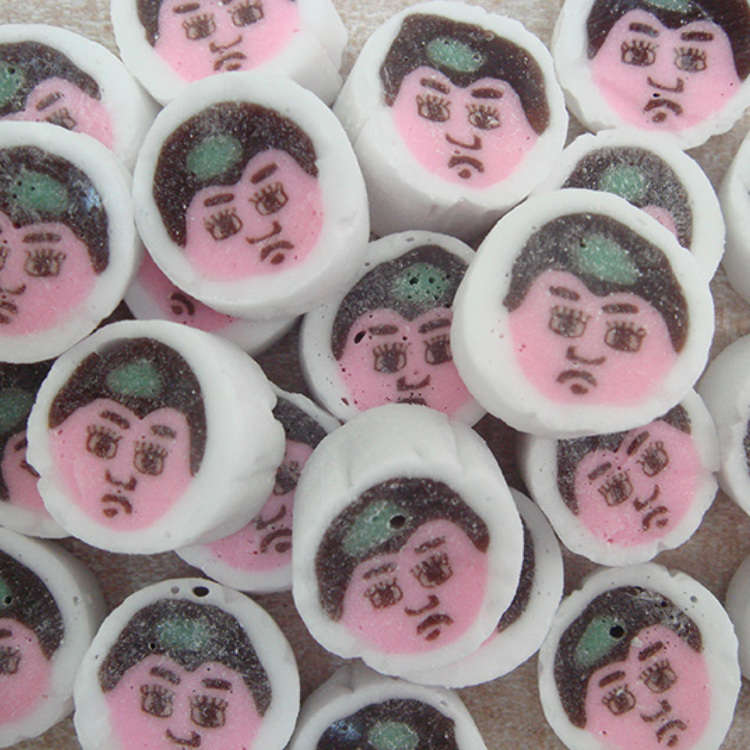 After visiting Togenuki Jizo Kogan-ji, head over to Kintaroame candy store on the other side of the street. This store has been making candy for over 60 years, delighting customers with their colorful and delicious sweets. There are more than 50 different flavors available. Aside from its standard candy with an image of Kintaro (a boy from a Japanese folk tale) on it, there are lots of other flavors like kinako (soybean flour), coffee, blueberry, and more - you'll definitely find a flavor that suits your taste!
巣鴨・金太郎飴

Address

3-18-16, Sugamo, Toshima-ku, Tokyo, 170-0002
Be Cheerful with Red Underwear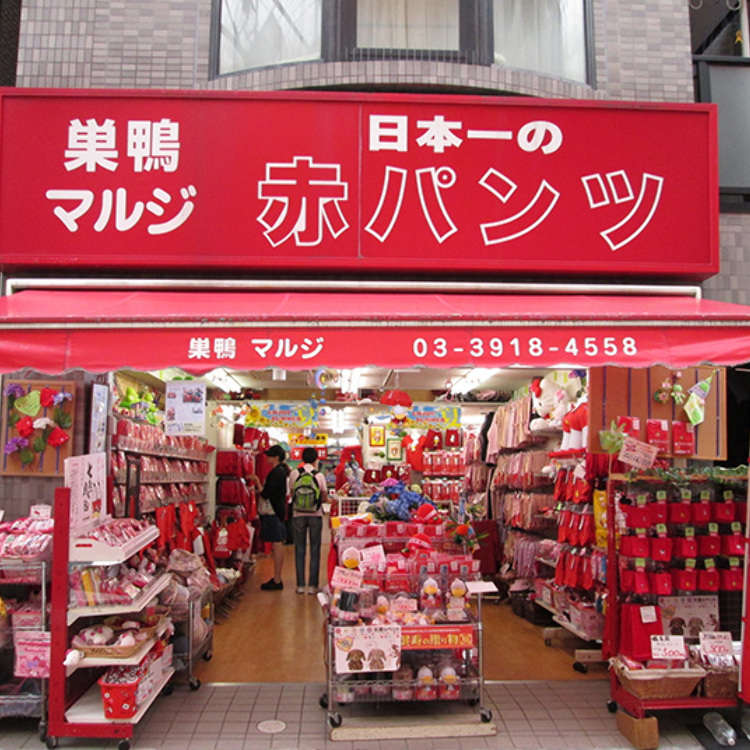 Among other clothing stores, Sugamo Maruji became very popular for its red underwear and it is always busy with people looking to get their hands on the famous garment. The 4th branch store of the world's first red underwear shop has an outstanding signboard indicating "Japan's best red underwear" in the front so it can't be missed. The red color is considered to symbolize vitality and happiness. Thus people buy it for a gift for seniors as well as for their own daily use. Aside from underwear, a lot of red colored items, such as shirts, belly-warmers, and socks, are available as well. Sugamo's famous red clothing makes a great unique souvenir for friends and family, senior or not!
Address

4-21-11, Sugamo, Toshima-ku, Tokyo, 170-0002
View Map

Nearest Station

Koshinzuka Station (Toden Arakawa Line)
8 minutes on foot


Phone Number

03-3910-1409
*This information is from the time of this article's publication.
*Prices and options mentioned are subject to change.
*Unless stated otherwise, all prices include tax.