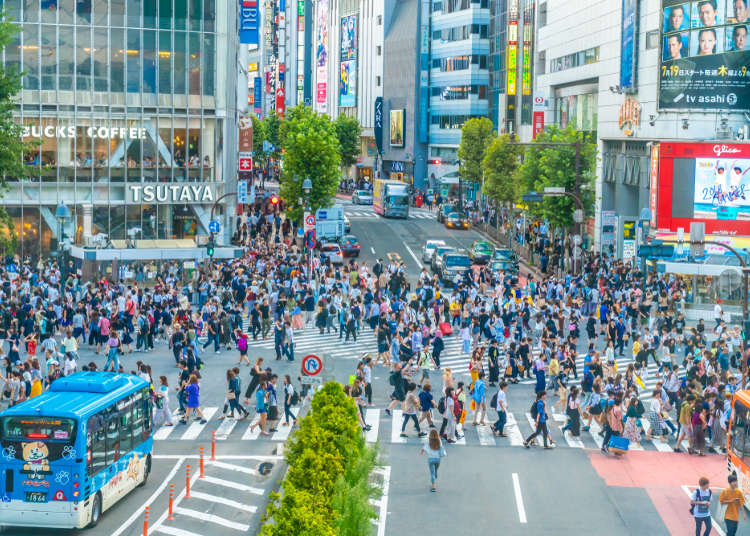 You likely think of Shibuya as one of Japan's representative cities, and it's no wonder! After all, this is where you'll find the latest gadgets, sumptuous food, and fashion trendsetters. Formerly the favorite haunt of youngsters, the area has been redeveloped in recent years to cater to a wider range of ages. Here are a few of these spots all can enjoy that we highly recommend you to visit if you're in the area!
main image:Food Travel Stockforlife / Shutterstock.com
Shibuya's History in Japan
You may not believe this by looking at the town now, but Shibuya used to be farmland in the olden days. As its name suggests, the area was surrounded by ya, or valleys. Toyoko Department Store (now Tokyu Department Store) was already in operation there before World War II, and after the war, more cultural facilities such as a planetarium and cinema theaters were added to the area. The 1964 Tokyo Olympics further hastened its urbanization.

Thereafter, in the 1970s, many youngsters starting gathering around newly built fashion-centric facilities such as Shibuya 109 and Parco, leading to the development of the town as a key venue for "gal trends" which took Japan by storm. The growing number of clubs, livehouses, and youth boutiques was also why many locals gradually formed the impression of Shibuya as a "youngster's street".

Recommended Spots
In modern times, however, Shibuya's image has been constantly changing. Now popularly known as a melting pot of all genres of subcultures, this is where you'll find impressive sites like the scramble crossing as well as interesting sights like costumed party-goers gathering during Halloween for a good time. So if you're a fan of the unorthodox, rejoice! Shibuya is where plenty of people go to be as nonconformist in their looks and conduct as it makes them happy, because in Shibuya, "everything and anything goes"!

On the other hand, even if you're not that much into challenging the norms, you'll still be able to enjoy Shibuya's calmer side in the form of its many commercial buildings such as Shibuya Hikarie or Shibuya Stream.

Large-scale development for establishments that will cater to a wide range of ages are underway even right now in preparation for the 2020 Tokyo Olympics and the massive crowds it will undoubtedly draw. No matter who you may be, Shibuya provides a welcoming space for you to be yourself.
Shibuya in the Eyes of Foreigners
As a world-famous tourist site, Shibuya is also the most-visited town in Japan among visitors from developed Western countries and tops the charts of "must-visit towns" of many other countries as well (Tokyo Bureau of Industrial and Labor Affairs 2017 survey).

Overseas, many view Shibuya as the fashion capital of Japan and the best place to help them understand Japan's latest and greatest. As such, foreigner-friendly Shibuya guided tours are rapidly gaining popularity. Because many shops in the area are open until very late, Shibuya is a convenient one-stop location for tourists wanting to maximize their time by filling the day up with activities from early morning to late at night.
Shibuya is replete with shopping areas featuring the latest trends!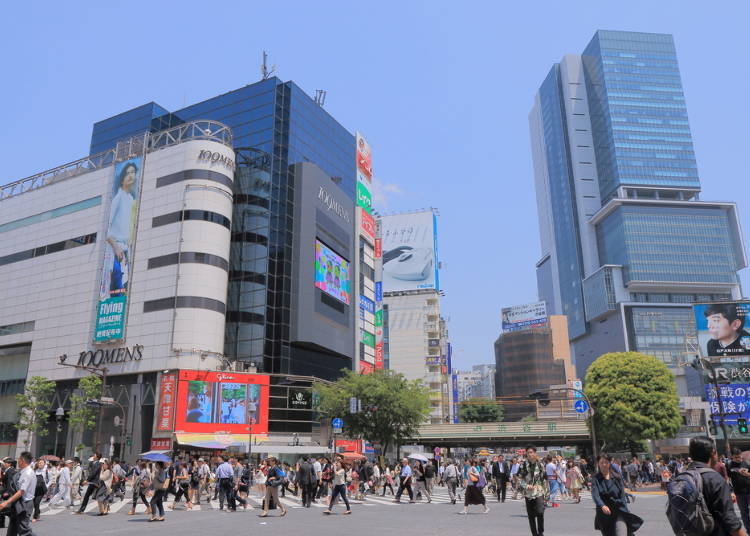 TK Kurikawa / Shutterstock.com
All around Shibuya Station are large commercial facilities that are either directly linked to the station or located within walking distance. From shops that drive Shibuya's youth culture like the well-known Shibuya 109 to classy looking stores aimed at older women like Shibuya Hikarie and lifestyle and interior design specialist store Shibuya Modi, there's no lack of things for people of all ages to enjoy in this area. For the more technically inclined, there's always large electronics retailers like Bic Camera and Yamada Denki. Looking for daily essentials? Loft or Tokyu Hands is where you need to be. Suddenly find yourself needing to get souvenirs on a shoestring budget? Fret not - it's 100 yen stores like Daiso and Can Do to the rescue! Anything you can think of under the sun - Shibuya is likely to have them all, and then some!

Recommended Spots
Shibuya is located in the center of a unique area
Shibuya and Harajuku are connected by a long stretch of road called Cat Street. Photographer253 / Shutterstock.com
Shibuya's most famous sightseeing hotspot is the busy intersection known to the world as the Shibuya Scramble Crossing. At its peak, 3,000 people step onto crosswalk each time the light turns green, and it is estimated more than 500,000 people use it each day! When foreigners think of "Tokyo", this is usually the scene that first comes to their mind. Just like how this crossing has served as a symbolic intersection for people from all over the world, Shibuya also serves as a crossroad for Tokyo's many other distinctive downtown areas. It's connected to areas such as Harajuku, the birthplace of all kinds of pop culture; Aoyama / Omotesando, a posh area known for its luxury goods; and Daikanyama, with all its glitzy shops. The best part? They're all within walking distance from Shibuya itself!

Recommended Spots
Shibuya is full of intriguing entertainment for the curious mind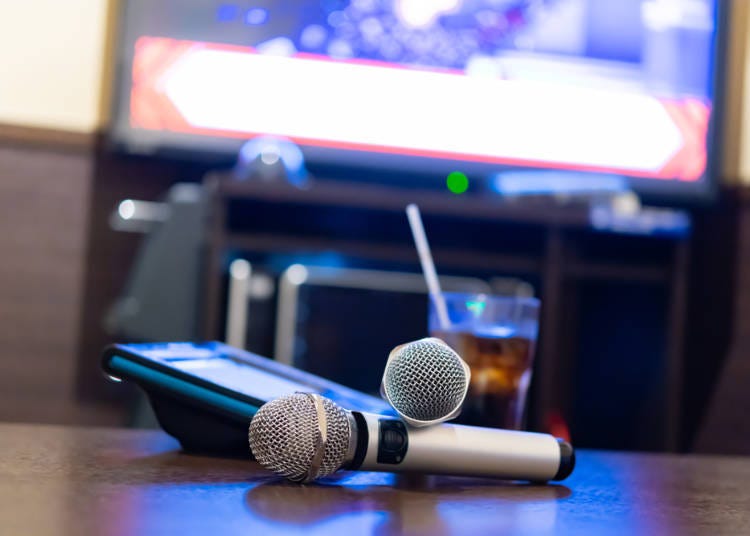 Besides shopping, you can easily find a slew of other activities to engage in during your Shibuya exploration as well. The ever-familiar karaoke - which is actually a wasei-eigo (English derived Japanese loanword) phrase that means "empty orchestra", video game arcades, manga (Japanese comics) cafes, bowling alleys, sports facilities offering fun sports like table tennis, VR facilities, and plenty of other interesting places are easily accessible here for you to play to your heart's content. Since these areas are usually packed with both local and foreign visitors, they may offer a great chance for everyone to have some spontaneous fun together!

Recommended Spots
Shibuya: A Town of Artistic and Cultural Leanings
Did you know that Shibuya is also a great place to indulge in your artistic and cultural inclinations?

Bunkamura, for example, is a large entertainment complex where you can enjoy concerts, opera performances, stage plays, and many other performing arts. Shibuya Hikarie is not just for shopping - it also contains an art gallery and movie theater for you to get in touch with the latest artistic endeavors in town.

And don't forget the plethora of clubs and livehouses, subtly spinning the Shibuya story through music and subcultures that are delightfully energizing.

Recommended Spots
What Areas Are There in Shibuya?
Shibuya is split into different areas, each with its own unique atmosphere and characteristics. Let's dig deeper and see if these areas live up to their reputations.

Center Gai / Udagawacho
Cross the Shibuya scramble crossing which is located in front of one of Shibuya's symbols, the statue of "Hachiko" the loyal dog, and you'll find yourself in an area packed with a mesmerizing array of commercial facilities like restaurants, game centers, CD shops, provision shops, and more. This busy shopping area is Center Gai, the face of Shibuya, and it's been the favorite haunt of the younger generation for countless years now. Just ahead of Center Gai is Udagawacho, which features more lifestyle merchandise being sold by establishments such as 100 yen shops, Tokyu Hands, and Shibuya Loft, along with a number of apparel shops catering to the latest trends.

Dogenzaka / Culture Village Street Area
The area's landmark building Shibuya109 is surrounded by large electronics retailers such as Bic Camera and Yamada Denki as well as clothing chains like Uniqlo and lifestyle specialty stores like Don Quixote - all popular shopping choices among international visitors. For a deeper dive into the Japanese cultural experience, try out one of the many classy restaurants, bars, livehouses, clubs, or even love hotels in the area.

Oku-Shibuya
This area lies just beyond Bunkamura Street and is an approximately 10 minutes' walk from Shibuya Station. It has earned a reputation in recent years for being the place to visit for cafes, cozier shops, and art galleries. Oku-Shibuya has retained a calm, old town vibe that is in contrast with the hustle and bustle of the shopping street area in front of the station.

Koen Dori
This refers to the street with a gentle slope leading towards Yoyogi Park from around Shibuya Marui and Shibuya Modi, both of which be found by turning right from the scramble crossing after crossing it. In addition to large departmental stores like Marui and Seibu, you'll also find plenty of cafes and general stores and a calmer atmosphere than the area in front of the train station.

Miyamasuzaka / Mitake Dori
Located outside the East Exit of Shibuya Station, the 34-storey tall skyscraper Shibuya Hikarie is the area's de facto icon. Bonus: The building is also directly connected to the station for easy access! This area is connected to Aoyama Dori, which leads to Omotesando, and is favored by posh patrons of a relatively higher age group. There are many cafes and restaurants to be found here.
Located near the geographical center of Tokyo city, Shibuya is very easy to access from many different places.

Train
Shibuya is an important terminal station in the 23rd Ward of Tokyo where many different train lines intersect. From Shinjuku Station, Shibuya is about a 7 minutes train ride; from Tokyo, about 25 minutes; from Yokohama, about 30 minutes; and from Haneda Airport, about 40 minutes. For all its convenience as an interchange of trains, there is also a confusing amount of exit points and fare gates for each train line that may confound first-time passengers. Some exits take more than five minutes to reach from the fare gate, so always plan plenty of wiggle room into your itineraries if you're not sure!

●Train Lines
JR: Yamanote, Saikyo, Shonan-Shinjuku, Narita Express
Tokyo Metro: Ginza, Hanzomon, Fukutoshin
Keio: Inokashira
Tokyu: Toyoko, Den-en-toshi

Bus
Bus companies such as Odakyu Bus, Tokyu Bus, Keio Bus, Fuji Express, and Toei Bus collectively cover a comprehensive area and are convenient to take. Since each bus plies a different route and goes to different bus stops in the neighborhood, it's imperative for you to always look up the route first before hopping onto one. Additionally, if your objective is to move around the vicinity of Shibuya or visit tourist hot spots and public facilities, we recommend the community bus, Hachiko Bus (100 yen each ride) operated by Shibuya Ward itself.


All said, Shibuya is truly the town to visit if anyone wishes to catch a glimpse of "Japan now". We invite you to see for yourself the town aptly titled, "This is Tokyo!", where uniquely Japanese scenes crisscross boldly with international trends, fostering an environment of flavorful fun that you'll never tire of!
*This information is from the time of this article's publication.
*Prices and options mentioned are subject to change.
*Unless stated otherwise, all prices include tax.