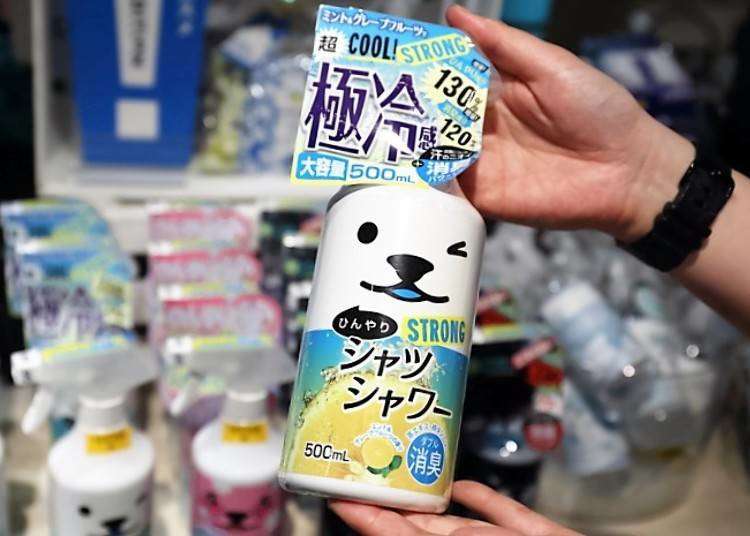 Hot and humid - you can't really say that summer in Japan is pleasant. But one pleasant way to pass the time during summer here is to visit Shibuya Loft and spend time looking at its great selection of sundried items. Whether it be cool items for outdoor activities or bedding to make the summer nights more comfortable, Yui Takahashi of Loft's PR Department had several recommendations of interest that can make the summer more pleasant. Here are ten we wish to share with you.
One Spray Instantly Cools! "Cool Shirt Shower Strong Grapefruit (Loft exclusive)" 1,250 yen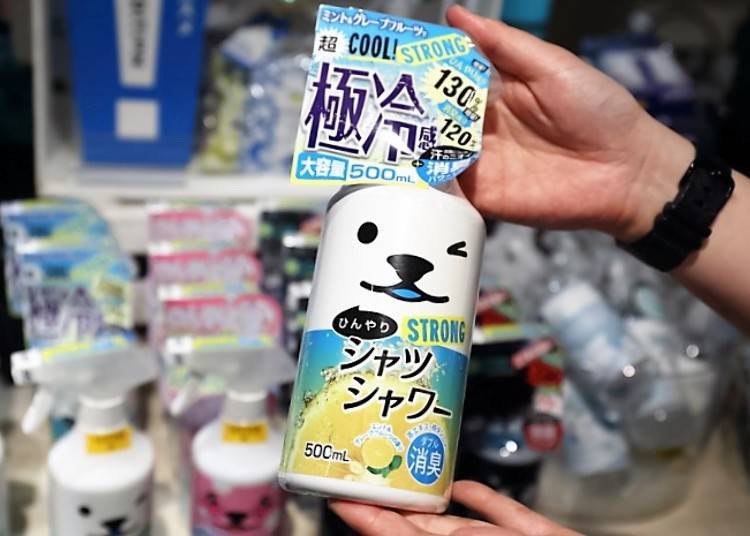 This spray for clothing is perfect for summer; just spray it on your clothes and it will provide a cool sensation. It has 30% more menthol than the original type which has greatly increased its cooling effect. This item, which is only sold at Loft, just recently appeared on the market in May 2018. According to Ms. Takahashi, "It raises the body's heat tolerance level." Spray it on the back of your shirt or blouse and it will immediately cool you with an icy sensation that will last for about an hour. The fresh grapefruit aroma is popular with both men and women; the perfect item for a family. Just before leaving the house, spray the back of your shirt or blouse for a cooler commute to work or school. You'll also feel a nice cool sensation the moment you go indoors after escaping the heat outside.
Cool Shirt Shower Series lineup. The standard type is on the left and the strong type is on the right; in the middle is the limited edition that is a combination of both types
High-power & Rechargeable: "iFan Porta Mini" 1,980 yen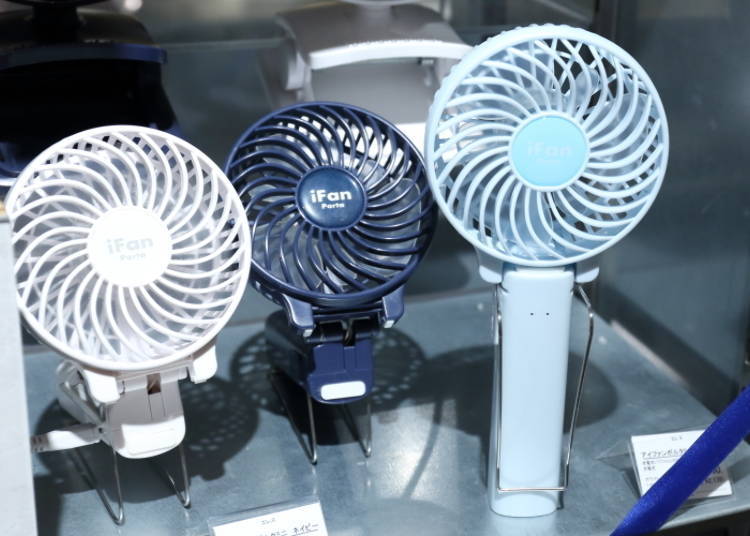 This is the newest model of the portable fan that is gaining popularity throughout Japan. Even though it is more compact than the previous model and weighing only 135 g, the six fan blades ensure a breeze as strong as the previous model. It has three speeds and can be used for up to nine hours on a single charge. It can be charged through the USB port on a laptop computer and also is outfitted with a mobile battery function which means it can be used to charge a smartphone in a pinch. It has a removable stand and can be used in three ways: stand alone, handheld, and hooked on something which makes it easy to use almost anywhere. It comes in three colors.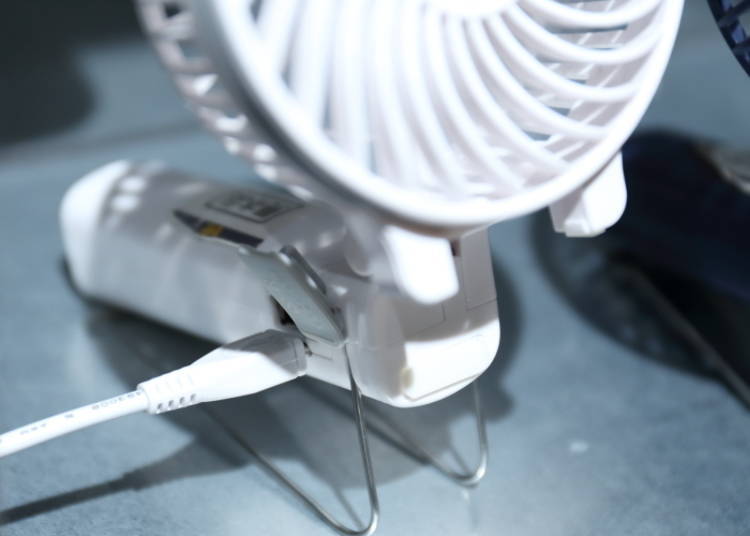 Charges from a USB port. The terminals are MicroB standard and it comes with a charging cable.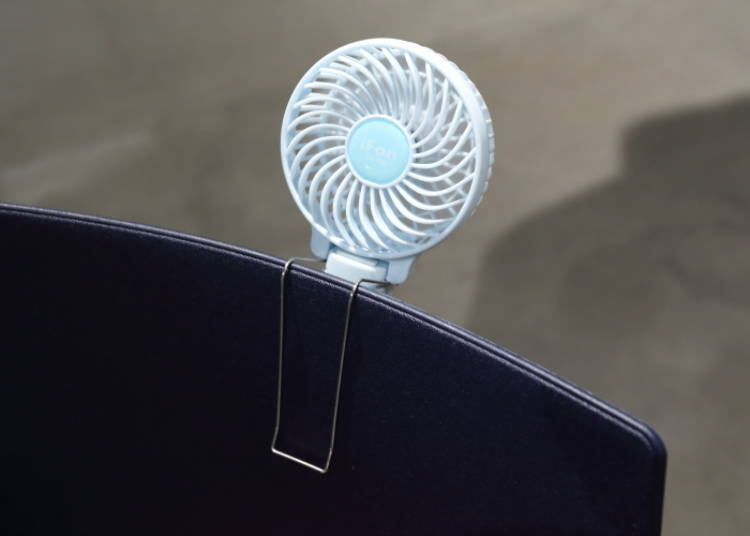 The hook can be removed and easily attached to a stroller.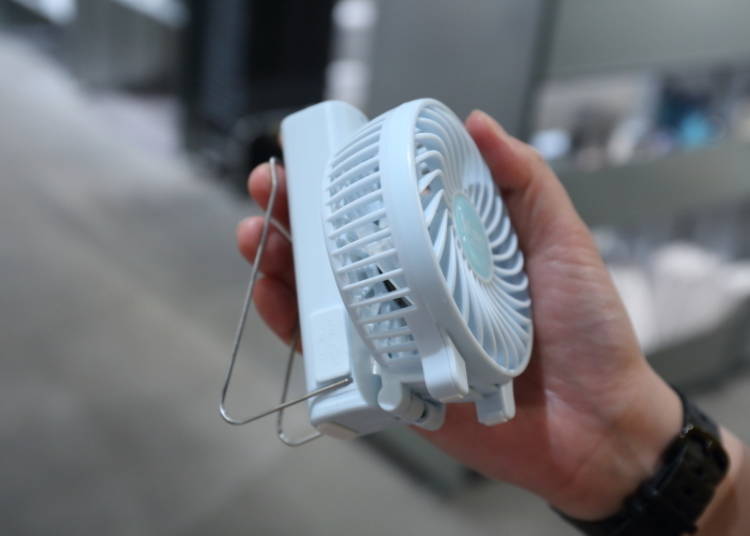 Folded up it is compact enough to fit in the palm of your hand. Convenient for use on the go
Compact Fan Perfect for Use in the Office: "Rechargeable Handy Fan (with aroma tray)" 2,300 yen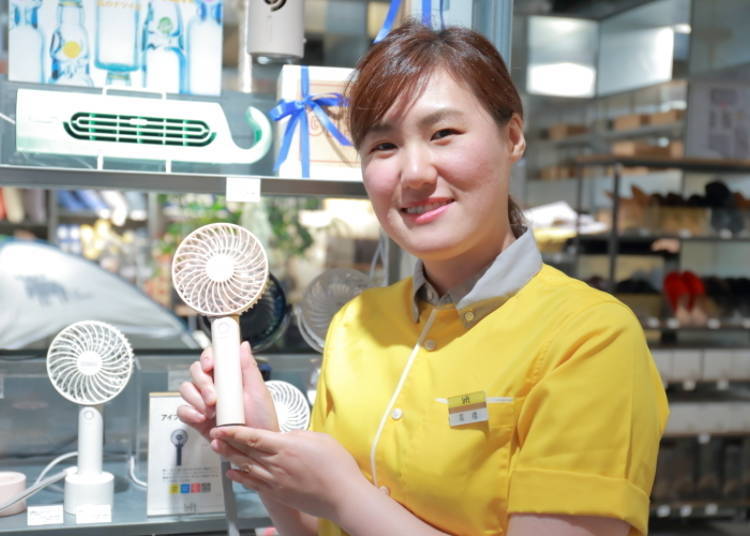 This is another new model making its debut in 2018 that is slightly larger than the model introduced above. It also has six fan blades that produce a powerful breeze. Its most outstanding feature is its aroma tray. The tray is attached by magnets to the backside of the fan and putting commercially available aroma oil into it gives the breeze blown by the fan a fragrant scent. There are five fan speeds and it is outfitted with a charging stand that makes it convenient for use on a desktop. The battery can last up to nine hours of continuous use. It comes in two colors: pink and white. It is recommended for women working in offices.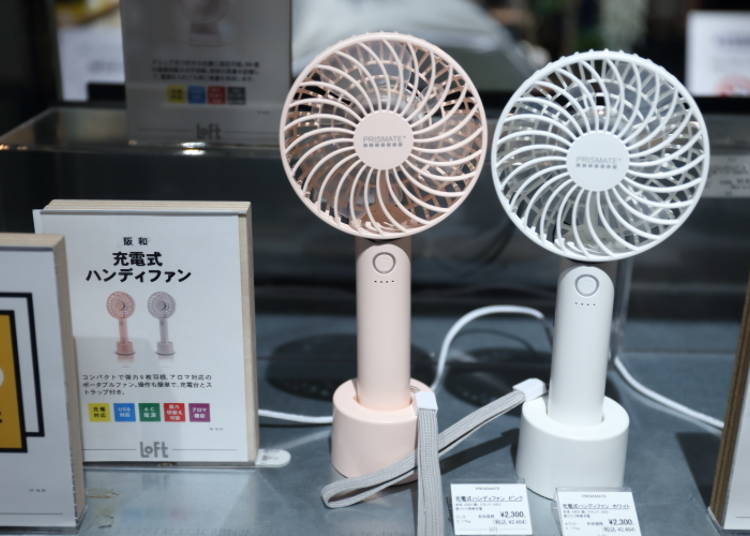 Refreshing design of light colors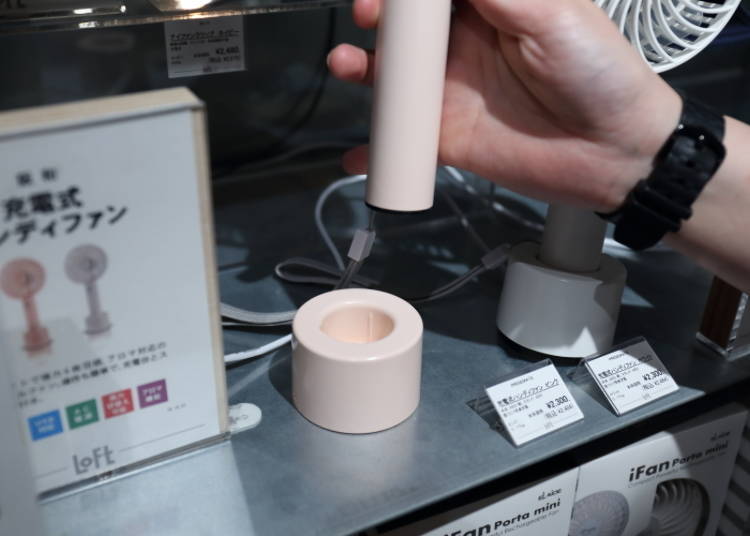 Just insert it in the charging stand to recharge it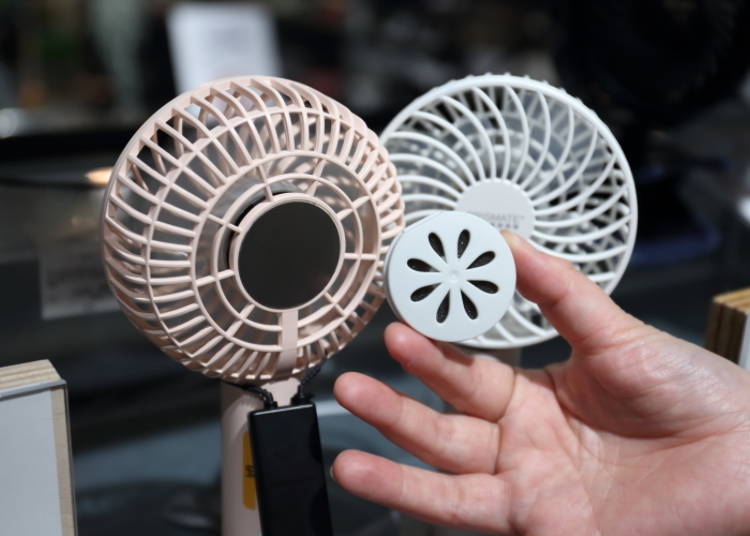 The aroma tray that attaches magnetically to the backside of the fan
Five Functions in One Quick and Easy Shampoo: "Saborino Treatment Shampoo" 1,400 yen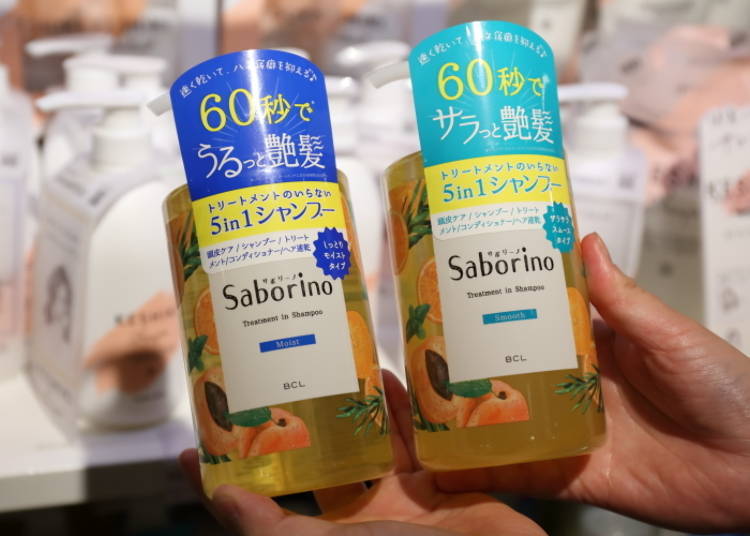 This treatment shampoo has five functions: scalp care, shampoo, treatment, conditioner, and is quick drying. Containing an assortment of ingredients, all your shampooing needs are met in this one bottle. It leaves your scalp feeling refreshed and your hair moist and easy to manage, and enables your hair to dry more quickly. It also prevents your hair from becoming disheveled from sleeping. This is perfect for use in the hot, humid summer in Japan. It has a fragrant, fruity aroma in either peach or orange. This is especially recommended for ladies with long hair. It comes in two types: moist and smooth.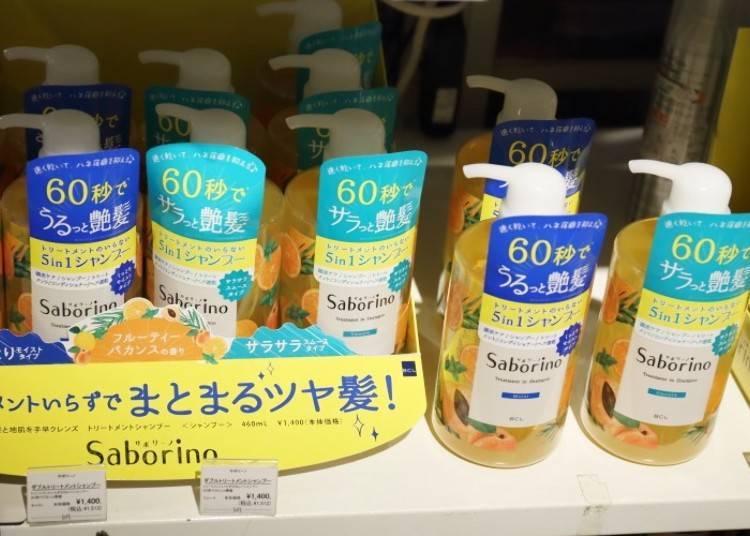 Push-type container
Cooling Material Makes Summer Nights Cooler: "Marvelous Cool Bed Pad" 4,600 yen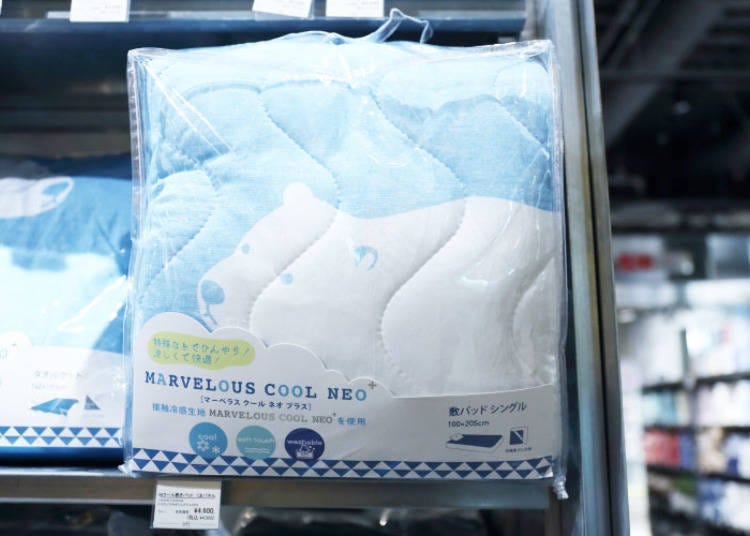 This bed pad uses textile into which a special metal has been added which then produces a cool sensation. This is especially good for those who dislike sleeping with the air conditioner on because the moment you lie down on this bed pad it feels comfortably cool. Just looking at the polar bear design makes you feel cool. It only comes in single bed sizes and comes in two colors. There are also other items in the series, such as pillowcases, towelkettes (towel blankets), and hugging pillows using the same fabric.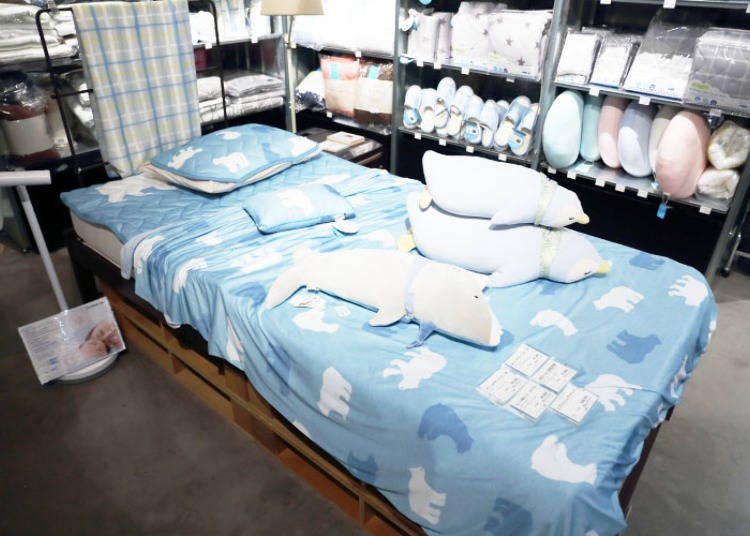 Other bedding in the series using the same fabric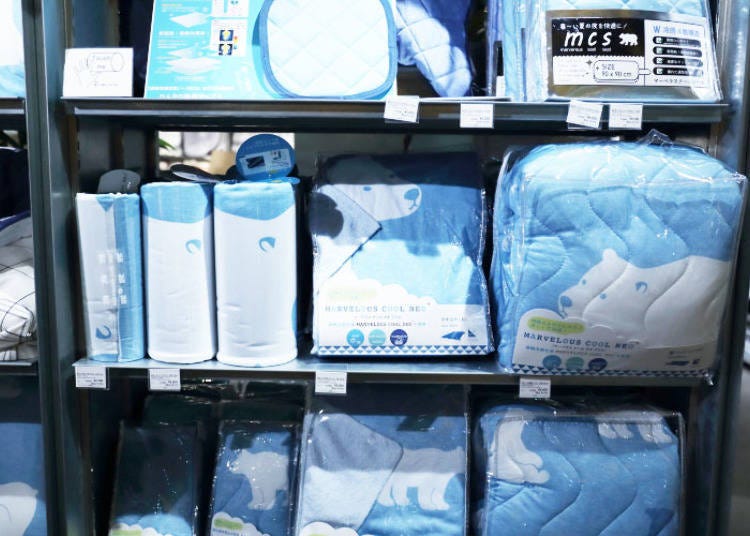 Blue color accentuates the cool design
Heat Absorbing Summer Necessity: "Shiyo Makura" (salt pillow) 2,000 yen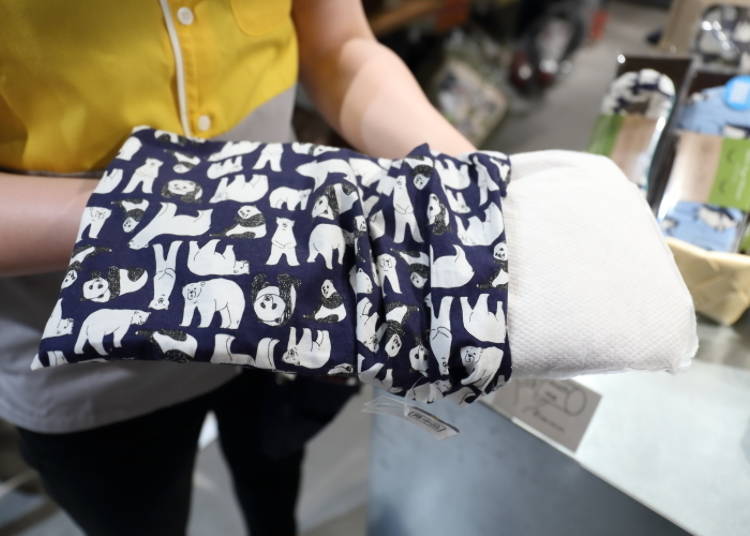 This summer item helps to make sleeping more comfortable by delivering a cool sensation all through the night. Domestic sea salt, which has low moisture concentration and a heat absorption effect, is in the pillow cover that also has a cool design and this keeps your head and neck cool. Only 2 cm thick, it is thin enough to be used by slipping it over regular pillows and is most effective when used for the neck area. It has a good heavy feel when held in two hands and your head comfortably rests snuggly on it. And if you want an even cooler sensation, place it in the refrigerator before using it.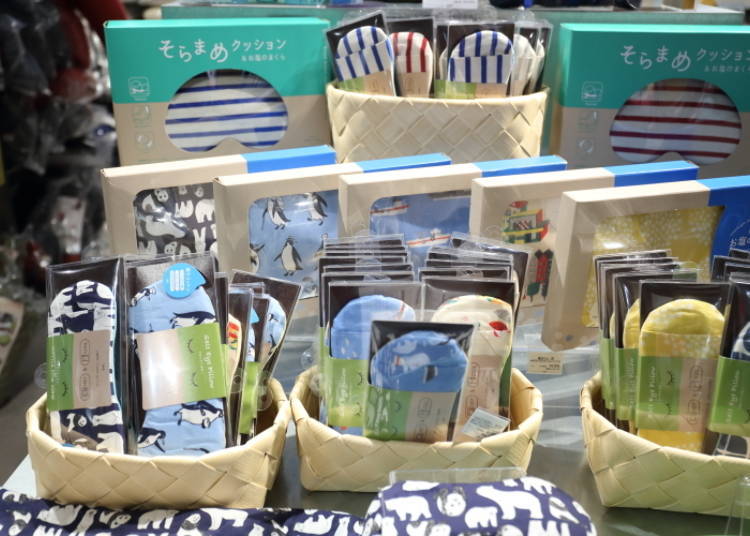 Eye Pillows that cool the area around your eyes
Body Care for that Level of Coolness You Like: "Body Sorbet" 800 yen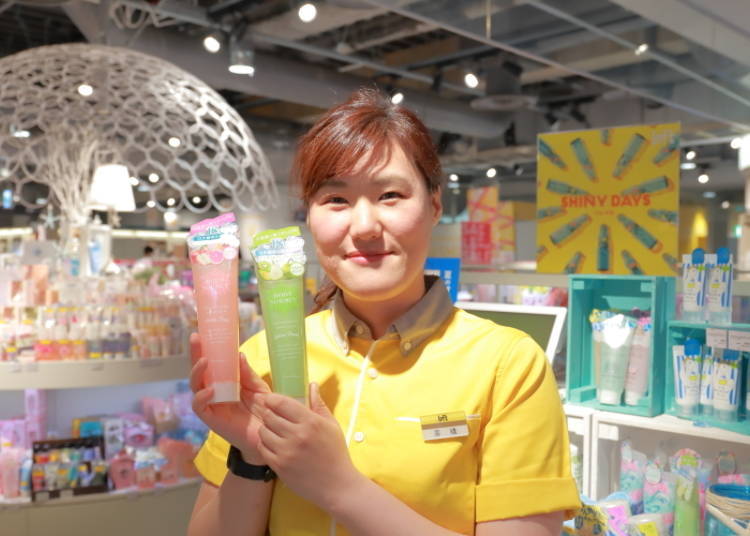 Body Sorbet, which made its debut in 2018, uses an Iso-SlimComplex that firms up the skin. Put it in the freezer and it will chill down to minus 18 degrees and become sherbet-like which when applied to the skin is cool and soothing. If you prefer it less cold, then you can keep it in the refrigerator. You can set the level of coolness you prefer depending on where you keep it. This moisturizer comes in two types; the green one that has a pear fragrance and the pink one that has the fragrance of pink grapefruit. Both fragrances are perfect for summer.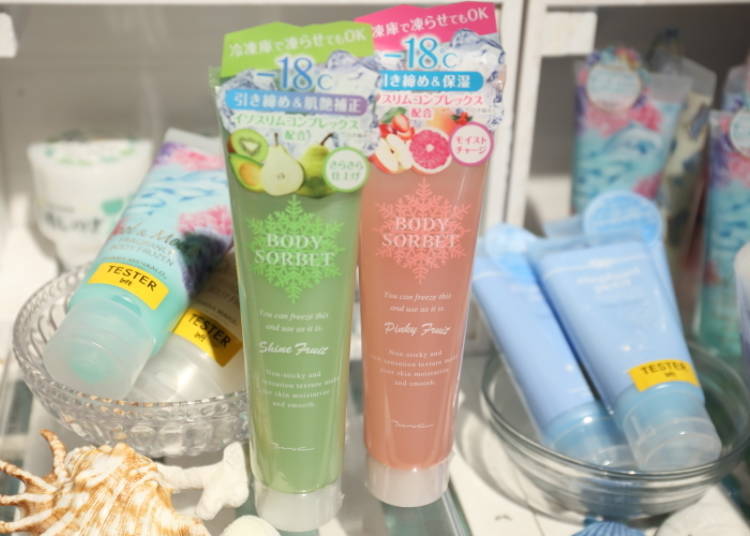 Comes in green and pink. Can be stored in the refrigerator
Cool Towel for Outdoor Activities: "COOL & UV Stole Towel" 1,500 yen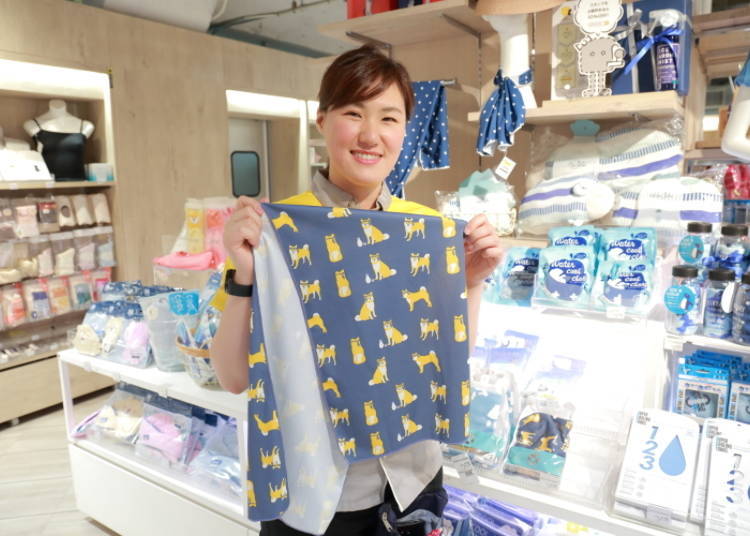 For a comfortable, cool sensation, just soak this lightweight stole towel in water, wring it out, and shake it. Placing it over your shoulders like a stole will keep you cool and from getting sunburned because it cuts UV light. Even though it is damp, it feels smooth. Even when wet it can be stored in a zip-pouch that makes it easy for carrying with you. This delightful gift has a polar bear and dog motif.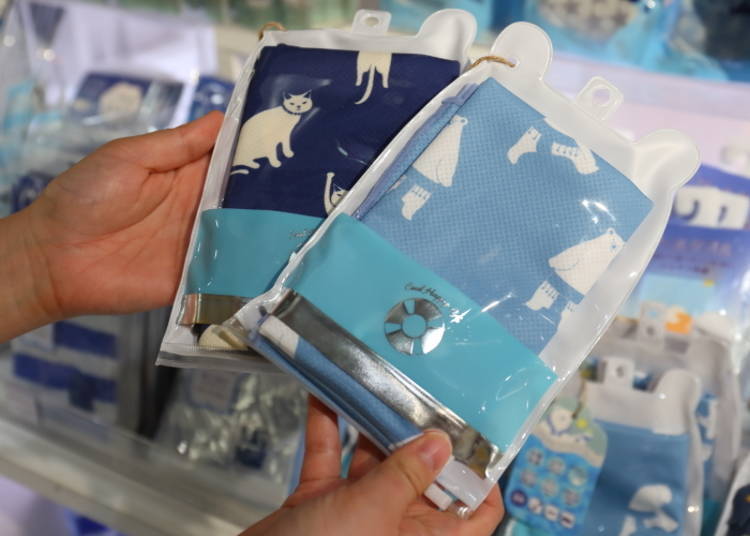 Zip-pouch is convenient for storing it when wet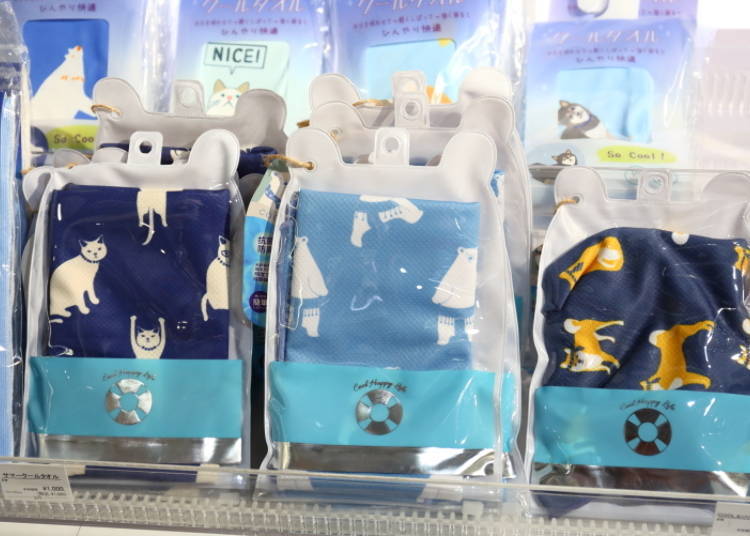 Three designs
Wake Up Feeling Refreshed After a Cool Sleep: "Cool Good-Night Bikyaku (beautiful legs) Super-long Light Blue" 2,180 yen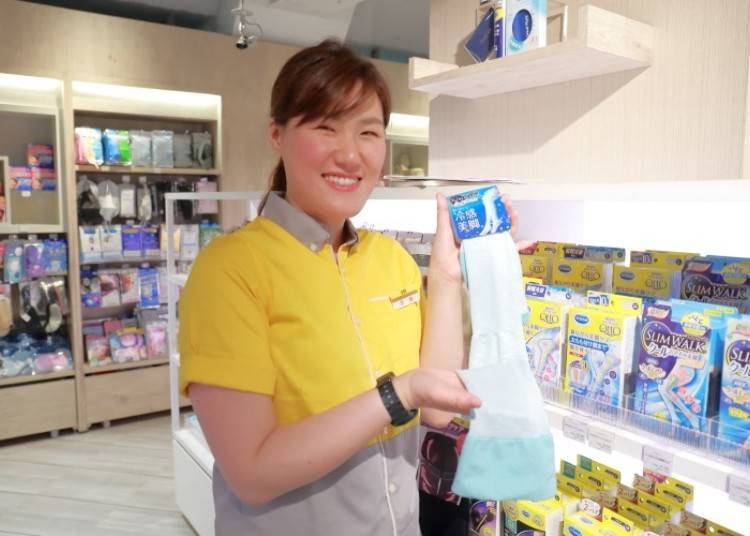 SLIM WALK relieves swelling in your legs while you sleep and is a leg-care item being specially offered this summer. It uses four levels of compression and fits snuggly from the ankle to the thigh base. Its minus four degrees contact refrigerant material has a cool, airy design which is a further plus. It will keep your legs feeling cool, dry, and comfortable even during hot summer nights.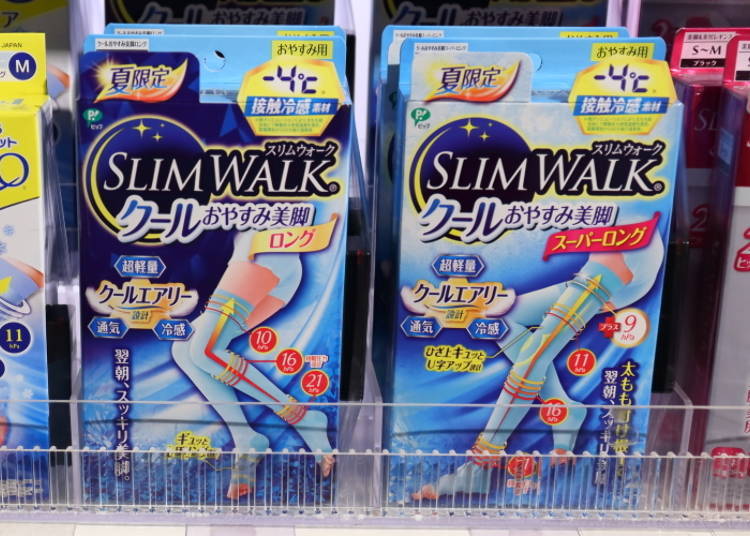 The long style version that covers even the thigh is only being offered this summer (1,780 yen)
A Pest Control Spray that Can Be Used Safely: "PIRECA ROLL" 1,900 yen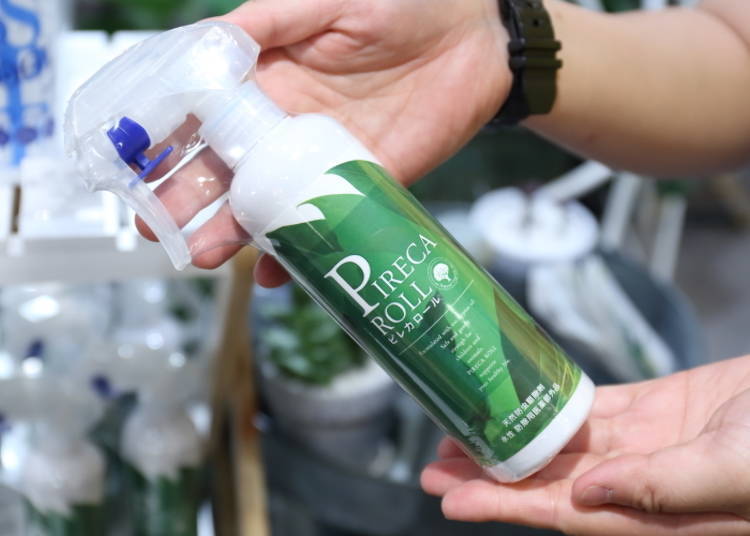 Pests, such as mosquitos and mites, are a summer concern. Pesticides can keep them at bay, but they come with health concerns. That problem has been solved with this pesticide made from natural plants. It keeps bugs away and your body safe. Pyrethrum extract is effective against all types of insect pests and is safe for use in the home even if you have babies with delicate skin and pets. It has a refreshing citrus fragrance like lemon. It comes in an attractive bottle and is perfect not only for in the home, but at camps and during other outdoor activities. This is one item you that will help you be fully prepared for the summer. 250 ml.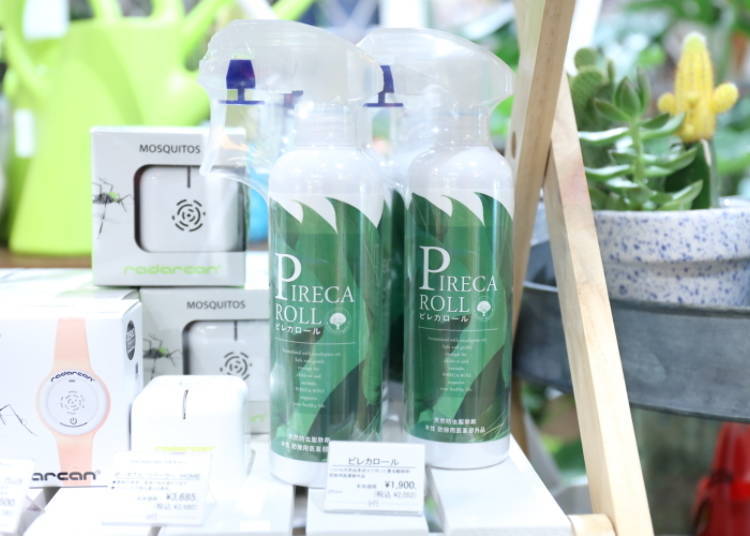 Fashionable green bottle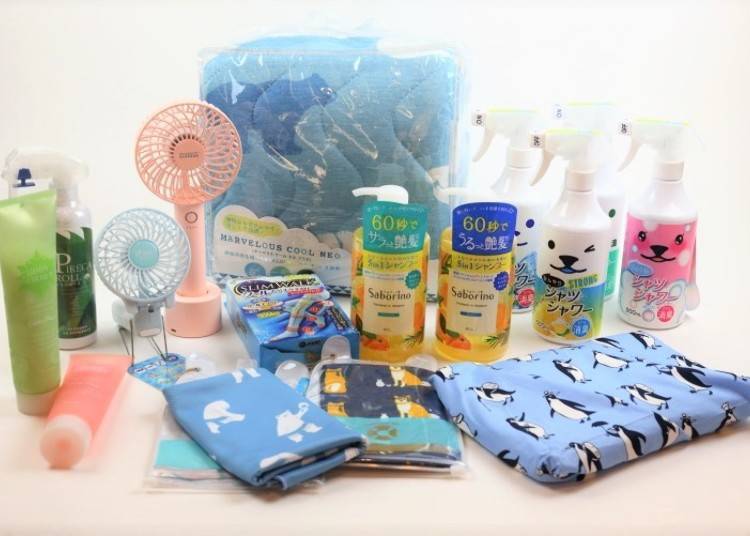 Loft has a large selection of functional items designed for daily use on its seven floors. It is conveniently located only about a 5-minute walk from Shibuya Station and also very popular with foreign visitors. The summer items mentioned earlier in this article are located on the second and fourth floors. The other floors are also well-stocked with a large selection of seasonal items as well as travel-related goods, so leisurely strolling through each floor you are certain to find other items of interest.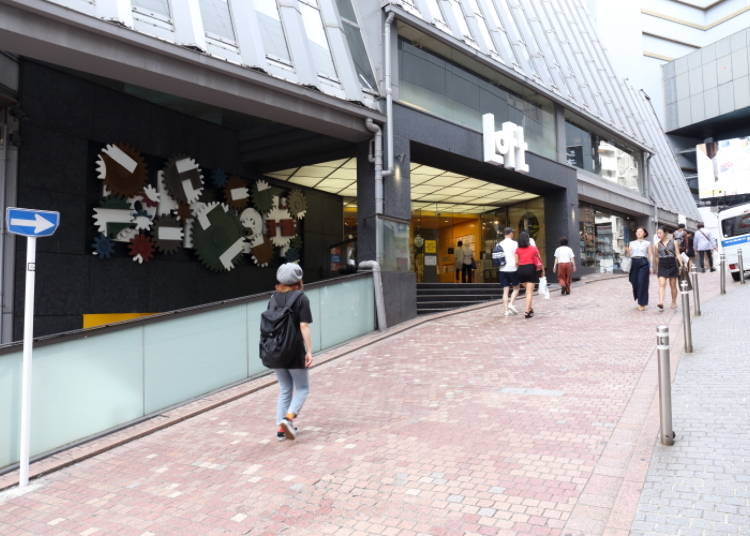 渋谷ロフト

Address

〒150-0042 東京都渋谷区宇田川町21-1/21-1, Udagawacho, Shibuya-ku, Tokyo, 150-0042, Japan

Nearest Station

3-minute walk from the No. 3 Exit in Shibuya Station serviced by the Ginza, Fukutoshi, Hanzomon, and Tokyu Denentoshi lines; 5-minute walk from the Hachiko exit of the JR Shibuya Station.


Hours: 10:00 a.m. ~ 9:00 p.m.
Closed: Open daily
*Unless otherwise indicated all prices include tax.
*Products introduced were those available on July 4, 2018 when this report was made.
Some items may be out of stock or prices may have changed since then.
*This information is from the time of this article's publication.
*Prices and options mentioned are subject to change.
*Unless stated otherwise, all prices include tax.