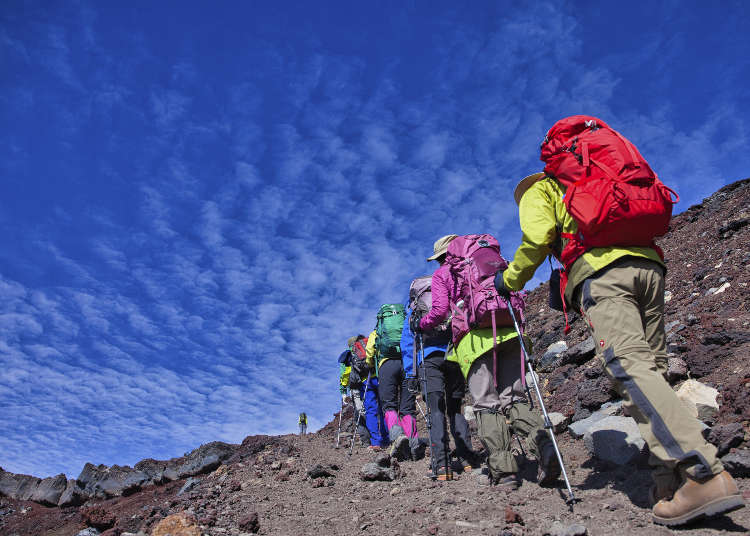 Mount Fuji is the most well-known mountain in Japan, and attracts many visitors every year. It is a beautiful mountain, with a nature-rich environment, full of all kinds of flowers and natural sunlight. Many people also visit for mountain climbing.

However, before climbing Mount Fuji, there are many things to prepare in advance. Here's what you need to know.
The Best Season to Climb Mt. Fuji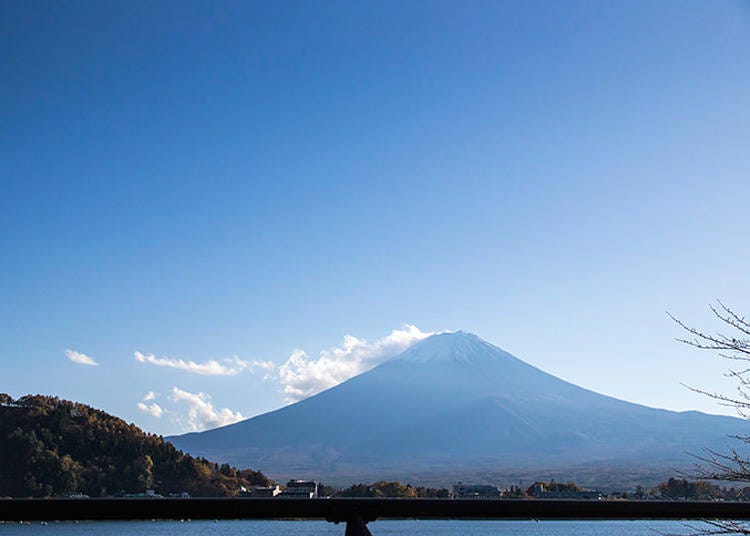 At 3776 m above sea level, the weather and temperature are significantly different from that of ground-level. When planning to climb, it is very important to do so only during the established climbing season.

Mt. Fuji's climbing season usually lasts from early July to early September. Any other time of the year, mountain trails, toilets, and accommodations are bound to be closed.

Because of the harsh environment, accidents can occur if attempting to climb Fuji out of season. And since the toilets are closed, leaving excrement behind can negatively impact the ecosystem. The best time to enjoy Mount Fuji is during the summer climbing season.
What Time, Date, and Trail is Recommended for Beginners?
Before climbing Mount Fuji, be sure to check the times and dates. Climbing season is rather short, only two months long. Because of this, Fuji is especially crowded with climbers on weekends and holidays during climbing season, especially during the Bon holidays. The summit and areas around stations 8 and 9 tend to become especially crowded between 11:00PM and 5:00AM with climbers awaiting the sunrise view from the top of Mt. Fuji.

Mountain huts may have no vacancy during busy periods. If you want to enjoy a leisurely climb at your own pace, the best bet is to start during the daytime on weekdays to avoid crowds.

The degree of foot traffic can vary by route. For beginners, we recommend the Yoshida or Fujinomiya Trail, which are easy to climb and have facilities readily available. However, these are usually more crowded. More advanced climbers can avoid the crowds and see the sunrise view from the advanced Gotemba or Subashiri Trail.
Necessary Preparations Before Climbing Mt. Fuji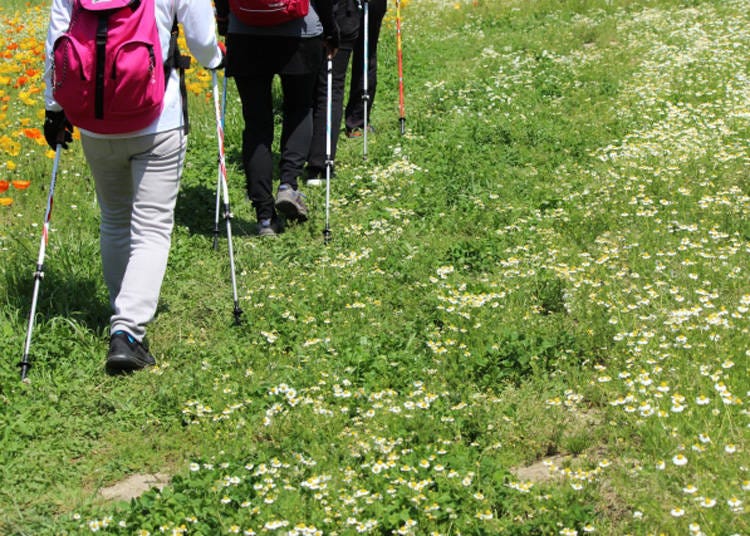 Climbing Mount Fuji is a full-body experience where you are fully immersed in the rich nature of the mountain. However, it can also be a wild and dangerous experience. Before climbing, it is important to make necessary preparations for your own safely.

Climbing Equipment
First, let's take a look at the recommended equipment required for climbing Mount Fuji. Heavy luggage can be difficult to carry during a climb, however you must make sure you have all the necessary equipment to ensure your safety.
Change of shirt, windbreaker, heat-retention sweater
The weather Mount Fuji is temperamental and can quickly change. Sudden chilly weather can leave you feeling physically weak, or worse, cause a cold. Bringing clothing that can both protect you from the cold and can be quickly changed are essential.

Headlight
This is an indispensable item for nighttime climbing. A flashlight can hinder your ability to use your hands, which is why it is recommended to bring a headlight that can be attached to your head.

Sudden rain showers can be common on Mt. Fuji, even when the forecast predicts otherwise. Umbrellas can block usage of your hands, so opt for rain gear that allows free use of both hands.
Wind can also be very strong on Mt. Fuji, and can damage typical vinyl raincoats. It is recommended to use highly durable rain gear for climbing that include pants and outerwear separately.

Helmet
In recent years, there have been accidents and injuries due to falling rocks. Make sure to wear a helmet to protect yourself not only from falling rocks, but for possible falls and eruptions.

Footwear
Make sure to wear high-cut, hard-sole footwear that are properly closed to prevent sand or gravel from entering.

Coins and small change
Most toilets on Mt. Fuji require a tip of 100 to 300 yen, depending on location. Be sure to bring coins when climbing, as cards cannot be used.

The equipment introduced here is only the bare minimum. Be sure to check out other items you may need for your convenience, such as sunscreen and emergency food.

Training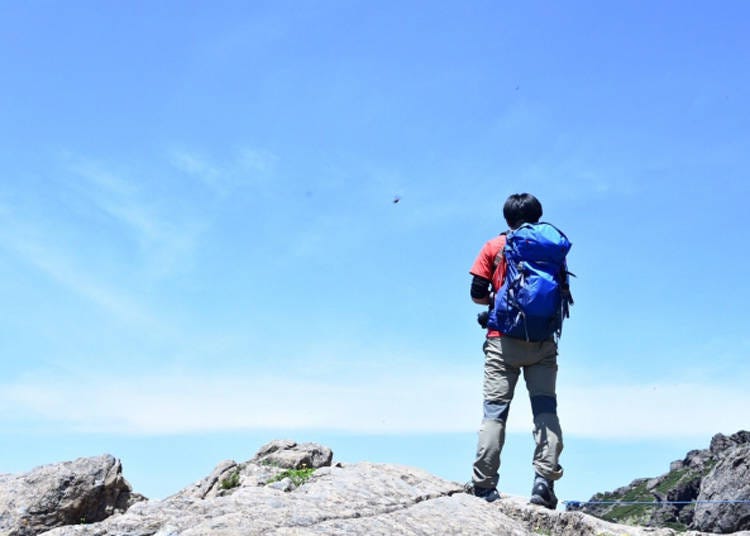 You will be climbing up steep mountain trails for at least 5 hours, including challenging paths made of gravel or that zigzag. The higher you climb, the thinner the oxygen becomes, which can lead to symptoms of altitude sickness.

Even if you are regularly athletic, climbing Mount Fuji is a different challenge, and will require you to build physical strength in advance. Cardio workouts, such as jogging and hiking, can help strengthen your cardio-respiratory function, and resistance workouts such as squats can strengthen your muscles and abs.

The most dangerous thing is to push yourself to climb the mountain when you're not feeling in top physical condition. One week before your climb, make sure to get good sleep and eat well. If you are feeling unwell on the day of your climb, consider postponing it for another time.
Follow the Rules
Fuji is home to a variety of plants and animals. Rules are in place to protect the environment, such as the 'Mount Fuji Country Code.'

Other rules, including the Mount Fuji Country Code, are as follows:
・Collection of plants or animals is prohibited
・Collecting lava or stone is prohibited
・Tent construction and campfires are prohibited
・Pets are prohibited
・Littering prohibited, take all garbage home!
・Walking off mountain trails is prohibited

Mt. Fuji is a designated National Park Special Protected Zone from Station 5 onward. Rules are strictly enforced to preserve the natural environment. Please be courteous and always keep the rules in mind to protect Mount Fuji's nature.
4 Mountain Climbing Trails to Remember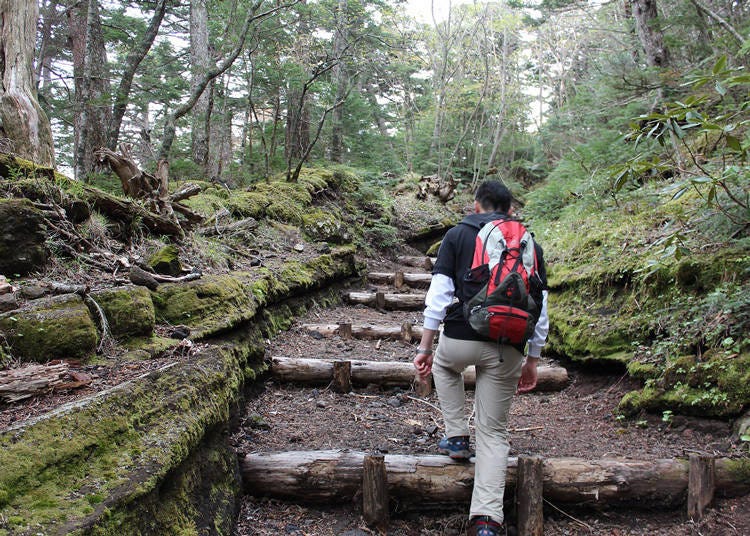 Photo courtesy of Yamanashi Tourism Promotion Organization
When climbing Mt. Fuji, there are several mountain routes to keep in mind. There are four different Mount Fuji Trails: the Yoshida Trail, the Subashiri Trail, the Gotemba Trail, and the Fujinomiya Trail.
The Yoshida Trail has a summit trail and a lower mountain trail. It is said that this route has the most facilities, such as mountain huts and rescue stations, and is the most easily accessible from the metropolitan area. Because of this, over half of Mount Fuji climbers use it. Keep in mind that you are likely to get caught in foot traffic.

Distance to 5th Station: 2305m
Round-trip Distance: about 14km (ascent approx. 6.8km, descent approx. 7.2km)
Estimated Climbing Time: ascent approx. 6 hours, descent approx. 4 hours
This mountain trail is surrounded by trees. It can be harder to see along this route, and becomes increasingly rocky from Station 8 and onward.

This route is not as crowded as the Gotemba Trail, so it is recommended for those who want to climb at a more leisurely pace.

Distance to 5th Station: 1970m
Round-trip Distance: about 13km (ascent approx. 6.9km, descent approx. 6.2km)
Estimated Climbing Time: ascent approx. 6 hours, descent approx. 3 hours
This route is longer in distance to the summit, and has many slopes. It is a much more difficult trail, and recommended for advanced users.
For your descent, you can use the more comfortable Osunabashiri Trail, recommended for those with more climbing experience. Also, this is the only one of the four routes in which private cars are not restricted, so you can easily drive to the starting point.

Distance to 5th Station: 1440m
Round-trip Distance: about 19km (ascent approx. 10.5km, descent approx. 8.4km)
Estimated Climbing Time: ascent approx. 7 hours, descent approx. 3 hours
The Fujinomiya Trail is the highest in altitude, and is also the shortest route to the summit. The ascent and descent routes are the same, so it may be crowded.

This trail is best for beginners, as there are many mountain huts along the route, and the distance is short.

Distance to 5th Station: 2380m
Round-trip Distance: about 8.6km (ascent approx. 4.3km, descent approx. 4.3km)
Estimated Climbing Time: ascent approx. 5 hours, descent approx. 3 hours
There are different advantages and disadvantages between each of the four trails. Carefully consider which is best for you based on your schedule, physical condition, your experience level, and anything else of importance!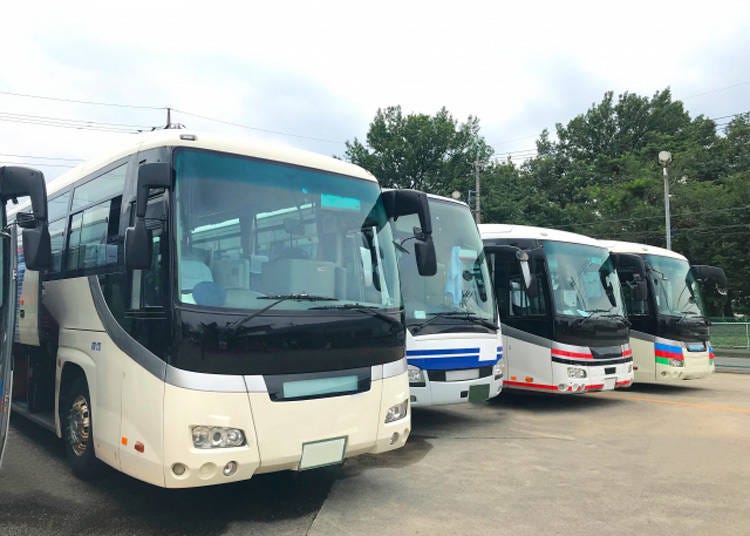 There are three ways to get to Mt. Fuji: by train, bus, or car. Travel to the nearest station of each tail by bus or train. From there, you can travel by bus or car to the fifth station.

Make sure to check all information in advance, as certain vehicle regulations are enforced during the climbing season.

Traveling by Train or Bus
Our first recommendation is to travel by train or bus. This is an environmentally friendly method, and is not affected by private vehicle regulations.

The nearest stations differ between each of the four climbing trails. Below is a summary of the main access routes when traveling from Tokyo.

Yoshida Trail
By Train:
JR Tokyo Station → JR Shinjuku Station → JR Takao Station → JR Otsuki Station → Fujikyu Line Mt. Fuji Station (approx. 3 hours and 4 minutes)
One-way Fare: 2199 yen
By Bus:
Ride Fujikyu Bus 'Fuji Subaru Line 5th Station' (approx. 1 hour)
One-way Fare: 1570 yen

Gotemba Trail & Subashiri Trail
By Train:
JR Tokyo Station → JR Kozu Station → JR Gotemba Station (approx. 1 hour 56 minutes)
One-way Fare: 1980 yen
By Bus:

Gotemba Trail:
Ride Fujikyu Bus 'Gotemba-guchi New 5th Station' (approx. 40 minutes)
One-way Fare: 1110 yen

Subashiri Route:
Ride Fujikyu Bus 'Subashiri-guchi 5th Station' (approx. 1 hour)
One-way Fare: 1540 yen

Fujinomiya Trail
By Train:
JR Tokyo Station → JR Numazu Station → JR Fuji Station → JR Fujinomiya Station (approx. 3 hours 7 minutes)
One-way Fare: 2640 yen
By Bus:
Ride Fujikyu Bus 'Fujinomiya-guchi Fifth Station' (approx. 1 hour 20 minutes)
One-way Fare: 2030 yen

All information provided is for the summer season, which is mountain climbing season. Be aware that bus frequency changes once climbing season is over.

Traveling by Express Bus
When visiting Mt. Fuji from other areas, such as Osaka and Nagoya, we recommend using the highway bus. Here we will introduce how to access the Yoshida Trail, which has the greatest number of climbers.

From Nagoya:
Meitetsu Bus Center → Mt. Fuji Station (approx. 4.5 hours)
One-way Fare: 4500 yen

From Osaka:
Tennoji Station (Abeno Harukas), Kintetsu Namba Station West Exit (OCAT Building), Osaka Station (Higashi Umeda Subway Station) → Mt. Fuji Station (approx. 10 hours 15 minutes)
One-way Fare: From 5600 yen & up

From Kyoto:
Kyoto Station Hachijo Exit (F3 stop) → Mt. Fuji Station (approx. 9 hours 12 minutes)
One-way Fare: From 5100 yen & up

From Gifu:
Takayama Bus Terminal → Mt. Fuji Station (approx. 4 hours 50 minutes)
One-way Fee: 5000 yen
Traveling by highway bus is convenient because you can travel without the need to transfer trains. They also offer more reasonable round-trip fares and pack discounts.

Traveling by Car

Traveling by car is the most convenient as you can easily carry any mountaineering equipment, as well as easily return to your home or hotel. The following information shows the best ways to travel by car via expressway from Tokyo and Osaka.


Via Tomei Expressway:
■ Fujinomiya Trail
Tokyo Tomei Expressway/Tokyo Toll Gate → Fuji IC (approx. 1 hour)
Osaka Meishindo/Suita IC → Fuji IC (approx. 4 hours)
■ Gotemba Trail/Subashiri Trail
Tokyo Tomei Expressway/Tokyo Toll Gate → Gotemba IC (approx. 1 hour)
Osaka Meishin Expressway/Suita IC → Gotemba IC (approx. 4.5 hours)


Via Chuo Expressway:
■ Yoshida Trail
Tokyo Chuo Expressway/Chofu IC → Kawaguchiko IC (approx. 1 hour)
Osaka Meishindo/Suita IC → Kawaguchiko IC (approx. 5 hours 50 minutes)

Mount Fuji Private Vehicle Restrictions

Many climbers gather every year during climbing season. Because of this, regulations on private vehicles are strictly enforced in order to reduce traffic congestion and to protect the environment. During the period in which these regulations are enforced, visitors are prohibited from driving their own car to Station 5 of each route.

Restrictions apply to all private vehicles including rental cars, motorcycles, and mopeds. If traveling by car during the enforcement period, you must park at the foot of Mount Fuji, and continue to Station 5 by bus. Please note that the vehicle regulation period may vary from year to year.

Parking Lot:
Fee: approx. 1000 yen per vehicle
Usage: Available 24 hours

Bus:
Round-trip Fare: 2,000 yen & up

The Gotemba Trail, which tends to get crowded, is the only route not subject to private car regulations. If you feel your physical strength is up to it, why not challenge yourself to the Gotemba Trail?
Beginner-Friendly Mountain Climbing Tour Recommendations
Abhijeet Khedgikar / Shutterstock.com
There are a lot of things to remember when climbing Mount Fuji, such as necessary equipment, routes, and precautions. For first-time climbers, and those not as accustomed to mountain climbing, it may be quite the challenge.

In those cases, we recommend joining a 'Climbing Tour.' There are plenty of Mountain Climbing Tours organized by travel agencies and tour companies with experienced guides in climbing Mount Fuji. With this option, even people challenging Mount Fuji for the first time can feel safe during their climb.

Most tour groups meet at major stations in the Tokyo metropolitan area, such as Tokyo Station, and travel together to each route by bus, so you don't have to worry about getting there yourself.

There are also tour packages that organize travel by bus from other regions, including Kansai, Tokai, and Tohoku.

Sample Tour Schedule

Here is a sample mountain climbing tour itinerary from a travel agency.

[Day 1]
Depart from Shinjuku Station by bus (7:30AM)
Arrive at Fuji 5th station, Unjokaku (11:00AM)
Start Climb (Around 12: 30PM)
Approximately 4 hours to arrive at Mount Fuji summit. Dinner in mountain hut. (4:30PM)
Rest (until 11:00PM)

[Day 2]
Depart from mountain hut (around 11:00PM)
Arrive at summit in approx. 4 hours to watch the sunrise (5:00AM)
Start descent. Arrive at Fuji 5th Station (11:00AM)
Break at accommodation at the foot of Mt. Fuji (12:00PM)
Arrive at Tokyo Station (5:30PM)

Depending on the company, the departure locations, trip length, and accommodation prices for Tokyo tours can range from 17,000 yen to 35,000 yen.

Tour packages include an experienced guide, as well as mountain hut reservations and meals.

If you are not ready to take on the Mount Fuji climb on your own, you can always climb together with a tour group.
Many people want to take on mountain climbing for the first time. However in some cases, embarking on a climb with no understanding of the rules can lead to accidents, injury, and even illness.

When going on your climb, be sure to follow the rules and regulations. Do not over-exert yourself, and pay extra-careful attention to your surroundings, such as listening for the sound of falling rocks. Enjoy a fun and safe trip climbing Mount Fuji!
*This information is from the time of this article's publication.
*Prices and options mentioned are subject to change.
*Unless stated otherwise, all prices include tax.