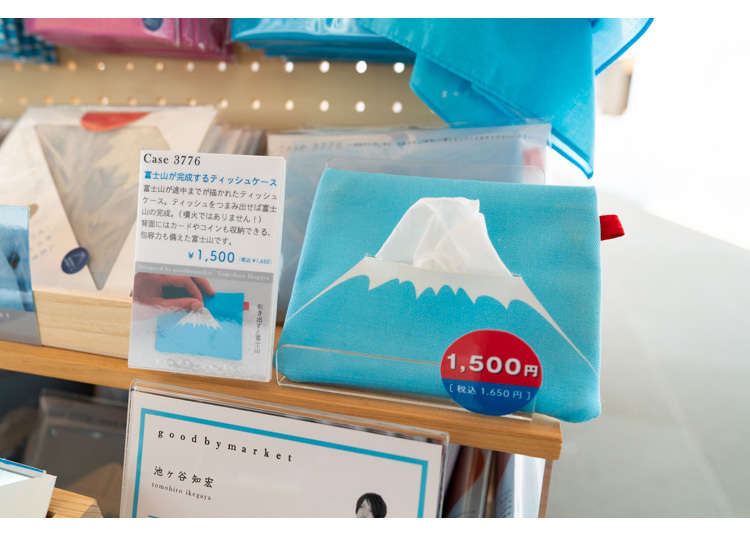 The first thing that comes to people's minds when they think of Japan is usually Mt. Fuji, the tallest mountain in Japan. In fact, climbing the mountain or admiring it from afar is one of the top items most visitors to the island nation have on their itineraries.

But what if you've done all that and still can't get enough of this mountain? You're in luck! We're going to introduce you to a list of 10 Mt. Fuji souvenirs available in Shizuoka's Mt. Fuji World Heritage Center that are popular among and recommended by visitors from overseas.

Many of the designs these souvenirs sport have been inspired by Mt. Fuji in one way or another, so if you're looking for something you can remember this mountain by even after flying home, you've come to the right place to find out more!
How to go to Mt. Fuji World Heritage Center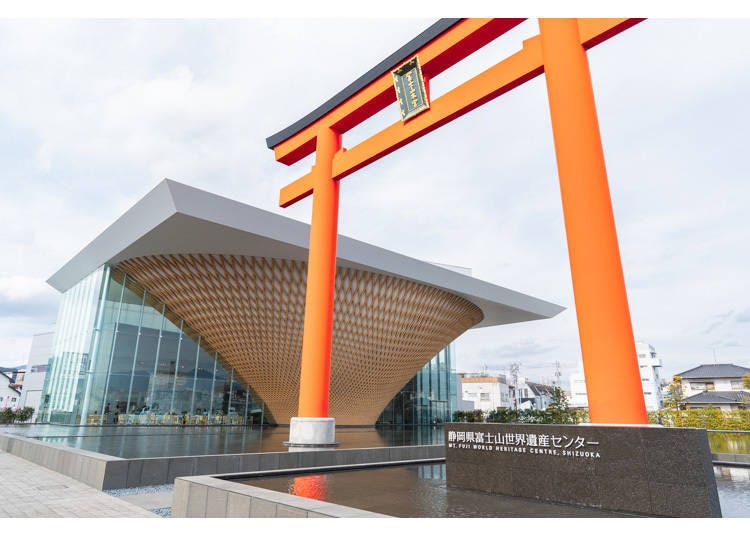 Mt. Fuji World Heritage Center is located in Shizuoka Prefecture, and the purpose of the center is to convey the charms of UNESCO World Heritage Site Mt. Fuji to the masses as well as preserve it for the future generations. The center opened in December 2017 and offers impressive high-definition videos, animations, and well-crafted exhibits that take visitors through an authentic Mt. Fuji simulated climb.

Conveniently located just 8 minutes on foot away from Fujinomiya Station on the JR Minobu Line, or 45 minutes by bus from Shin-Fujinomiya Station on the JR Shinkansen, this is a place of interest that's easily accessible from Tokyo, Osaka, or any other major town or city in Japan.
Introducing the most acclaimed products from the center's Cafe & Museum Shop!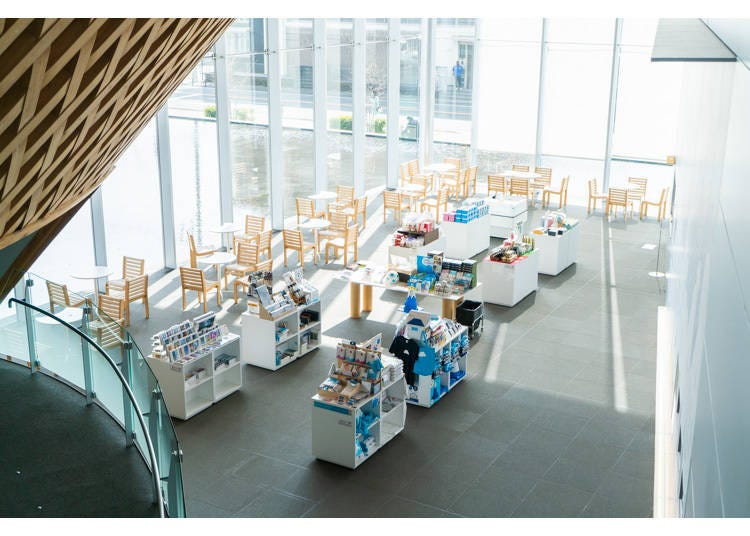 Inside the facility on the first floor is a Cafe & Museum Shop that stocks the souvenirs we'll be discussing in this article. Don't worry - the first floor is free to enter for everyone, so you can feel free to drop by and have a look if you happen to be nearby, even if touring the center itself may not be on your itinerary.

If you ARE planning on going through the well-prepared exhibits here, however, note that entry tickets sell for 300 yen per person or 200 yen per person for groups of 20 and above. For pre-college age minors, seniors above 70, and the disabled, entry is free with ID proof of your status. All prices are inclusive of tax.
1. Fuji Vicissitudes Mt. Fuji Senbei: 7 flavors to enjoy!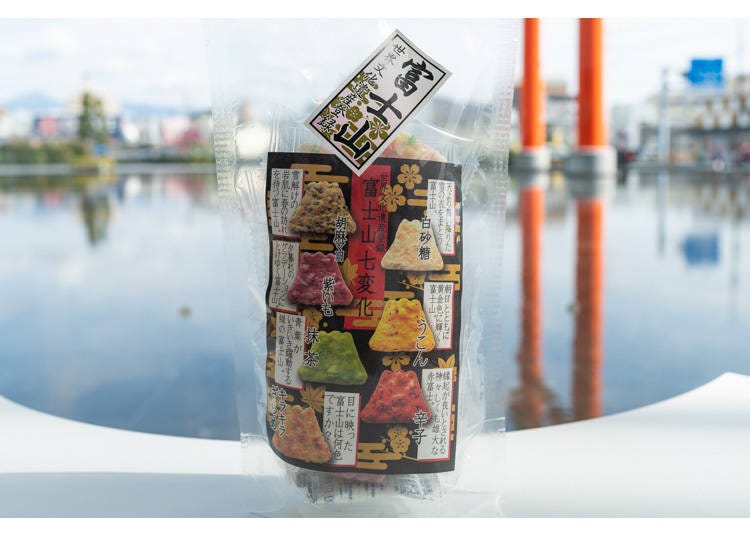 "Fuji Vicissitudes Mt. Fuji Senbei" (380 yen per packet, tax excluded). Manufacturer: Tosho
"Fuji Vicissitudes Mt. Fuji Senbei" is a delightful series of Mt. Fuji-shaped bite-sized rice crackers. The white sugar senbei represents the iconic snow-clad summit, the green matcha senbei portrays the lush greenery on Mt. Fuji during flowering season, and the purple sweet potato senbei brings to mind the warm and deep colors flooding every inch of the mountain during a beautiful sunset. Each of the seven rice crackers in the series portrays the face of Mt. Fuji during a different time or season.

Every packet contains three rice crackers of each flavor, for a total of 21 rice crackers in all. This means the snack is very easy to share among a group of people, and this is likely one of the reasons behind its popularity. Give it a go and see which flavor speaks to you the most!
2. Mt. Fuji Hororin Chocolate: Tastes as good as it looks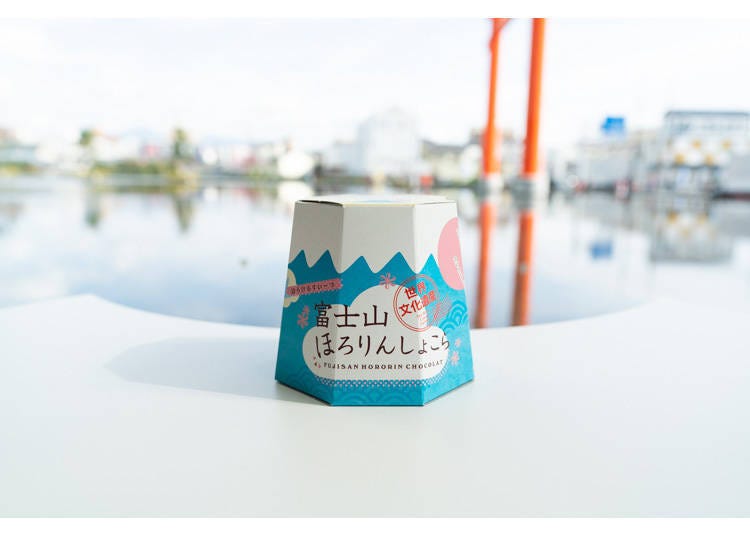 "Mt. Fuji Hororin Chocolate" (540 yen per box, tax included). Manufacturer: YM Company
The adorable "Mt. Fuji Hororin Chocolate" is a box of chocolate cookies baked in the shape of Mt. Fuji. These cookies melt in your mouth and will turn fatigued frowns into satisfied smiles.

The shape of the cookies and their irresistible taste aside, the unique, slightly conical packaging these treats come in is definitely partly responsible for their popularity. Also made to resemble the silhouette of Mt. Fuji, the packaging can even be reused as a unique home ornament after the cookies have been relished.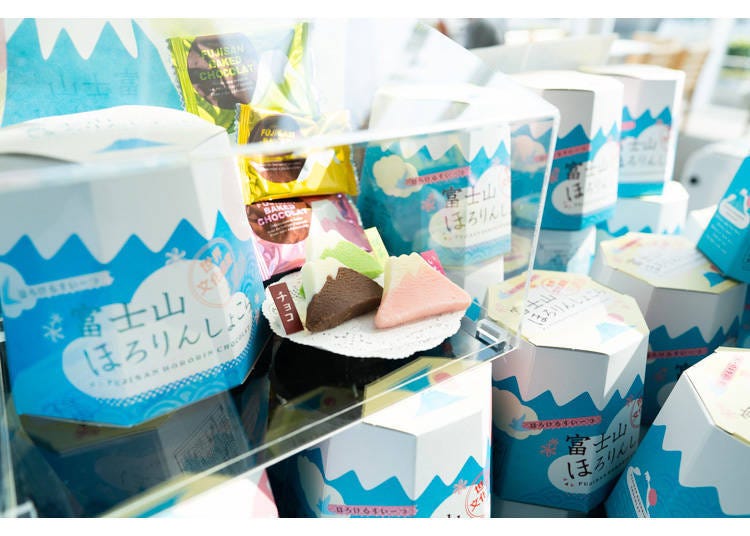 Comes in chocolate, strawberry, and match flavors
3. Fuji Sugata: Only available at Mt. Fuji World Heritage Center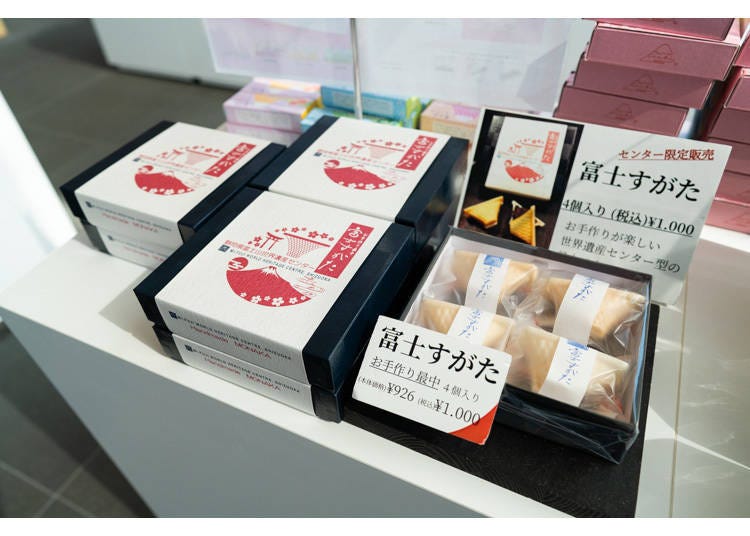 "Fuji Sugata" (1,000 yen per box, tax included). Manufacturer: Fujitaro
Now here's something you simply can't afford to miss. "Fuji Sugata" is a snack made to resemble - not Mt. Fuji, but the inverted cone shape of Mt. Fuji World Heritage Center's main exhibit hall! And since it's only sold at the center itself, you would be remiss to pass it by without a second look! The two outer layers of this crispy snack is made with Japanese glutinous rice, and the inside is stuffed full of coarse red bean paste. The difference in texture between the two wildly different ingredients makes every bite fresh and interesting!

This snack was the product of a collaboration with a well-established local confectionery shop. The glutinous rice skin is specially designed to look just like the checkered wooden frame covering the center's main exhibition hall.
4. Mt. Fuji's Peak T-Shirt: Wearing Mt. Fuji's summit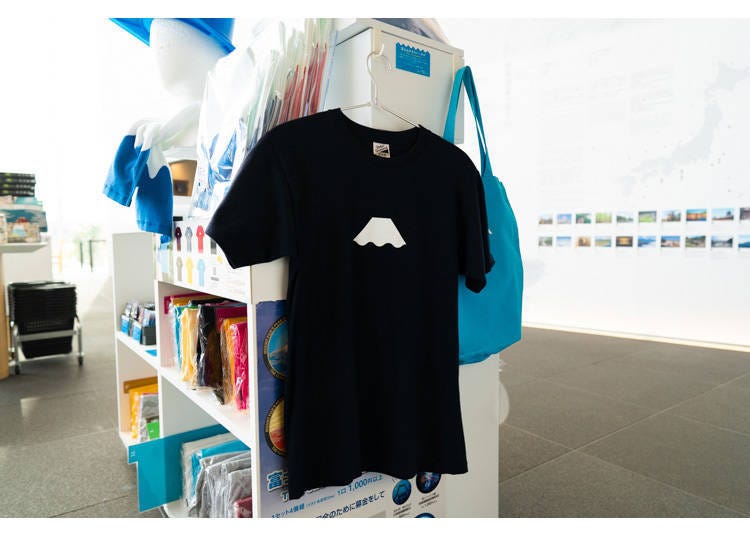 "Mt. Fuji's Peak T-Shirt" (kids' size 1,500 yen per piece, tax excluded; S to XL 1,600 yen per piece, tax excluded). Manufacturer: Ad Line
As its name suggests, this T-shirt features an illustrated print portraying the summit of Mt. Fuji on its front. It's the perfect way to subtly show off your passion for Mt. Fuji while sightseeing or mountain climbing there!

There are seven colors to choose from, and sizes range from kids' size to XL, so everyone will be able to grab one that fits. You can even get one for each family or friend in the travel group for matching purposes. Would make everyone easier to spot! The fabric used to make this T-shirt is comfortable and suitable for daily wear.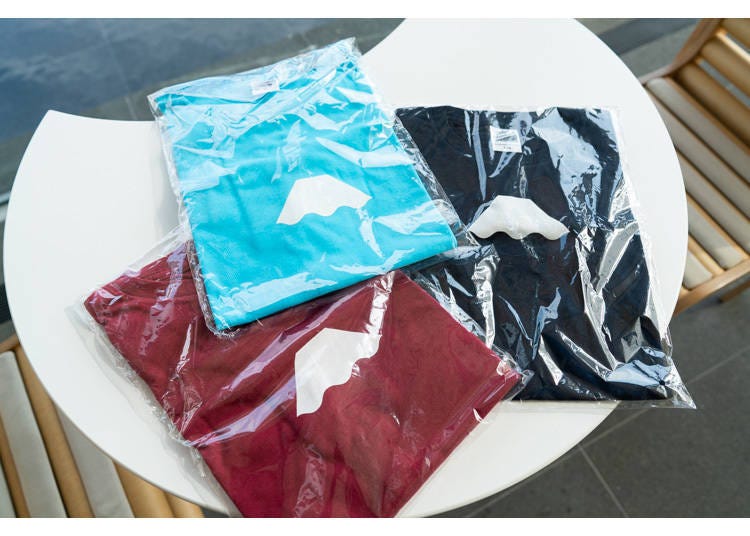 Lots of colors to choose from!
5. Case 3776: Ingenious Tissue box imitation of the mountain itself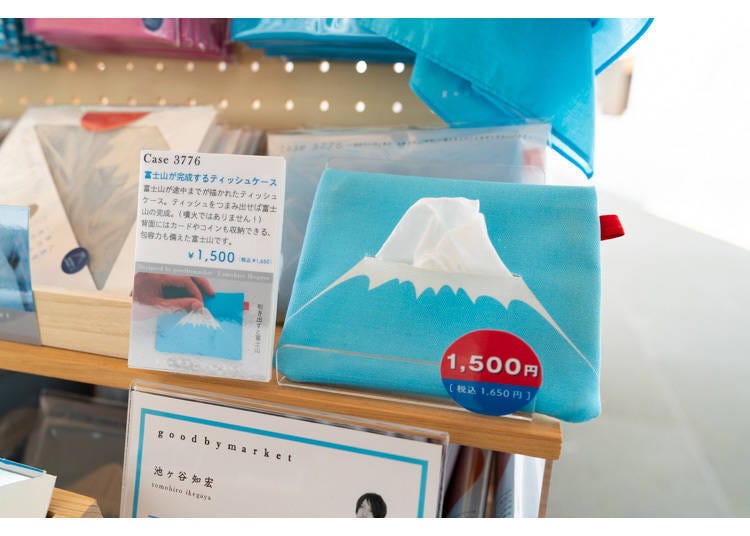 "Case 3776" (1,500 yen, tax excluded). Manufacturer: goodbymarket
The quirky "Case 3776" tissue box depicts Mt. Fuji up to its seventh stage. Pull out a piece of tissue just slightly above the line to complete the mountain and create your very own miniature imitation of the 3,776 meters-tall Mt. Fuji at home!

This creative design detail will be a great conversation starter as well. When someone asks for a tissue, grab the box and pass it to them. The chances of them asking about it is quite high! At the back of the box is a storage space for small items like cards or coins, adding to its ease of usage.
6. Chief Sumidagawa: Japanese-style wrapping cloth with Japanese-style traditional art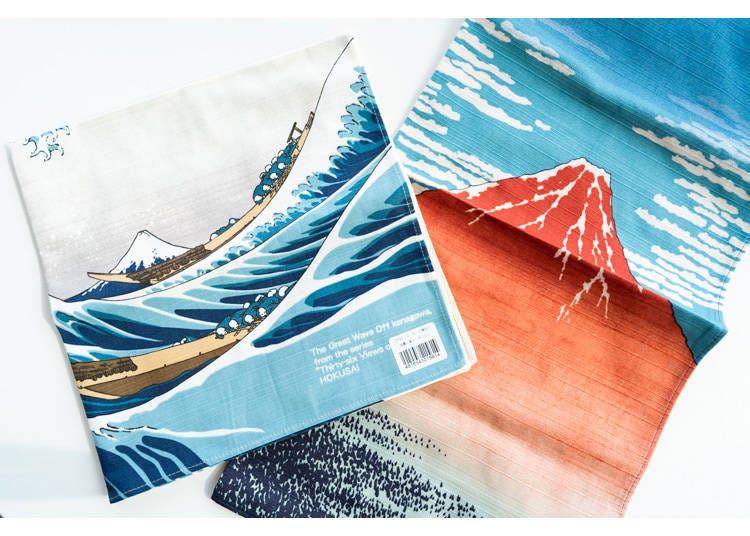 "Chief Sumidagawa" (600 yen, tax excluded). Manufacturer: Yamada Seni
"Chief Sumidagawa" is a series of furoshiki (Japanese-style wrapping cloth) featuring art inspired of ukiyo-e from the Edo period, referring to a style of woodblock printing that has come to represent the art of Japan to the world. Some well-known artists of this style are Hokusai Katsushika and Utamaro Kitagawa, and the designs on the furoshiki sold at the museum shop are patterned after their works.

Each square piece of fabric is about 48 centimeters long and wide, and while its primary use is for wrapping items, it can double up as a room decoration or book cover as well, depending on how creative you're feeling! Definitely get this if you're looking for a souvenir that's uniquely and visibly Japanese.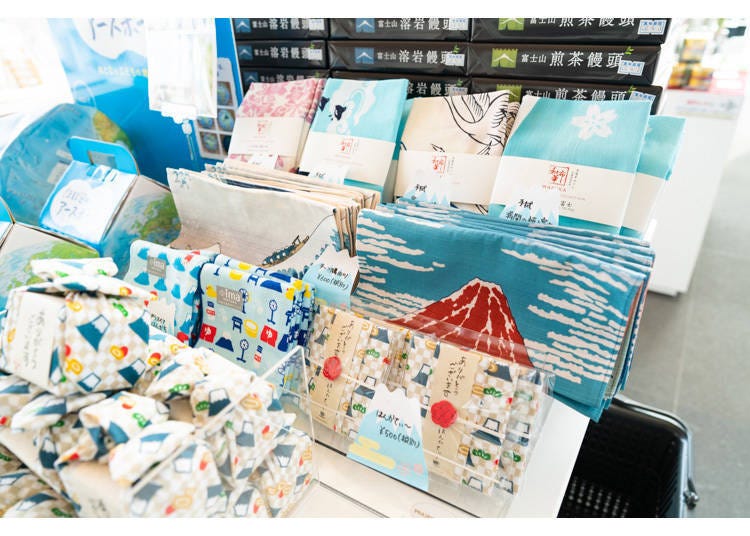 Plenty of other different kinds of furoshiki and handkerchiefs are on sale too!
7. Orizuru 36 Views of Fuji: Portable Japanese culture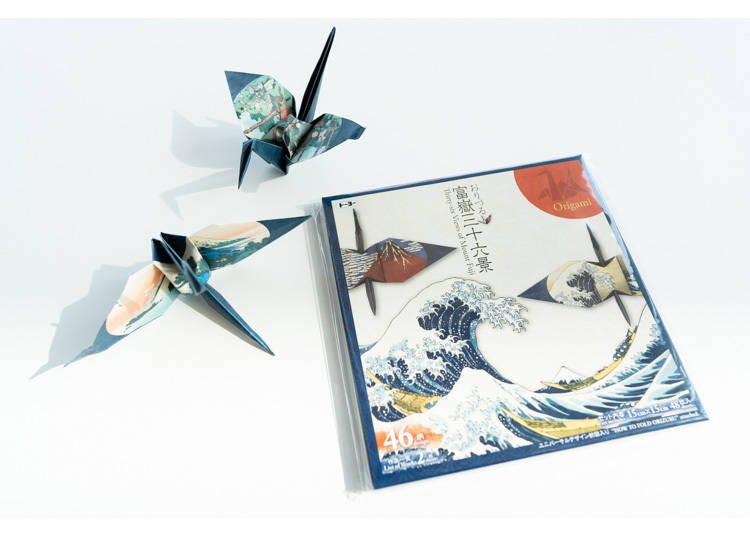 "Orizuru 36 Views of Fuji" (500 yen, tax excluded). Manufacturer: Toyo
Here's another product that features ukiyo-e art by Hokusai Katsushika - this time on origami folding paper. If you're not familiar with origami, it refers to the art of paper folding, which has been a part of Japanese culture for a long time. Orizuru 36 Views of Fuji is a series of woodblock print designs considered one of Hokusai Katsushika's representative works. All designs were inspired by the landscape around Mt. Fuji during different times. All 46 prints in the series can be found in the package in the form of an origami folding paper. If you fold them as indicated, beautiful designs will show up on the wings of the resulting paper crane.

Each packet comes with illustrated instructions that use universal design to teach you how to fold the paper correctly, which means won't need to understand Japanese to do it right! The origami crane can be said to be yet another symbol closely associated with Japan's culture, and using a Mt. Fuji-inspired paper to fold one will surely double the cultural immersion!
8. Mt. Fuji Stained Glass: Distinct designs by individual creators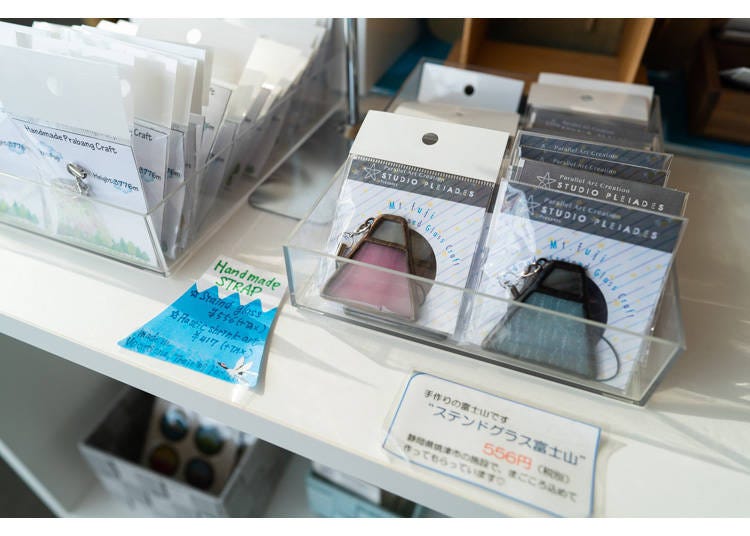 "Mt. Fuji Stained Glass" (556 yen, tax excluded). Manufacturer: Studio Pleiades
These are stained glass souvenirs made by disabled creators with support from Shizuoka Prefecture's job assistance facility, Studio Pleiades. From the cutting of the glass to the soldering of the plates, every step of the process was manually done with great care and attention.

You'll therefore find that the shading of each stained glass is very different, because each one reflects the personality of their creator! Find the one that best represents your ideal Mt. Fuji from the rich variety of colors available and bring this unique souvenir home with you.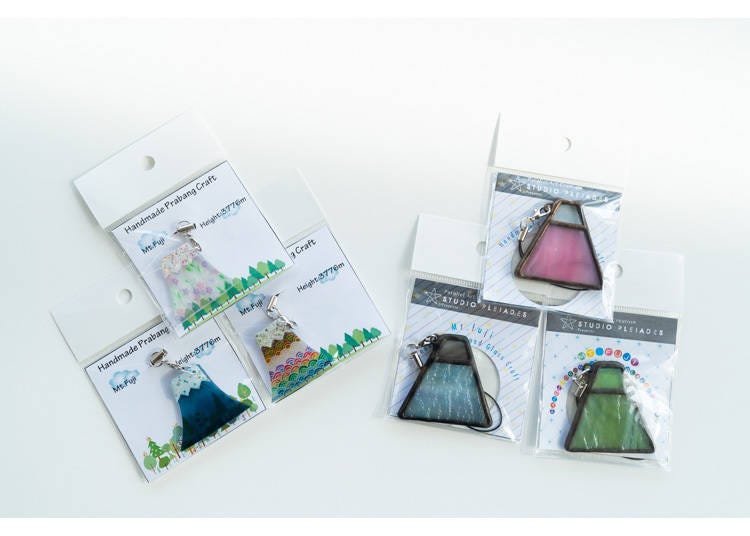 Besides stained glass, the same manufacturer also has a series of shrinky dink accessories (pictured on the left) available for purchase
Don't forget about the food and drinks!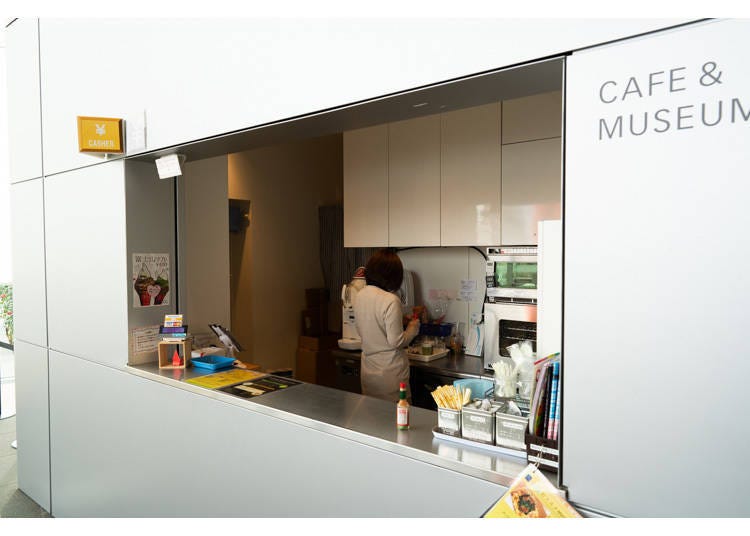 There are so many interesting Mt. Fuji-inspired products to admire here that some may forget this isn't just a souvenir shop - it's a cafe as well! The food side of the museum shop has prepared an assortment of food, beverages, and dessert for visitors as well. Food can be ordered between 9:30 a.m. to 4:30 p.m. (9:30 a.m. to 5:15 p.m. in July and August), whereas drinks and dessert are available from 9:30 a.m. to 4:45 p.m. (9:00 a.m. to 5:30 p.m. in July and August).

Check out these two popular Mt. Fuji desserts offered by the cafe to complete your day!
9. Mt. Fuji Soft-Serve Ice-Cream Harufuji: Springtime at Mt. Fuji in tasty miniature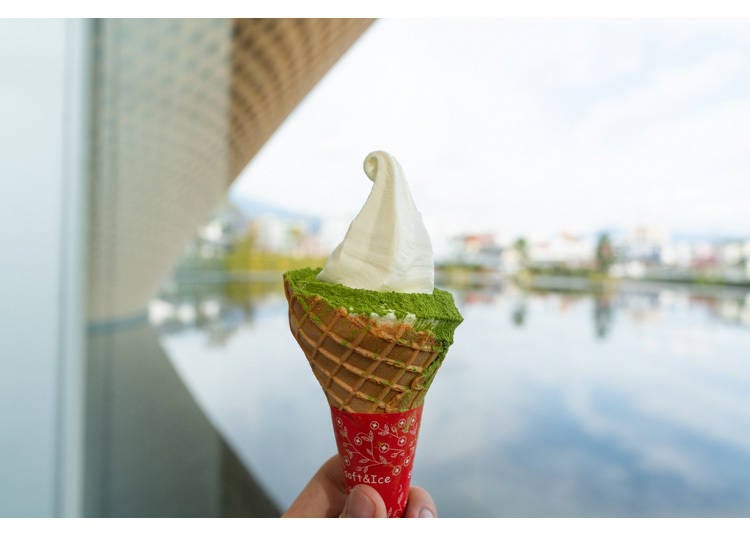 "Mt. Fuji Soft-Serve Ice-Cream Harufuji" (400 yen, tax included)
Rich and delicious, this matcha soft-serve ice-cream uses local ingredients to ensure full freshness. The matcha powder sprinkled around the base of the ice-cream near the cone is meant to make it look like Mt. Fuji in spring, as greenery starts to take hold after a cold winter.

Another product in the same series is "Akifuji", which uses roasted green tea to paint a picture of Mt. Fuji in autumn. Both refreshments are hot items in the cafe that you won't regret trying!
10. Lava Ice Bread: Soft-serve ice-cream stuffed into a warm melon pan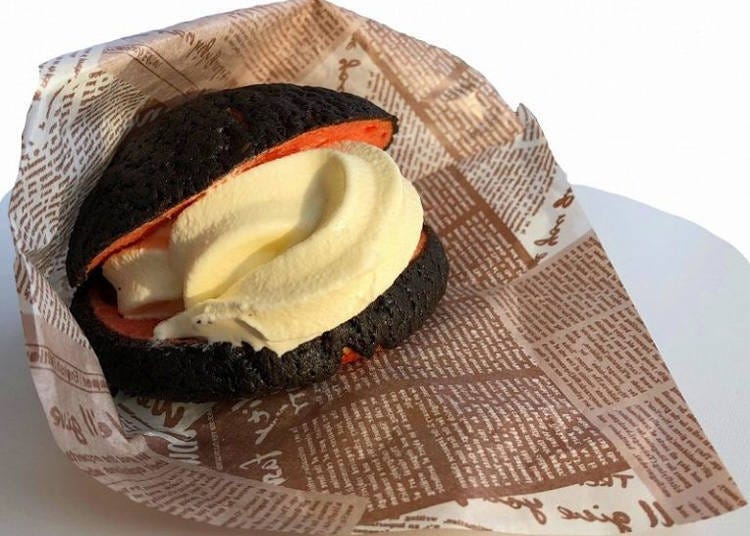 "Lava Ice Bread" (380 yen, tax included)
This melonpan (Japanese sweet bun) is designed to look like the dark red molten lava of Mt. Fuji (it IS a volcano, after all!). The bread is served warm and has a lingering cocoa taste. Milkily rich soft-serve ice-cream is sandwiched in between the melonpan cut into half, and the exquisite balance between a warm outer crust and freezing inner filling means a pleasant surprise awaits your taste buds with every bite!

The impactful appearance of the melon pan is a treat in itself as well. Since this dessert is only available here, definitely try and see for yourself if it lives up to the hype!
Souvenirs or food? Take your time and do both!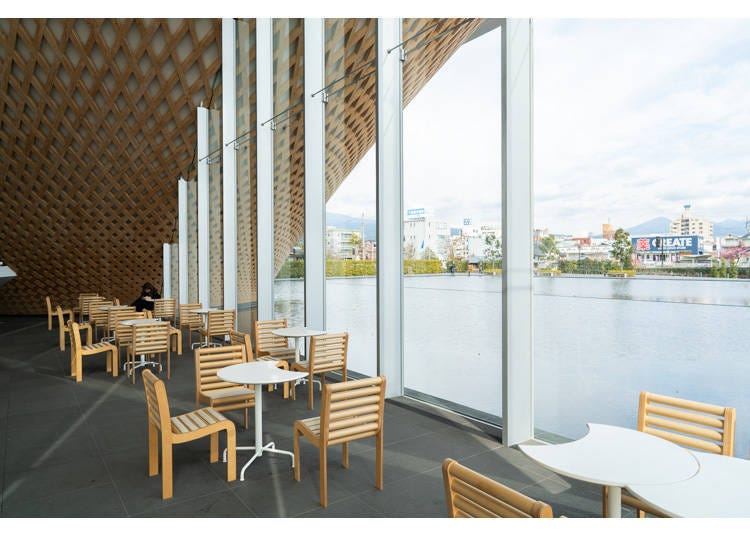 The cafe provides tables for customers to relax in while gazing at the scenery around and taking your time to consider what souvenirs or food to get. Make some room in your schedule to chill here before or after visiting the exhibition hall to refresh yourself for your next activity.

See anything you like among the list? If yes, great! If not, don't worry! There are plenty of other well-designed Mt. Fuji-inspired products here for you examine, and we're confident you'll find something that tickles your fancy enough to want to bring home.
Mt. Fuji World Heritage Center Cafe & Museum Shop

静岡県富士山世界遺産センター カフェ&ミュージアムショップ

Address

5-12 Miya-cho, Fujinomiya-shi, Shizuoka-ken 418-0067

Nearest Station

8-minute walk from Fujinomiya Station on the JR Minobu Line
45 by bus from Shin-Fuji Station on the JR Shinkansen (take towards Kyukamura Fuji or Fujisan Station and disembark at Mt. Fuji World Heritage Center Bus Stop)


Phone Number

0544-21-3776

Hours: 9:00 a.m. – 5:00 p.m. (9:00 a.m. – 6:00 p.m. in July and August) *Last entry allowed half an hour before closing)
Closed: Every third Wednesday of the month, end of year and start of year, facility inspection days
Written by Yoneyama Kaiichiro. English translation by Huimin Pan.
*This information is from the time of this article's publication.
*Prices and options mentioned are subject to change.
*Unless stated otherwise, all prices include tax.