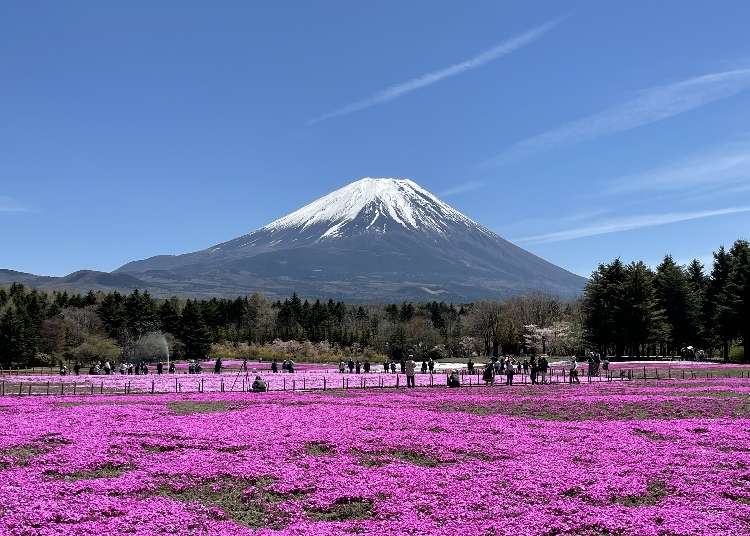 At long last, spring has arrived! And what better way to enjoy it than visiting some new and exciting attractions near Mount Fuji?

From the brilliant moss phlox fields, to the new Peter Rabbit English Garden, to the popular Fuji-Q Highland theme park, fun awaits you this spring!
1. The Annual Fuji Shibazakura Festival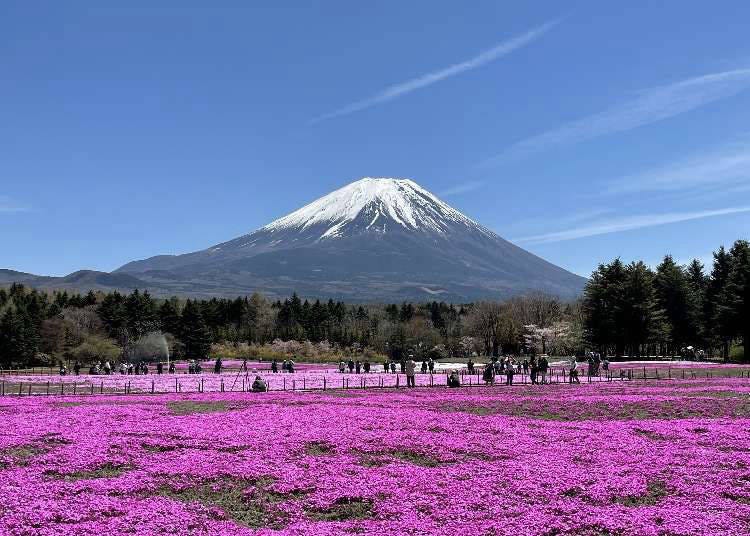 Photographed April 2021
The Fuji Shibazakura Festival is held in late April in the Kawaguchiko area near Mount Fuji. Come see nearly 500,000 moss phlox plants in full bloom at one of the largest fields in the metropolitan area!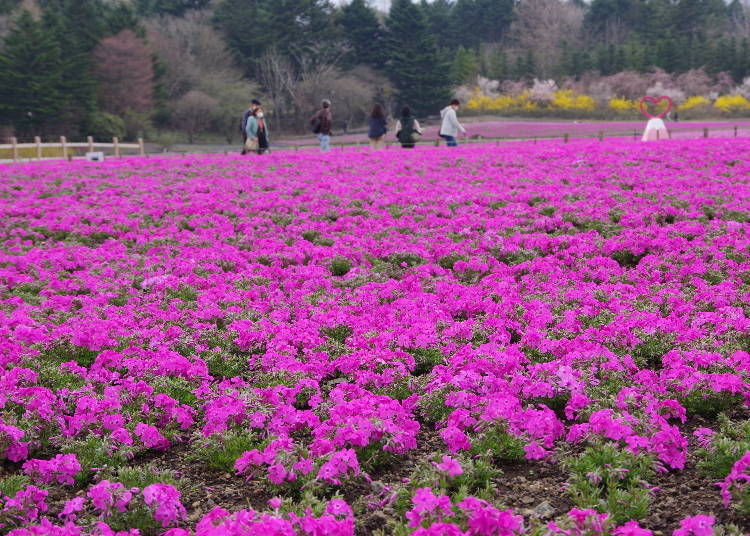 2022 marked the festival's 15th annual run, with the central theme being 'Pink Happiness in Your Heart.' From the 'Yellow Door to Happiness' to the rainbow circle bench, this popular photo spot offers lots of brand-new scenery that will certainly bring some 'pink happiness' to everyone!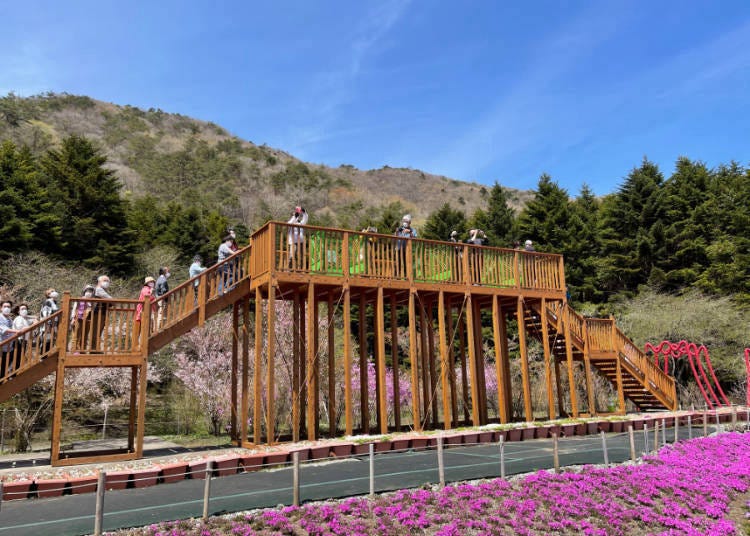 Photographed April 2021
There's also a two-story observatory with a panoramic view of the entire park.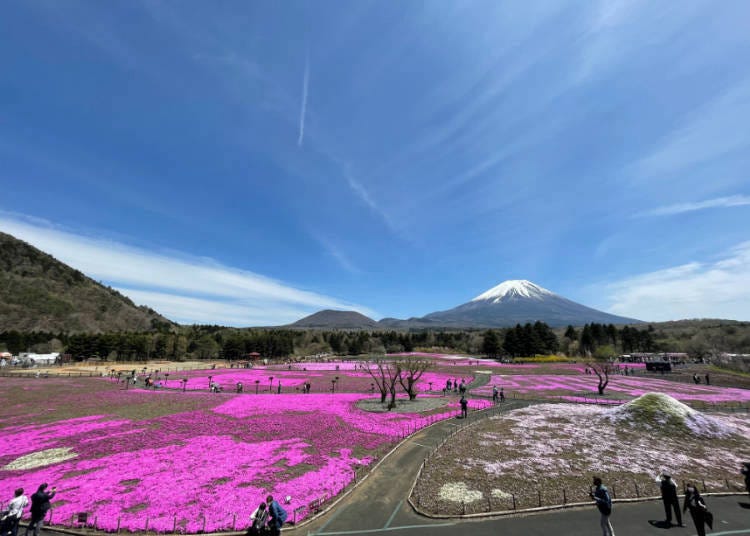 Photographed April 2021
Only here could you get such a fantastic view! The observatory also has partitions in place so you can safely enjoy the view while maintaining social distancing.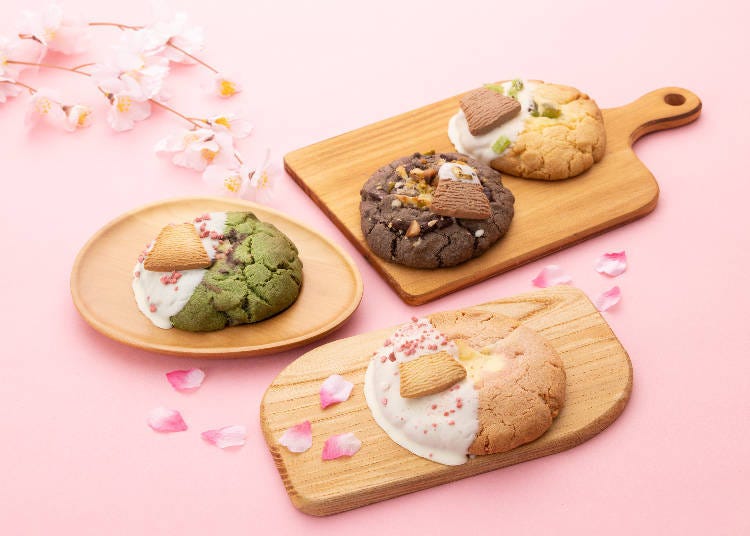 Original, limited-edition goods are also available for purchase at the venue. The highlight of 2022 was the FUJIYAMA CHUNK COOKIE, a delicious, chewy cookie made in the image of Mount Fuji and the moss phlox fields.
Fuji Shibazakura Festival

富士芝桜まつり

Address

Fuji Motosuko Resort (212 Motosu, Fuji-Kawaguchiko-cho, Minamitsuru-gun, Yamanashi Prefecture)

Nearest Station

By Train: Ride JR Chuo Main Line to Otsuki Station, and transfer to Fuji Kyuko Line. Ride to Kawaguchiko Station, and transfer to the bus bound for the venue.

By Bus: From Shinjuku Station (Shinjuku Bus Terminal), take the direct express bus (2 hr 25 min). From Fuji Kyuko Kawaguchiko Station, take the venue-bound bus (40 min). From JR Shin-Fuji Station, take the venue-bound bus (75 min).


・Venue: Fuji Motosuko Resort (212 Motosu, Fuji-Kawaguchiko-cho, Minamitsuru-gun, Yamanashi Prefecture)
・Event Period: April 15 - May 28, 2023
・Hours: 8:00AM-4:00PM
・Admission: Adults (junior high and up): 800-1,000 yen
*Price may vary by season
2. Peter Rabbit™ English Garden: Home to 300 Varieties of Flowers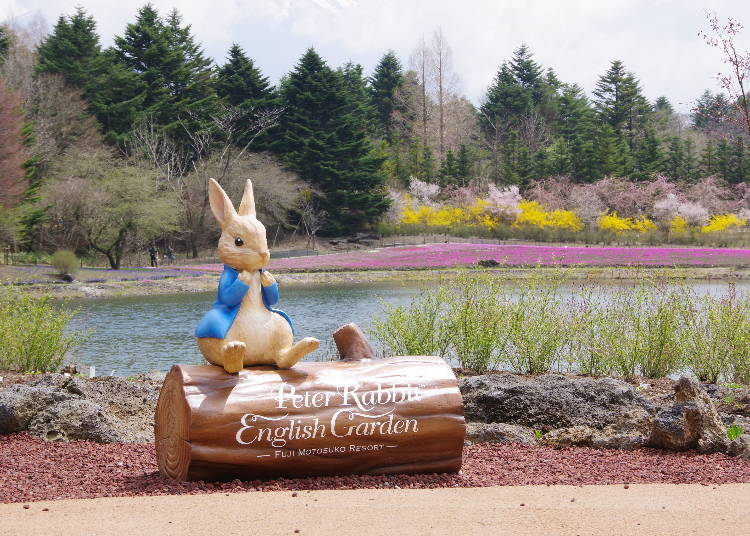 The Peter Rabbit™ English Garden, opened on April 16, 2022 in the same venue as the Fuji Shibazakura Festival. Appreciate nearly 300 varieties of flowers between spring and fall at the largest English garden in the metropolitan area! The garden is made to reproduce the world of the famous storybook character, Peter Rabbit.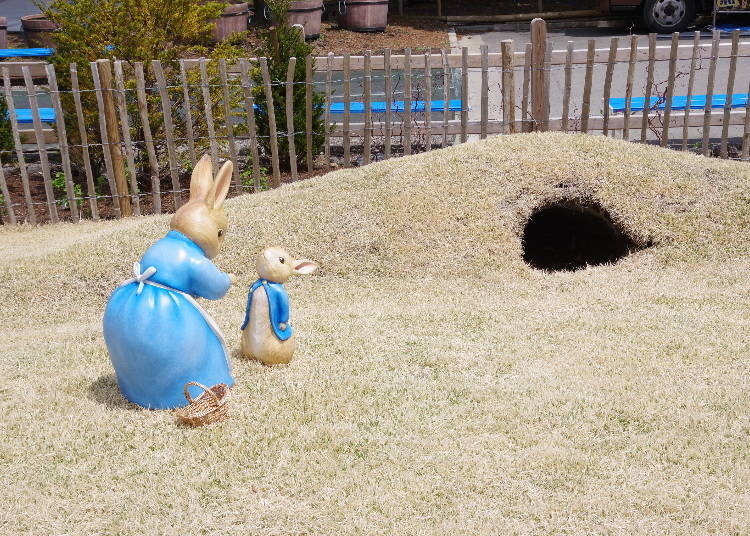 Peter Rabbit and friends can be found all over the garden. Take a leisurely stroll as you search for all of these adorable characters!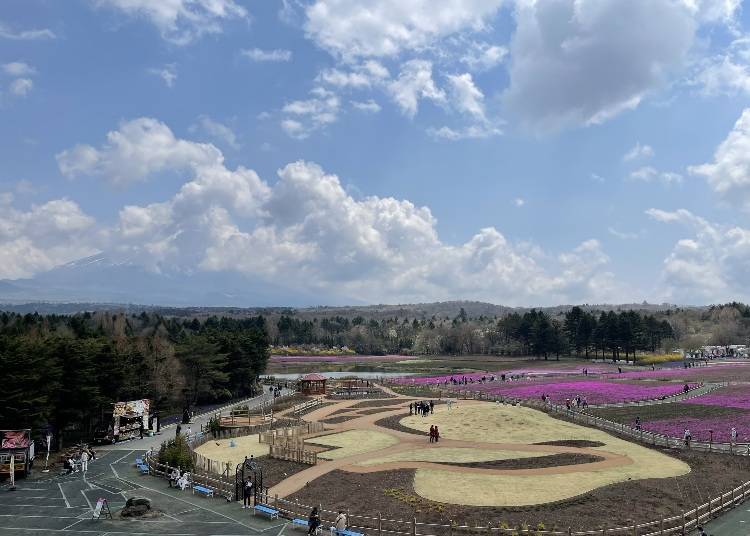 As 2022 marked the first opening of the garden, many of the flowers have only recently been planted and are still maturing. However, as the garden will continue to open again for spring and fall next year and beyond, expect to see an ever-changing landscape for years to come!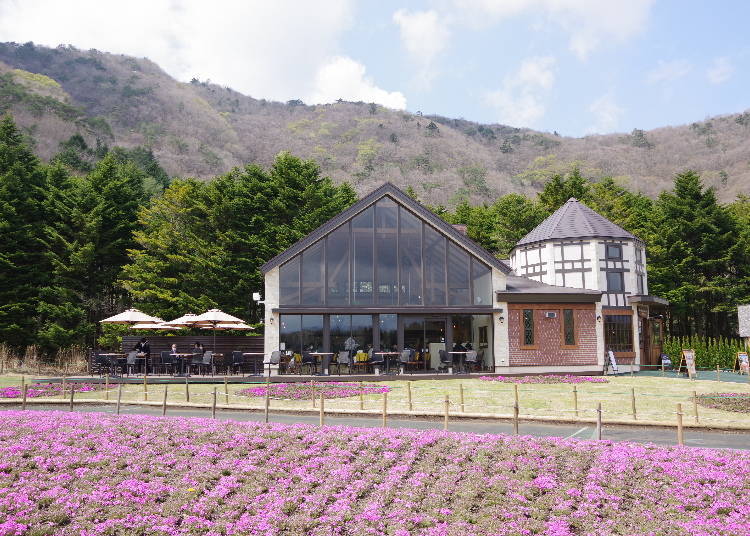 The English Garden's country-style restaurant offers a variety of Peter Rabbit-themed dishes. You can even sit on the open terrace on lovely, sunny days!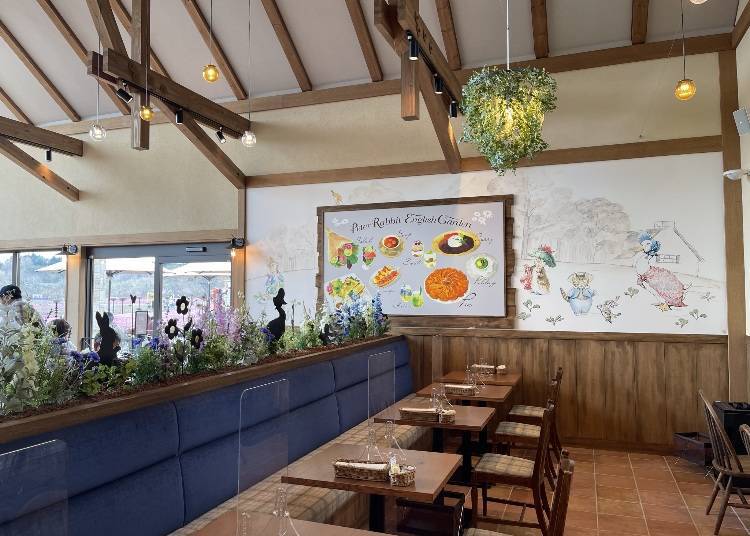 The restaurant interior features high ceilings and plenty of botanical touches. The large glass windows also offer an expansive view of the pink moss phlox.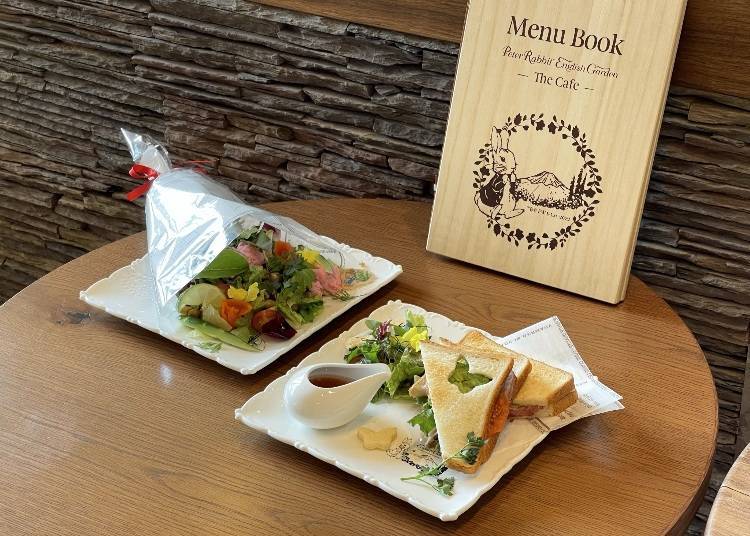 The menu is full of fantastic dishes, all based on the story of Peter Rabbit. The 'Jeremy Fisher Butterfly Sandwich (salad included, 1,700 yen) and 'Uncle McGregor's Freshly Picked Vegetable Bouquet Salad' (1,500 yen) are just two examples!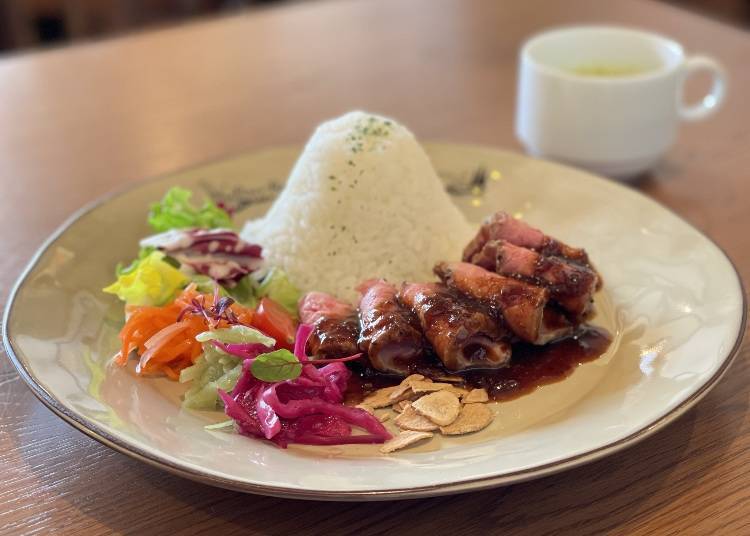 The 'Colorful Roast Beef Plate' (2,500 yen) is a hearty dish of thick roast beef surrounding a mountain of rice in the shape of Mount Fuji. This nutritionally-balanced meal also comes with a bright salad and broccoli soup.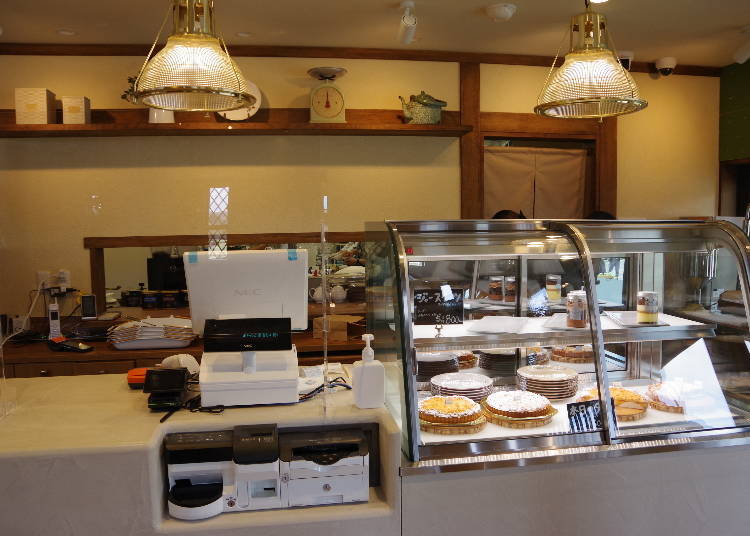 You'll find an assortment of bread at the bakery, starting at 300 yen. It's the perfect place to stop for a snack in the middle of your trip!
And don't forget to drop by the Shop & Gallery. Here you'll find original Peter Rabbit merchandise, as well as local specialties.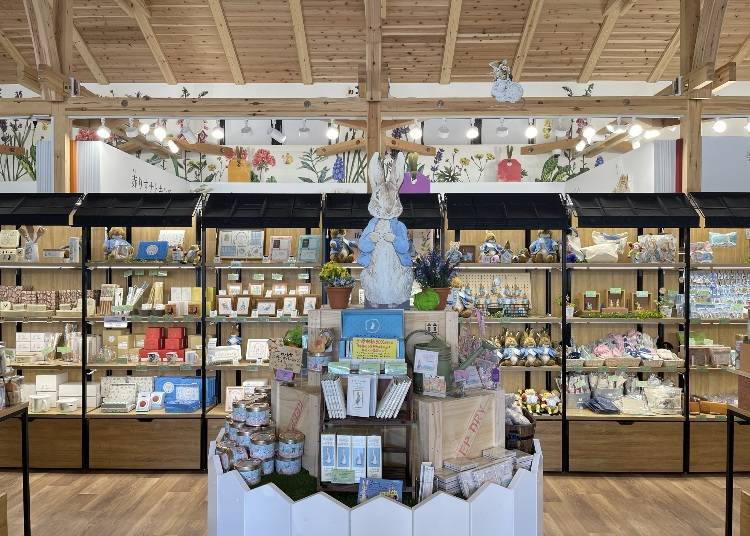 The wide variety of original, limited-edition goods includes 36 different key holders (550 yen each) and the Liberty Print Ranch Tote (4,600 yen each), a collaboration with long-established British textile brand, Liberty Fabrics. The design features Peter Rabbit and Mount Fuji, making it the perfect souvenir from your trip to Japan!
Peter Rabbit™ English Garden

ピーターラビット™ イングリッシュガーデン

Address

Fuji Motosuko Resort (212 Motosu, Fuji-Kawaguchiko-cho, Minamitsuru-gun, Yamanashi Prefecture)

・Event Period: April 16 - May 29, 2022; July 16 - October 10, 2022 (*2023 dates TBD)
*May vary by season
*Spring business hours coincide with Fuji Shibazakura Festival
3. Kawaguchiko Pleasure Boat Appare: Breathtaking Views of Mt. Fuji from the Lake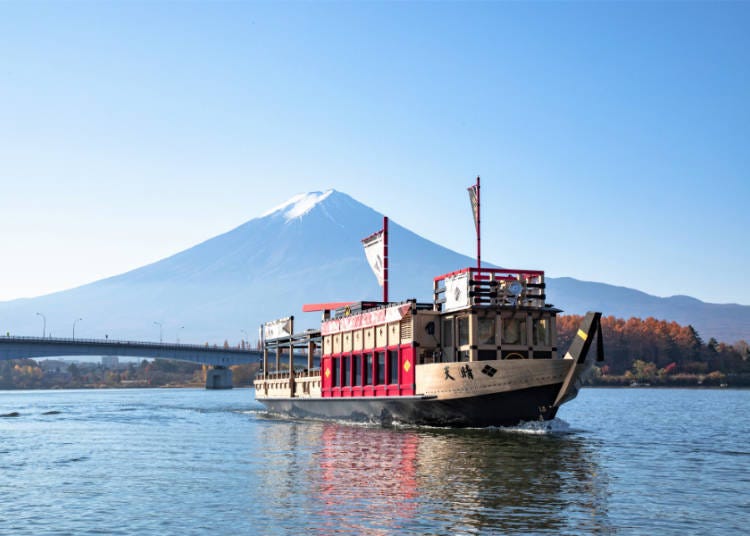 The Kawaguchiko Pleasure Boat Appare is a service that provides 20-minute tours of Lake Kawaguchi.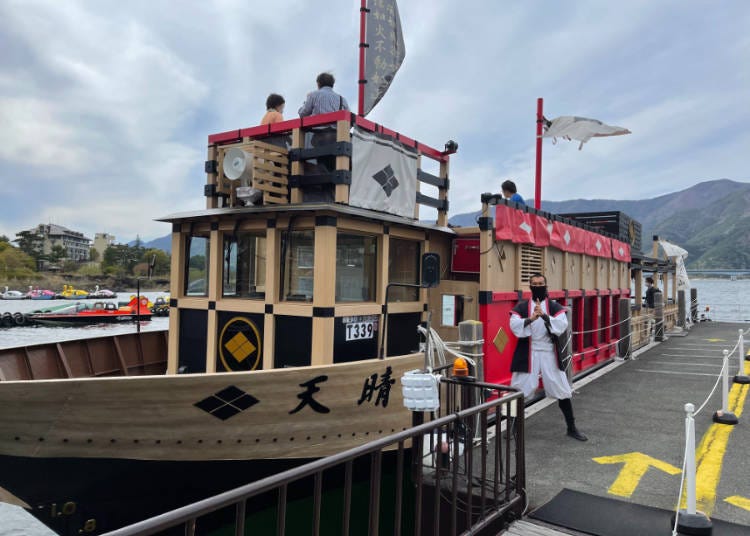 The Appare is inspired by the Atakebune, a Japanese naval warship that belonged to Takeda Shingen's army during the Warring States Period. The authentic Japanese-style hull features the Takeda clan family crest, giving the craft a majestic and bold appearance.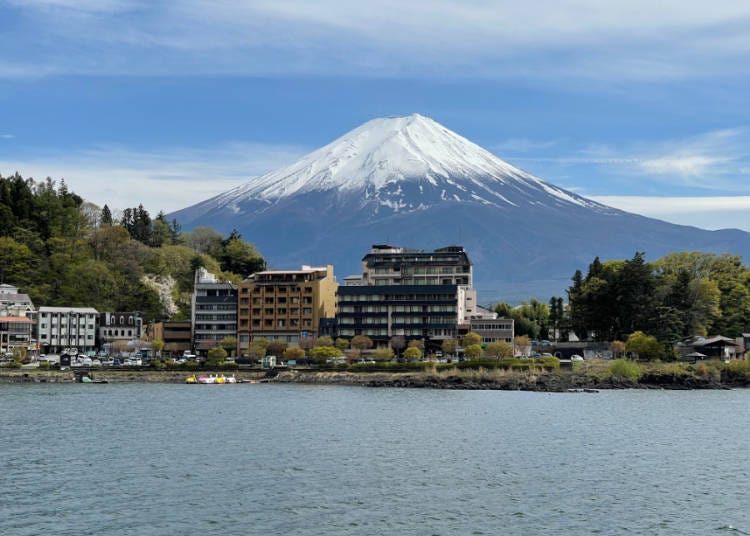 On sunny days, ride atop the deck for a fantastically overwhelming view of Mount Fuji from the calm, peaceful lake.
Photographed April 2021
You can also stay inside and enjoy the view from the windows. Costume rentals are also available so that you can take a commemorative photo as a member of the Takeda army!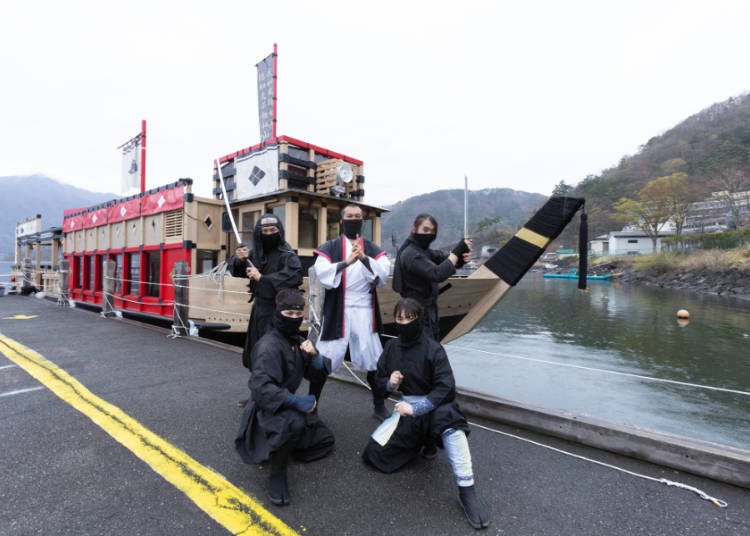 Photographed April 2021
A full-scale ninja show on the water is scheduled for May 13-14 (Saturday and Sunday). Don't miss this masterpiece performance by the ninja performance group, 'Raifu-jin'! (*Extra fee required.)
Kawaguchiko Pleasure Boat Appare

河口湖遊覧船「天晴」

Address

4034 Funatsu, Fujikawaguchiko-cho, Minamitsuru-gun, Yamanashi Prefecture

Nearest Station

Directions: Ride Fuji Kyuko Line to Kawaguchiko Station and walk for about 10 minutes


・Event Period: Open year-round
・Hours: 9:30AM-4:30PM (last departure)
*Operates every 30 minutes
*Times may vary by season
・Time Required: Approximately 20 minutes per round
・Admission: Junior high & up: 1,000 yen / Elementary school: 500 yen / Toddlers: Free
・Capacity: 120 people
4. Kawaguchiko-Mount Fuji Panorama Ropeway: Enjoy a Panoramic View of Mount Fuji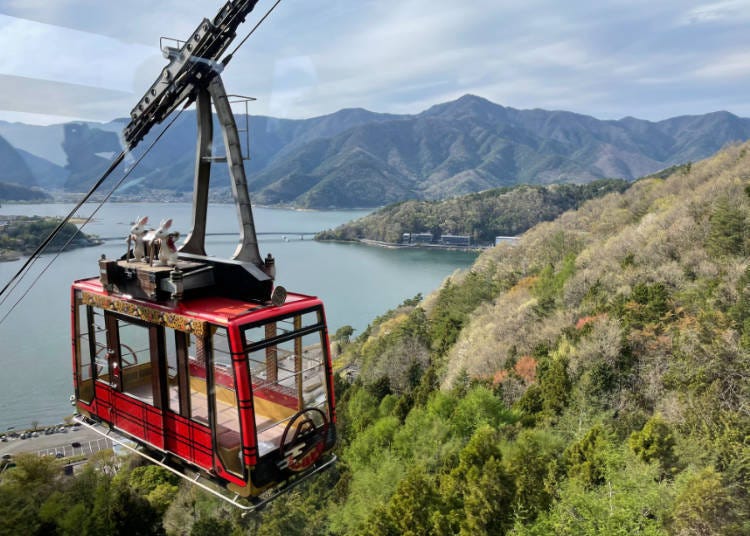 The Kawaguchiko-Mount Fuji Panorama Ropeway runs between Kawaguchikohan Station and Fujimidai Station at an altitude of 1,075m. From the observation square, you'll see an incredible panoramic view of Mount Fuji.
Take in the expansive view of Lake Kawaguchi and the surrounding, lush green mountains that stretches out right before your eyes!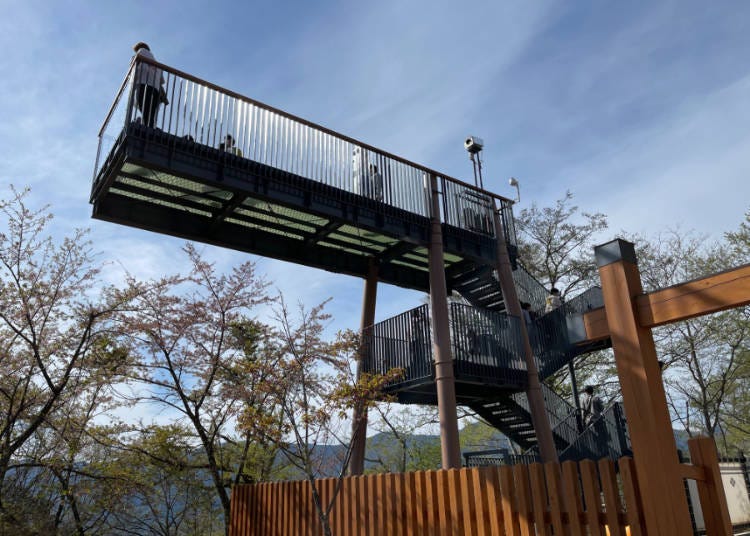 Photographed April 2021
Once you get off the ropeway, head to the summit. There you'll find the observation deck at Takeda Shingen Sengoku Square, which sits at an altitude of 1,100m!
The yagura, or observation deck, resembles a bridge jutting out from the cliff, and offers an amazing, unobstructed view of Mount Fuji.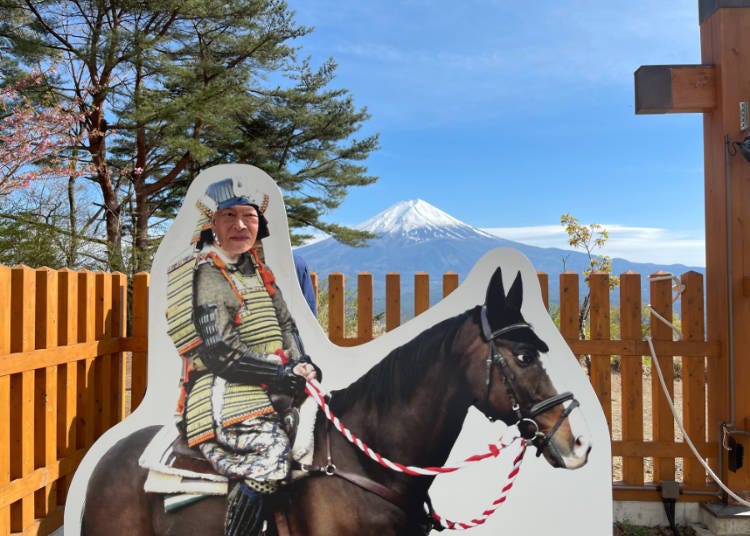 Photographed April 2021
Next to the tower is a life-size cardboard panel featuring Takeda Shingen, which you can include in your photos of Mount Fuji to really feel like part of the Takeda clan!
5. Mount Fuji Scenic Swing: Swing Into Action 1000m in the Air!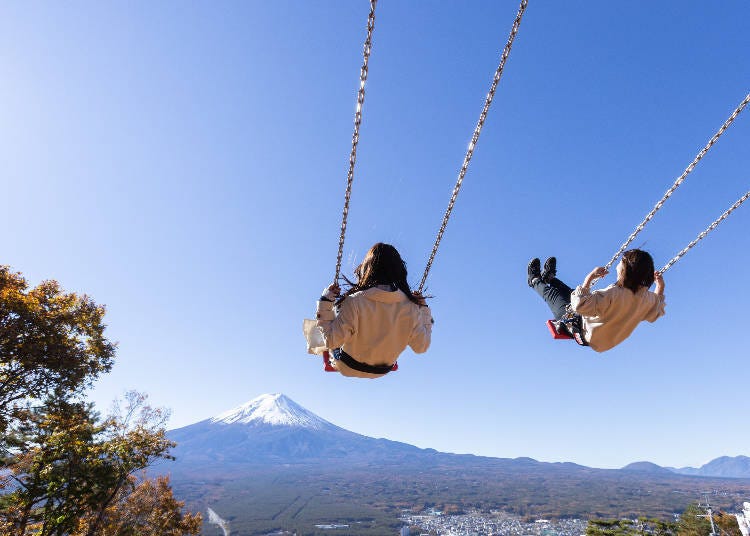 If you're planning a visit to the ropeway's observatory this spring, you won't want to miss the scenic 'Kachi Kachi Mountain View Swing'! For 500 yen, you can ride a swing (about 3.5m off the ground) with a fabulous view of Mount Fuji right before your eyes!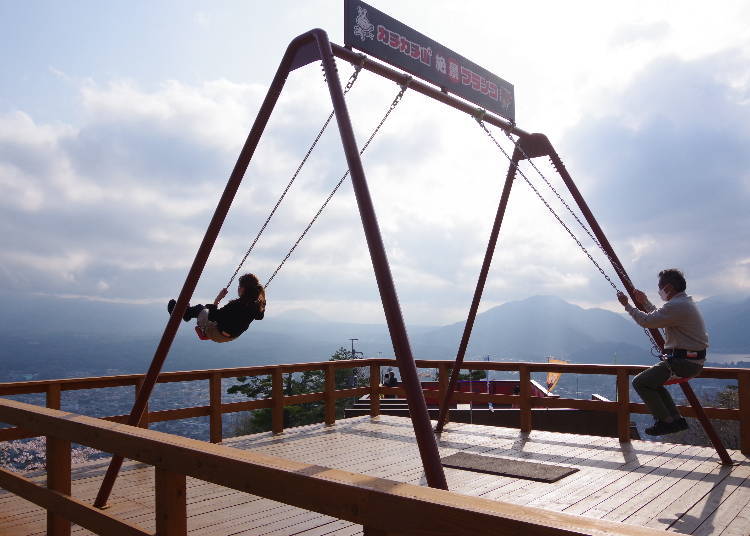 If you're not a fan of swings or heights, don't worry. This swing has a safety belt, making it safe for anyone to ride! Swing to your heart's content as this thrilling experience brings you back to your childhood.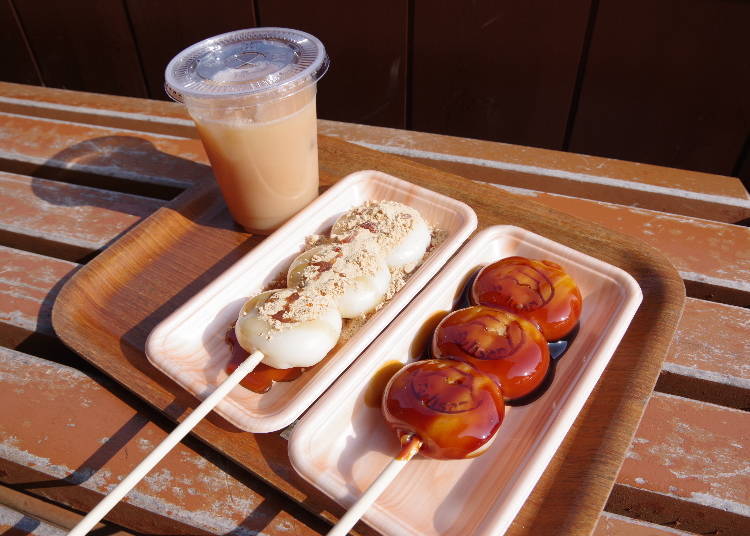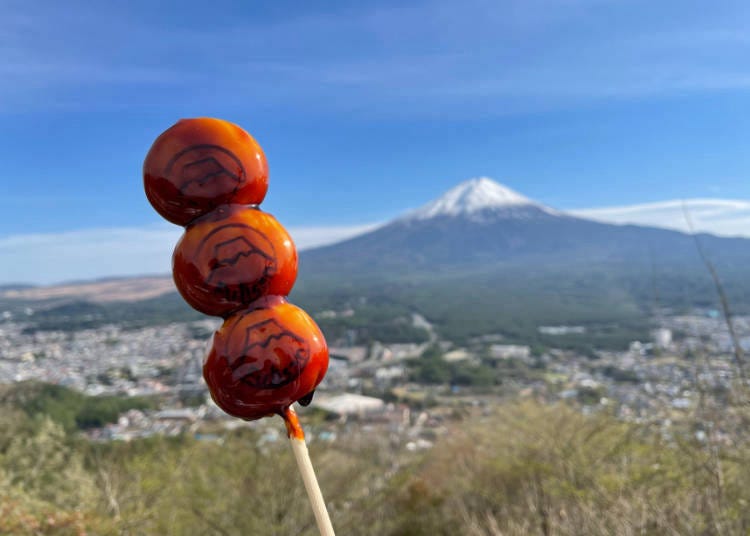 Photographed April 2021
There's also a shop at the mountain observatory called Tanuki Chaya. Here you can purchase swing tickets or take a break as you enjoy the view of Mount Fuji from inside. You'll also want to try the local specialties!

The Tanuki Dango is a traditional mitarashi dumpling, and the Usagi Dango contains kuromitsu (black honey) and kinako. They sell for 400 yen each and are a great snack to munch on as you continue to take in the gorgeous Fuji views!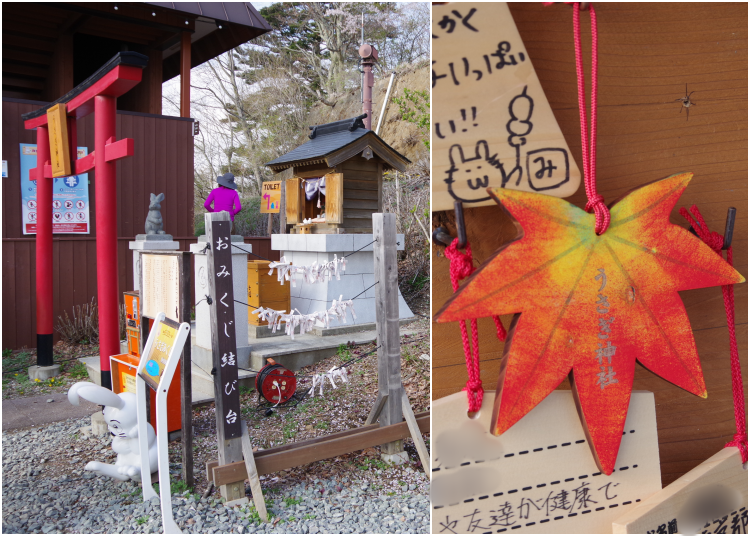 Next to Tanuki Chaya is the Usagi Jinja (Rabbit Shrine), a shrine dedicated to the rabbit from the Japanese folktale, Kachi Kachi Yama.

The votive wooden plaques, shaped like fall leaves and flowers, are made from thinned wood from Mount Fuji and painted by local charities, exuding the warm touch that only comes from a handmade treasure.
Lake Kawaguchiko Mt. Fuji Panorama Ropeway

~河口湖~富士山パノラマロープウェイ

Address

1163-1 Asakawa, Fujikawaguchiko-cho, Nantodome-gun, Yamanashi

Nearest Station

About 10 minutes on foot from Kawaguchiko Station on the Fuji Kyuko Line


・Hours: 9:30AM-5:00PM
*Hours may vary by season
・Admission: Adults: Round-trip 900 yen / One-way 500 yen; Children: Round trip 450 yen / One-way 250 yen
6. Narusawa Ice Caves: A Sub-Zero Natural Monument of Icicles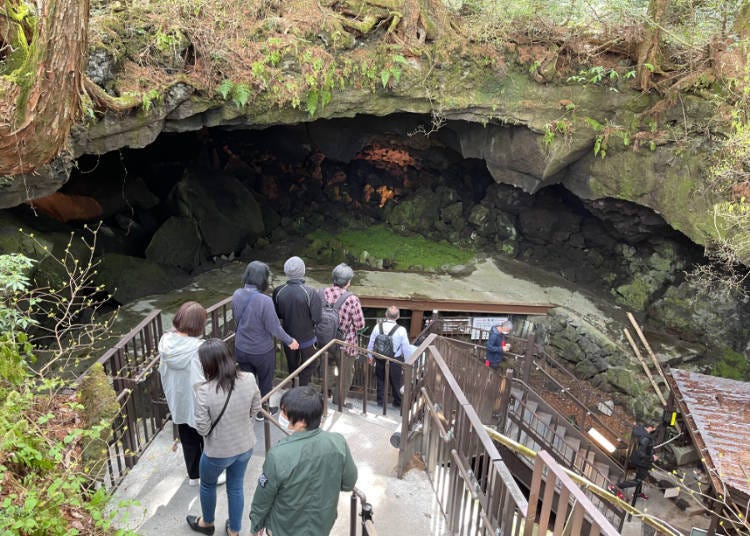 The Narusawa Ice Cave is a lava cave located in Fuji Hokuroku Park's Aokigahara Forest. The cave formed during Mount Fuji's volcanic eruption in 864, and is now designated as a natural monument by the Ministry of Education, Culture, Sports, Science, and Technology.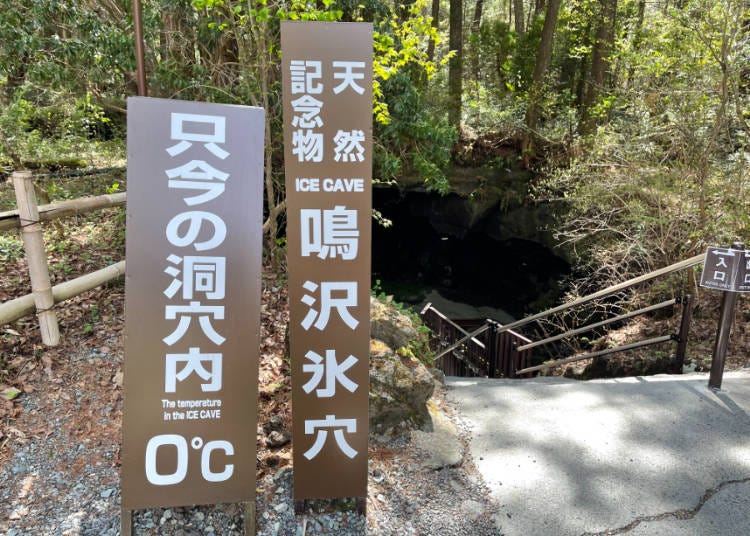 As its name suggests, the average temperature inside the caves is a frigid 0-3 degrees Celsius, all year round! In the summer, the caves can reach temperature differences of up to 32 degrees from the outside!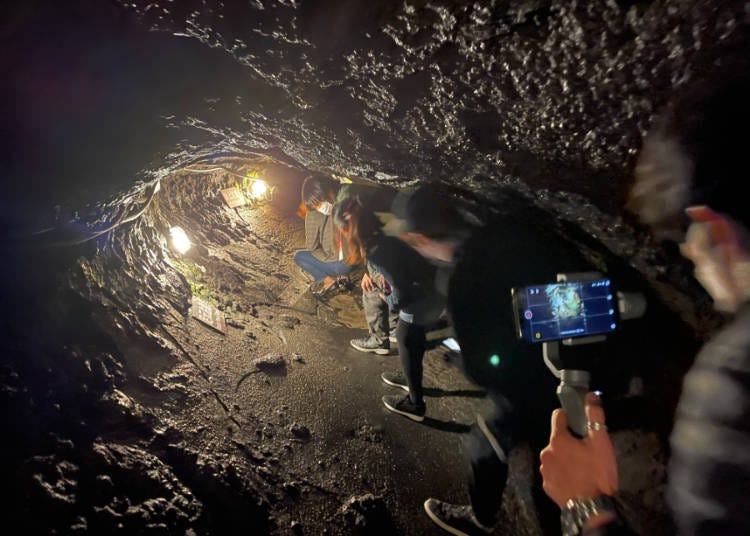 The inside of the cave is so narrow, you'll have to crouch down in order to pass through. From there, it's an exciting journey to the end of the tunnel!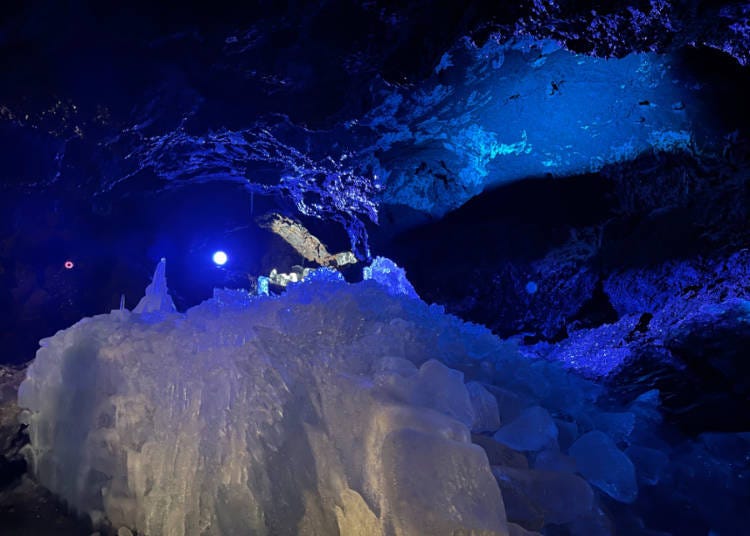 A breathtaking view of gigantic icicles awaits you at the end of the cave. These icicles reach their biggest size around April, forming from the water droplets that seep through the ceiling and freeze over time. The magical blue lighting only adds to the fantastical atmosphere!
Address

8533, Narusawa-mura, Minamitsuru-gun, Yamanashi, 401-0320
View Map

Nearest Station

Kawaguchiko Station (Kawaguchiko Line (Fujikyuko))

7. Fuji-Q Highland Tondemina Returns: See Mount Fuji from a Frisbee in the Sky!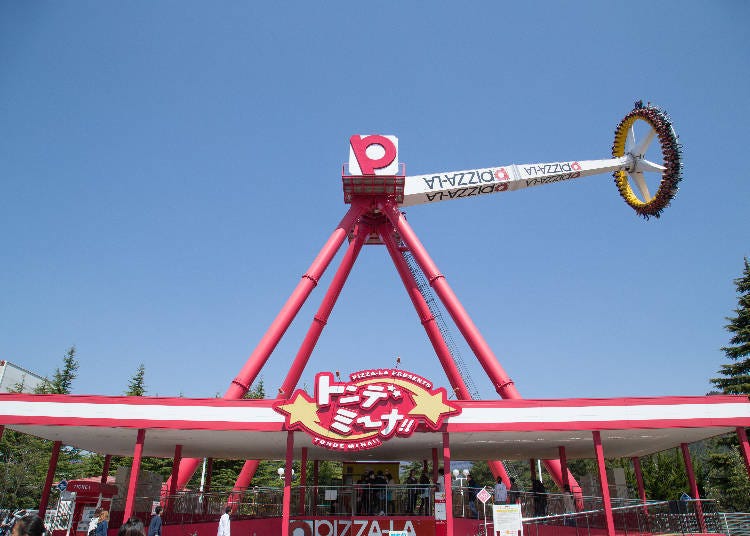 April 29, 2022 marked the long-awaited return of Fuji-Q Highland's popular rotating attraction, Tondemina, after a long-term closure.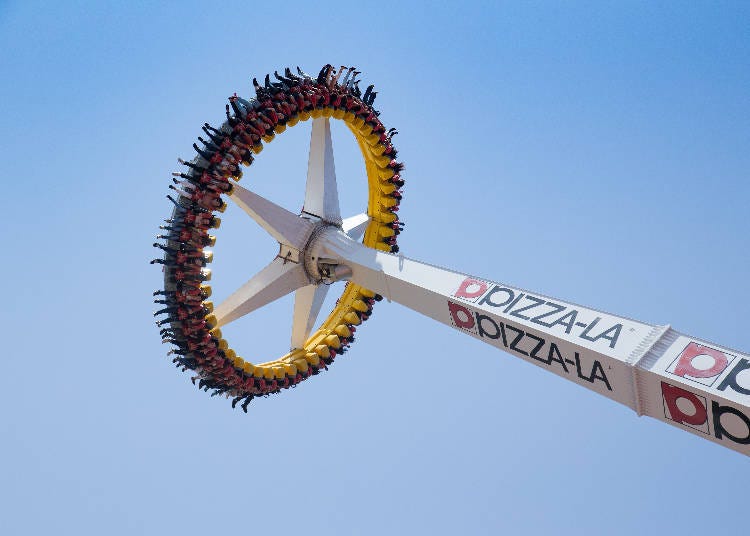 Tondemina is a large, 50-seater frisbee ride with seats that swing as it rotates. The name comes from its resemblance to a pizza spinning in mid-air.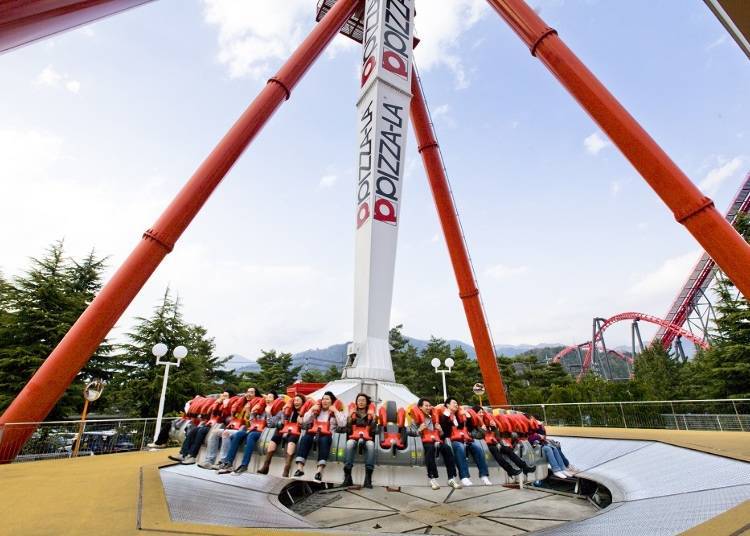 After closing down last year for the construction of a new roller coaster, it has returned to a new, prime location facing Mount Fuji. And what could be more thrilling than looking out at the mountain while flying in mid-air?!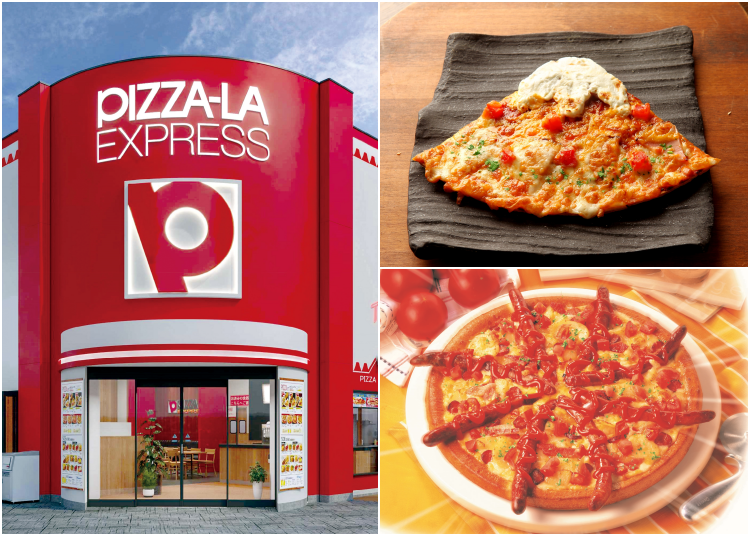 The Pizza-La Express Fuji-Q Highland Shop next to Tondemina has also reopened. In addition to its regular menu, it has must-try original pizzas such as the Fujiyama Pizza (850 yen), topped with cream cheese in the image of the mountain, and a regular Pizza in the image of Tondemina (500 yen).
Address

5-6-1, Shinnishihara, Fujiyoshida-shi, Yamanashi, 403-0017
View Map

Nearest Station

Fujikyu-Highland Station (Kawaguchiko Line (Fujikyuko))
1 minute on foot


Phone Number

0555-24-6711
8. Fujiyama Museum: A Magnificent View of Mount Fuji in Any Season!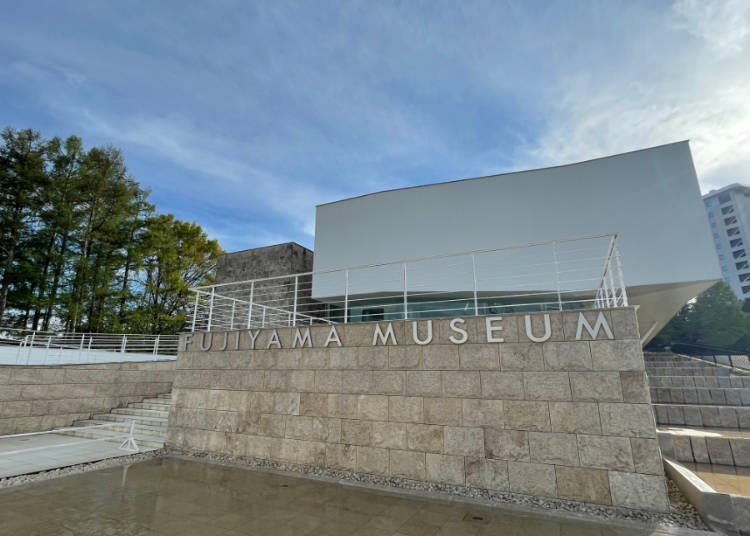 Next to Fuji-Q Highland is Fujiyama Museum, a museum that displays collections of Mount Fuji paintings by modern and contemporary artists.
Enjoy the innovative architectural design as you walk along the sloping corridors and admire the paintings on the walls. The light coming in from the glass ceiling above only adds to the space's beauty.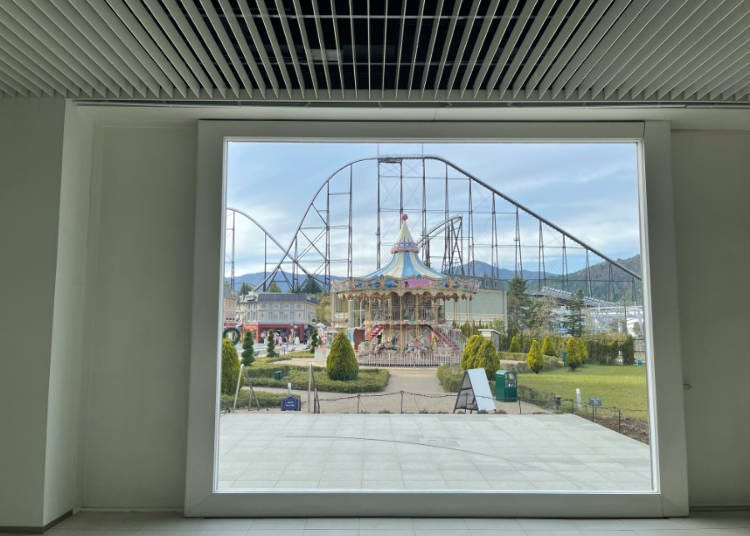 The view of Fuji-Q Highland from inside the museum is even framed to look like a giant canvas painting!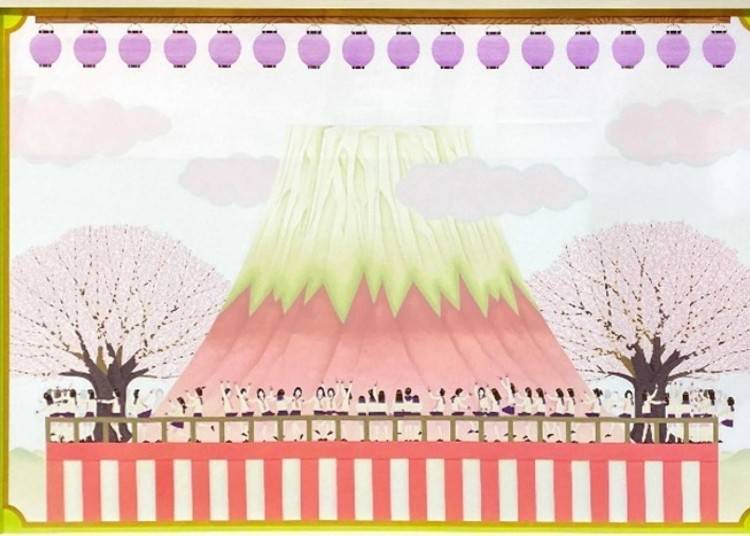 'Haru no Utage' by Masaomi Kato
The museum is ran its Spring Collection Exhibition until May 29, 2022, where 70 popular works from the collection featuring Mount Fuji were on display.
フジヤマミュージアム

Address

5-6-1 Shinnishihara, Fujiyoshida City, Yamanashi Prefecture

Nearest Station

Ride Fuji Kyuko Line to Fujikyu Highland Station, then take free tour bus or taxi to Highland Resort Hotel & Spa


・Hours: 10:00AM-5:30PM (last admission 5:00PM)
・Closed: May 12, May 30-June 9, June 16
・Admission: Adults: 1,000 yen / University students: 800 yen / High school students: 600 yen / Junior high school: 500 yen / Elementary school and under: Free
9. Book A Stay At Japan's Only Thomas-Themed Hotel Rooms After Visiting Fuji-Q Highland!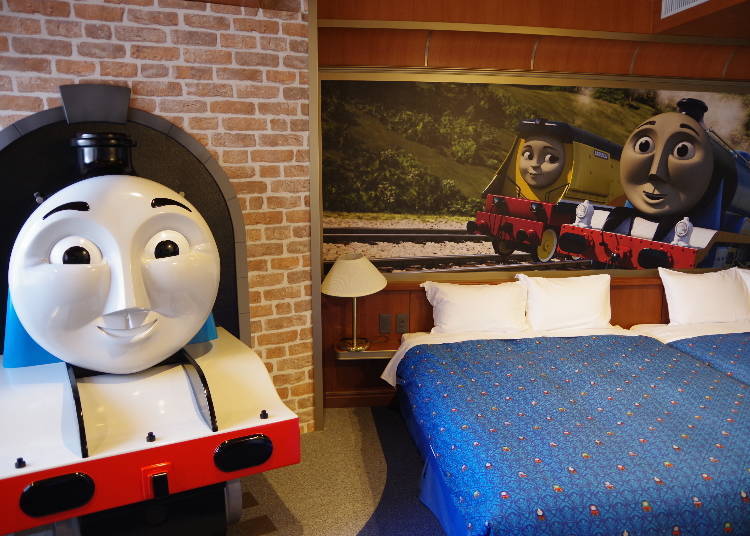 Fuji-Q Highland's official hotel, Highland Resort Hotel & Spa, also offers a super-popular themed guest room based on the world of the equally-popular children's show, Thomas the Tank Engine. And in Spring 2022, the hotel announced the opening of two new Thomas Rooms!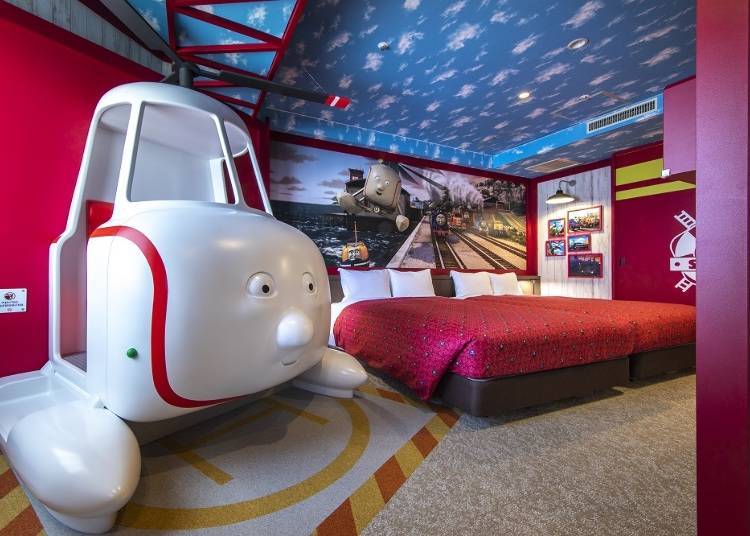 The first new room is the 'Thomas and the Rescue Team' room. You'll be greeted by the Hero of the Sky, Harold the Helicopter, as soon as you step inside. The room's design features the Rescue Center's thematic red color, and a replica of Harold you can pilot yourself!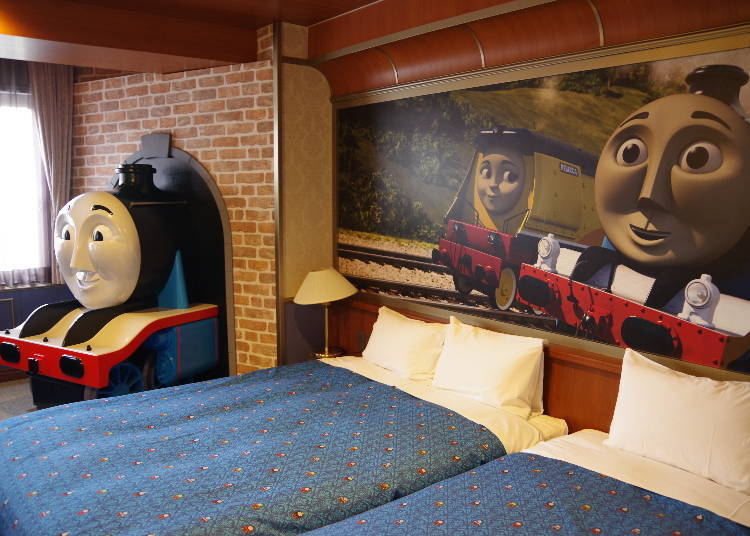 The second room is 'Gordon's Special Guest Room,' designed with relaxing hues of Gordon's signature blue color, and dynamic decorations of Thomas and Gordon bursting through the walls!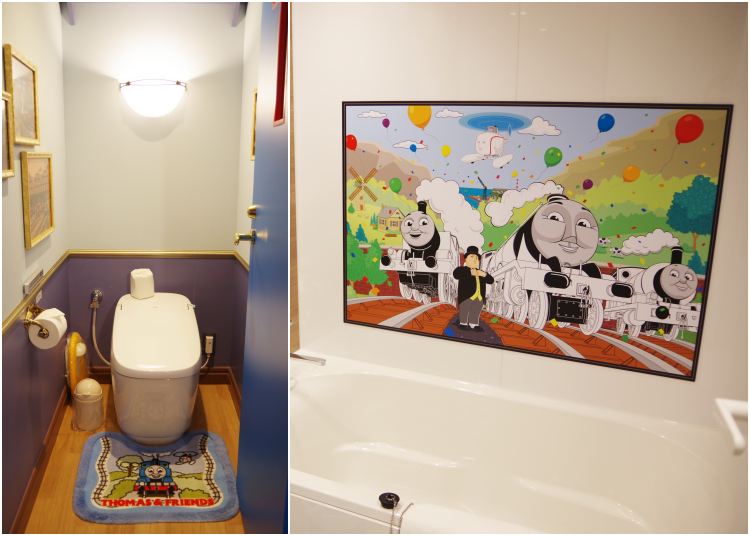 Even the bathrooms feature elements from the world of Thomas, making bath time fun for the entire family!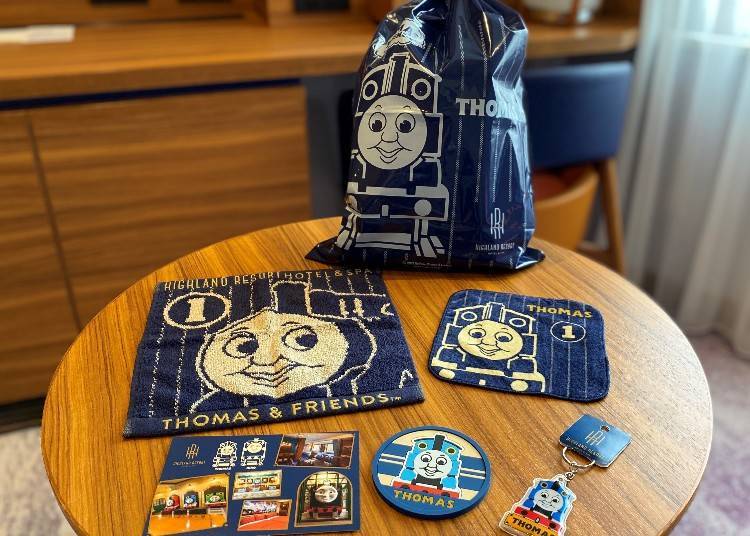 Kids will also love the original Thomas-themed toiletries and goods, only available here! Guests will receive a decorative gift bag filled with a random assortment of original goods. Tote bags, drawstring pouches, and handkerchiefs are just some of the possible gifts you can get. What's in your bag? Open it up and find out!
Address

Shinnishihara 5-6-1, Fujiyoshida, Yamanashi, 403-0017
View Map

Nearest Station

Fujikyu-Highland Station (Kawaguchiko Line (Fujikyuko))
17 minutes on foot


Vacancy search, reservation

from

25,740JPY

1room, 2adults

Check with our partner site as the latest rates, rate details, and guest room requirements may vary.
10. Fujisan View Express Train Renews Popular Sweets Plan!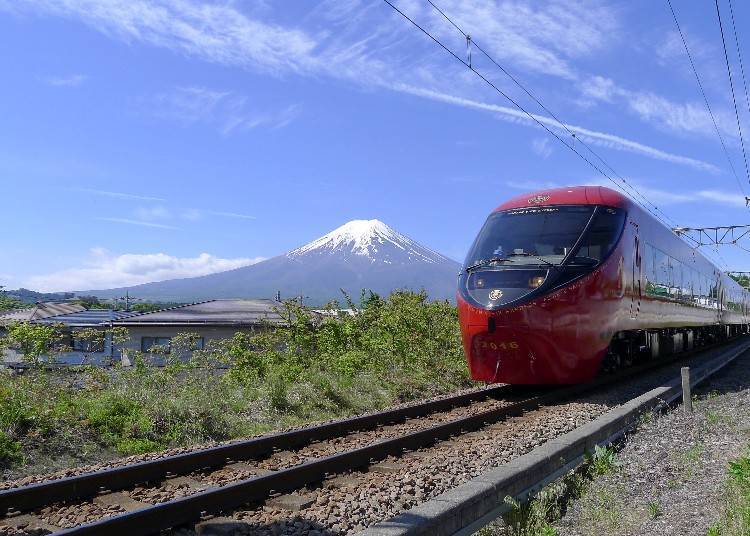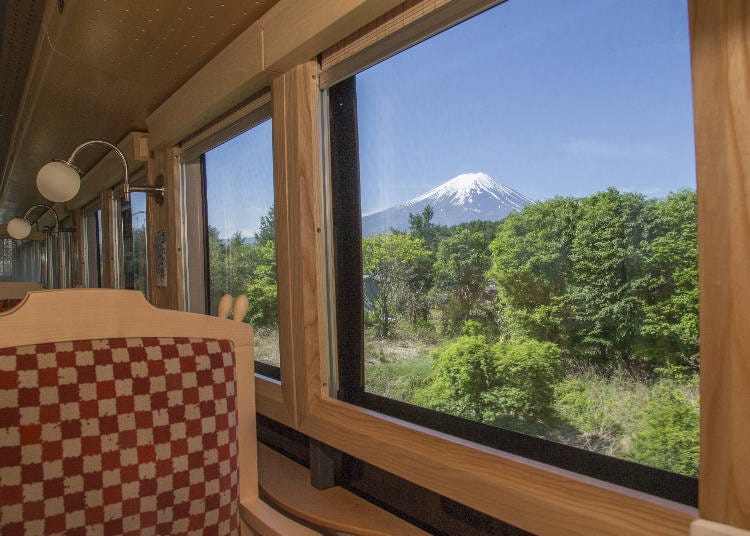 The Fujisan View Express is a unique scenic train that runs along the Fujikyuko Line between Otsuki Station and Kawaguchiko Station. The train features a beautiful view of Mount Fuji from the windows!
Limited to the first car is a charming interior featuring wooden furnishings and a luxurious atmosphere so that you can enjoy your ride in style!
The Sweets Plan will only be available in this special car starting May 14, 2022 (*2023 dates TBD). It includes an assortment of three adorable, Fuji-themed pastries, prepared by a professional hotel chef.

The Fujisan View Express Eclair is designed in the image of the train itself. The Fujiyama Chocolat is a delicious combination of chocolate mousse and pistachio cream. Finally, the Unpan (literally 'cloud-bread'), is a chewy pastry with cream cheese kneaded into the dough.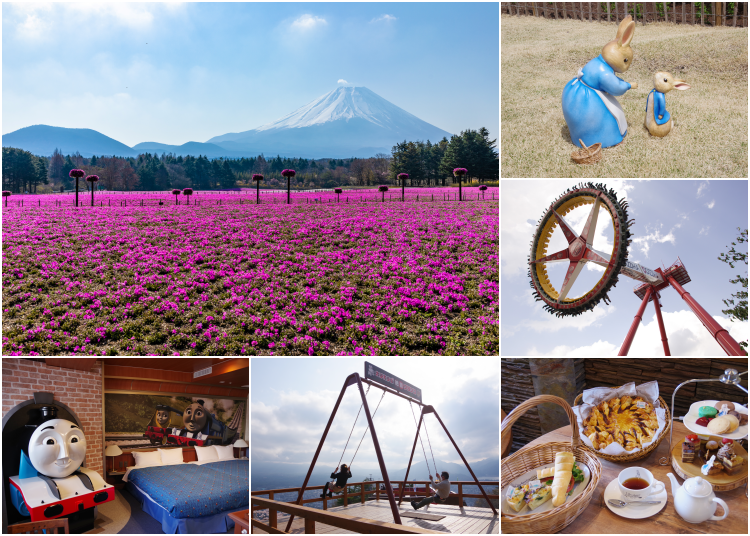 As you can see, Mount Fuji and the surrounding areas are packed with new attractions for spring! For a fun-filled day of spectacular scenery, delicious food, unique souvenirs, and comfy hotel rooms, the Mount Fuji area is not to be overlooked!

*Information in article partially updated in April 2022 from the previous April 2021 article. 2023 dates TBD. Please see official websites for the latest information.
*Business hours subject to change, closures, and change in content due to the influence of COVID-19.
*Please remain alert of official government requests, prefecture-issued emergency declarations, and preventative health measures when planning to go out.

Translated by: Krys Suzuki
Written by: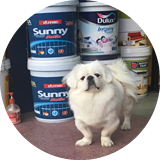 *This information is from the time of this article's publication.
*Prices and options mentioned are subject to change.
*Unless stated otherwise, all prices include tax.
Limited time offer: 10% discount coupons available now!