The trails to reach the top of Mt. Fuji officially open on July 1 to September 10 and bring countless people from all over the world make the ascent to the top every year.

However, the hike should not be underestimated and good preparation will help make your trip up the mountain a safe and memorable one.
What Equipment to Bring to Climb Mt. Fuji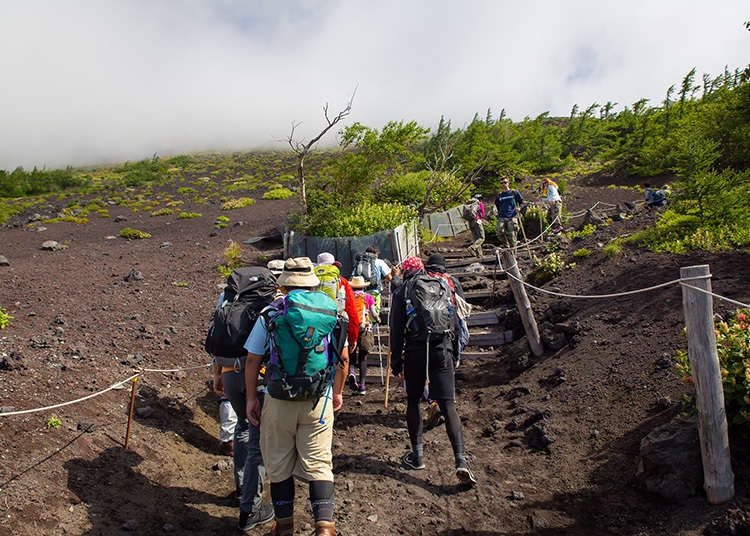 Depending on your level of hiking expertise, you should make sure to bring items that are essential to complete your hike. Climbing boots, a knapsack, rain gear, cold-weather gear, and spats will definitely assist in your hike. If you are climbing during the night, reflective clothing and headlamps will keep you from fumbling in the dark.

Although there are huts that provide snacks and drinks intermittently, it is best to bring your own snacks and water for times when you are between stations.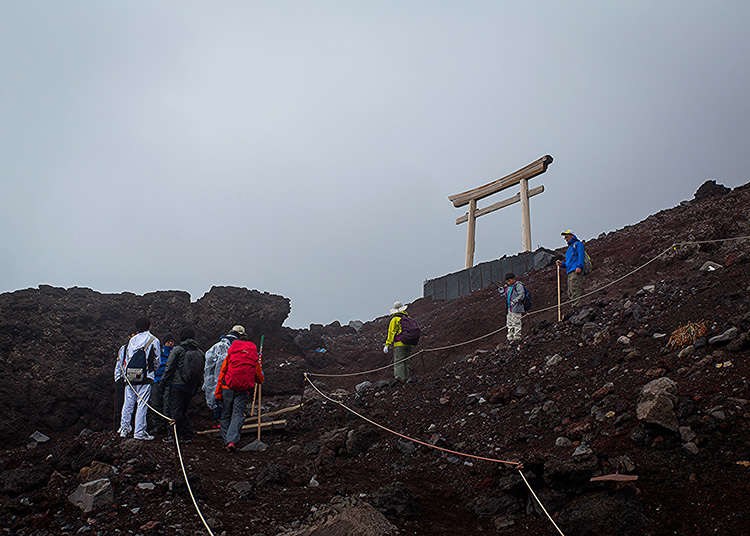 Mt. Fuji is officially open to the public during the summer months, however weather conditions on the mountain should not be underestimated. As an isolated peak, Mt. Fuji's weather can change drastically and quickly, with temperatures often dipping below freezing, even in the summer. Make sure to prepare for your hike by checking the weather forecasts beforehand and bringing appropriate gear.
Beware of Altitude Sickness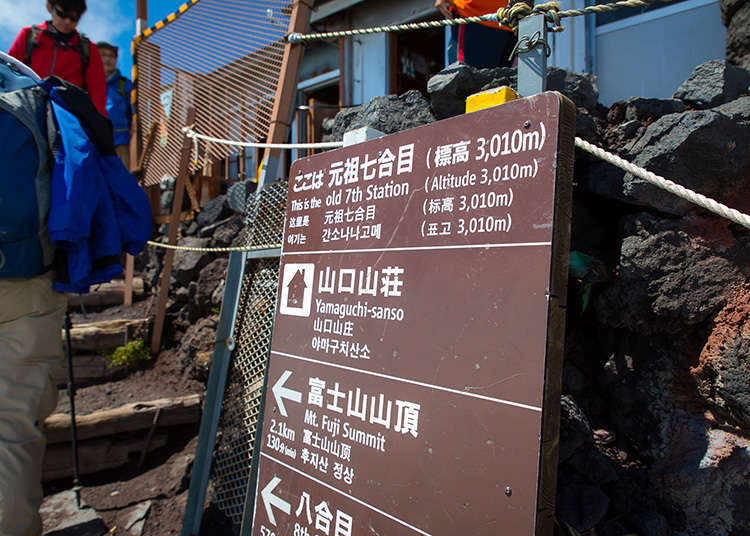 Everyone can be affected by altitude sickness, especially those that decide to climb Mt. Fuji at a rapid pace. Symptoms of altitude sickness include headaches, nausea, fatigue, and dizziness, which may impede your hike. To avoid this inconvenience, it is recommended to acclimate to the elevation by waiting 30 minutes after your arrival to the 5th station. Otherwise, it is possible to buy oxygen bottles at hiking supply stores and huts on the mountain.
Staying at a Mountain Hut on Mt. Fuji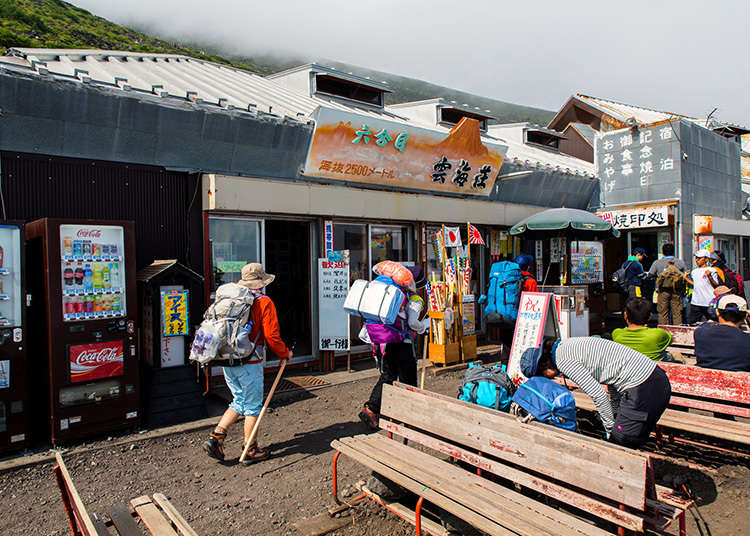 At the majority of the hiking trail stations, there are huts that provide temporary accommodations and meals. The fee usually runs from 5,000 yen to 9,000 yen per person, depending on the meal plan. The only method of payment accepted is cash, so please bring enough to cover the costs. Reservations along the most popular trails are mandatory and walk-ins are very rarely accommodated. When staying in these rustic mountain huts, expect to sleep close to other people in the shared quarters.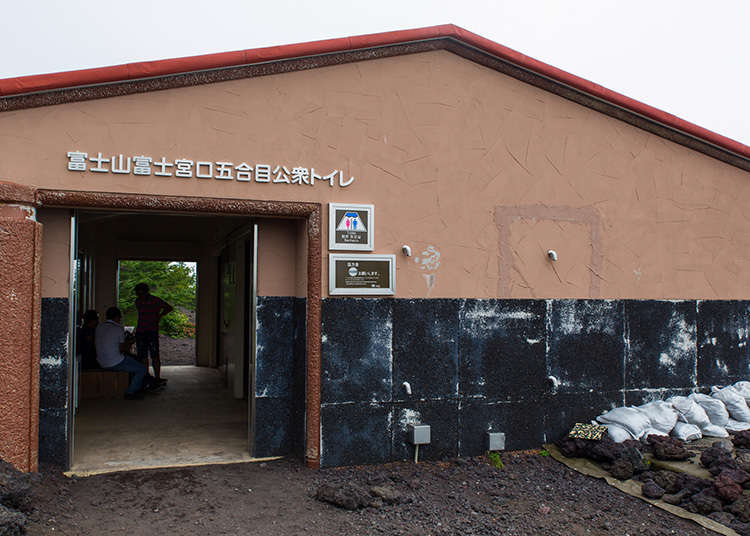 Before starting your ascent, don't forget to bring several 100 yen coins with you. Restrooms on Mt. Fuji are not free and cost between 100 and 300 yen. Most work on the honor system with a few having an attendant nearby. If you are climbing during the off-season, you are required to bring your own portable toilet.
Keeping Mt. Fuji Clean for Future Generations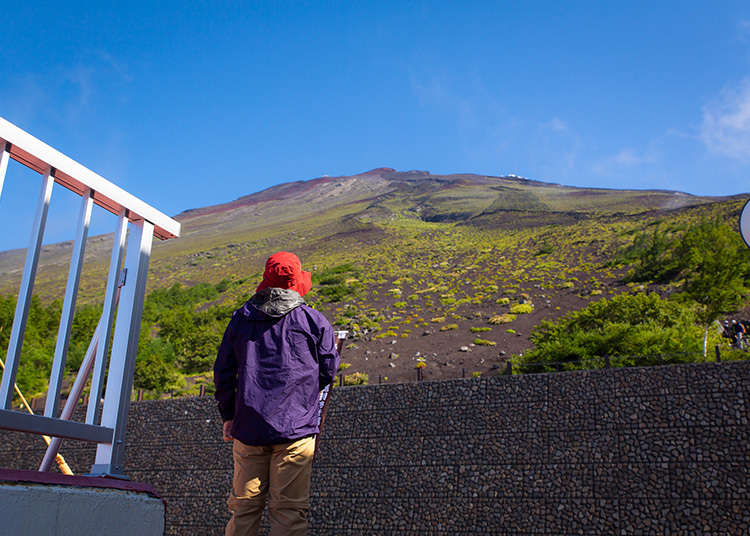 In order to perserve the beauty of Mt. Fuji, it is mandatory that all visitors carry their trash with them home for disposal. Make sure to bring a bag where you can toss your garbage safely in your backpack. By doing this, we can all do our part to keep Mt. Fuji clean.
Final Notes on Climbing Mt. Fuji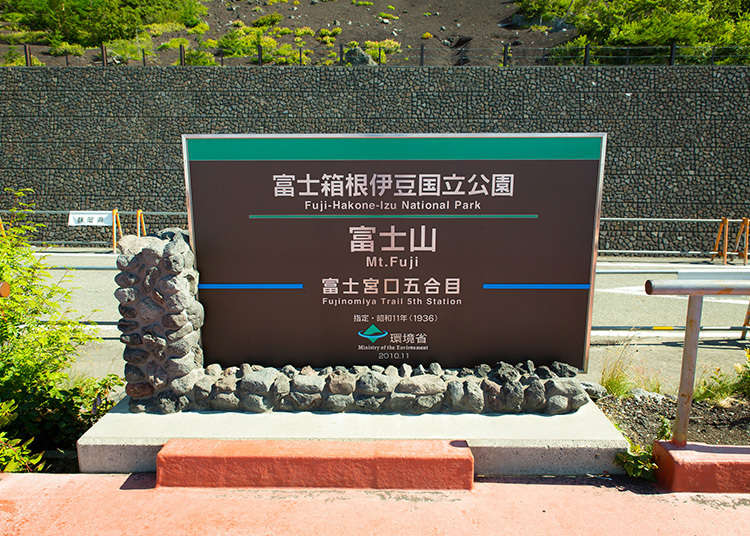 Remember to be courteous to other hikers and that people ascending take precedence over people descending. When passing by mountain huts at night, try to keep your voices down for those taking time to rest. Finally, the entirety of Mt. Fuji is a national park, so taking home stones or plants is prohibited. Keep these in mind while hiking and you will definitely have a great and memorable experience. Happy hiking! 

Access: Take the Fujikyu Bus heading towards the Fujisan Gogome station, from either Kawaguchiko (Fujikyu Line) or Mt. Fuji (Fujikyu Line) stations. The route takes about 1 hour and you can get off at the final stop.
Access to Kawaguchiko Station from Tokyo: Take the Fujikyu Line from Otsuki Station (JR Chuo Main Line) to Kawaguchiko Station. This route takes about 40 minutes by Express Train.
Address

Fujiyoshida-shi, Yamanashi, 403-0000
View Map

Nearest Station

Gotemba Station (JR Gotemba Line)

Related Articles on Mount Fuji
*This information is from the time of this article's publication.
*Prices and options mentioned are subject to change.
*Unless stated otherwise, all prices include tax.