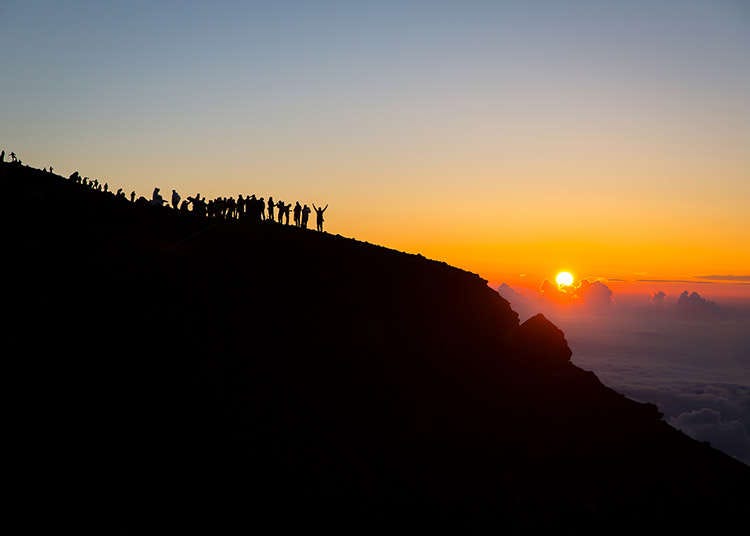 In 2022, the trails reaching the top of Mt. Fuji officially open from July 1 to September 10.

The hike should not be underestimated and good preparation both for the trip and against Covid-19 will help make your trip up the mountain a safe and memorable one.
Mt. Fuji 2022 Climbing Season Dates
According to the official Mt. Fuji Climbing website, dates for the 2022 season are:

1. Yoshida Route: July 1 - September 10 (Descending trail will be open until the morning of September 11)
2. Subashiri Route: July 10 to September 10
3. Gotemba Route: July 10 to September 10
4. Fujinomiya Route: July 10 - September 10 (Trail between 5th and 6th station: open from July 1)
What Things to Bring to Climb Mt. Fuji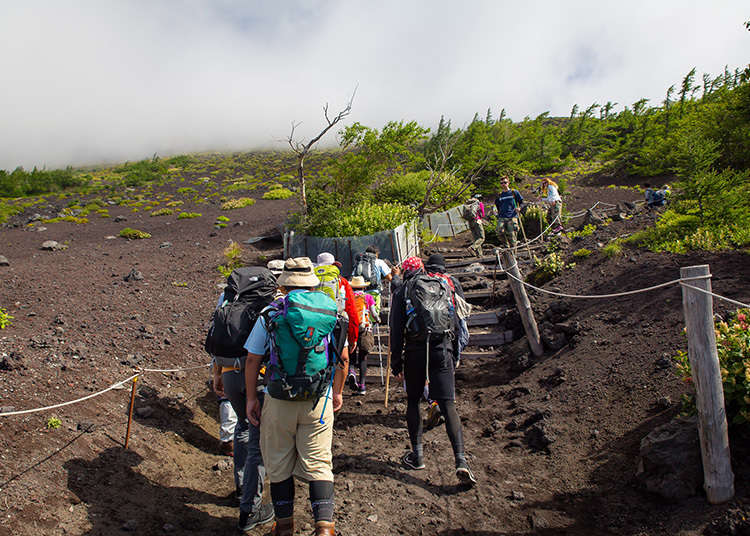 Preparing items to bring based on how experienced a climber you are is highly recommended.

Depending on your level of hiking expertise, you should make sure to bring items that are essential to complete your hike.

Climbing boots, a knapsack, rain gear, cold-weather gear, and spats will definitely assist in your hike. If you are climbing during the night, reflective clothing and headlamps will keep you from fumbling in the dark.

Although there are huts that provide snacks and drinks intermittently, it is best to bring your own snacks and water for times when you are between stations.

Please create a Mt. Fuji checklist beforehand to see if you have all of the following:
☑ Shoes: Mountain climbing shoes, hiking boots
☑ Rainwear: Waterproof jackets
☑ Clothes: Bottoms: Hiking pants and thermal underwear; Tops: Shirts, warm undershirt, flannels, fleeces, sweaters, and down jackets that you can layer.
☑ Lights: Headlamps or head torches.
☑ Water: Around 2 liters.
☑ Light Meals: Anything portable (sandwiches, onigiri, snack bars).
☑ Trash Bags: Prepare a trash bag that you can bring back with you.
☑ Money: Most lodges do not accept credit cards, so it's best to have some cash at hand - in 1,000 yen bills as well as larger values. (20,000 yen should well cover the journey, including meals.) Be sure to bring 100 yen coins, as they are needed to use the bathroom.
☑ Other: A backpack, a hat, a map, sunglasses, sunscreen, medkit, towel, ID, insurance card (if you have one), masks, hand sanitizer, trekking poles(*You can purchase a walking stick if you wish to collect a series of seal stamps during your ascent.)

Plan your route
There are four main climbing trails for Mount Fuji: the Yoshida Trail, the Subashiri Trail, the Gotemba Trail, and the Fujinomiya Trail. You can learn more about each at the link below.
Weather Conditions on Mount Fuji: What to Expect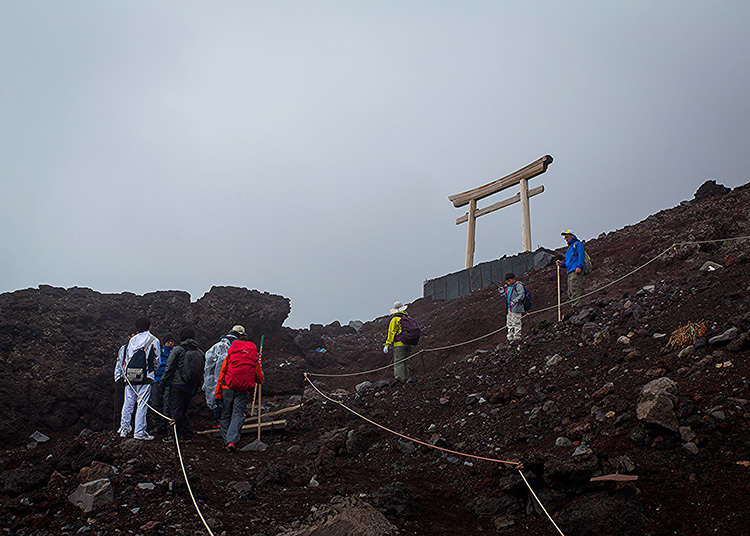 Mount Fuji is an isolated mountain that has an altitude of around 3,000 meters. A north wind that travels from Suruga and Sagami Bay creates increasingly unstable weather conditions the higher up the mountain you go.

These harsh conditions have led to many accidents in the past, so you must be cautious when starting your ascent.

Furthermore, the weather and temperature conditions at Mount Fuji's fifth station, which leads you from the foot of the mountain to the summit, can change very quickly.

Being able to adjust to any change is crucial. We recommend being as prepared as possible by checking the weather forecast beforehand.

Additionally, the temperature change from the fifth station to the summit is extreme. It's very normal to experience winter temperatures even in the summer.

Although there are times when the temperature change isn't very drastic, a chill brought by the wind can cause a sudden drop in body temperature.

In the summer, before daybreak, it can go all the way down to freezing. This puts you in danger of getting hypothermia.

Moreover, Mount Fuji has many days of unstable weather and thunder during the summer. In the winter or snow season, a strong wind that travels from the northwest can cause avalanches.

In order to protect yourself from all of these sudden changes, it's good to be somewhat overly prepared.
Beware of Altitude Sickness When Climbing Mt. Fuji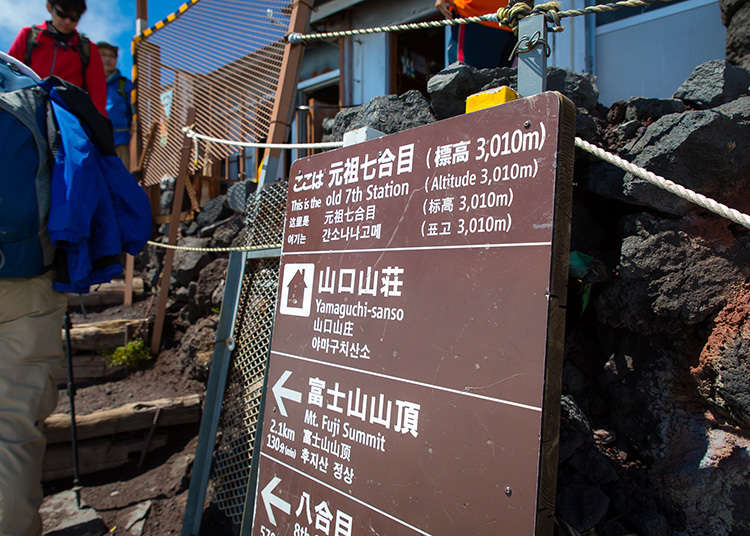 Everyone can be affected by altitude sickness, especially those that decide to climb Mt. Fuji at a rapid pace.

Symptoms of altitude sickness include headaches, nausea, fatigue, and dizziness, which may impede your hike.

To avoid this inconvenience, it is recommended to acclimate to the elevation by waiting around 30 minutes after arriving at the 5th station.
Staying at a Mountain Hut on Mt. Fuji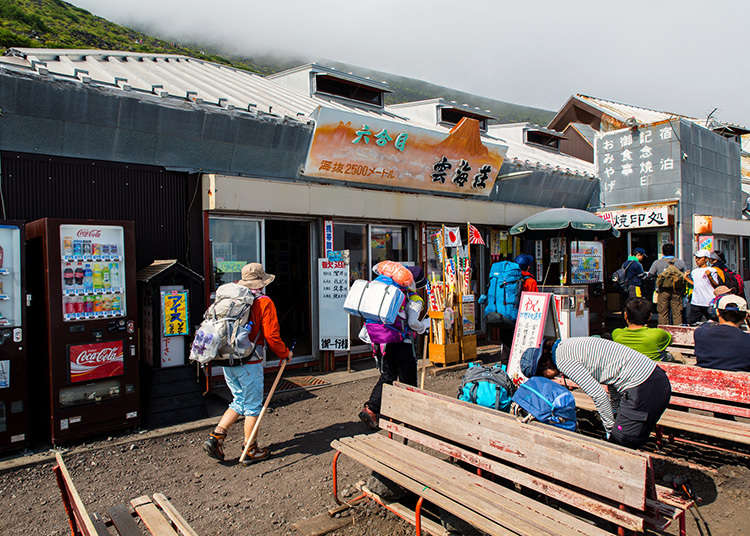 At the majority of the hiking trail stations, there are huts that provide temporary accommodations and meals. The fee usually runs from 5,000 yen to 9,000 yen per person, depending on the meal plan if applicable.

The only method of payment accepted is cash, so be sure to bring enough to cover the costs.

Reservations along the most popular trails are mandatory and walk-ins are very rarely accommodated.

In 2021, reservations for the mountain huts are mandatory due to Covid-19.

Links
・Mountain huts on the Yoshida Trail (in Japanese)
・Mountain huts on the Subashiri Trail (in Japanese)
・Mountain huts on the Gotemba Trail (in Japanese)
・Mountain huts on the Fujinomiya Trail (partially in English)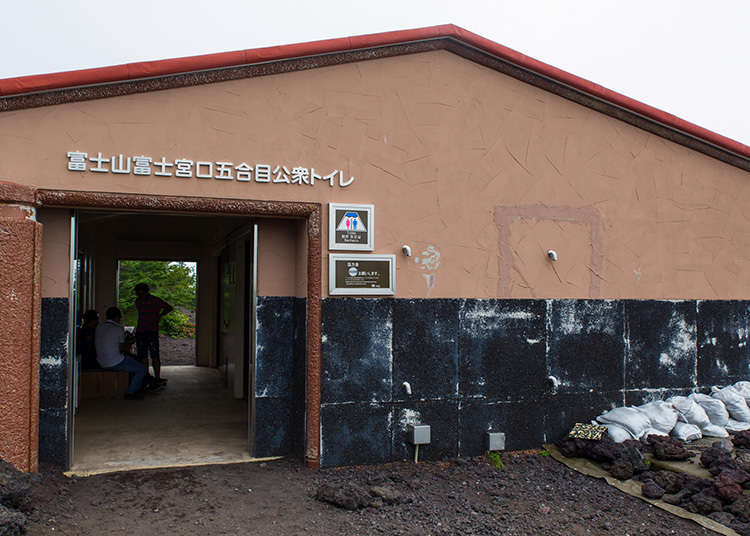 Before starting your ascent, don't forget to bring several 100 yen coins with you. Restrooms on Mt. Fuji are not free and cost between 100 and 300 yen. Also note that hand sanitizer and disinfecting hands is an essential measure against Covid-19.

Most work on the honor system with a few having an attendant nearby. If you are climbing during the off-season, you are required to bring your own portable toilet.
Keeping Mt. Fuji Clean for Future Generations
In order to preserve the beauty of Mt. Fuji, it is mandatory that all visitors carry their trash with them home for disposal. In 2022, visitors are requested to take all their trash home by putting it in a sealed bag.

Make sure to bring a bag where you can toss your garbage safely in your backpack. By doing this, we can all do our part to keep Mt. Fuji clean.
2022 Mount Fuji Climbing Etiquette: Appropriate Manners When Climbing During Covid-19
(Image courtesy of the Council for the Promotion of the Proper Use of Mt. Fuji)
If you are feeling unwell, please prioritize your health and refrain from climbing the mountain. Also, it's best to climb in small groups, ideally with the people you live with.

In addition to this, you should check for updates on the mountain including when it's scheduled to be the most crowded.

Please plan your climb with such safety measures in mind, and do not attempt to go up the mountain without proper breaks or precautions.

Lastly, your climb up Mount Fuji should be reasonable and fun while practicing social distancing and countermeasures against Covid-19.

The Council for the Promotion of the Proper Use of Mt. Fuji recommends the following while climbing this year:

Before Climbing
1. Please refrain from climbing the mountain if you have a fever or associated symptoms.
2. Please travel in small groups, ideally with people you live with.
3. Avoid crowded days and times.
4. Reserve a lodge in advance.
5. Please refrain from trying to climb the mountain at night with the purpose of watching the sunrise without staying or resting at a lodge.
6. Please check for updates while planning a safe and reasonable climb.
7. Prepare sanitizer, masks, and other items that act as countermeasures against Covid-19.

During the Climb
8. Please social distance from everyone other than those in your group.
9. When necessary, cover your nose and mouth with a mask or towel.
10. Please adjust your ascent and descent times when the trails are crowded.
11. Please move at your own pace, and try to avoid heavy breathing.
12. Please refrain from sharing stakes, rope, or any other items from people outside of your group.
13. Please make sure to sanitize your hands after stopping by restrooms or shops.
14. Please take all your trash home by putting it in a sealed bag.
15. If at any point you start to feel unwell, please stop your climb and start your descent.
Please refer to the Mount Fuji congestion calendar above to avoid days when the mountain is scheduled to be crowded. (Adapted from information published by the Council for the Promotion of the Proper Use of Mt. Fuji)
Traveling by train or bus, the nearest stations differ between each of the four climbing trails. Below are directions for the Yoshida Route when traveling from Tokyo.

・By Direct Bus from Tokyo:
Take a direct bus from the Shinjuku Expressway Bus Terminal to the 5th Station (approx. 1 1/2 hours).
-One-way fare: 2950 yen

・By Train:
JR Tokyo Station → JR Shinjuku Station → JR Takao Station → JR Otsuki Station → Fujikyu Line Mt. Fuji Station (approx. 3 hours and 4 minutes).
-One-way fare: 2199 yen

Then, from Mt. Fuji Station, take the Fujikyu Bus 'Fuji Subaru Line 5th Station' (approx. 1 hour).
-One-way fare: 1570 yen

Pro Tip: You can book an all-inclusive sightseeing bus tour to Mt. Fuji here.
Final Notes on Climbing Mt. Fuji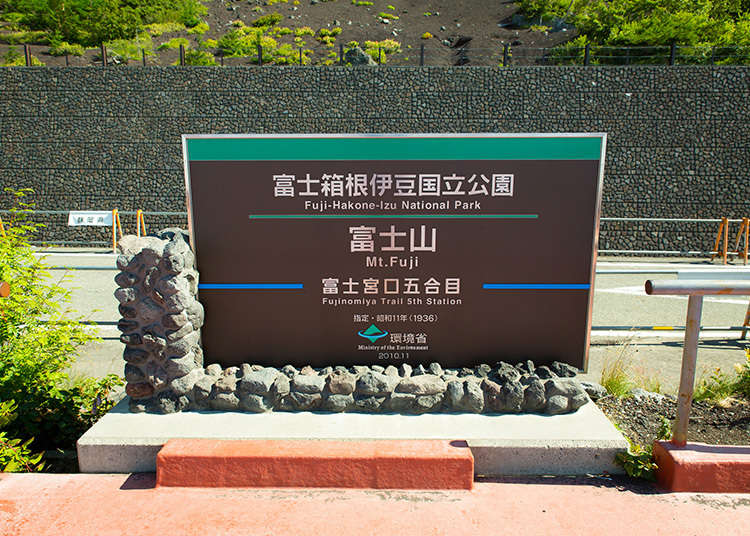 Remember to be courteous to other hikers and that people ascending take precedence over people descending. When passing by mountain huts at night, try to keep your voices down for those taking time to rest.

Finally, the entirety of Mt. Fuji is a national park, so taking home stones or plants is prohibited. Keep these in mind while hiking and you will definitely have a great and memorable experience. Happy hiking!
Address

Fujiyoshida-shi, Yamanashi, 403-0000
View Map

Nearest Station

Gotemba Station (JR Gotemba Line)

Related Articles on Mount Fuji
*This information is from the time of this article's publication.
*Prices and options mentioned are subject to change.
*Unless stated otherwise, all prices include tax.
Search for International flights