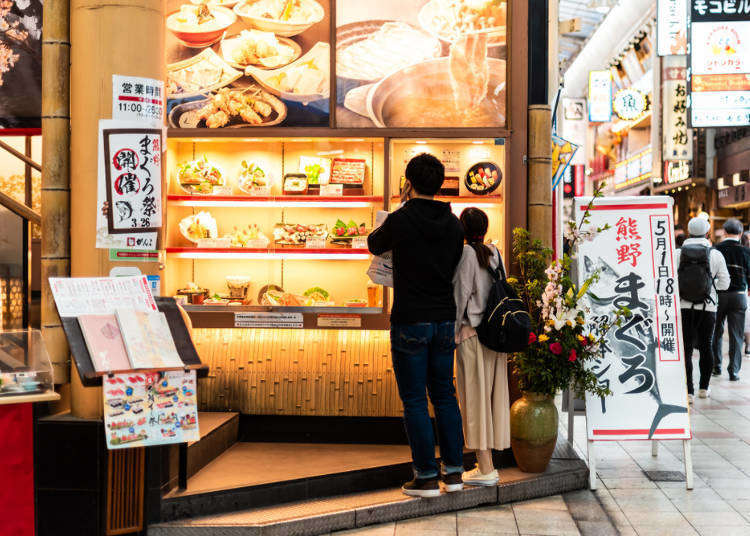 One of the highlights of a vacation to Osaka is undoubtedly the affordable and delicious food! From okonomiyaki pancakes to Takoyaki, there is lots of tasty food in Osaka. Amidst fierce competition, we singled out the top areas and Umeda restaurants where you can get delicious food at great prices!!

beeboys / Shutterstock.com
What kind of place is Umeda?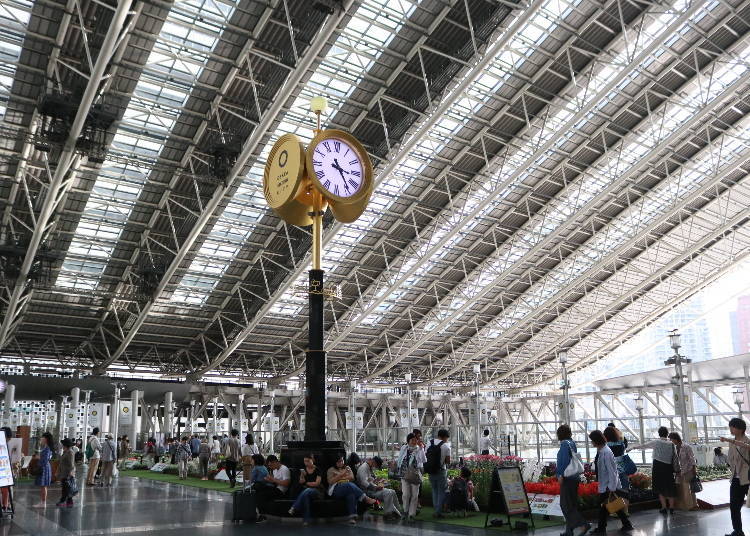 The Toki-no-Hiroba Plaza in JR Osaka station
Umeda is one of the districts in Osaka city's Kita ward, and mainly refers to the area around JR Osaka station, Osaka Metro Umeda Station, Higashi-Umeda Station, and Nishi-Umeda Station, and Hankyu-Hanshin Osaka-Umeda Station. It's the largest and busiest street in the west of Japan, with department stores, shopping malls, hotels, and other complexes all lined up side by side. As there are many offices in the area, everyone from businessmen, to the young and old regardless of gender, come shopping and playing here day in and day out. Besides the towering skyscrapers, there are underground streets and other places where you can enjoy some retail therapy or delicious cuisine.
Plenty of great Umeda restaurants!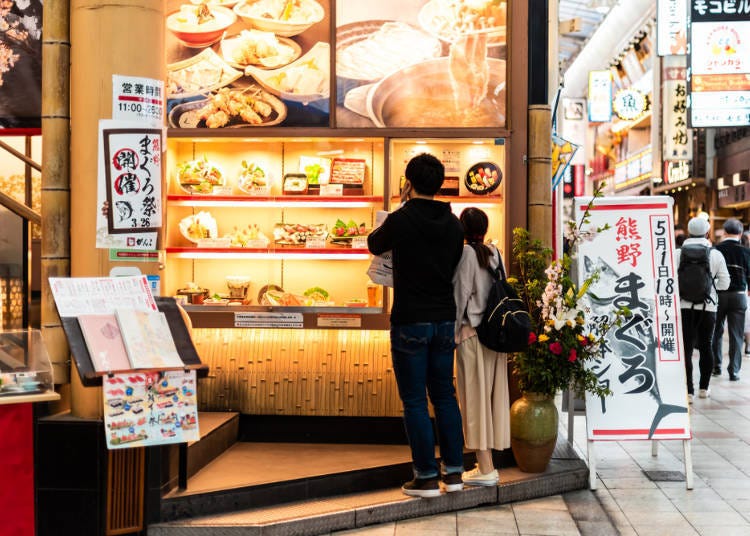 Kristi Blokhin / Shutterstock.com
Even within Japan, the Umeda area is one of the livelier streets in Japan with many offices and businesses. Because of that, there are many eateries and restaurants around to fit any occasion. From reasonably priced and filling lunches that can satisfy famished salarymen, to fancy cafés perfect for a tea break while shopping, and even teppanyaki hotplate marbled wagyu, such as Kobe beef, to choose from, you can find anything to fit your current mood.
Umeda Restaurants: Underground streets and around the station
The Umeda area has many underground streets and malls, such as Whity Umeda, and there are many gourmet spots around the station too. We'll introduce several spots and their unique points, along with the delicious foods you can enjoy.
Whity Umeda: Perfect for lunch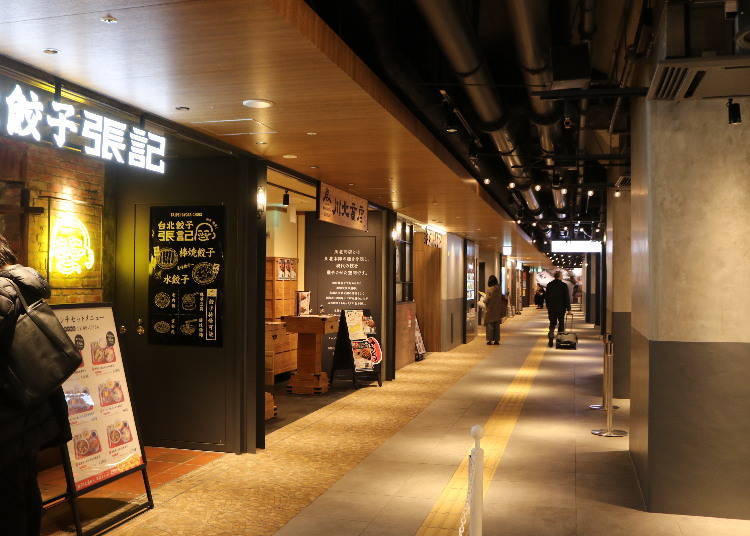 One of the major underground malls of the Umeda area, Whity Umeda welcomes around 400,000 visitors daily. From the Osaka Metro, you can easily access the Hankyu Railway and Hanshin Railway through here, resulting in heavy footfall daily.

In Whity Umeda, you can enjoy a large variety of fulfilling lunches. In December 2019, the food hall was renewed after 50 years, and many representative foods of Japan, from belt sushi and extra-large sized pork steaks, known as "tonteki", to ramen, are waiting for to be enjoyed.

The area is, of course, great for dinner as well, with bars offering a selection of Japanese style dishes, to izakaya restaurants where you can enjoy some great alcohol.
Address

Umeda, Komatsubaracho, Kita-ku, Osaka-shi, Osaka underground shopping center, 530-0018
View Map

Nearest Station

Higashiumeda Station (Tanimachi Line)


Phone Number

06-6312-5511
Hankyu Sanbangai: A food hall with a rich variety of foods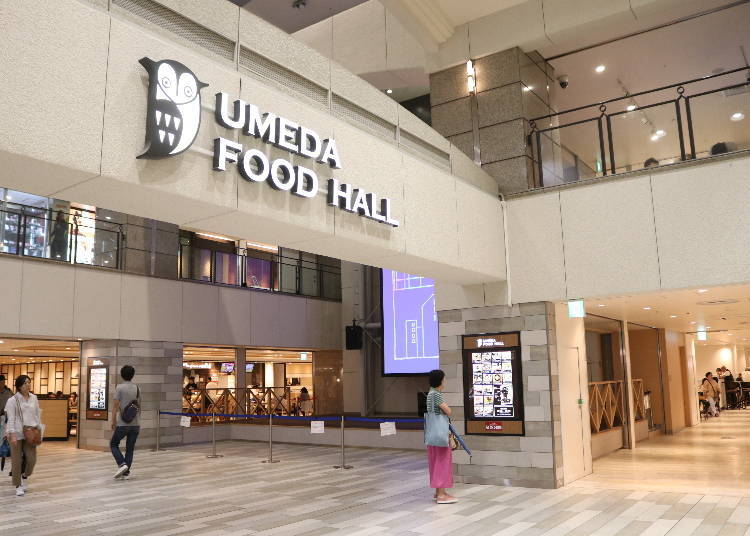 Hankyu Sanbangai is a shopping mall connecting the north and south complexes of the Hankyu Railway's Osaka-Umeda Station. Since you're already here, don't miss out on the humongous Umeda Food Hall on the second basement floor of the north complex.

A bustling food hall with 20 shops, both lunch and dinner are available. Be it hearty stamina meals with snaking queues, chewy udon, tempura and oden, and even New York-style delis, there's a large variety of shops lined up.

Once you've secured your seats, make your way to the shop counters. After ordering, you'll be given a buzzer, which will ring once your food is ready for collection. Do remember your manners, and return your trays and crockery to each shop's return station!
Address

1-1-3, Shibata, Kita-ku, Osaka-shi, Osaka, 530-0012
View Map

Nearest Station

Osaka-umeda Station (Hankyu-kyoto Main Line / Hankyu-kobe Main Line / Hankyu-takarazuka Main Line)


Phone Number

06-6371-3303
Shin-Umeda Shokudogai: Head here for some serious fun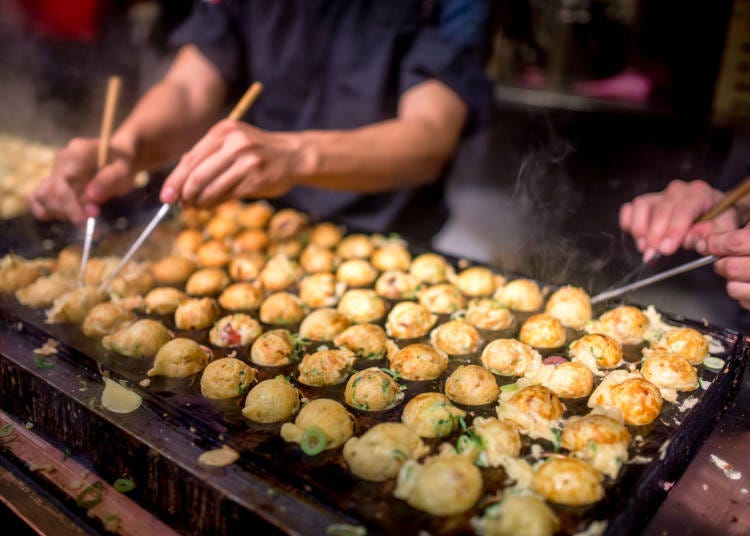 Beneath the viaduct of JR Osaka Station is Shin-Umeda Shokudogai, an area lined with numerous small shops and eateries. The narrow streets are tightly packed with stand-and-eat style restaurants, and is especially lively in the evenings, being a popular hangout with businessmen on their way home after a hard day's work.

Starting from signature foods of Osaka, including okonomiyaki and Takoyaki, there are shops offering a wide variety of food, including ramen, yakitori, or grilled chicken on sticks, udon, izakayas, and a variety of Asian delights as well. Especially for people who would like to experience the culture of izakayas and mix around with the locals, this is the place for you!
新梅田食道街

Address

9-26, Kakuda-cho, Kita-ku, Osaka-shi, Osaka-fu, 530-0017

Phone Number

06-6372-0313

Business hours: Varies by shop
Irregular rest days
Osaka restaurant spot: Malls and complexes
One trait of the Umeda area is the large number of business establishments and malls gathered around Osaka Station. You can enjoy both shopping and gourmet food here, making it a great place to stop by after shopping.
Grand Front Osaka: Enjoy a fancy meal here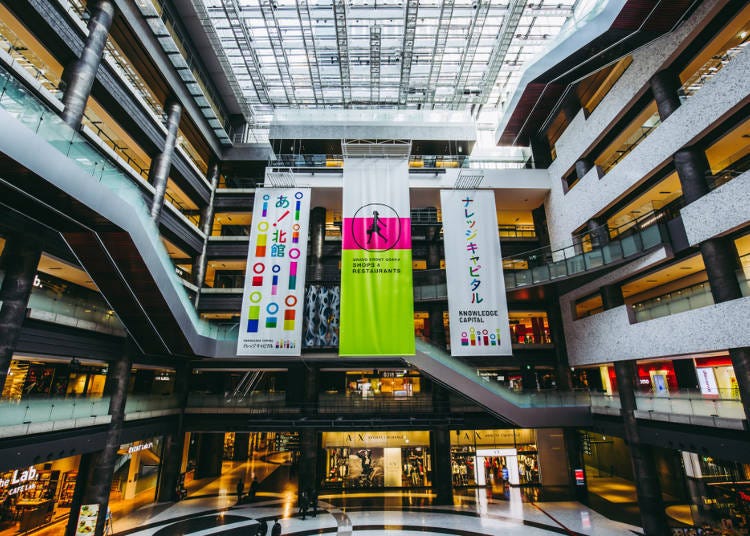 beeboys / Shutterstock.com
To the south of JR Osaka Station, Grand Front Osaka is a shopping complex with a north and south building. Besides shopping, there are restaurants, cafés, hotels, a theatre, and even a high-rise mansion, and many people pass through it daily.

The lineup of eateries is broad, ranging from reasonably priced fare to fancier offerings. Amongst these shops, the basement first-floor area has the most substantial traffic. It has many shops and fashionable cafes perfect for everyday life all lined up, from curry shops and cafés to reasonably priced sushi and Japanese style set meals. Many of these shops offer takeout too, and we recommend getting takeout to enjoy in the comfort of your own hotel room.
Address

4-20 Ofukacho, Kita Ward, Osaka 530-0011, 530-0011
View Map

Nearest Station

Osaka-umeda Station (Hankyu-kyoto Main Line / Hankyu-kobe Main Line / Hankyu-takarazuka Main Line)


Phone Number

06-6372-6300
LUCUA Osaka: Always lively and bustling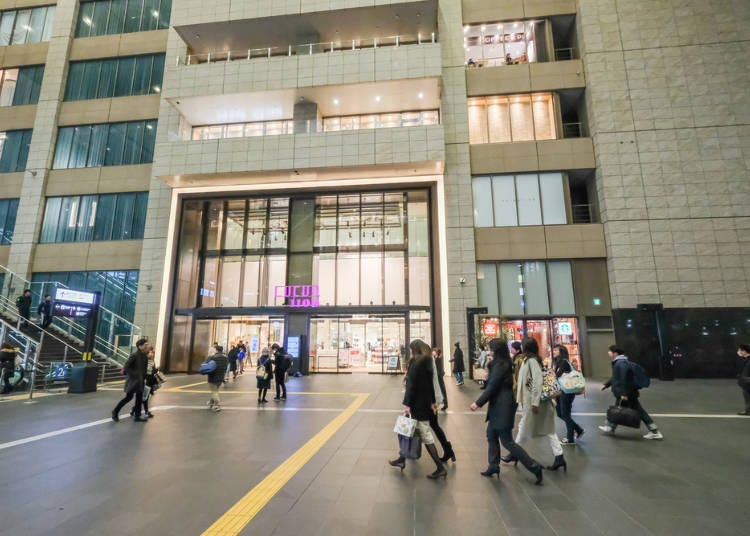 psgxxx / Shutterstock.com
The west building, LUCUA 1100, and the east building, LUCUA, combine to make up the largest train station shopping mall in Japan. It's easily accessible from the central concourse on the first-floor fare gate of JR Osaka Station.

Here, we recommend the food zone in the basement second floor, Paruchika. There are many specialty shops lined up, and during lunchtime, it's crowded with business people working nearby, along with sightseers.

From izakayas and yakitori houses where you can enjoy a few drinks to specialty ramen shops, from okonomiyaki and set meal eateries to juicy grilled meat restaurants, there are many great shops lined up.
Address

3-1-3, Umeda, Kita-ku, Osaka-shi, Osaka, 530-8558
View Map

Nearest Station

Osaka Station (JR Kansai Main Line / JR Tokaido Line / JR Kyoto Line / JR Osaka Loop Line / JR Kobe Line / JR Takarazuka Line / JR Osaka East Line)


Phone Number

06-6151-1111
LINKS UMEDA: Where you go for a quick drink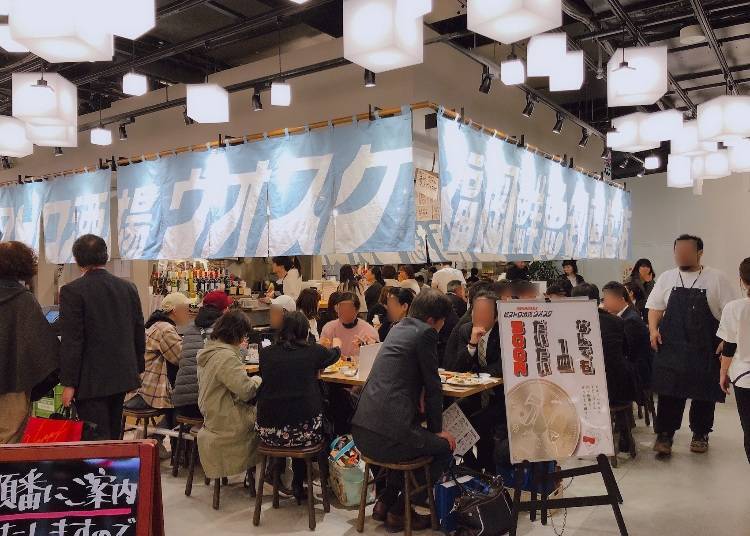 Opened in November 2019, LINKS UMEDA is part of the Yodobashi Umeda Tower that houses Yodobashi Camera and occupies the basement first floor to the eighth floor. From drug stores to supermarkets, it's a place where you can shop for everyday goods, and the "Oishii Mono Yokocho" in the basement first floor is perfect for a quick drink.

From tempura to motsuyaki, or grilled intestines, from udon to Chinese, be it Takoyaki, grilled xiaolongbao, or Spanish bars, many shops allow you to enjoy your food with some alcohol. With such reasonable prices for food and drink, it gets especially crowded with business people in the evenings!
Recommended Restaurants Nearby
Address

LINKS UMEDA8F,1-1, Ofukacho, Kita-ku, Osaka-shi, Osaka, 530-0011
View Map

Nearest Station

Osaka Station (JR Kansai Main Line / JR Tokaido Line / JR Kyoto Line / JR Osaka Loop Line / JR Kobe Line / JR Takarazuka Line / JR Osaka East Line)


Phone Number

06-6147-8325
LINKS UMEDA

Address

1-1 Ofukacho, Kita-ku, Osaka, 530-0011

Hours:
B2F-5F: Yodobashi Camera (9:30 a.m. to 10:00 p.m.)
B1F: LINKS MARCHE Eat&Walk (9:30 a.m. to 8:00p.m.), Oishimono Yokocho (11:00 a.m. to 12:00 a.m., last order at 11:30 p.m.)
1F-7F: 10:00 a.m. to 9:00 p.m.
8F: 11:00 a.m. to 11:00 p.m., last order at 10:30 p.m.
2F Starbucks (in front of the Lausanne Terrace): 7:00 a.m. to 11:00 p.m.
*Some shops may differ from the above opening hours
Open year round
Umeda Restaurants are at the Center of Osaka Dining
Besides the area around the stations, you can enjoy an atmosphere and gourmet foods different from that of a bustling city. Do be sure to check it out!
Nakazakichō: A retro street lined with fashionable cafés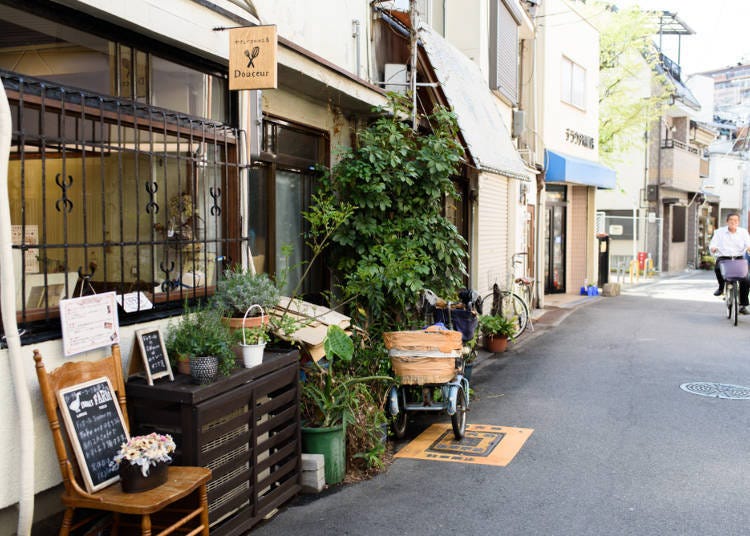 unselfishly / Shutterstock.com
About 10 minutes by foot away from the Osaka Umeda area, is a retro street lined with fashionable cafés centered around the Osaka Metro Nakazakichō Station. The atmosphere conjures up images of Japan from bygone times as you stroll down the streets while choosing a café for a small refresher.

There are many specialty cafés and restaurants around, and everywhere you turn, there is a trendy and photogenic spot. This is one place that's highly recommended for those who want to take many photos in Japan.
Kita-Shinchi: A place to savor uniquely Japanese gourmet food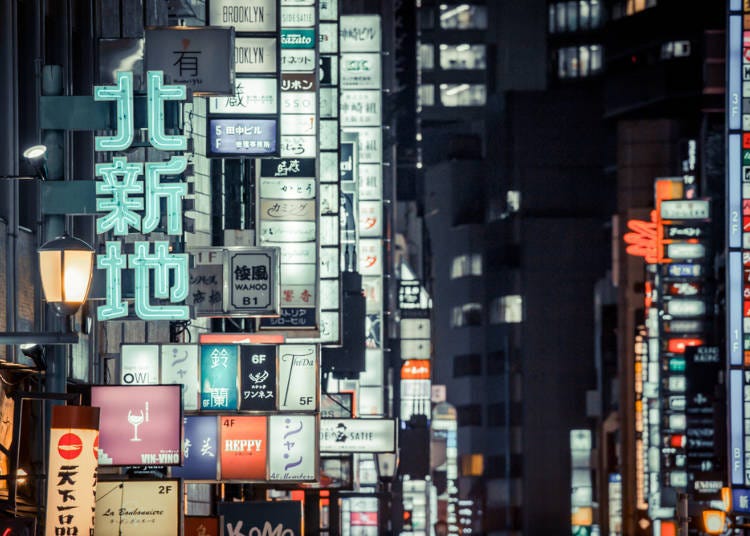 beeboys / Shutterstock.com
Kita-Shinchi is a watering hole relatively near to the Osaka and Umeda area, with many high-class clubs, sushi and Japanese style-restaurants, and teppanyaki grill restaurants, amongst other top-notch restaurants.

In one of the alleys is a small shop that has earned itself a Michelin star too, and it's a place where gourmands will be more than satisfied with just taking a stroll down.
Other recommended Umeda restaurants
Satisfy yourself with specialty gourmet in Umeda restaurants!
Besides the areas we've introduced this time, there are lunch and dinners available at department stores too, and there's the Hankyu Higashidori Shopping Street, with izakayas popular amongst the locals, besides other gourmet offerings to enjoy.

You won't have issues finding a feast at the Umeda area! Do take our recommendations into consideration as you find a shop that suits your taste.

Text by WestPlan
*This information is from the time of this article's publication.
*Prices and options mentioned are subject to change.
*Unless stated otherwise, all prices include tax.
Limited time offer: 10% discount coupons available now!