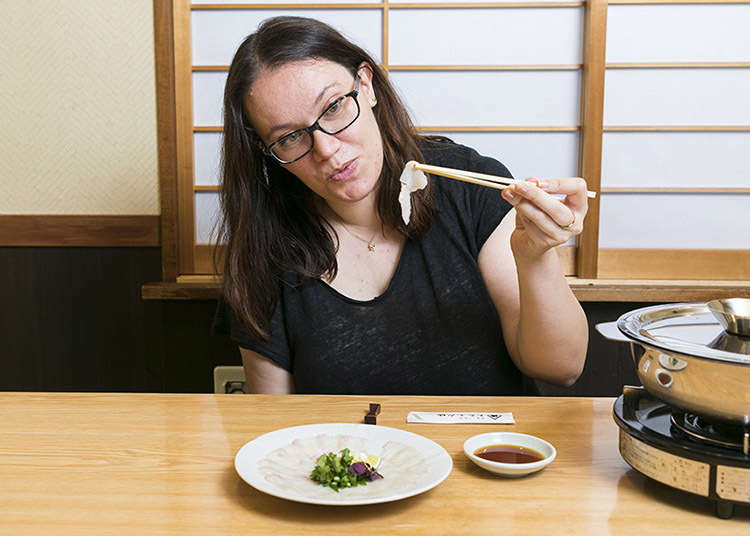 Tecchiri is a specialty dish of Osaka, a hot-pot of boiled fugu (blowfish) in kombu broth, flavored with ponzu vinegar, which is a mixture of soy sauce and citrus juice.

This is such a popular dish in Osaka that they have the highest fugu consumption in all of Japan! However, many tourists may be afraid to try this dish, based on the common belief that fugu is poisonous and dangerous to eat.

Here to dispel that misconception is Mai, a woman from Spain who has come to try fugu for the first time and document her experience at the popular fugu restaurant, Torafugujo, located in Osaka.
Pumped up for the challenge and ready to try her first fugu dish!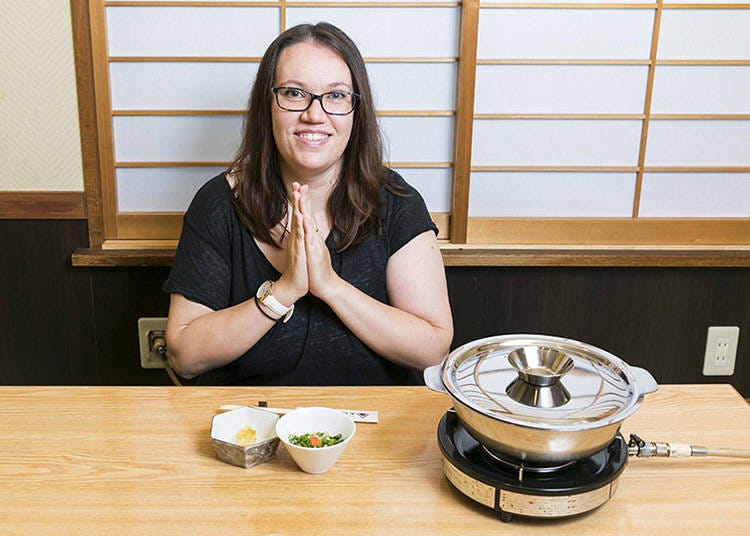 Mai was born in Spain, but is here now in Osaka to take on the challenge of eating blowfish. She became interested in Japan after watching anime with her brother in Spain, and decided to come to study the language. However, despite having already eaten all kinds of Japanese foods, she was a little reluctant to try fugu.

And understandably so, considering that in Spain, eating blowfish is thought to be so dangerous, it could even result in death! However, after finally being persuaded that the fugu in Japan is safe to eat, she accepted the challenge to try it for the first time.
Rest assured, all fugu dishes are prepared by a licensed chef!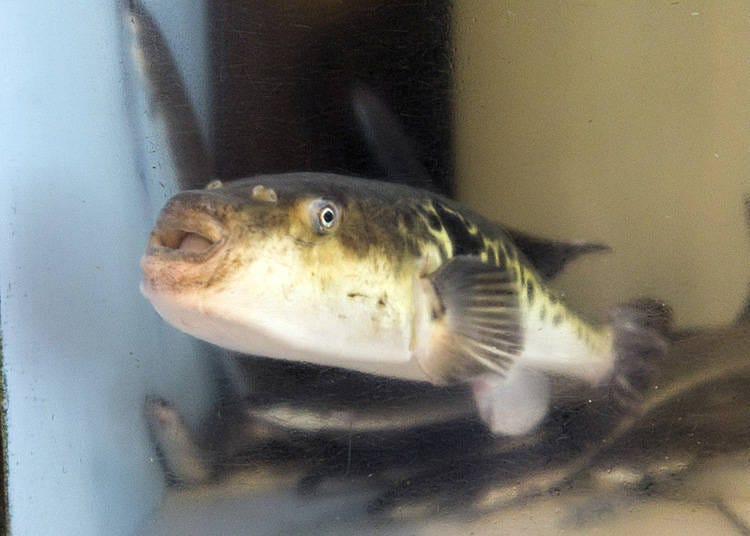 Before we get to the challenge, let's explain why the blowfish here is safe to eat. It is true that if you consume the poisonous parts of the fish, such as the internal organs, liver, and ovaries, it can result in numbness of the lips and tongue, paralysis, and in a worst-case scenario, death.

However, there is no such danger if you eat the non-poisonous parts of the fish!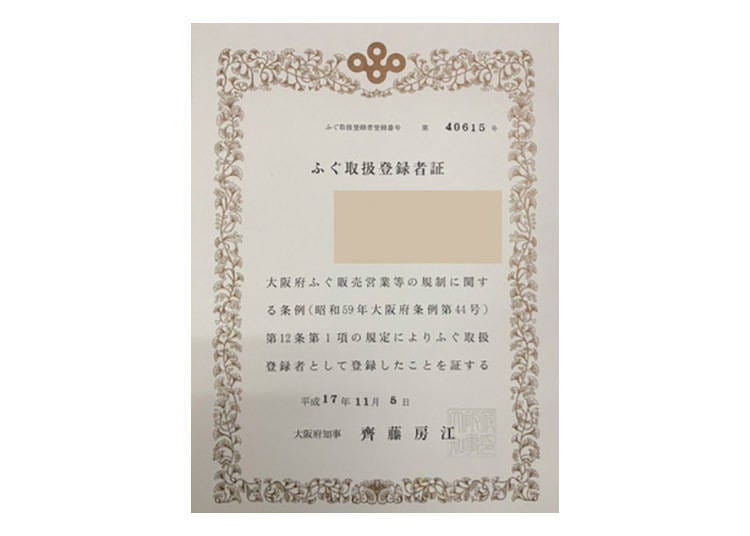 Certificate required to handle and cook blowfish in Japan
In Japan, there are national institutions that determine which parts of the blowfish are safe for consumption, and which are not. It is required to obtain a special license in order to prepare blowfish. So as long as you visit a specialty blowfish restaurant operated by licensed chefs, you can rest assured that your meal will be carefully prepared by licensed professionals!
Tessa & Tecchiri Fugu Course Meals!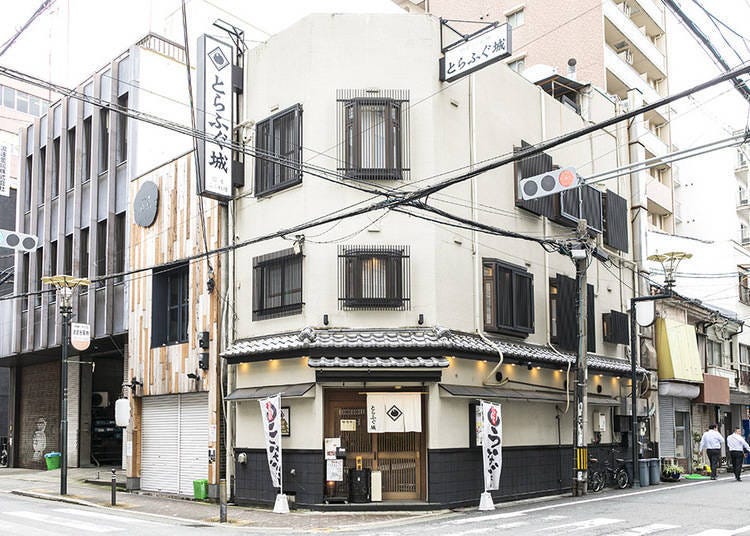 Today we visited Torafugujo in Shinsaibashi, Osaka. They serve not only blowfish, but eel and crab as well, available as individual menu items or full-course meals.

The restaurant has three floors. On the first there are table seats, the second has private rooms, and the third has a large hall. Most customers opt for a private room, which is recommended for distancing from others as a precaution against coronavirus.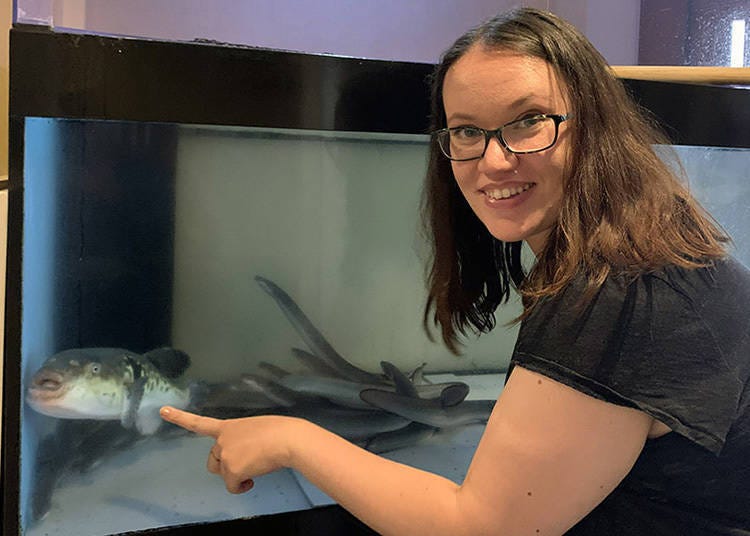 Here's a photo of Mai, surprised to see the fugu blowfish swimming in the tank on the first floor!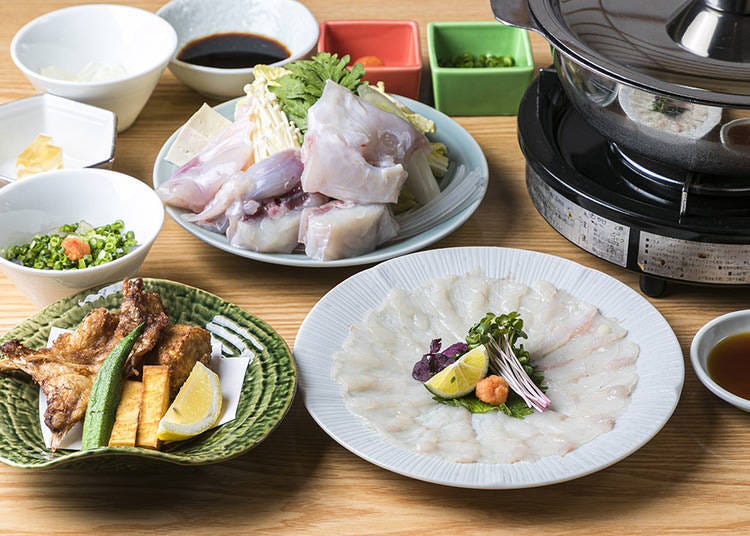 Mai agreed to challenge the most popular course, the Honmaru Course (6,270 yen, tax included, one person serving). Menus are available in English, Chinese, and Korean.

The main course includes Yubiki, which is fugu skin boiled in water and ponzu sauce, Nikogori, in which collagen is extracted from the boiled fugu skin, Tessa, which is thinly-sliced fugu, and Tecchiri, a hot-pot of fugu and vegetables. The entire course features a total of 8 dishes, including Zosui, a rice dish made with egg and the leftover broth of the Tecchiri.
Letting the fish age results in a more concentrated flavor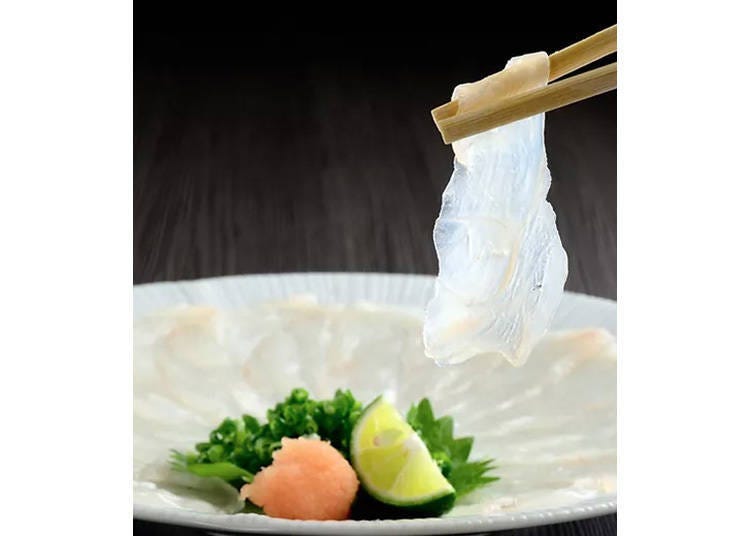 First, Mai tried out the Tessa. The body of the fish is pretty firm, so it must be sliced very thinly to be able to eat it raw.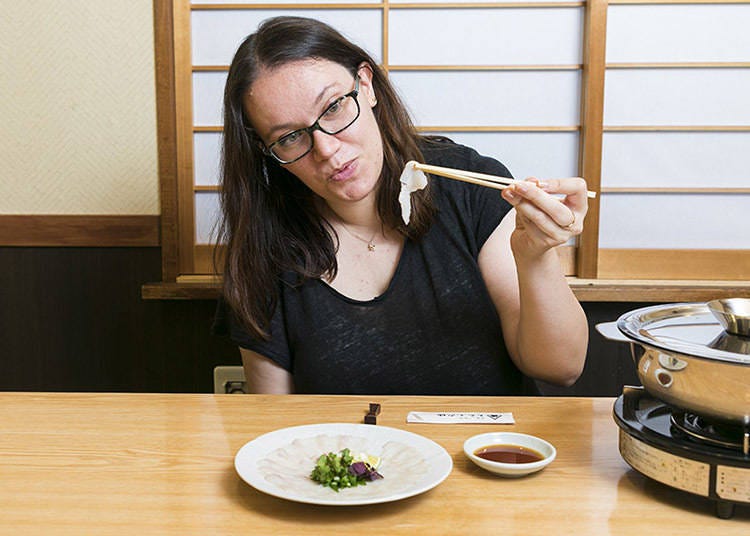 Mai dips a piece in a bit of ponzu, gives it a strange look, and at last, takes her first bite. Her verdict? "It's delicious!" Torafugujo lets the fish age for a few days after preparation, which is said to result in a richer, more concentrated flavor. "I'm surprised at how delicious and chewy it is," Mai explains.
"Just like fried chicken!" Mai says in approval.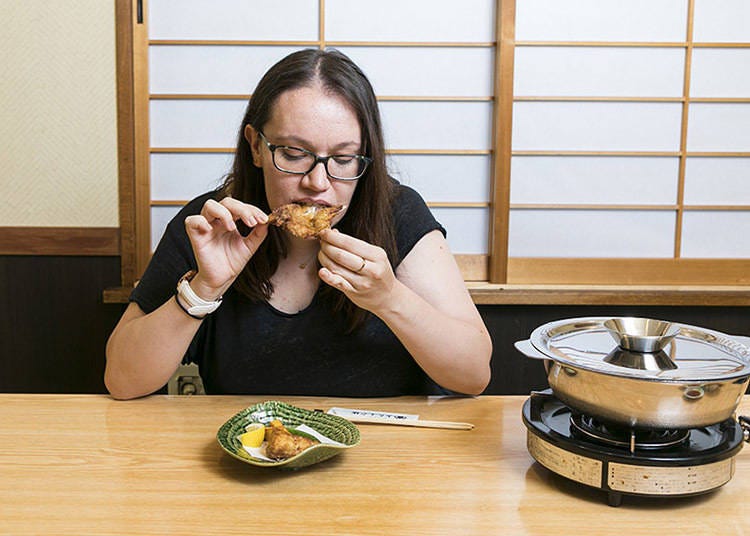 Next up is the fried fugu. The blowfish meat is chopped, marinated in a soy sauce-based sauce, and fried to perfection. It is even cooked with the bone inside, which according to Mai, makes it feel just like eating fried chicken! "I think this one would be pretty popular with tourists," she says.
Next Challenge: Fugu Sake and Fin Sake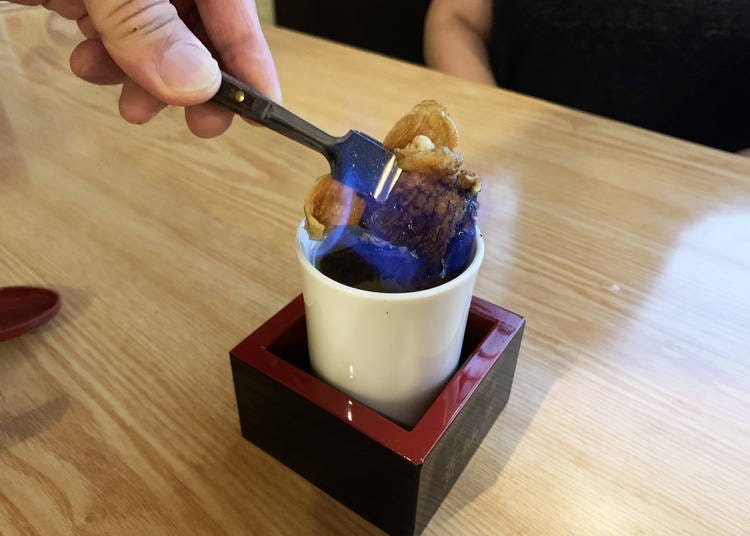 The next challenge was the Hire-sake (680 yen plus tax), a cup of heated sake with roasted fugu fin inside. Roasting makes the aroma of the fugu fin stand out, adding that aroma and its sweetness to the sake. The way to drink it is also unique. Light a match and hold it over the sake to burn off some of the vaporized alcohol, then cover it and let it steam. This is said to further enhance the taste of the fin.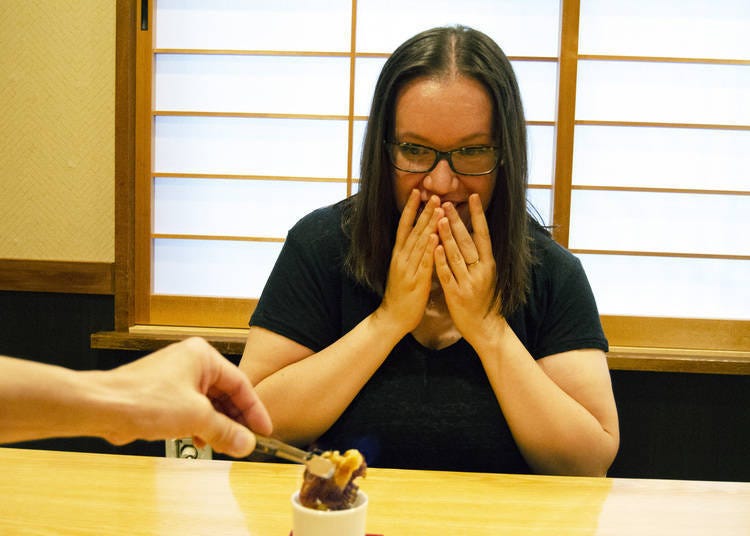 "Crazy!" Mai exclaims in excitement as she watches the process. She takes her first sip, and... "Wow! I've never tasted sake like this!"

Though she admits she's never really been one for drinking, Mai is fully impressed. "I was surprised by how delicious it smelled! It also wasn't as strong as I expected, so it was easy to drink."
Soft and fluffy fugu meat!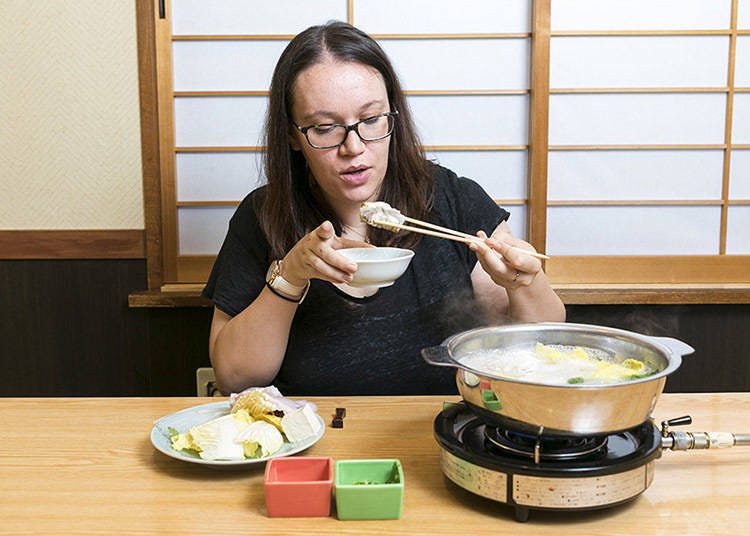 On to the main dish: the tecchiri. The kombu is boiled in the pot, and then fish and vegetables are added. After enjoying the fried fugu dish, Mai has completely eliminated her resistance to try it! She lets it cool a bit, adds the ponzu, and takes her first bite. The result? "Delicious!"

At Torafugujo, there are two types of fugu that you can eat and compare: freshly prepared and aged. "The fresh one is more firm and chewy. The aged one isn't as hard, and is richer in taste." Mai seems to approve of both!
The delicious flavor of the fugu blowfish, soaked up by the rice!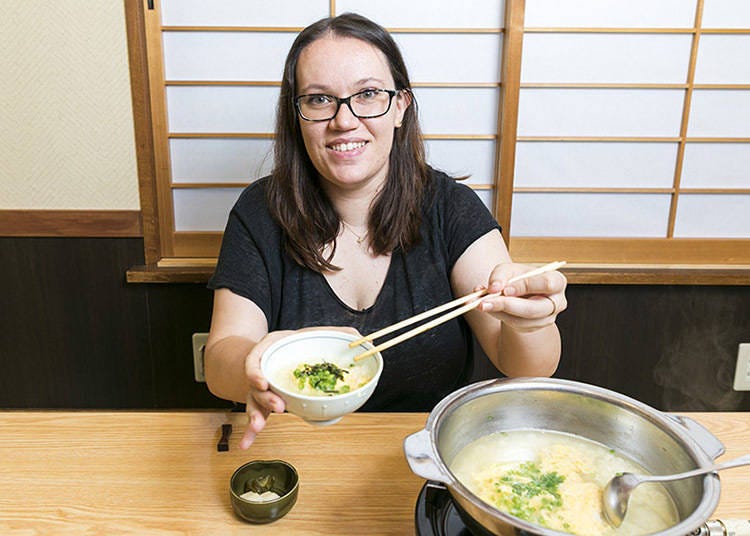 Bringing the course to an end is the Zosui rice dish. A Torafugujo staff member will come and add rice and eggs into the leftover broth in the pot for you. "It looks like risotto, but is delicious and easier to eat. The rice has completely soaked up the taste of the blowfish," says Mai. With that, she thoroughly cleans out the pot, and Mai's first fugu experience has come to a close.
Osaka is full of places where you can try fugu!
Fugu is often avoided in other countries. However, Mai faced that challenge, and enjoyed her dish of fugu for the first time! "Many people in Spain believe that you can die from eating fugu, but I think they're missing out!" Mai says. "It really is delicious! I really hope my brother comes to Japan soon so I can show him how to eat it!"

There are plenty of shops in Osaka where you can enjoy blowfish, from cheaper shops to high-end restaurants. Torafugujo even has a sister shop, 'Fugu, Kani, Unagi Fugu-no-Shiro.' Next time you're in Osaka, step up to the challenge, and try some blowfish for yourself!
国産ふぐ料理 とらふぐ城

Address

1-4-24, Higashishinsaibashi, Chuo-ku, Osaka-shi, Osaka, 542-0083

Nearest Station

Nagahoribashi Station (Sakaisuji Line / Nagahoritsurumiryokuchi Line)


Phone Number

080-4828-2915
Text by: Efeel
*This information is from the time of this article's publication.
*Prices and options mentioned are subject to change.
*Unless stated otherwise, all prices include tax.