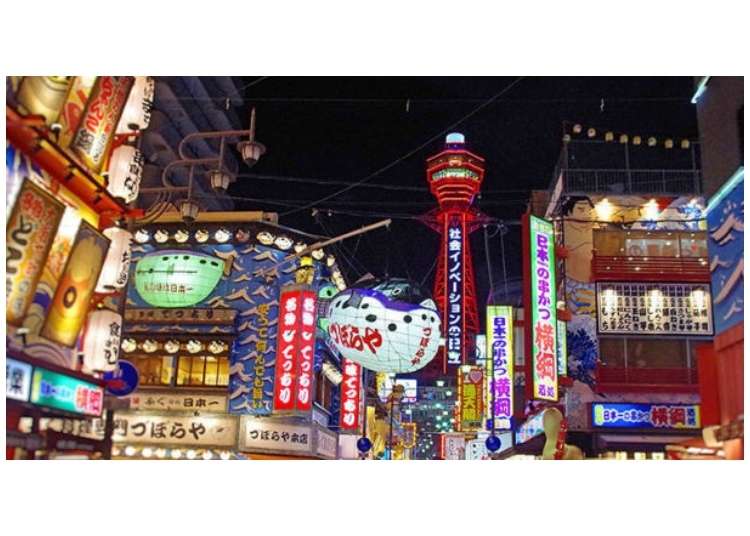 Tsutenkaku Tower, an Osakan symbol. Located in the middle of Shinsekai, an area famous for its array of culinary delights, it's a popular spot filled with Osaka-ness. You can get a good view of the whole city from its top floor, and on clear days, you can see all the way out to Awaji Island. There's plenty of fun to be had inside, too – not to mention plenty to buy.

Tsutenkaku Tower is definitely a spot you'll want to visit, and we'll introduce you to it in this article.
Tsutenkaku Tower: Prominent symbol of flashy Shinsekai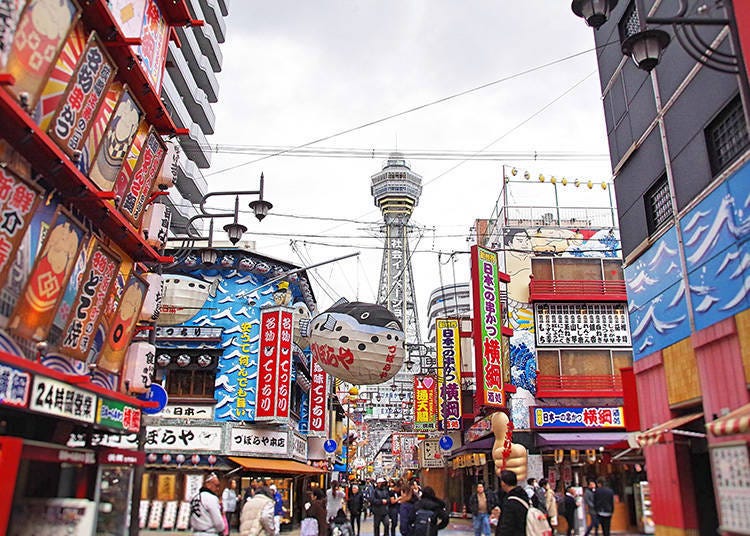 Whenever you talk about the scenery of Osaka, Tsutenkaku Tower always comes up. The tower was first built to signify the amusement park Luna Park, making the current tower its second incarnation. Furthermore, the flashy commercial town around it, Shinsekai, is just as famous a tourist spot as the tower itself.

So deep is the atmosphere that it usually gets a cry of surprise out of first-time visitors. When night falls and the tower and shops light up, it looks even more glamorous.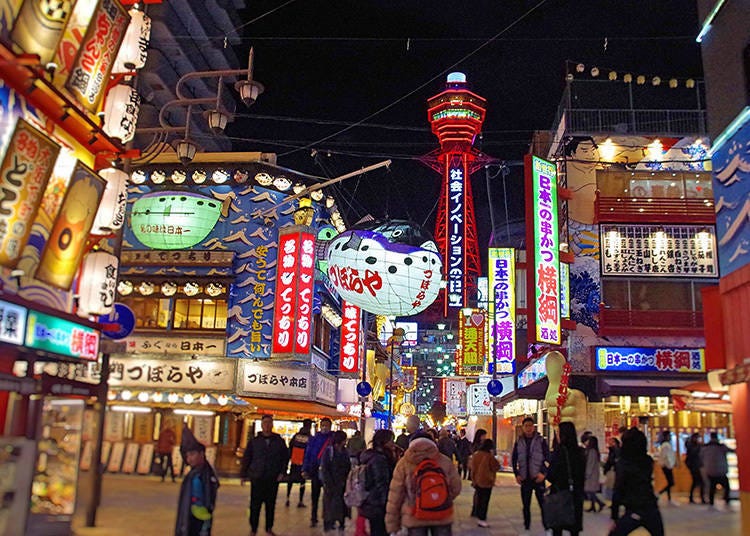 First, head for the Golden Lookout at the top floor...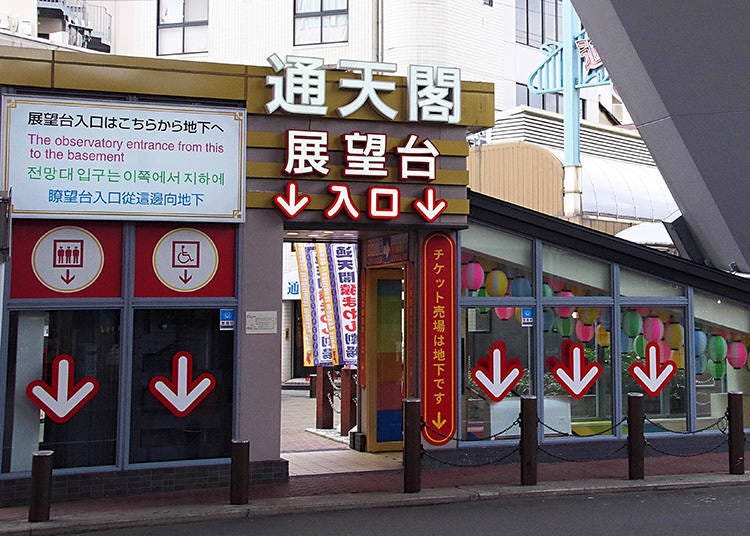 Tsutenkaku Tower has one basement floor and five stories, standing at a total of 108 meters. The entrance is underground, accompanied by souvenir shops and the Sarumawashi Theater.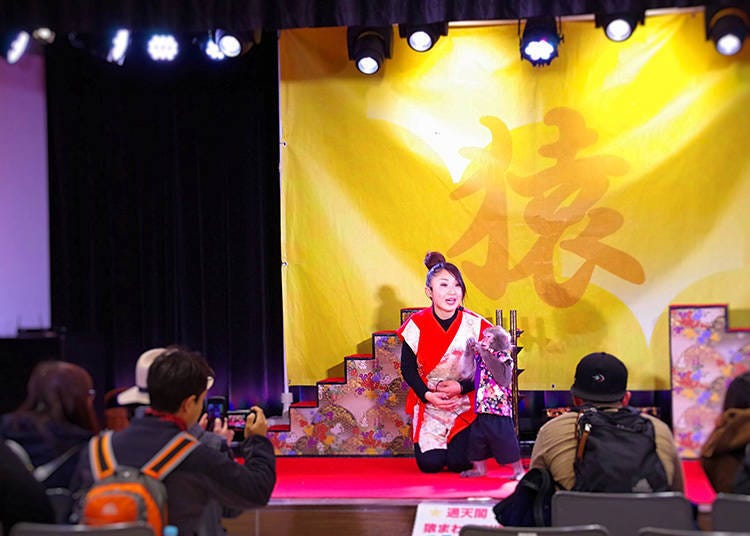 The Sarumawashi Theater is free to watch!
When you buy your lookout ticket and try to get to the elevator for the second floor...you'll find a line. There's only one elevator, so a line will form when it's crowded. It reaches its peak from 11AM to 2PM, so you might want to burn some time with eating or shopping. When you change elevators on the second floor, head for the lookout on the fifth floor. After we reach the top floor by elevator, let's explore each floor going downward.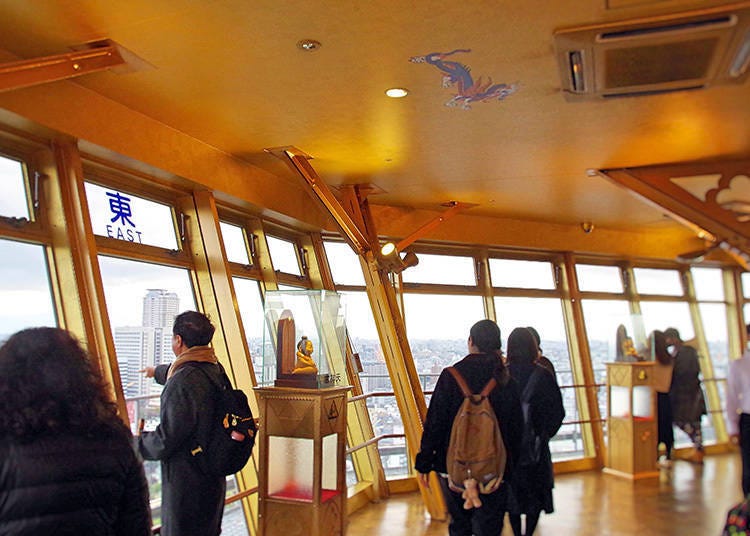 Usually, you want to look outside when you're in an observation tower, but Tsutenkaku Tower's insides are worth a look, too. The entire floor is sparkling gold, living up to its name "Golden Observation Platform"! Even the trash cans are gold-colored.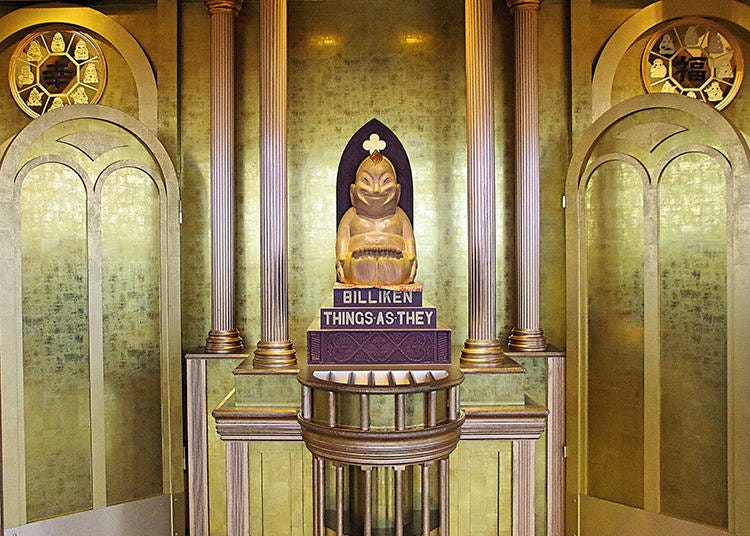 Beriken-san sits in the center of Tsutenkaku's famous spot. This little god will lend his ear to any of your wishes, be they for business success, passing a test, or good relationships. The trick to getting him to answer your prayers is to rub his feet.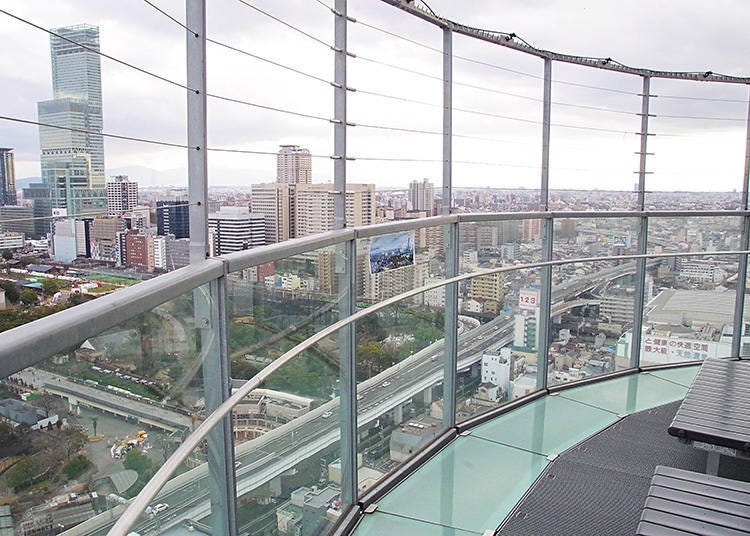 You can get a great view from the tower, but if you pay 500 yen, you can gain access to Tembo Paradise, an observation deck even higher up. From here, you can get a full view of Osaka with the wind at your face. If the weather permits, you can even see out to Awaji Island and the Akashi Kaikyo Bridge!
Tsutenkaku Tower has floors packed with Osaka's historical culture, too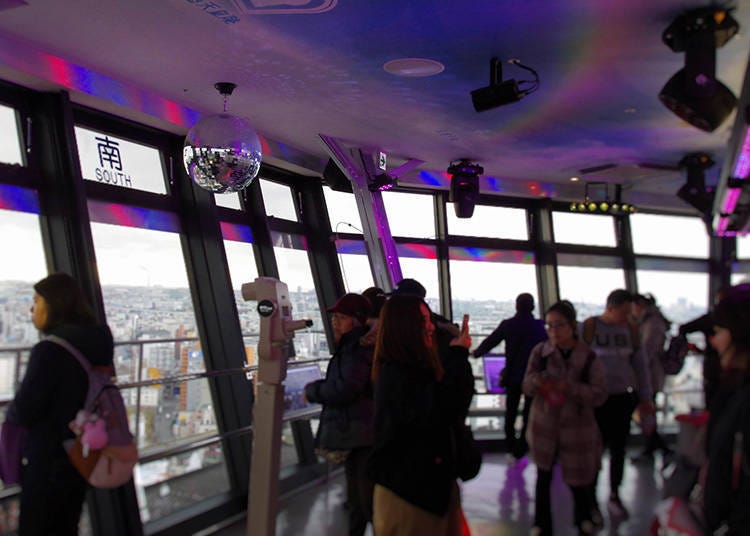 Leaving the fifth floor or roof, you'll come down to the Light Observational Platform down on the fourth floor. Mirror balls spin around in this room during the day, and at night, it gets lit up like a dance hall, feeling as lively as Osaka itself.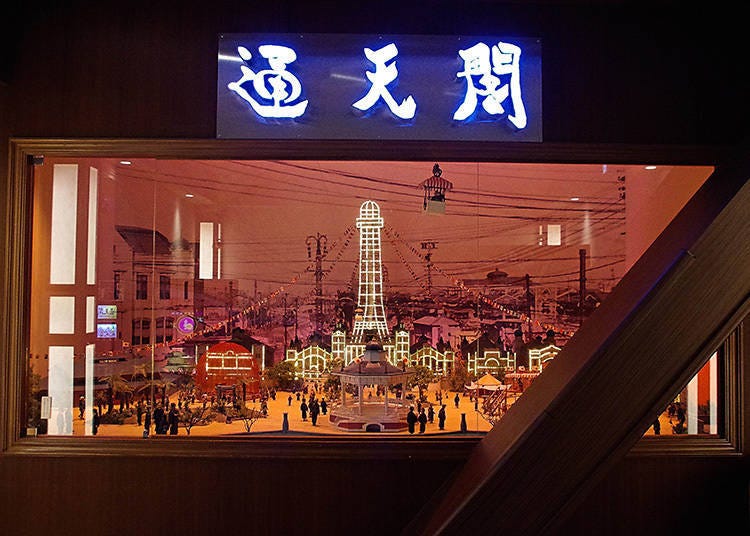 When you get down to the third floor, you'll find an exhibition room that expresses Tsutenkaku's history through film, photos, and dioramas. Tsutenkaku Tower is actually a historical landmark. If you have any interest in what Osaka looked like 100 years ago, check it out!
The food corner and souvenir corner are must-visits!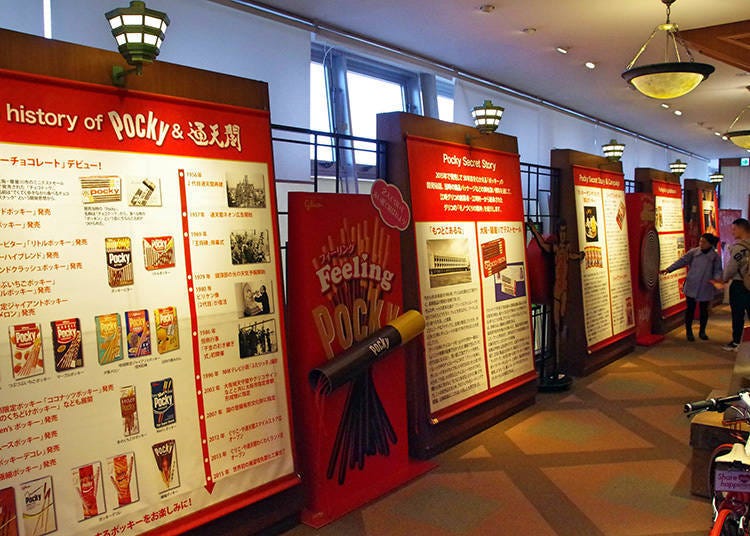 Tsukakuten is also a great place to do some shopping. Take Glico's shop on the third floor, Glico-ya. It has popular items available, such as Pocky, Pretz, matcha, and other local treats you can't buy in a supermarket. There are also exclusive exhibits that show the history of Pocky and Tsutenkaku Tower for your viewing pleasure.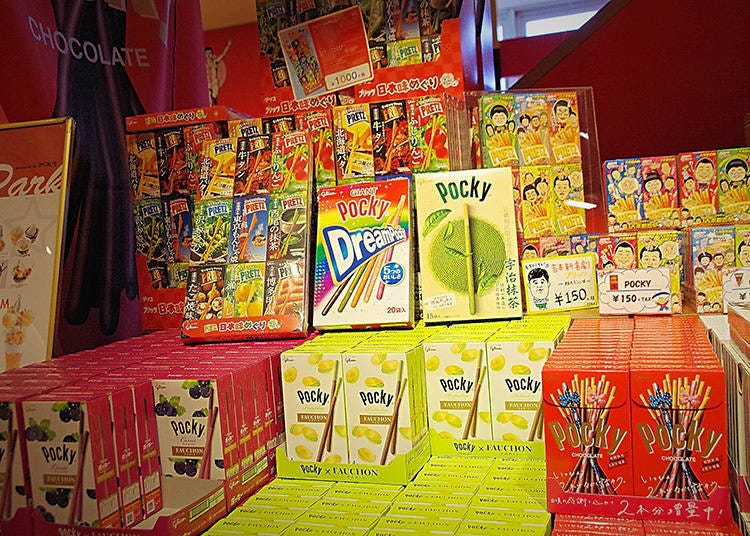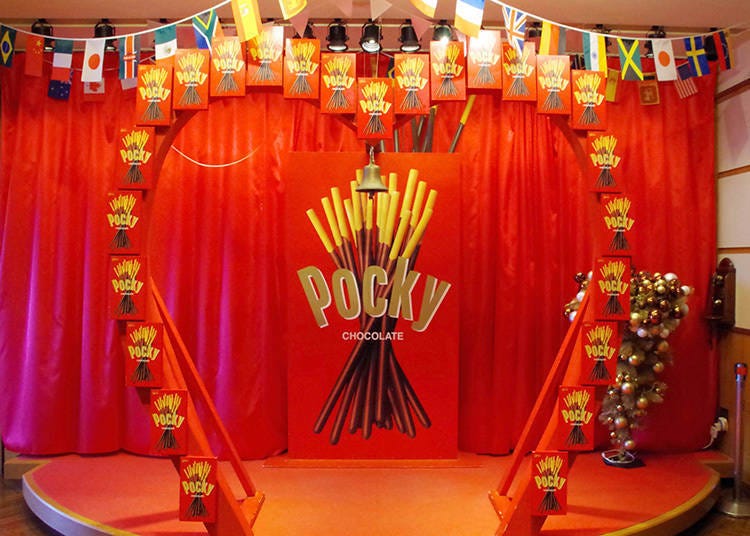 There's even a Pocky stage!
There's also an eating booth inside, where you can see people immediately dig into what they've bought. They also sell soft-serve ice cream, light meals, sweets, and Osaka-exclusive mixed juice. The menus are available in English, Chinese, and Korean, so accommodations are in place for overseas guests.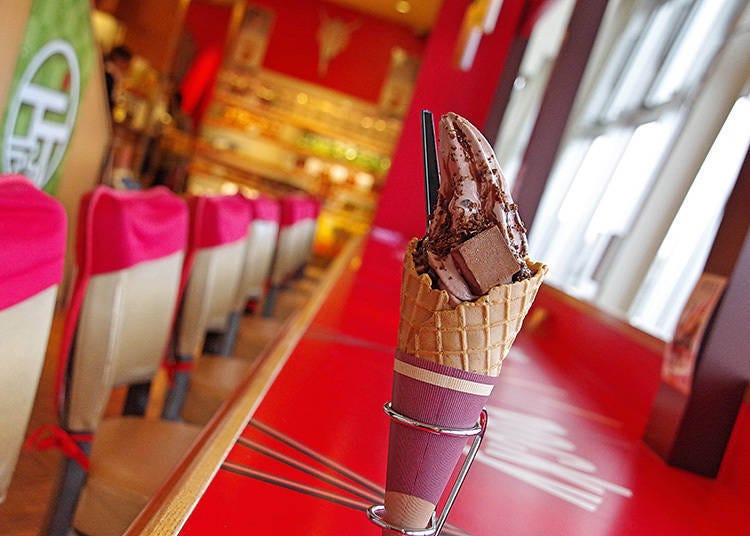 The most popular item: Mother Farm's Premium Chocolate Soft Serve (450 yen, tax included)
The official Tsutenkaku Tower shop on the second floor has plenty of souvenirs filled with Osakan flavor. The most popular item is the Tsutenkaku Crispy Chocolate, followed by the Osaka Banana no Koibito.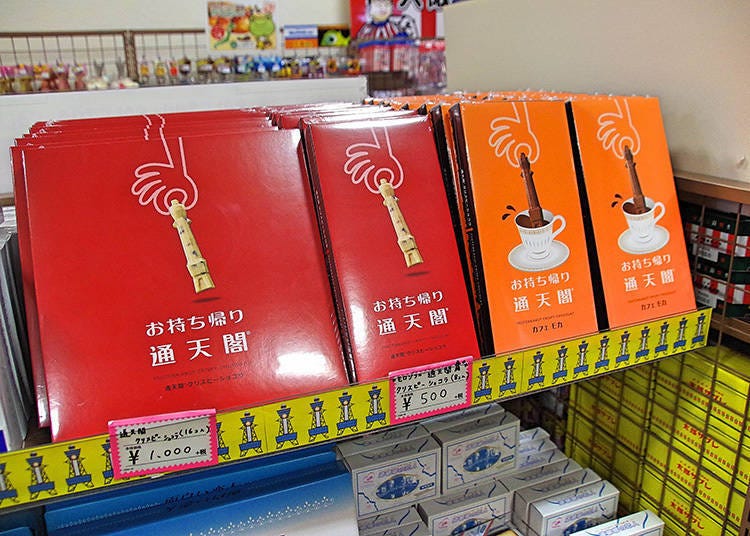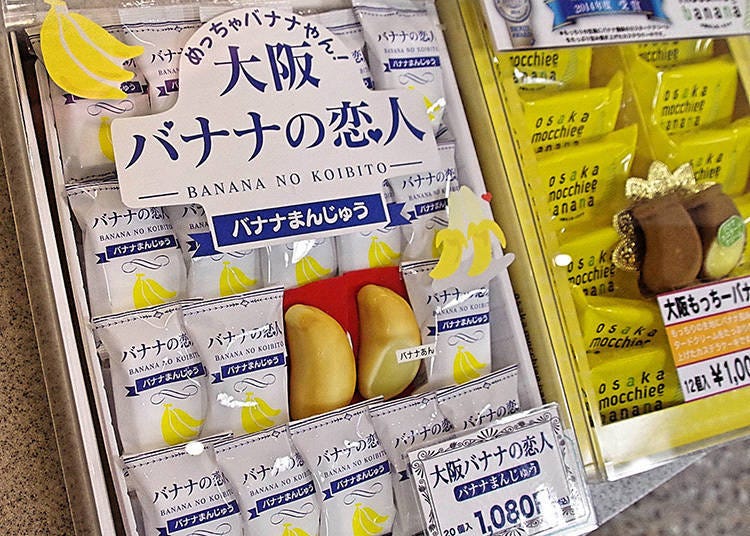 On the second floor, there's also a life-sized model of Kinniku Man, a manga character created by an Osakan artist, perfectly placed for photographing. There's lots of fun tricks and jokes to find, so every little nook and cranny is fun to explore!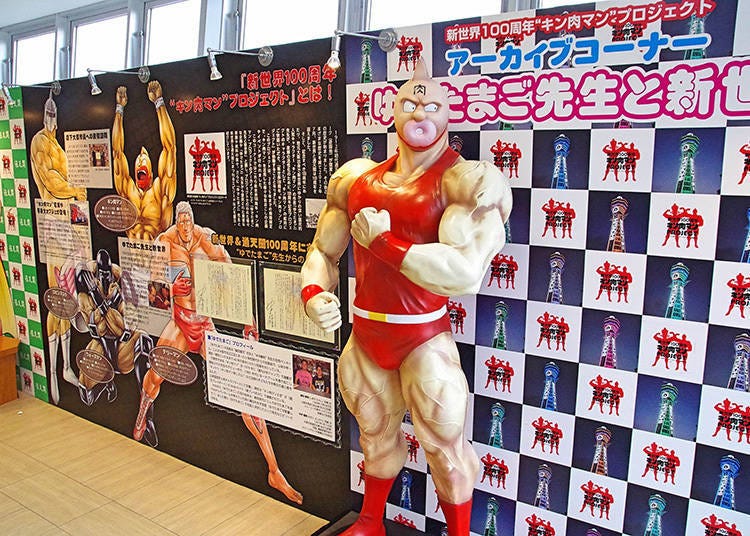 You'll find Wakuwaku Land, an antenna shop of one of Kansai's biggest food manufacturers, on the basement floor. Here, you can get plenty of gummies and other candies at reasonable prices. They'll even have rare goods on sale from time to time. All this, and no need for an observation platform ticket to enter.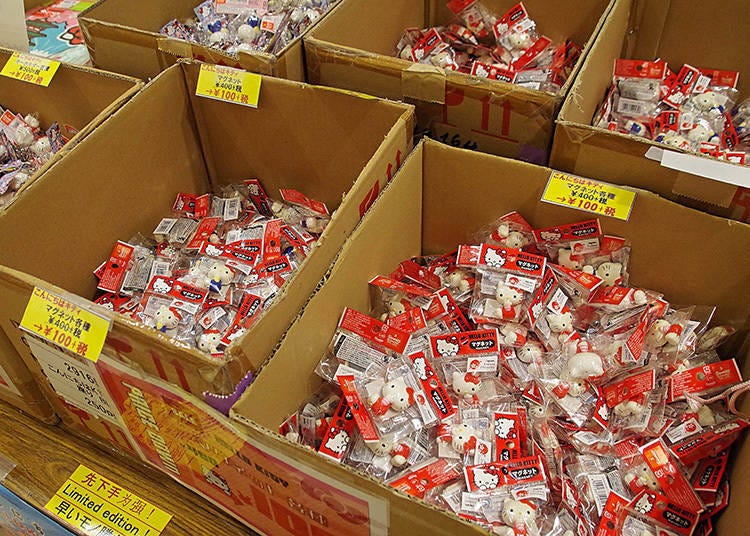 Tsutenkaku Tower Access Guide
Finally, let's go over how to get to Tsutenkaku Tower. We recommend a pass that lets you ride the metro and bus as much you want, such as the Enjoy Eco Card, or the OSAKA 1day pass, specifically marketed to foreign tourists. They also give you discounts in shopping malls, counting Tsutenkaku Tower among them.

If you're using one of these, take the Sakaisuji Line on the Osaka Metro, get off at Ebisucho Station, then leave through exit 3. You'll see the tower as soon as you come out.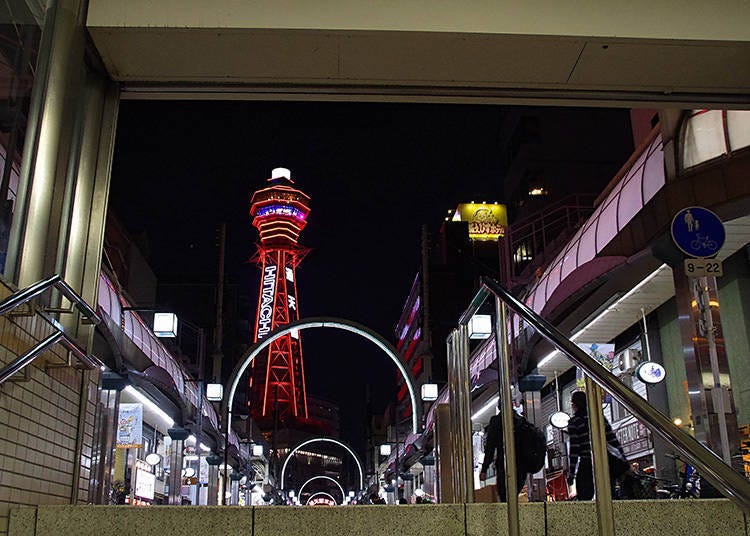 If you're using JR lines, Shinimamiya Station is closest. We recommend taking the Tsutenkaku Exit, then walking along the tracks, passing through the Jan-Jan Yokocho street by the Don Quixoite and Super World. Janjan Yokocho is a street famous for its Osakan cuisine, and it's packed with kushikatsu places, doteyaki restaurants with boiled beef tendon, takoyaki stands, and sushi establishments.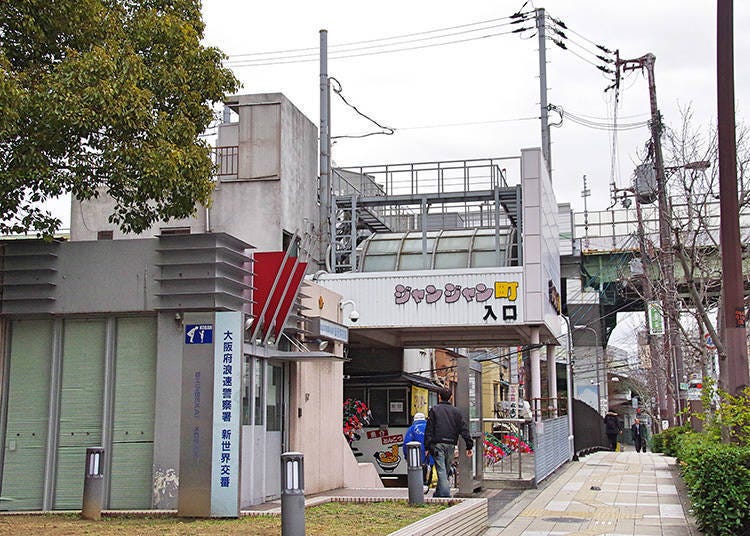 Shinsekai and Tsutenkaku are very crowded, and have generally cramped roads. If you have large luggage with you, try storing them at your hotel or the coin lockers in the station beforehand.
Address

1-18-6, Ebisuhigashi, Naniwa-ku, Osaka-shi, Osaka, 556-0002
View Map

Nearest Station

Ebisucho Station (Sakaisuji Line)
4 minutes on foot


Phone Number

06-6641-9555
Text by:kurashisa
Book a Fun Experience in Osaka!
*This information is from the time of this article's publication.
*Prices and options mentioned are subject to change.
*Unless stated otherwise, all prices include tax.
Limited time offer: 10% discount coupons available now!