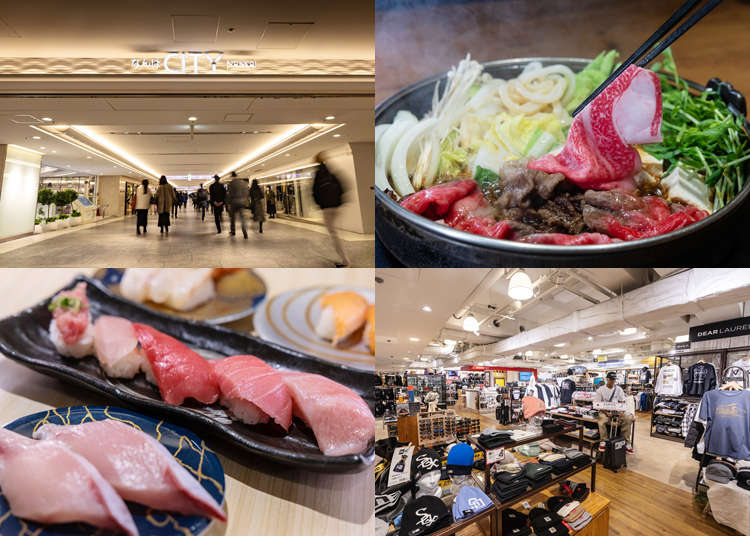 Namba CITY is a commercial complex directly connected to Nankai Railway's Namba Station. One of the most popular spots for Osaka shopping, Namba CITY mall is divided into two buildings with nearly 240 stores including fashion, cosmetics, miscellaneous goods, restaurants, and cafes.

Of course, there are plenty of services for foreign tourists, including duty-free shopping counters. Today we will introduce Namba CITY's most recommended services for tourists, and the top 5 shops you just can't miss!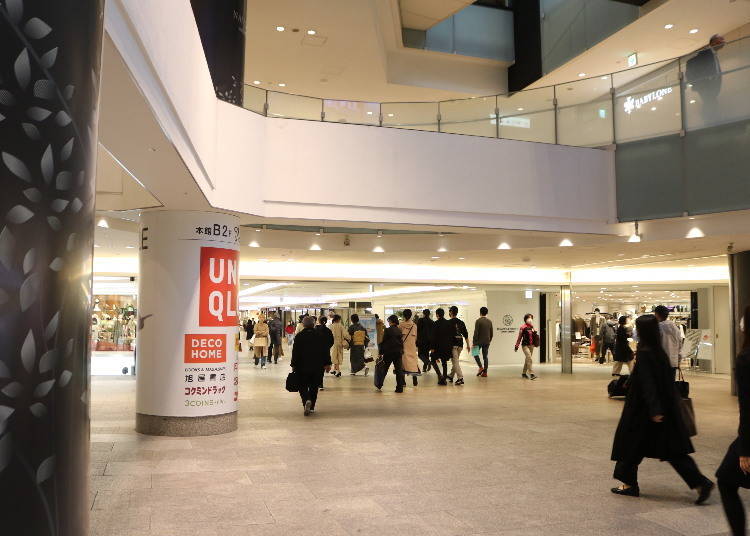 Namba CITY is a commercial complex, opened in 1978. Because it is directly connected to the Nankai Electric Railway's Namba Station, it is often busy with people, especially during commuting hours.

There are nearly 240 stores, including fashion, cosmetics, miscellaneous goods, restaurants, and cafes, so it is appealing to many scenes. There are many ways to enjoy your time here, whether chatting with friends at a cafe, shopping at one of the select shops, or browsing for your favorite cosmetics and personal goods.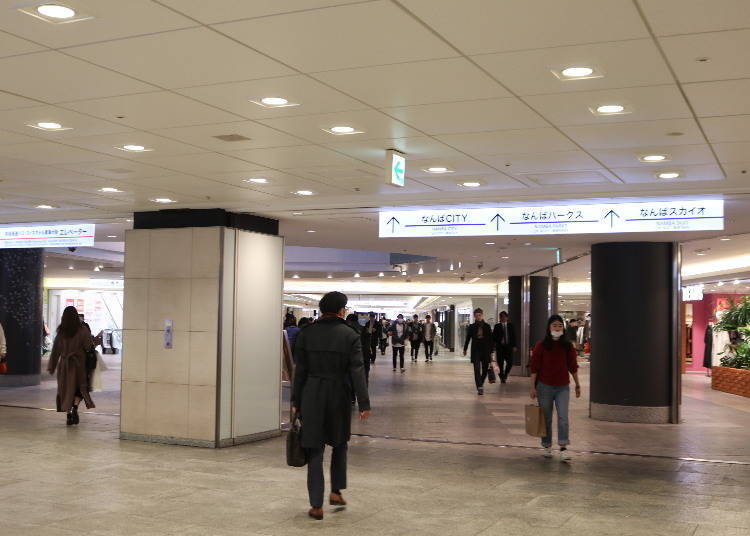 Said to be the center of the Namba area, you can also get to other Namba shopping malls like Namba Parks and Namba Skyo through Namba CITY. There are many familiar shops as well, including UNIQLO, MUJI, and ABC Mart. This is a multi-purpose facility that has been loved by Osaka locals for many years.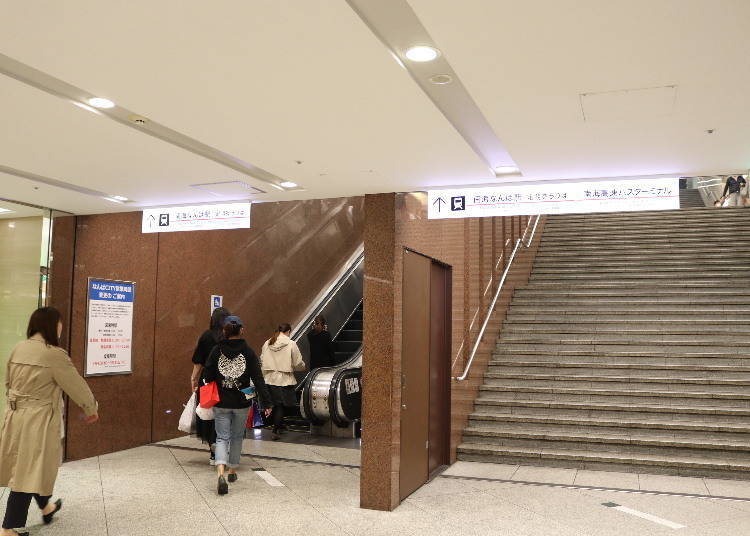 From Kansai International Airport, take the Nankai Line Airport Express or the Nankai Limited Express Rapi:t for direct access to Nankai Namba Station. This is the closest station to Namba CITY, which is directly connected to the station, so you can easily get there by following the guidance signs. Guidance signs are displayed in English, Chinese, and Korean.

Other Ways to Get There:
・Osaka Metro Midosuji Line, Namba Station: 5 min walk from South-South Ticket Gate (Exit Only)
・Osaka Metro Sennichimae Line, Namba Station: 6 min walk from East Ticket Gate
・Osaka Metro Yotsubashi Line, Namba Station: 7 min walk from South Ticket Gate
・Hanshin Namba Line, Osaka Namba Station: 9 min walk from East Gate
・Kintetsu Namba Line, Osaka Namba Station: 9 min walk from East Gate
・JR Kansai Line (Yamatoji Line), JR Namba Station: 11 min walk from (OCAT) North Exit
Great Value Services for Tourists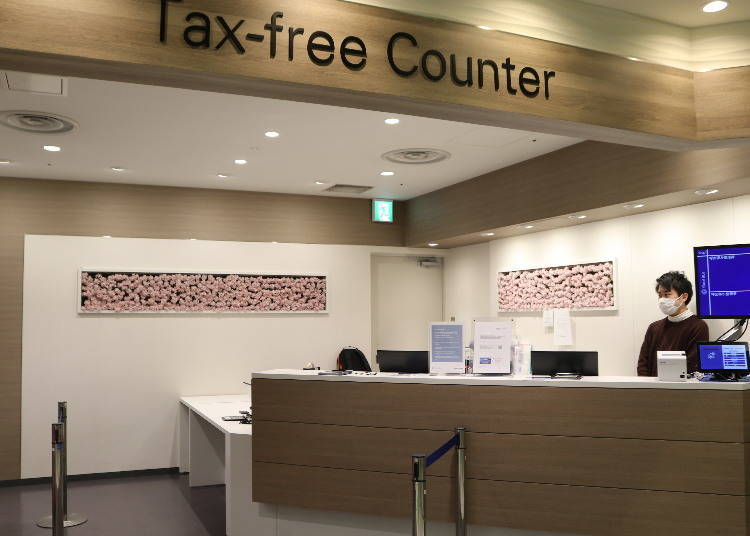 Because this Namba attraction is visited by many foreign tourists, the services catering to them are quite substantial.

There are two types of methods for shopping tax-free at Namba CITY: shopping tax-free in-store, and receiving your tax refund at the tax-exemption counter.

Shop Tax-Free, In-Store
If the purchase amount for tax-exempt general goods reaches 5,000 yen or more at a single store (5,000-500,000 yen tax included for consumable goods), simply show your passport at the cash register at the time of purchase.

Receive Your Refund At The Tax-Free Counter
Proceed to the tax-free counter, located on the B2F of the Main Building.
For tax-exempt items purchased for personal use (general items including watches, bags, and clothing are tax-free at 5,000 yen or more; consumable goods are tax-free from 5,000-500,000 yen), present your passport, receipt, and credit card (if used at time of purchase) at the B2F tax-free counter.
*A 2.1% tax exemption fee will be charged (from July 1, 2020).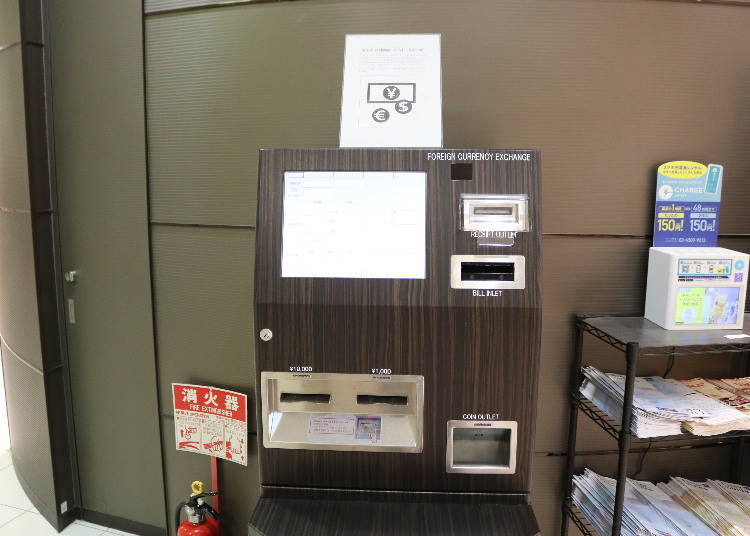 Foreign currencies can be exchanged at the ATMs located near the tax-exempt counter. You can exchange 12 different foreign currencies, including the US dollar, Chinese yuan, Korean won, Euro, and Thai baht into Japanese yen.

In addition to credit card payments, electronic payments such as Alipay and WeChat Payments are also accepted.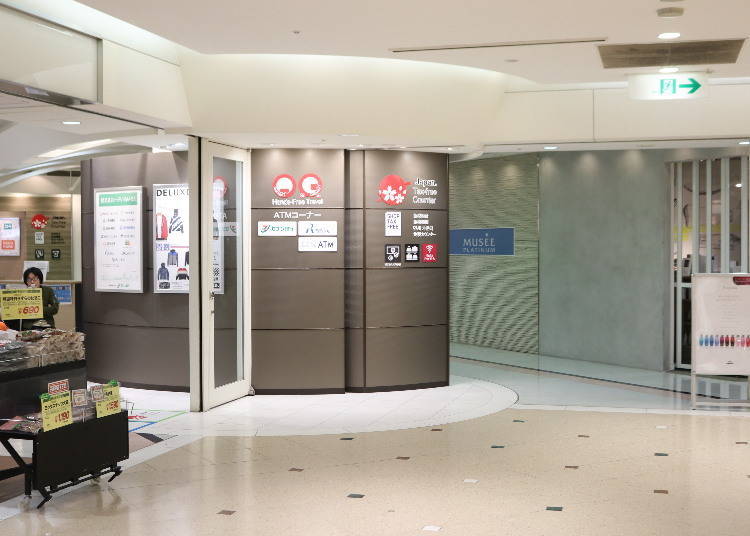 There is also a temporary luggage storage service available in front of the tax-free counter for a more comfortable shopping experience. Acceptable luggage (including bags and contents) are limited to a total size of 250 cm or less around all three dimensions, 40 kg in weight, and a value of no more than 300,000 yen. The price to check-in is 700 yen (tax included) per luggage per day.

Parcel delivery is also available in front of the tax exemption counter. If you feel you have over-shopped and cannot carry everything to your hotel, you may want to use this service.
・Cool courier service (refrigerated/frozen) not available.
・Same-day delivery is available until 4:30PM. After 4:30PM, packages will be shipped the following day.
・Overseas shipments not available.
・Same-day shipping not available.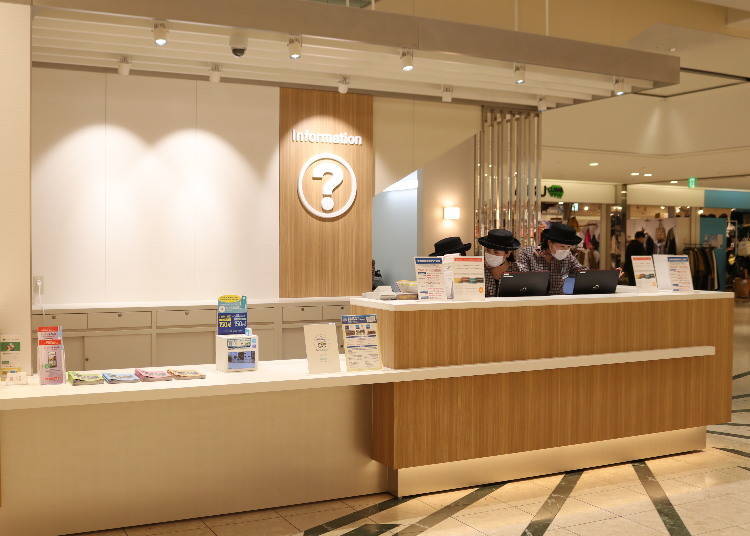 If you have any questions about the hall, it is recommended to ask at the information booth in front of the UNIQLO in the Main Building B2F. Available services include receiving calls, lost child services, and lost-and-found services, as well as prayer rooms that can divided by gender.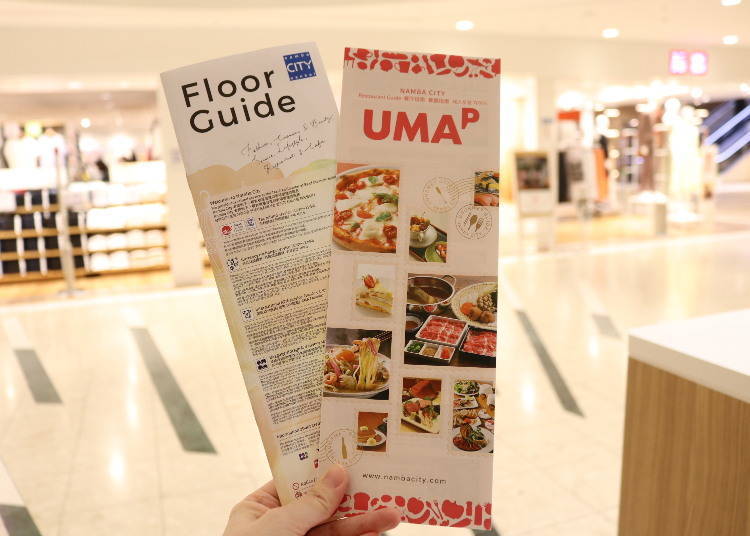 You can pick up a floor guide and gourmet map so you can explore every corner of Namba CITY. Guides are available in English, Chinese, and Korean.

The information desk is also available in English, and telephone interpretation is available in Chinese, Korean, Spanish, Portuguese, Thai, and Vietnamese.
Introducing the Top 5 Popular Shops at Namba CITY for Tourists!
There are nearly 240 shops at Namba CITY. Of these, we have carefully selected the top 5 shops recommended for foreign tourists! Included are shops that handle a variety of items, such as Osaka gourmet, Japanese accessories, and must-visit general shops for shopping in Japan.
1. hands be (South Building 2F)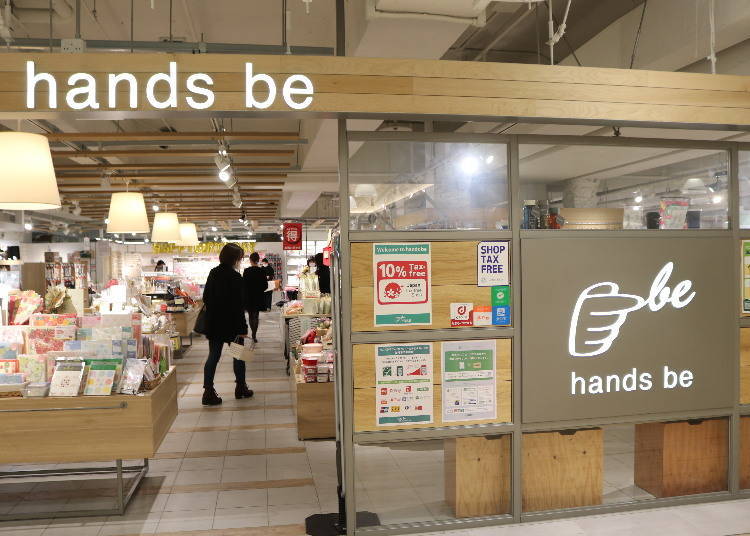 This is a lifestyle shop, perfect for those who want a sense of commitment and quality. They sell lovely products that will make you smile, including various brand-name cosmetics, stationery, and miscellaneous seasonal goods.

There are many relaxation items to use during work, especially popular with women in their 20s and 30s, as well as gift cards that make great Christmas or birthday presents. There is a wide range of items, from standard to trending, and it's also a great place to find souvenirs.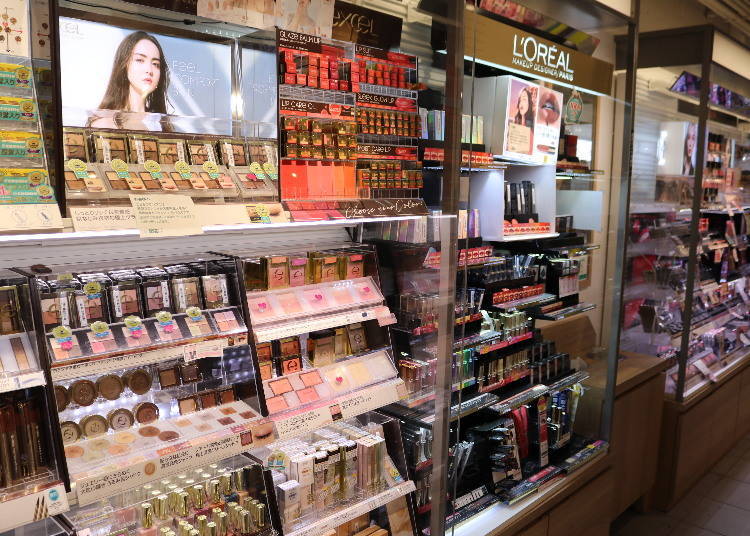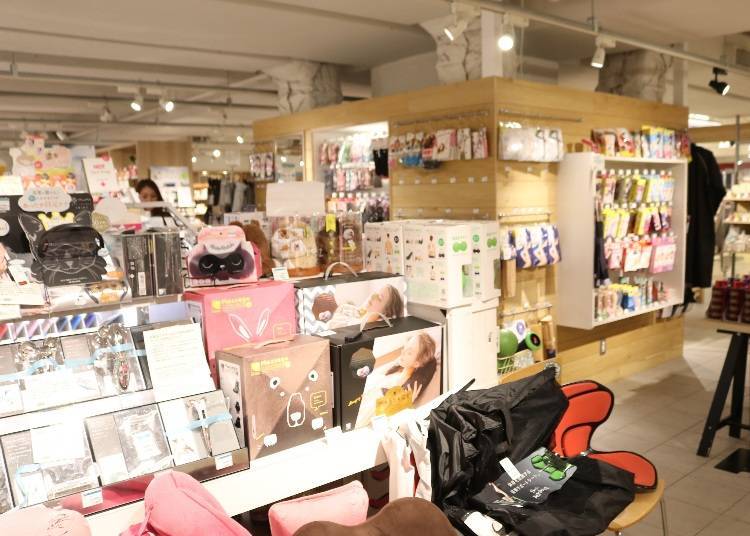 Products are arranged in a narrow space, so you can carefully select and compare items. There are many cosmetics that are especially popular in Asia. If you want to know what are the hottest items in Japan, you may want to check out this store first.
2. FANCL beauty&health (Main Building B1F)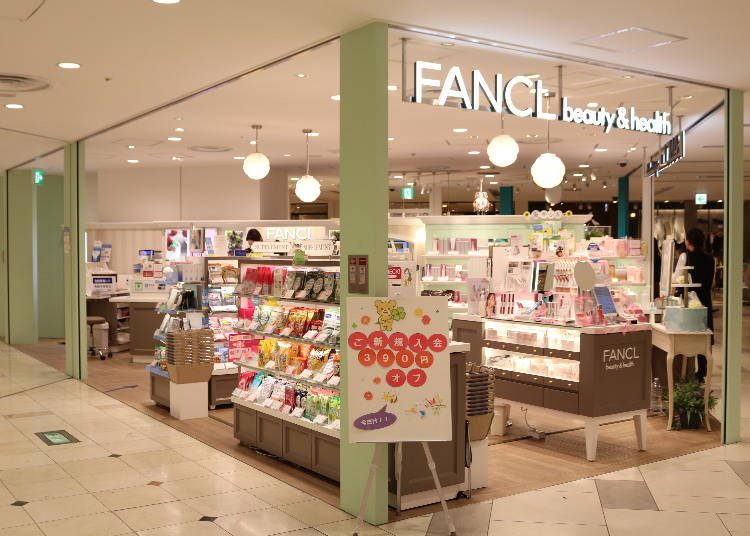 Cosmetics and health food brand FANCL has a variety of products in its shop. We recommend their seasonal cleansing supplements and additive-free, internal, and external beauty items. In addition to being able to consult about any skin health and concerns, there is also a corner where you can do a self-check for blackheads and check your blood vessel age.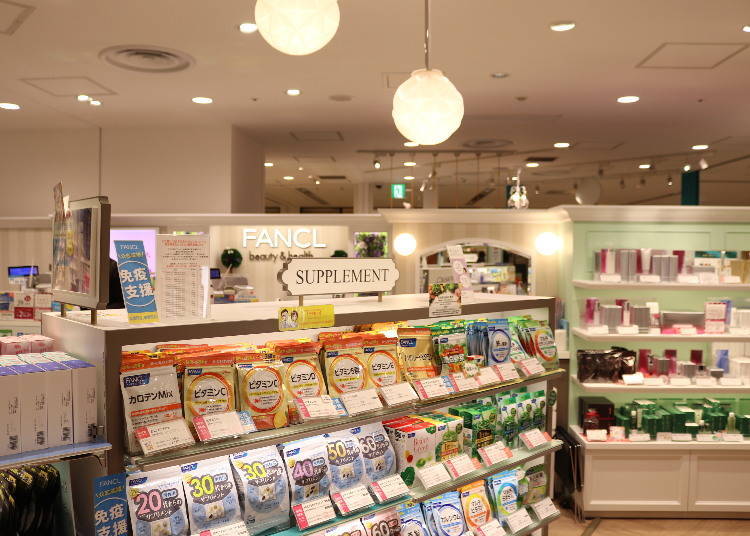 Just looking at the supplements and cosmetics that promote healthy skin is exciting. They have English-speaking staff and an automatic translator for ease of communication. Feel free to consult a store clerk to find the supplements that suit your lifestyle and cosmetics for your skin concerns.
3. Yamato-monoya Kaya (Main Building B2F)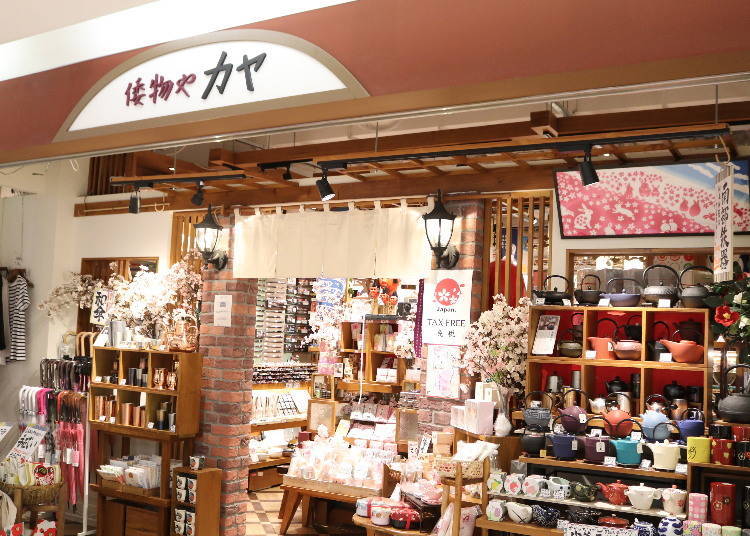 If you are looking for Japanese souvenirs, we recommend Yamato-monoya Kaya. It is a shop with a modern design selling daily necessities that have been used in Japan since long ago. From fashion items such as clothing, socks, hair accessories, and bags, to daily needs such as tableware and chopsticks, there are all kinds of products. Many of the products feature Japanese designs and print patterns, which are also popular with tourists who love Japan.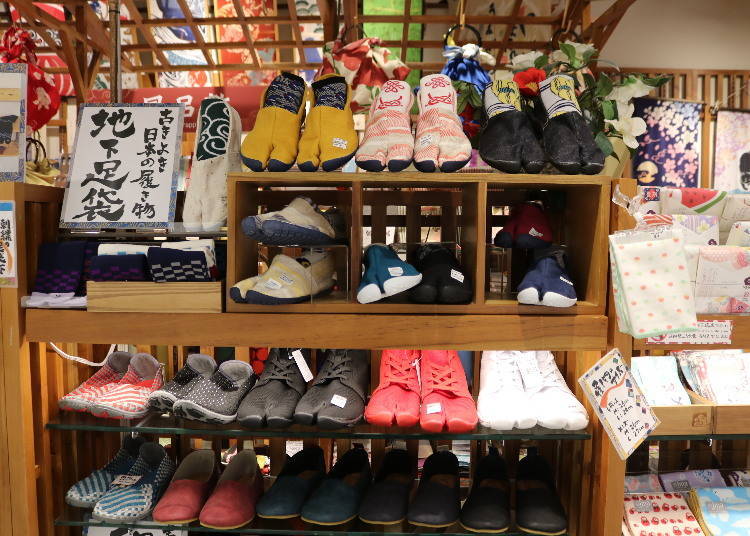 Products line the entire store, and it's nice to be able to select and compare various items. Because they sell many small items, it is also a great place to buy different souvenirs. There are many items with Japanese patterns and beautiful colors that are exciting just to look at! You just may want to buy them as souvenirs for yourself!
4. Tsuruhashi Fugetsu (South Building 1F)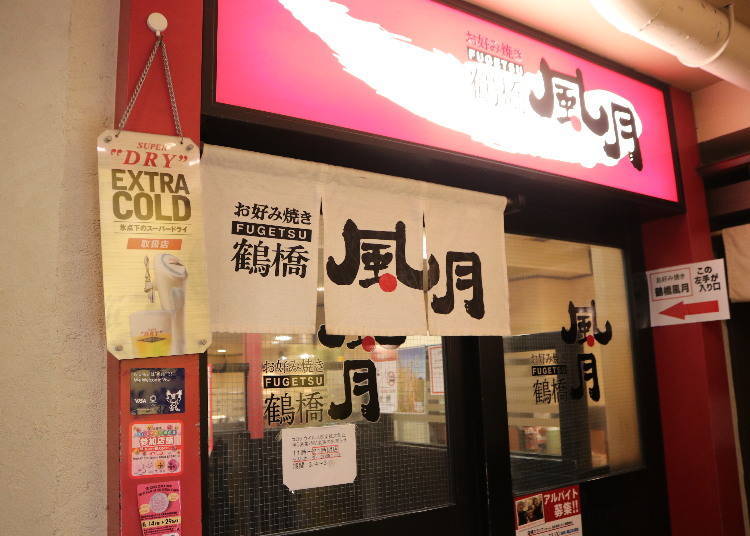 Okonomiyaki, one of the representative delicacies of Osaka, is something you definitely want to try on your trip to Osaka! Tsuruhashi Fugetsu is a famous okonomiyaki chain with locations in Dotonbori, one of Osaka's most popular tourist destinations, as well as in Umeda's Ohatsu Tenjin-dori shopping district and in Shinsekai. Tables are equipped with their own iron plates, so you can enjoy your okonomiyaki fresh and hot, down to the last bite.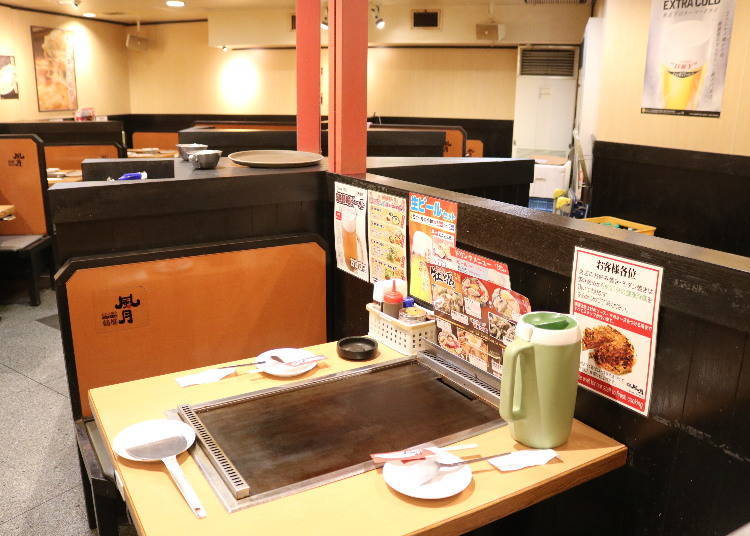 Along with the basic meat, squid, and shrimp ball okonomiyaki, one of their popular dishes is the delicious Fugetsu-yaki (1380 yen), which includes squid, shrimp, pork, and the hearty Butatama Modern (1140 yen, tax included) which uses special egg noodles. Enjoy the crisp outside and the fluffy inside, full of cabbage and topped with the delicious taste of sauce and mayonnaise intertwined.

In addition to Tsuruhashi Fugetsu, located on the 1st floor of the South Building, there are many other Osaka gourmet spots, including takoyaki shops, ramen shops, tempura and kushikatsu. All the restaurants are recommended for lunch and dinner, so if you're hungry, be sure to check them out.
5. nana's green tea (Main Building B2F)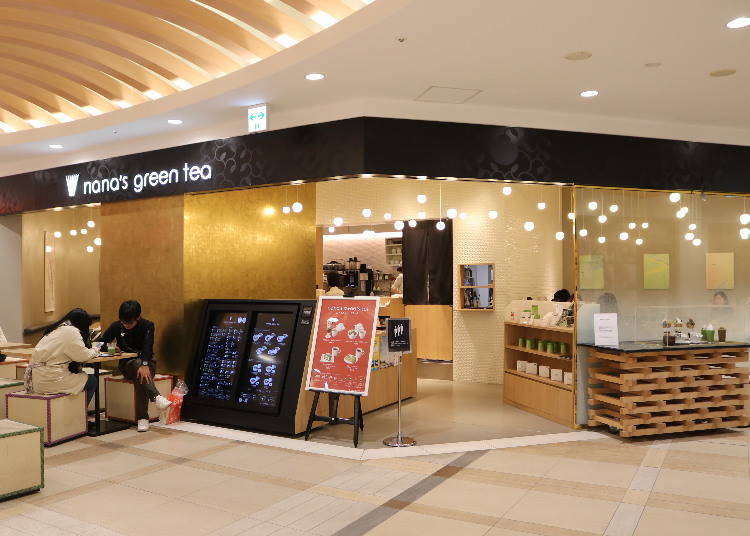 Nana's Green Tea is a recommended spot to take a break from shopping. It is a Japanese fast food cafe that offers drinks, sweets, and food unique to Japan in a new style. The interior of the store is based on a contemporary tea room, modern and straightforward with a monotone color scheme and wood and stainless steel bases. Spend some time relaxing and enjoying matcha and Japanese tea.

Place your order at the counter first, then find an empty seat. As soon as your order is complete, you can bring it with you.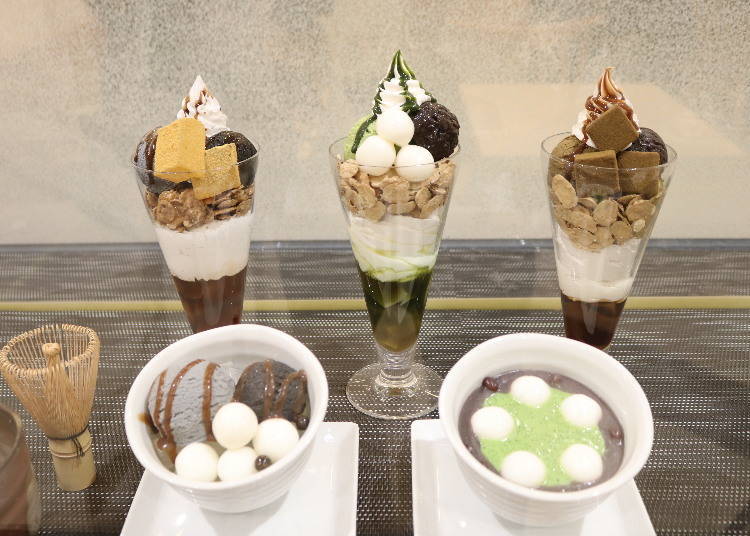 This parfait has a matcha and Japanese tea base, and plenty of Japanese sweets such as warabi mochi, shiratama, and anko. The matcha and Japanese tea used is an original Uji tea blend from Kyoto, and has a rich and deep flavor.

There is also a complete meal menu recommended for lunch, with a focus on donburi (rice dishes). Come and refresh yourself with their light Japanese taste.
Enjoy shopping and dining at Namba CITY Mall!
In addition to the general shops and gourmet spots introduced here, Namba CITY has a variety of other shops including trending brand stores, and select shops for shoes, bags, cosmetics, and relaxation.

It's the perfect place to stop by when passing through the Nanba Electric Railway Namba Station, or the Osaka Metro Line Namba Station to Kansai International Airport. Check out the various shops, and search for the perfect Osaka souvenir.
Address

5-1-60, Nanba, Chuo-ku, Osaka-shi, Osaka, 542-0076
View Map

Nearest Station

Namba Station (Nankai Airport Line / Nankai-koya Line / Nankai Line)


Phone Number

06-6644-2960
Written by WESTPLAN
*This information is from the time of this article's publication.
*Prices and options mentioned are subject to change.
*Unless stated otherwise, all prices include tax.