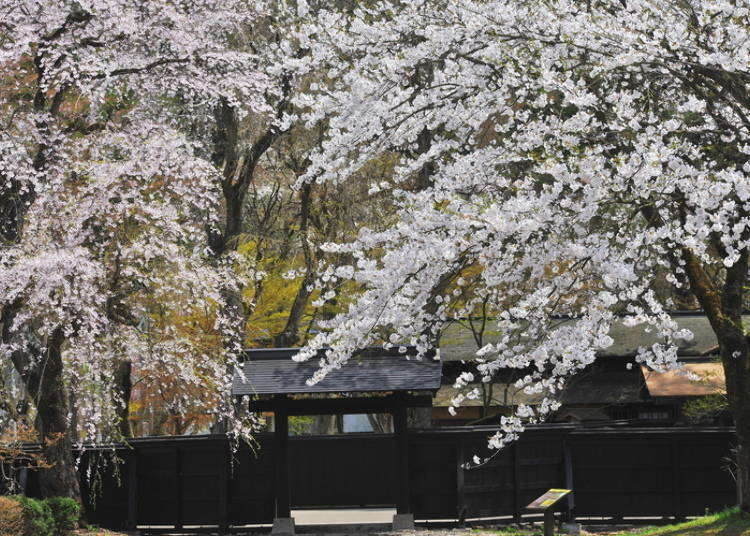 Nestled in Akita Prefecture and reachable by a single bullet train ride from Tokyo, Kakunodate is often referred to as Tohoku's "Little Kyoto." This quaint town boasts well-preserved traditional Japanese streets that offer visitors a glimpse into the country's rich history.

The town's most prominent attractions include the impressive samurai residences and the captivating "shidarezakura" weeping cherry blossoms.

Here, we delve into Kakunodate's fascinating past, highlight its must-see sights, showcase its seasonal beauty, and provide you with the best ways to get there.
The History of Kakunodate - Samurai Residences Unchanged For 400 Years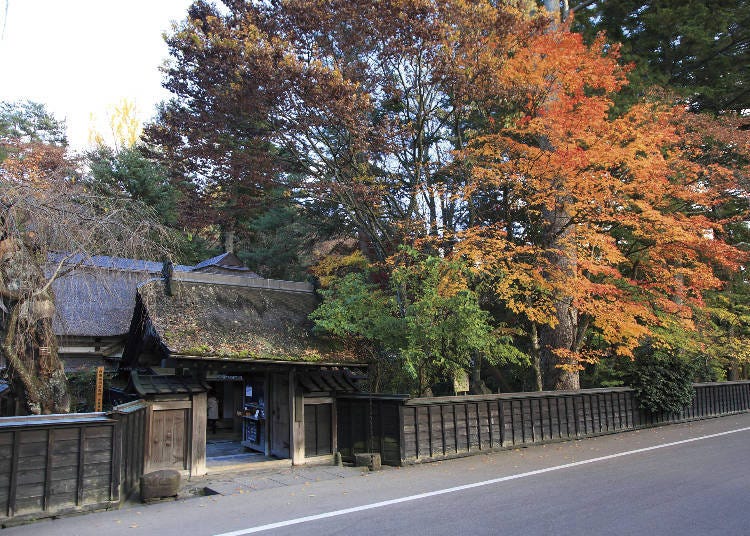 Kakunodate is a town in Semboku City, Akita Prefecture, in Japan's northern Tohoku region. It sits between Akita City and Morioka City in neighboring Iwate Prefecture. It is a lush, fertile land surrounded by mountains on three sides and with the Semboku Plain spreading out to the south. Owing to its superb location, a town was set up here in 1620 by the local ruler Yoshikatsu Ashina.

In the middle of the town is vacant land used as a firebreak, which separates the Samurai District (Uchimachi) to the north and the regular town to the south (Tomachi).

After the Ashina lineage ended, Kakunodate was further developed as a castle town by the Satake-kita clan, a branch of the Satake clan who ruled over Akita. After their rule ended, the original character of Kakunodate continued to be preserved ー not even the width or corners of the roads in the Samurai District were changed ー presenting the same atmosphere at the time.
How to Get to Kakunodate From Tokyo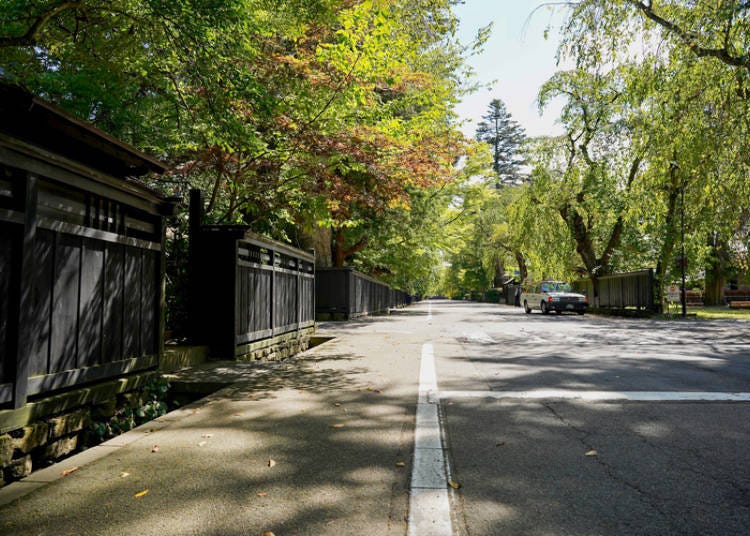 Shinkansen
Take the Akita Shinkansen bullet train from either JR Tokyo Station or Ueno Station to reach Kakunodate Station. The journey takes approximately 3 hours and requires no transfers. Keep in mind that the Akita Shinkansen offers only reserved seating.

The JR EAST PASS (Tohoku area) covers the route. The pass offers unlimited rides in the region for 20,000 yen over 5 days, making it a more affordable option than buying a regular ticket.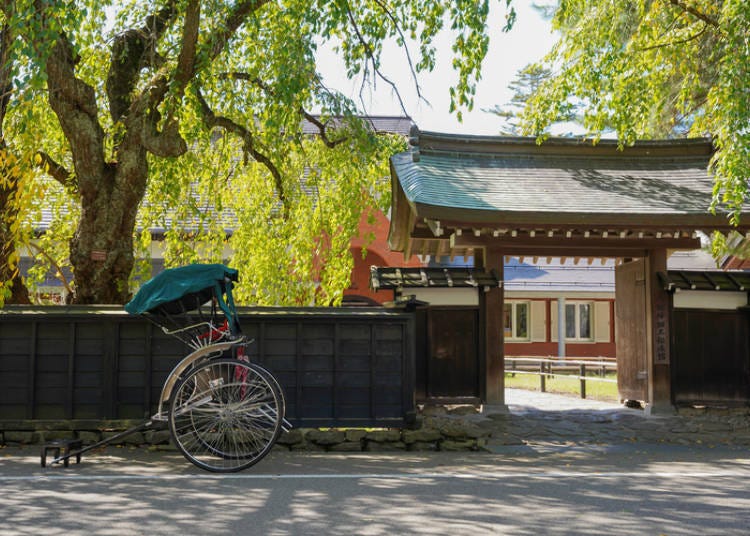 Bus
If you prefer to travel by bus, Ugo Kotsu's Lake & Port highway bus offers a route from Tokyo to Kakunodate (Lake Tazawa-Tokyo) on Saturdays and Sundays between April 1 and May 28, as well as between May 3-7 in 2023. The bus schedule for subsequent dates will be posted on the official website. Fares range from 8,600 to 10,600 yen, depending on the time of year.

Departing from Tokyo Station at 10:30 pm, the bus arrives at Kakunodate at 7:25 am the following morning, with a travel time of around 9 hours.

Flights
Additionally, Haneda Airport (Tokyo International Airport) provides flights to Akita Airport, from which you can then reach Kakunodate Station via the Akita Shinkansen bullet train departing from Akita Station.
The Charms of Kakunodate: Shidarezakura and the Samurai District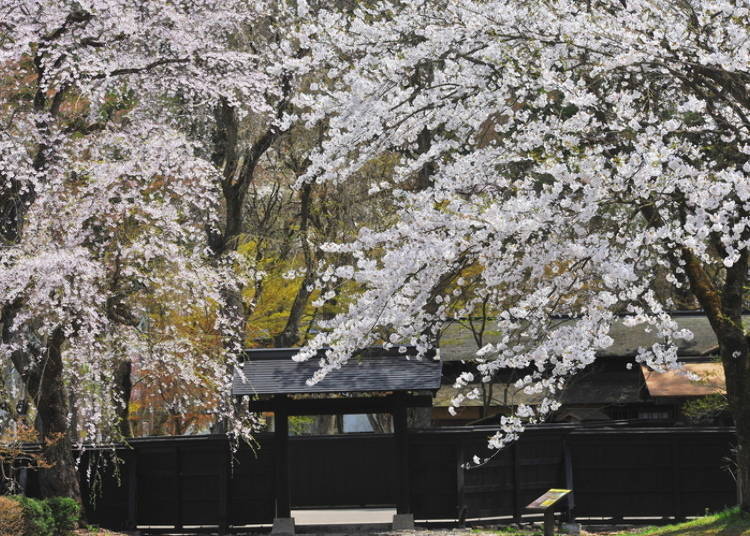 The highlight of Kakunodate is undoubtedly the Samurai District, called the "Little Kyoto of Michinoku" (Michinoku is the ancient name for this part of northern Tohoku). Alongside the gorgeous residences themselves, the "shidarezakura" weeping cherry blossoms are a big part of the draw.

There are around 400 shidarezakura in Kakunodate, and 162 of them are designated as Natural Monuments of Japan. Some are even over 300 years old! The faint pink petals pop against the traditional black walls of the Samurai District, adding a vibrant hue to this dignified, stately town.

After walking the Samurai District, make sure to pop into some of the residences to see inside. A section of the residences are open to the public, allowing you to see the beautifully preserved architecture and construction techniques of the time.
Address

Omotemachikamicho, Kakunodatemachi, Senboku-shi, Akita, 014-0334
View Map

Nearest Station

Kakunodate Station (Tazawako Line / Akita Shinkansen / Akita Nairiku Line)
20 minutes on foot


Phone Number

0187-54-2700
Walking From Kakunodate Station to the Samurai District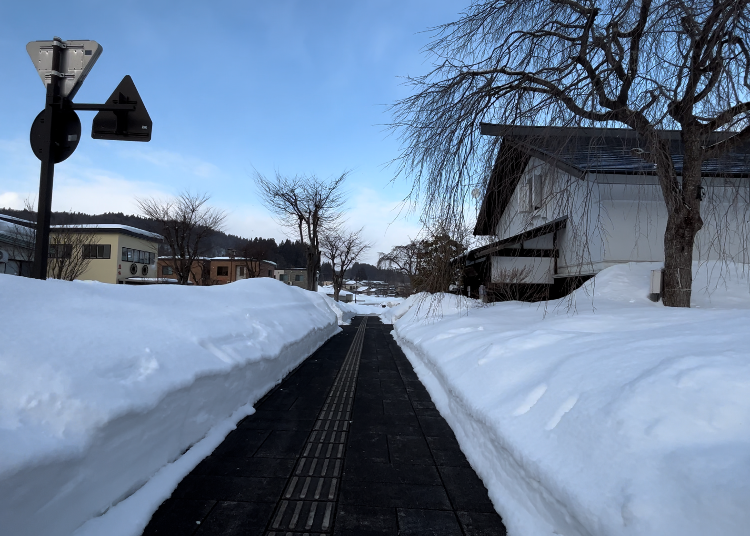 Let's dive right into our tour of Kakunodate! For this article, we visited in mid-February, which is the heart of winter in Japan. Despite the chilly season, Akita Prefecture is known for its severe snowfall, and Kakunodate is no exception - in fact, nearly two meters of snow had already accumulated by the time we arrived!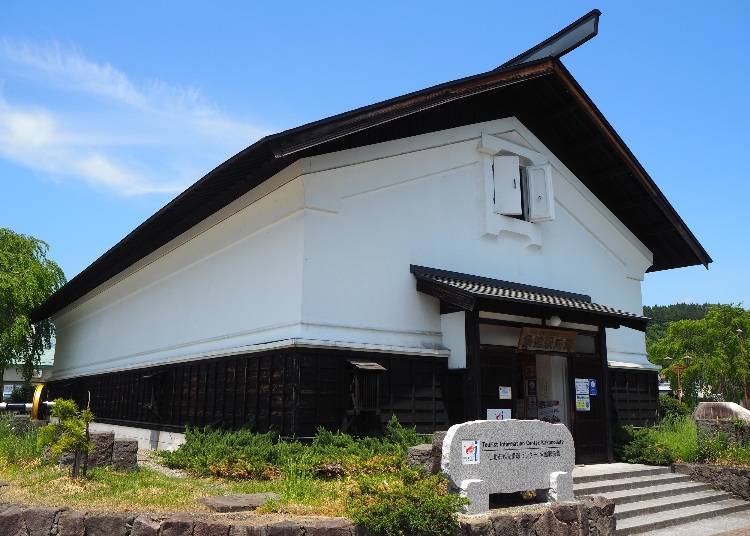 Kakunodate in summer (Photo: Kakunodate Tourist Information Center)
After arriving, we recommend first stopping by the Kakunodate Tourist Information Center, just a short walk from Kakunodate Station. It is designed in the shape of a traditional warehouse, and offers sightseeing pamphlets and travel guidance. Pamphlets are available in English, Chinese, Korean, and other languages.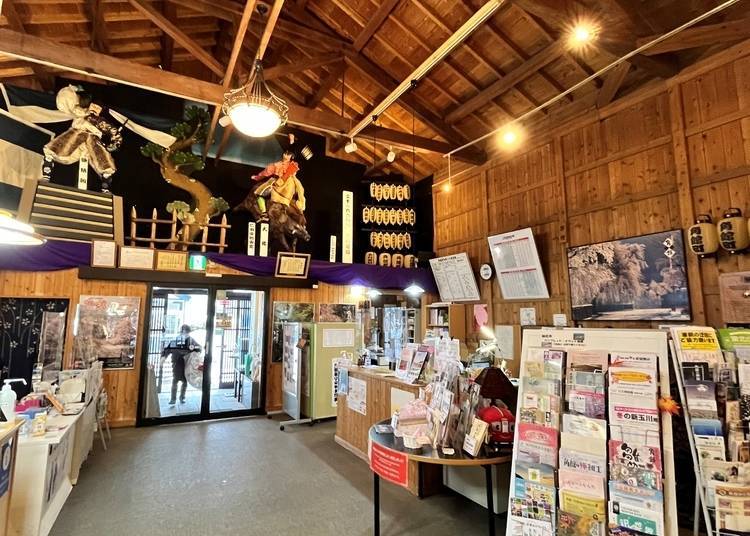 Inside, the ceiling is high, decorated by samurai dolls used in the Kakunodate Matsuri festival. There is also a rest space and vending machines, so you can relax here while waiting for the train.
From Kakunodate Station, the Samurai District is a roughly 15-minute walk. There is plenty of signage on the way, so you shouldn't have trouble finding it. It's an easy walk, and a great way to check out the town's streetscape, however, feel free to also take a taxi from the station - the snow at this time is out of this world!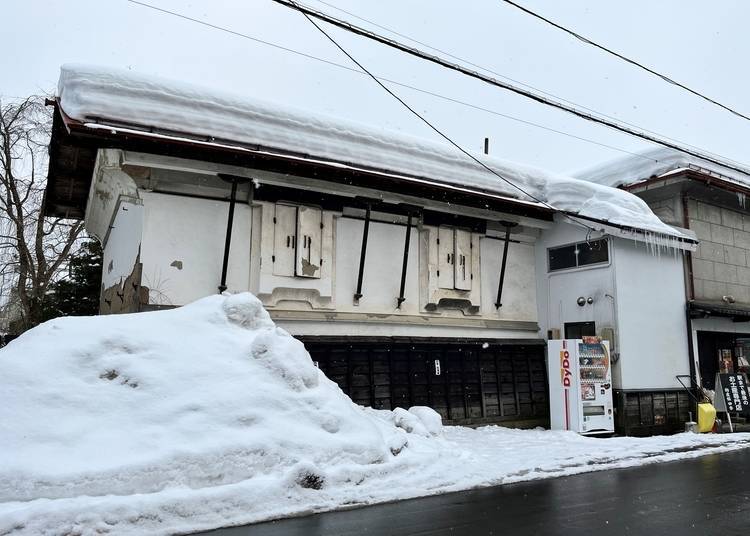 As you continue walking from the station, you'll gradually begin to notice the appearance of old buildings and large warehouses - signaling the arrival of Tomachi.

Tomachi is where the townsfolk used to live, and is home to lots of shidarezakura cherry blossoms. There are plenty of facilities remaining from its heyday, offering authentic insight into life at the time.

If you're coming in winter, you'll also be floored by the amount of snow here - reaching up to the second floor!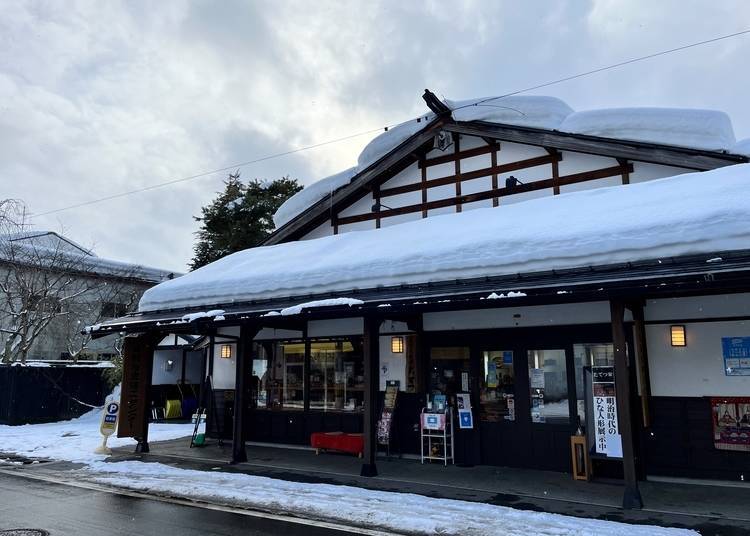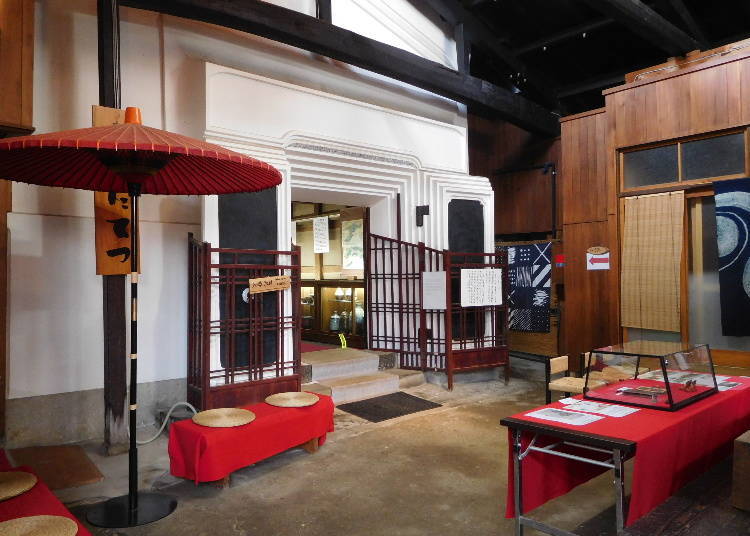 The Tatetsuya Tomachi Museum is known for its store selling Akita woodwork and folk crafts. Surprisingly, there is also an indoor warehouse at the back, which is now used as a museum exhibiting a special collection alongside daily utensils used at the time.

This unique design prevented the warehouse from getting buried by snow, serving as a storeroom for family heirlooms, tools, and stock. This ingenious design was born out of necessity, and can also be seen in the old merchant houses in the Masuda district of neighboring Yokote.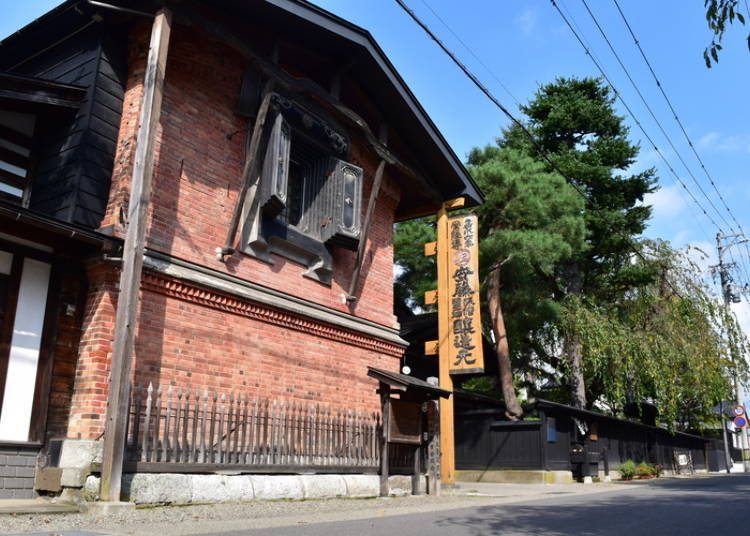 The scene in summer (Photo: Akita Prefecture Tourism Promotion Division)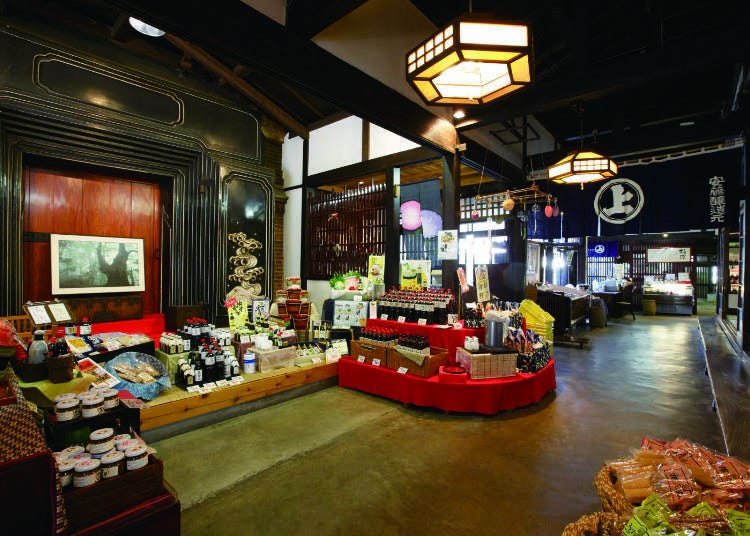 Next, drop by Ando House for some tasty mementos of your time in Tomachi. This long-established miso and soy sauce brewery was founded in 1853, and its brick warehouse remains the oldest of its kind in Tohoku.

The main store, which was rebuilt in 1883, is still used today, and is full of nostalgic, retro vibes. While admiring the historical architecture, browse through their assortment of miso and soy sauce, and find one that suits your palate.
Address

27, Kakunodatemachishimoshinmachi, Senboku-shi, Akita, 014-0315
View Map

Nearest Station

Kakunodate Station (Tazawako Line / Akita Shinkansen / Akita Nairiku Line)
15 minutes on foot


Phone Number

0187-53-2008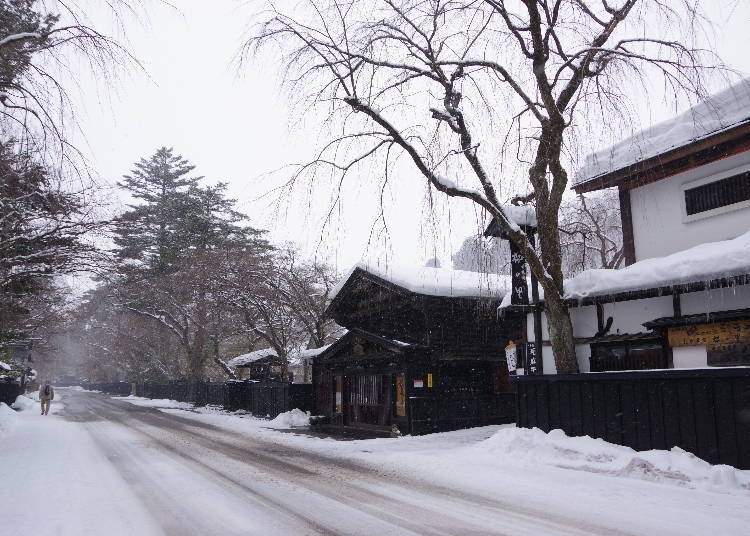 Once you've explored Tomachi, head to Uchimachi, which is the center of the Samurai District. It is right next to Tomachi, so it takes less than 5 minutes on foot to reach. Shidarezakura cherry blossoms and tall trees line the street, and each residence is separated by a sizable space, presenting a totally different look to Tomachi.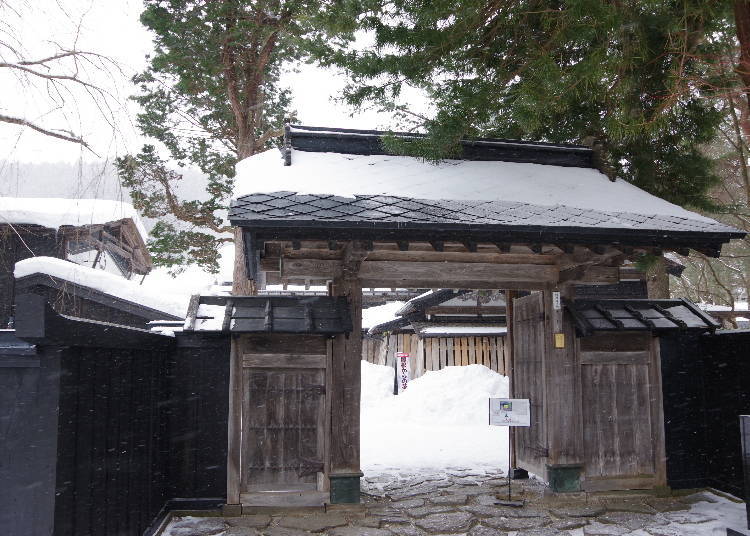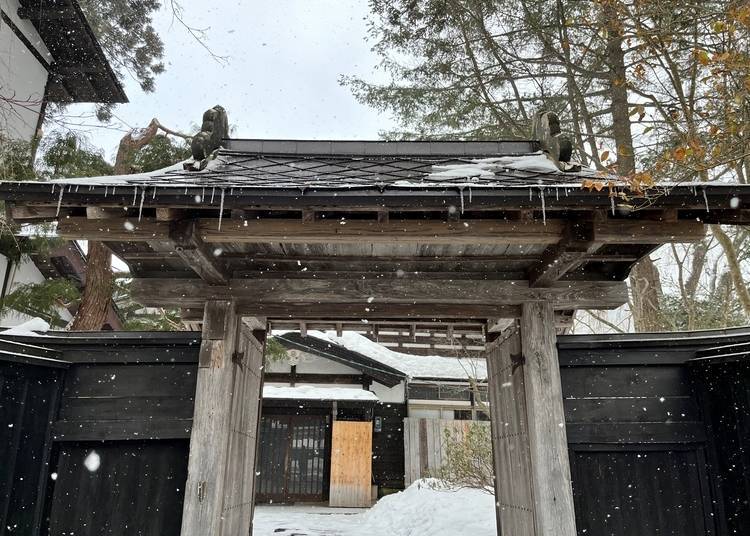 Only some of the Uchimachi samurai residences are currently open to the public, however, even those that are private can be viewed from outside the gate. The solemn gate and decadent home give off a crystal-clear image of what life as a samurai must have looked like - and it all looks even better with a helping of snow!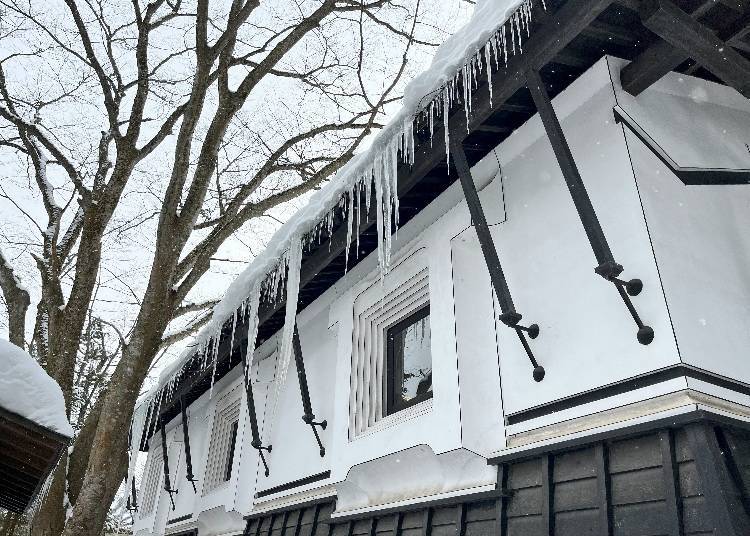 During winter, the blackened walls of the samurai residences appear splendidly amongst the pure white snow, giving off a totally different impression to spring. The snow falling lightly on the quiet street exudes a mysterious, surreal feeling.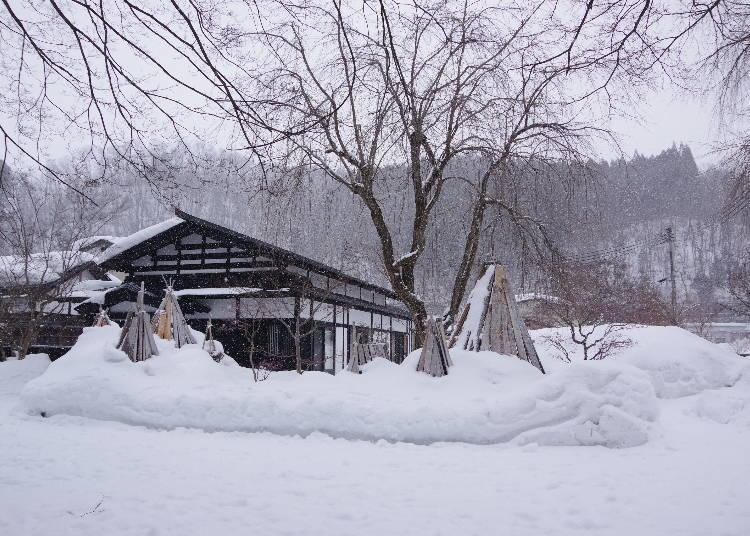 Such grand Japanese-style homes dressed in snow are a precious sight you'll rarely encounter in the city. Even the flowerless shidarezakura appear like an elegant nihonga-style painting.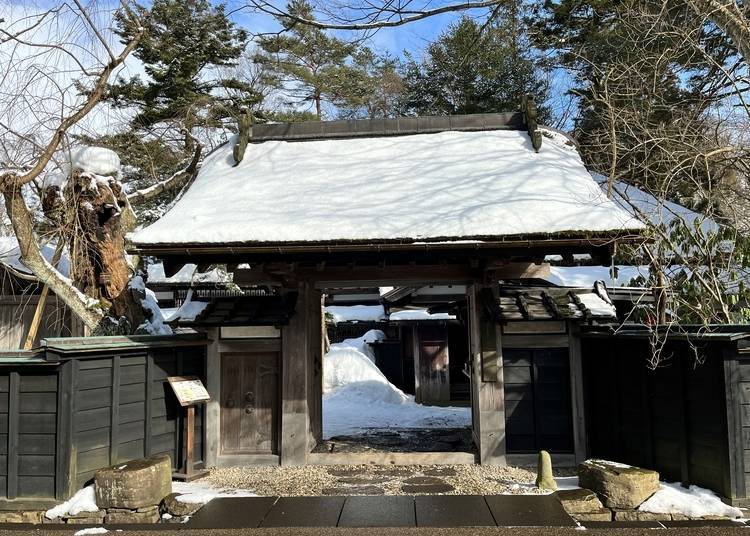 One of the most famous residences in the Samurai District is the Aoyagi House, owned by a prominent family that served as loyal vassals of the Satake clan. The admission fee is 500 yen, which you'll pay at the front.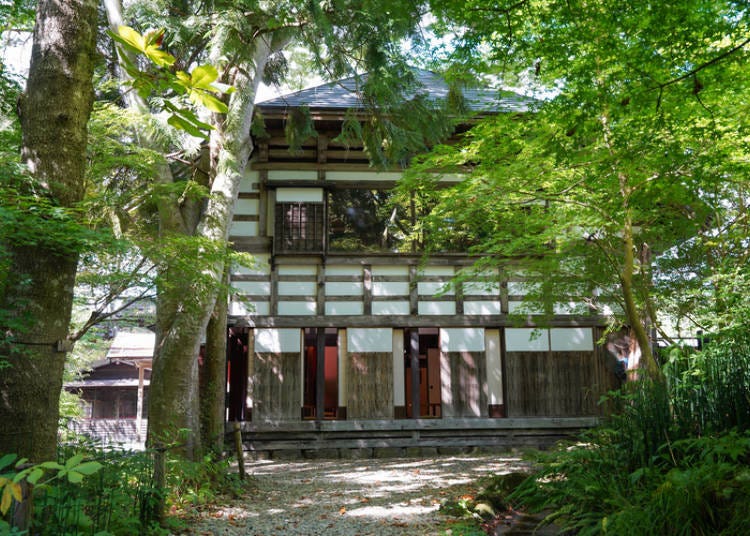 The scene in summer (Photo: Akita Prefecture Tourism Promotion Division)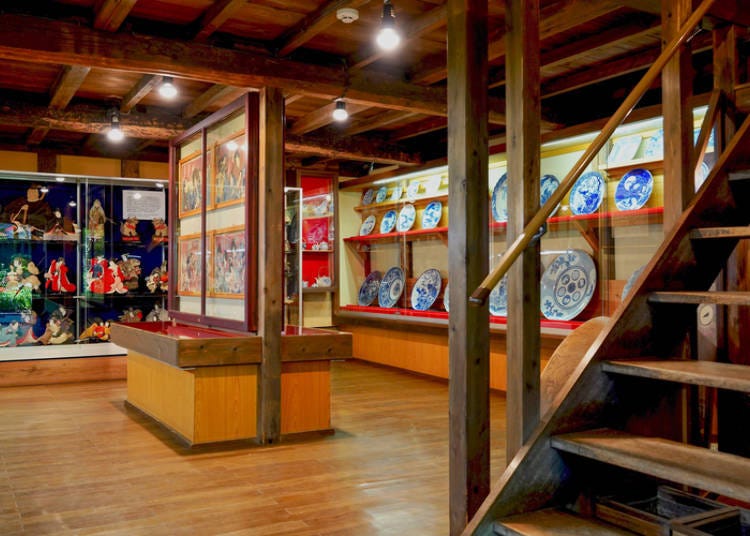 Aoyagi House covers a sizable roughly 9900 m² plot full of things to see, like the main home, armory, Akita Folk Museum, Samurai Tools and Utensils Museum, and the Haikara Antique Museum. Each is adorned with handicrafts over 100 years old and photos, leaving you in awe of the size of the collection.

Other places you can enter in the Samurai District include the Ishiguro Samurai House, whose owners served as bodyguards for the Satake-kita clan, and the Kawarada Samurai House, who likewise dedicated themselves to Satake-kita.

Most of these have admission fees, but being able to witness such carefully constructed, jaw-droppingly beautiful ancient Japanese architecture is surely worth the small cost!
Address

1 Shimocho, Kakunodatemachi, Semboku City, Akita Prefecture, 014-0331
View Map

Nearest Station

Kakunodate Station (Tazawako Line / Akita Shinkansen / Akita Nairiku Line)
5 minutes by car


Phone Number

0187-55-1496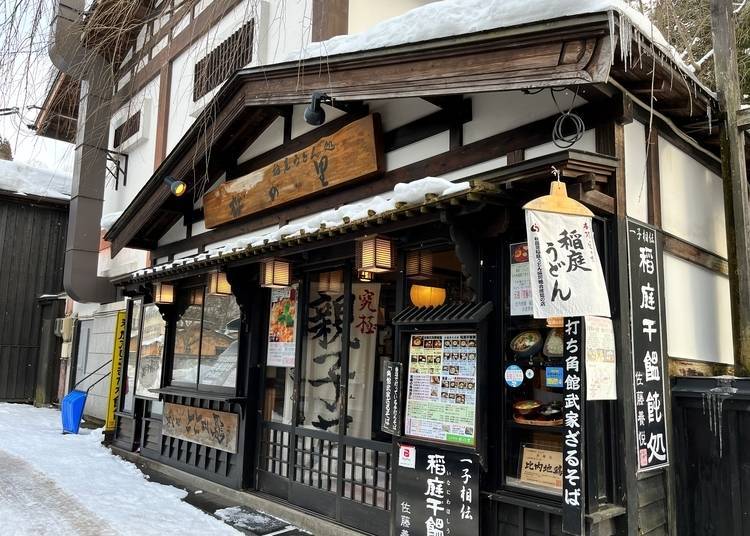 Throughout Uchimachi are also a number of restaurants renovated from old folkhomes, perfect for a breather. These include "Sakura no Sato," famous for its "oyakodon" dish with an ample helping of Akita's own renowned "hinai jidori" chicken, along with "Inaho," where you can relish local Kakunodate speciality dishes like tofu and more. This is a great spot to get to know the tastes of Akita Prefecture!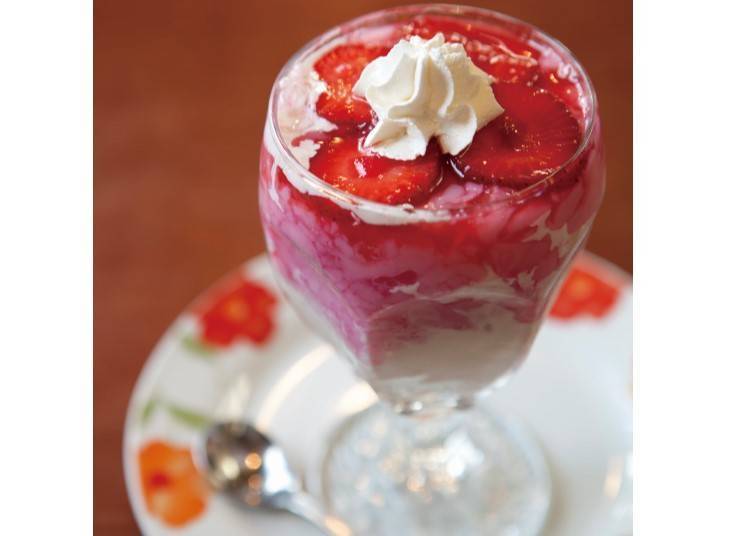 There's also plenty to eat in Tomachi - like Sakaiya, a fruit parlor run by a greengrocer. Here you can treat yourself to parfaits and soft serve ice cream topped with seasonal fruits sourced from across Japan, including the Tohoku region.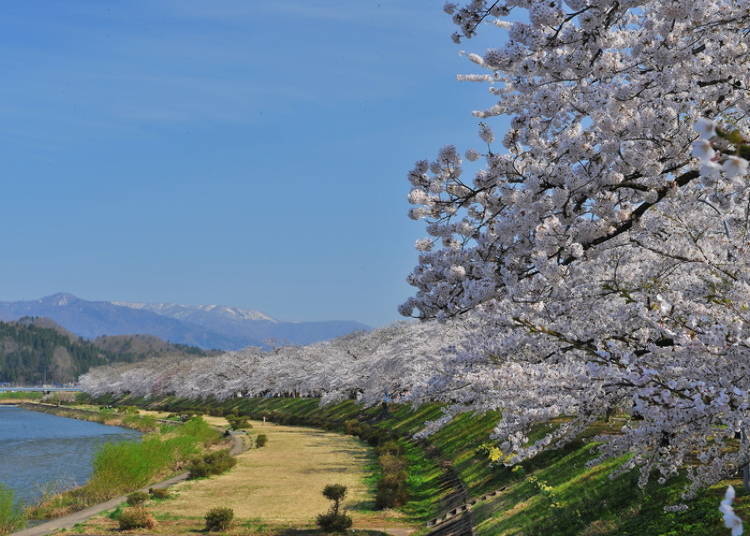 If you're visiting during the cherry blossom season of late April to early May, then make sure to check out the Hinokinai River, too, which is within walking distance of the Samurai District.

This spot is particularly famous for cherry blossoms, with gently curving rows of Yoshino cherry lining a roughly two kilometer stretch of the riverside. It is a designated Place of National Scenic Beauty, and one of Japan's 100 Best Cherry Blossom Spots, together with the Samurai District.

It presents a totally different atmosphere to the shidarezakura in the Samurai District, making for a well-rounded flower viewing experience.
Kakunodate's Year-Round Seasonal Bliss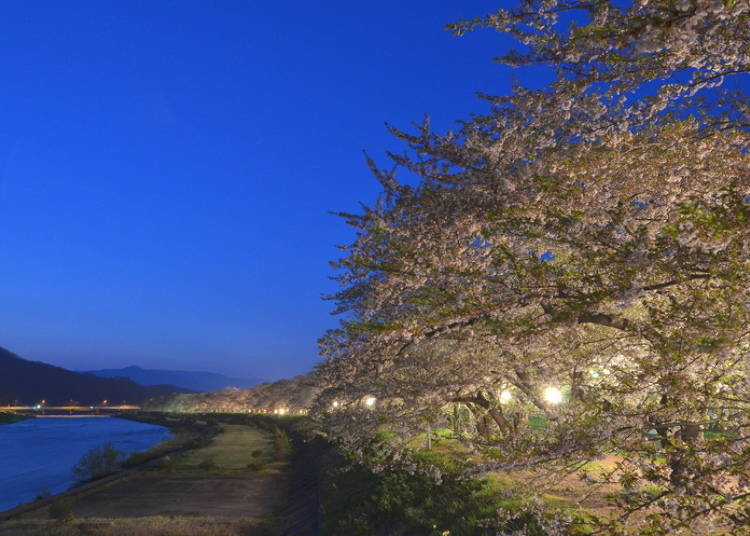 Spring is dominated by the allure of cherry blossoms in Kakunodate, with shidarezakura weeping cherry blossoms in the Samurai District, and Yoshino cherry blossoms along the Hinokinai River. Each year, the Kakunodate Cherry Blossom Festival is held from late April to early May, with food fairs, stamp rallies, and lots more. Plus, there is also an after-dark cherry blossom light up during the festival period, enveloping both the Samurai District and Hinokinai River in a romantic ambience.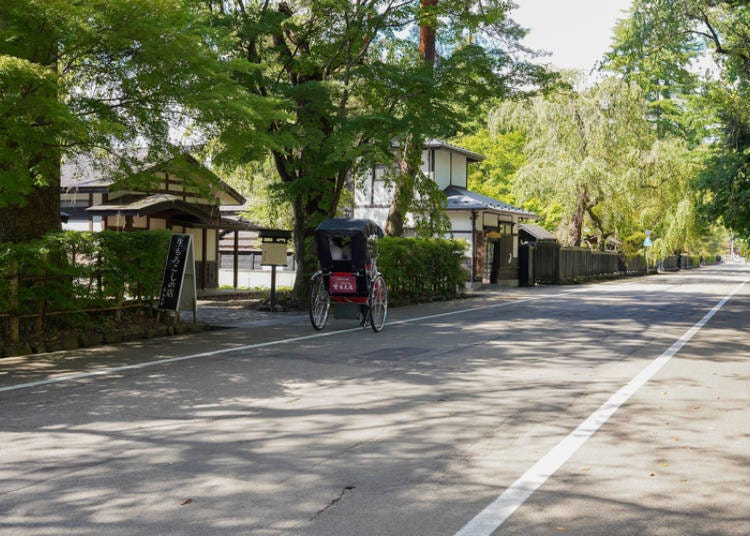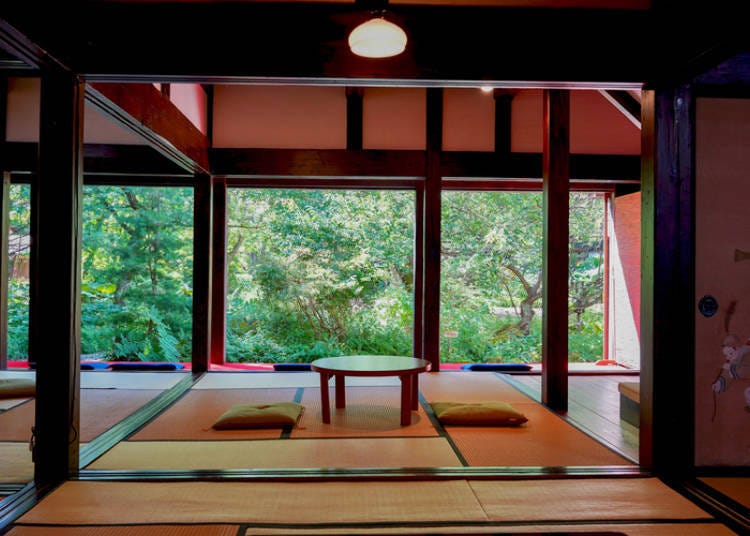 During summer, the cherry trees become thick with greenery, giving the streets a refreshing energy. On August 15, the annual Sasara-Mai dance is performed in each area accompanied by the playing of the wooden "sasara" instrument, a ritual believed to disperse evil spirits.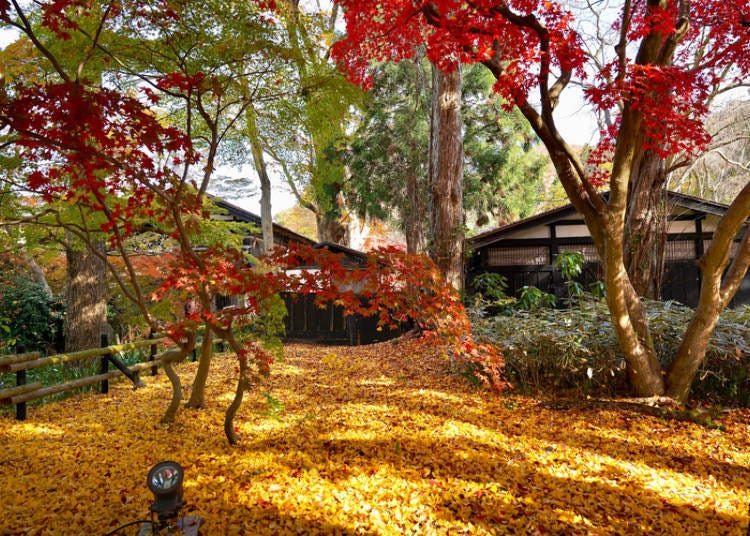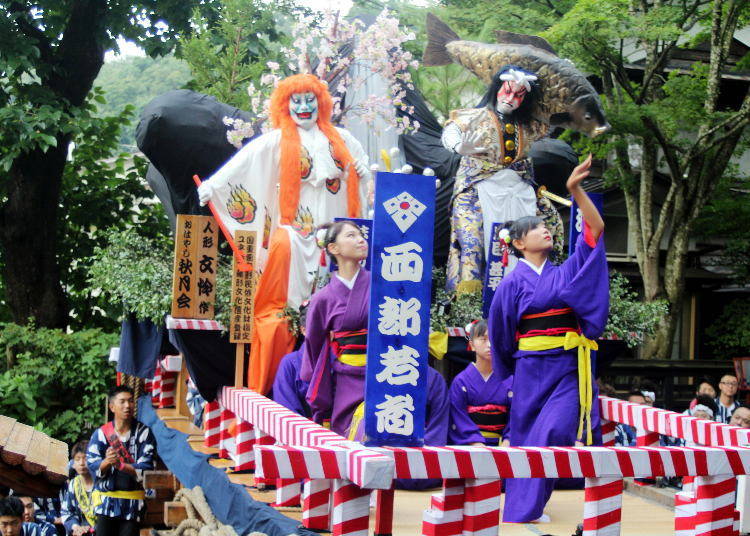 In autumn, the entirety of Kakunodate is dyed in the vivid colors of fall foliage. The Samurai District glows with red and orange hues, forming another dazzling contrast to the stark black walls.

On September 7-9, the annual "Kakunodate Matsuri no Yamagyouji" festival is held, where floats carrying samurai dolls, musicians, and dancers are pulled around to pray for business prosperity and sound health.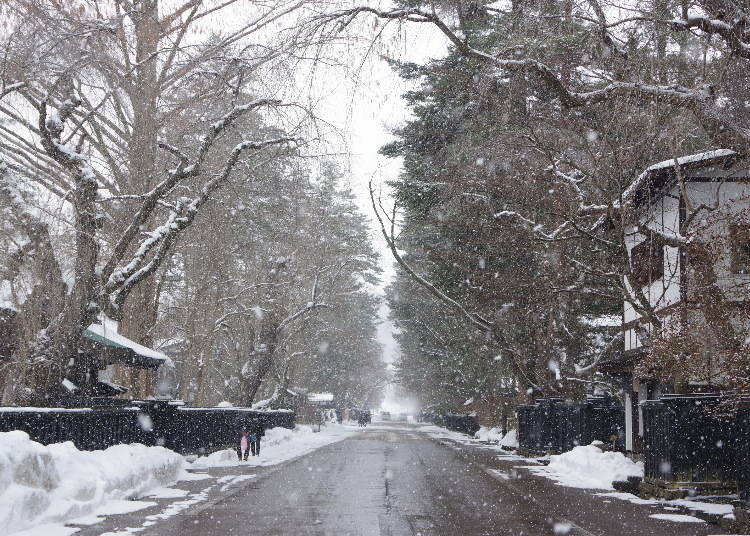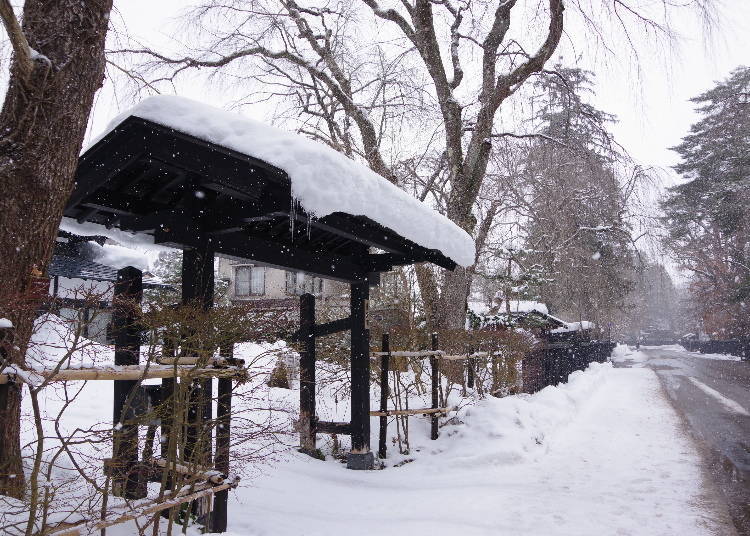 Being one of Japan's snowiest regions, Kakunodate becomes utterly engulfed by winter scenery, with snow piling on top of the shidarezakura and burying the black fences.

The roads are slippery during this time, so remember to wear sturdy winter shoes. If you don't have anything suitable, you can also rent long winter boots at the Kakunodate Tourist Information Center.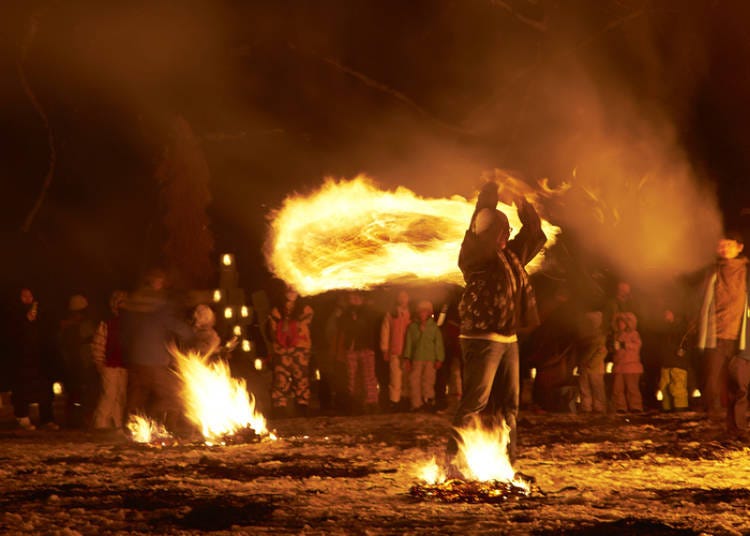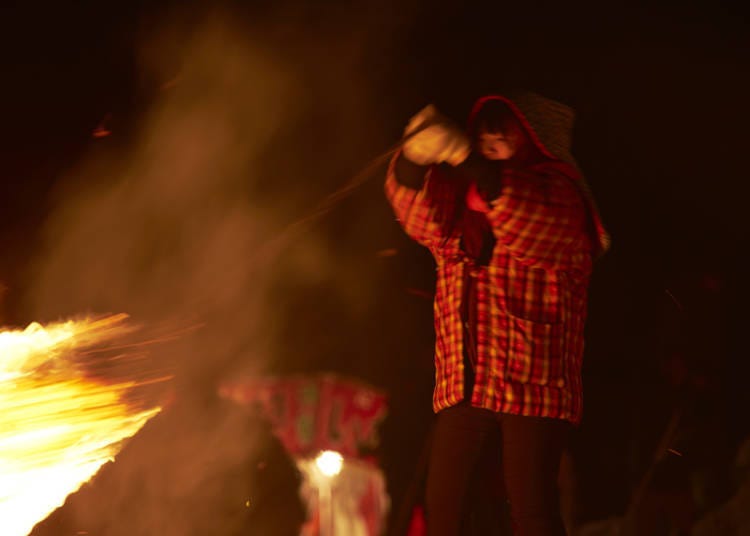 On February 14, the Little New Year event "Hiburi Kamakura" is held across all of Kakunodate. Sacks of charcoal with ropes attached are lit on fire and spun around at great force. Seeing the rings of fire they form against the darkness of night is sure to leave an impression.
Sightseeing Spots Around Kakunodate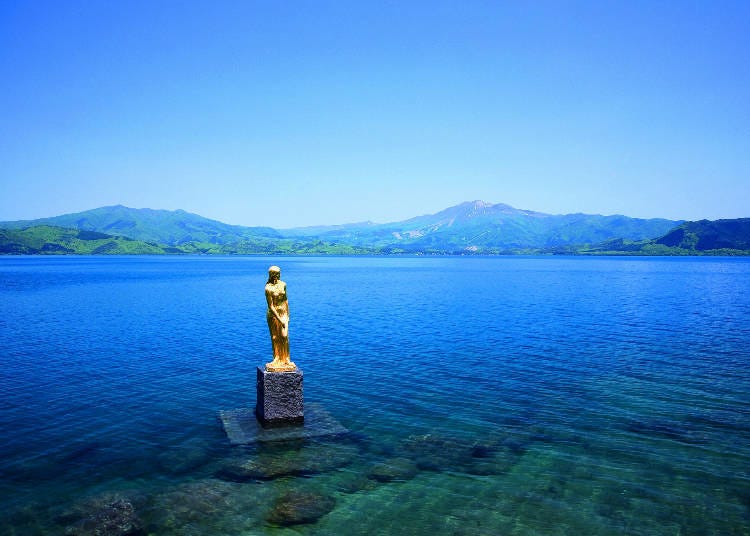 For other places to check out in Semboku, you can't go wrong at Lake Tazawa. With a depth of 423.4 meters, it is the deepest caldera lake in Japan, and shines a stunning cobalt blue from the reflection of the sun. It takes around 20 minutes from Kakunodate to Tazawako Station on the JR Tazawako Line, after which a 15-minute ride on the local bus will bring you to the shoreline.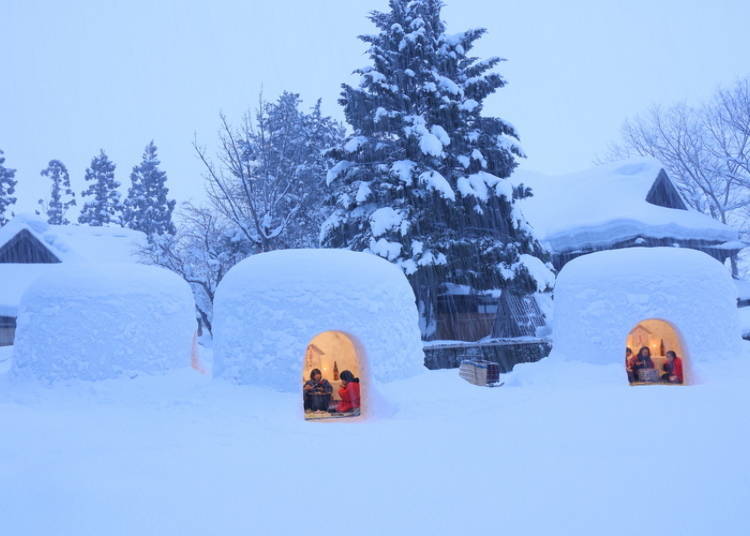 Yokote, famous for its snow huts, is another popular sightseeing area easily accessed from Kakunodate. Along with its beloved Kamakura Snow Hut Festival, there is the Yokote Park Observatory on the grounds of Yokote Castle, the Yokote Masuda Manga Museum, and loads more to check out.

It is also the birthplace of Yokote-style yakisoba, which is topped with a fried egg. From Kakunodate, take the Akita Shinkansen bullet train for Omagari Station, and change to the JR Ou Main Line heading for Yokote Station. The journey will take around 40 minutes.
Where to Stay Around Kakunodate
As a stop on the bullet train, Kakunodate is also a great base for sightseeing around Lake Tazawa and Yokote. Here are some recommended accommodations in Kakunodate:
Enjoy Year-Round Seasonal Beauty in Kakunodate!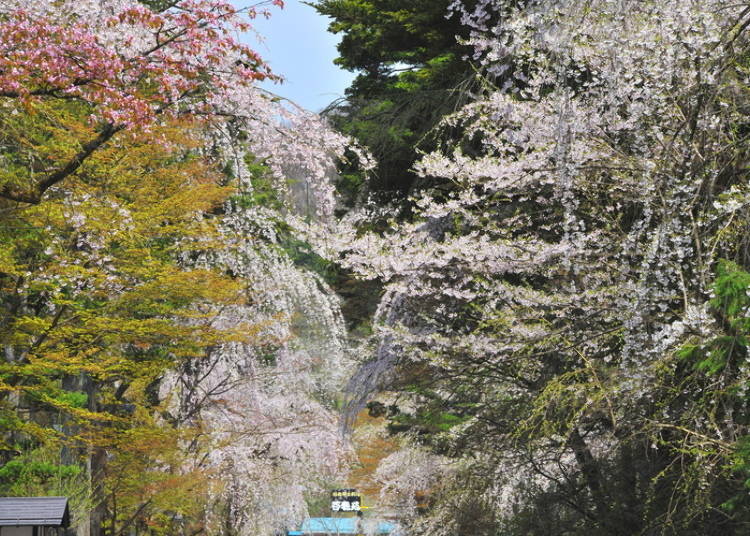 From the iconic black walls and shidarezakura of the Samurai District, to rows of riverside cherry blossoms and striking fall foliage, plus a wealth of festivals, Kakunodate in Akita Prefecture is an excellent place to take in the beauty of the season. With convenient, direct access from Tokyo, it's just a short ride to a deep Japan getaway.
*The information in this article is current as of April 2023. Please check official websites for the latest information.
Written by: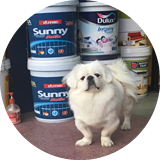 *This information is from the time of this article's publication.
*Prices and options mentioned are subject to change.
*Unless stated otherwise, all prices include tax.
Limited time offer: 10% discount coupons available now!