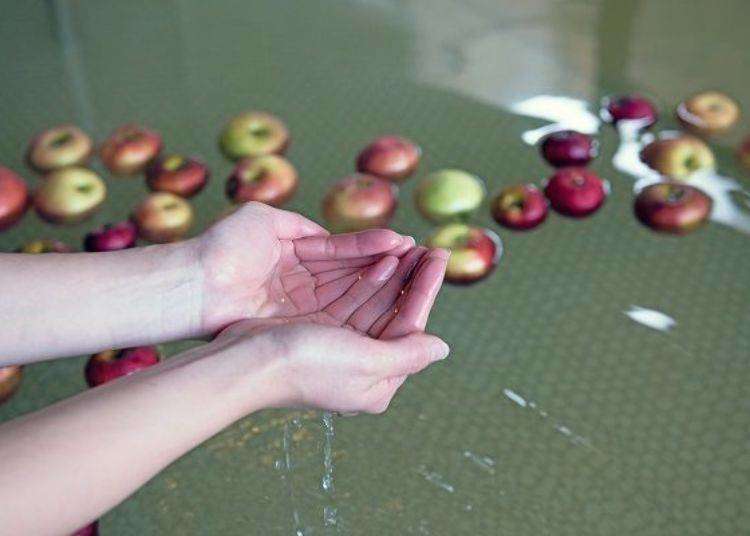 Located on a 330-meter-high plateau, the Togatta Onsen area has prospered from olden times as a health resort and currently many inns surround the central communal hot spring baths. Togatta Onsen is a place where you can leisurely pass away the time in a natural setting where traditions are still alive.

There are many sightseeing spots within walking distance in this retro hot spring town which is ideal for a day trip from Sendai.
Togatta Onsen: Access and Overview
Togatta Onsen is a hot springs area between Miyagi and Yamagata prefectures at the foot of the Zao mountain range on the Miyagi side.

Togatta Onsen can be reached either by an express bus from JR Sendai Station, which takes about one hour, or if you use the Shinkansen, by bus from JR Shiroishi Station which takes about 40 minutes.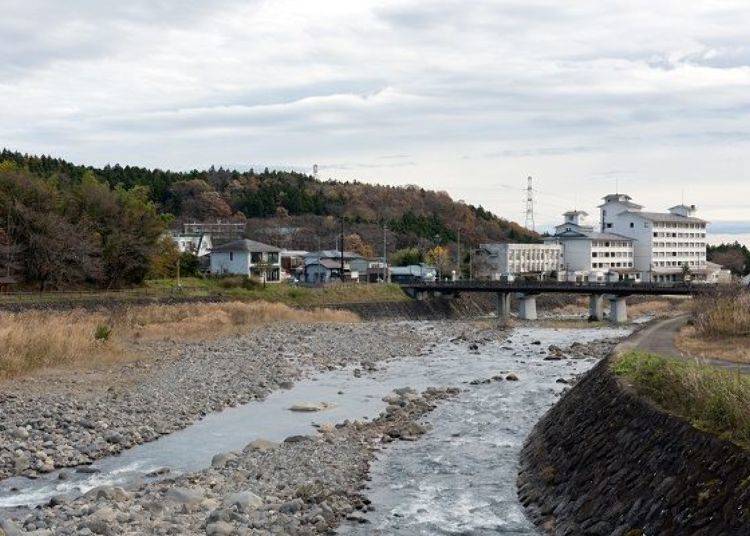 ▲ The Matsukawa River runs through this hot spring town set among spectacular mountains. Take a break from the hustle and bustle of the city and relax in a great natural setting.
Three famous hot spring towns can be found in Japan's northern Miyagi Prefecture: Togatta Onsen, Akiho Onsen, and Naruko Onsen. Here we'll focus on the first of them.

In Togatta Onsen, there are of course public hot spring baths and inns you can visit, and in addition, there are places to eat and various activities offered as well, all within walking distance, making this the perfect place for a day-trip stroll. Leisurely relaxing in this tranquil and natural environment you can easily forget the busyness of daily life.
1. Kami no Yu: Center of Togatta Onsen and the town's symbol
Kami no Yu ("hot spring of the gods") is one of two public hot spring baths in Togatta and the starting point for our walk. They are located in the center of the hot spring town and directly in front of the Tourism Information Center.

There is a foot bath in front of the entrance which can be used at no charge between the hours of 9:00 a.m. and 5:00 p.m., making it a good spot to leisurely relax while planning your day's activities. Soaking your feet for only 5 minutes will warm your entire body.
▲ The foot bath is located between the Kami no Yu and the Tourism Information Center. This spot becomes quite lively with local residents and tourists on holidays.
If you have the time, also visit one of the indoor baths. The fee is 330 yen for adults and 110 yen for elementary school-age children and younger (tax included in both fees), which is quite reasonable. The minerals in the spring water are sodium, calcium-sulfate, and chloride which are said to be effective for neuralgia and arthralgia.

Everyone from children to the elderly can bathe in the wood-scented baths made from Aomori cedar, one with lukewarm water (41 ~ 42 degrees Celsius) and the other with hot water (44 ~ 45 degrees Celsius), without a care in the world.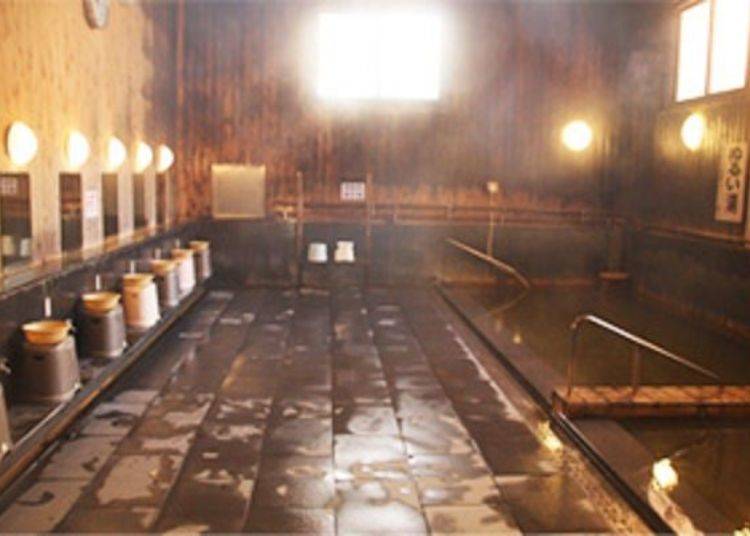 ▲ Single-use soap and shampoo can be purchased at the entrance.
Communal Hot Spring Bath Kami no Yu

共同浴場 神の湯

Address

32 Nakamachi, Togatta Onsen, Zao-cho, Katta-gun, Miyagi Prefecture

Phone Number

0224-34-1990

Open: 9:00 a.m. ~9:30 p.m.
Closed: always open
Admission: adults 330 yen, elementary school aged and younger 110 yen (tax included in both fees)
2. Baeltz: Enjoy hearty authentic German cuisine
After warming yourself up at the footbath, stroll over to Restaurant Baeltz, just a five-minute walk from the Kami no Yu. The homemade sausages served here won the gold prize at an international contest in Frankfurt, Germany. In addition to roast ham and bacon, the restaurant serves other authentic German dishes as well.

Locally produced pork is used in the stuffing, boiling, and smoking of sausages which is done on-site. Once you try them you will be hooked by their authentic taste as is evidenced by the many repeat customers who come even from other prefectures.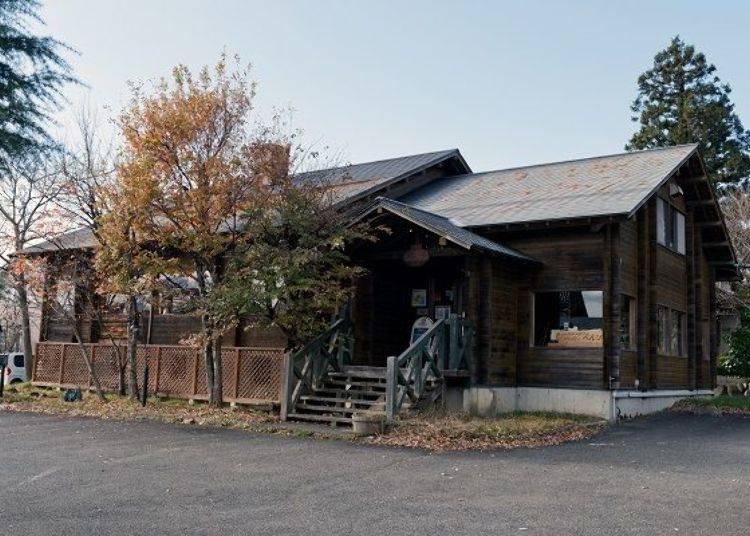 ▲ The restaurant is in this impressive log house. The sausages are made in the basement.
Cheerful waiters in the stylish restaurant will take your order, and a recommended item on the menu is the Bavarian Plate Lunch.

This is a special plate containing sausage and ham noted for their deep, meaty flavor. The bacon saute exudes flavor with each bite causing one to lovingly linger over it before swallowing! I could easily eat the whole thing as it was not at all greasy.
▲ Bavarian Plate Lunch (1,570 yen excluding tax). Only the weekday lunch comes with coffee.
The most popular item on the menu is the Bratwurst Lunch (1,370 yen excluding tax); a raw sausage that is grilled and not boiled. It alone has a flavor unlike other sausages, being meatier and more similar to that of a hamburg steak. This goes really well with German beer.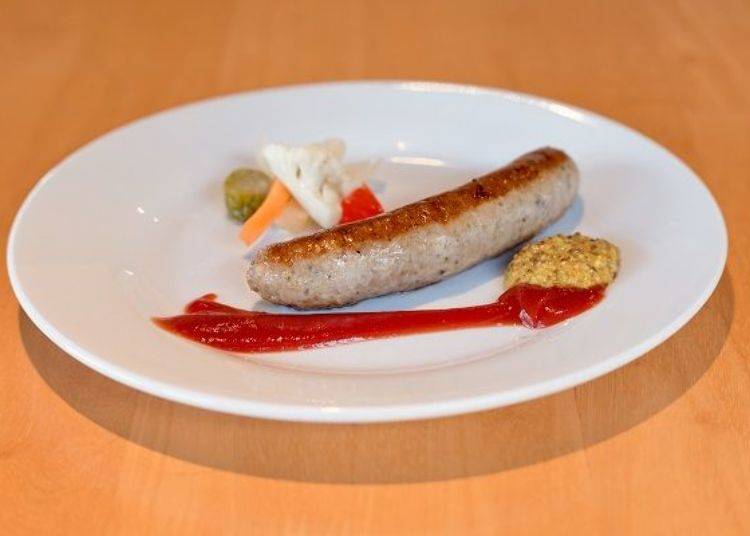 ▲ Absolutely no preservatives are used in the bratwurst, so for that reason it is not sold as a souvenir. This is one dish you certainly should try when you visit (the photo is not of a lunch plate)
By the way, the vegetables served are all freshly harvested from the Zao area. To ensure the best flavor, nothing is frozen, so these dishes will certainly revitalize anyone.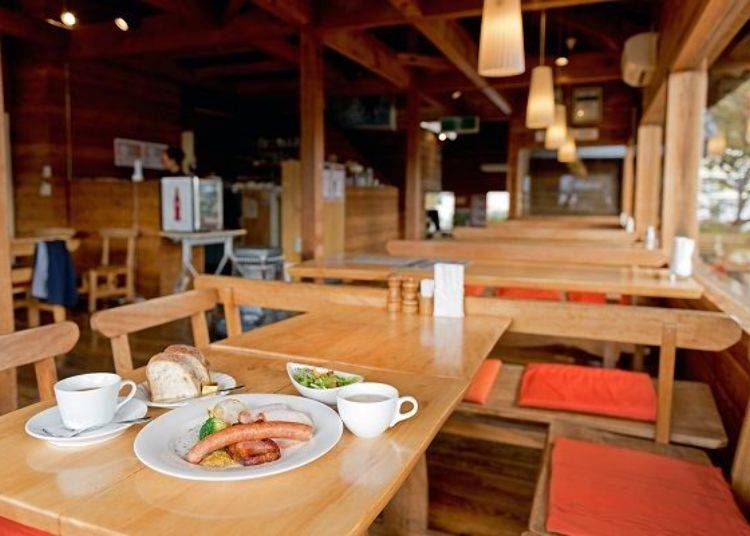 ▲ Although spacious, the restaurant becomes crowded during the lunch hour. For that reason it is best to visit at a later time.
ベルツ

Address

21-12 Togatta Kitayama, Togatta Onsen, Zao-machi, Toggata-gun, Miyagi Prefecture

Phone Number

0224-34-2001

Open: 11:00 a.m. ~ 3:00 p.m. (L.O. 2:30 p.m.), 5:30 p.m. ~ 8:00 p.m. (L.O. 7:30 p.m.)
* Dinner is served only on Friday and Saturday
Closed: Thursday
3. Miyagi Zao Kokeshi Museum: Picturesque place for Kokeshi Dolls
Next we head to the Togatta Bridge, which is affectionately called the Kokeshi Bridge. This is a large bridge that spans the Matsukawa River that runs through Togatta.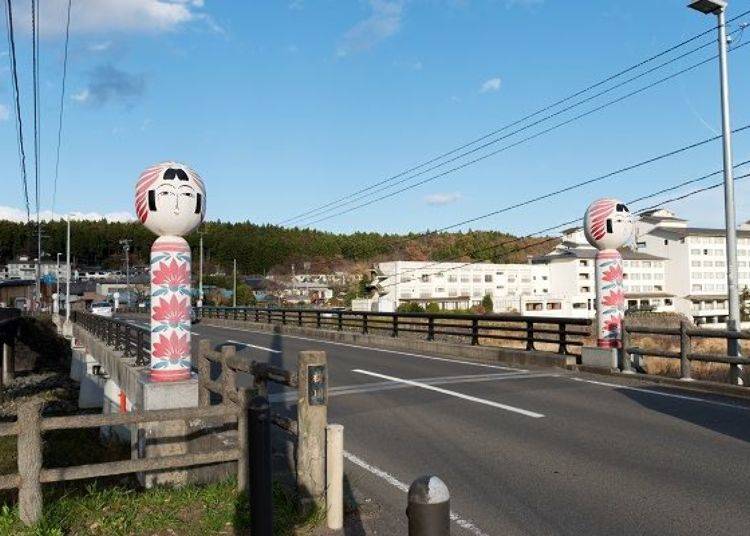 ▲ Large kokeshi dolls stand at each end of the bridge. See if you can also spot the small kokeshi dolls on the bridge.
A short distance after crossing over the bridge you will come to the Miyagi Zao Kokeshi Museum. The museum, which opened in 1984, proudly boasts the world's largest collection of about 5,500 traditional kokeshi dolls and wooden toys.

The style of Togatta Kokeshi, which developed around Togatta Onsen, is characterized by a splendid flower pattern and red, radiating lines on the forehead. Viewing these traditional kokeshi and wood toys from all parts of the country one can get a good feeling of history.

There are also sharp differences in the shape and expressions of kokeshi made in different parts of the Tohoku region.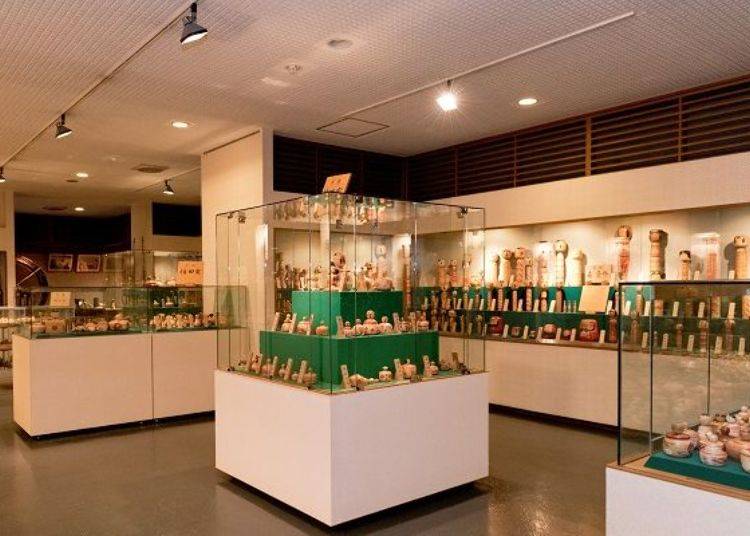 ▲ 5,500 traditional kokeshi and wood toys are displayed
A single craftsman handles the whole procedure of making a kokeshi from start to finish, beginning with the selection of the wood and then painting the face and body. In the kokeshi museum there is a corner where you can observe a craftsman doing this.

There is also a corner where you can try painting a kokeshi yourself, giving it your own original design. The gift shop sells not only kokeshi, but also many other items including small objects with kokeshi desgins. Here you can stop by and forget the time as you make a souvenir that will be a memory of your trip.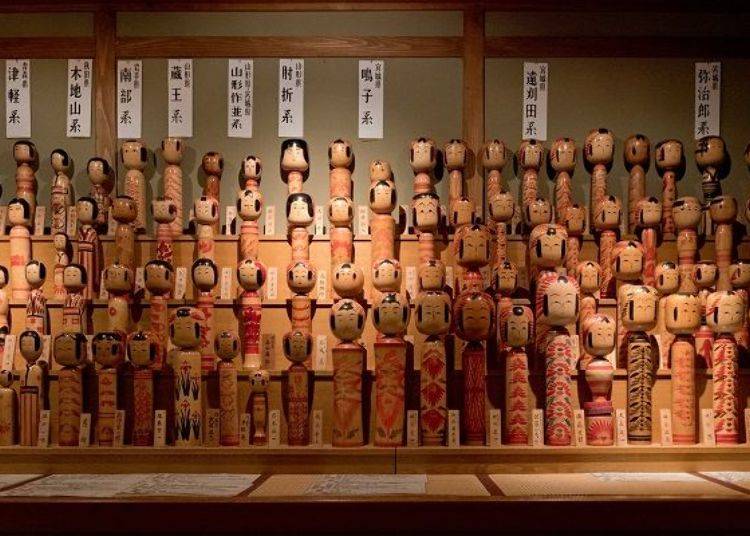 ▲ Kokeshi displayed from many different regions. Among the many displayed perhaps you can find one that reminds you of your childhood.
Miyagi Zao Kokeshi Museum

みやぎ蔵王こけし館

Address

36-135 Shinchi Nishi Urayama, Togatta Onsen, Zao-machi, Katta-gun, Miyagi Prefecture

Phone Number

0224-34-2385

Open: 9:00 a.m. ~ 5:00 p.m. (Last admission 4:30 p.m.)
* Dec. 29 ~ Jan. 3 last admission at 3:00 p.m.
Closed: always open
Admission: adults 300 yen, elementary and middle school aged children 150 yen (tax included in both fees)
4. Shunsai Yuyado Daichu: Enjoy a mystical moment in the "magical apple bath"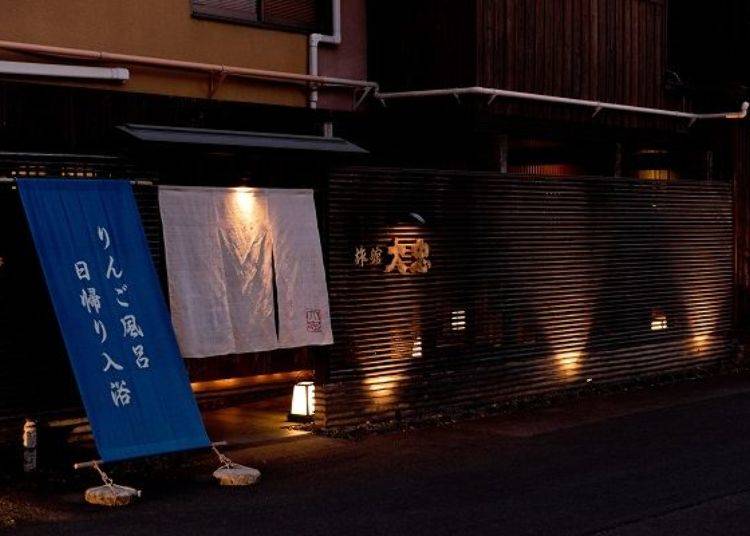 ▲ The Shunsai Yuyado Daichu was founded in 1868 and has a history of about 150 years
You can enjoy the hot spring baths on a day trip at the Shunsai Yuyado Daichu inn that is located a short distance back near the center of the hot spring town.

This inn with its quiet atmosphere is a popular spot for adults looking for a bit of privacy. With its tatami-mat interior, the atmosphere in this inn is a fusion of nostalgia and modern trends. The moment I stepped in I was so impressed that I inadvertently cried out, "Beautiful!" There are 9 guest rooms to accommodate overnight guests.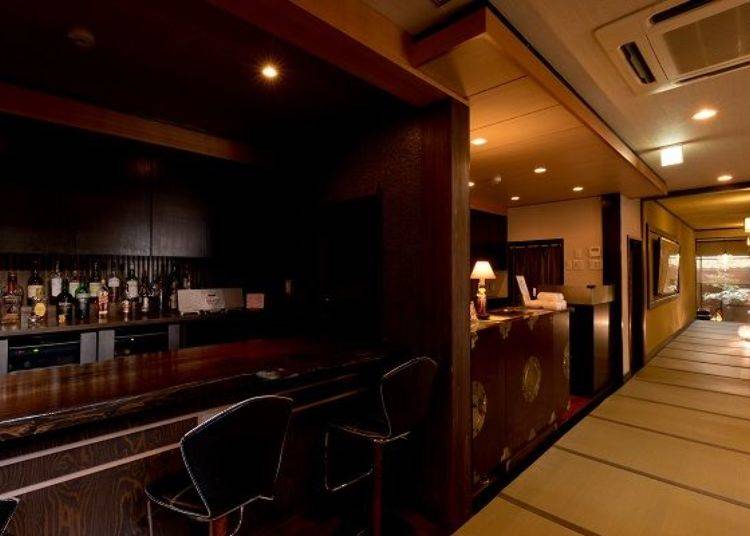 ▲ The interior has a nostalgic feel about it. If you spend the night you can also enjoy a drink at the bar in the front.
For day-trip visitors the baths are available for use between 11:00 a.m. and 8:00 p.m.; the fee is 800 yen for adults and for children up to 9 years of age 600 yen (tax included in both prices). The temperature of the water at the source is 68 degrees Celsius, but even without adding water, the temperature of the water in the baths can be regulated just by the amount each holds.

The baths at Togatta Onsen are the only ones that do not use water or any other means to adjust the temperature of the free-flowing spring water which is one of their attractions!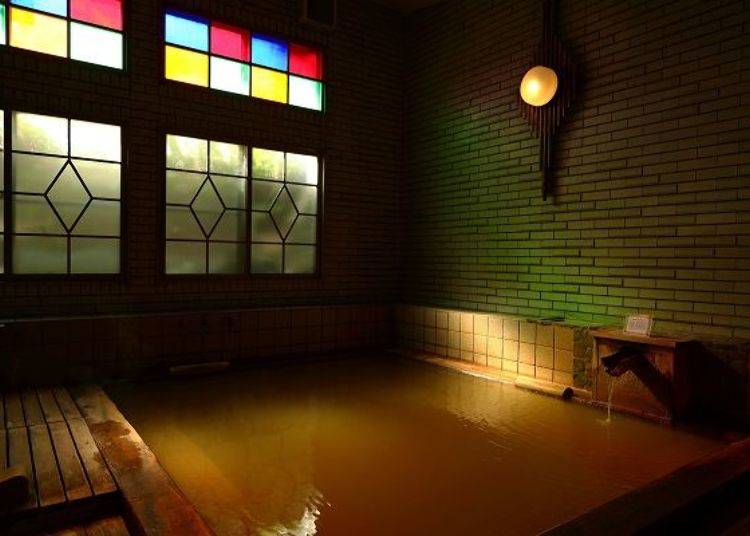 ▲ The men's Hinoki no Yu bath. The atmosphere of this bath is very soothing.
Especially popular at Daichu is the Magical Apple Bath that is provided during the winter months from November to February. This bath not only looks brilliant to the eye but also has a soothing fruity aroma that is bound to please.

The sweetly citrus aroma of the apples in the bath is certain to elicit a smile on the faces of the bathers. The otherworldly atmosphere is very soothing and relaxing.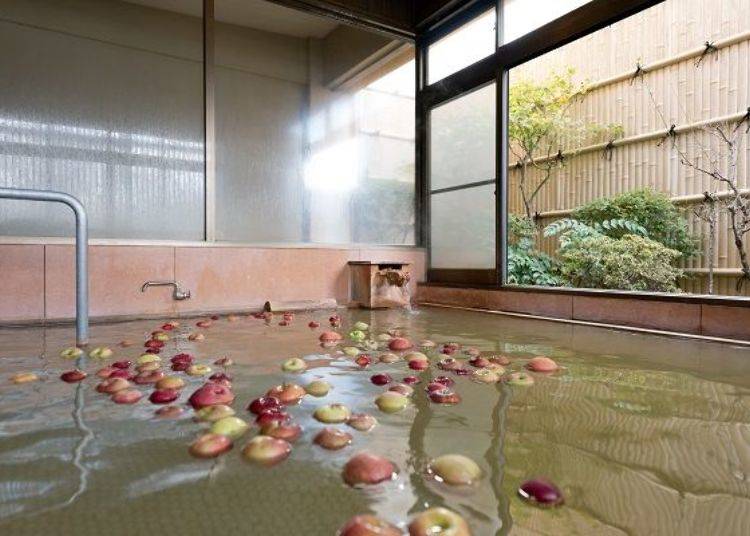 ▲ Lots of apples floating in the tub. In the case of day-trip bathers this bath is only for the use of women.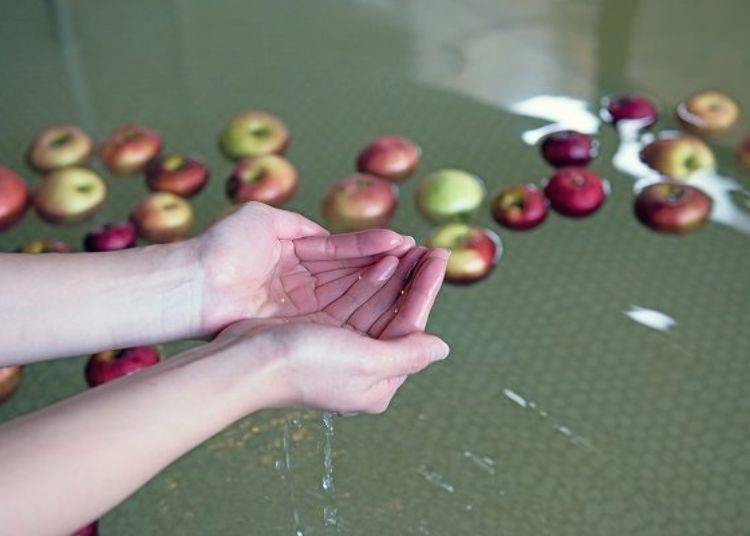 ▲ The hot spring is 100% free-flowing. The minerals in this hot spring are sodium, calcium-sulfate, and chloride.
Whether you are visiting on a day trip or spending the night it is possible to reserve a bath for private use. This bath can be reserved between the hours of 11:00 a.m. and 2:00 p.m., a 50-minute session costing 3,500 yen (including tax).

Here you can enjoy some quiet, quality time all by yourself. Of course, it can also be used with friends or family, perfect for making a special time! If it is open, you can reserve it on the same day if you make the reservation before 10:00 a.m.
▲ Kaze Midori no Yu is a bath that can be reserved. This is a good place to spend quiet time alone.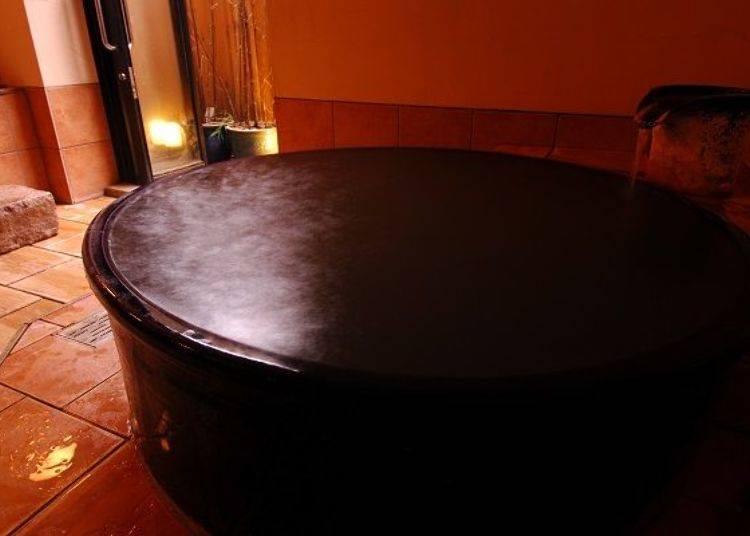 ▲ This is the Konpeke [azure] no Yu, another bath that can be reserved.
旬菜湯宿 大忠

Address

1 Asahicho, Togatta Onsen, Zao-machi, Katta-gun, Miyagi Prefecture

Phone Number

0224-34-2306

Lodging: 1 night with 2 meals from 15,000 yen per person (excluding tax), when two people share one room
Day-trip bath hours: 11:00 a.m. ~ 8:00 p.m.
* Not possible to use baths when crowded or when they are being cleaned
Day-trip bath charge: adults 800 yen, children up to 9 years old 600 yen
* Tax included in both fees
5. Hana * Hana: Try painting pottery in the pottery artist's atelier!
After a leisurely soak in a hot spring, next visit the atelier Hana * Hana which is a short walk from Daichu. Here you can buy authentic pottery and also try your hand at painting them.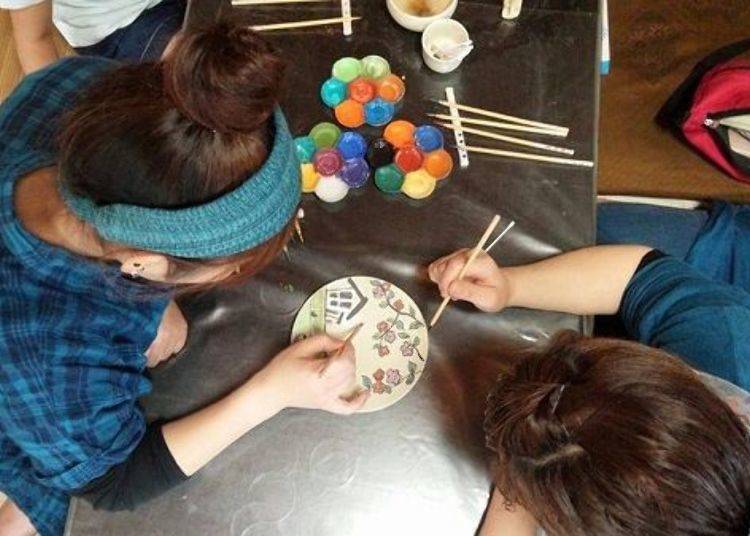 ▲ This small workshop is a combined atelier and sales shop (photo provided by Pottery Atelier Hana * Hana)
There are various items, varying in size from accessories and chopsticks holders to plates and tea cups available for painting. Select one you would like to paint and create an original design of your own.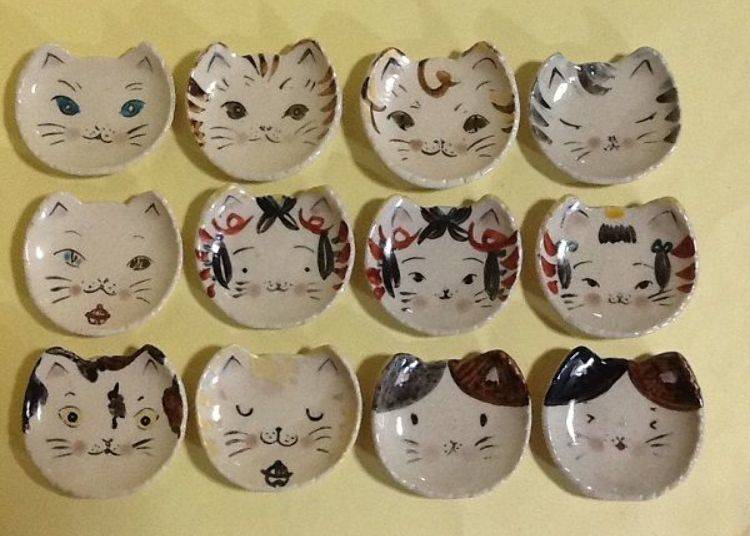 ▲ Cat plates specially made by Hana * Hana. Those pictured are for sale, however, you can chose this kind of plate to paint, too (photo provided by Hana * Hana)
Accessories, tea cups, and small plates that are painted are baked the same day and will be ready for you to take home with you later, making perfect gifts!
陶アトリエ 花*花

Address

〒989-0914 宮城県刈田郡蔵王町遠刈田温泉旭町22
6. Hasegawa-ya: Enjoy fresh, rich tofu at this long-established shop
Last on our list of places to visit is the popular tofu dealer Hasegawa-ya. This shop has been in business for more than 100 years and appeals to many with its nostalgic charm and appearance.
▲ It's just a small tofu shop that mainly sells tofu, but it is likely the friendly personality of the shopkeeper that keeps the customers coming.
The tofu is made using cold underground spring water that gives it a rich flavor (Momen tofu large size 280 yen, tax included). The Sankake Age, delicious especially when toasted (150 yen, including tax), and the Soy Milk Soft ice cream (280 yen, including tax) are also popular products.

The Sankake Age is even more delicious if you add soy sauce and Shichimi Ninniku [7-spice garlic] (550 yen, excluding tax) that is also sold here. The soft ice cream is made with lots of soy milk and has a solid tofu flavor. There are small benches inside and outside the store where you can enjoy these treats, but we also recommend that you take some home as a souvenir.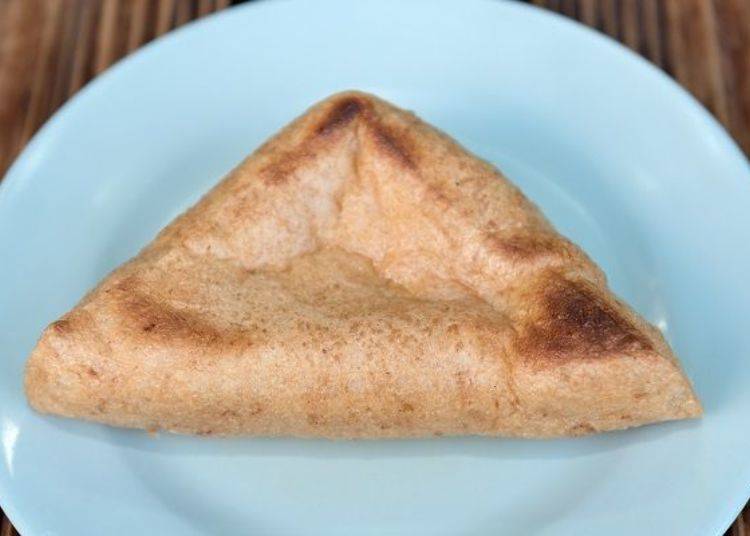 ▲ Sankaku Age. There is a toaster in the shop you may use if you want to eat it on the spot.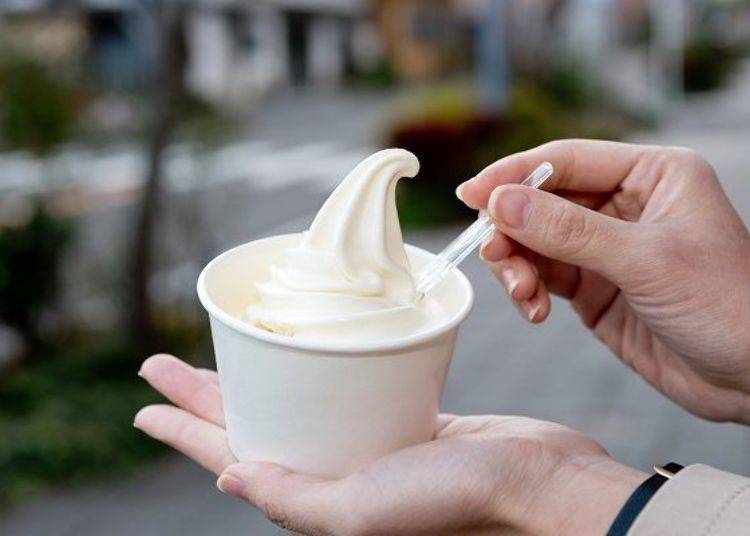 ▲ After eating the tofu, we really recommend having a soy milk soft ice cream because the tofu flavor is so subtle you would not think it was made from soy milk!
はせがわ屋

Address

23 Motomachi, Togatta Onsen, Zao-cho, Katta-gun, Miyagi Prefecture

Phone Number

0224-34-2442

Open: 7:00 a.m. ~ 6:00 p.m.
Closed: unscheduled Thursdays
When the weather gets colder hot springs become more enticing. At Togatta Onsen you can enjoy them either on day trips or overnight stays. The area is rich in nature and history and offers relaxing hot springs and delicious food. Why not come and see for yourself?
Recommended Hotels and Ryokan in Togatta Onsen
星灯り宿 まほろば

Address

Togattaonsen Shinchihigashiurayama 39-294, To-katta, Miyagi, 989-0916


Nearest Station

Higashi-shiroishi Station (Tohoku Main Line)

Address

30 Higashiura, Togattaonsen, Zao, Miyagi, 989-0916
View Map

Nearest Station

Higashi-shiroishi Station (Tohoku Main Line)


Vacancy search, reservation

from

11,660JPY

1room, 2adults

Check with our partner site as the latest rates, rate details, and guest room requirements may vary.
旅館三治郎

Address

Togattaonsen Honcho 3, Zao, Miyagi, 989-0913


Nearest Station

Higashi-shiroishi Station (Tohoku Main Line)

*This information is from the time of this article's publication.
*Prices and options mentioned are subject to change.
*Unless stated otherwise, all prices include tax.
Search for International flights