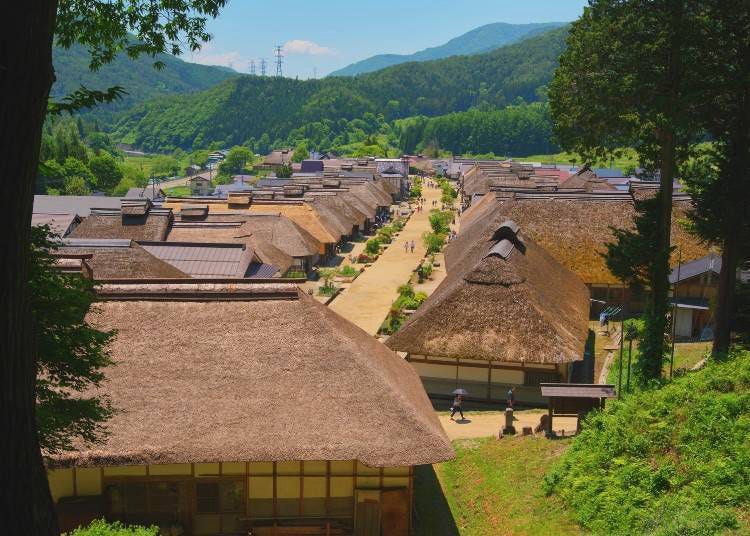 The Tohoku region of Japan, located in the far northern tip of the mainland, consists of six prefectures: Aomori, Iwate, Miyagi, Akita, Yamagata, and Fukushima.

The east, west, and north are surrounded by seas, while the center is dominated by the precipitous Ou Mountains. Even today, these mountains are difficult to pass, cultivating distinctive cultures, making each region equally worth visiting.

Amongst these regions lies numerous "kokoro no furusato," meaning "hometown of the heart," bursting with rustic, traditional atmospheres making one well with nostalgia.

In this article, our Tohoku-loving writer introduces five retro villages within Tohoku that all fans of old-school Japan should check out at least once!
1. Ginzan Onsen - Bask in the Romantic Aura of the Taisho Period! (Yamagata)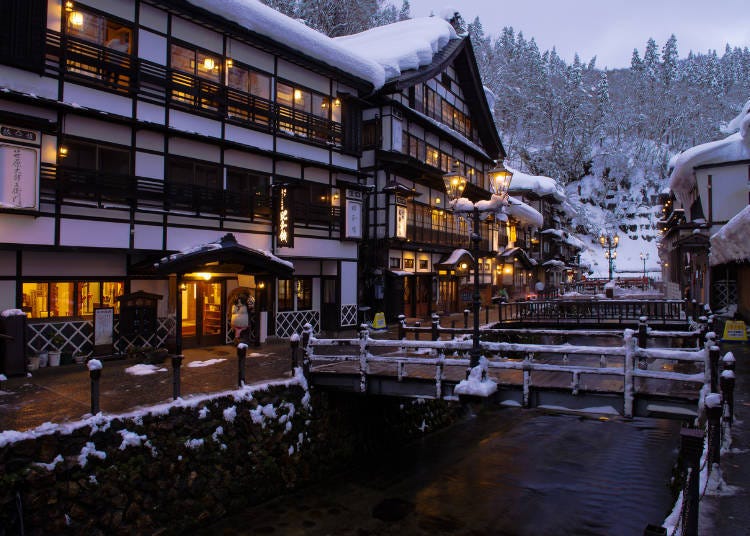 The transient beauty of Ginzan Onsen in winter.
Ginzan Onsen, located in Obanazawa, Yamagata, is a traditional hot spring town brimming with a warm, welcoming atmosphere making one feel 100 years back in time.

Located at the end of a mountain road, Ginzan Onsen can be accessed after a 40-minute bus ride from Oishida Station on the Yamagata Shinkansen. The name "Ginzan" means "silver mountain," coming from the Nobesawa Silver Mine, which first opened during the Keicho period (1596-1615).

When Ginzan Onsen was first opened as a hot spring, its location on a narrow, perilous road made it extremely difficult to access. The town was simple, with rows of thatched-roof wooden bungalows and two-story inns sparingly run for visitors to come and heal their bodies in the warm, powerful water.

In 1913, the town suffered through the severe flooding of the Ginzan River, which destroyed most of the hot spring inns. This led to decreased thermal water output and continuous trouble in attracting visitors.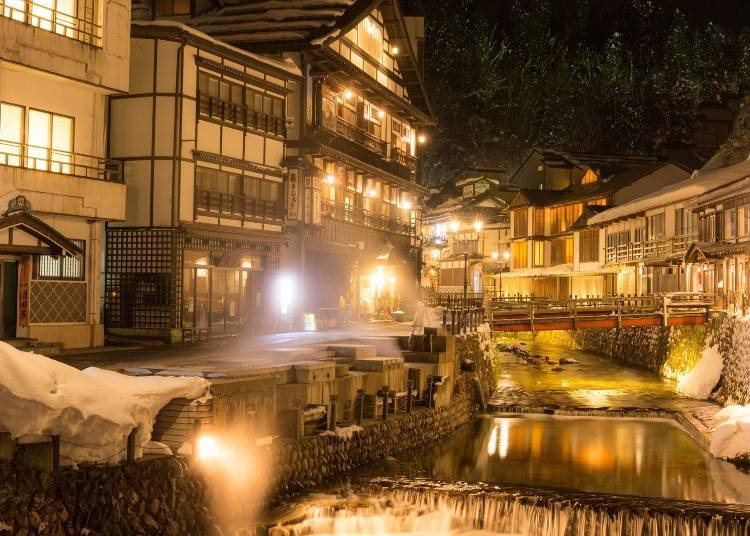 The gas-lit streets are utterly enchanting.
Due to breakthrough boring techniques in the Showa period, new sources of hot and abundant spring water were uncovered.

The entire town ventured to rebuild with western-style wooden multilevel buildings. Afterward, the roads were improved, and the town became Yamagata's definitive hot spring paradise.

Using both the best of Japanese and western architecture, this tactful blend perfectly encapsulates the phrase "east meets west."

Despite the overall western design, each guest room features traditional Japanese tatami straw mat flooring and more.

The views from the windows present a wondrous townscape harking back to an era of rapid westernization, allowing an unbridled peek into this fascinating time period.

The town is illuminated by gas lamps during the evening, enveloping visitors in a moody, Dickensesque aura. Summer is the perfect opportunity to further blend in by donning a traditional "yukata" kimono.

At the same time, the snowy streets of winter are often claimed to be the pinnacle of Ginzan Onsen's seasonal beauty.

In contrast to its humble aura, Ginzan Onsen boasts high-tech additions like Wi-Fi connectivity throughout the town, a specially made app aimed at providing information to international tourists, and QR code audio guides.

Indeed, with a wealth of foreign-language pamphlets also available, Ginzan Onsen has been hard at work making it a comfortable destination for international tourists.

Naturally, many of the ryokan inns also have signage in English, Chinese, and more, taking the stress out of visiting such a remote location. If you're seeking the best of Japan's long-established hot spring culture, Ginzan Onsen should be at the top of your list!

Health & Safety Measures
Indoor disinfection measures taken - Sanitizer installed - Ventilation measures in place - Staff wear masks, gargle, wash hands regularly, and monitor body temperature - Guests are required to wear masks
Address

Yamagata Prefecture Obanazawa City Yamagata Large Ginzan Shinhata, 999-4333
View Map

Nearest Station

Oishida Station (Ou Line / Yamagata Shinkansen)


Phone Number

0237-28-3933
2. Ouchi-juku - An Ancient Inn Town For Travelers to Rest (Fukushima)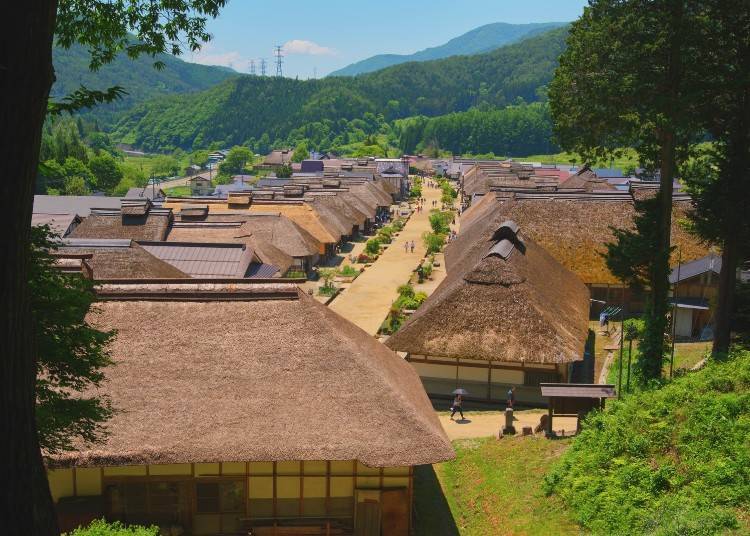 Image: Shimogo-Town Tourism Association
Ouchi-juku prospered as an inn town during the Edo period (1603-1868) on the ancient Shimotsuke Kaido Highway, which served as the main route between the Aizu and Kanto regions from the Kamakura period (710 - 794).

Despite the spread of automobiles and the construction of new national highways, the mountainside Ouchi-juku was purposely left untouched by modernization to remain as a relic of pre-industrial Japan.

It can be accessed after a 10-minute drive from Yunokamionsen Station on the Aizu Railway and can be reached from Tokyo via bullet train, etc., in roughly 3.5 hours.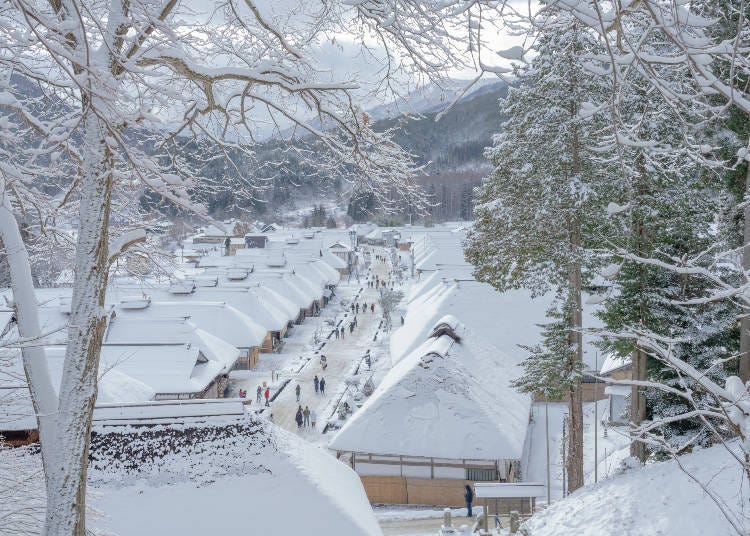 The wintertime scenery is also incredibly beautiful. Image: PIXTA
The "juku" in Ouchi-juku means "inn," and as per this name, the town existed to provide accommodation to weary travelers to rest between their journeys.

There are numerous inn towns dotting Japan, with other famous examples including Narai-juku and Tsumago-juku in Nagano, and Magome-juku in Gifu. And, of course, the internationally known center of Tokyo, Shinjuku, where the Tokyo Metropolitan Government Building now stands and which was originally set up as "Naito Shinjuku" on the Koshu Kaido highway.

While many of these inn towns are now totally different, Ouchi-juku remains as it always was, with numerous thatched roof homesteads lining unpaved roads allowing one to step back into Edo period Japan.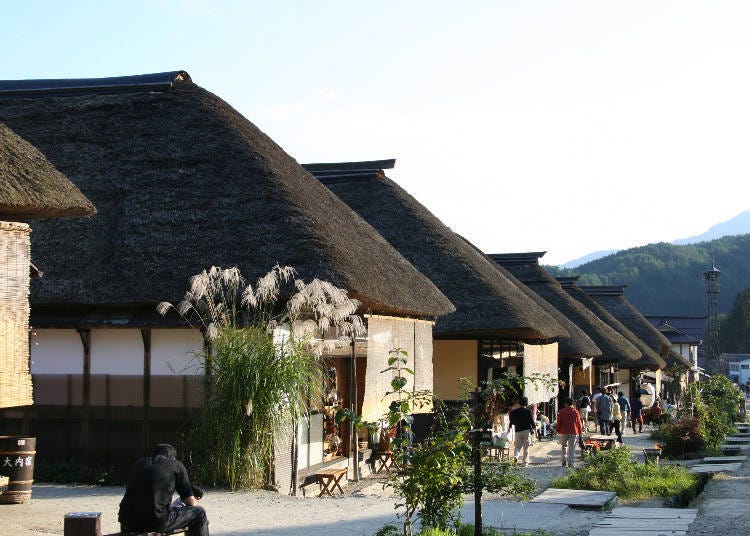 Traditional Japan lives and breathes in Ouchi-juku. Image: Shimogo-Town Tourism Association
These thatched roofs are made using traditional Japanese techniques, which see a specialized "kayate" craftsperson leading the townspeople to cooperate and repair and re-thatch the roof as necessary.

In 1981, the entire town was recognized as a Nationally Designated Important Preservation District of Historic Buildings, and the residents have established a charter to ensure the landscape is preserved. The traditional thatching techniques are passed down the generations through education.

The buildings of Ouchi-juku now serve both as private homes and shops, with the majority being eateries, souvenir stores, and guesthouses.

The local must-eat delicacy here is "negi soba." While soba topped with thinly sliced "negi" green onion is common across Japan, this eye-catching rendition sees an entire stick of negi placed in the bowl to be used in lieu of chopsticks.

The area around Ouchi-juku is famous for producing high-quality soba, so definitely be sure to try a bowl for yourself!

There are pamphlets around Ouchi-juku in both English, Chinese, and Korean. While most residents cannot speak foreign languages, they are all friendly and will do their best to accommodate you with a smile.

Health & Safety Measures
Indoor disinfection measures taken - Sanitizer installed - Ventilation measures in place - Staff wear masks, gargle, wash hands regularly, and monitor body temperature - Guests are required to wear masks
大内宿

Address

Ouchi, Shimogo-cho, Minamiaizu-gun, Fukushima 969-5207

TEL: 0241-68-3611 (Ouchi-juku Tourism Association)
3. Kakunodate Samurai Residences - Ancient Samurai Homes With Gorgeous Seasonal Scenery (Akita)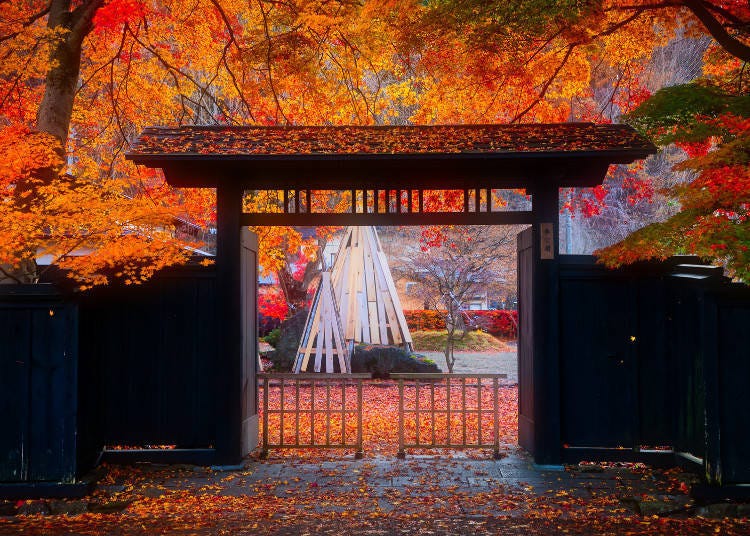 The residences are stunning in both spring and autumn! Image: Akita Fun
The Kakunodate Samurai Residences are one of Akita's top sightseeing spots, widely known for flower viewing during spring's cherry blossom season.

Development in the area was said to have been kicked off by Ashina Yoshikatsu, who ruled over the region and built a town on the southern foot of Furushiroyama.

After the end of the Ashina family lineage, this settlement flourished as a samurai neighborhood after becoming the castle town of the Satakeho family, a branch of the powerful Satake clan who ruled the area around Ibaraki Prefecture.

The Kakunodate Samurai Residences can be accessed after a 15-minute walk from Kakunodate Station on the Akita Shinkansen bullet train line.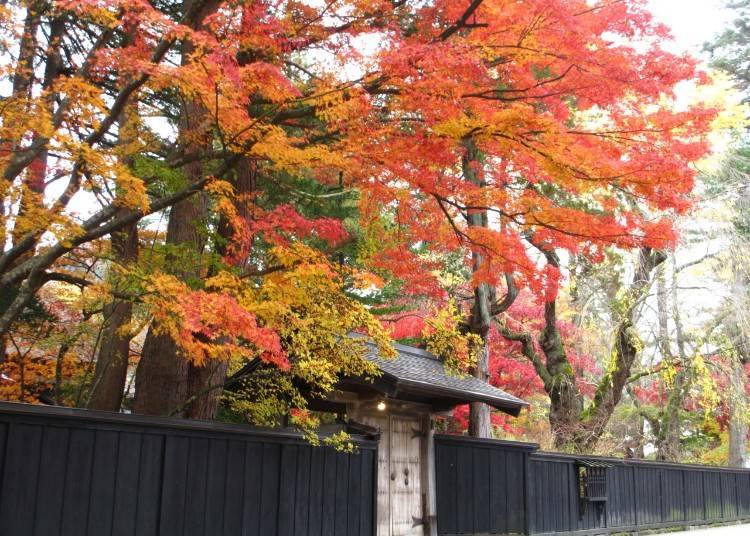 The Ishiguro Samurai House surrounded by fall foliage. Image: Kakunodate Sightseeing Information Center
Nowadays, there are numerous preserved samurai houses in the area each presenting a solemn, dignified character, including the renowned Ishiguro Samurai House, Aoyagi Samurai House, Iwahashi Samurai House, Matsumoto Samurai House, Kawarada Samurai House, and Odano Samurai House.

They form a line from north to south concentrated along the Hinokinai River.

While the streets and roads of most castle towns were made to be narrow for defensive purposes, the Kakunodate Samurai Residence street is wide and open, making it very unique and refreshing.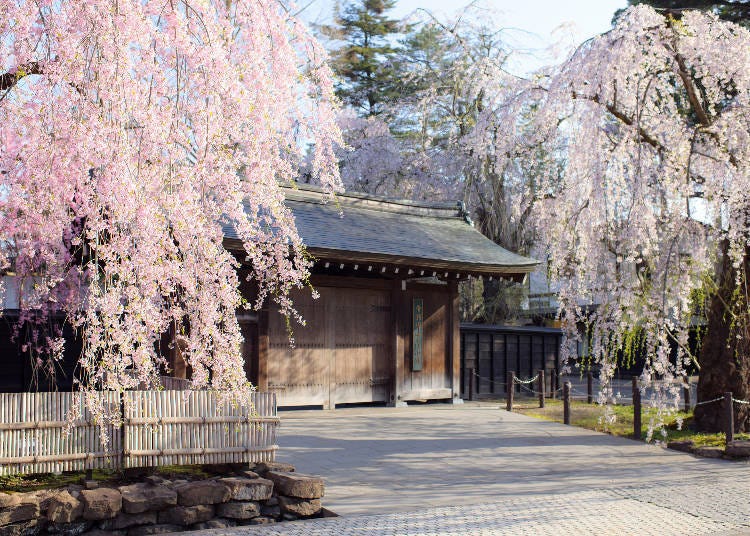 Cherry blossoms in spring. Image: PIXTA
The fences and outer walls of the samurai residences are painted a thick jet black, and, despite being wooden, exude a sturdy, solid appearance.

Some residences also have gardens with cherry blossoms during the spring, lush greenery in summer, and fiery fall foliage in autumn, compounding the excitement and making each one worth exploring in its own right.

However, we particularly recommend visiting in winter, when tourist numbers are low, and the solemn residences sitting in snow become the apex of Japanese aesthetics.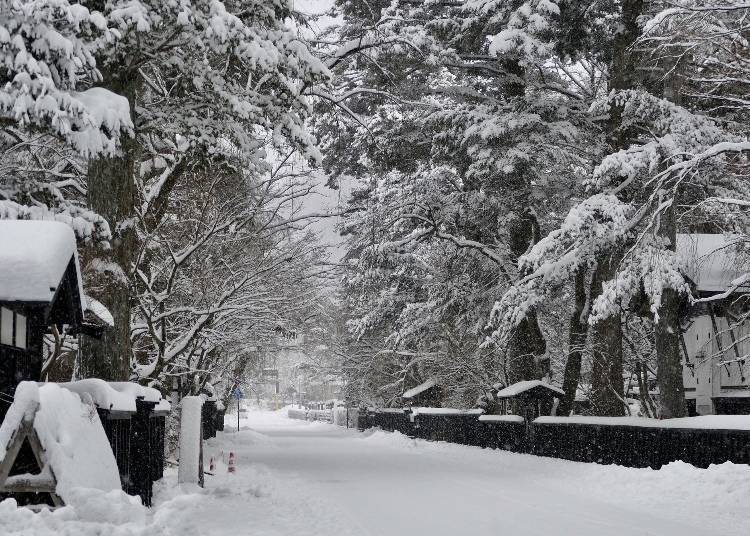 The snowy scenery of winter is sure to move you. Image: PIXTA
If you visit between spring and autumn, you'll also be able to get around via rickshaw. Several rental kimono outlets allow you to be professionally fitted to blend flawlessly with the surrounding traditional scenery.

The Kakunodate Sightseeing Information Center in front of Kakunodate Station has pamphlets and maps in English, Chinese, and Korean that will help you make the most of the area.

Health & Safety Measures
Indoor disinfection measures taken - Sanitizer installed - Ventilation measures in place - Staff wear masks, gargle, wash hands regularly, and monitor body temperature - Guests are required to wear masks
Kakunodate Samurai Residences

角館・武家屋敷

Address

Kamicho, Omotemachi, Kakunodate-cho, Semboku City, Akita Prefecture

TEL: 0187-54-2700 (Kakunodate Sightseeing Information Center)
4. The Townscape of Sakata - A Port Town That Prospered Under the Kitamaebune (Yamagata)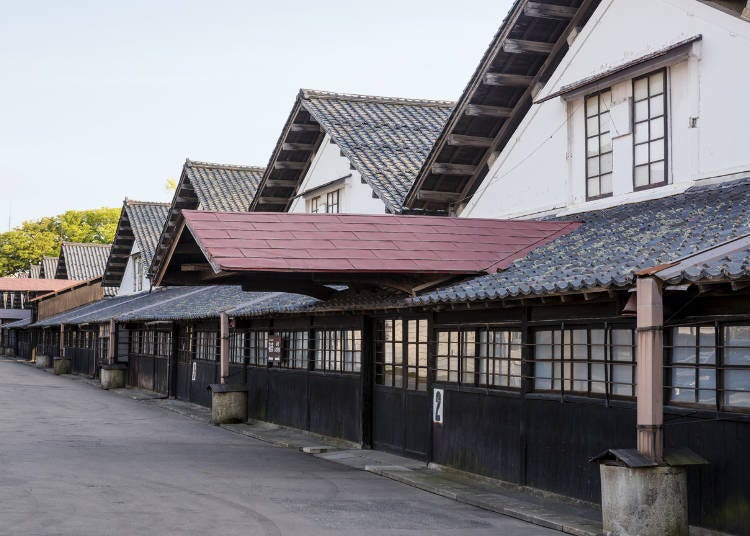 Numerous items were shipped to Sakata, making it a great place to get rich quickly. Image: Stay Yamagata
Sakata, located in Yamagata, blossomed as an important port during the Edo period and remnants of this past glory remain scattered throughout the city.

During its heyday, a shipping route operated, bringing rice, fish, and local specialties between ports on the Sea of Japan to those in Hokkaido, Edo (present-day Tokyo), Osaka, and more.

Owing to the sea currents, sailing west made this journey significantly faster. This led to establishing a western shipping route called the "Kitamaebune" starting from Sakata, naturally leading to the city's success.

Even today, a wealth of merchant residences and luxurious traditional restaurants remain.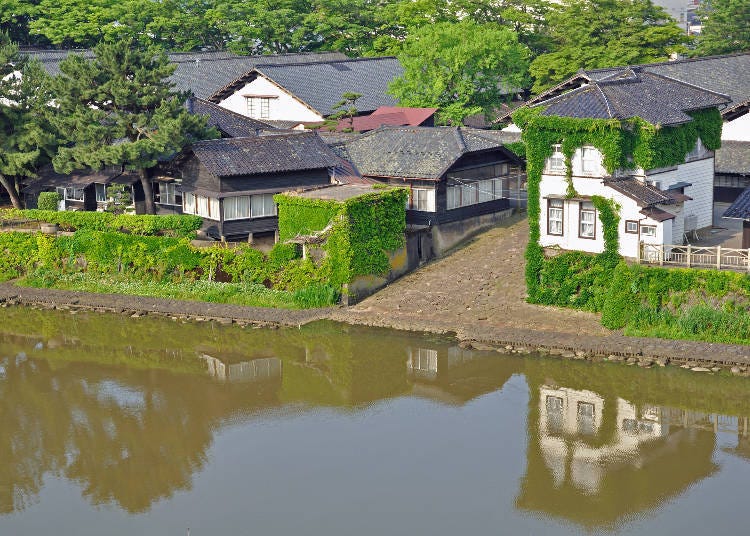 The Sankyo-Soko Rice Storehouses on the side of the Niida River. Image: PIXTA
In addition to cargo, the Kitamaebune brought new and exciting cultures from all over Japan.

For example, eating kombu kelp and using it to make soup was common in western Japanese cities like Kyoto. The kombu used to establish this culture came from Hokkaido via the Kitamaebune.

In addition, Yamagata itself was a leading producer of ​​safflower, used to create a dye.

When ​​safflower dye was shipped to Kyoto via the Kitamaebune, it returned transformed into the culture of Kyoto, such as safflower-dyed hina dolls and Kyo-yuzen fabrics.

One return trip between Osaka and Hokkaido is said to have yielded between 60-100 million yen-worth of profit, making it a great way for entrepreneurs to get rich.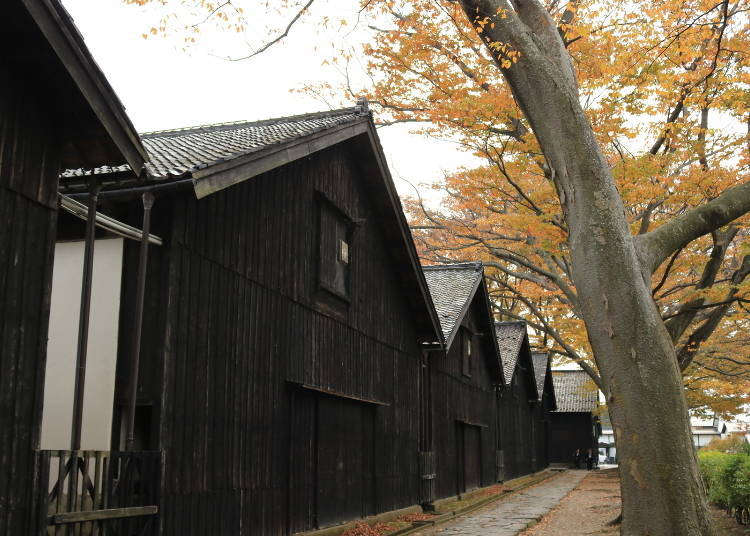 Rows of 150-year-old-plus Japanese zelkova watch over this history of prosperity. Image: Stay Yamagata
The Sankyo-Soko Rice Storehouses, reachable after a 5-minute drive from JR Sakata Station, are said to be the symbol of Sakata's prosperity.

They were constructed during the Meiji period (1868-1912) to store rice when Sakata flourished as a port known for rice shipments.

Each storehouse could hold up to 20,000 bags of rice, with 14 individual buildings existing during the height of this period.

To curb the heat of summer, Japanese zelkova trees were planted at the back of the storehouses while double roofing was utilized inside to prevent humidity.

Through these techniques, the storehouses retained optimal temperatures and acted as the backbone supporting the stable supply of rice for multiple generations.

In 2021, the Sankyo-Soko Rice Storehouses were declared a National Historic Site, and their role as rice storehouses will finally end in 2022.

With over 100 years of history, the Sankyo-Soko Rice Storehouses continue to draw in flocks of sightseers attracted to their rustic charm.

Currently, the grounds also hold the Sakata Yume no Kura local products store and the Shonai Rice History Museum.

Take the time to walk the town and thoroughly soak in the encompassing history. On the official Sakata Tourism website are informative pamphlets with restaurant selections and model courses in English and Chinese to help guide you.

Health & Safety Measures
Indoor disinfection measures taken - Sanitizer installed - Ventilation measures in place - Staff wear masks, gargle, wash hands regularly, and monitor body temperature - Guests are required to wear masks
酒田の町並み

Address

1-1-20 Yamaicho, Sakata City, Yamagata 998-0838

TEL: 0234-24-2233 (Sakata Tourism and Product Association)
5. Hachinohe Yatai Village Miroku Yokocho - Travel Back to the Showa Period (Aomori)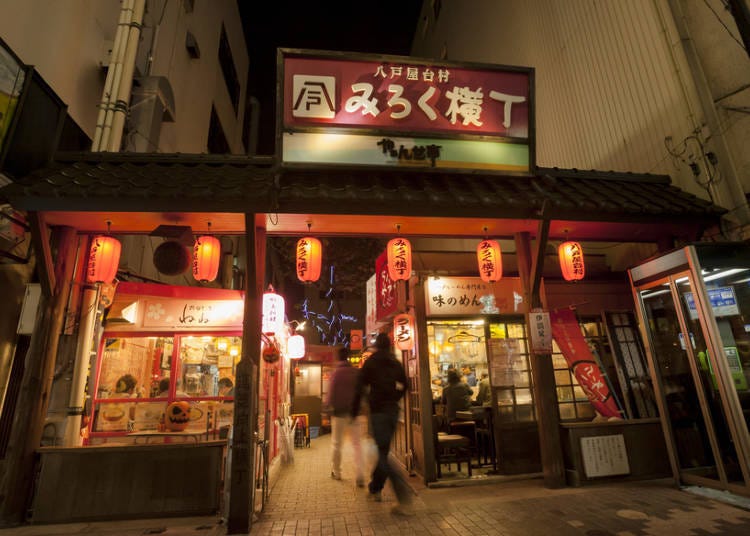 Image: Amazing Aomori
Hachinohe Yatai Village Miroku Yokocho recreates an authentic Showa-era food and drink stall alleyway with unsophisticated, homespun charm harking back to a simpler Japan.

The city of Hachinohe has long prospered as a port, with the local fishermen, who often faced perilous conditions, heading to the stalls to drink sake and beer and unwind after a hard day.

Miroku Yokocho can be reached via a 20-minute shuttle bus ride from Hachinohe Station on the Tohoku-Hokkaido Shinkansen bullet train line.

The alleyway was established in 2002 to celebrate the culture of Hachinohe alongside the opening of the Hachinohe section of the Tohoku-Hokkaido Shinkansen bullet train line.

The name "Miroku" comes from the stalls connecting the main road of Mikkamachi with the back street of Muikamachi, with "mu" meaning "six" and also being read as "roku" in Japanese. The "mi" of Mikkamachi and "roku" were then combined to form "Miroku."

Miroku Yokocho is packed with locals and visitors seeking delicious food and drink, surrounded by a welcoming, nostalgic atmosphere.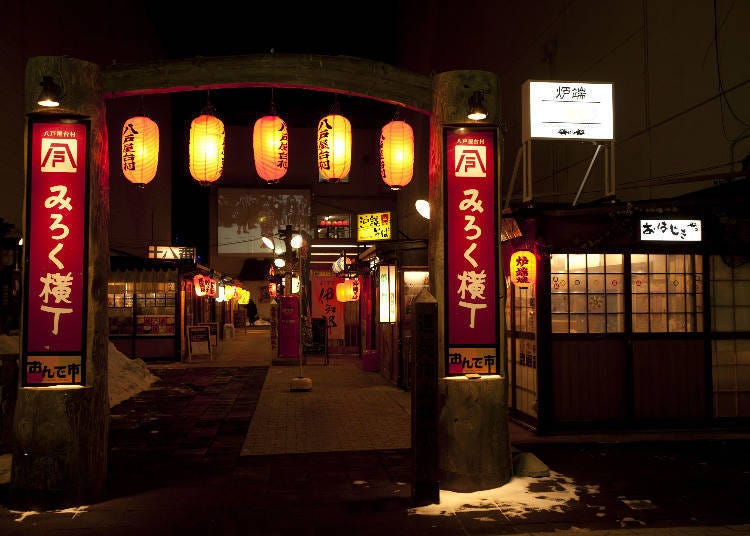 Image: Amazing Aomori
Miroku Yokocho is also adorned by dozens of glowing red lanterns casting a surreal hue over the street. On the Mikkamachi side is a lineup of eateries known as "Onde-shi," offering delicacies like seafood, yakitori skewered chicken, oden, and other Japanese dishes.

The Muikamachi side is known as "Yanse-shi" and boasts ramen outlets, deep-fried skewer stalls, and places selling stews and other simmered dishes.

A single stall is roughly 10m² and can fit up to around 8 people. The stalls all change every few years, making it worth revisiting now and then to discover what new offerings are available!

Being one of Japan's leading centers of fresh seafood, most notably squid and mackerel, there's naturally a ton of seafood-based dishes to dig into alongside a plethora of meats and vegetables.

Alongside sightseers, the stalls are frequented by residents, allowing authentic insight into the local character, including the distinctive regional "nanbu-ben" dialect of Japanese. So don't hesitate to join the fun and dive into the incredible culinary culture of Hachinohe!

Health & Safety Measures
Indoor disinfection measures taken - Sanitizer installed - Ventilation measures in place - Staff wear masks, gargle, wash hands regularly, and monitor body temperature - Guests are required to wear masks
Hachinohe Yatai Village Miroku Yokocho

八戸屋台村 みろく横丁

Address

10 Muikamachi, Hachinohe, Aomori 031-0033

TEL: 0178-44-7101 (Hachinohe Yatai Village Miroku Yokocho Office)
Hours: 4:00pm - 4:00am
Depending on the circumstances, opening hours may change.
Experience the Charm of Tohoku Through Rustic Townscapes
Since long ago, the northern Tohoku region of Japan has flaunted a distinctive culture totally separate from central Japan.

This can be explored today through its history, relics, and even the day-to-day lives of its current inhabitants.

From unique local dialects, endless fields of rice, and ancient shops with profound histories, each of these unassuming, nonchalant sights conceals a fresh encounter with Tohoku charm.

To uncover nostalgic Japan, journey up north and dive into the vast rural landscapes and winding streets of Tohoku!

*The information presented in this article is accurate as of December 2021. For the latest information, please check the official websites of each location.

Text by: Masakazu
*This information is from the time of this article's publication.
*Prices and options mentioned are subject to change.
*Unless stated otherwise, all prices include tax.
Limited time offer: 10% discount coupons available now!