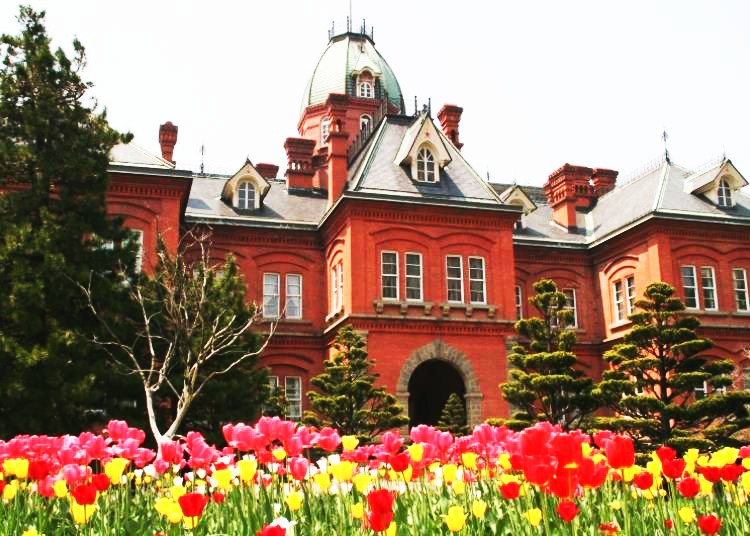 There are many sightseeing spots in Sapporo City, such as the Sapporo Clock Tower and the Sapporo TV Tower. Here are the 5 spots that always get selected in Japanese tour guides. For people visiting Sapporo for the first time, these are the places you want to make sure to go to. Let's take a look at the sightseeing spots you can't miss in Sapporo!
Sapporo Sightseeing Spot 1:
Symbol of Sapporo! Sapporo Clock Tower that Chimes Every Hour
The tower is surrounded by lilacs every May
The Sapporo Clock Tower is a beautiful historical building surrounded by modern buildings in the city. You can say it symbolizes the city and is called the "Clock Tower" by locals and tourists. The clock tower was built in 1878 as a drill hall for the former Sapporo Agricultural College. The school's first vice-principal Professor Clark who was from America versioned the construction of the tower. The towers clock was made by the American E. Howard & Co. and the clock has been keeping track of time for over 100 years. To this date the bells chime every hour.
If you crouch and take a picture vertically you can include somebody and the clock tower.
There are two famous photo spots. The first is near the cross road to the right when looking at the building from the front. You will have to look up a little bit, however you can include a person when taking pictures. There is a platform to stand on, however it is rather small and will only fit few people.
The only place to get a full view clearly
The second locations is at the second floor terrace on the building across the street. It is quite spacious and perfect for group photos.
Second floor of the clock tower
At the time when the tower was constructed, the first floor was used as a laboratory and lecture room, the second floor was a drill hall for military training and physical education. Also it was used as a ceremonial auditorium for events such as entrance ceremonies and graduation ceremonies.
There is also a statue of Professor Clark sitting on a bench, which is also a popular spot for taking photos.
There are few statues of Professor Clark, however the only place you can take a picture next to one is here
Entrance Fee: adult admission 200 yen
Hours: 8:45 AM ~ 5:10 PM (admission until 5 PM)
Closed; January 1st ~ 3rd *Will be closed from June 1st to October 31st 2018 for repairs.
Access: 5 minute walk from Namboku Line, Tozai Line and Toho Line, Odori Station
Address

Chuo-ku, Sapporo-shi, Hokkaido north 1 west 2, 060-0001
View Map

Nearest Station

Odori Station (Namboku Line / Tozai Line / Toho Line)


Phone Number

011-231-0838
Sapporo Sightseeing Spot 2:
National Important Cultural Property, Former Hokkaido Government Office (a.k.a. the Red Brick Office)
The Former Hokkaido Government Office, the building behind it is the current government office
The former Hokkaido Government Office is called the Red Brick Office and is a popular site for tourists and locals. It is also designated as a National Important Cultural Property. With a beautiful exterior, many people from around the visit the location.
Like the clock tower the Red Brick Office is a famous photo spot. It takes about 5 minutes from the clock tower to get here
The American baroque revival style building was built in 1988 and after 80 years of service as the Hokkaido Government Office, it has opened its door to the public. The beautiful exterior and heavy structure is worth taking a look. There are also historical exhibits and paintings of Hokkaido. During operation hours, admission is free and you can walk around freely.
A popular photo spot is the entrance hall stairs, usually there are many people taking pictures.
You can take a look at the magnificent office where all the past governors of Hokkaido worked at. Also there are documents and paintings of the history of Hokkaido. For people who have a strong interest in history, there is information on how Hokkaido was developed and explanation of the indigenous Ainu people.

Many people visit the facility to take photogenic pictures. A perfect place to take awesome pictures and learn the history of Hokkaido.
After the facility closes, you can still remain in the front garden until 9 PM and many people visit at night to take pictures of the lit up building.
Entrance Fee: None
Operation Hours: admission 8:45 AM ~ 6 PM, front garden 7 AM ~ 9 PM
Closed: Year-end through New Year holidays
Access: 8 minute walk from Namboku Line, Toho Line and JR Line Sapporo Staion, or 9 minute walk from Namboku Line, Tozai Line and Toho Line Odori Station
Address

6-chome Kitasanjo Nishi, Chuo-ku, Sapporo-shi, Hokkaido, 060-8588
View Map

Nearest Station

Sapporo Station (Hakodate Main Line)
7 minutes on foot


Phone Number

011-204-5019
Sapporo Sightseeing Spot 3:
Odori Park in Central Sapporo - , Many Events in Winter and Summer!
Odori Park going straight through Sapporo
Odori Park goes through the Sapporo City from east to west over 1.5km. In the park there are many entrances providing quick and easy access to Odori Station, where all the subway lines stop, and the Sapporo underground shopping center. The park is located between Sapporo Station and the entertainment district Susukino, you will definitely come across the park if you plan to go to both locations.
View of the Sapporo TV Tower
The park has flower beds, lawns, fountains and sculptures. At the eastern end is the famous sightseeing spot Sapporo TV Tower, which is also another popular photo spot.
Throughout the seasons many events are held at the park, a famous event held in the summer is Sapporo Odori Beer Garden held during the Sapporo Summer Festival. Another famous event is the Sapporo Snow Festival. Both events attract people from around the world and if you are in Sapporo during this time, make sure to stop by! They also have other festivals, mostly related to food, throughout the year.
At the Sapporo Odori Beer Garden during the Sapporo Summer Festival, you can see many people drinking from mid-day
Also from late April to mid-October, you should stop by the Toukibi Wagon, a food stand. Toukibi is corn in Hokkaido dialect. Have a grilled corn on the cob (300 yen) while you walk around the park.
Entrance Fee; None
Hours: None
Closed: None
Access; 1 minute walk from Namboku Line, Tozai Line and Toho Line Odori Station, 1 minute walk from Tozai Line Nishi Juitchome Station
Sapporo Sightseeing Spot 4:
Viewing the City from Sapporo's Landmark, Sapporo TV Tower
Located at the eastern side of Odori Park
The Sapporo TV tower is located at the eastern side of the Odori Park and is something of a landmark for Sapporo. The observation deck about 90 meters above ground provides a 360 degree panoramic view of Sapporo City, and the colors of the four season in Odori Park.
View of Odori Park from the Sapporo TV Tower observation deck
We strongly recommend visiting on a day with clear skies, you can see the cityscape, faraway mountain range and the coastline. Also a magnificent scenery can be seen from sunset to dusk. The twilight view and the city light contrast is spectacular!
Perfect spot to enjoy the night view of Sapporo
Below the observation deck, there are gift shops and restaurants to enjoy. Also during the summer there is a beer garden on the first floor offering draft beer and local specialty jingisukan (Mongolian barbecue). There are beer gardens in Odori Park, but you can only enjoy jingisukan at the TV tower beer garden. If you want to test out local dishes, this is the place to be at!
It is open longer than the Sapporo Odori Beer Garden festival.
Entrance Fee: observation deck entrance fee for adults 720 Yen
Closed: Maintenance day
Access;: 1 minute walk from Toho Line Odori Station, 3 minute walk from Nanboku Line and Tozai Line Odori Station
Sapporo Sightseeing Spot 5:
Like Being a Ski Jumper! Awesome View and Thrill at the Okurayama Viewing Point
View of the ski jumping hill from the bottom
Located on the west side of Sapporo City, this sightseeing spot is on a ski jumping hill. To reach this location, it is about a 20 minute drive from JR Sapporo Station or about a 20 minute walk and bus ride from Tozai Line Maruyama Koen Station.
Winter view
The facility was used in the 1972 Sapporo Winter Olympics and is still in use. When there are no competitions, you can ride the ski lift that the athletes use and get to the viewing spot at the top (ski lift round trip price: middle school student and above 500 yen, grade school student and below 300 yen). The binoculars at the top can show a view of the Odori Park and Sapporo TV Tower clearly (100 sec, 200 yen). Looking down the steep slope of the hill, you get a glimpse of what the athletes see.
View of Sapporo City
Genuinely impressed that ski jumping athletes go down such a steep slope
The Sapporo Olympic Museum (admission fee: high school student and above 600 yen, middle school student and below free) located at the bottom of the slope offers a simulation of ski jumps and bobsledding. You can experience what it is like being a professional athlete.
Interior of the Sapporo Olympic Museum
Simulation of a ski jump athlete
Across the museum is the restaurant Lamb Dining Okurayama on the second floor of the Crystal House. Here you can view the ski jumping hill and the Sapporo City area while enjoying quality lamb, we also recommend the night view from here. If you want to get away from the lively city and have a quiet dinner, this is the perfect place.
Special Selection Meat Plate (2,700 yen) and Grilled Vegetables Assortment (890 yen)
SAPPORO OKURAYAMA VIEWING POINT

札幌大倉山展望台

Address

〒064-0958 北海道札幌市中央区宮の森1274 / 1274, Miyanomori, Chuo-ku Sapporo-shi, Hokkaido, 〒064-0958, Japan

Phone Number

011-641-8585

Fees: Round trip on ski lift 500 yen for adults, Sapporo Olympic Museum 600 yen
Hours: Ski Lift – April 29th ~ November 3rd 8:30 AM ~ 8 PM, November 4th ~ April 28th 9 AM ~ 5 PM (ticket sales end 15 minutes before closing). Sapporo Olympic Museum – May ~ October 9 AM ~ 6 PM, November ~ April 9:30 AM ~ 5 PM (ticket sales end 30 minutes before closing). Crystal House (shop) May ~ October 9 AM ~ 6 PM, November ~ April 9:30 AM ~ 5 PM. Crystal House (Lamb Dining) – 11:30 AM ~ 2 PM, 5:30 PM ~ 9:30 (last order will be 30 minutes before closing for both periods)
Closed: Ski lifts – Competitions, official training, maintenance, bad weather. Sapporo Olympic Museum – Once a month for maintenance. Crystal House - None
Explore Japan at Your Pace - Rent an RV!
RV rentals are a great way to see a new side of Japan from the open road! Use LIVE JAPAN's promo code below to get 5% OFF your rental now.
・Promo code: LiveJapan_coupon_02
・On the "Request for a Quote" page, enter the promo code to get your discount.
*This information is from the time of this article's publication.
*Prices and options mentioned are subject to change.
*Unless stated otherwise, all prices include tax.