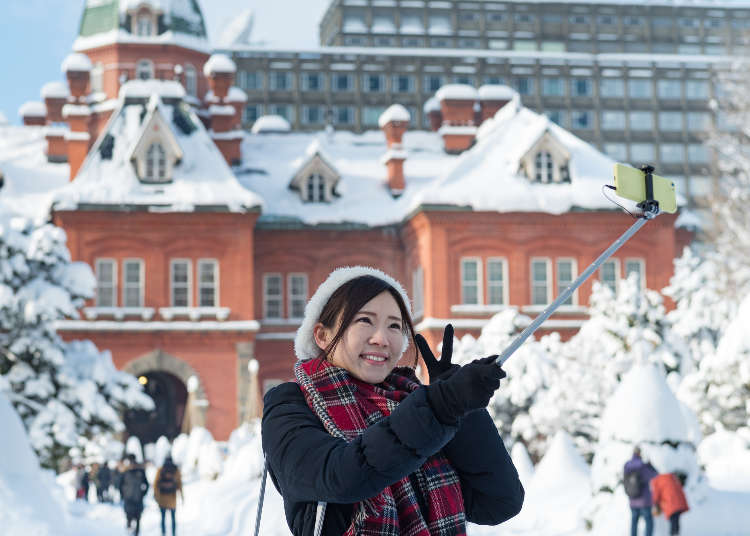 Sapporo is Japan's fifth-largest city and the first stop for many visitors to Hokkaido.

Sapporo is home to a variety of exciting events, food, and shopping. During the winter the Sapporo Snow Festival (Sapporo Yuki Matsuri) and other events are held taking advantage of the below-freezing temperatures.

As the center of Hokkaido, Sapporo offers entertainment other than sightseeing such as experiencing Hokkaido's regional specialties and famous cuisine.
What sort of place is Sapporo?
With a population of around 1.95 million people, Sapporo City is the cultural and economic center of Hokkaido. Around the station there are various commercial facilities and Odori Park (Odori Koen) is located in the center of the city. The park provides a rich natural landscape throughout the four seasons.

In addition to sightseeing spots such as buildings built during the Hokkaido pioneering era (1869 ~ 1882), there are various areas where visitors can enjoy the night view. Venturing out to the outskirts, there are ranches and lavender farms that provide an idyllic landscape.

Renowned as one of Japan's core "Gourmet Towns", Sapporo offers menus such as kaisendon (seafood rice bowl) at markets, in addition to Sapporo miso ramen, soup curry, jingisukan (grilled mutton), seafood-boasting izakaya (Japanese style pubs) and various sweets.
Sapporo Sightseeing Guide
It is around 40 minutes by train from New Chitose Airport to Sapporo station. The city is split in 3 major areas: JR Sapporo Station, Odori Park, and Susukino. Most sightseeing spots are located in walking distance of the 3 major areas, however there are subways and trains for convenience.
1. Sapporo Clock Tower (Sapporo Tokeidai)
Originally built as a theater for the Sapporo Agricultural College in 1878, the building is over 140 years old and is where Japan's oldest pendulum clock keeps ticking. The tower is used as a museum and an event hall.
Address

Chuo-ku, Sapporo-shi, Hokkaido north 1 west 2, 060-0001
View Map

Nearest Station

Odori Station (Namboku Line / Tozai Line / Toho Line)


Phone Number

011-231-0838
2. Odori Park (Odori Kouen)
A green belt located in central Sapporo lying 1.5km east to west, it is a well-maintained park with various fountains and sculptures. Also many events are held throughout the year such as the Sapporo Snow Festival (Sapporo Yuki Matsuri).
3. Sapporo TV Tower (Sapporo Terebi-to)
A tower with a total height about 147m located at the east end of Odori Park. The observation deck allows a panoramic view of Sapporo City. At night, the tower is illuminated with LEDs.
Restaurants are located everywhere, but many are located in the Susukino area. There are various shops including izakaya, ramen shops and parfait shops. There are also Hokkaido cuisine shops in the shopping complexes near Sapporo Station. Note that some high-class sushi restaurants and izakayas might require reservations.
The place of origin for miso ramen is Sapporo. The standard miso ramen consists of medium thickness curly noodles, miso sauce-based soup, fried vegetables and ground meat or char siu. There are many shops open late at night around Susukino. Some famous restaurants include Sumire, which has a distinctive miso soup, and Aji no Sanpei, the inventor of Sapporo miso ramen.
2. Kaisendon (seafood rice bowl)
The kaisendon with several kinds of seafood beautifully laid out is a must east in Hokkaido. Nijo Market (Nijo Ichiba) near Sapporo City and Jyogai Market (Jyogai Ichiba) in the outskirt have many kaisendon specialty shops. The restaurant Sakanaya no Daidokoro near Nijo Market offers excellent quality kaisendon.
A unique Sapporo-style curry with smooth soup, vegetables and meat. There are many soup curry restaurants such as Soup Curry Garaku and Magic Spice, which has restaurants in Tokyo, Osaka and Nagoya. Each restaurant has their own special ingredients and soup.
4. Jingisukan (Genghis Khan/Mongolian Barbecue)
Hokkaido's soul food. The mainstream method sees lamb and vegetables cooked in a special pot, then served and eaten with sauce. Another popular style is the Matsuo Jingisukan, where the meat is marinated in sauce. Sapporo Beer Garden and other restaurants have all-you-can-eat jingisukan.
Popular gifts are sweets made with Hokkaido dairy products and fruits, and snacks made from vegetables and seafood. For sweets, local producers such as Ishiya Co. and Rokkatei are famous. Also, cosmetic items with peppermint oil or lavender are popular.
1. Ishiya Co. - Shiroi Koibito
A snack made from light langue de chat cookie with white chocolate sandwiched in between. They are individually packed with a wide selection of 9 in a box to 54 in a box. Can be stored at room temperature.
2. Rokkatei - Marusei Butter Sand
Rum raisin and white chocolate cream sandwiched between biscuits made with plenty of butter. The light scent of rum gives an elegant taste. The retro package also contributes to its popularity.
3. ROYCE - Nama Chocolate
A chocolate made with plenty of high-quality Hokkaido cream. It has a smooth texture like silk that melts in the mouth. The standard flavor is au lait, however they have many flavors such as types with western liquor or limited offer flavors. Refrigerated item.
Tanukikoji Shopping Arcade (Tankukikoji Shotengai) located between Odori Park and Susukino has many souvenir shops and drugstores. Some large stores have duty-free counters. Souvenirs and gifts can also be purchased at shops in the station, department store underground food courts and at New Chitose Airport.
1. Tanukikoji Area for Drugstores
Drugstores such as Satudora (Sapporo Drugstore) and Tsuruha Drug are located in the Tanukikoji area. With long business hours, you can conveniently stop by after sightseeing.
Sapporo Drug Store Tanukikojidaiobiruten

サッポロドラッグストアー 狸小路大王ビル店

Address

〒060-0062 北海道札幌市中央区南2条西5-23-1 / 5-23-1, Minami2-jonishi, Chuo-ku Sapporo-shi, Hokkaido, 060-0062, Japan
ツルハドラック すすきの店

Address

〒064-0804 北海道札幌市中央区南4条西5-8-8 アイビル4・5 1階 / 1F, Ai Bld. 4.5, 5-8-8, Minami4-jonishi, Chuo-ku Sapporo-shi, Hokkaido, 064-0804, Japan
2. Home Appliances at Bic Camera Directly Connected to JR Sapporo Station
A convenient shop to check for home appliances, computers and cell phones is Bic Camera located in the JR Sapporo Station building ESTA. It has a solid product lineup between the 1st and 4th floor.
ビックカメラ 札幌店

Address

〒060-0005 北海道札幌市中央区北5条西2-1 ESTA JRタワー / JR Tower, ESTA, 2-1, Kita 5-jonishi, Chuo-ku Sapporo-shi, Hokkaido, 060-0005, Japan
3. To the Two Major Markets for Buying Seafood in Sapporo
Nijo Market located in central Sapporo City and Jyogai Market located in the outskirts of Sapporo have shops offering both fresh and processed seafood. Many people visit the Jyogai Market for the kaisendon restaurants.
二条市場

Address

〒060-0052 北海道札幌市中央区南2条東1 / 1, Minami 2-johigashi, Chuo-ku Sapporo-shi, Hokkaido, 060-0052, Japan
Sapporo Central Wholesale Market

札幌市中央卸売市場 場外市場

Address

〒060-0011 北海道札幌市中央区北11条西21 / 21, Kita 11-jonishi, Chuo-ku Sapporo-shi, Hokkaido, 060-0011, Japan
*This information is from the time of this article's publication.
*Prices and options mentioned are subject to change.
*Unless stated otherwise, all prices include tax.