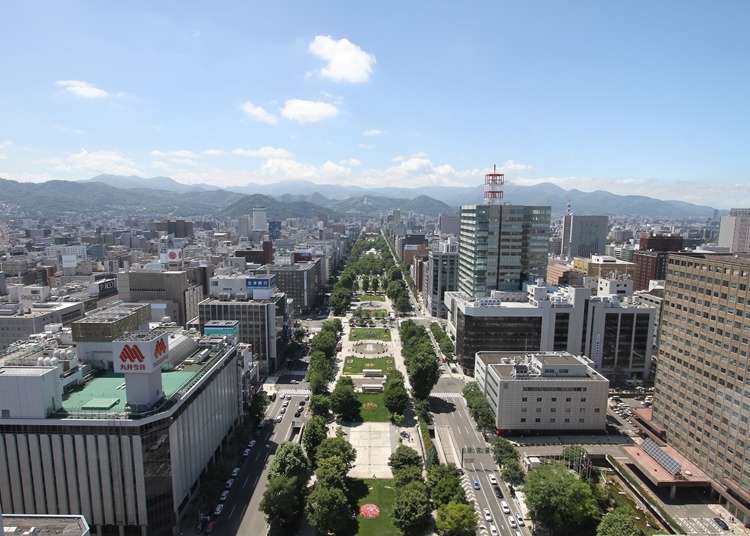 Odori Park is a huge park extending about 1.5 kilometers from east to west across central Sapporo. Throughout the year, Odori Park hosts snow festivals, light shows, and beer gardens.

The iconic Sapporo TV Tower, a mainstay of Sapporo sightseeing, stands at one end of the park, making it a popular area with tourists and locals all year round. Read on to learn more about the charms of Odori Park and the Sapporo TV Tower.
Odori Park is situated directly above the Odori and Nishi-juitchome subway stations. Alternatively, it's about a 10-minute walk from JR/subway Sapporo Station and the city's underpass system makes it possible to reach the park without getting wet on rainy or snowy days.

The park is expansive but also has numerous subway exits near different areas.
From Odori Station:

・1-chome: Exit 27
・3-chome: Exits 6 and 8 (with elevator)
・4-chome: Exit 5
・5-chome: Exit 2
From Nishi-juitchome Station:

・10-chome: Exit 4
・11-chome: Exit 1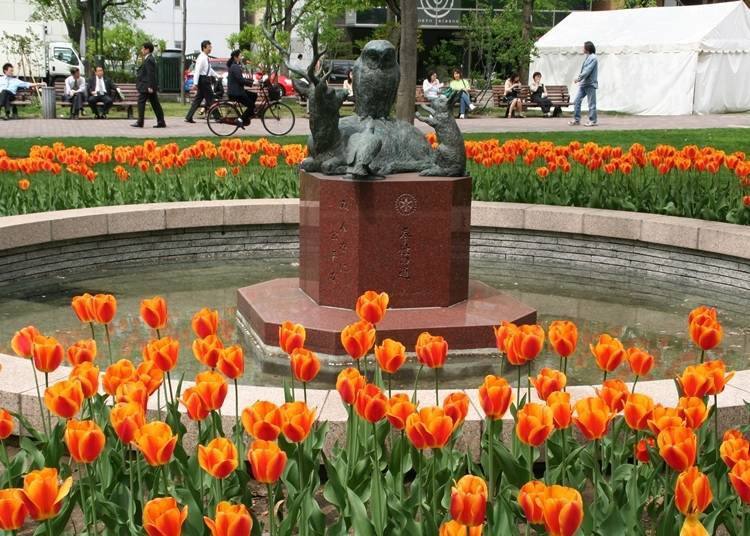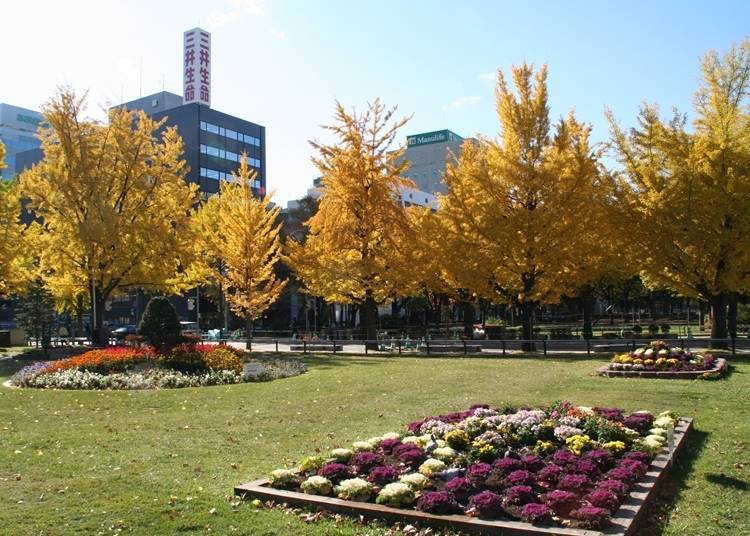 Tended by local volunteers and sponsoring companies from late April to mid-October, gorgeous flower beds decorate the park and are a popular sight.

Throughout July and August, a flower competition in which about 40 companies participate is held, and you can see the beauty of each flower bed and the pride put into them.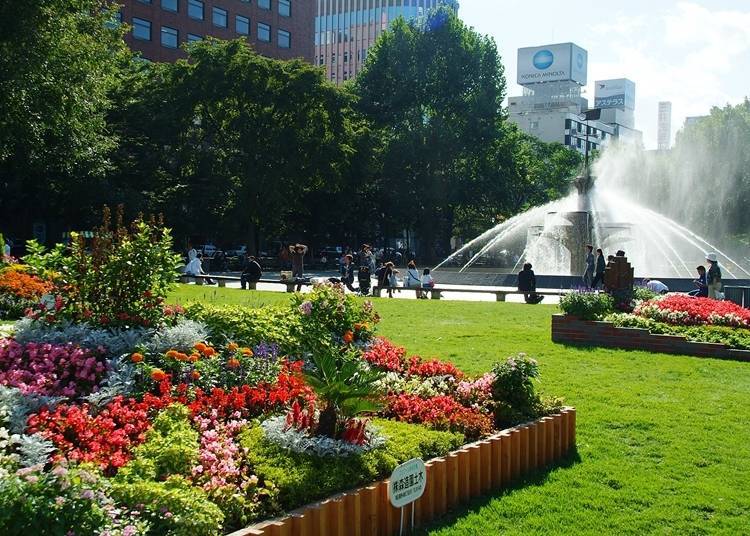 Contest Flowerbeds in West 2-chome to 7-chome
Odori Park is divided into five areas, and each with its individual attractions like fountains and playground equipment.
■ West 1- & 2-chome "Exchange (International Exchange Zone)"
The easternmost end of Odori Park, where the Sapporo TV Tower is located, is an area dedicated to international goodwill and there you'll find a "Benson Bubbler" drinking fountain donated by Sapporo's sister city of Portland, Oregon, USA.
■ West 3-, 4- & 5-chome "Oasis (Zone of Water and Light)"
There are large fountains in Nishi (West) 3-chome and Nishi 4-chome, and the area attracts crowds of children to play in the water in summer. Illuminated at night to create a romantic atmosphere, the fountains flow from 7:00 to 21:00 from late April to October 31.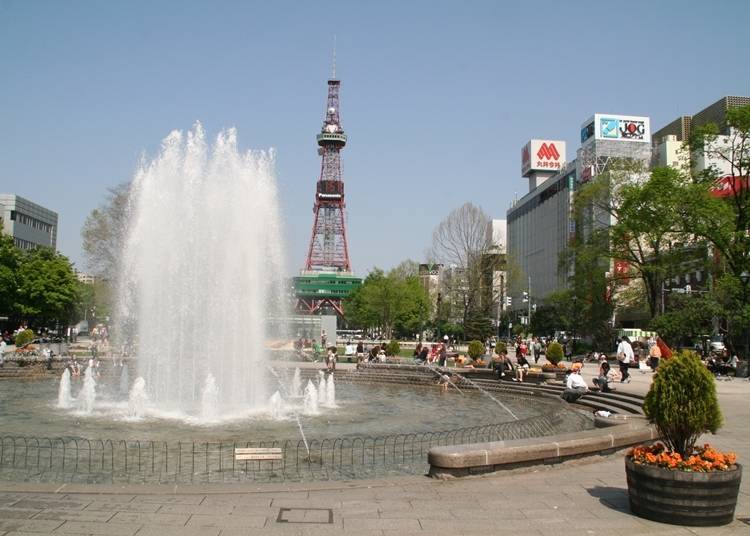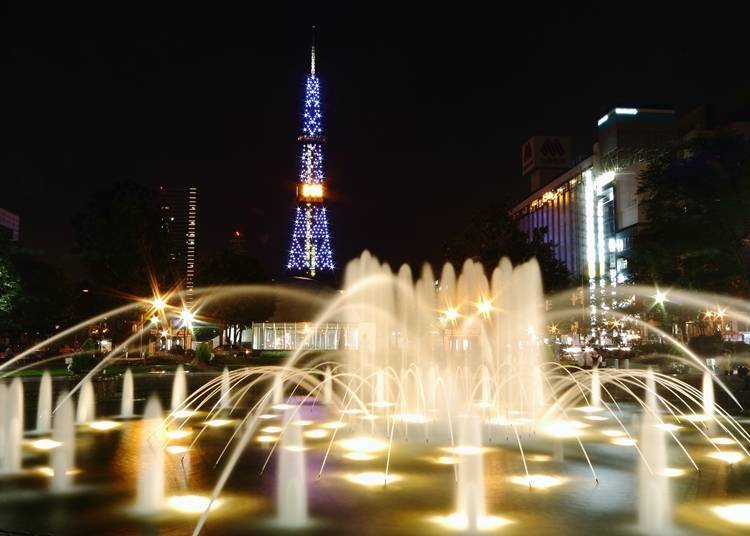 "Toukibi Wagons" sell Hokkaido-grown grilled and boiled corn, a popular specialty of Odori Park. Availability is limited to spring to summer, so if you see a corn wagon be sure to please try some.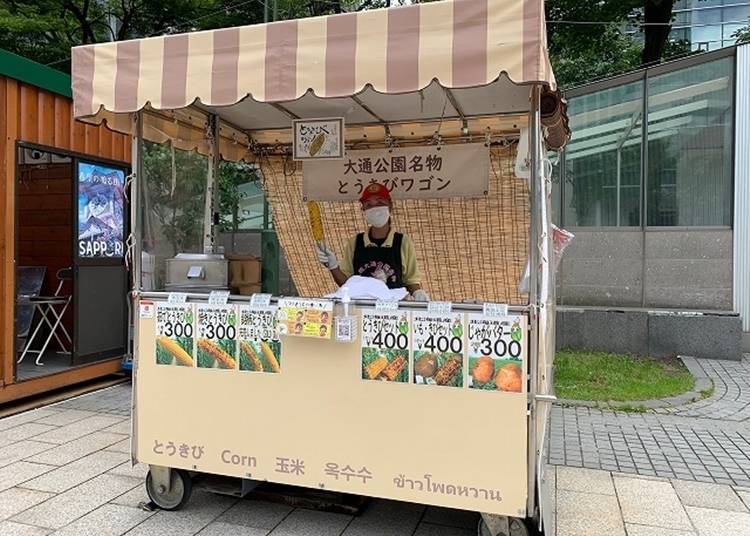 Toukibi Wagon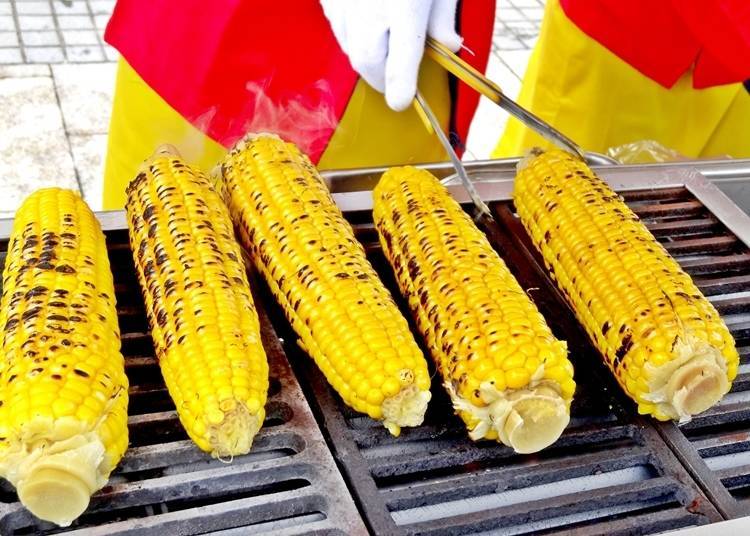 ■ West 6-, 7-, 8- & 9-chome "Gathering (Play/Event Zone)"
You'll find the "Black Slide Mantra" slide created by sculptor Isamu Noguchi and the "Play Slope" playground in this area. There's also an outdoor concert stage at 6-chome.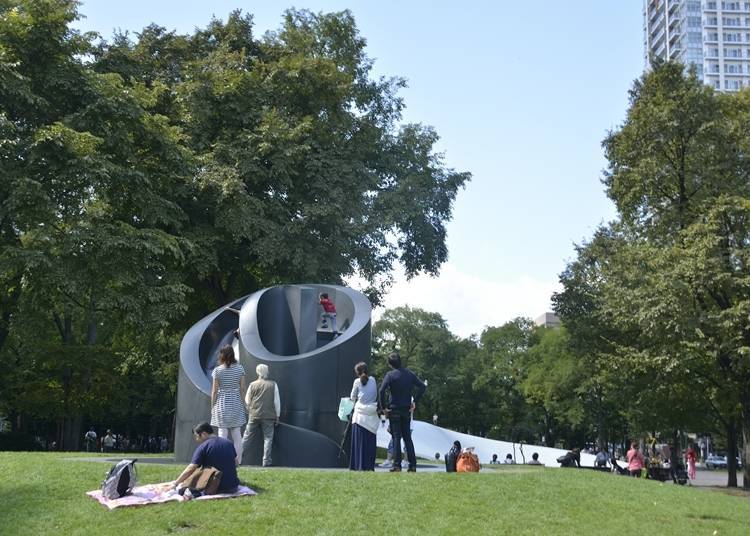 Black Slide Mantra
In Nishi 7-chome, the Information Center and Official Shop sell unique souvenirs. Staff and translators can offer assistance in English, Chinese, Korean, and more to simplify your sightseeing tour.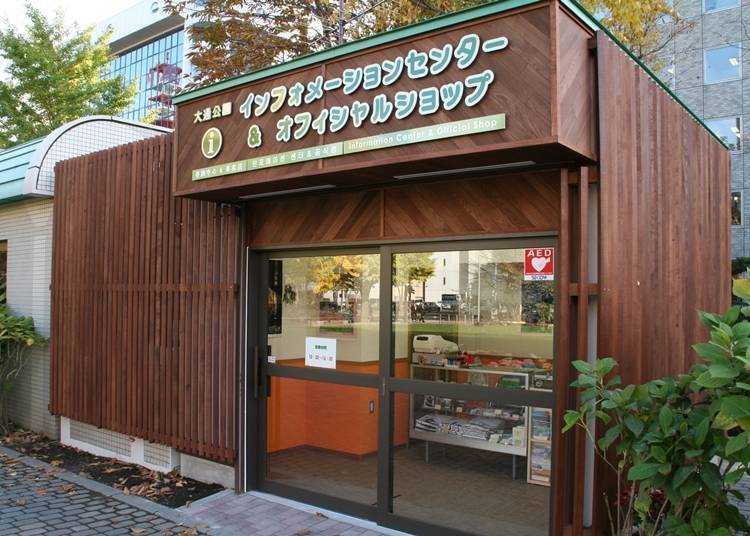 Information Center & Official Shop
■ West 10- & 11-chome "Frontier (History/Culture Zone)"
In this section of Odori Park, you'll find statues of Kiyotaka Kuroda and Horace Capron, who were influential in Hokkaido's development. Also, the 23-meter-high "Maibaum" decorated pole, a donation from sister city Munich, Germany, is also impressive and the large nearby fountain is in operation from 10:00 to 19:00 from June to late September.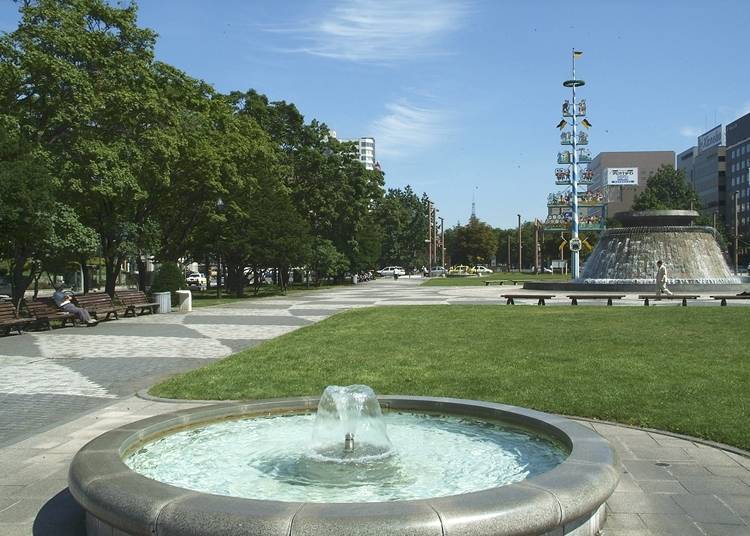 ■ West 12-chome "Flowers (Sunken Garden Zone)"
West 12-chome is a western-style garden with a central canal. Various flowers bloom in the garden, but the roses are the focal point and main attraction. From there, you can also see the Sapporo Archives Museum in Nishi 13-chome and its impressive stone exterior. Built in 1926 to serve as the Sapporo Court of Appeals (later the Sapporo High Court), the museum is now an important cultural property.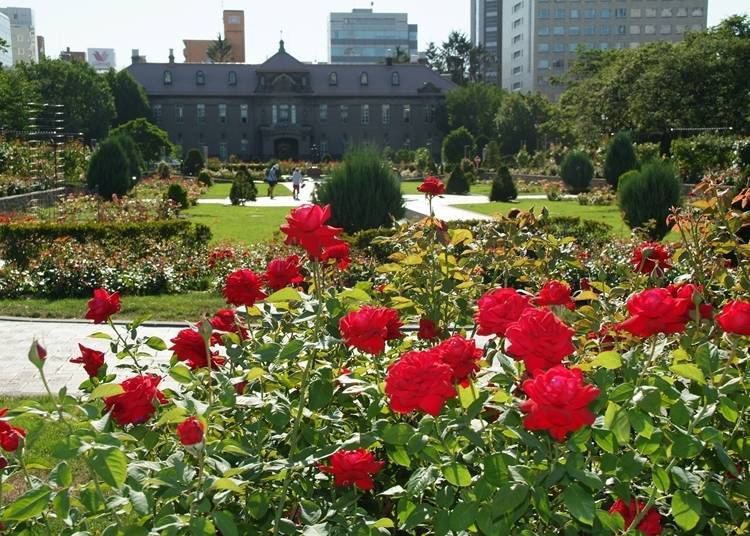 The Sapporo Archives Museum visible in the background
Measures against COVID-19
Odori Park visitors are asked to:
•Practice social distancing
•Avoid visiting during peak hours or frequenting crowded areas
•Limit time spent in the park
•Wear a mask
•Wash hands before/after using playground equipment
•Note that the Nishi 3-chome smoking area is closed for the time being
Highlights of the Sapporo TV Tower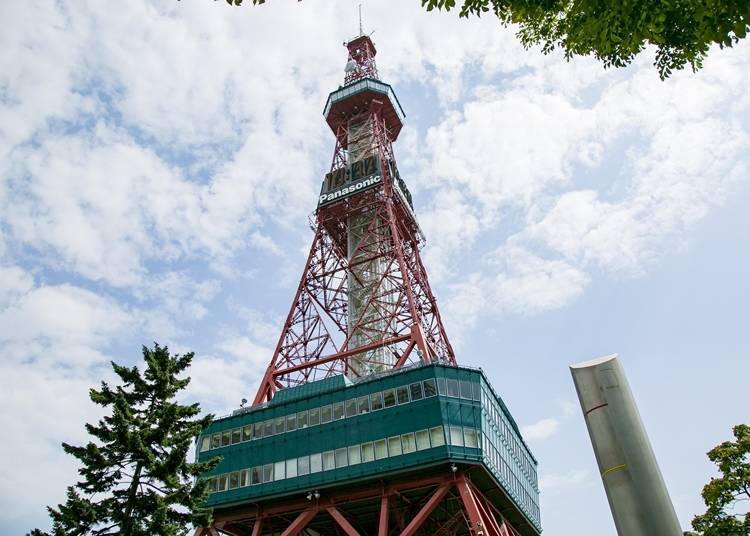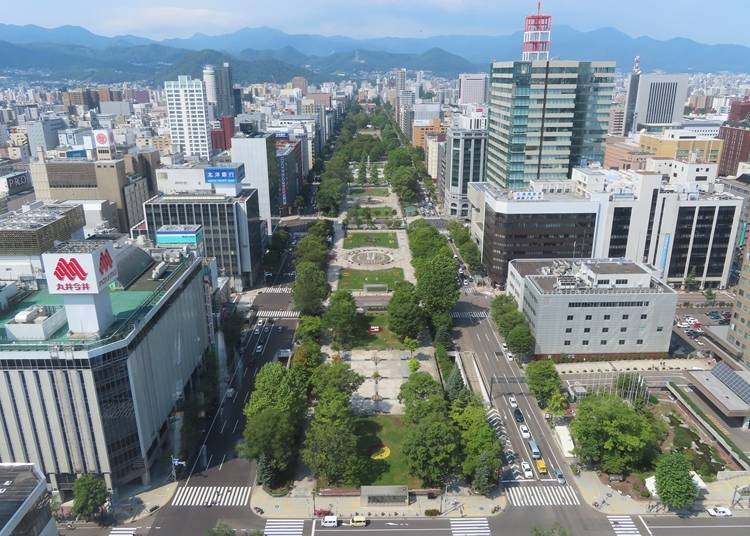 View from the Sapporo TV Tower observation deck
The Sapporo TV Tower stands at the eastern end of Odori Park and is a beloved landmark. With a total height of 147.2 meters, you can gaze across the city from the observatory on the top floor located 90.38 meters above the ground.

There are souvenir shops located on the 1st, 3rd, and observation floors. Each offers a wide variety of gifts like those featuring the tower's mascot "TV Dad," iconic Hokkaido sweets, and other unique mementos to commemorate your trip.

The 3rd floor has an area to learn about the history of the TV Tower and a unique rest area with a TV Dad motif worth checking out. There are also restaurants and cafes in the basement and on the 3rd floor, so you can take a break and get a bite to eat when you visit.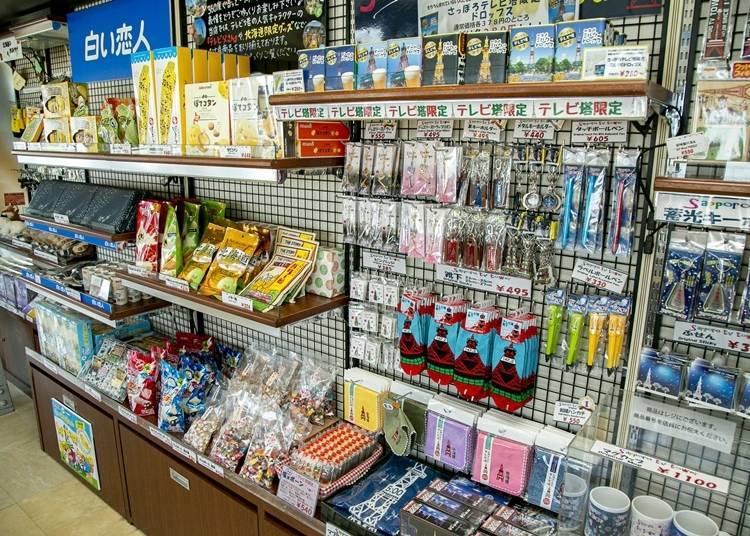 The observation deck features a floor to ceiling window called the "Scary Window" ("Kowasso"). The window is angled so you'll have the feeling of leaning outwards as you peer at the base of the TV Tower. It's a thrilling experience!

(*To prevent the spread of CVID-19, the Sapporo TV Tower 90m Observatory will be temporarily closed from January 16, 2021.)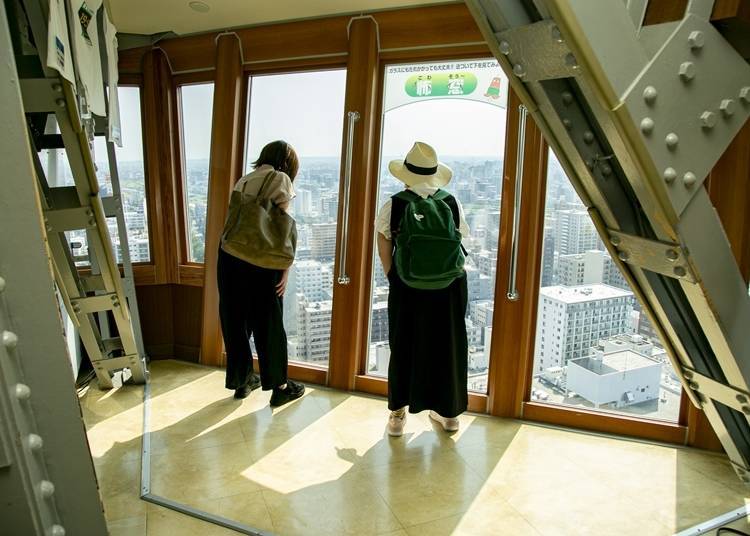 The Scary Window
Various outdoor events are held around the TV Tower like the "TV Tower Bungee Trampoline." Making its debut in 2020, the trampoline lets securely harnessed riders jump to a height of about 7 meters.

(*Please note this activity is held irregularly.)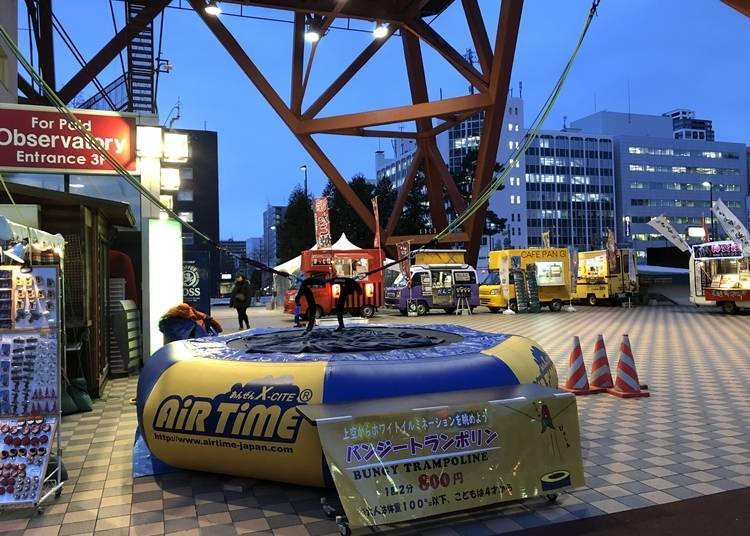 Bungee Trampoline
Additionally, throughout the year, there are special events allowing access to the outer stairs, which are not usually open to the public. You can ascend or descend the 453 stairs in about 10 to 15 minutes and enjoy the scenery from a vantage point different than that of the observatory.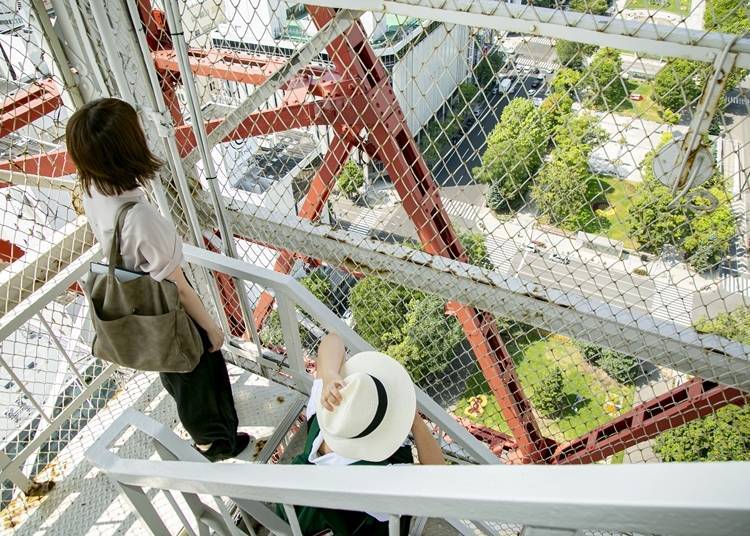 View from the outer stairs
Measures against COVID-19
•Ensuring social distancing
•Limiting the number of passengers in the elevator
•Installing protective screens at counters, etc.
•Limiting the number of visitors allowed to enter the observation deck
•Staff wearing masks in halls and face shields in the elevator
•Requesting visitors to wear masks and use alcohol hand disinfectant upon entry
•Requesting that those who are ill refrain from entering
Sapporo Seasonal Events in Odori Park
Odori Park hosts a variety of seasonal events:

Spring: Sapporo Lilac Festival
About 400 lilac bushes grow in Odori Park and are one of Sapporo's symbols. The Sapporo Lilac Festival takes place during the lilac blooming season (usually from mid to late May), and is held in Odori Park and Kawashimo Park in Sapporo's Shiroishi Ward. In Odori Park, events like the traditional "nodate" outdoor tea ceremony and musical performances by local musicians and students can be enjoyed. The concession area, which sells food and wines made in Hokkaido, is also popular.
(*The 2020 Lilac Festival was canceled due to COVID-19. The status of the 2021 festival has yet to be determined.)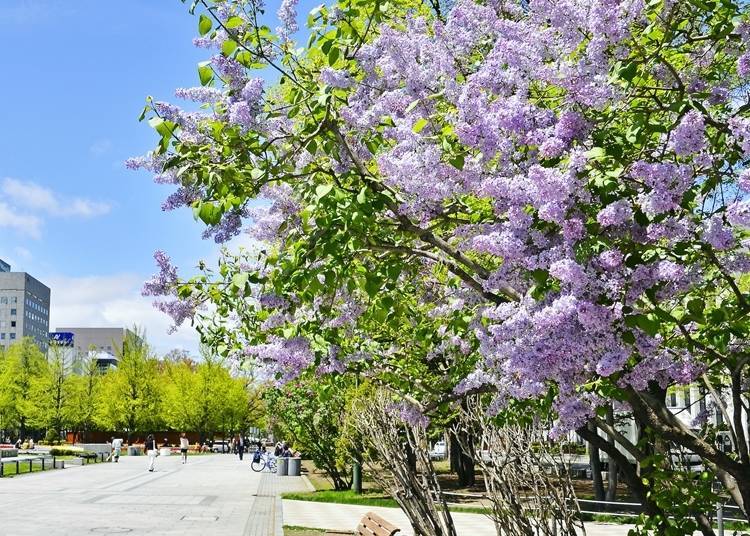 Lilacs blooming in Odori Park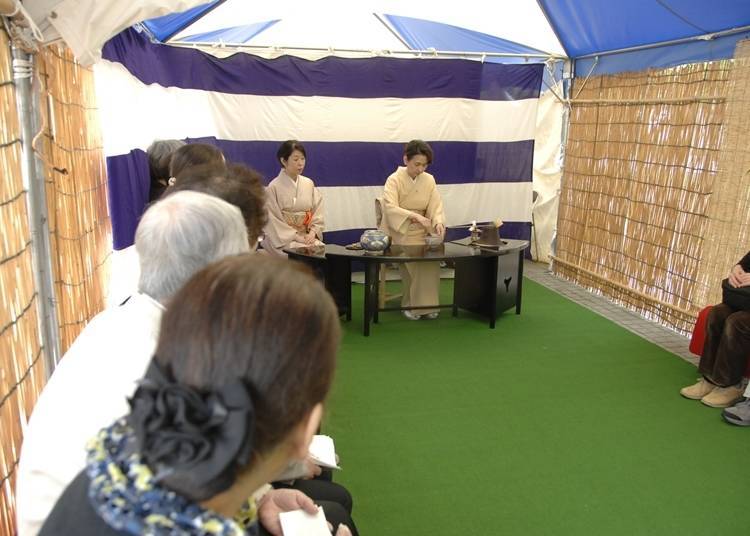 Nodate ceremony
Summer: Yosakoi Soran Festival
The Yosakoi Soran Festival brings dance teams from Japan and all over the world together in early June as 28,000 participants perform using "naruko" hand clappers and dancing to different renditions of "Soran Bushi," a Hokkaido folk song.

The perfect choreography and the dancers' colorful costumes and make-up are impressive. In addition to the Odori Park venue, performances also take place throughout Sapporo, including in front of the red brick Hokkaido Government Office and at the Sapporo Factory mall, so you'll have plenty of opportunities to see the dances while sightseeing.

The 2021 Yosakoi Soran Festival has been canceled. Please check the official website for the latest information.

For information about the Yosakoi Soran Festival please call: 011-231-4351 (Yosakoi Soran Festival Organizing Committee)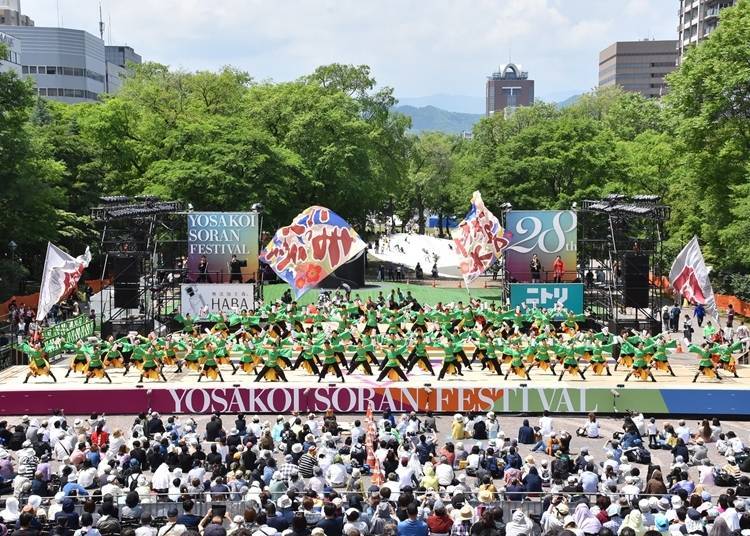 Photo courtesy of Yosakoi Soran Festival Organizing Committee
Summer: Sapporo Odori Beer Garden
One of Japan's largest beer gardens, the Sapporo Odori Beer Garden is open annually from mid-July to mid-August in Odori Park as part of the Sapporo Summer Festival, which also includes Bon Festival dances and fireworks displays.

The Garden typically has around 13,000 seats and is crowded both day and night. The beer offered in each area is different, and you can enjoy local drafts from in and around Sapporo as well as international beers so be sure to walk around and try a few.

(*In 2020, the scale of the Sapporo Odori Beer Garden was reduced and attendance was only permitted with advance reservations as a measure to prevent the spread of COVID-19. Policies and procedures for 2021 are not yet decided.)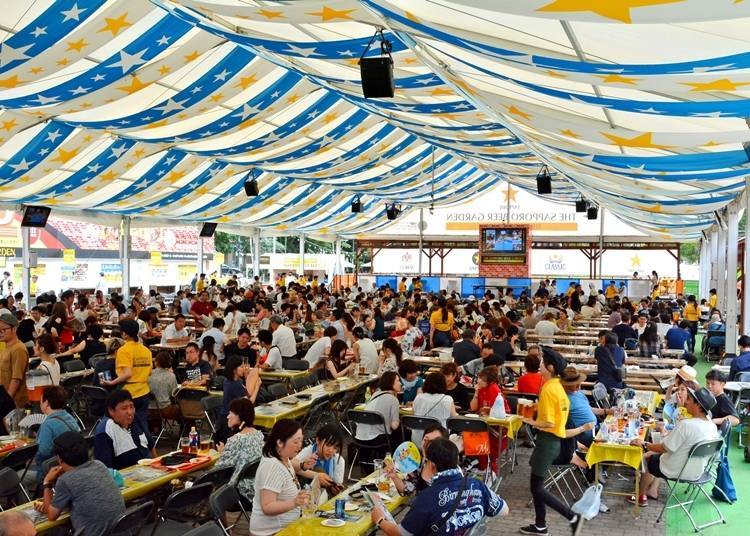 Enjoy beer day or night
Autumn: Sapporo Autumn Fest
Held over three weeks in mid-September, the Sapporo Autumn Fest is a massive gathering of gourmet foods from all over Hokkaido and is a popular draw for visitors from outside the prefecture.

You can enjoy a wide range of exquisite local cuisine and special products that fill their hometowns with pride as well as offerings from popular restaurants in Sapporo and dishes from around the world. There are so many vendors that you'll have difficulty choosing just one, so go on an empty stomach!

(*The 2020 Autumn Fest was held in an online shopping format in response to COVID-19. The 2021 plans are yet undecided.)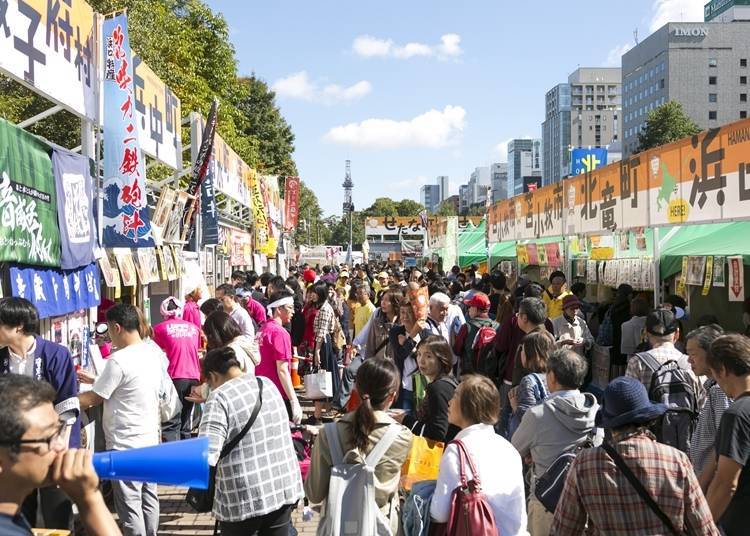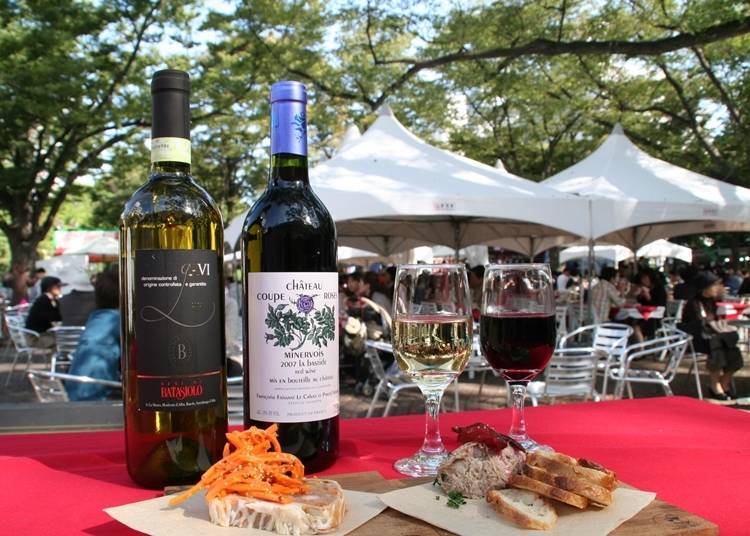 Winter: Sapporo White Illumination
Lights decorate the streets from Sapporo Station to Odori Park from mid-November to mid-March. The park itself has a shorter illumination season, lasting from mid-November to December 25, but you can see a variety of Christmas lights. Each area from 1-chome to 6-chome features a different theme, so bundle up and enjoy a cool walk among the winter lights!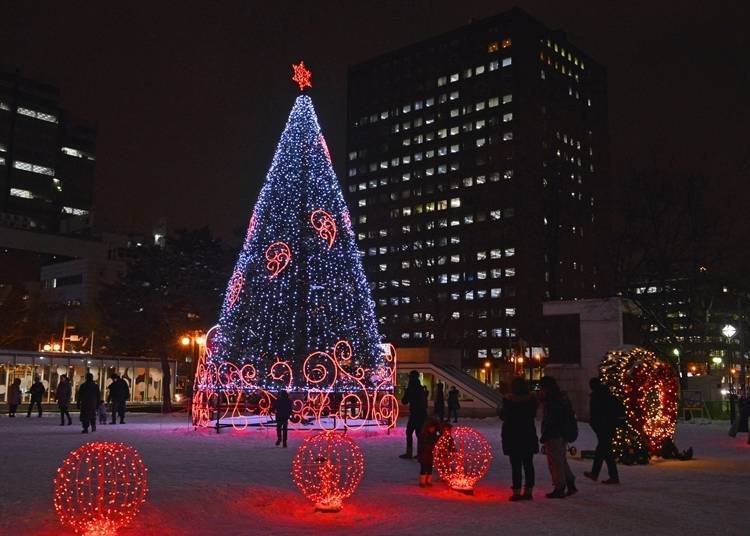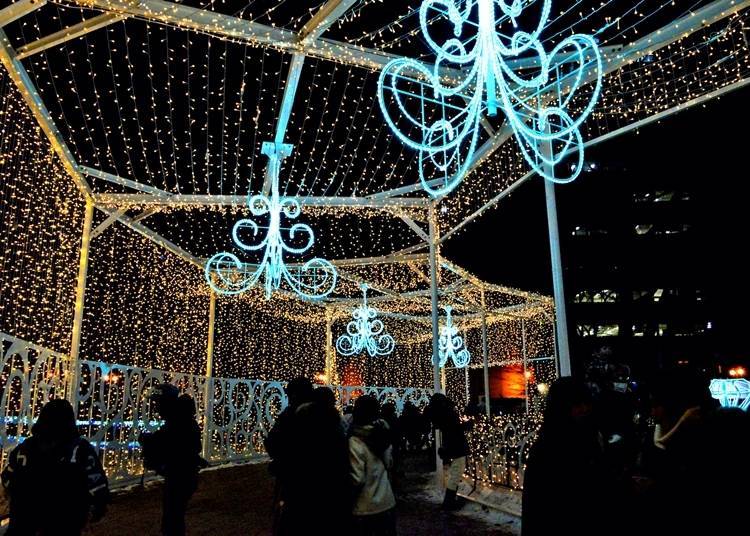 Winter: Sapporo Snow Festival
The Sapporo Snow Festival is the city's premier winter event. The internationally renowned festival takes place in early February every year, exhibiting snow and ice sculptures at three venues. Odori Park, from 1-chome to 12-chome, is the site of the International Snow Sculpture Contest, which features unique snow sculptures created by artisans from around the globe.

Other exciting events and activities include ski and snowboard jumping, performance competitions, and impressive light shows projected onto the snow sculptures.

(*To prevent the spread of COVID-19 the 2021 Snow Festival will be an online event, and a photo contest with the theme of "Snow" will be held.)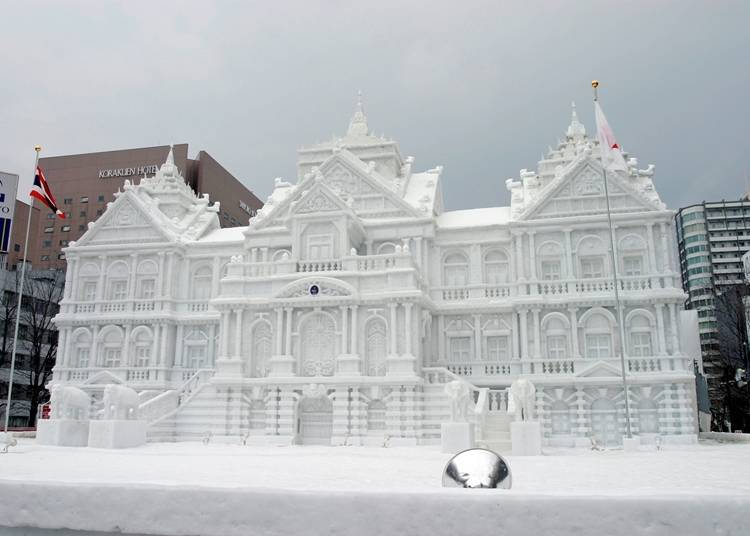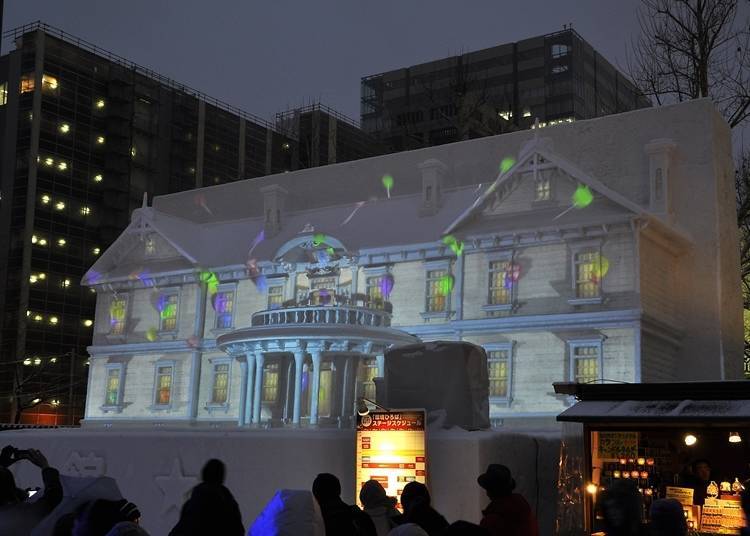 For information about the Sapporo Lilac Festival, Sapporo Odori Beer Garden, Sapporo Autumn Fest, Sapporo White Illumination, or Sapporo Snow Festival please call: 011-281-6400 (Sapporo Tourist Association)

Text by: Minna no Kotobasha

* Information accurate as of January 2021. Please check official websites for latest information.
*This information is from the time of this article's publication.
*Prices and options mentioned are subject to change.
*Unless stated otherwise, all prices include tax.