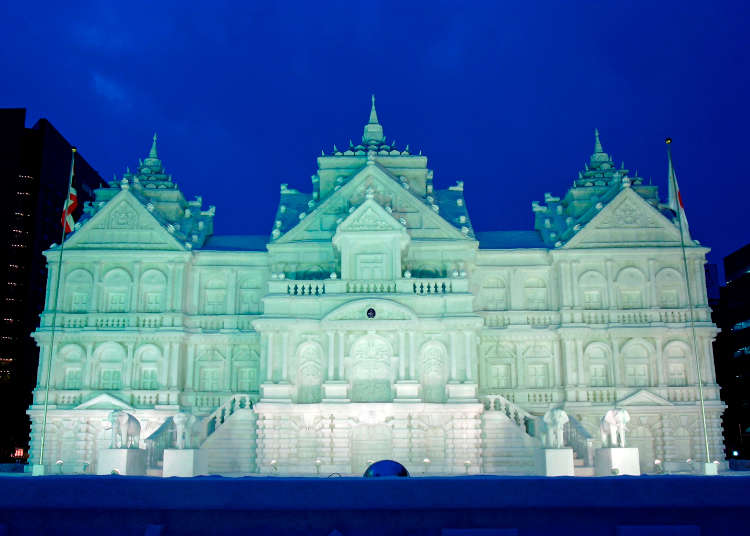 The Sapporo Snow Festival (Sapporo Yuki Matsuri) is a major snow and ice festival in Hokkaido, held in early February at Sapporo's Odori Park.

One of this delightful festival's charms is getting to enjoy the many strikingly detailed snow sculptures found in the center of the city. Although originally scheduled to be held in Odori Park in 2022, the festival was again canceled due to Covid-19.

Instead, you can enjoy seeing the Sapporo Snow Festival online again this year!
What is the Sapporo Snow Festival?
Since its start in 1950, the Sapporo Snow Festival has been an annually celebrated winter tradition. This year, it's scheduled to be held for the 72nd time. The main attraction at this event is the various-sized snow sculptures.

Welcoming up to five meters of snow yearly, Sapporo is in a region with hefty snowfall. Each year, 30,000 tons of snow are gathered to make impressive snow sculptures using heavy machinery.

Here you can find of range of sculptures with different themes. Some of these include sculptures inspired by famous buildings and World Heritage sites such as Japanese castles, sculptures that use Japanese and Hokkaido Prefecture's culture as a motif, and sculptures inspired by Japanese subcultures centering around sports, movies, manga, anime, and gaming.

Many people from all around the world come to see these sculptures! In 2019, the total number of guests who visited the event was said to be approximately 2.73 million. It's a special festival where you can enjoy the snow, cold weather, and Hokkaido's charm.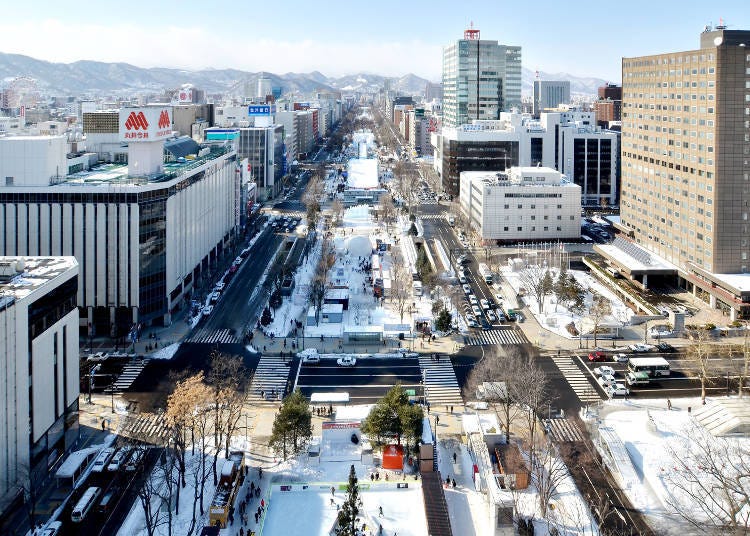 The 72nd Sapporo Snow Festival was planned to be held for the first time in two years. However, as a measure to prevent the spread of Covid-19, the event was canceled to avoid people crowding together. As with 2021, the festival will again be held online.

Fortunately, this means that from wherever you are, you can enjoy the magic of the Online Sapporo Snow Festival 2022!

Event Details
Held at the link below from February 5-28, 2022
Introducing highlights of the Sapporo Snow Festival 2022
Before the festival opened, the Sapporo Snow Photo Festival began accepting entries on February 1. This photo contest aims not just to display photos from the Sapporo Snow Festival, but to share the joy of snow with the world. When the online Sapporo Snow Festival 2021 was held, as many as 7,400 photos were submitted.
Three categories comprise this year's photo contest: SnowObject, which includes pictures of past Sapporo Snow Festival snow sculptures and ones contestants have made themselves; SnowView, sharing the fascinating winter scenery of Sapporo and Hokkaido; and SnowPeople, capturing images of people with snowscapes.

The submitted works will be published on the official Sapporo Snow Photo Festival website. Judging results will be announced on February 28, and prizes will be awarded in addition to awards for prize-winning works.

As in 2021, you can also find a variety of content, including behind-the-scenes footage showing how sculptures were made, and an online shop showcasing Sapporo's regional brand, Sapporo Style.
Snow Sculpture Making Report held in 2021
Snow Sculpture Making Report held in 2021. A snow sculpture of Dr. Clarke was made at the Hitsujigaoka Observation Hill in Sapporo.
How the Large Snow Sculptures at the Sapporo Snow Festival Are Made
Let's take a look at how the giant snow sculptures used in previous years were made.

Every year, the design for the massive snow statues starts around the autumn of the previous year. Based on the draft, a 1/40 scale model is created. Then blueprints are drawn, and then a discussion about how to go about producing the statues.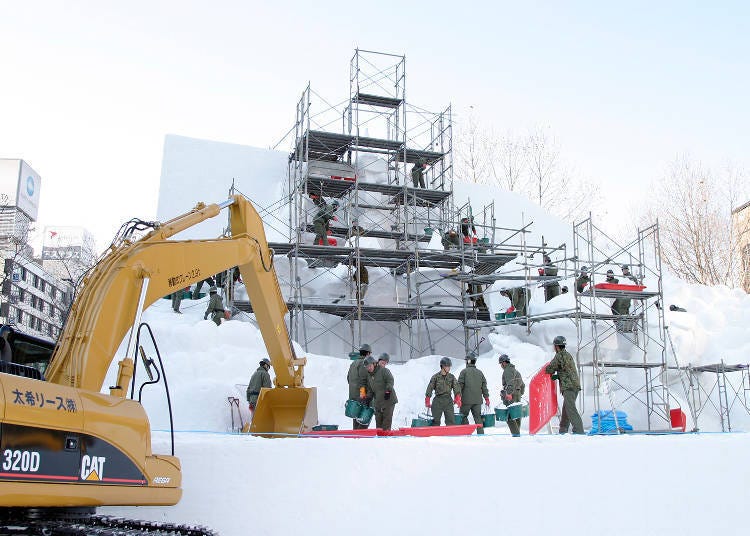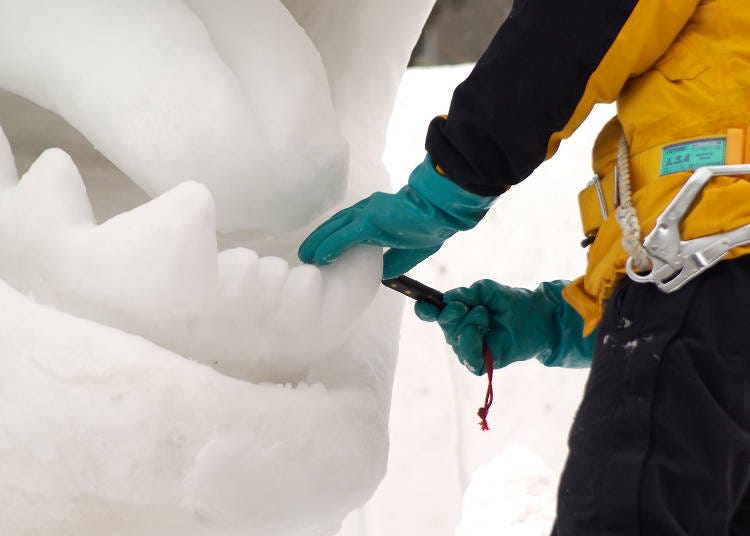 The snow used for a giant snow sculpture can pile up to a four to five-story building and fill 600 trucks. Clean snow is collected from areas around Sapporo for a total volume of about 6,000 trucks.

On the location of the sculpture, the snow is piled up using heavy machinery, and a scaffold is built. The snow is then bound and stabilized. After creating a rough shape with heavy machinery, the statue is brought to life by hand.

This is an elaborate task that goes on throughout the night. Once the shape of the snow sculpture is created, other smaller components that have been sculpted are added, creating all the fine details.
How to get to the Sapporo Snow Festival in Odori Park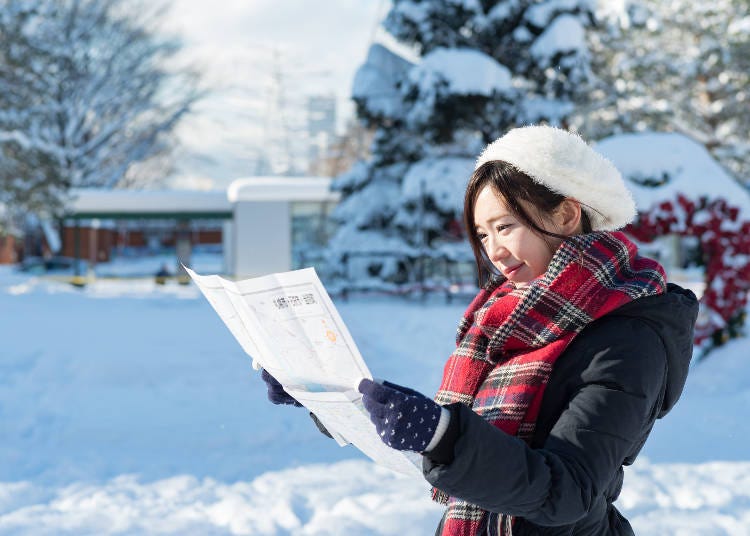 Image: PIXTA
From New Chitose Airport
・By Train
JR New Chitose Airport Station → JR Sapporo Station → Sapporo Station on the Sapporo Municipal Subway (Namboku Line or Toho Line) → Odori Station (Approx. 50 minutes).

From JR New Chitose Airport Station, take the Airport rapid service train bound for Otaru on the Chitose Line. Get off at Sapporo Station and head towards the West Exit to take Sapporo Subway's Namboku Line train bound for Makomanai. You can also choose to take the East Exit and head towards Sapporo Subway's Toho Line train bound for Fukuzumi. Both trains will take you to Odori Station.

・By Bus
Two bus companies provide access to the Sapporo Snow Festival area.

Chuo Bus services bound for Odori Park leave from the stop located near Arrival Gate 4 on the first floor of the domestic terminal building. The ride is around 1 hour and 6 minutes.

Hokuto Kotsu buses (in front of Arrival Gate 2) will also stop near Odori Park and take around 1 hour and 8 minutes.

・From Odori Station on the Sapporo Municipal Subway
Odori Station is a terminal home to the Tozai Line, the Namboku Line, and the Toho Line. The platforms and where these lines take you all differ slightly, so it's a good idea to choose one based on which part of Odori Park you want to go to.

The Namboku Line will take you to 3-Chome and 4-Chome, while the Toho Line is convenient for getting to 1-Chome and 2-Chome (near Sapporo TV Tower).
Exits to Take at Odori Station
・1-Chome

Exit 27
・3-Chome

Exit 6, Exit 8 (Elevator available)
・4-Chome

Exit 5
・5-Chome to 7-Chome

Exit 2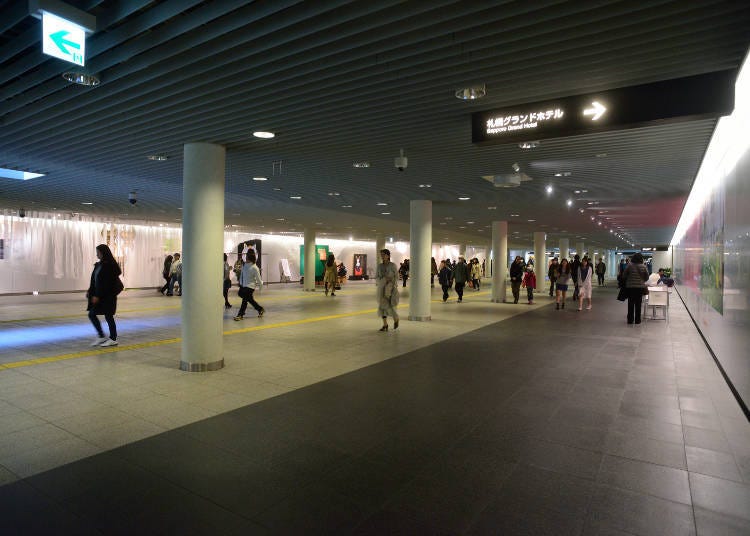 ・From Sapporo Station via the Underground Passage
You can also walk straight to the venue from JR's Sapporo Station in around 10-15 minutes.
Using the Sapporo Underground Pedestrian Space (Chikaho), you can easily get to the part of Odori Park located in 3-Chome and 4-Chome without having to deal with the cold.
Many exits at Odori Station are directly connected to different park areas, so this concourse is a perfect option for those looking to walk to their desired destination conveniently.
February in Hokkaido is very cold! Pack heavy clothes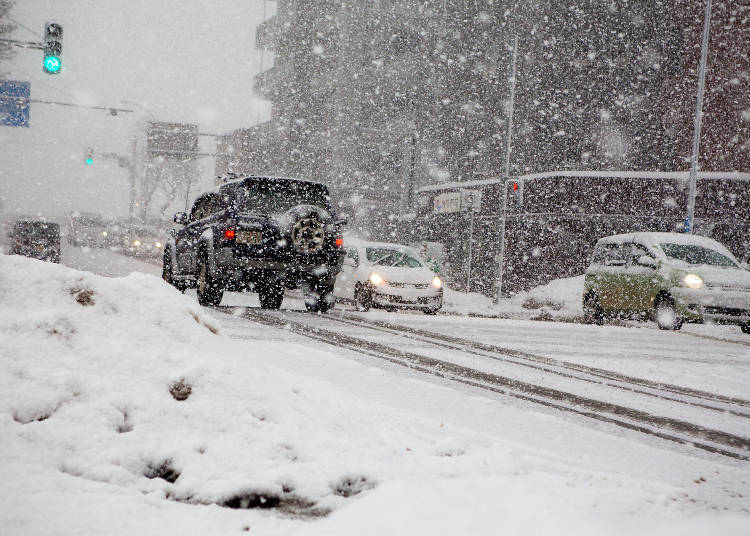 Photo: PIXTA
Weather in February in Hokkaido, when the Sapporo Snow Festival is held, is incredibly cold. Temperatures below freezing are the norm.

To enjoy all this event has to offer, you will definitely need a heavy coat or down jacket and many other items to protect yourself from the cold weather. This may include hats, scarves, and gloves.

Because the festival also requires you to walk around outdoors for long periods of time, we recommend bringing a disposable heat pack or a hot drink.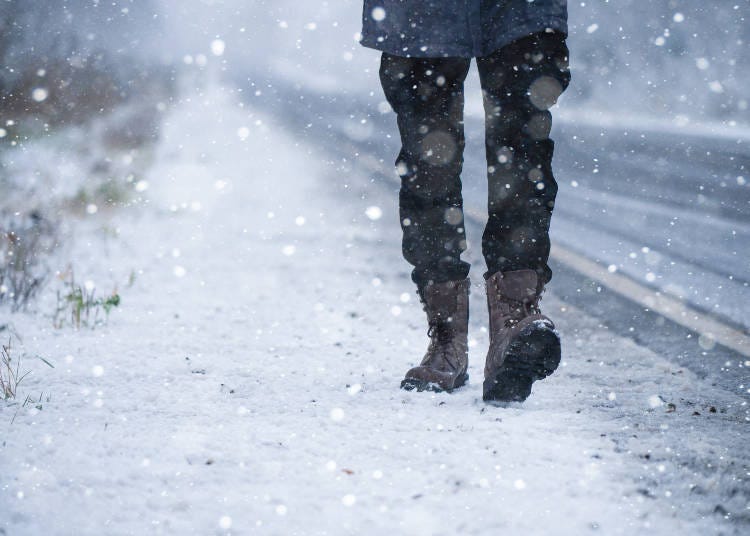 Photo: PIXTA
Also, since the roads are icy during this time, we also recommend wearing non-slip snow boots or putting on some attachable slip resistance soles.
Unfortunately, the Sapporo Snow Festival was canceled at the venue in 2022, but why not experience the snow event unique to Sapporo online?
Health & Safety Measures
Staff wear masks, gargle, wash hands regularly, and monitor temperatures/As a rule, staff hired have gotten their second vaccine shot/Guests are asked to take a one-way path through the event/Announcements are made throughout the event, and security guards are placed to break up any crowds/how busy the event is will be updated online/guests who have gotten their second vaccine or have shown a negative Covid-19 test result will be prioritized.

Text by: Minna no Kotobasha
*The information in this article is from February 2022. For updated information, please check official websites.
Address

Various places in Sapporo city, Hokkaido, 060-0042
View Map

Nearest Station

Odori Station (Namboku Line / Tozai Line / Toho Line)


Phone Number

011-281-6400
Recommended Hotels for the Sapporo Snow Festival
*This information is from the time of this article's publication.
*Prices and options mentioned are subject to change.
*Unless stated otherwise, all prices include tax.