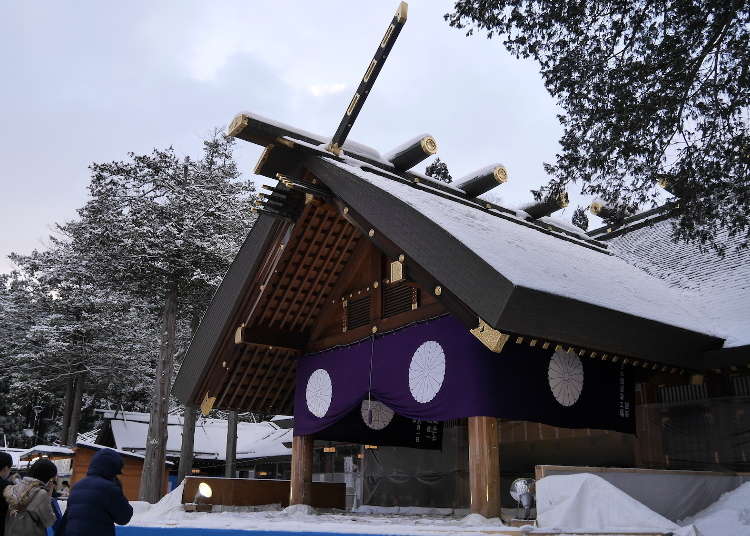 One of Hokkaido's most well-known places of worship is Hokkaido Shrine. Also called Hokkaidō Jingū, it is one of the go-to "power spots" in the prefecture.

From locals to sightseers from abroad, there are visitors here all year round enjoying the views of the four seasons on its spacious grounds, savoring desserts at the tea house while taking a rest, and generally passing their time leisurely in various ways.

Here, we'll be going through how to make the most of your visit to the power spot that is Hokkaido Shrine, as well as a guide to safely welcoming 2022 during the first shrine visit of the year, called Hatsumode.
Brief history of Hokkaido Shrine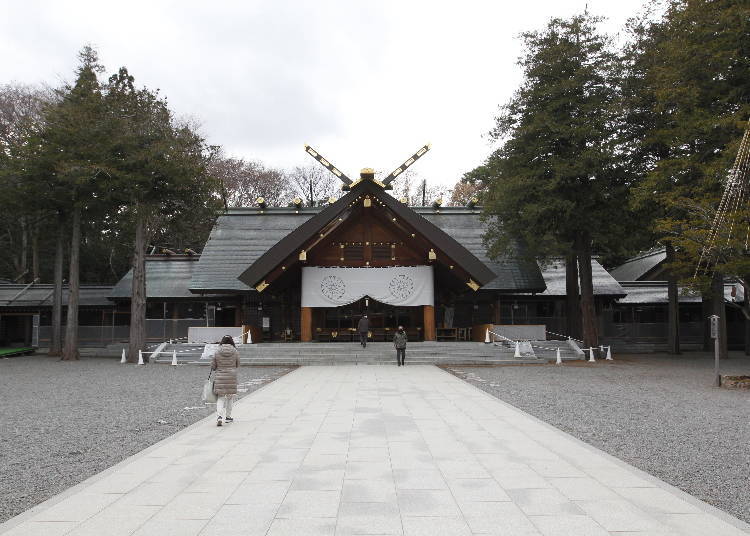 The history of Hokkaido Shrine began in 1869, when settlers in Hokkaido, under orders from Emperor Meiji, held the "Hokkaido Chinza Shinsai," an enshrinement ceremony. In this instance, the gods Ōkunitama-no-kami, Ōnamushi-no-kami, and Sukunahikona-no-kami, known as the "Kaitaku Sanshin," which means "three deities who open up the land," were enshrined to settle, develop, and protect Hokkaido.

The vessels of the three gods were brought to Sapporo from Tokyo via Hakodate, and in 1871, were enshrined in their current location.

In 1964, Emperor Meiji was deified, and there are now four main gods to be worshipped. In 1974, the main shine was completely burnt down in a mysterious fire, and the current shrine that stands today was constructed in 1978.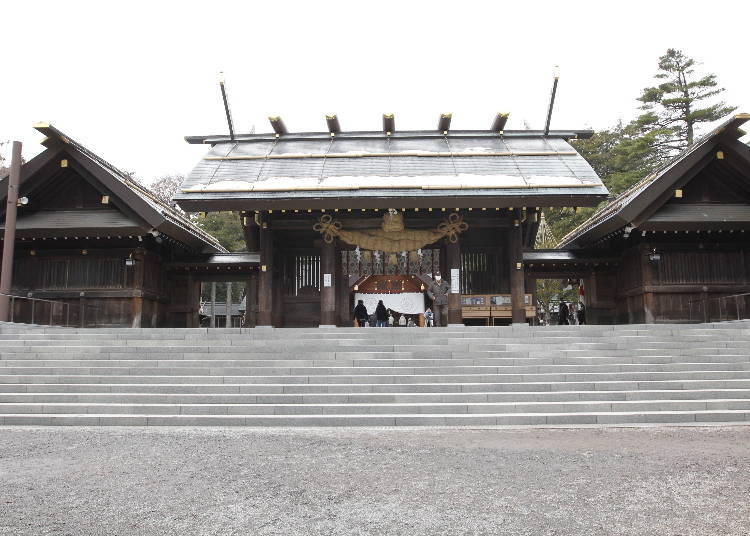 Out of the "Kaitaku Sanshin," Ōkunitama-no-kami is the main god protecting the land of Hokkaido. Ōnamushi-no-kami is the god of business and settling the land, and brings prosperity to businesses while warding away illness. Sukunahikona-no-kami is the god of business, medicine, and breweries and is suitable for praying to for victory and children.

Once you enter the grounds, many people say they can feel the gods' cleansing atmosphere and power. Be it for Hatsumōde or prayers for milestones or prayers on the first day of the month, there are visitors and worshippers here all year round.
Access: Getting to Hokkaido Shrine
The nearest train station is Maruyama-Kōen station on the Tozai line of the Sapporo Municipal Subway, and it is a 15-minute walk away.

Though there is a special timetable for trains to run throughout the night on December 31, it will not be operating in 2020.

Besides this, you can take a JR bus from Maruyama- Kōen station (numbers 14, 15, and 21), then alight at the stop "Hokkaidō Jingū" and walk for one minute from there.

Two car parks are available if you're coming by car: the Hokkaido Jungu Nishi Parking Lot and the Hokkaido Jingu Higashi Parking Lot. The parking fee is 500 yen per car (for up to 2 hours; 500 yen per hour thereafter) from December 31 to January 7.

Parking lot opening hours
・January 2 to 3: 6:30 a.m. until the gates are closed
・January 4 to 7: 7:00 a.m. until the gates are closed
・Regular days: 9:00 a.m. until the gates are closed
Enjoy the scenery of the four seasons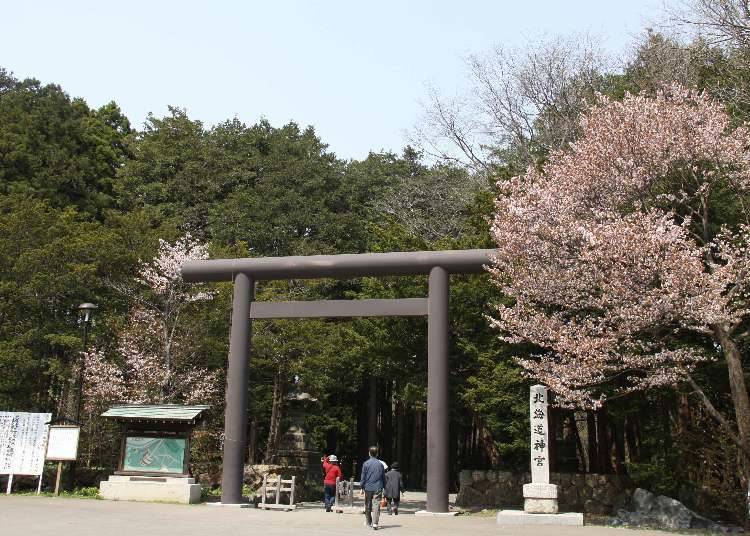 The 18-hectare grounds are full of nature and perfect for exploring. As such, many sightseers come on foot.

In particular, there are many cherry blossom trees planted here. It is a popular o-hanami, or flower viewing, spot from the end of April to the beginning of May. With shops popping up, it can get very lively.

Along the path for worshippers from the second torii gate to the main shrine are cherry blossom trees of various varieties, including Someiyoshino, and Ezoyama-sakura, making it a perfect place for o-hanami.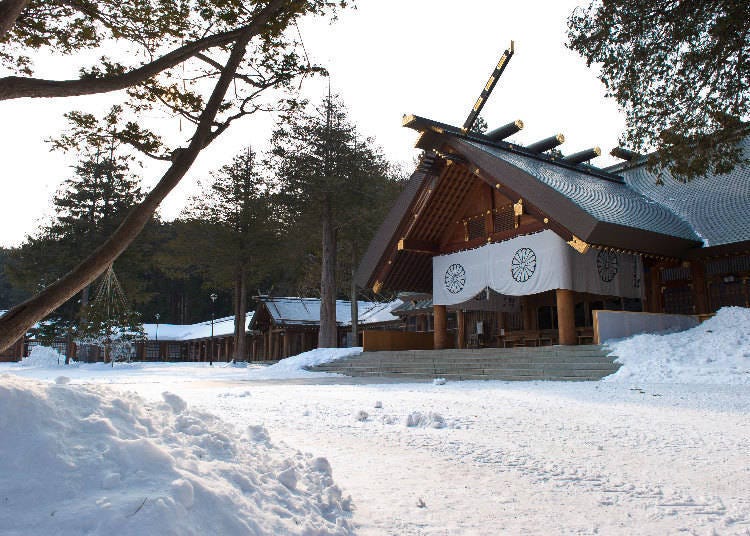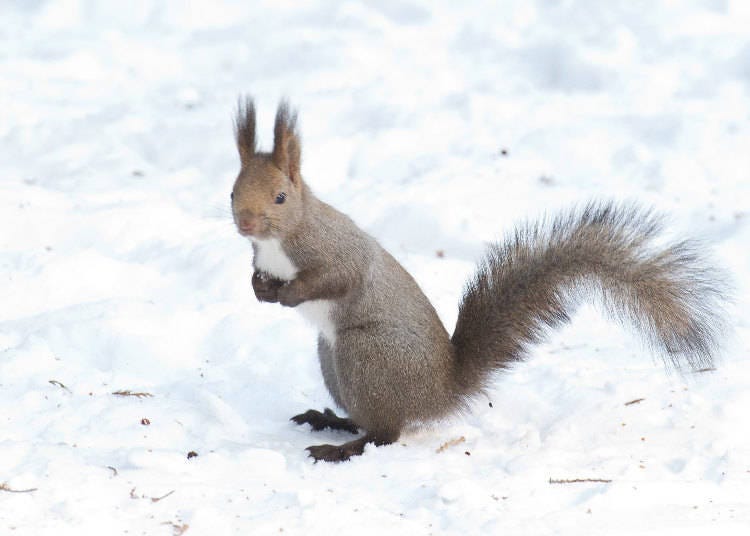 In summer, the green trees and sunlight filtering through them are comforting to look at, and you can fully enjoy the cool summers of Hokkaido.

In Autumn, there are the colors of ginkgo and Momiji, or autumn foliage, and the gorgeous sights and atmosphere make it a place well-known for its autumn foliage.

To top it off, in winter, there is, of course, a blanket of pure white snow, and the atmosphere is not quite so harsh. You can occasionally see Hokkaido squirrels and Ezo red foxes throughout the year, amongst other adorable animals.
Let's get popular omamori and ema!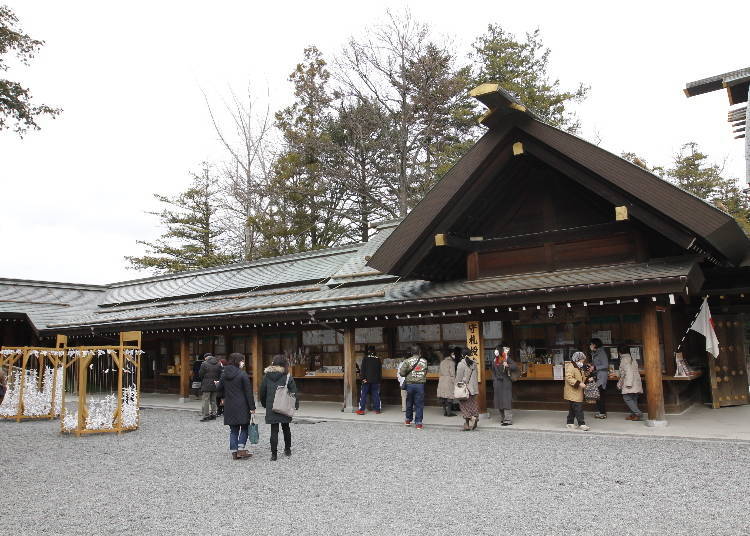 守札授与所
If you want to have fun when visiting a shrine, you absolutely have to pull omikuji, which is a fortune slip. The omikuji in Hokkaido Shrine are sold at the shop in front of the main shrine.

The omikuji is also available in English and Chinese, allowing foreign visitors to enjoy it too. There are other standard variations available too, such as those for love or for children (available in Japanese only).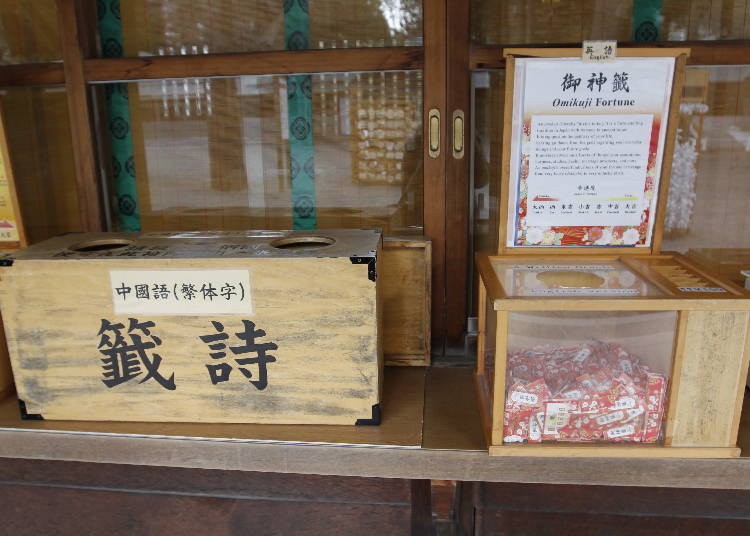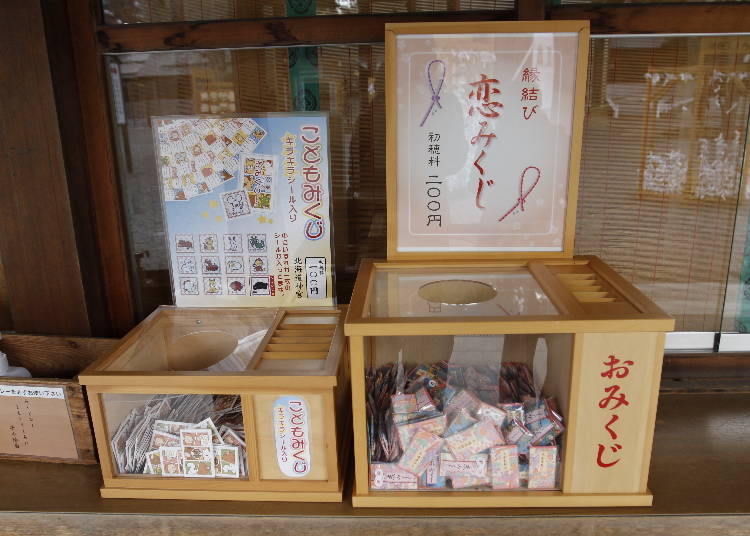 Besides this, there is a large variety of omamori, or amulets, available too. From traffic safety to warding off illness, from safe childbirth to studies, there are amulets for a wide variety of purposes, and even one type with an adorable Hello Kitty designed pouch, and with its easily usable strap and pouch, it is very popular with people who like keyholder style amulets.

There are ema, which are wooden boards for writing your wishes on and left at the shrine, and there are many types available, including those showing the zodiac and other popular characters. For those who collect goshūin, which is the unique seal of each shrine or temple, Hokkaido Shrine has its own original design of the accordion books used for collecting the seals.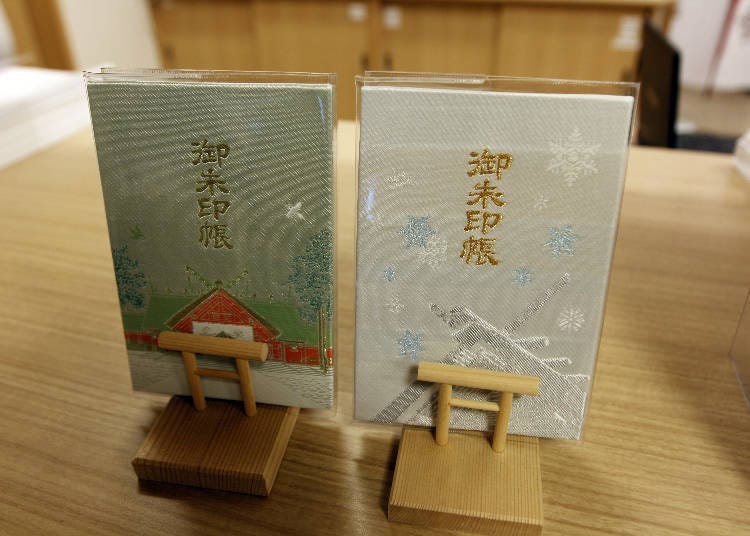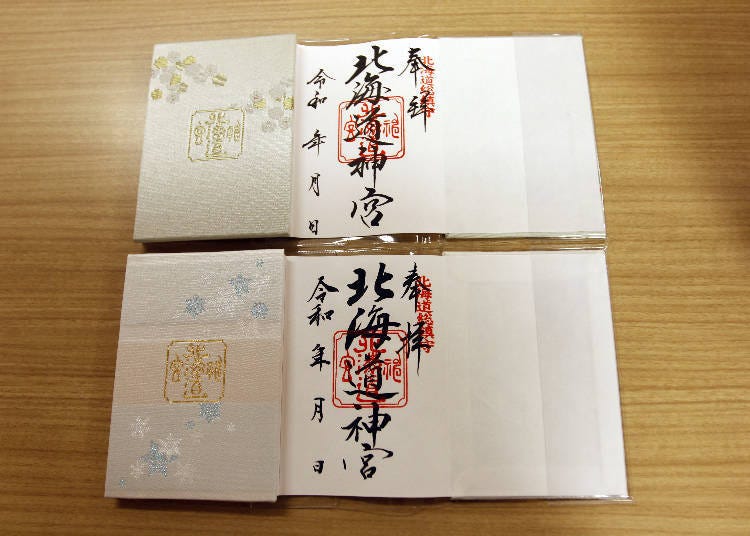 For items related to hatsumōde shown in the photos above, such as Dorei clay bells, wooden carvings, called Ittōbori, Hamaya, which are arrows for warding off demons, and Kumade rakes for bringing in good fortune, sales of these items start from December 1, in line with measures this year to prevent the spread of Covid-19, and the shrine is bustling with people preparing to welcome the new year. Besides this, from January 1, the sales of limited zodiac bells will start too.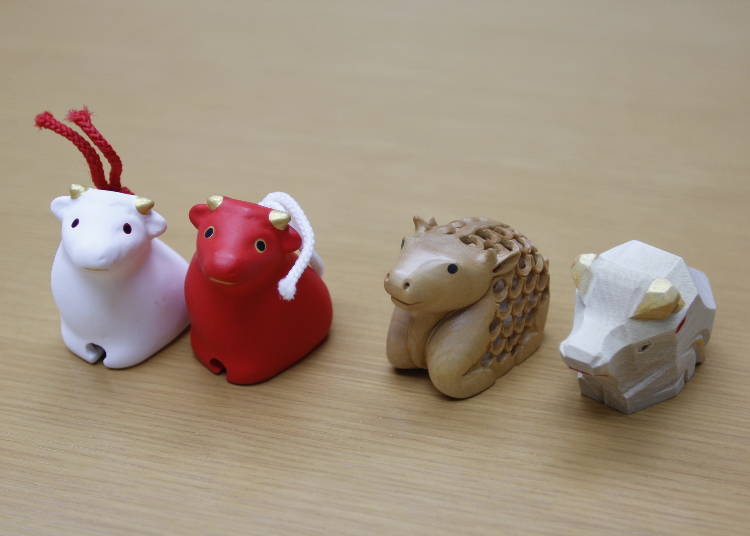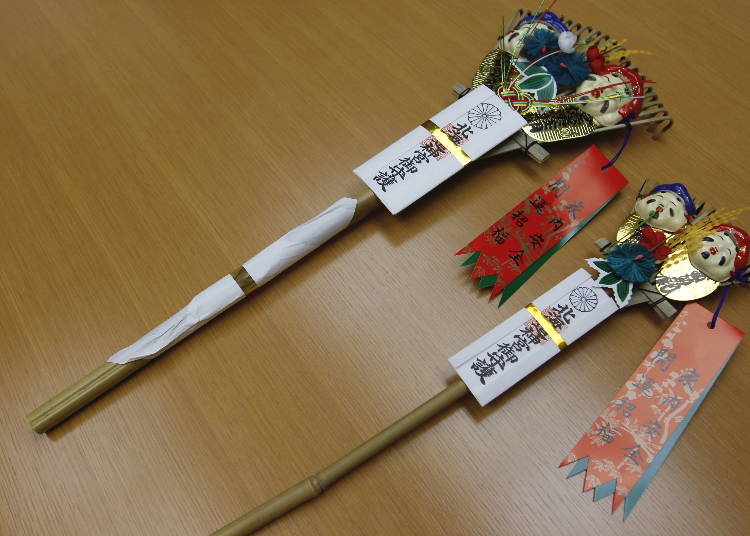 Praying at three of the shrines within the Hokkaido Shrine grounds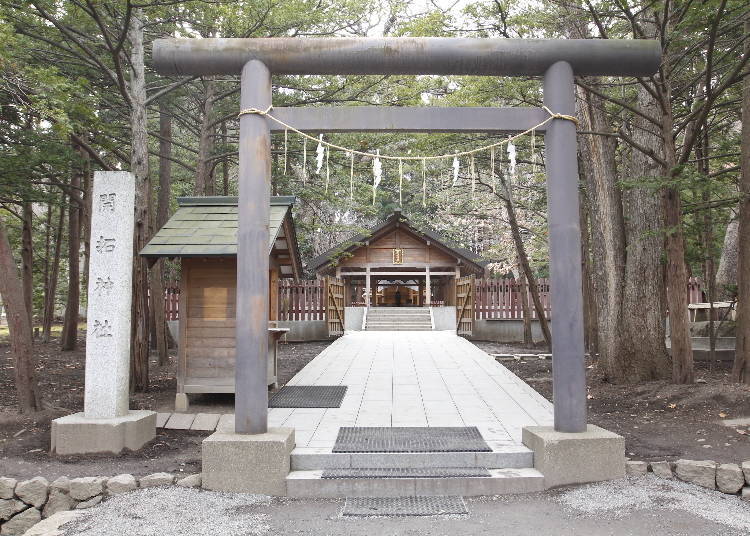 Within the shrine grounds of Hokkaido Shrine, there are other shrines besides the main shrine. There are three other shrines within the grounds.

Amongst these, Kaitaku Jinja is famous as an especially strong power spot. Starting from Matsuura Takeshirō, who was sent to Hokkaido on an imperial decree, a total of 37 settlers are enshrined there. In memory of the blood, sweat, and tears shed by the pioneer settlers, and to pass down the message of their labor and effort, the shrine was constructed in 1938. From luck with work to luck for victories, many businessmen come here to pay their respects.

Besides this, there are nine different types of prayer tags available, including for paying respects, love, wishes, exams, home safety, business prosperity, warding off evil, health, and sickness, and each one costs 300 yen. If you write your name and age on it, it'll be burnt as an offering during a festival held once every year.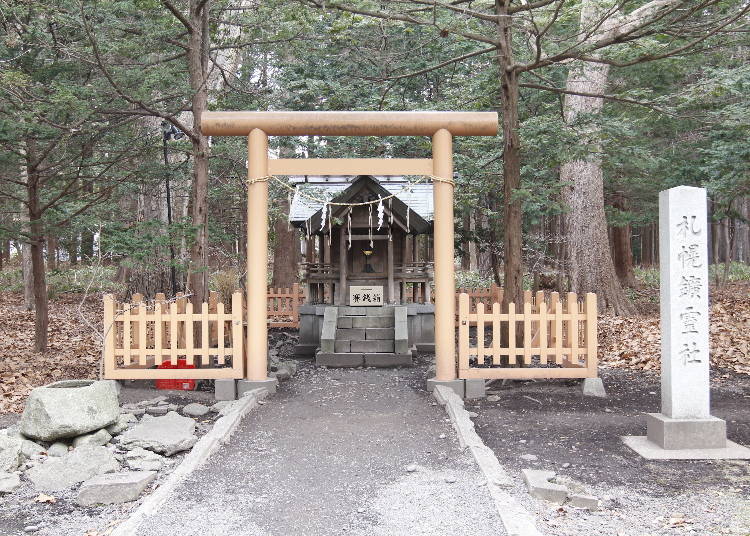 In Hokkaido, many towns prospered because of the coal mining industry. Korei Jinja, dedicated to the coal mine workers' spirits, was constructed in 1943 and moved to Hokkaido Shrine in 1949. Many also come here to pray for traffic safety.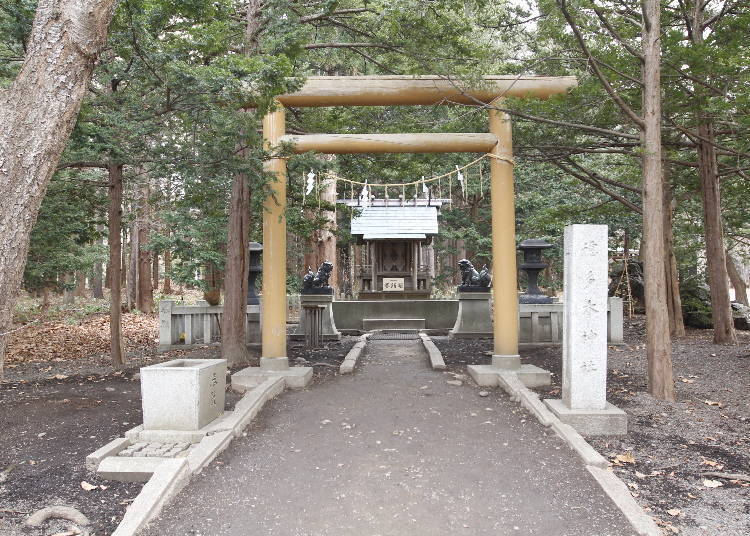 Last but not least, there is Hotaki Jinja. To honor the hard workers of Hokkaido Takushoku Bank, which laid the foundations for Hokkaido's economy, it was first constructed on the rooftop in 1938, and moved to the grounds of Hokkaido Shrine in 1950. There are two bronze statues of guardian dogs, and it is a popular power spot for fortunes in money and wealth.
Take a rest and enjoy some sweets after paying your respects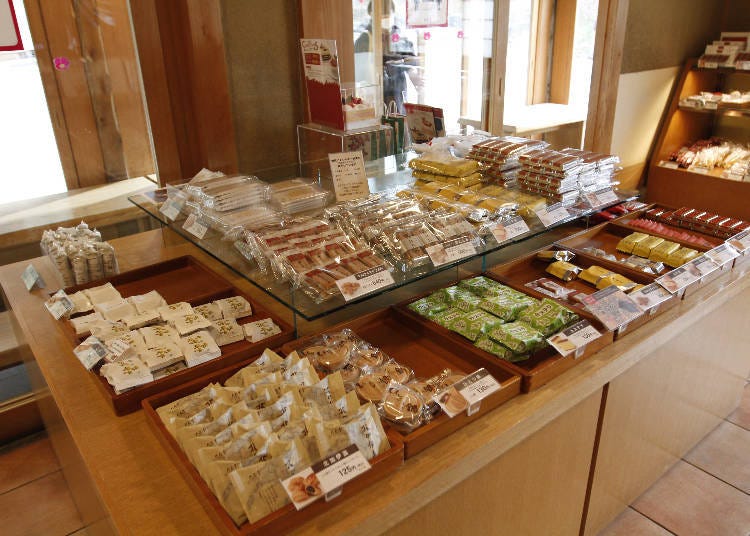 If you're tired after exploring the shrine grounds, there are two places where you can have a rest.

First is Rokkatei Jingū Chayaten, a branch of the tea shop Rokkatei. Rokkatei is a shop known for its Hokkaido snacks and souvenirs. Besides popular sweets lined up at the shop front, the Hangansama sweets freshly made on a hot plate are the specialty sweets exclusive to the Jingū Chayaten branch.

The buckwheat-containing bun is amply filled, and the grilled sweet is fragrant with a soft inside, and it's not surprising it has many fans. There are spaces in the shop available for you to sit down while enjoying your sweets.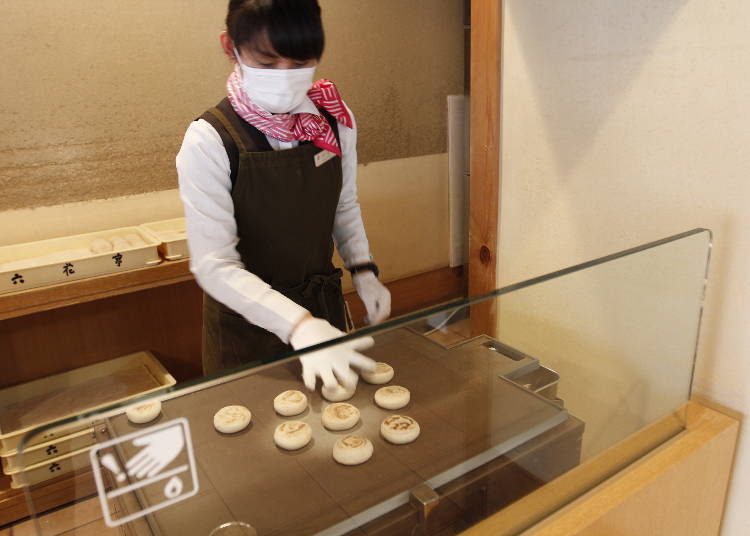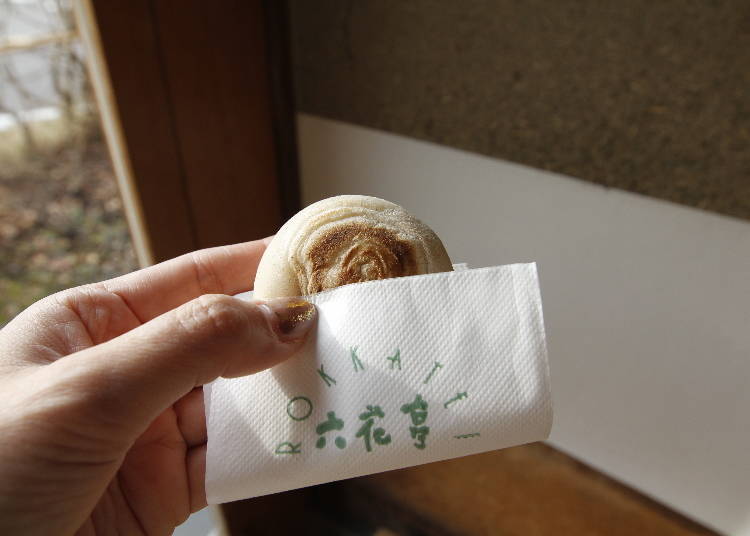 Freshly made Hangansama sweets being sold
By the way, Hangansama, which means "judge," refers to one of the settlers who was a judge, who came to Sapporo together with the three Kaitaku Sanshin to Hokkaido Shrine, and he is the one who designed the streets of Sapporo to be what they are today, Shimayoshi Take. A statue of him is in one of the corners in front of the main shrine, so try looking for it.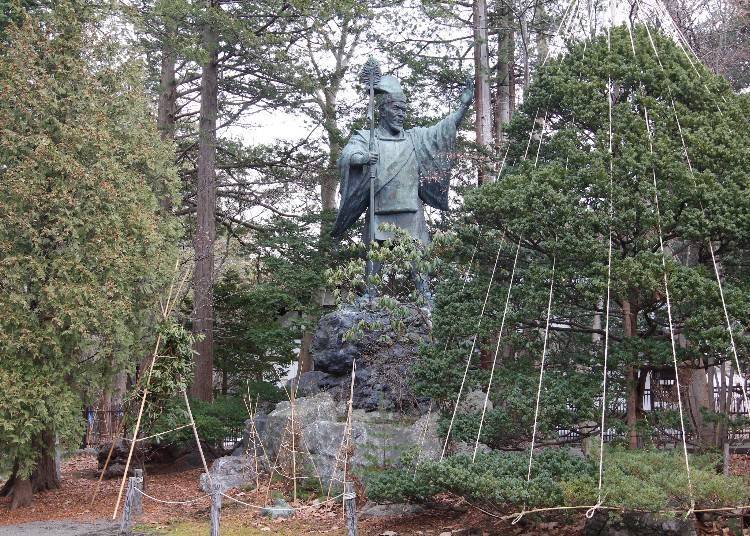 六花亭神宮茶屋店

Address

Miyagaoka 474-48, Chuo Ward, Sapporo, Hokkaido 064-8505

Hours: 9:00 a.m. to 4:00 p.m.
Hangansama is not on sale from January 1 to 11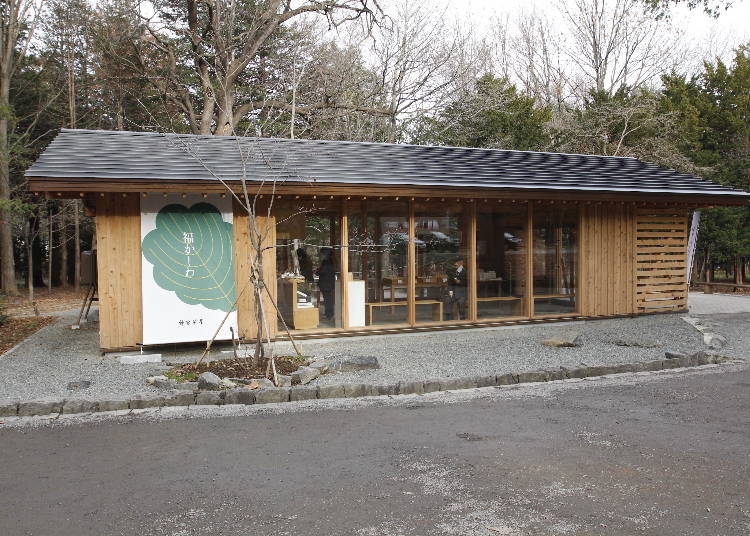 Next up there is the new sweets stand that opened in September 2019, Jingu Chaya. Of all the sweets and dessert shops belonging to the Hokkaido Shrine Confectionery Offering Association, nine have their products for sale at the shop in four-month rotations. There are rare products that are difficult to get in Sapporo, as well as lesser-known sweets lined up for sale as well.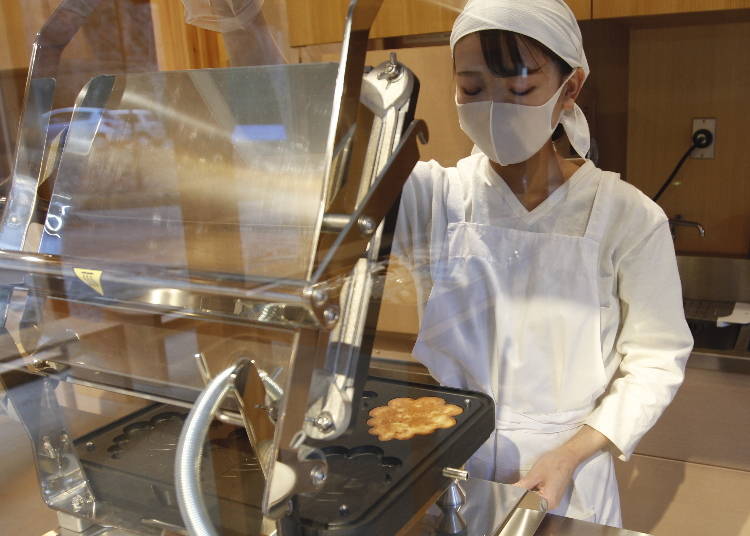 The signature item here is the "Fukukashiwa," a sable in the shape of an oak leaf. Freshly made ones will be newly made available starting from December 18.

After your order has been placed, you wait for around eight to ten minutes for your order to be made, but getting to enjoy the crunchy texture at your own pace is a special point of it.

Besides this, the soft cream here made using milk from Hidaka-cho's Utopia Farm is popular too. The shop also sells coffee, and you can sit down and enjoy some coffee with your dessert too.
神宮茶屋

Address

3-10, Miyagaoka, Chuo Ward, Sapporo, Hokkaido 064-0959

・Hours: From November to March - 9:00 a.m. to 4:00 p.m.; From April to October and January 1-3, 9:00 a.m to 5:00 p.m.
・Made-to-order Fukukashiwa and soft cream are suspended from January 1 to 11.
Hatsumode at Hokkaido Shrine in 2022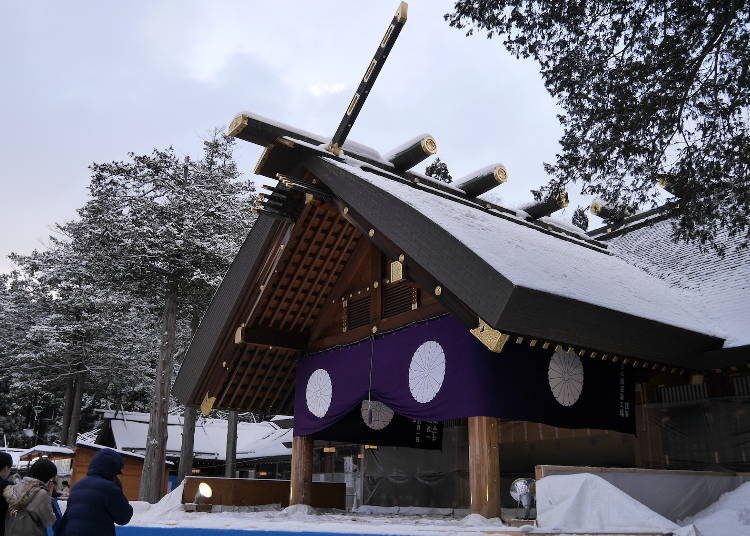 On average, 800,000 people visit the shrine every year. As this is one of the most popular Hatsumōde spots in Hokkaido, the first three days of the New Year are expected to be especially crowded. During hours when the crowding is worst, there will be entry restrictions imposed at the shrine's entrance.

For those worried about the crowds, it's recommended to visit the shrine from January 4 instead. Besides this, as measures against Covid-19 are in place for 2022, alternative arrangements from the previous years will be made.

Please follow the guidelines listed below for a safe shrine visit.
- Use a mask when visiting the shrine, and refrain from talking loudly
- If you have a fever or are feeling unwell, refrain from visiting the shrine
- Disinfectant will be provided; please sanitize your hands before entering
- The lucky charm "Eto Suzu" is available after the New Year. Other New Year's charms (such as hamaya, kaburaya, kumade, yorisoi dorei, and ittobori) are available at the shrine's office from December 1. Amulets and other gifts can be shipped.

The following will be closed or unavailable in 2021-2022:
- Chozu water basins: closed from January 1 to 16
- Offering of sacred sake: unavailable
- Goshūin stamps written directly into the book: unavailable from December 15 to January 31 (collection of pre-prepared goshūin pages is available)

Main gate hours for New Year
・January 1: Midnight to 7:00 p.m.
・January 2 - 3: 6:00 a.m. to 6:00 p.m.
・January 4 - 7: 6:00 a.m. to 4:00 p.m.
・January 8 - 31: 7:00 a.m. to 4:00 p.m.
Address

474 Miyagaoka, Chuo-ku, Sapporo-shi, Hokkaido, 064-0959
View Map

Nearest Station

Maruyama koen Station (Tozai Line)
15 minutes on foot


Phone Number

011-611-0261
Text by: Minna no Kotobasha
* The information in this article is as of December 2021.
Recommended lunch spots nearby
Address

Minami two Jo Nishi 26-2-18, Chuo-ku, Sapporo, Hokkaido, 064-0802
View Map

Nearest Station

Maruyama koen Station (Tozai Line)


Phone Number

011-622-8880
Address

Sapporo Mitsui JP Building Akarenga Terrace 2F,Kita 2 Nishi 4-1, Chuo-ku, Sapporo-shi, Hokkaido, 060-0002
View Map

Nearest Station

Sapporo Station (Namboku Line / Toho Line)


Phone Number

011-200-0166
*This information is from the time of this article's publication.
*Prices and options mentioned are subject to change.
*Unless stated otherwise, all prices include tax.