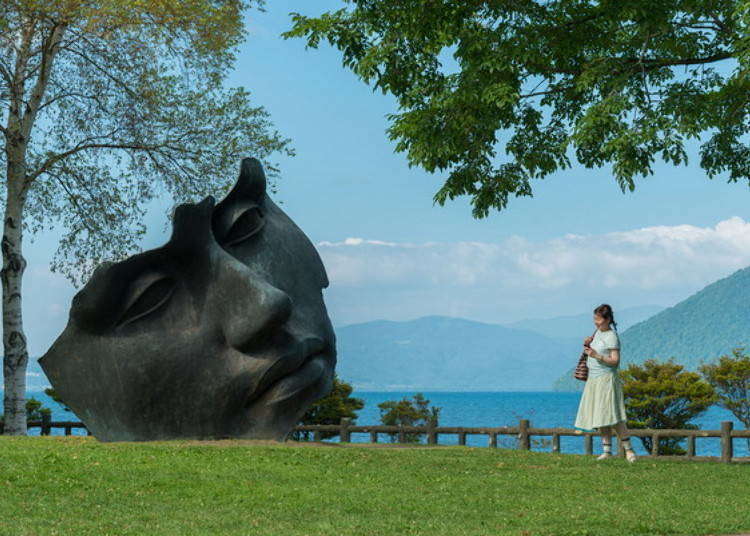 What to do around Lake Toya, one of Hokkaido's most popular tourist spots? We've put together some sightseeing tips for places you really must-see. These will help you experience all the attractions of Lake Toya, from the splendid view of the lake to experiencing the confectionery for which it is famous.
Lake Toya is about one hour and thirty minutes by car from the New Chitose Airport or two hours by car from Sapporo. Toyako, as it is also known, an almost perfectly round lake formed in a caldera, sits between Toyako Town and Sobetsu.

Active volcanoes, such as Usuzan and Showa Shinzan, rise along the southern coast, and Nakajima, an island nearly in the center of the lake, affords spectacular views.

If you are going sightseeing, we recommend staying at one of the hot spring resorts in Toyako, where you can easily visit the surrounding area while taking in the ever-changing spectacular views of the lake. Here are some things you definitely should do in the south shore area!
1. Lake Toya Cruise: Board a pleasure boat
First, go to Lake Toya. Board a pleasure boat that departs from the hot springs town. The cruise goes around Nakajima and lasts about 50 minutes.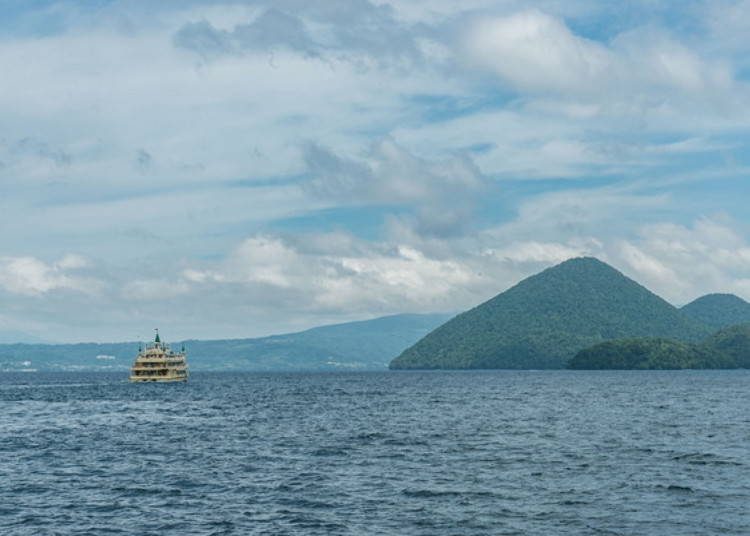 ▲Fares are 1,420 yen for adults and 710 yen for elementary school children
The cruise departs from a pier located near the hot springs town. Among the several ships is the Espoir, which resembles a floating castle and which departs every hour on the hour.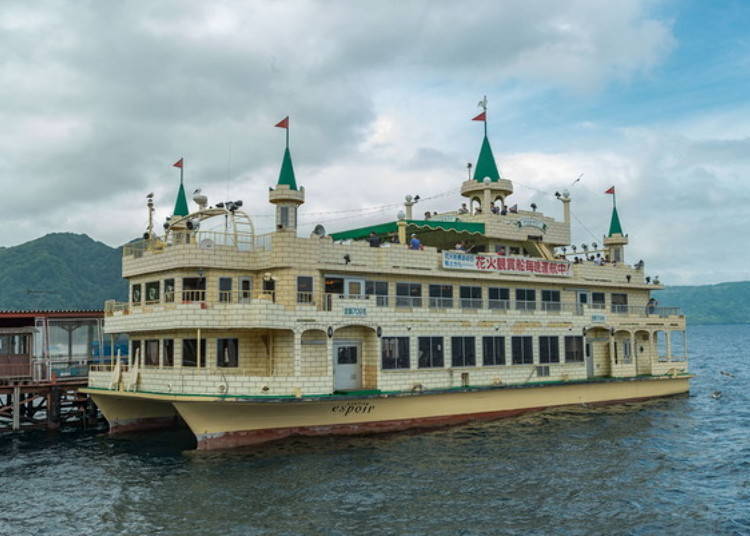 ▲The Espoir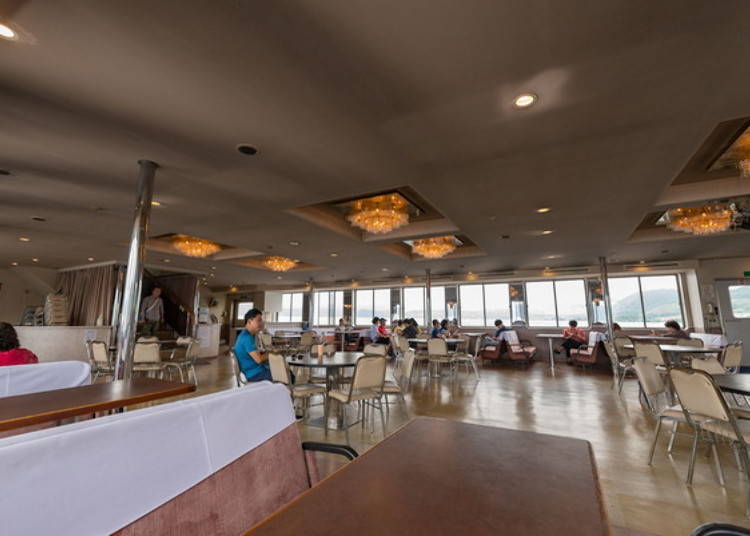 ▲There are two decks and inside each there are tables and chairs. Sit back and enjoy a relaxed view of the scenery!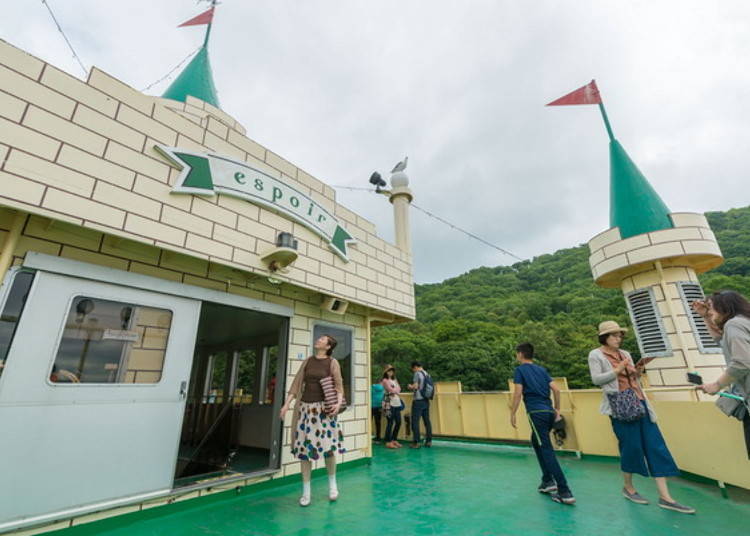 ▲Of course you can also enjoy the sights from out on the deck. Cool breezes waft across the fantasy-themed
As the ship proceeds along its course, it approaches Nakajima, which refers collectively to the four islands of Bentenjima, Kannonjima, Oshima, and Manjujima. Bentenjima, Kannonjima, and Manjujima are lined up in front of Oshima, the largest of the four, and as the ship turns to the right, it passes between Oshima and the three smaller islands.
▲Oshima is the largest, the area in front which looks dark is Bentenjima; Manjujima is at the far right edge. Kannonjima is hidden from view by Bentenjima
All of the islands are uninhabited, giving them a silent air of mystery. Oshima is the only island that can be visited. For those interested in disembarking here, there is the Toyako Forest Museum and trekking through the island's forest is also possible.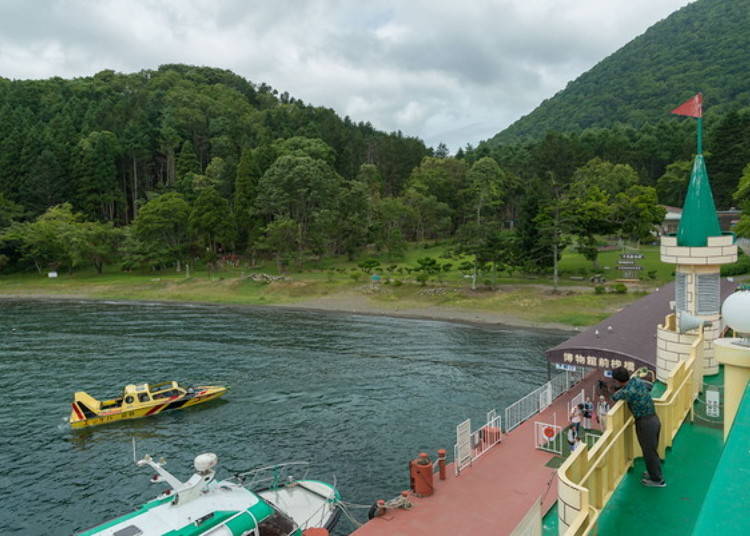 ▲Oshima Pier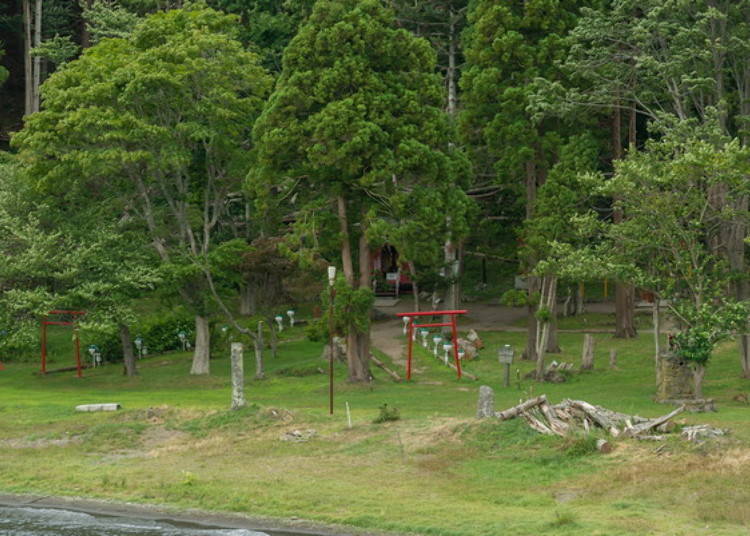 ▲Oshima Torii. A small shrine where the gods Ebisu and Daikoku are enshrined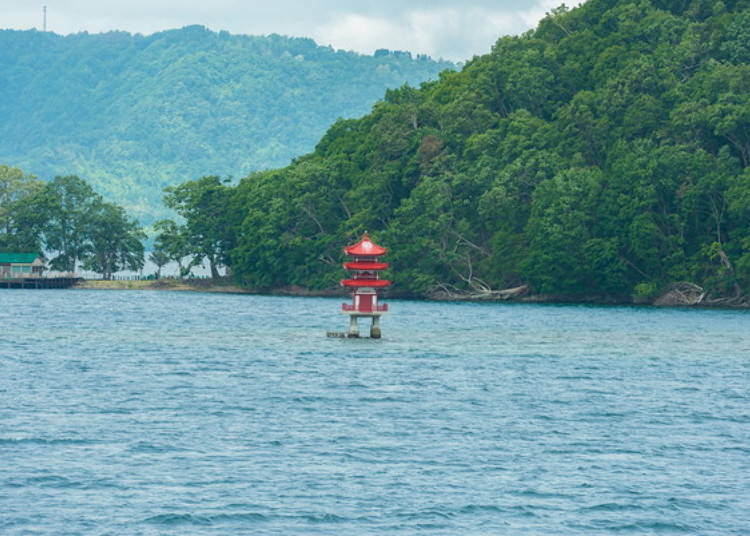 ▲The Ukimido (Floating Temple Hall) can be seen on the return route. Behind it is Kannonjima. It is connected to Bentenjima, part of the connection once being a pier. Perhaps in the past it was possible to get off here.
This photo was taken on an overcast day, so Usuzan (Mt. Usu) and Showa Shinzan are not visible from the lake. However, on a fine day, both of these and Yoteizan (Mt. Yotei) in the distance are visible. Most days of the year, Mt. Yotei is not visible, so if you can see it, you are lucky!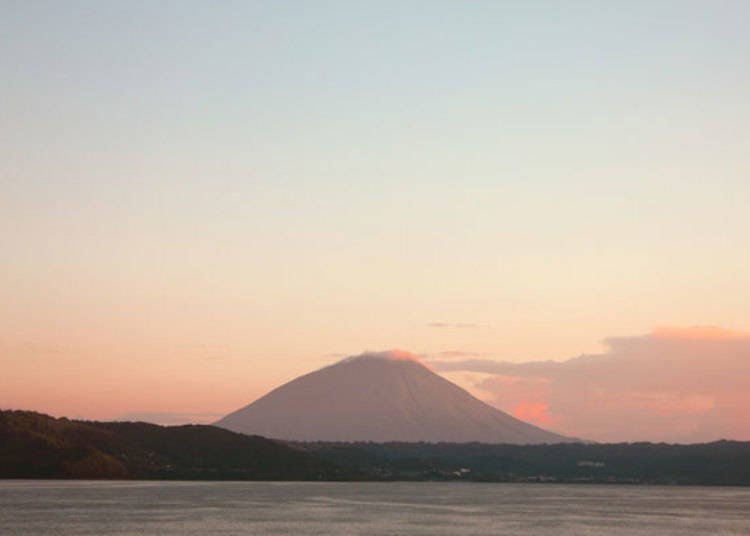 ▲This is a view of Mt. Yotei beyond the lake!
Pleasure cruise around Nakajima
・Departure times: End of April - end of October, 8:00 AM - 4:30 PM (leaves every 30 minutes); November - early April, 9:00 AM - 4:00 PM (leaves every 60 minutes)
・Closed: Always open
・Fares: 1,420 yen for adults and 710 yen for elementary school students
洞爺湖汽船

Address

29Toyakonsen, Toyako-cho Abuta-gun, Hokkaido, 049-5721
2. See Spectacular outdoor sculptures! Take a stroll along the lakeshore
After disembarking after the cruise, why not take a stroll along the lake shore? You'll soon find that, actually, this is not your typical pathway! There are three reasons for that.

The first is that the area around here is a vantage point designated as Toyako Hakkei (the eight views of Lake Toya). It offers excellent lake views and Nakajima; when the weather is good, you can see Mt. Yotei.

The second is that as you walk along the path, you will come to a stretch paved with large round stones that extend for about 100 meters. These stones act like a foot massage as you walk over them, which has led to this stretch being called Tsubo Ashi Kenko-Dori, which loosely translates to Avenue of the Healthy Foot Massage. This is a unique and healthy addition to a hot springs area, especially when combined with foot baths and hot spring baths.
▲Tsubo Ashi Kenko-dori. Located in the area designated as Toyako Hakkei.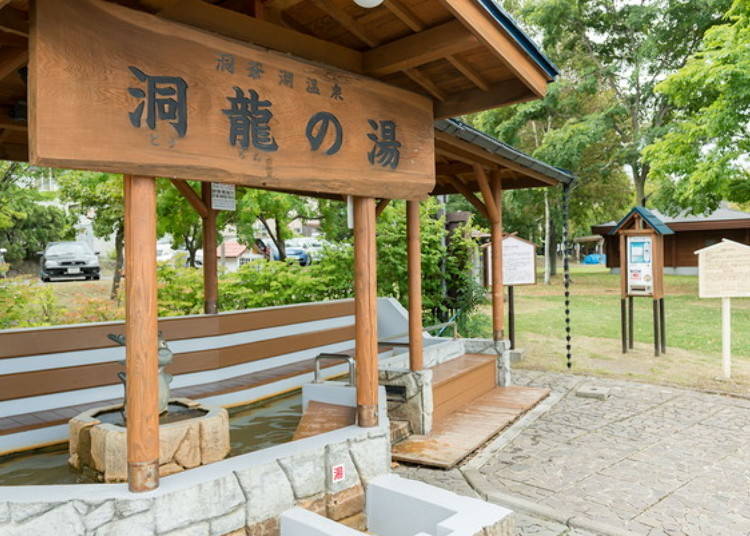 ▲Toyako hot spring Toron no Yu. It's free!
The third and final is the Toyako Gurutto Chokoku Koen (Sculpture Park around Lake Toya) bordering the shoreline. There are 58 sculptures placed around the 43-kilometer circumference of the lake!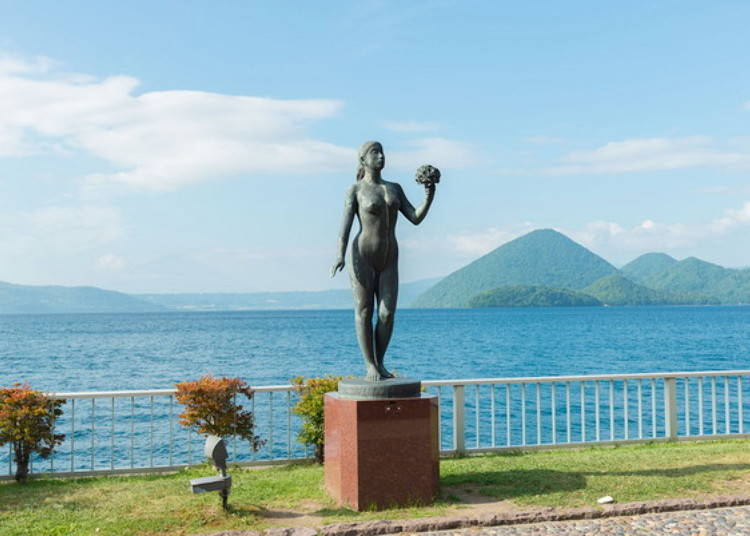 ▲The sculpture entitled Dosho by Keiko Amemiya in front of the Toyako Manseikaku Hotel Lakeside Terrace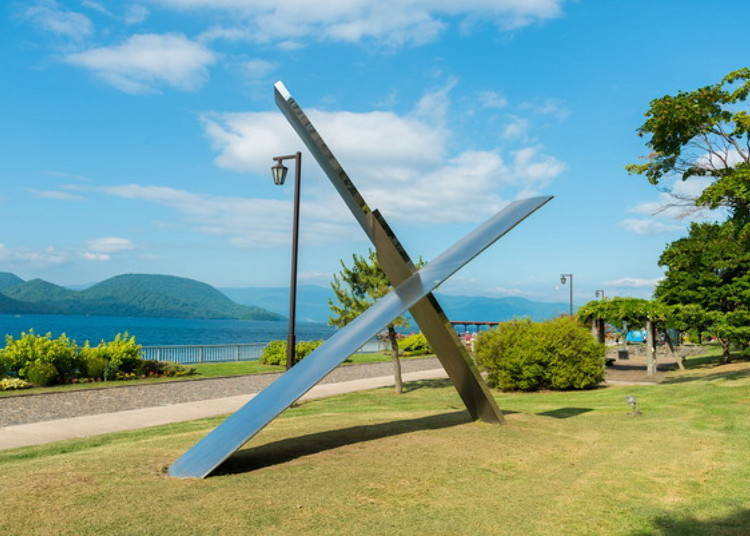 ▲The sculpture SKY - Kosa Suru Ki (Sky Intersecting with the Mind) by Daijun Tsunematsu in front of The Lake View Toyo Nonokaze Resort
Many of the works are located in the area between the Toyako hot springs town and the Mount Usu Eruption Memorial Park. The combination of natural scenery and art against the background of the lake and woods is the perfect spot for taking memorable photos! Perfect for sharing on your social network of choice!

Two large works, Tsuki no Hikari (Moon Light) by Igor Mitoraj and Muse by Nobuyuki Akechi in the Mount Usu Eruption Memorial Park, are especially popular for their powerful impact.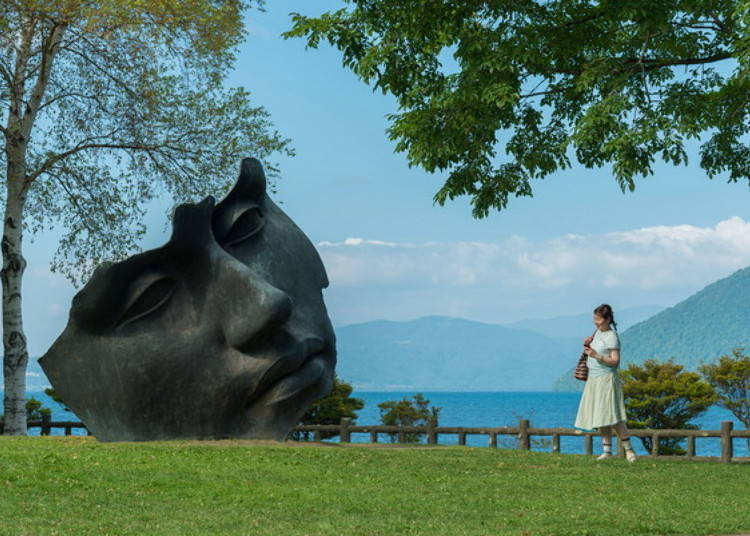 ▲Tsuki no Hikari which looks like a mask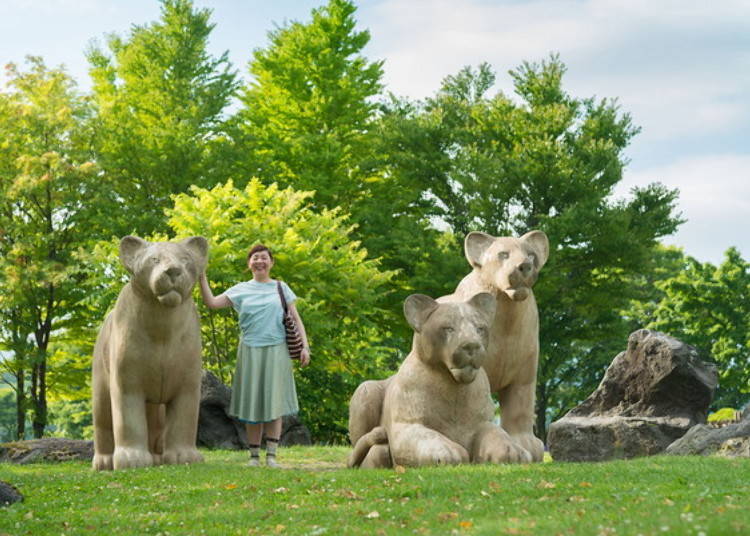 ▲The three lions known as Muse
The views from the park are magnificent and there are places where you can go down to the edge of the lake and leisurely stroll along the shore lapped by gentle waves.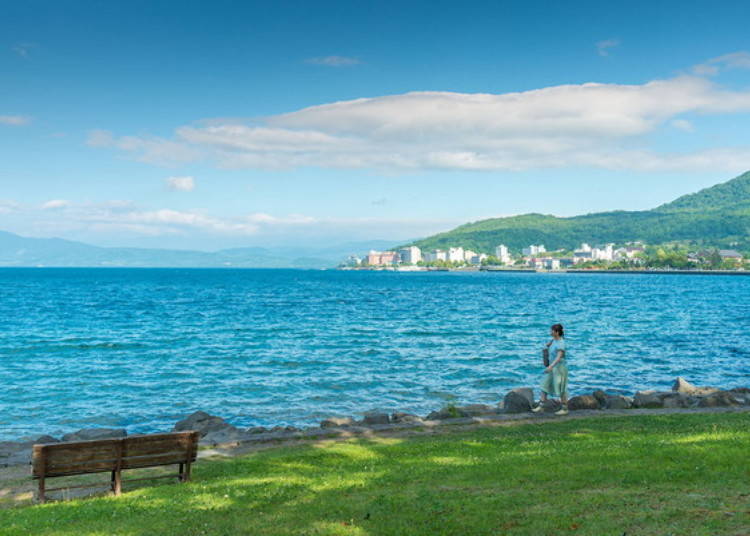 Mount Usu Eruption Memorial Park

有珠山噴火記念公園

Address

Toyakonsen, Toyako-cho Abuta-gun, Hokkaido, 049-5721

・Open: Year-round
・Closed: Always open
・Fee: none
3. Visit Wakasaimo, a popular confectionery with a long history
The perfect place to take a break. Walking about 15 minutes from the Usu Eruption Memorial Park towards the hot springs town, you will see the Wakasaimo Honpo Doya Lake Honten. Here you can sample many kinds of sweets that are also perfect for souvenirs!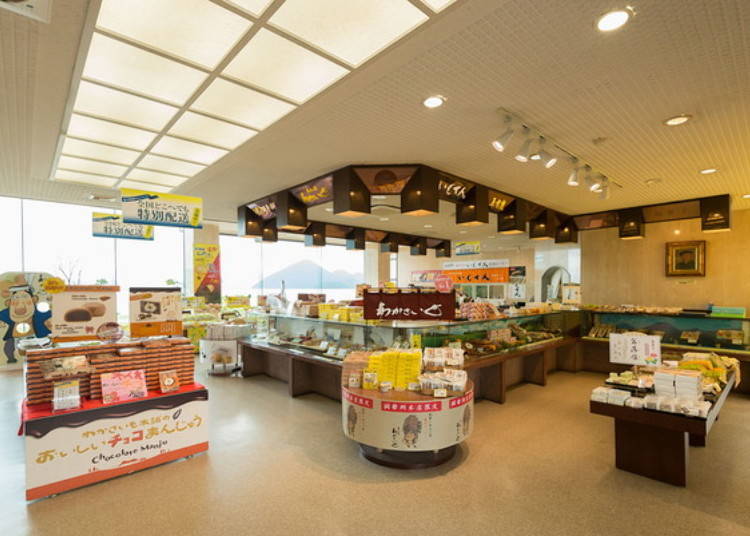 The shop takes its name from the Wakasaimo confection that looks like a potato. The shop was established in 1930 and is a well-loved confectionery representative of Hokkaido.

An interesting fact is that the confectioneries are not made with imo (potatoes) even though the name of the shop literally means Wakasa Potato.

Ofukumame (large, dried beans) grown in the lands around Lake Toya are the main ingredient of the an (bean paste) in which Gagome konbu (kelp), taken from the southern part of Hokkaido and noted for its strong viscosity, is minutely cut up and mixed into the an, before being basted with an egg and soy sauce batter and then finally baked.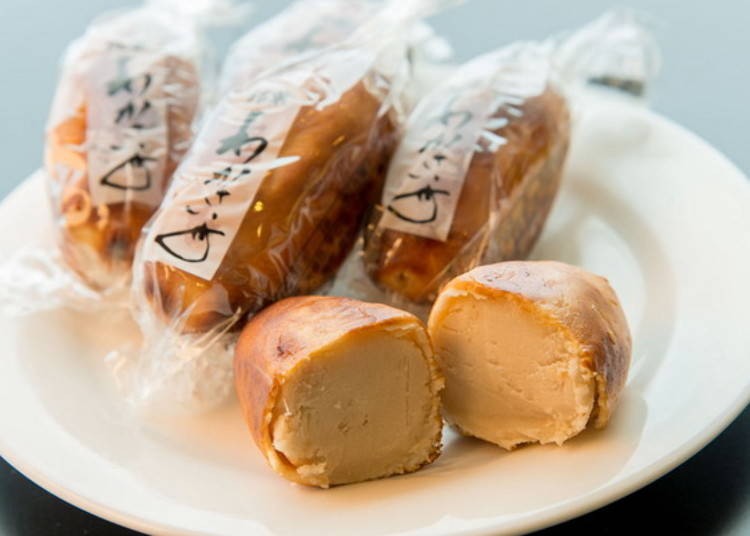 ▲Wakasaimo. The sweetness of the an heightens the sticky sensation of the Gagome kelp and exquisitely matches the soy sauce shell
The founder of the company, Mr. Hakosu Wakasa, created this confection. Unable to get sweet potatoes in Hokkaido, he wondered if there was not some way to make a sweet like a roasted potato, and that gave him the idea for creating this sweet, which he originally sold from a handcart that he pulled. There is a picture depicting that on the package.
▲From left: a 540 yen bag containing 5 Wakasaimo, a 648 yen box containing 6 Toyako Main Shop Limited Wakasaimo, and a 972 yen box of 9 Wakasaimo.
Then there is Imoten, a unique sweet fried in the same batter used for Wakasaimo. It is only offered at the main shop and the Noboribetsu shop. Crispy and fragrant, it has a different flavor than Wakasaimo. Compare the difference!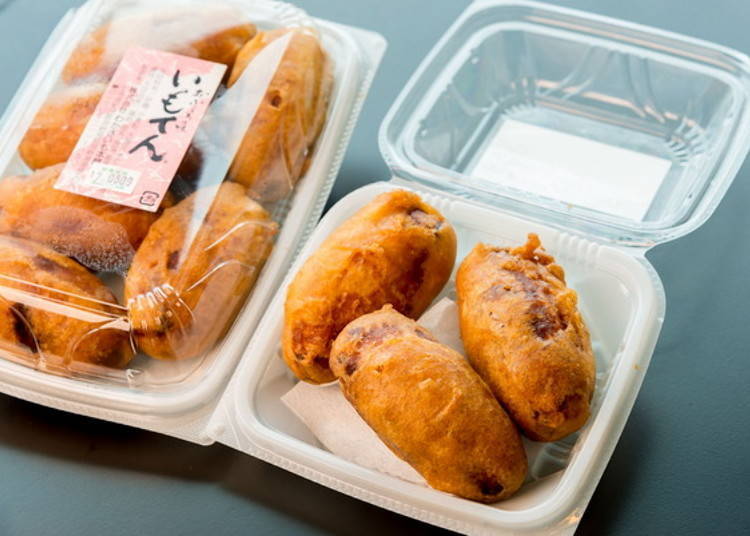 ▲680 yen for 6 Imoten, 340 yen for 3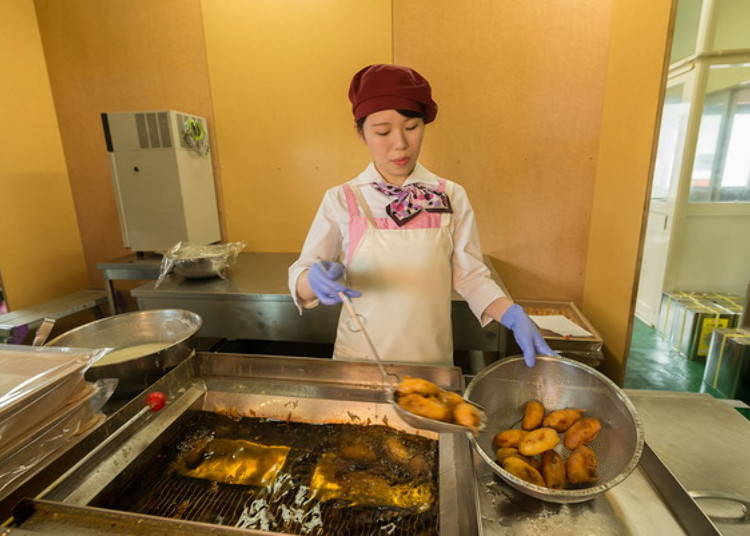 ▲Prepared at any time between 9 AM and 4 PM. If you time it right, you may be able to see them making Imoten
Also, another product sold only at the main shop is Jagakki Soft, ice cream combined with Hokkaido Jagakki, a popular cookie made from potatoes. This novel product has a light potato flavor and will melt in your mouth.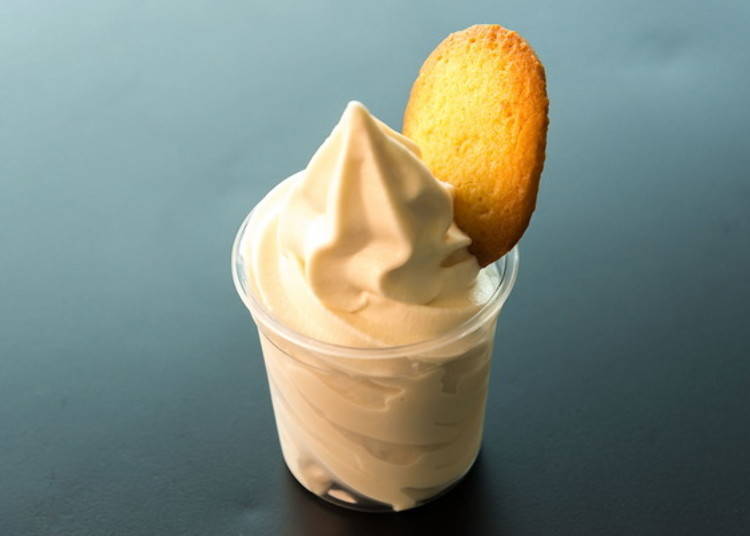 ▲380 yen for the Jagakki Soft
You can try any of these at the sweets corner in the shop. This is a special seating area where you can enjoy a spectacular view of Lake Toya. You can really spend a deliciously "sweet time" here.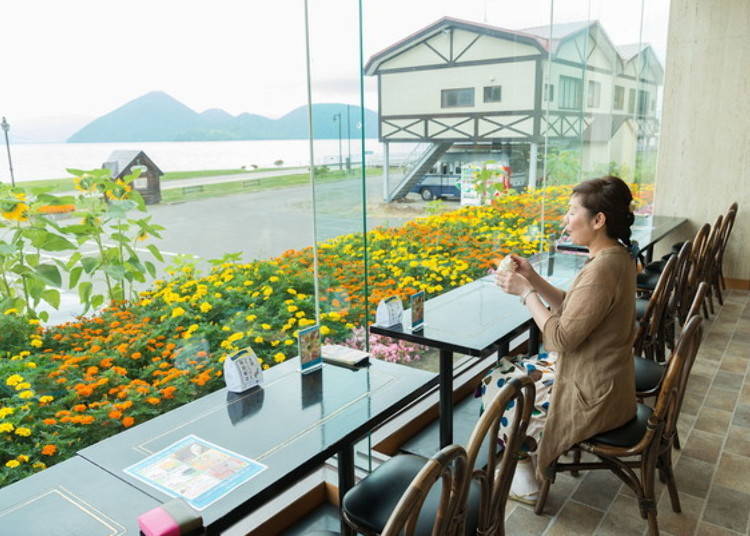 ▲The eating area of the sweets corner is directly in front of the window!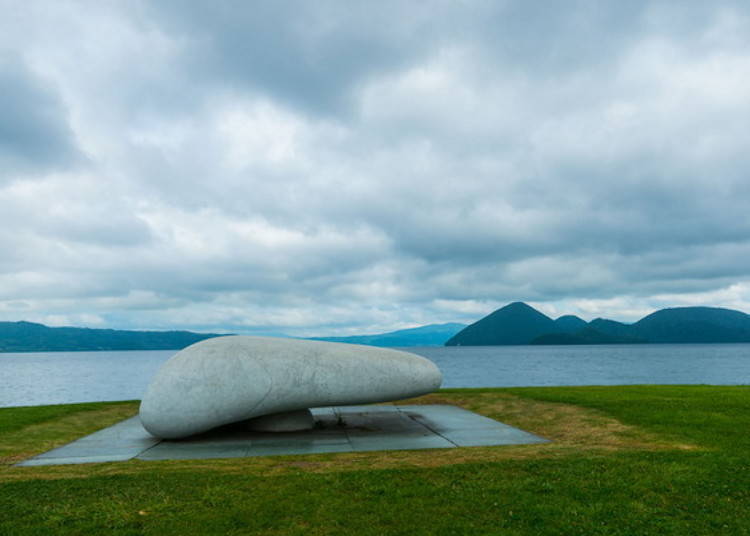 ▲From the window you can see Kan Yasuda's work Ishinki
Wakasaimo Honpo Toyakohonten

わかさいも本舗 洞爺湖本店

Address

144, Toyakonsen, Toyako-cho Abuta-gun, Hokkaido, 049-5721

Phone Number

0142-75-4111

・Hours: 9 AM - 7 PM
・Closed: January 1st
4. Check out the fireworks display over Lake Toya at night!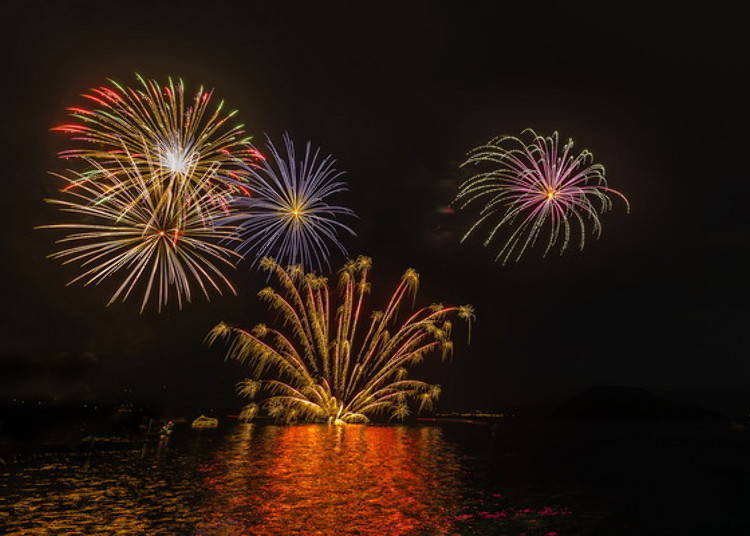 After you return to your Lake Toya hotel, enjoy a hot spring soak and dinner, and then the fireworks afterward.

The Toyako Long-Run Fireworks is staged every evening each year from the end of April to the end of October in the Toyako hot springs area.

It originally was an event planned for three months in 1982 to draw back visitors who had stayed away because of the eruption of Usuzan, but the event has since grown so that now it is held for six months of the year.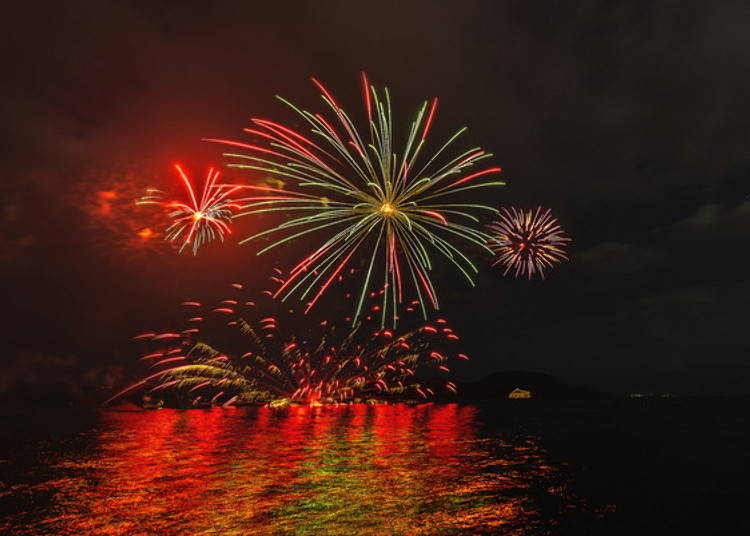 You can enjoy the 20-minute-long display in many ways: walking along the lake shore, from your room in the inn or hot spring, and even by taking a night cruise on the Hanabi Kansho-sen (fireworks viewing cruise) on one of the pleasure boats mentioned earlier. This boat follows the boat from which the fireworks are set off, enabling you to enjoy them up close.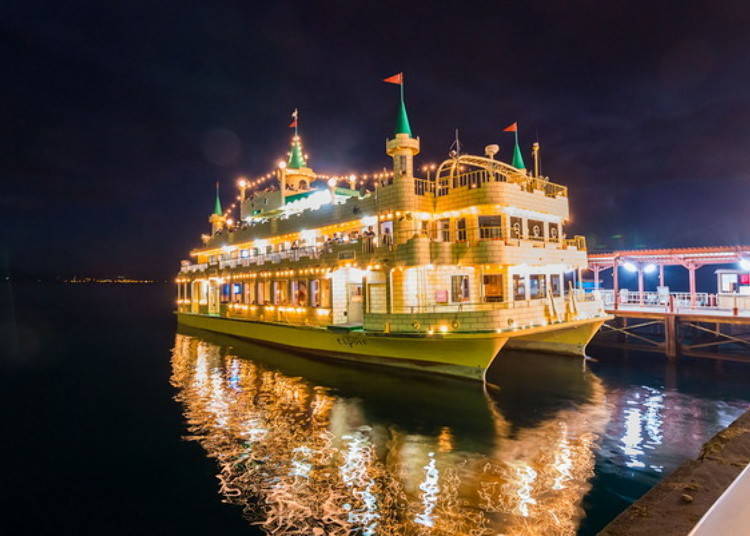 ▲Fares for the fireworks cruise: 1,600 yen for adults and 800 yen for elementary school students. The ship departs at 8:30 every night. The bright colorful lights of the Espoir may even rival the fireworks!
Long Run Fireworks Nights

洞爺湖ロングラン花火大会

Address

Toyakonsen, Toyako-cho Abuta-gun, Hokkaido, 049-5721

・Event times: Every year from April 28 through October 31 / 8:45 - 9:05 PM * Canceled during inclement weather
・Admission: Free
5. Silo Observatory: Vantage point 15 minutes by car from the hot springs town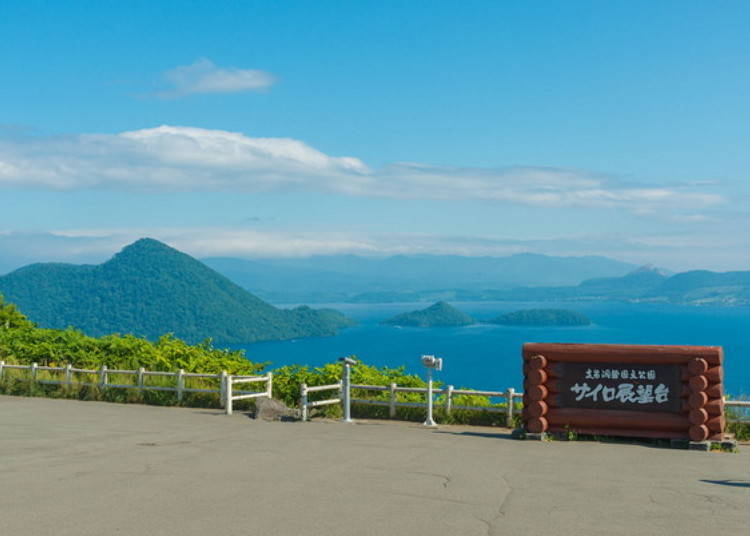 Finally we would like to introduce the Silo Observatory located a 15-minute car ride from the hot springs town. One can get a different view of Lake Toya from this height and angle than from the hot springs area. The observatory has a restaurant and gift shop and it is also possible to book helicopter tours here.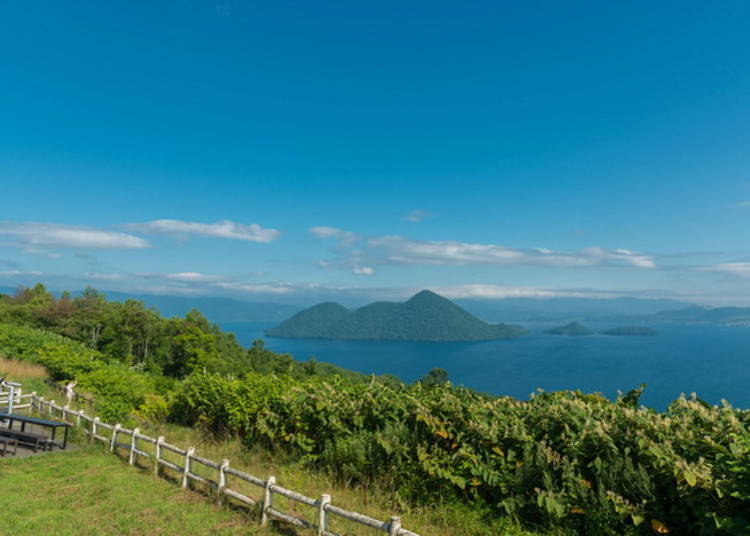 An observation deck was made in the fall of 2016 and in May 2017, Cafe Balher specializing in takeout items was added as an annex.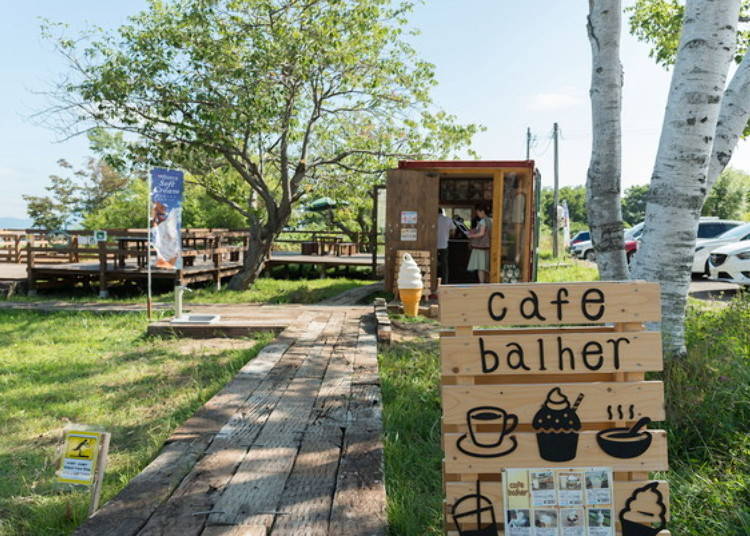 Bokka Soft, a specially made ice cream produced in Date City, a town neighboring Toyako Town, is especially recommended. Herb salts - mixtures of salt, sage, lemon grass and other herbs grown at affiliated shops - can be used as toppings for the ice cream!

This sweet, creamy soft ice cream has a flavor popular with adults.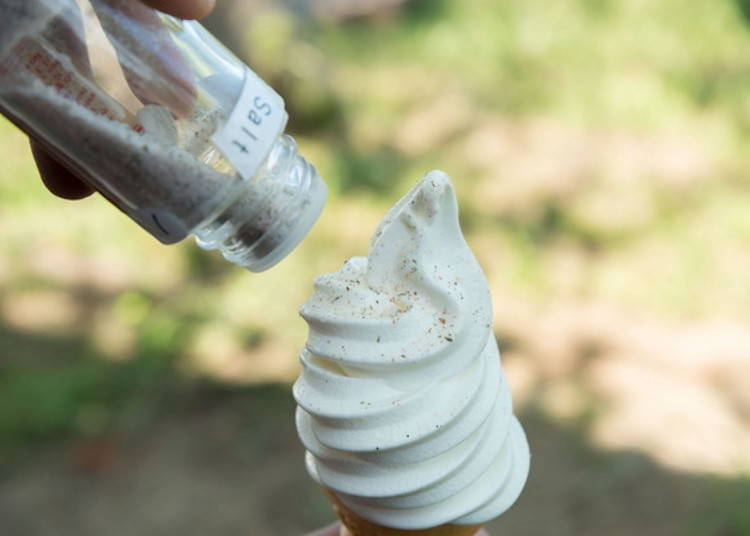 ▲380 yen for Bokka Soft. Top it with a herb salt of your choice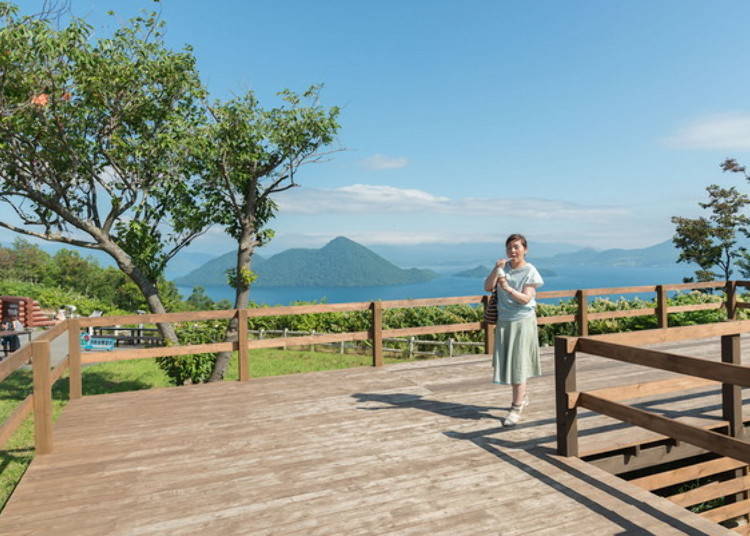 ▲Enjoy the panoramic view of the lake and Nakajima from the observation deck while enjoying a Bokka Soft with an herbal topping!
サイロ展望台

Address

3-5, Naruka, Toyako-cho Abuta-gun, Hokkaido, 049-5832

Phone Number

0142-87-2221

・Hours: 8:30 AM - 6:00 PM (May - October), 8:30 AM - 5:00 PM November - April), 10:00AM - 3:00 PM (December 31 - January 3)
・Closed: Open daily
cafe balher (Silo Observatory)

cafe balher(サイロ展望台内)

Address

3-5, Naruka, Toyako-cho Abuta-gun, Hokkaido, 049-5832

Phone Number

0142-87-2221

・Hours: 9:30AM - 3:30 PM
・Holidays: Not set
The above are some of the great places to visit in the southeast corner of Lake Toya. Which would you like to visit first? We hope you will come and spend a night or more and enjoy relaxing in this heart of nature!

* All prices mentioned in this article are tax included.
Written by:Fumi
*This information is from the time of this article's publication.
*Prices and options mentioned are subject to change.
*Unless stated otherwise, all prices include tax.
Search for International flights