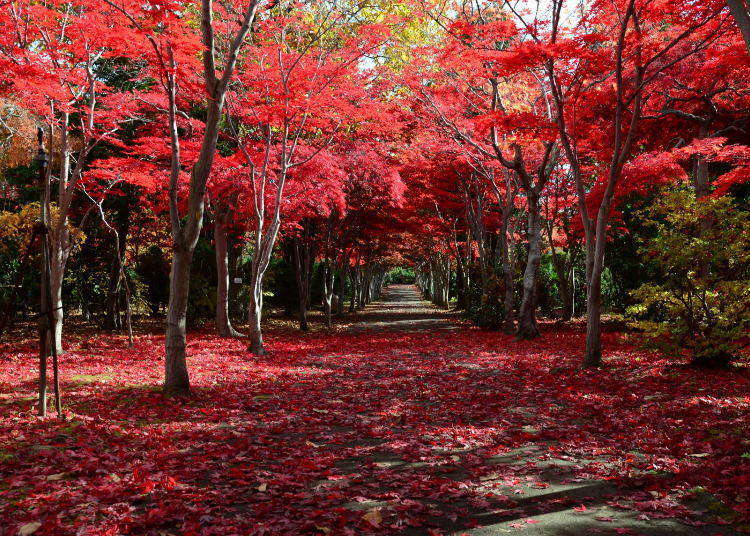 Maybe you weren't able to go during spring, or maybe you just love fall leaves! Either way, Hokkaido has some of the most beautiful scenes in autumn...

The Hokkaido autumn foliage season begins from around mid-September. Let's go take a look at the beautifully colored mountains and streets lined with colorful trees! Here we'll share exactly when you can catch the fall leaves in Hokkaido in all their glory.
Autumn in Hokkaido: Essential Information
Fall colors in Hokkaido start from Mount Asahi in the Daisetsuzan Volcanic Group and move south. A unique feature of the mountains in Hokkaido is various broad leaf trees and conifers are mixed together, such as maple (kaede), Japanese rowan (nanakamado), black locust (niseakashia), Ezo spruce (Ezo matsu, and Sakhalin fir (todo matsu).

For this reason there are three colors of red, yellow and green which come together and create something special. Also you don't have to go to the mountains or forest to enjoy the fall colors: you can find streets lined with trees like Japanese rowan, which turns red, and gingko (icho) and poplar, which turn yellow. Also the gingko in Hokkaido changes color around mid to late October, which is around 1 month before Tokyo.

Spot #1: Daisetsuzan Volcanic Group Mount Asahi

Best time to visit Mount Asahi in autumn:
Mid-late September
1. Mount Asahidake: See Autumn Beauty Daisetsuzan from the Asahidake Ropeway!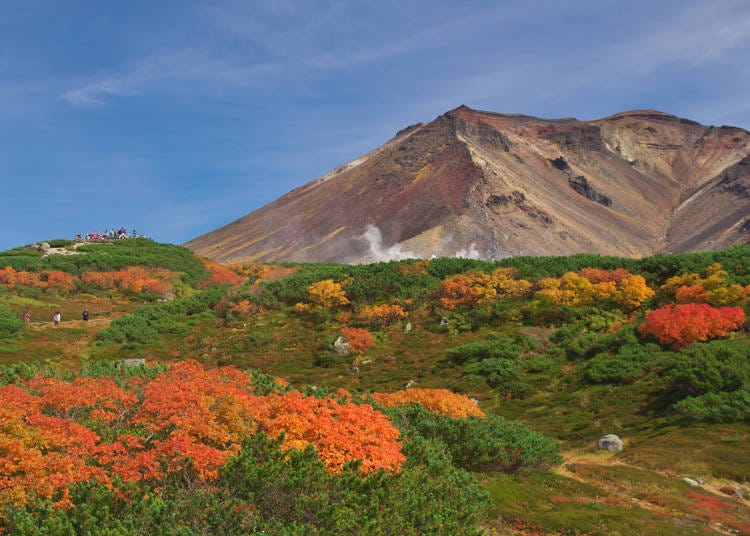 Best time to visit Mount Asahi in autumn: Mid-late September

From Asahidake Onsen Sanroku Station at an altitude of 1,000m, it takes 10 minutes riding the ropeway to reach Sugatami Station at 1,600m. From Sugatami Station it takes about an hour's walk to reach the First Observation Point, Fourth Observation Point, Sugatami Observation Point, and Fifth Observation Point.

From here you can view Hokkaido's tallest Mountain Mount Asahi (reaching 2,291m) and the reflection of Mount Asahi on Sugatami Pond. It is said that this is the first place in Japan where autumn's colors start and the best viewing season is from mid to late September. Japanese rowan and Erma's birch (dakekanba) fill the mountainside with red and yellow.

Access: About a 2 hours and 30-minute drive from Sapporo City to Asahidake Onsen. 1 hour and 25 minutes via express train from JR Sapporo Station, get off at Asahikawa Station and take the shuttle bus Ideyu-Go for an hour and 30 minutes and get off at Asahidake.
Address

1418, Yukomanbetsu, Higashikawa-cho, Kamikawa-gun, Hokkaido, 071-1472
View Map

Nearest Station

Asahikawa Station (Soya Main Line / Hakodate Main Line / Furano Line)
85 minutes by bus


Phone Number

0166-68-9111
2. Ginga Falls and Ryusei Falls in Sounkyo: Two Waterfalls Flow in Tandem off the Colorful Cliffs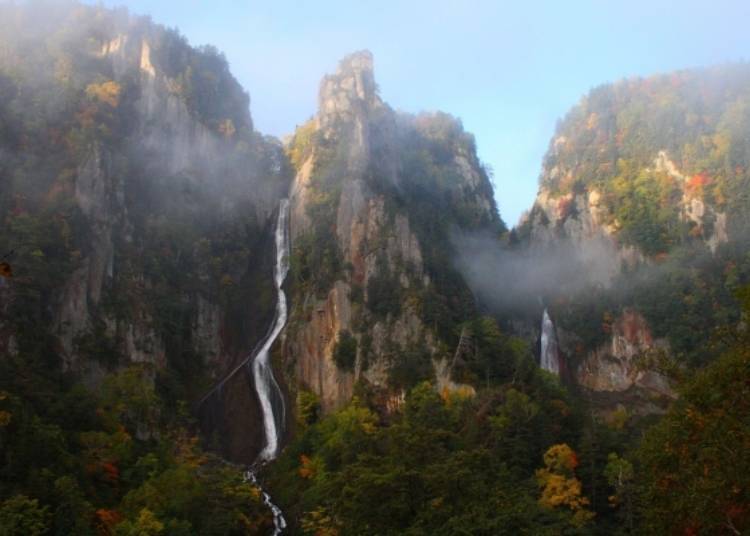 Best time to visit Sounkyo in autumn: Late September ~ mid-October

Sounkyo is a hot spring area that is located in Kawakami Town which is east of Asahikawa. Along the Ishikari River there is a cliffside of about 24km in the valley. There are also around a dozen hotels in the area. In autumn the cliffs of Sounkyo and Mount Kuro turn red and yellow. A famous spot to view the colors are at Ginga Falls and Ryusei Falls, a pair of waterfalls which is about a 5 minute drive on National Route 39 from Sounkyo Onsen. (The pair of waterfalls have poetic names in Japanese: ginga meaning "galaxy" and ryusei meaning "meteor".) After climbing for 20 minutes from the parking lot, you will reach the Sobakudai observation deck where you can see both waterfalls and the colorful leaves sprawled across the cliff.

Access: About 3 hours and 45-minute drive from Sapporo. 1 hour and 25 minutes by express train from JR Sapporo Station, get off at Asahikawa Station and a 1 hour and 55 minute by bus to Sounkyo.
3. Noboribetsu Jigokudani: Autumn Leaves of Jigokudani Surround a Smoky Crater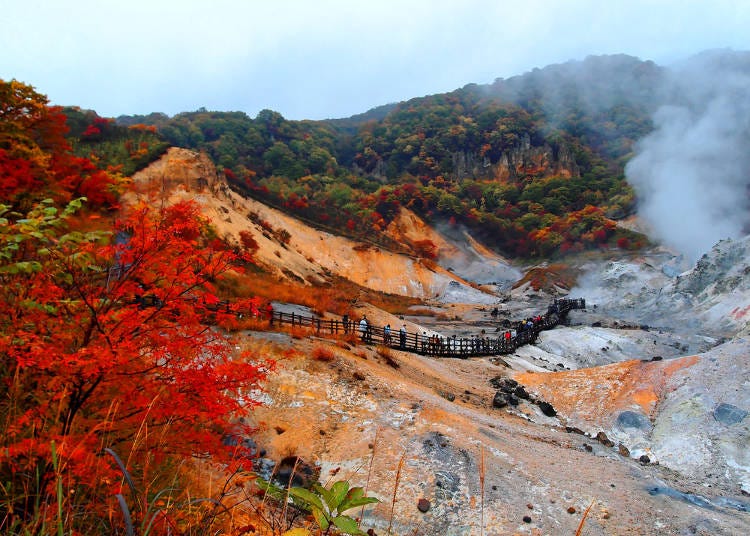 Best time to visit Noboribetsu Jigokudani in autumn: Mid-October

Jigokudani (Hell Valley) are areas in which volcanic activity is particularly pronounced, in the form of massive steam vents, bubbling open-air hot springs, or sulfur-coated hills. This particular hot springs area was created by the crater explosion due to Mount Hiyori's volcanic activity. Jigokudani with a diameter of 450m has steam rising and the desolate scenery looks like hell. There are wooden paths along Jigokudani and you can view the gorgeous autumn scenery of Japanese rowan, Japanese sumac, and Erman's birch.
Address

Noboribetsuonsencho, Noboribetsu-shi, Hokkaido, 059-0551
View Map

Nearest Station

Tomiura Station (Muroran Main Line)


Phone Number

0143-84-3311
4. Jozankei Onsen: A Hokkaido Autumn Foliage Retreat in Sapporo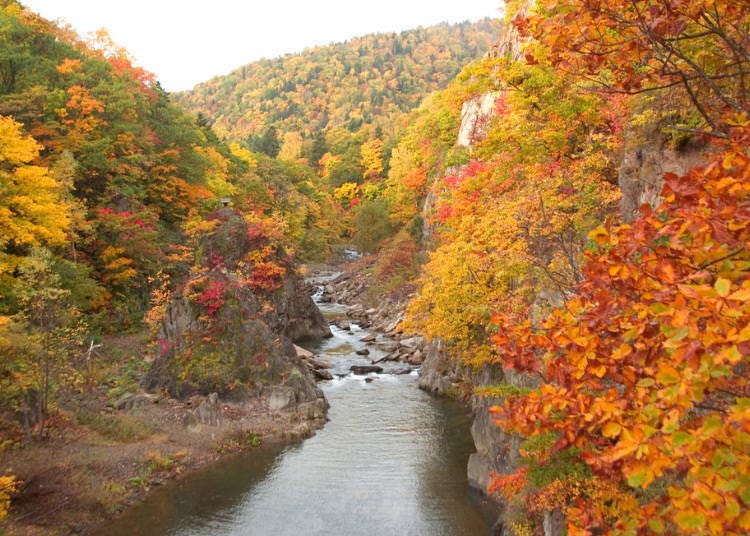 Jozankei Onsen is located in the southern part of Sapporo City. It is a hot spring area that was established in 1866 by the Buddhist monk Miizumi Jozan. Thanks to convenient access from Sapporo City, it is called Sapporo's Okuzashiki (a hot spring retreat) and sees many visitors throughout the year. There is a path to enjoy the beautiful valley and especially the view from Jozankei Futami Suspension Bridge, which is a 10-minute walk from the hot spring district, is spectacular. There are also free foot baths, so one can enjoy the beautiful view of the colorful valley and casually explore.

Access: About 50 minutes by car from JR Sapporo Station (there are also busses)

Best time to visit Jozankei in autumn: Late September ~ mid-October
Address

Sadayamakei Onsen, Minami-ku, Sapporo, Hokkaido, 061-2302
View Map

Nearest Station

Sapporo Station (Hakodate Main Line)
65 minutes by bus


Phone Number

011-598-2012
5. Nakajima Park: Reds and Greens Against the Bustling Cityscape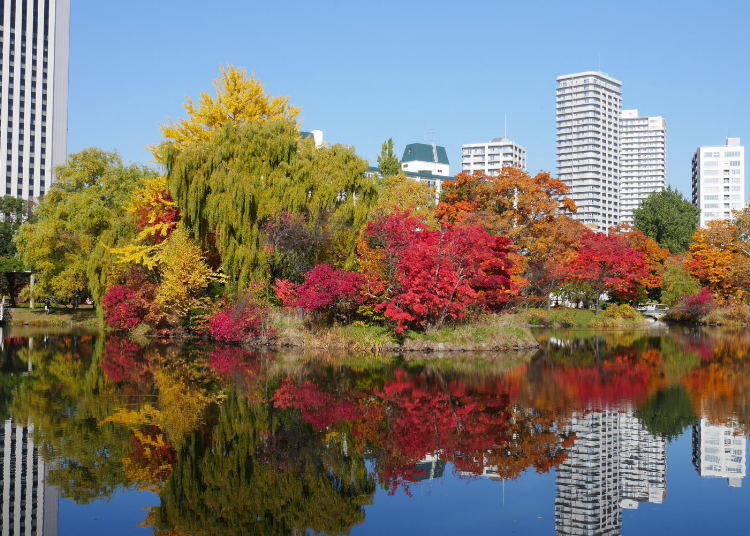 A park located 3km south from JR Sapporo Station and past Susukino. It is one of Japan's City Parks and also listed in Japan's Top 100 Historical Parks. From the park entrance, there is a path with ginkgo trees along the side and a large pond that reflects the beautiful Hokkaido autumn foliage. The park has a concert hall and also the home to important cultural properties such as Hoheikan and Hassouan. The colorful leaves on the trees around the pond and the city buildings is impressive.

Access: 5-minute subway ride on Namboku Line from Sapporo Station to Nakajima Koen Station.

Best time to visit Nakajima Park in autumn:
Mid-October ~ early November
Address

Nakajimakouen, Chuo-ku, Sapporo-shi, Hokkaido, 064-0931
View Map

Nearest Station

Nakajima koen Station (Namboku Line)


Phone Number

011-511-3924
6. Hiraoka Jugei Center: Tunnel of Red Nomura Momiji Leaves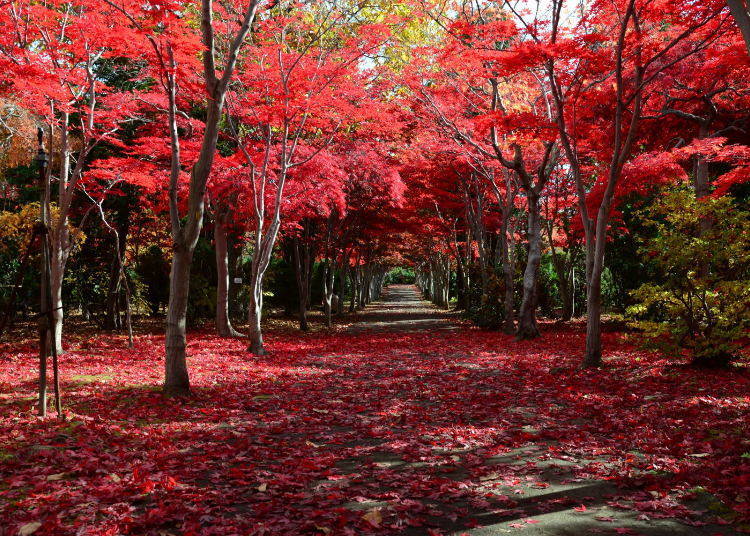 Hiraoka Jugei Center is a garden in Sapporo City and also called Midoream. In this large garden, there is a Japanese style garden and a western-style garden. In the spring 7 different types of cherry trees blossom and in August 700 trees of 8 types of momiji (Japanese maple) turn red. It is famous for the red tunnel created by the Nomura momiji, and has many visitors during the fall foliage season. Also the design garden made by around 3,000 Japanese yew cut in a cone or round shape is impressive.


Access: 20 minutes by bus from JR Sapporo station, get off at Hiraoka 4 jo 2 chome and a minute walk.

Best time to visit Hiraoka Jugei Center in autumn:
Mid-late October
平岡樹芸センター

Address

〒004-0874 北海道札幌市清田区平岡4条3丁目/4jyo 3choume, Hiraoka, Kiyota-ku, Sappro-shi,Hokkaido 004-0874

Phone Number

011-883-2891
7. Hokkaido University Icho Namiki (Gingko Avenue): The Yellow Arch on Hokkaido University Campus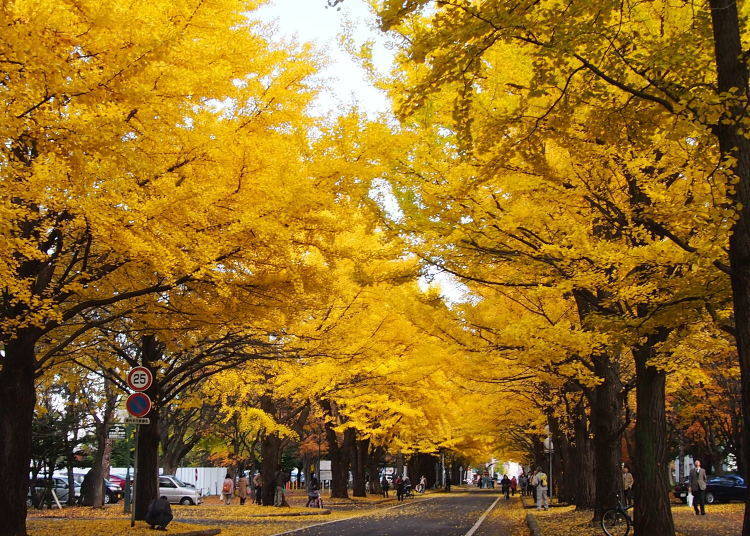 The national university Hokkaido University was originally established in 1876 as Sapporo Agricultural College. The large campus located on the northern side of Sapporo Station has many noteworthy sites such as the poplar tree line avenue, Hokkaido University Museum and the historical building Sapporo Agricultural College Farm No. 2. In autumn in Hokkaido, around 70 Japanese yew trees along the 380m street on campus will turn yellow. The branches create an arch makes a spectacular view.

Access: 5 minute walk from JR Sapporo Station

Best time to visit Hokkaido University Gingko Avenue in autumn: Late October ~ early November
Hokkaido Daigaku Icyou Namiki

北海道大学イチョウ並木

Address

〒060-0808北海道札幌市北区北8条西5丁目/Kita 8jyou Nishi 5 chome,Kitaku,Sappro-shi,Hokkaido 060-0808

Phone Number

011-716-2111
8. Shiretoko Pass: Dynamic Autumn Leaves that Cross the Mysterious Shiretoko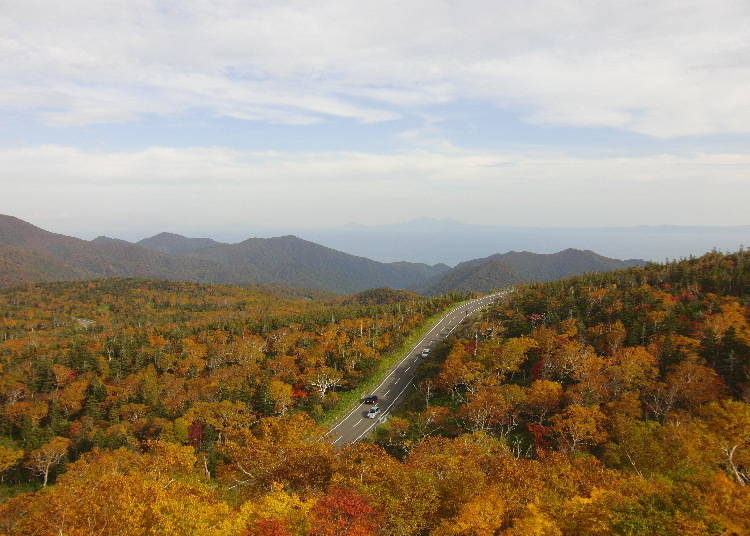 At the peak of Shiretoko Odan Road which crosses the world natural heritage site Shiretoko Peninsula is Shiretokotoge (Shiretoko Pass). From here you can see Shiretoko's highest peak, Mount Rausu, and Kunashir Island, part of the northern territories across the Nemuro Strait. The pass located at an altitude of 738m is covered with Japanese stone pine (haimatsu), while Erma's birch and Japanese rowan cover the slope in yellow. There is parking area at Shiretoko Pass where you can enjoy the view.


Access: 9 hours and 50 minutes by car from Sapporo. 7 hours by the Eagle Liner bus from Sapporo Station Bus Terminal, get off at Utoro Onsen Bus Terminal, 25 minutes by car.

Best time to visit Shiretoko Pass in autumn:
Early-mid October
知床峠

Address

〒099-4100 北海道斜里郡斜里町国立公園内/Shiretoko Kokuritukouen,Syari-cho,Syari-gun,Hokkaido 099-4100

Phone Number:0152-22-2125(Shiretoko
Shari-cho Tourism Association)
※Unless explicitly mentioned, all prices include tax.
*This information is from the time of this article's publication.
*Prices and options mentioned are subject to change.
*Unless stated otherwise, all prices include tax.